The Ultimate Zion National Park Itinerary + Where to Eat!
Planning a Zion National Park itinerary? This little piece of world is as insanely and epically gorgeous as it looks in photos.
I drove through the park back in high school, and have been dreaming about going back and hiking ever since. I still remember seeing it for the first time… Fast forward a bit, my husband and I were packed and ready when we learned that Angels Landing had just closed because of COVID, so we canceled the trip and decided to wait.
So this trip was long overdue and has been hyped up for years! But we FINALLY successfully visited for a whole week to celebrate our 14th anniversary trip. And I'm here to report that it was absolutely perfect! I know, I said it… perfect! Everything I hoped for and more.
We hiked, biked, stargazed, ate delicious food, glamped in an Airstream, made s'mores, saw a thunderstorm, and loved every second so much that we extended our stay because we just didn't want to leave (perks of working remote!).
PS – Keep reading to see how I booked us a free night of Airstream glamping, got cash back, and extended our stay nearly free.
This ultimate Zion National Park itinerary dishes out a whole bunch of Zion must-dos.
I'll share the best things to do, hikes not to miss, places to stay and of course WHERE TO EAT!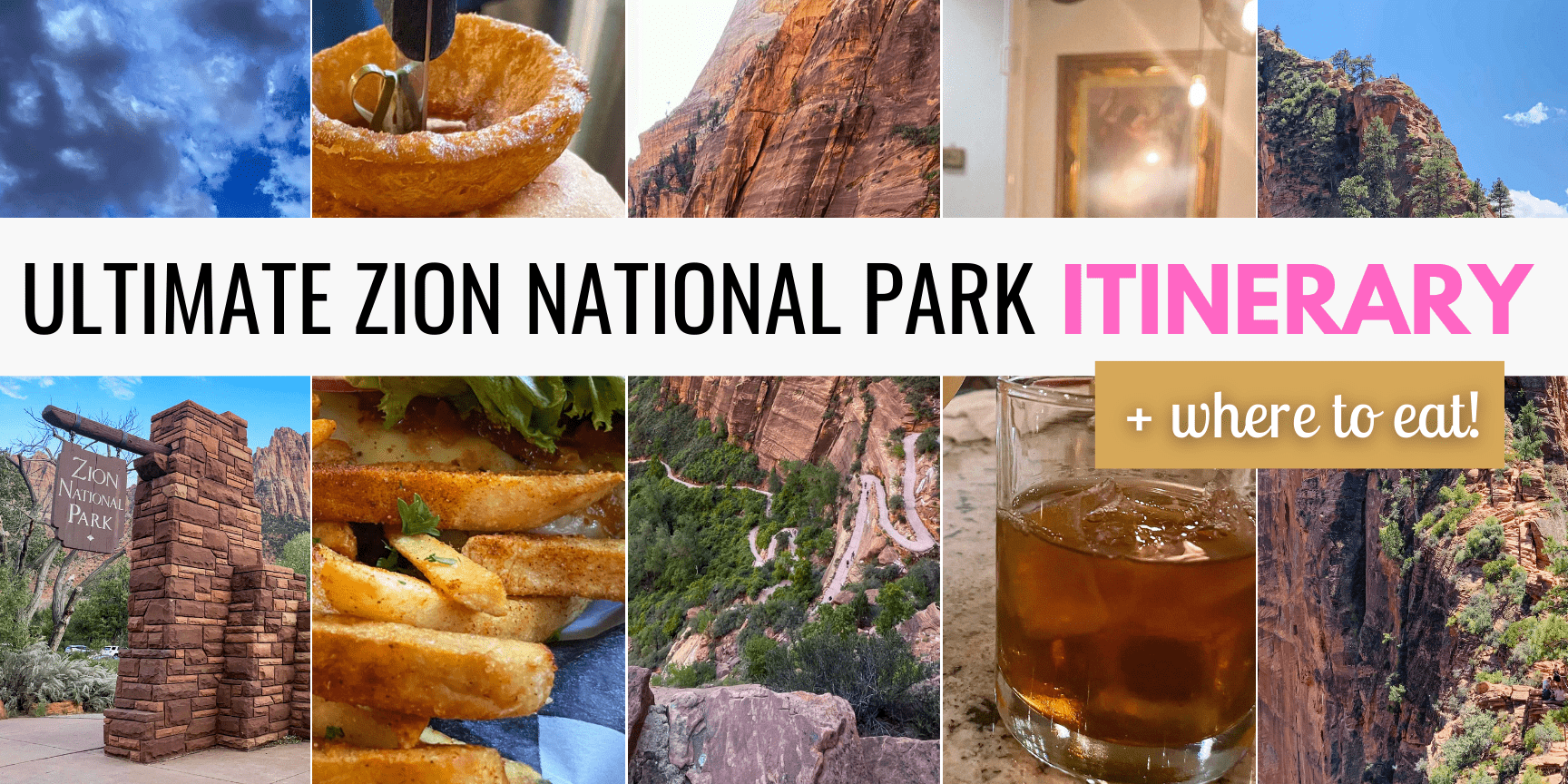 This post may contain affiliate links, which means that I may receive a commission if you make a purchase using these links at no cost to you. As an Amazon Associate I earn from qualifying purchases at no additional cost to you.
Tips for Visiting Zion National Park
Zion is like nature's own cathedral. You'll feel incredibly small, but in the best way, staring up at the steep red cliffs from the canyons below. Even riding the shuttle through the valley is an experience of its own with impressive views.
How Many Days Do You Need?
In my opinion, the best way to experience Zion is with at least two full days in the park, but three or four is more ideal if you plan on hiking a lot.
While it's entirely possible to cram a lot of it into a weekend, you may want to add a day or two extra so that you can take your time and not feel rushed. Pick your own adventure!
Best Time to Visit
The best time to visit Zion National Park is during the spring (April to May) and fall (September to October) when the weather is mild and the park is less crowded.
We visited the weekend prior to Labor Day, which was perfect for warm temperatures but minimal crowds and great hotel rates. There were signs and announcements appearing the day we left preparing for large crowds and overflow parking, so I think we timed it just right!
Zion National Park experiences a variety of temperatures throughout the year because of the elevation changes. But here are average monthly temps for Zion Canyon, which is at a lower elevation:
January: High 52°F (11°C) / Low 29°F (-2°C)
February: High 57°F (14°C) / Low 33°F (1°C)
March: High 63°F (17°C) / Low 38°F (3°C)
April: High 73°F (23°C) / Low 45°F (7°C)
May: High 83°F (28°C) / Low 53°F (12°C)
June: High 93°F (34°C) / Low 63°F (17°C)
July: High 100°F (38°C) / Low 68°F (20°C)
August: High 97°F (36°C) / Low 66°F (19°C)
September: High 90°F (32°C) / Low 59°F (15°C)
October: High 78°F (26°C) / Low 48°F (9°C)
November: High 64°F (18°C) / Low 37°F (3°C)
December: High 54°F (12°C) / Low 30°F (-1°C)
Remember, these temperatures are just averages for Zion Canyon. Other areas of the park, especially higher elevations, can be cooler. Always consult current weather forecasts before planning your trip and pack accordingly.
PRO TIP: The Narrows can get chilly even on warm days!
How to Get to Zion National Park
The closest major airport is Las Vegas, which is convenient for cheap flights, cheap rooms and a fun night out before or after your trip!
I mean… you might just need to tack on a night or two relaxing and grubbing out at my favorite Vegas resort with a view of the Strip to rest your feet after the hike, right? I support it.
The drive from Vegas to Zion is a picturesque journey worth every second. Grab a road trip snack and take in the scenic views that set the mood for the adventure ahead.
Curious how we've both flown free (just the $5.60 taxes and fees) for the last 4 years?
✈️ Check out my blog post How to Fly Free
🚘 My Favorite Site for Cheap Rental Cars
Getting Around Zion National Park
Ditch your car (mostly)!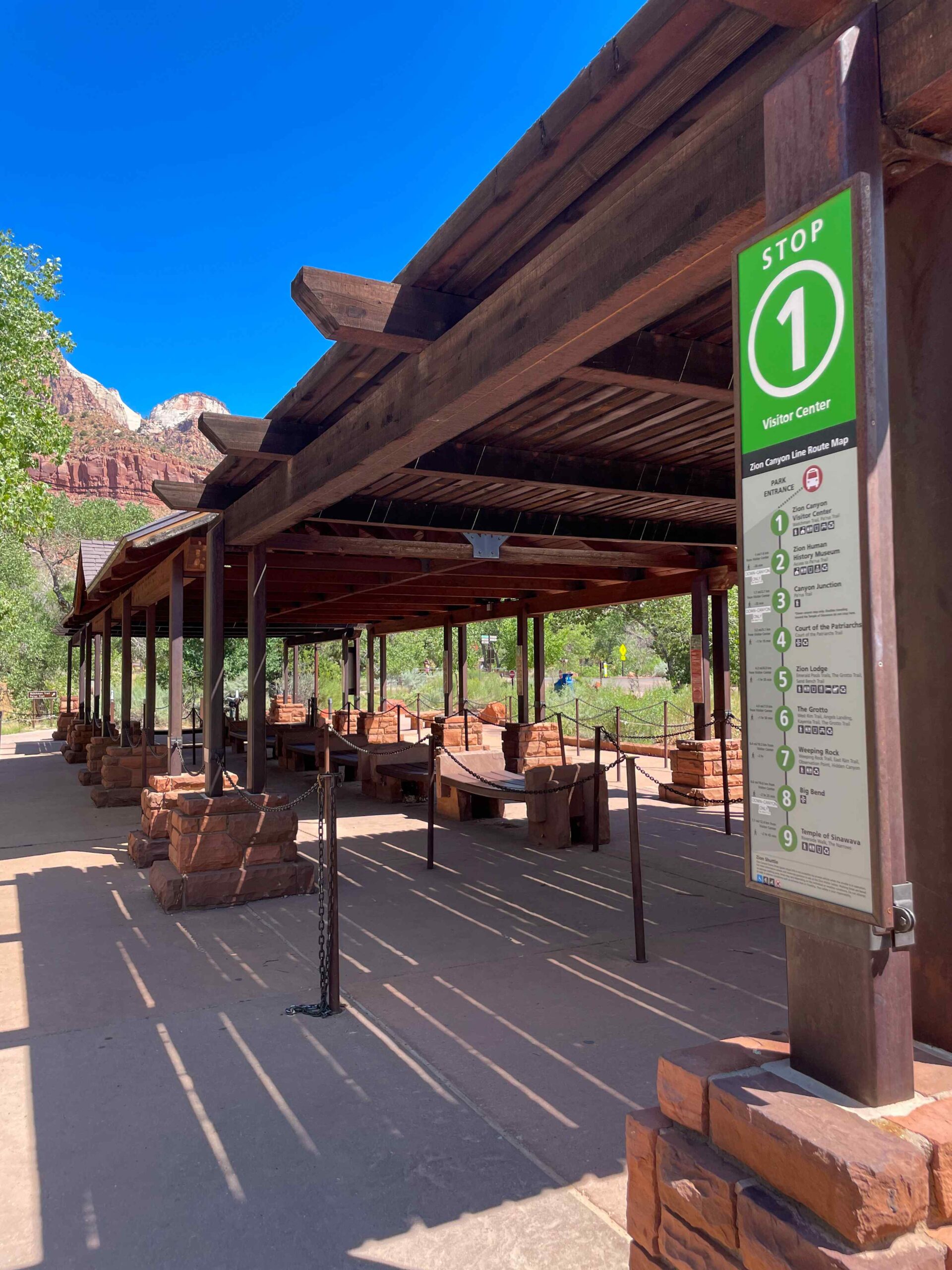 Zion offers a shuttle service that takes you to the major spots. Driving in certain parts of the park is restricted during the peak season to reduce traffic congestion, so make good use of the shuttle. And yes, there's parking, but it fills up quick, so aim for an early start.
Or if you're not an early riser like me, stay at one of the convenient hotels in Springdale near the shuttle stops so you don't have to worry about parking. This was honestly so nice!
There are two shuttles — one that goes from Springdale to the Visitor Center and a second shuttle that goes from the Visitor Center into the park. Both are free and easy to use.
Park Fees
All visitors who enter the park, whether on foot or by car are required to pay an entrance fee starting at $20 per person for foot passengers. Private vehicles are $35 and commercial vehicles start at $70. This fee is valid for seven consecutive days.
We visited Yosemite National Park last summer to hike Half Dome and got the Annual Interagency National Parks Pass at $80 per year, which gave us access to all US National Parks for 12 months. We also ended up visiting Haleakala in Maui twice that year as well as Yosemite, so it more than paid for itself!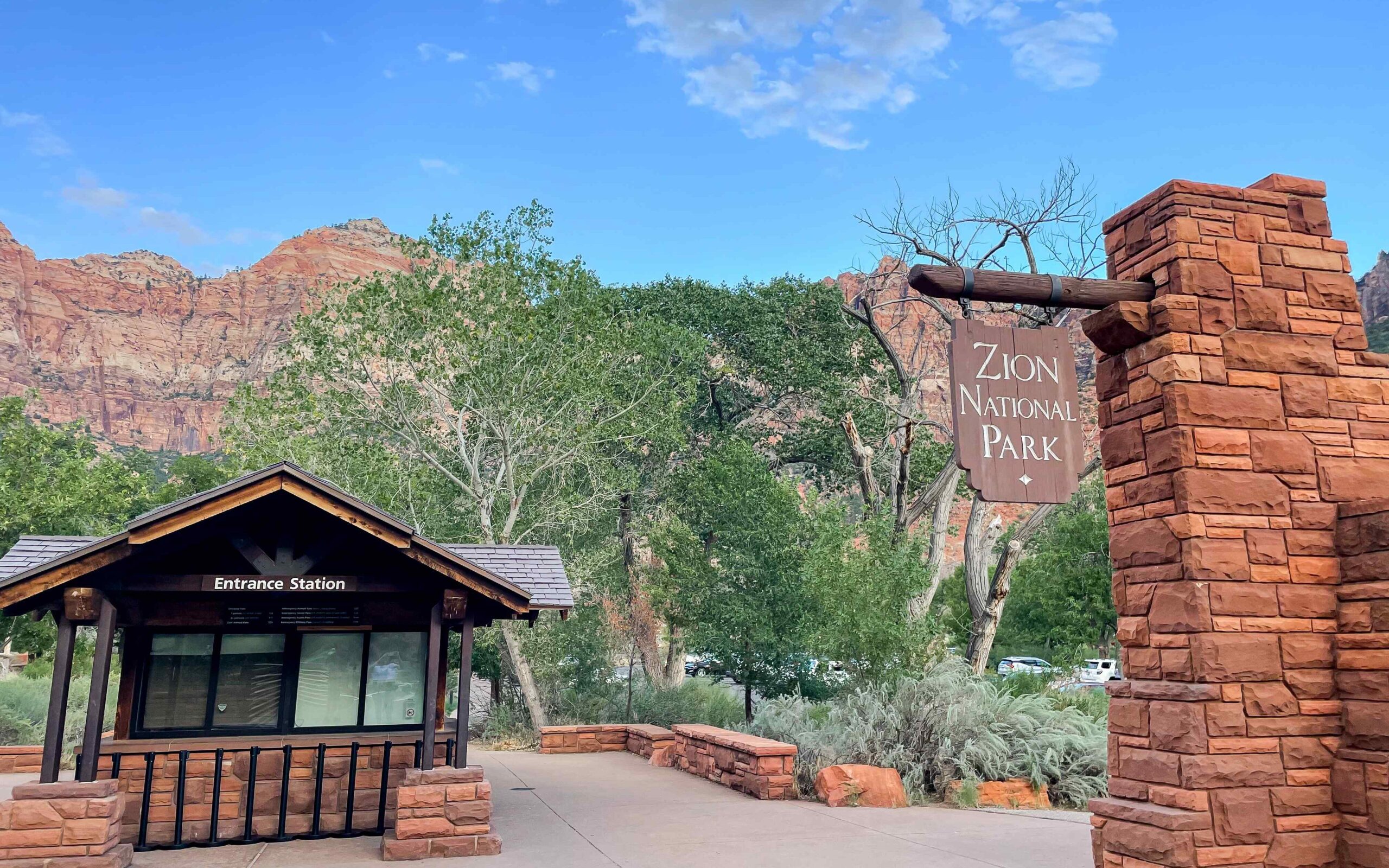 Free Park Days
Entrance to the park is free during these special holidays. However you will still need a reservation if those are required at that time and you'll need to pay the $35 per car fee if your visit extends past these individual dates.
Where to Stay near Zion National Park
There is only one hotel inside Zion National Park plus camping options, a variety of lodges in Springdale near the entrance and even more options in the surrounding area.
After lots of research and personally experiencing several hotels, here' what I recommend:
Luxury
Pet-Friendly
Unique
Autocamp Zion – Virgin, UT (Airstreams, Glamping Tents or Cabins)
Zion Tiny Oasis – Virgin, UT (An adorable tiny home compound I've been following on Youtube, but haven't stayed at yet)
Affordable
We ended up staying at three different places during our visit because we kept extending our trip, but it was also fun to experience Zion a few different ways.
We started with two nights at Pioneer Lodge in Springdale to be near the park for our big hike days, which I highly recommend. The lodge is near restaurants, coffee, and the shuttle stops. We didn't drive our car once the whole weekend and it was lovely. I used Priceline for this booking at $112/night, not bad for a weekend, and got $13.74 cash back via Rakuten.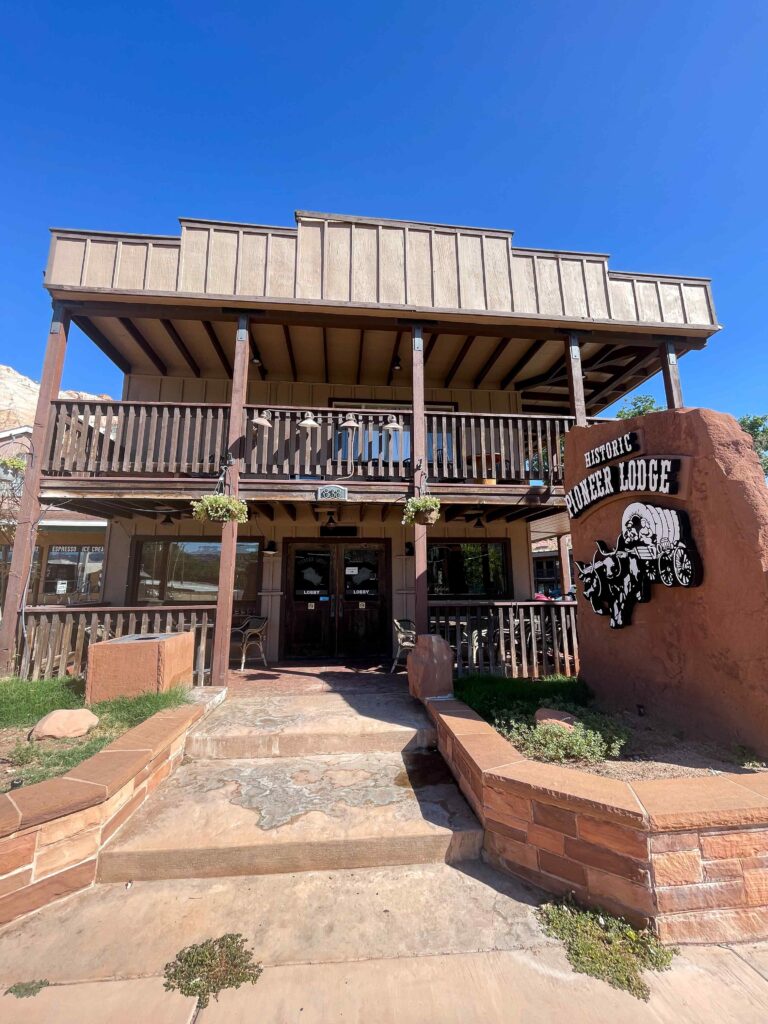 Then we checked in to Autocamp in Virgin, UT for a glamping retreat and some remote work. We LOVE Autocamp and would've done the drive just to stay here. It's about 15-minutes from the park entrance, so still very convenient but secluded and a super fun experience. They also have super fast wifi and a beautiful lodge to work from! I booked directly through the Autocamp website for this reservation using their promo for one night free with a minimum three night stay. However, I've seen lower rates on Priceline or Booking.com so look around.
Then we weren't ready to leave, so I added two nights at La Quinta in Hurricane for a cheap but comfortable room. I used some of my Hopper carrot cash to get these rooms for nearly free, but the rates are very affordable regardless.
Don't Forget!
Book your stay on VRBO, Booking.com, Priceline, or Expedia to claim your cash back from Rakuten.
This is one of my 7 Favorite Hotel Booking Hacks that I use on every trip!
Planning Your Zion National Park Itinerary
There are many ways to experience Zion, so make sure you pick and choose the best things that suit your style and budget. This is what we did and what I'd recommend for an optimal experience.
Copy paste it, pick it apart or re-arrange it! Make it your own.
The truth is that there are so many amazing things to see and do. Grab some inspiration below!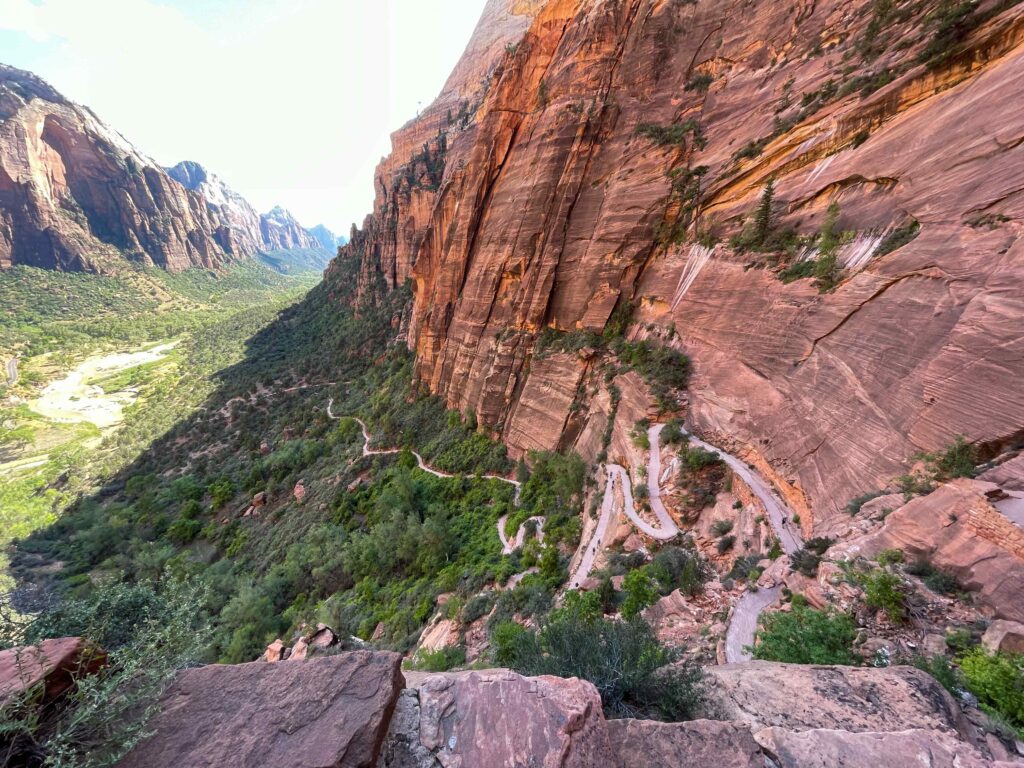 DAY 1 (SPRINGDALE)
Check In
Settle in and feel the explore the town. On arrival day, we got in a bit late but enjoyed driving around and getting familiar with Springdale and the shuttle stops. Especially if you plan on an early morning start, it helps to get a sense of the area.
Snack at Bumbleberry Inn
Known for their Bumbleberry pie! They also have ice cream, fudge, and the house-made cookies are amazing. I ate the Royale Cookie (chocolate chips, macadamia nut, coconut) for breakfast the day we left and microwaved it for 10 seconds at the hotel for a super healthy and nutritious breakfast 😉
Highlights: Bumbleberry Pie, Royale Cookie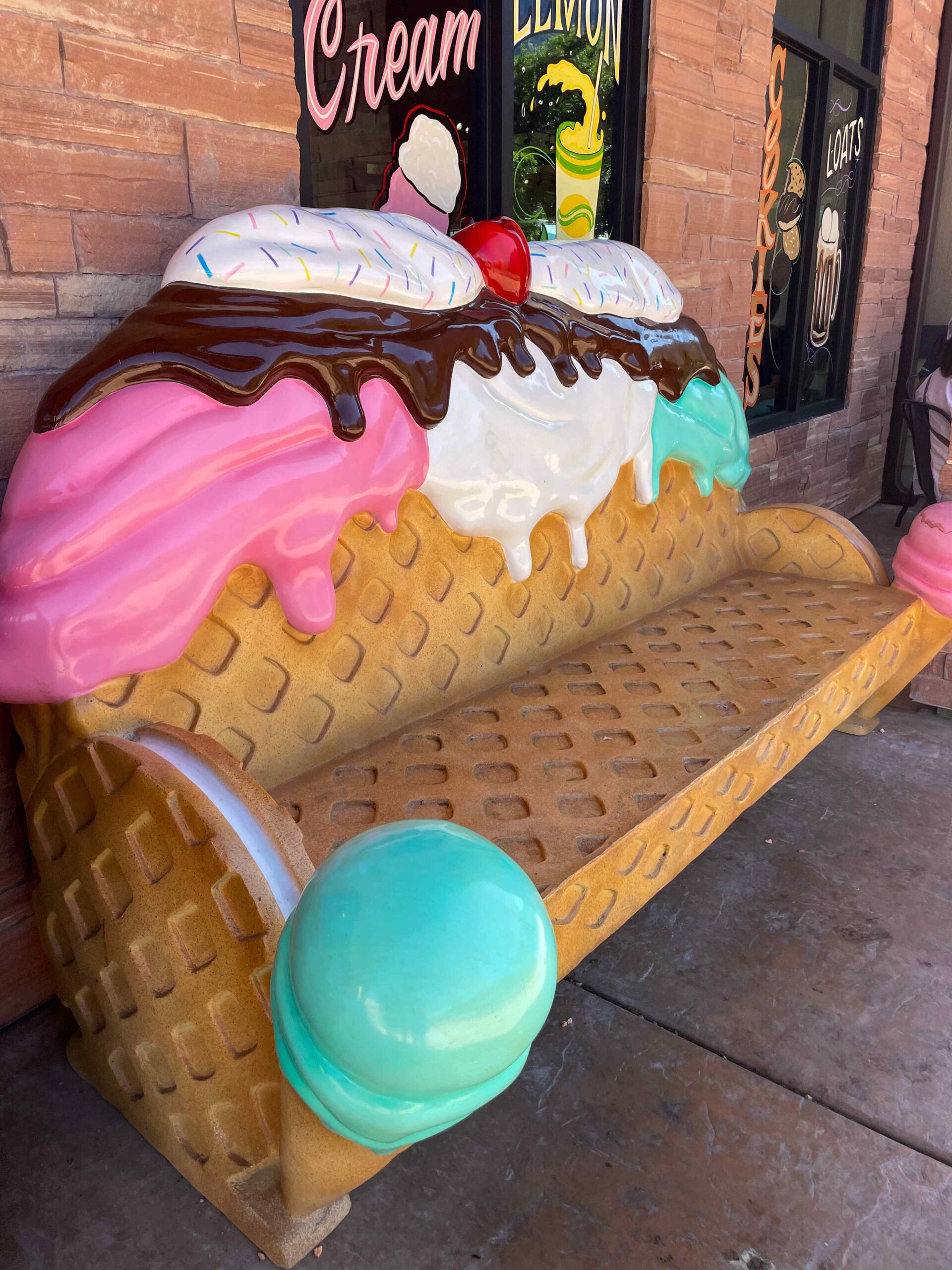 Grocery Shopping at Sol Foods Supermarket
There are limited options for groceries in Springdale, so if you can pack non-perishables ahead of time you'll save some money. But Sol Foods Supermarket is a convenient stop for grabbing water bottles, ice, protein bars, snacks and anything else you'll need for your stay.
Also, most places in Springdale close at 8 or 9pm! We grabbed some beers and drinks to have at the hotel for chilling in the evenings.
Dinner at Kings Landing
The view is the highlight, but the drinks and dessert were pretty fabulous too. Kings Landing Bistro is in the Driftwood Lodge and the patio faces a beautiful grassy area with a backdrop of red rock canyons in the distance.
Menu Highlights: Spicy Watermelon Margarita, Passionfruit Mango Sorbet
DAY 2 (ANGELS LANDING)
Breakfast/Coffee at FeelLove
We walked from Pioneer Lodge down the street a few blocks to FeelLove coffee. The coffee drinks are delicious and slightly boujee, which I love. They also have a cute cocktail bar, Cowboys and Angels, open in the evenings which I'll cover later.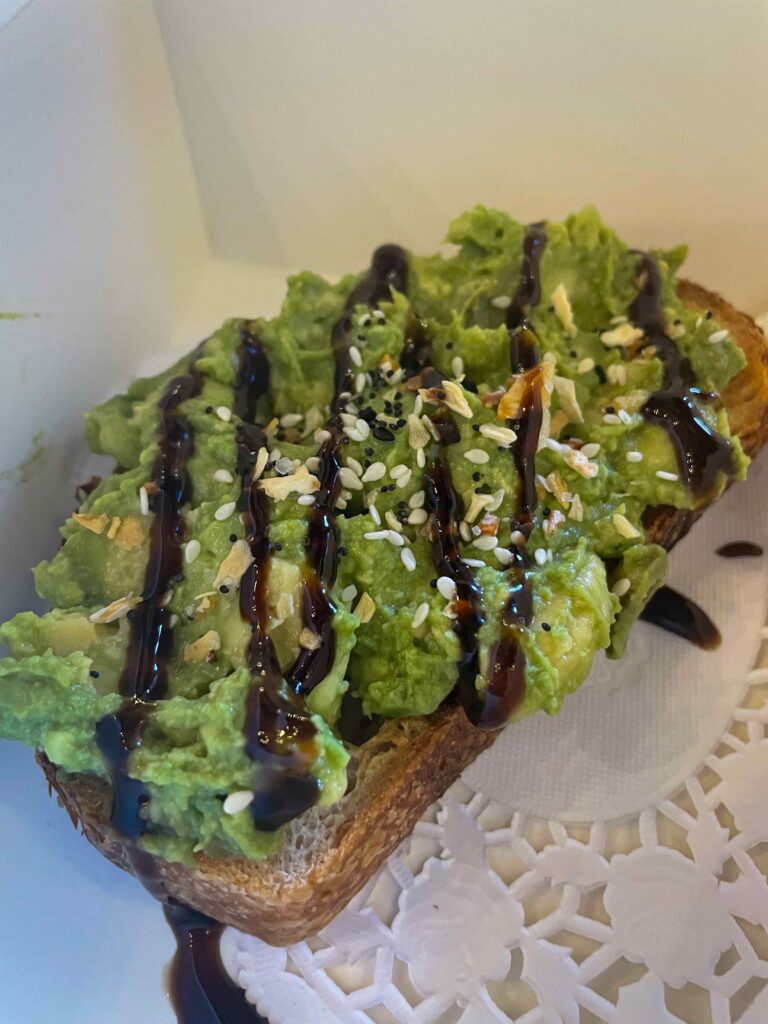 I got the Bay Latte which has honey and lavender, and Cody got a black cold brew. We shared an avocado toast to fuel up before our hike. The bread was perfectly soft and fluffy but toasted perfectly. The balsamic was a little too sweet so next time I'd get it on the side, but it was delicious! Living in LA we've seen a lot of avocado toast, and this one held its own!
Menu Highlights: Avocado Toast, Bay Latte
Hike Angels Landing (Permit Required)
Highlight of the trip! Hiking Angels Landing is one of the most adventurous and popular activities in Zion.
Permits are required, and there are currently two options for obtaining permits.
Advance Seasonal Lottery – Apply a few months in advance (visit the nps.gov website for more info and dates).
Day Before Lottery – Apply the day before for a next-day permit. This is the method we used and we got a permit on our first try. However, there is no guarantee so an advance seasonal permit is preferred if you can get one.
Hop on the shuttle from the Visitor Center and get off at Shuttle Stop 6, the Grotto. From here, the hike is about 5.4 miles roundtrip and 1,488 feet of elevation gain. It is strenuous and not for anyone afraid of heights!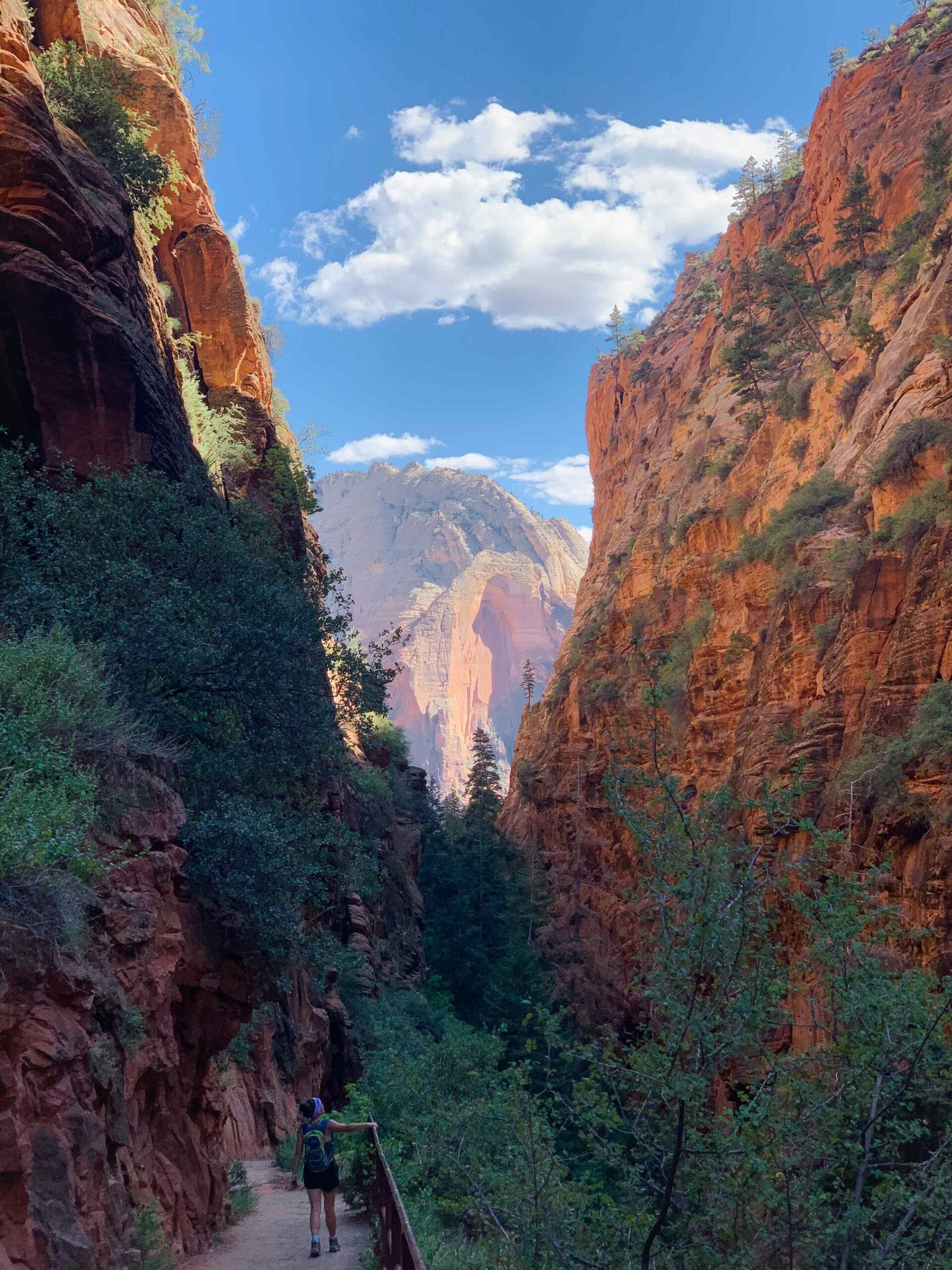 Without a permit you can still hike up 1,000 feet to Scouts Lookout for beautiful views of Zion Canyon. But permits are required to cross the West Rim trail using the chains to reach Angels Landing. Rangers will check for permits after Scout's Lookout, so make sure you have it downloaded, printed and accessible.
Honestly, this was much scarier in person than I expected, but I never really felt unsafe. I think it's more of a mental challenge to keep yourself calm and trust the chains for support. It was very much worth it and the views at the top were INSANE!
It took us just under 3 hours total to hike up and back, and we made several stops. I read that most people plan on 3-5 hours total, but I think it really depends on your pace.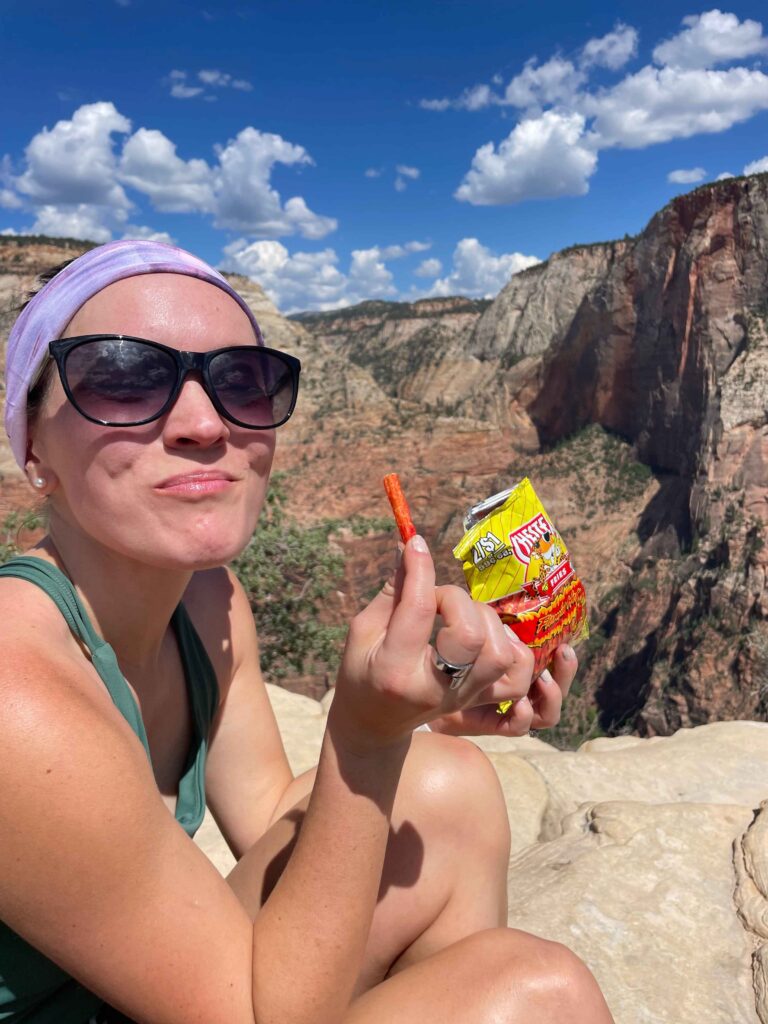 No Permit? Hike Emerald Pools
If you're unable to get a permit for Angels Landing, or don't want to brave the heights, I'd recommend the Emerald Pools as an alternate hike.
Snack/Drink at The Zion Lodge
After your hike, take a quick walk to The Zion Lodge. There is a paved path that will take you right from Shuttle Stop 6 to the lodge. Or if your feet are extra tired you could grab the shuttle but a little walk never hurts and honestly might be faster.
Grab a beer on the patio and a snack to celebrate your accomplishment!
Visit Weeping Rock
If you're up for another easy activity in the park, check out Weeping Rock at Shuttle Stop 7.
This hike is an easy 30 minute roundtrip half-mile journey which is mostly paved and the shortest trail in the park.
The highlight of Weeping Rock is the lush greenery that covers the rock because of consistently moist conditions from the water that gathers from the canyon above, hence the name. You can stand on the trail behind the falling water and look out on the Great White Throne and the park.
Dinner at Zion Brewery
We actually ate here two days in a row because we loved it so much! I'm actually shocked that it only has 3.5 stars on Yelp… this place is awesome and they were buzzing with people!
Zion Brewery is conveniently located near the Visitor Center and the Zion NP entrance. It's a fun vibe with a lively patio and live music on weekends.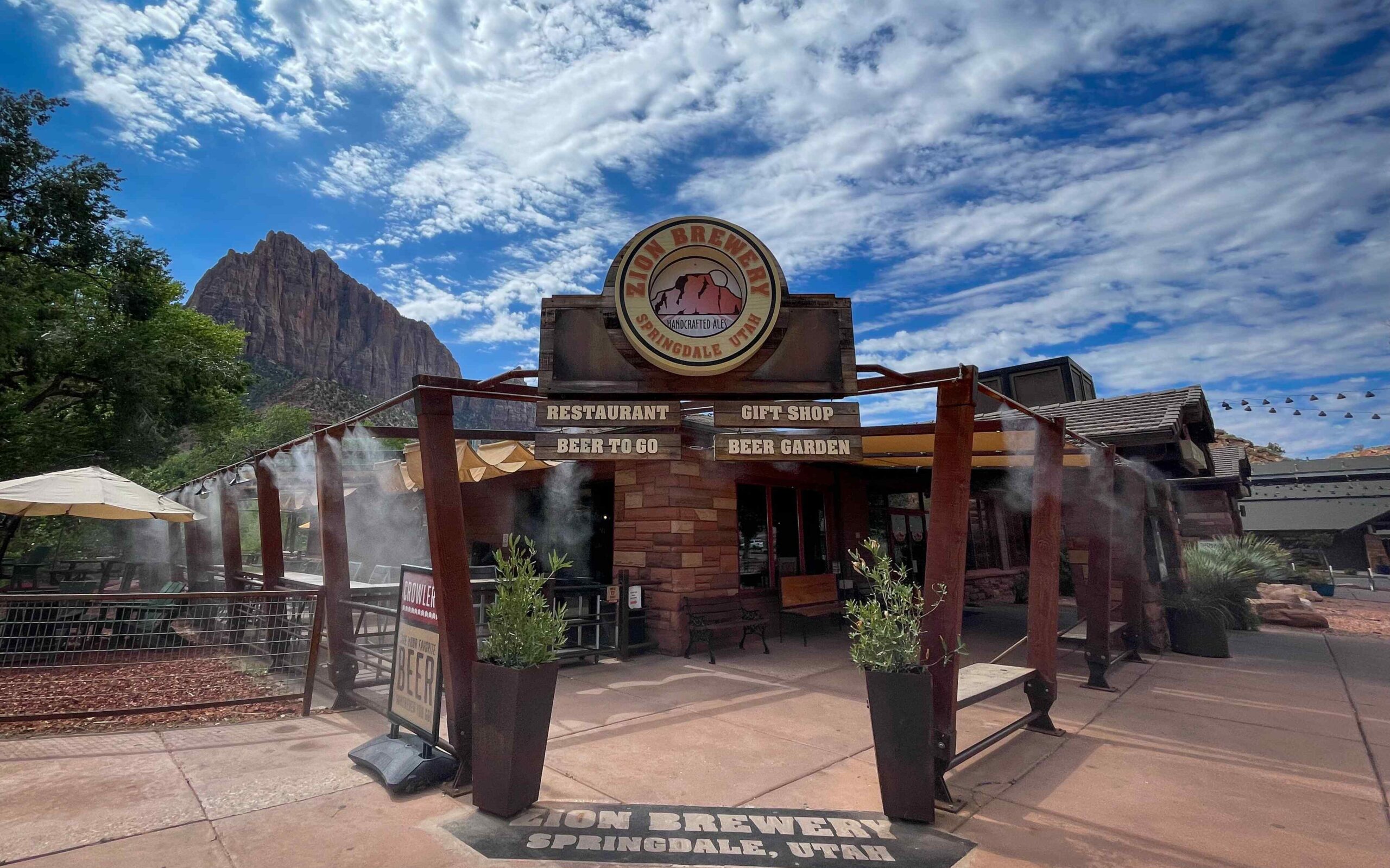 The beers were great and you can order a flight to try several. We really liked the Juicy IPA and the Conviction Stout.
I saw a lot of buzz about the Elk Burger, but the Zion Brew Burger was insanely good! It's an all-beef patty with house-made jalapeño-stout bacon jam, swiss cheese, garlic aioli, lettuce, tomato and red onion. We ordered extra jam and smothered it even more. I wish I could buy a bottle of it and bring it home.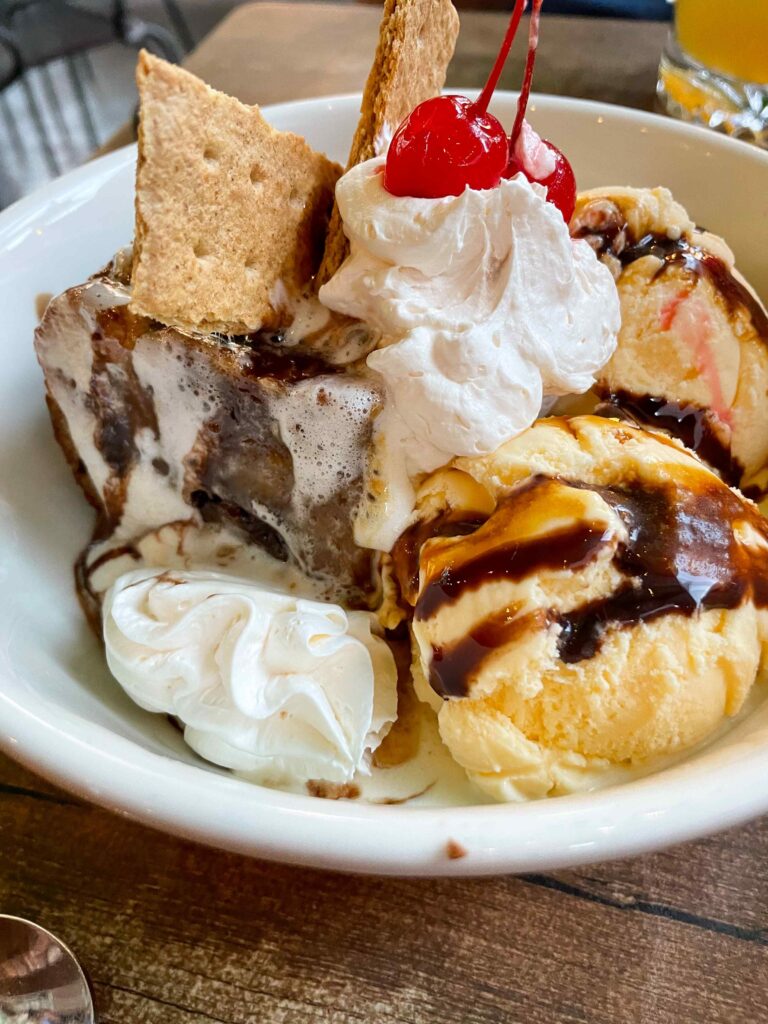 Menu Highlights: Zion Brew Burger, Juicy IPA, S'mores Bread Pudding
DAY 3 (THE NARROWS)
Breakfast/Coffee at Deep Creek Coffee
Deep Creek Coffee is another convenient spot in Springdale for a delicious cup of coffee. My favorite part about this coffee shop was the perched sitting area that was built up above the shop with great views. Not a bad way to start the day!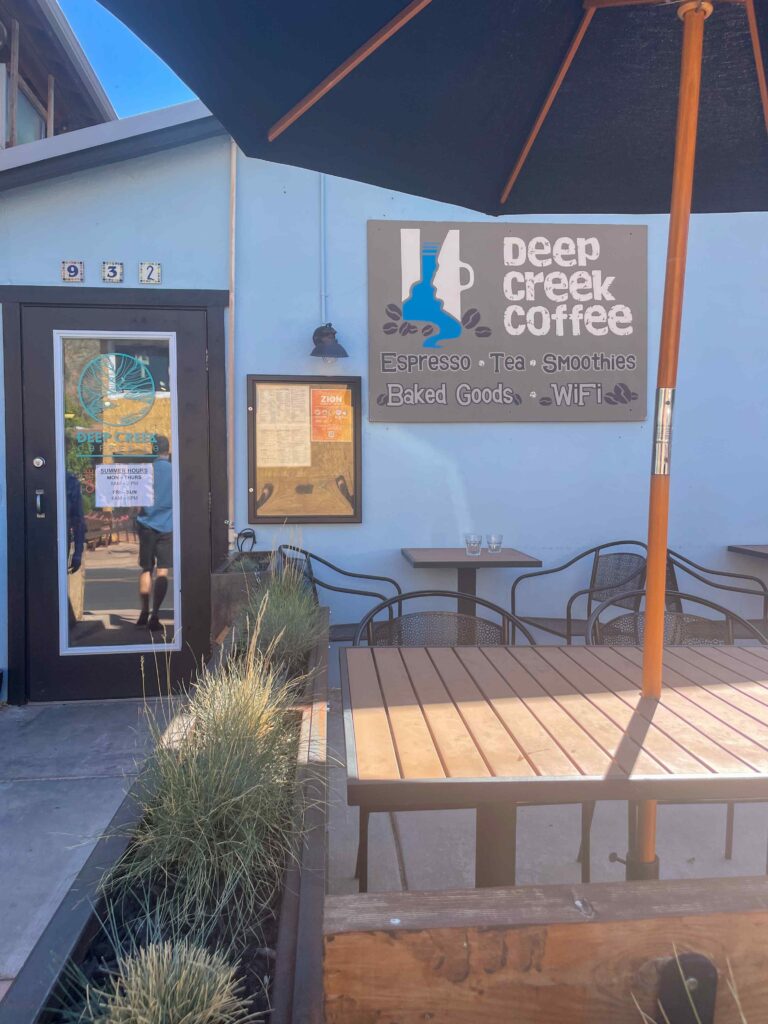 Menu Highlights: Pastries, Rosemary Vanilla Latte
Hike The Narrows
The hardest part about hiking The Narrows is resisting the urge to take a million photos at every turn! I've never seen anything like it. Most of the hike is through water as you make your way through the most narrow portions of the canyon, which get down to just 20-30 feet wide and 2,000 feet tall.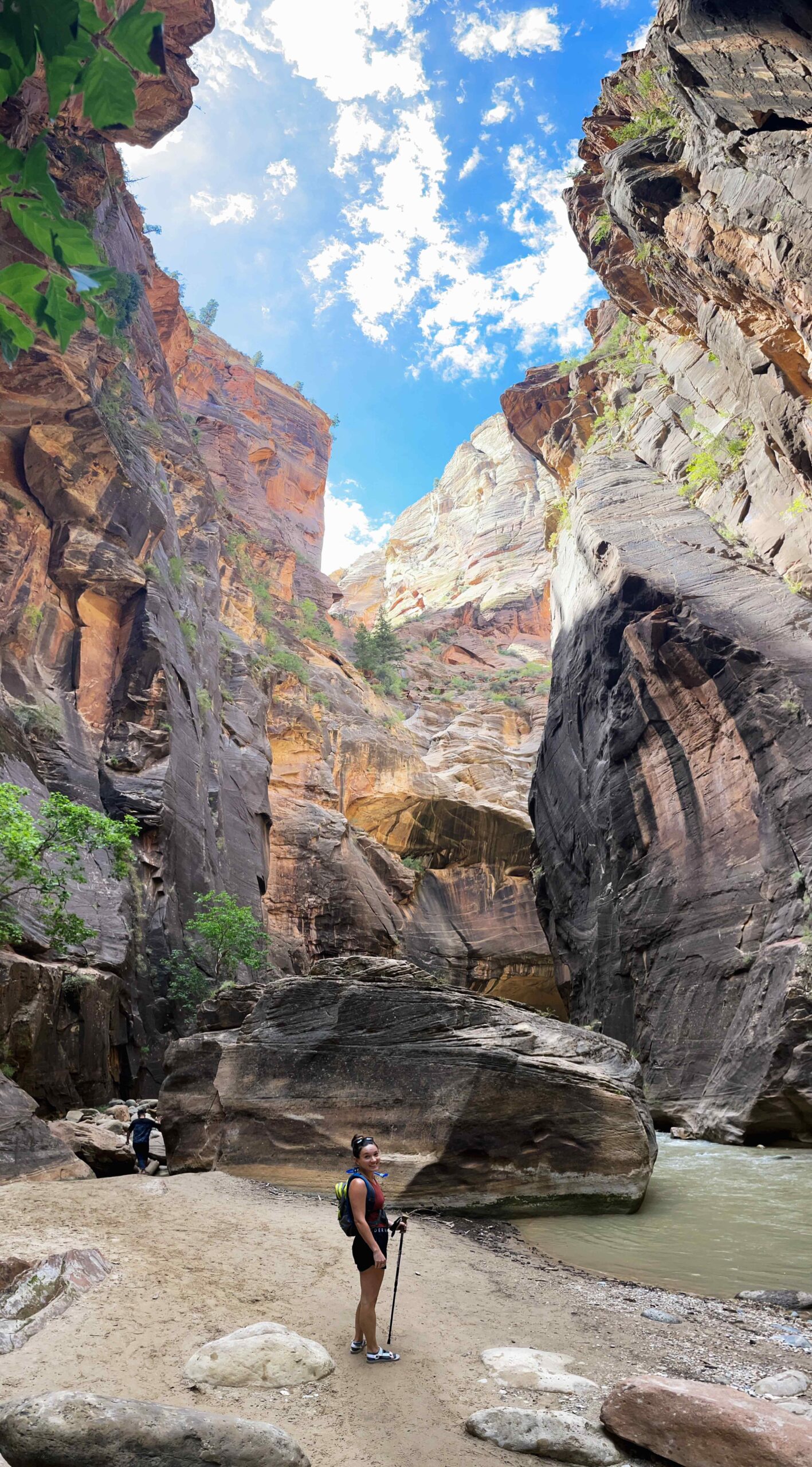 There are actually two ways to hike The Narrows, one requiring a permit and the other does not.
Bottom Up Hike from the Temple of Sinawava (No Permit Required)
16-mile Top-Down Hike from Chamberlain's Ranch (Permit Required)
We went with the bottom-up hike, which is the most common route and does not require a permit.
Start at the very last shuttle stop, Temple of Sinawava. There are restrooms, water and lots of benches here.
The hike actually starts with the Riverside Walk, which is a 1-mile paved path that winds down into the canyon alongside the Virgin River with stunning views and lush vegetation. This part of the hike is great for all ages and even wheelchair accessible, so I recommend it even if you don't plan to hike in the water at The Narrows!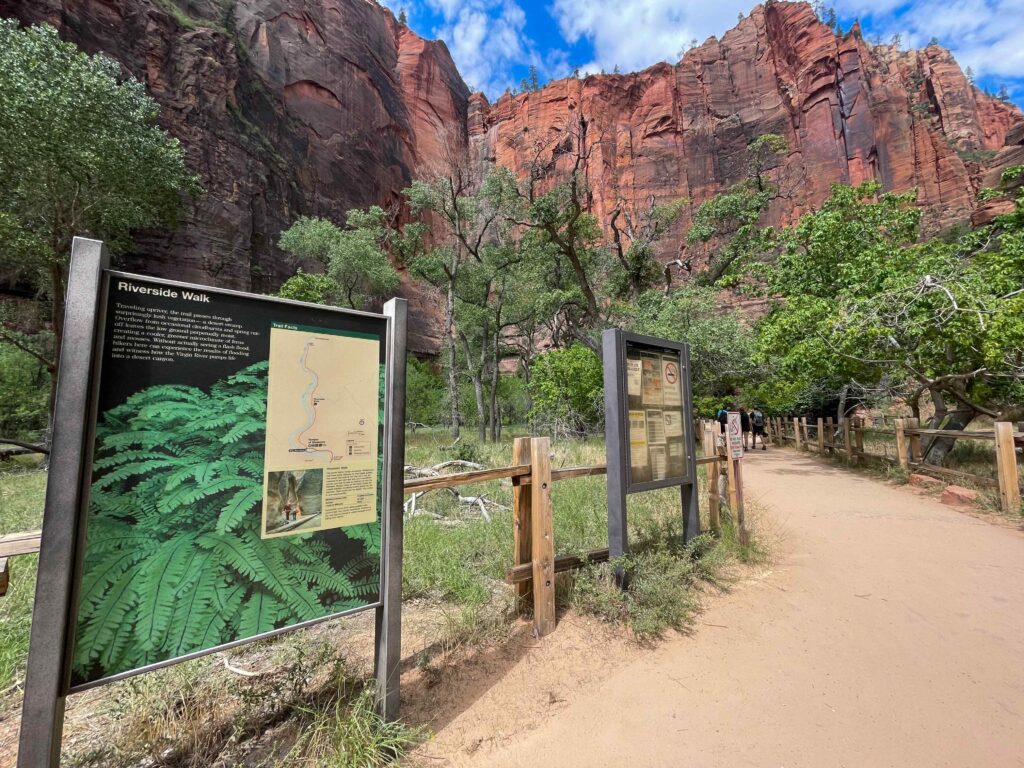 At the end of Riverside Walk, you'll see the paved path end with a few steps down into the riverbank. From here, make your way as far down the river as you'd like and then turn around when you're ready. We spent about 5 hours total in The Narrows and made it to Floating Rock just before Wall Street and back. Make sure you pay attention to your pace and the shuttle schedule so you don't miss the last shuttle out of the park!
PRO TIP: Do not attempt to hike The Narrows without hiking poles. Almost every person we saw who fell or tripped in did not have poles. And it will help you go much faster as you navigate the rocks. We bought poles at the Visitor Center for about $30 per set and we are so glad we did. Or you can grab some on Amazon and bring them with you.
We hiked it in our Teva hiking sandals with socks underneath, and it was perfect. Lots of people rent waterproof hiking shoes, and closed toed shoes might be preferred, but these worked great too!
Dinner at Zion Pizza & Noodle Co
After all that hiking, you're probably ready to dive into a giant pizza. I sure was!
We got the Cholesterol Hiker, which had tomato sauce, pepperoni, Canadian bacon, housemaid Italian sausage, mushrooms, mozzarella and cheddar cheese. Delicious and decently priced for the size!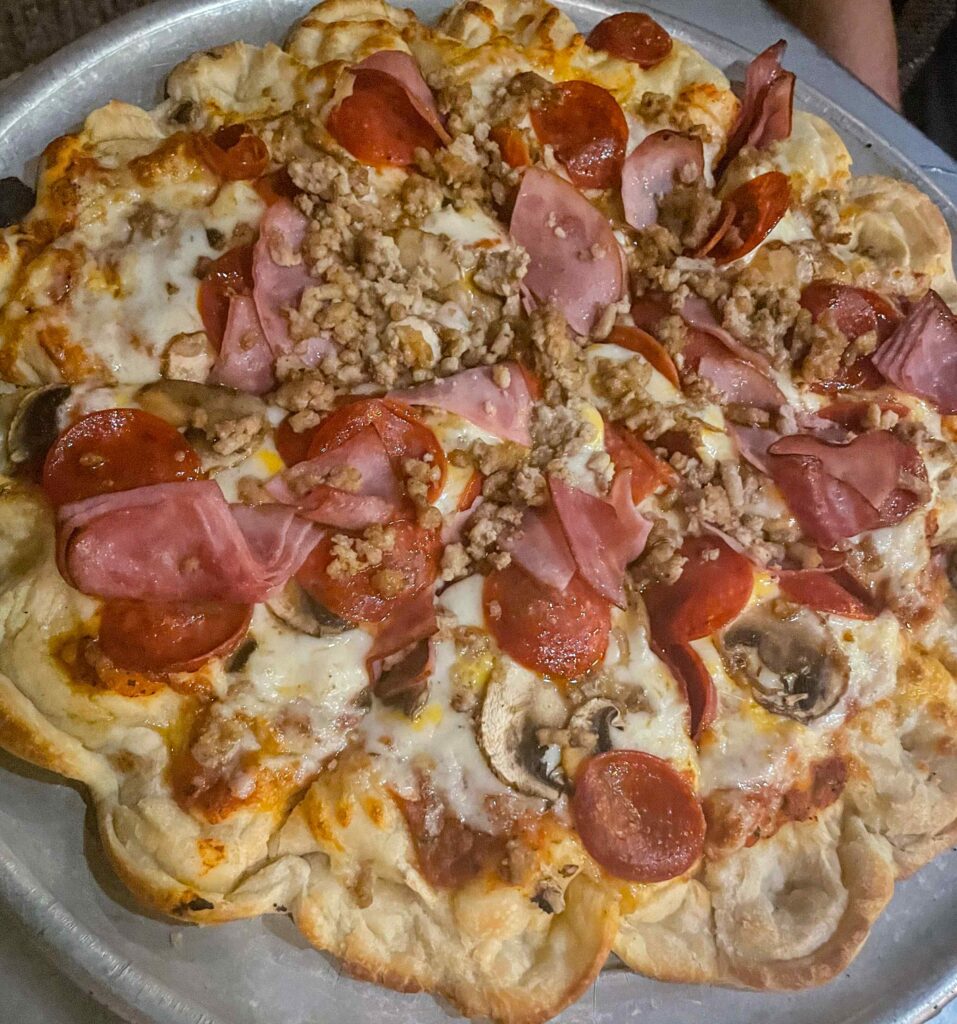 Drinks at Cowboy & Angels Bar
We went out for an evening cocktail at Cowboy & Angels bar which is attached to FeelLove coffee bar and owned by the same people. It's intimate and chic, decorated with chandeliers and lots of gold accents. Definitely not what you'd expect in a rustic outdoorsy town like Springdale, but cute.
We got an Old Fashioned with bourbon, apple brandy, almond spiced Demerara and bitters. And a Pomegranate Gimlet.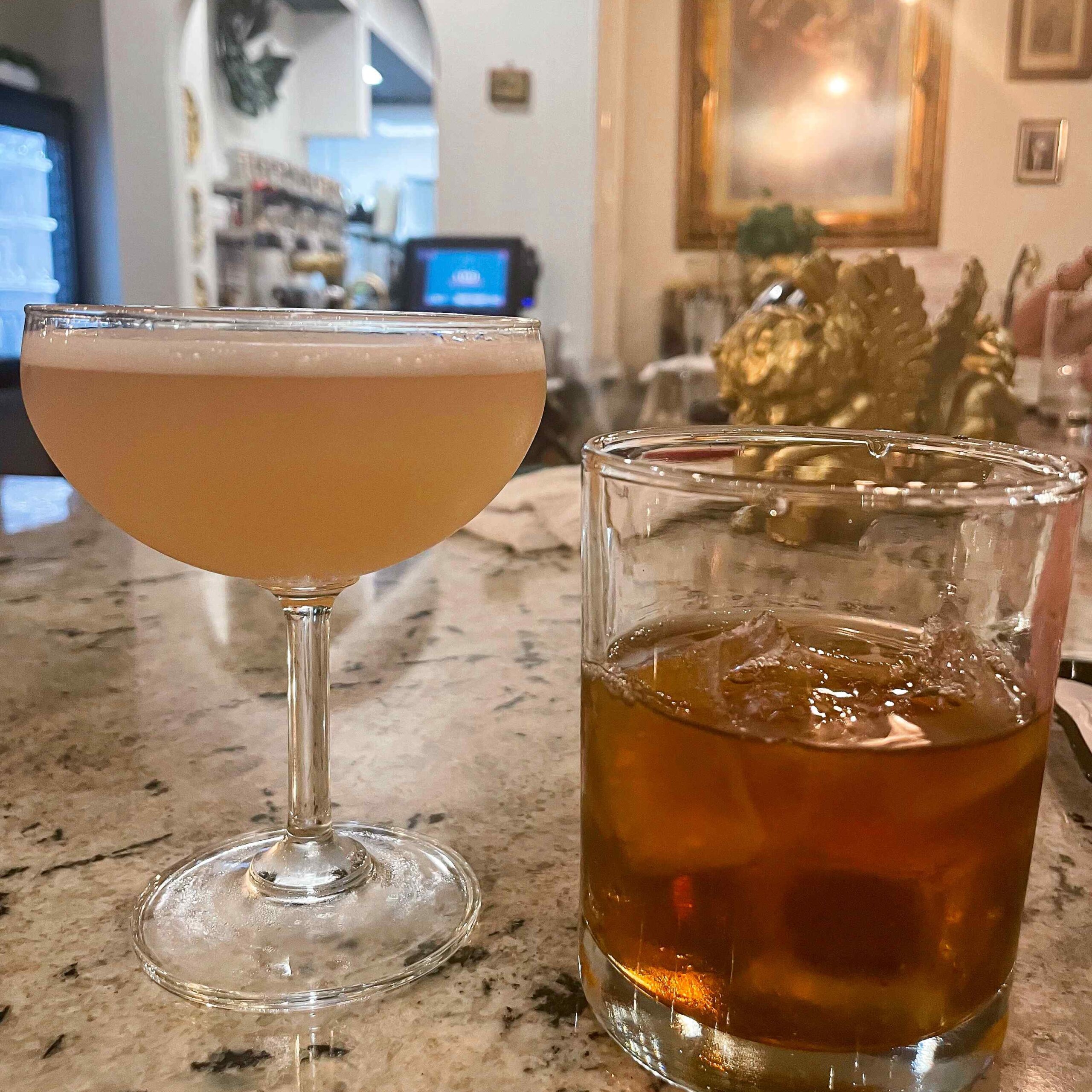 DAY 4 (BRUNCH & BIKING)
Brunch: Meme's
We saw lots of great reviews about Meme's, and while they are open for breakfast, lunch and dinner, it seems that crepes and brunch are their sweet spot (no pun intended). The crepe was delicious and huge! Plenty to share.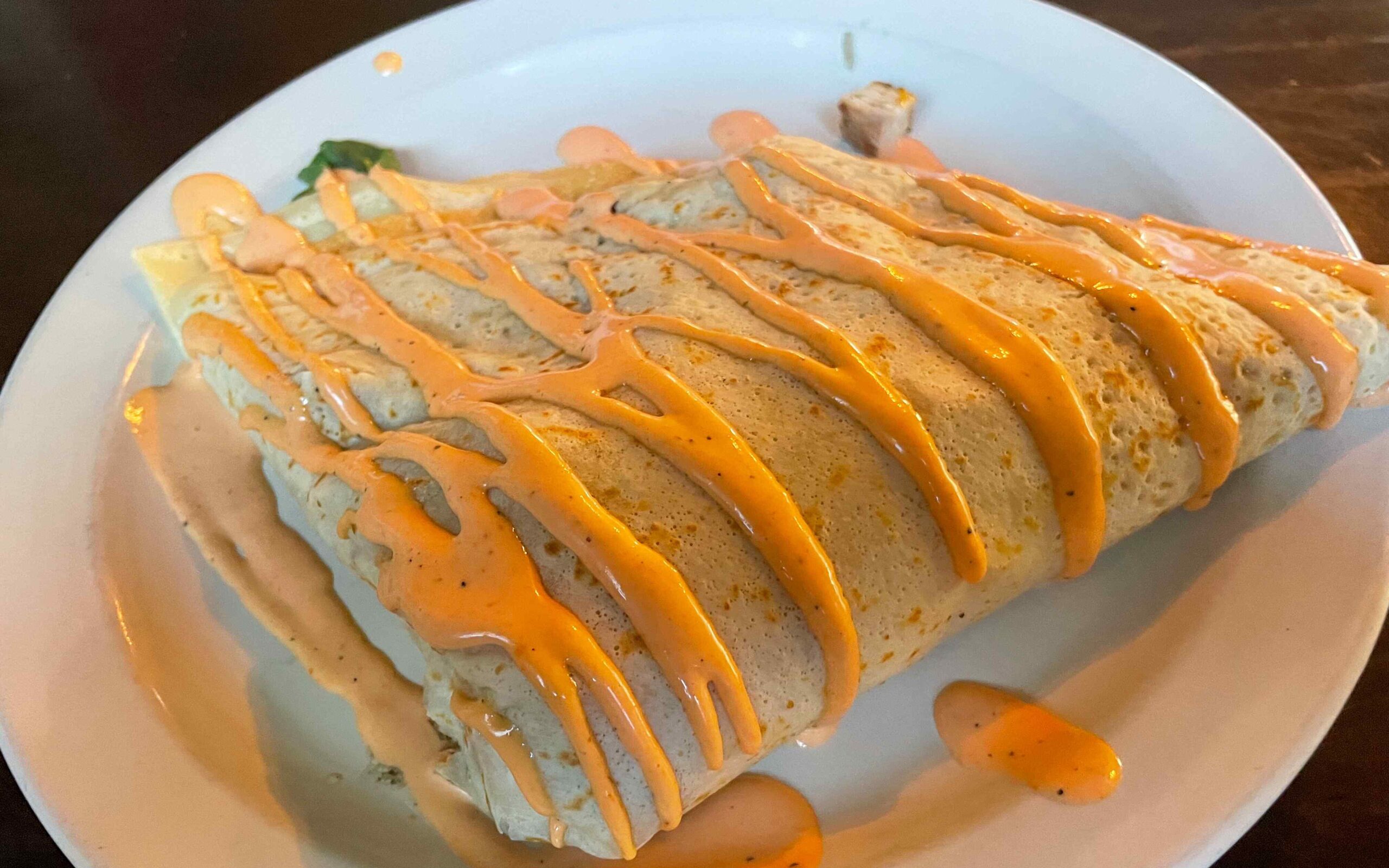 Biking Zion Canyon
On the last day, we took a break from hiking and decided to experience the park by bike. We're big fans of biking and after seeing all the bikers enjoying the canyon we knew we had to rent some.
E-bikes are popular and a great way to involve the whole family or give your body a rest. But they can be pricey to rent and you cannot take them on the shuttles.
We went with regular mountain bike rentals from ___ near the Visitor Center. It was super easy and only $25 for a half day.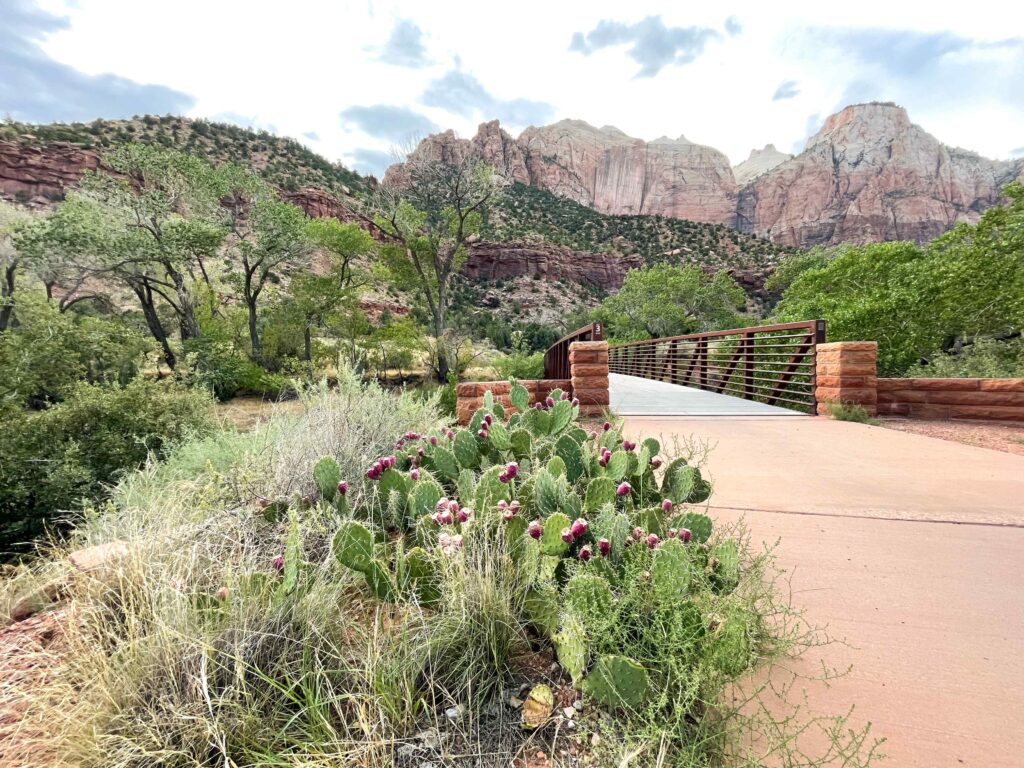 If you have lots of time you could bike up the Canyon and back down, going all the way from the Visitor Center to the Temple of Sinawava and back. But it was a work day for us so we went in the late afternoon and wanted a casual evening bike ride.
We put the bikes on the shuttle and rode up to the last stop, and then biked all the way back down. It was PERFECT weather as the sun made its way behind the canyon and we were told that this is also the best time to see wildlife. We saw lots of turkeys out in the road! Also some squirrels, deer and bats.
It was the perfect way to wind down our Zion adventure and soak in a little bit more of the beautiful park before heading home.
Dinner at Camp Outpost
The rotisserie chicken was delicious and comes with a salad of smashed potatoes, arugula, chimichurri and radishes. This was one of my favorite meals of the trip!
The prickly pear margarita was also really yummy. The decor is cute and there is plenty of outdoor seating and even a cute fire pit on the patio.
Menu Highlights: Rotisserie Chicken, Prickly Pear Margarita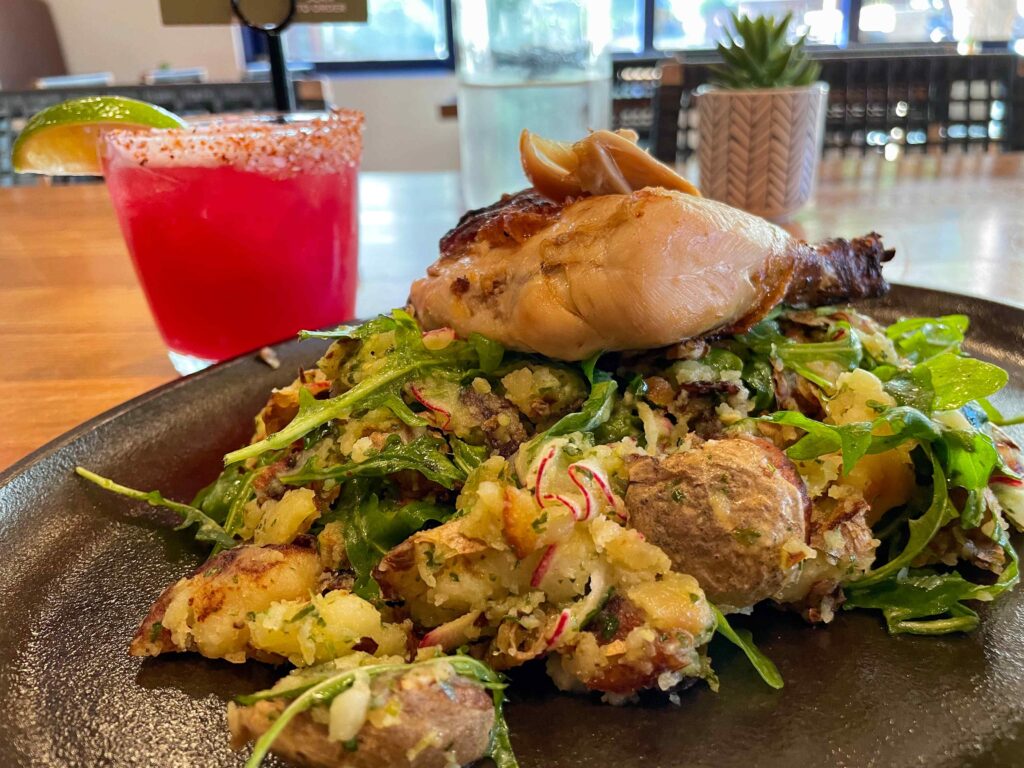 Stargaze
If you haven't already, make sure you take the time to look up! We actually drove out to Bryce Canyon one night and on our way back we pulled over just past the tunnel in Zion National Park to look up at the stars. It happened to also be a Super Blue Moon (last one until 2034 I think) so the sky was bright, but we could still see a lot of stars and sit in silence and awe at how beautiful God made this world and especially Zion National Park.
---

Ultimate Yosemite National Park Itinerary
Hiking Packing List: Day Hike Essentials
---
Frequently Asked Questions
Why is the rock red in Zion National Park?
The red color in the rocks and cliffs of Zion National Park are due to high iron content.
Is Zion National Park dog friendly?
Dogs and pets are allowed only on the Pa'rus trail which starts at the South Entrance near the Visitor Center and goes to the Canyon Junction. This is a mostly paved path that follows along the Virgin River and is a great spot to walk dogs. Pets are allowed in the South and Watchman camping areas if they are on a leash. Service animals are allowed throughout the park but must be kept on a leash at all times.
Keep in mind that conditions may be tough on pets and hot pavement could burn their paws. Check the nps.gov website for specific rules about pets.
Is Zion National Park open 24 hours?
Technically, the park is open 24 hours for visitors, 365 days a year. However, the shuttles an park services like the visitor center do not run 24 hours. Even after the shuttle stops running, cars are not allowed in most parts of the park, so plan ahead if you have specific activities planned in the evening.
Where are the Zion National Park entrances?
There are technically 4 different Zion National Park entrances, however the Springdale entrance is the most popular and the best way for first time visitors to enter the park. The second most popular entrance is at Zion-Mt Carmel Road to the east of Springdale. The other two entrances are Kolob Canyon and Kolob Terrace Road which enter the park from remote roads to the west of the park.
When was Zion National Park founded and named?
Zion National Park was first designated by President William Howard Taft as Mukuntuweap National Monument on July 31, 1909. It was later renamed and officially established as Zion National Park on November 19, 1919.
The name "Zion," which means "place of refuge" or "sanctuary," was given by Mormon pioneers in the 1860s who settled in the area.
---
Ready to Plan Your Zion National Park Itinerary?
I hope you got some inspiration and tips for planning your Zion National Park itinerary! There are so many amazing things to do and eat, but make sure you take time to appreciate the beauty of it all.
This was a trip I will never forget and definitely one of those core memories I'll tell our kids about.
Have questions? Any other good food recs that I missed? Drop them below or message me on Instagram.
Happy travels!
-Hannah
This post was all about planning the ultimate Zion National Park itinerary.