2-Day Yosemite Itinerary: Best Hikes, Food, and Places to Stay
Planning a trip to Yosemite? Here's a 2-day itinerary that highlights the best things to do, what to eat and where to stay, especially for first-timers!
And you know I wouldn't leave you hanging without lots of food recommendations! This Yosemite Itinerary is packed with foodie tips. Just because you're in the wilderness, doesn't mean you have to eat hot dogs and trail mix the whole time. But if you, I won't judge…
EVERYONE should visit Yosemite at least once. Hiker or not, I promise you'll never forget the experience.
There's a reason why Yosemite National Park has become so popular and gets around 4 million visitors every year.
I had no idea what I was missing until I visited Yosemite for the first time. The pictures truly don't do it justice! When we drove into the Valley, it felt like we had just jumped into another world.
This post is all about planning the perfect Yosemite itinerary for 2 days.
This post may contain affiliate links, which means that I may receive a commission if you make a purchase using these links at no cost to you. As an Amazon Associate I earn from qualifying purchases at no additional cost to you.
Yosemite National Park
Yosemite National Park was first protected in 1864 by President Lincoln, and was actually the first time that the government protected land. So Yosemite sparked the concept of dedicating precious land to be enjoyed for many years, which we're benefiting from today!
What is Yosemite National Park Known For?
Yosemite National Park is known for its stunning waterfalls, valleys and giant peaks of granite rock like El Capitan and Half Dome.
Yosemite also holds one of the world's tallest waterfalls, Yosemite Falls. The entire length of Yosemite Falls is over 2,400 feet, spread out into three separate falls:
Upper Yosemite Falls
Middle Cascades
Lower Yosemite Falls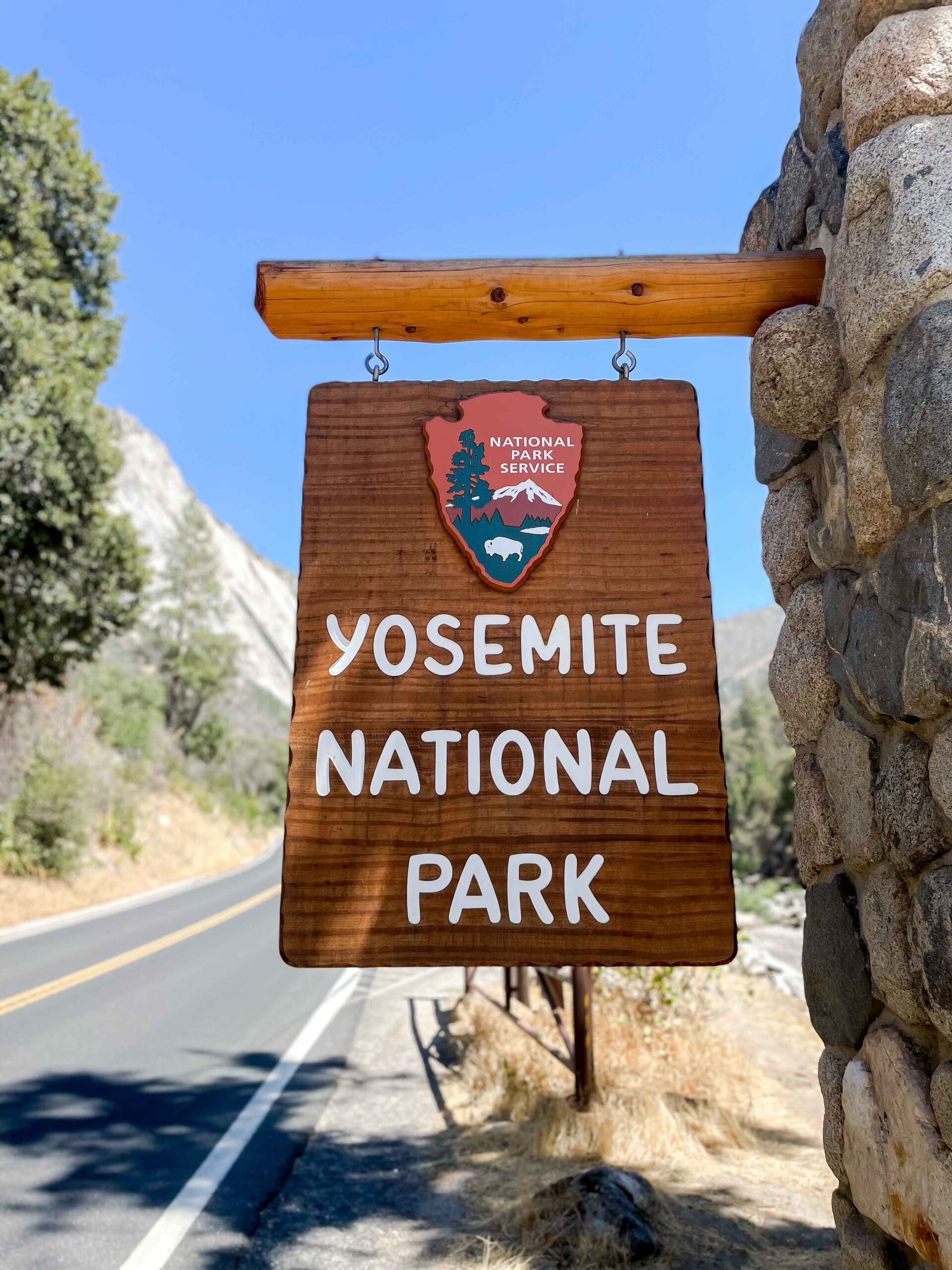 How Many Days Do You Need in Yosemite?
The best way to experience Yosemite is to plan a 2-4 day trip.
While it's entirely possible to fit a lot of it into 2 days, you may want to add a day or two extra so that you can take your time and not feel rushed.
How to Get to Yosemite
If you're flying in, I would recommend either San Francisco or San Jose, which are major airports and will have good availability for affordable rental cars.
You will definitely want a car to get around Yosemite Valley. Plus, a road trip from the city out into the wilderness is part of the experience!
To learn more about how I fly for $5.60 each way, check out my blog post How to Fly Nearly Free.
Yosemite Park Entrances
There are five entrances into the National Park and each of them has its own unique view and experience.
My favorite view is entering through the South Entrance, coming through the tunnel and popping out to the most incredible view of the Yosemite Valley. But we also used the Arch Rock Entrance several times because it was convenient to our campsite.
Entrances on the West Side
Hetch Hetchy Entrance – Highway 120
Big Oak Flat Entrance – Highway 120
Arch Rock Entrance – Highway 140 (Fastest route from San Francisco)
South Entrance – Highway 41
Entrance on the East Side
Tioga Pass Entrance – Highway 120
All park entrances, except for Hetch Hetchy, are usually open 24 hours a day. If the entrance is not staffed when you arrive, you can pay on the way out.
Keep in mind that some of the entrances close in the winter months due to snow, so be sure to check current conditions on the National Park Service website. Having to turn around and find another entrance could cause you several hours worth of delay.
Park Fees & Parking
Unless you take a shuttle to the park, you'll just need to pay the one-time fee of $35 per car to enter.
This fee is valid for seven consecutive days. There are other fees for motorcycles, large vehicles above 15 passengers and commercial vehicles.
We decided to get the Annual Interagency National Parks Pass at $80 per year, which gives you access to all US National Parks for 12 months. We ended up visiting Haleakala in Maui twice that year as well as Yosemite, so it paid for itself!
Reservations for access to the park are not currently required in 2023, but on some days during peak season they do require them. So be sure to check the National Park website before your visit.
Free Park Days
Entrance to the park is free during these special holidays. However you will still need a reservation if those are required at that time and you'll need to pay the $35 per car fee if your visit extends past these individual dates.
Where to Stay
If you're looking for something unique, here are 10 Unique Yosemite Bed & Breakfasts to consider that will be cozy and romantic!
While staying inside the park has a lot of advantages, we were super happy with glamping at Autocamp in Midpines, which is about 30 minutes outside of Yosemite.
It was far cheaper than staying in the park lodges and we got to experience staying in a renovated Airstream! It was the perfect balance of camping and luxury, and I highly recommend Autocamp to anyone visiting Yosemite.
Read all about our stay at Autocamp Yosemite and how to find the best rates for booking an Airstream or luxury tent.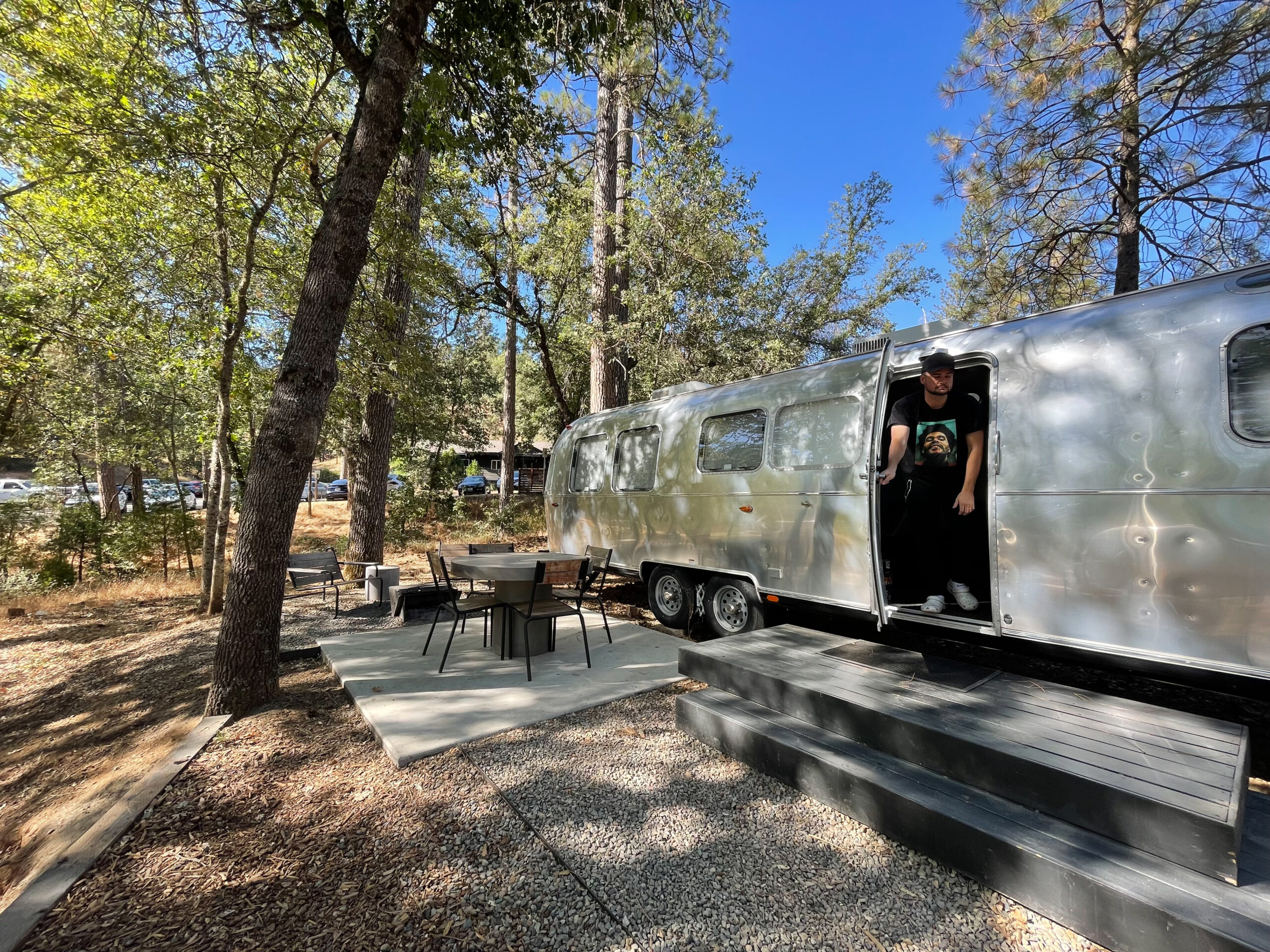 Other top recommendations for luxury, pet-friendly and affordable stays:
Luxury
Pet-Friendly
Unique
Affordable
Camping
Yosemite National Park camping reservations can be very difficult to get. You can learn more about camping options and rules on the National Park Service website.
2-Day Yosemite Itinerary
Now that those boring logistics are out of the way, let's get right into the fun stuff and break down the perfect 2-day Yosemite itinerary!
DAY 1
Hike Half Dome or the Mist Trail
If you've obtained a permit and are brave enough to hike the Half Dome cables, it's definitely worth the trek!
This is not for the inexperienced hiker. If you're on the fence, check out my post about Everything You Need to Know for Hiking Half Dome to help you confirm your decision. You'll need to start early in the morning and it will take most of the day to complete, but I promise it will be a highlight of your trip, month, year and maybe even your entire lifetime!
Half Dome Distance: 14 – 16 miles roundtrip depending on the route
Half Dome Difficulty: Difficult
Hiking Time: 10-12 hours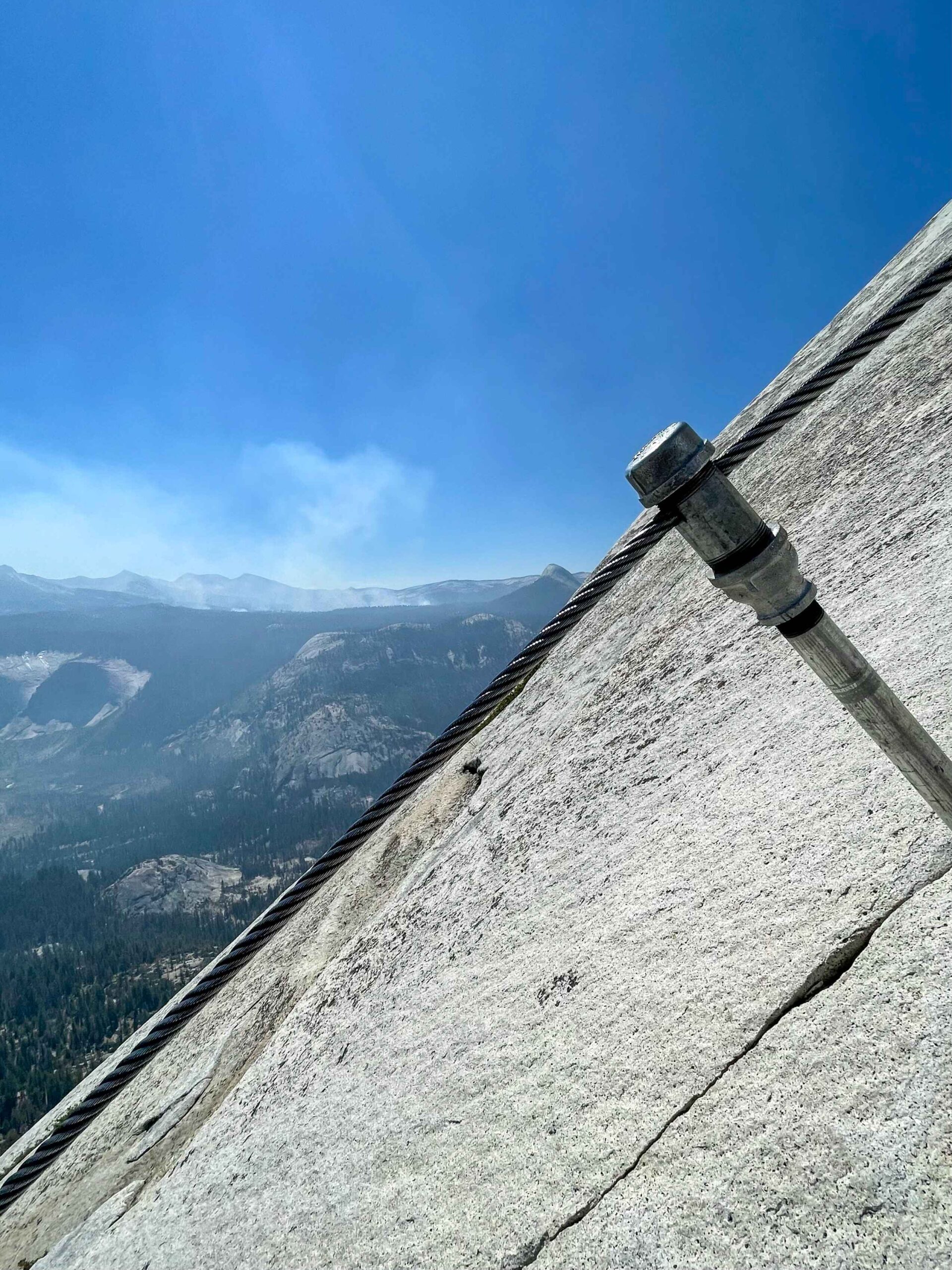 If you choose not to hike Half Dome or don't have permits, I would still recommend doing the Mist Trail to either Vernal Falls or Nevada Falls. You don't need a permit for this portion of the hike and although parts of it are steep, there are a lot of steps and it's much easier than Half Dome.
You hike alongside the beautiful Vernal and the Nevada Falls, hence the name Mist Trail. The journey to the top of Nevada Falls is just as gorgeous as the view from the top. If it's a warm day, you can also swim or wade in the shallow part of the Merced River bed at the top of the falls.
We cooled off here on our way back down from Half Dome, and there were a good amount of people hanging out there who had hiked up just to spend a few hours at the top of the falls.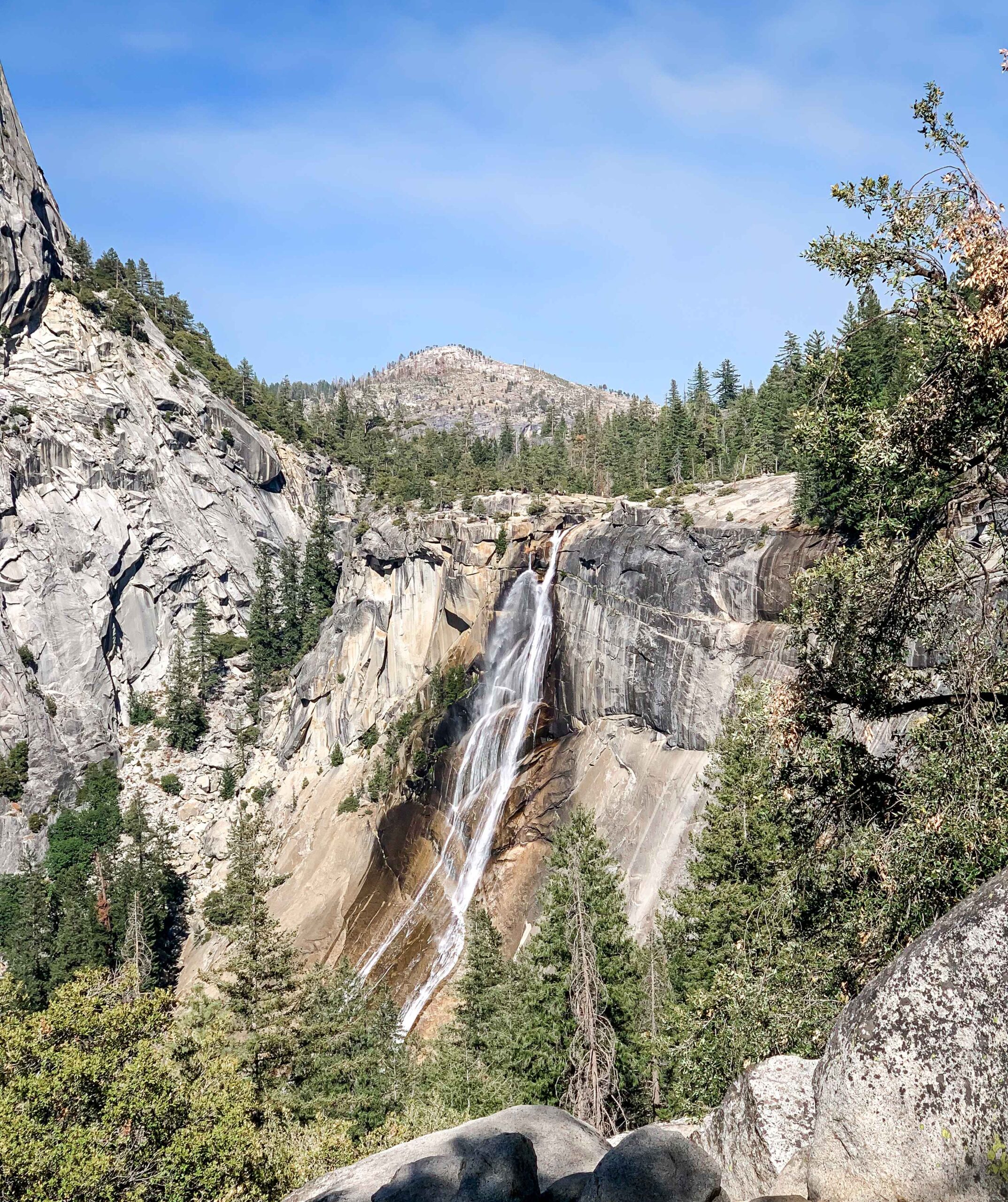 Mist Trail Distance to Top of Vernal Falls: 2.4 mi (3.9 km) round trip
Hiking Time: 3 hours
Mist Trail Distance to Top of Nevada Falls: 5.4 mi (8.7 km) round trip
Hiking Time: 5-6 hours
Mist Trail Difficulty: Moderate / Strenuous
Lunch in Curry Village
If you don't continue on to the Half Dome Cables, head back down the trail and make your way over to Curry Village for a late lunch.
I recommend the Pizza Deck, where you can get slices or a while pizza. The garlic cheese bread was delicious!
If you're extra hungry, you can even get a S'more Pizza for dessert which has chocolate sauce, marshmallow and graham cracker crumbs.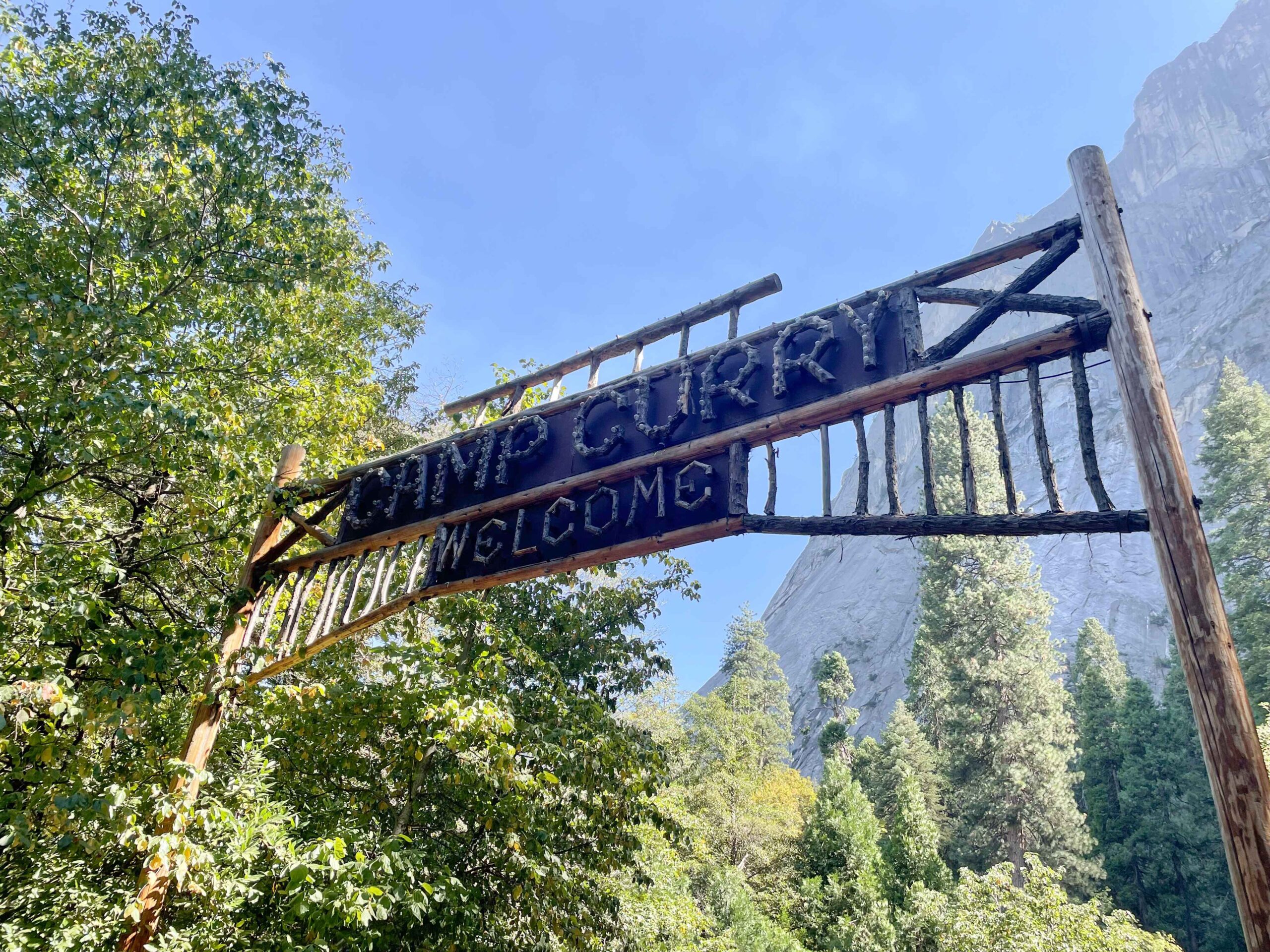 Tunnel View
One of the best views of the Yosemite Valley is found at Tunnel View just past the Wawona Tunnel on Highway 41. The best views are actually driving north through the tunnel from the south side where you pop out with a beautiful scenic view of Yosemite Valley.
But unless you approach the park from the South, which not many people do, then you can experience it from the north. We actually just drove through the tunnel, then turned around and drove through it going north to experience it. Not quite the same as seeing it for the first time, but you still get the effect and the wow factor!
Park at Tunnel View and take in the scenic views, especially if sunset is approaching! In mid-February, the sunset has been known to create an orange glowing effect on El Capitan and Half Dome that can look like fire. If you visit in February, make sure you fit this into your Yosemite Itinerary and let me know if you spot it!
Wawona Hotel
Even if you're not staying at the Wawona Hotel, it's worth a visit to see the beauty of this old Victorian-era mountain resort hotel which was built in 1856! It felt like stepping onto an old time movie set, but everything was real!
Drive south on Highway 41 through beautiful forest scenery for about 25 miles and you'll eventually reach Wawona Hotel.
We spent about an hour wandering around the property and listening to the evening pianist in the lounge, but it felt like longer because it was so peaceful. They have Adirondack chairs, a fireplace and plenty of cozy places to relax.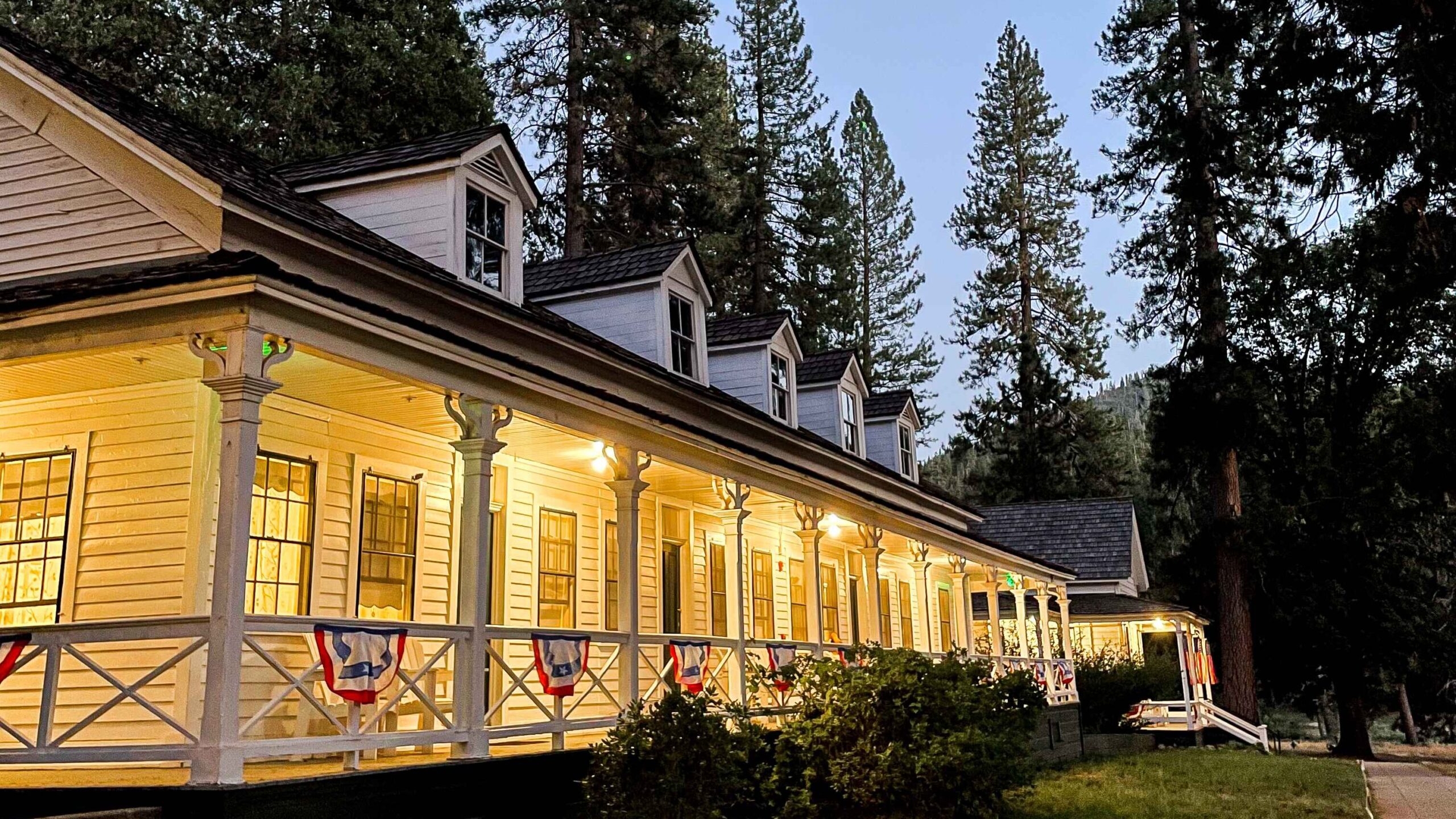 Dinner at the Wawona Dining Room
Since you're there, you should probably stay for dinner and finish your day with a delicious dinner in their Victorian-style dining room.
Dinner is served from 5:30 – 9:00pm every day.
Menu Highlights
Garlic Cheddar Biscuits, Baked Goat Cheese Brushetta, Lamb Chop Lollipops, Southern Fried Chicken
DAY 2
Breakfast at Ahwanee Hotel
If you only take my advice on one thing in this post, PLEASE make it this one.
Breakfast in the Ahwahnee Dining Room was one of the best parts of our trip! It was especially nice after hiking Half Dome the day before.
The dining room has 34-foot high ceilings, beams, chandeliers and large windows. Absolutely dreamy!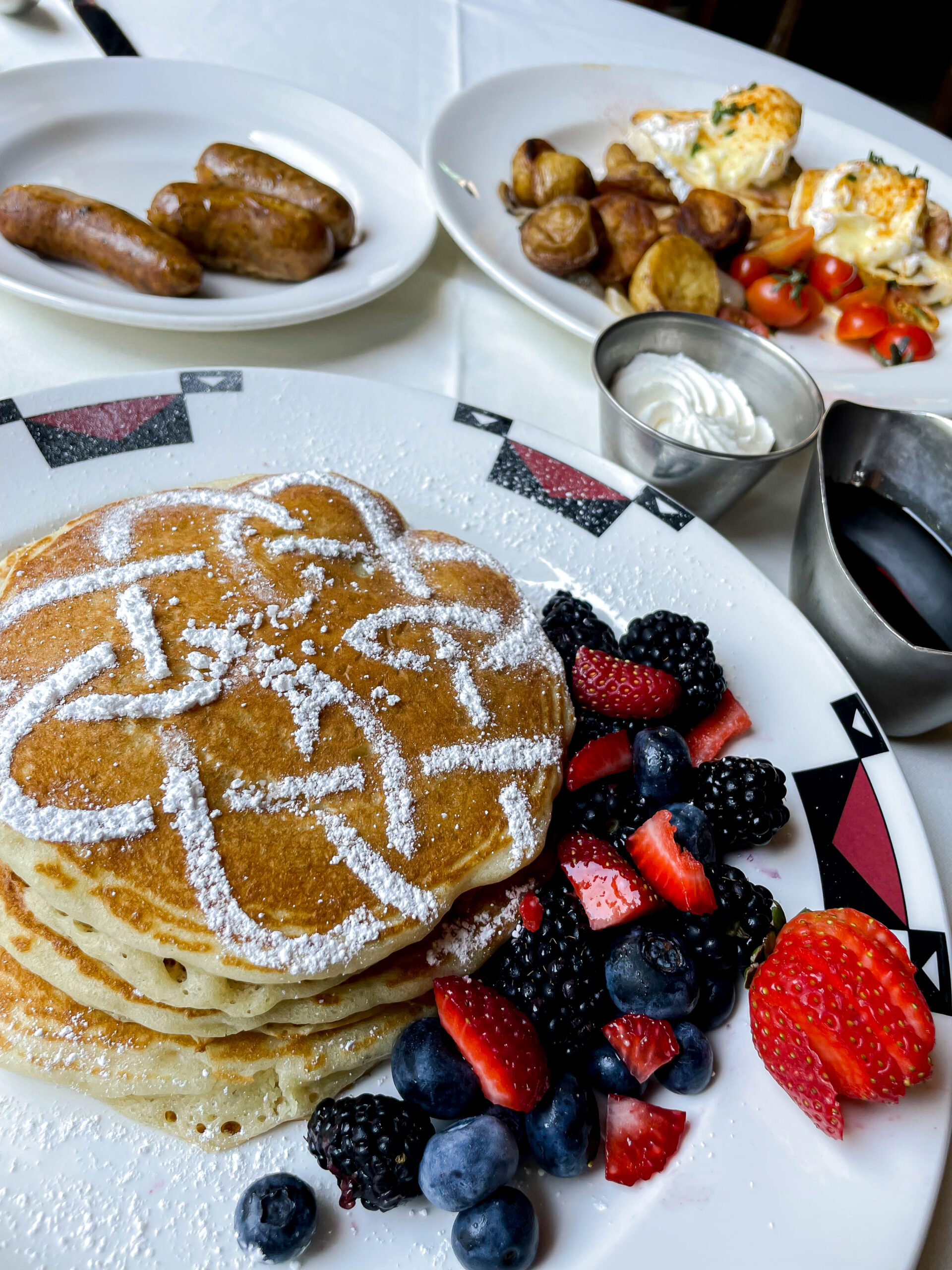 The Ahwahnee Dining Room is part of the Ahwahnee Hotel inside the Yosemite National Park. They offer an elegant buffet for breakfast and brunch. But we opted to order a la carte from the main menu (just ask your server).
This is a pinkies up type of brunch for sure, and would be perfect if you're celebrating an anniversary, birthday or wedding. Reserve this in advance, because brunch is popular.
Walk Around Royal Arch Creek
From Ahwahnee Hotel, you can follow a quick trail through the forest that leads you to Royal Arch Creek. The views are insanely perfect and on a warm day, this feels like a little slice of mountainous paradise.
We spotted a bear on the other side of the creek, so we had fun watching it and the park rangers coercing it back up into the mountains away from people! The rangers knew exactly what to do and they kept that area clear until it moved along.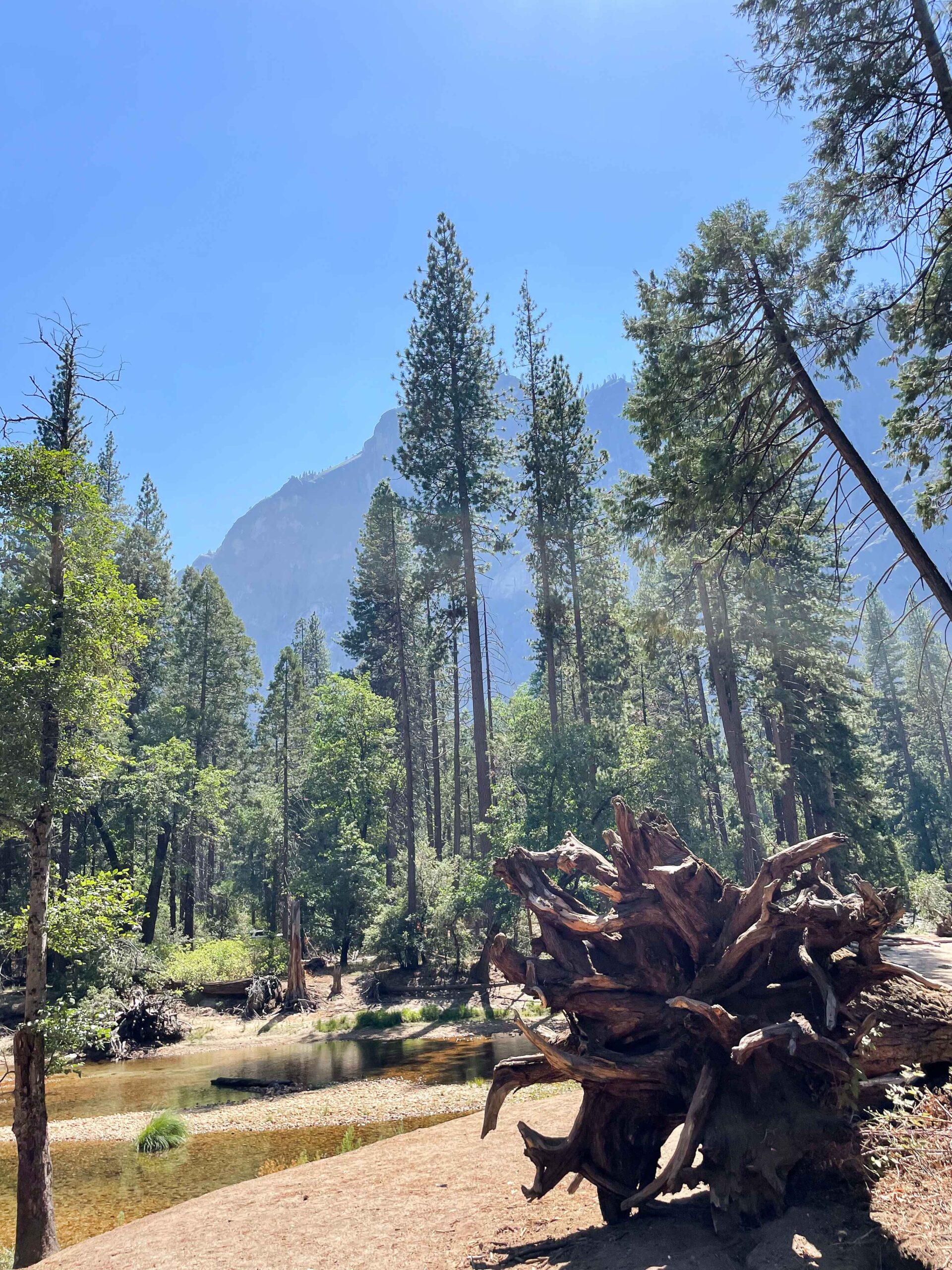 Bear Sightings
This was not the only time we saw bears in Yosemite! We actually spotted three within two days! I hear that this is pretty rare though and some people have visited the park regularly for 20 years and never seen one.
The first one we saw was a momma and her cub near Little Yosemite Falls. The second was a black bear walking along Highway 41. It popped out of the wood for a moment as we drove by and then went back into the woods on the other side.
The bears usually avoid populated areas and keep their distance. There are only 300-500 of them in the whole park which is massive, so chances are slim. I guess we just got BEARY LUCKY!
Check out the Yosemite Valley Visitors Center
The Visitor's Center was surprisingly cool to me! You'll probably never see the whole park, so being able to catch glimpses of how massive and beautiful Yosemite is was pretty neat.
I especially liked the 3D view of the geography of Yosemite National Park. It shows you a 3D view of different hiking trails, peaks and their elevations. So much better than any map could ever portray it!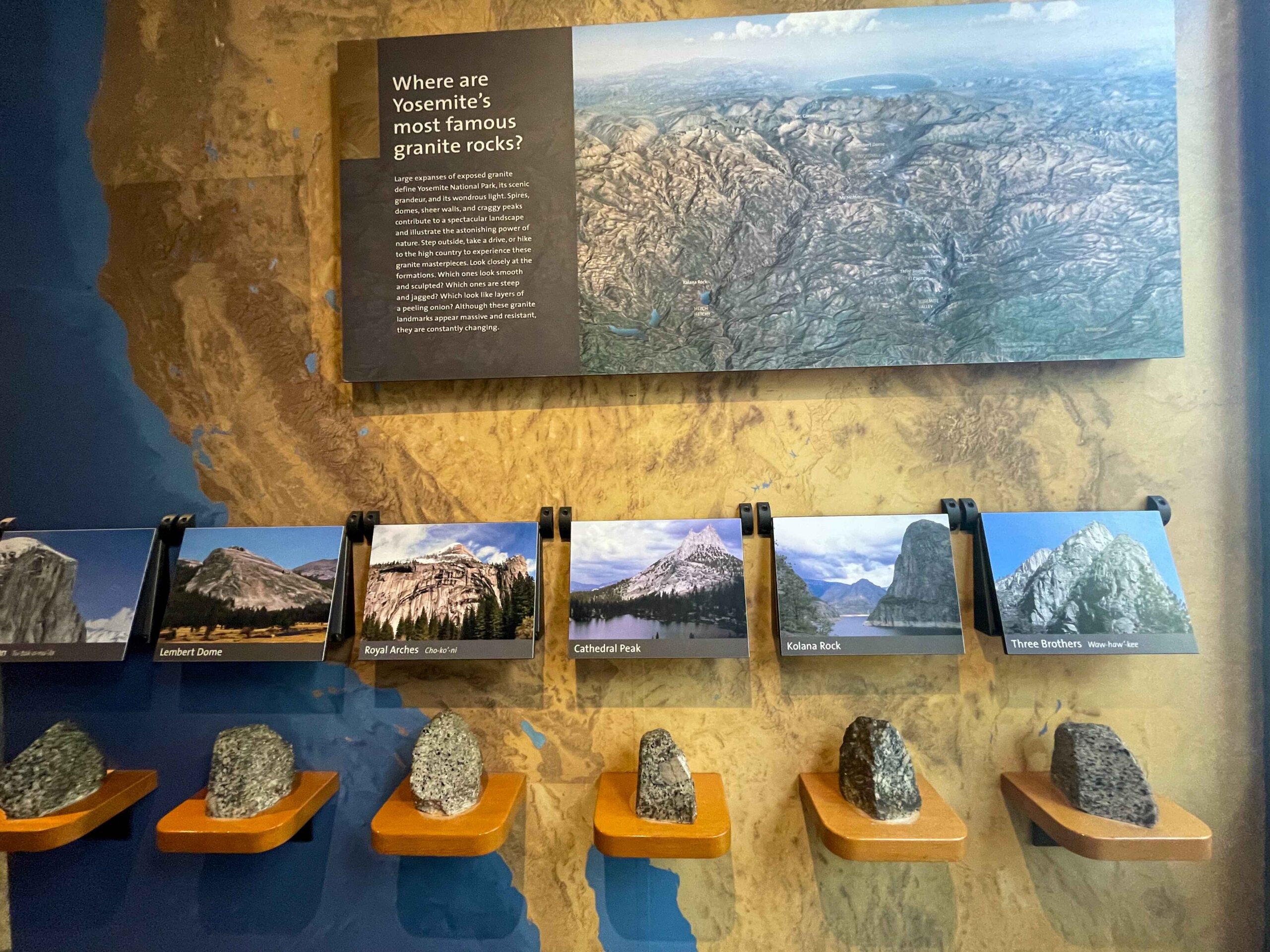 Hike the Lower Yosemite Falls Trail
Hiking the Lower Yosemite Falls Trail is easy, but very rewarding. In fact, I bet this is the biggest reward for the least amount of effort you can find!
The entire Yosemite Falls is over 2,400 feet high and one of the tallest in North America. You'll be seeing the Lower Falls section on this short hike, but it's still 320 feet (98 meters) high.
The water levels were low during our August visit, but they are usually highest in the spring.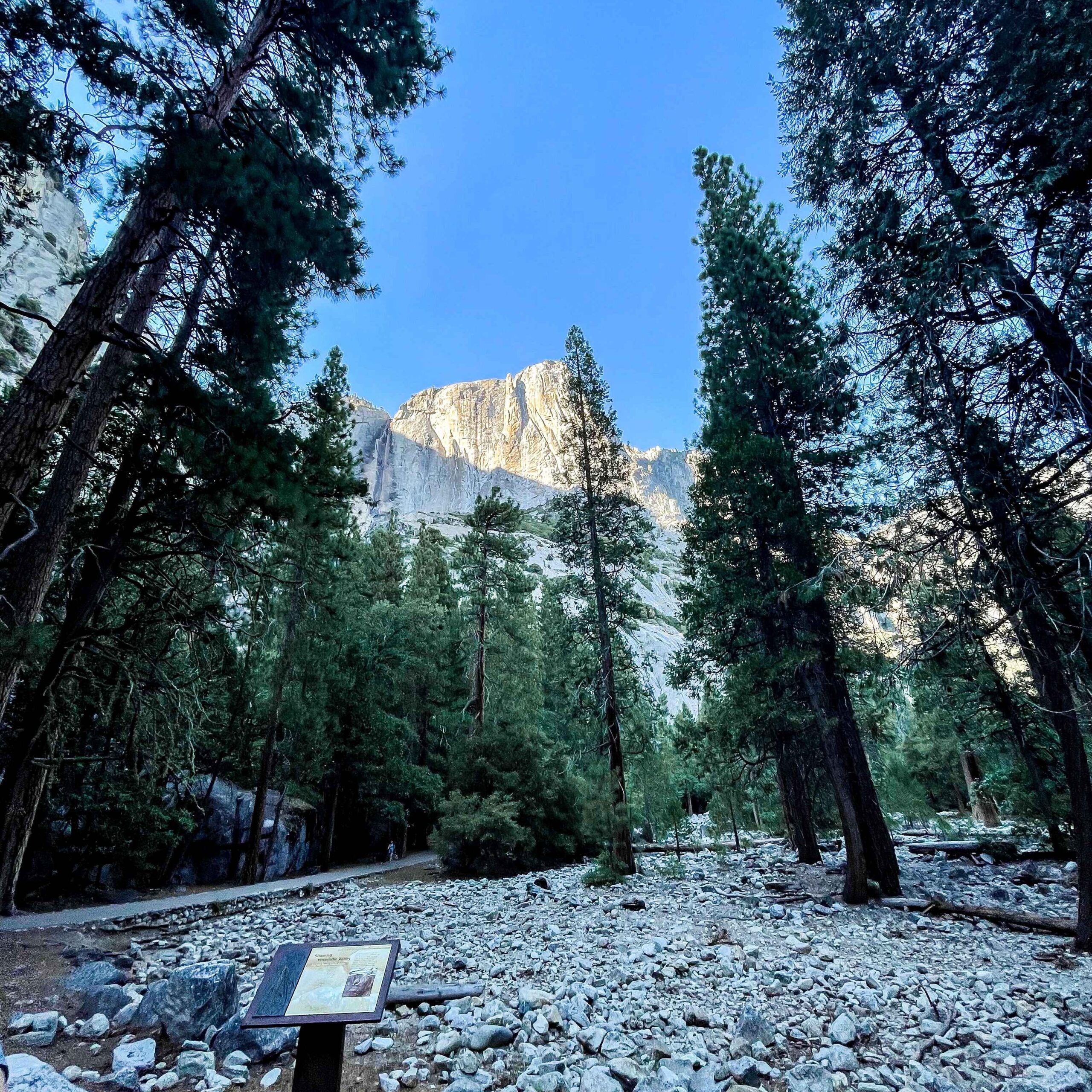 Distance
0.5 miles (.8 km) round trip from trailhead
1.5 miles (2.4 km) round trip from Yosemite Village
Difficulty: Easy
Hiking Time: 20 – 60 minutes total
Rent Bikes
I definitely recommend giving your feet a break, and hopping on a bike to explore the Yosemite Valley! The Valley is flat and it's the perfect biking area.
There are three locations for bike rentals inside the park:
Yosemite Village (near the Village Store)
Yosemite Valley Lodge (near the pool)
Curry Village (near the Curry Village Front Office)
Bike Rental Hours are 8am – 7pm.
Tag-along bikes for children, trailers and helmets are also available.
Dinner at Yosemite Valley Lodge
There are several options for dinner at Yosemite Valley Lodge depending on your mood and your budget.
Quick Service: Base Camp Eatery
Moderate Priced Lounge: The Mountain Room Lounge
Fine Dining: The Mountain Room
We opted for the middle of the road with Mountain Room Lodge. We shared a giant beer and a burger which was perfect after a long day of hiking and a great way to wind down before heading back to Autocamp for s'mores by our campfire.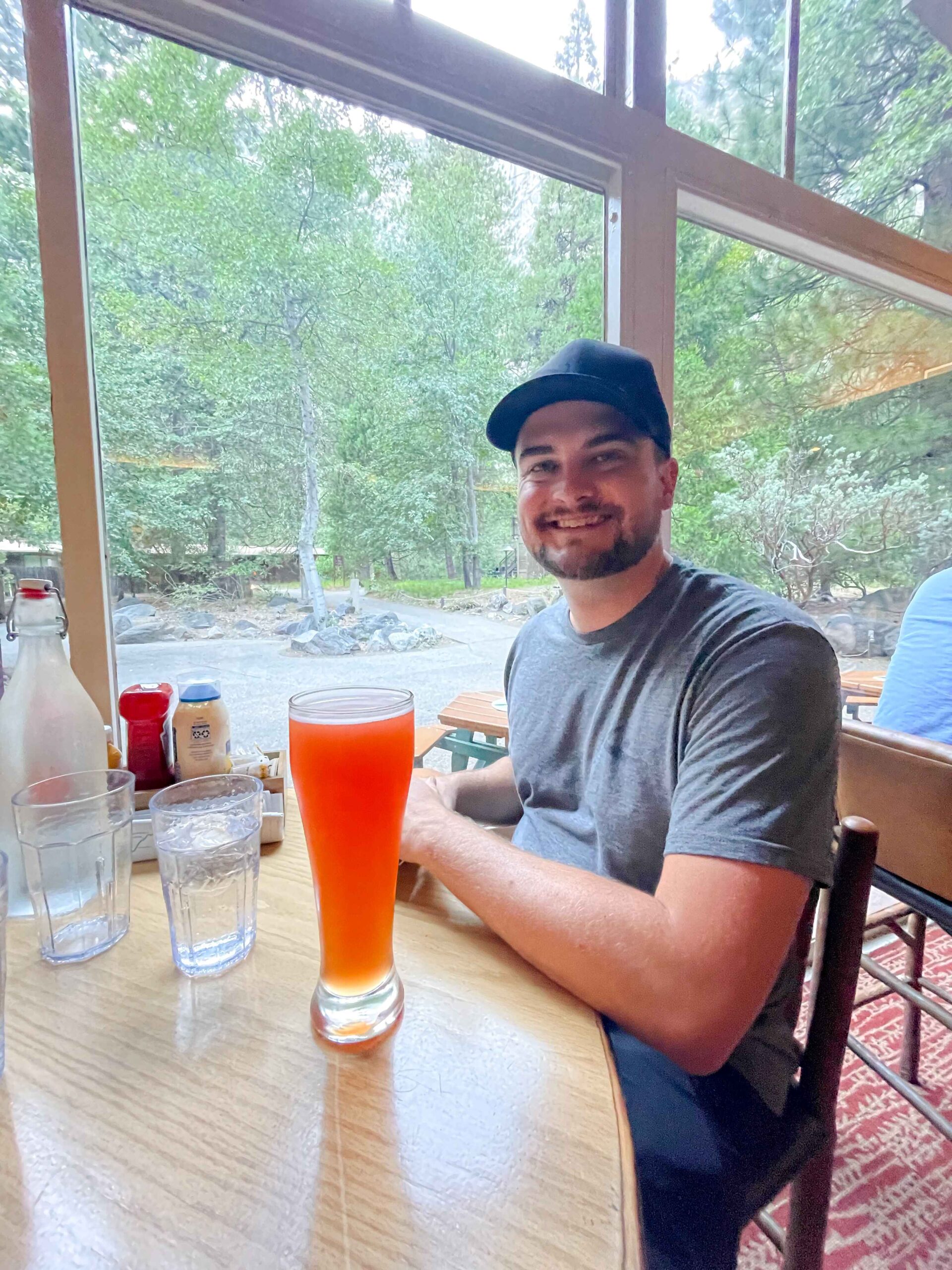 ---

Hiking Packing List: Day Hike Essentials
Hiking Half Dome in Yosemite: Everything You Need to Know
Autocamp Yosemite Glamping Review
Cozy Getaways: 7 Unique Yosemite Bed & Breakfasts
---
Frequently Asked Questions
Is 2 days enough for Yosemite?
A 2-day visit to Yosemite is a good amount of time to experience a few hikes and some of the National Park highlights. Most visitors choose to visit for 2 – 4 days, but a 2-day Yosemite itinerary is definitely doable.
Is a day trip to Yosemite worth it?
If you stay outside the park, chances are you'll have a several hour drive to reach Yosemite National Park. This makes it limiting for what you can see and do in one day.
But if you only have one day, the sights are definitely worth seeing and you could make a day trip Yosemite itinerary from highlights in this post. Limit yourself to one or two smaller hikes, then ride bikes around the valley and enjoy lunch inside the park.
What is the best time to visit Yosemite?
A majority of visitors choose to visit Yosemite between May to October when the temperatures are warmest and the best hiking weather.
The springtime brings the highest water levels for the falls and the river.
The fall and winter months are also gorgeous inside the park, but more a more ideal Yosemite itinerary for winter involves driving the roads or enjoying the cozy lodges. The Tioga Pass and Glacier Point Roads close during winter months, so some routes are not accessible.
---
Ready to Plan Your Yosemite Itinerary?
There are so many other things that you could pack into your Yosemite itinerary, but these highlights will not let you down!
If you are are first-timer, this 2-day itinerary covers the main attractions and some of the most popular hikes.
Whatever you decide to add to your itinerary, be sure to take time to soak in all the beauty of the nature around you. It still blows my mind that God created such beautiful places for us to enjoy. Yosemite is honestly one of the most breathtaking places I've ever been, and it still feels like it was all a magical dream!
Enjoy every moment and make the most of your trip.
Happy travels!
-Hannah
This post was all about planning the perfect 2-day Yosemite itinerary.