Autocamp Yosemite Glamping Review
If you're looking for an incredible place to stay near Yosemite National Park, Autocamp Yosemite is the perfect choice. In this Autocamp Yosemite review, we'll take a closer look at everything included and what to expect during your stay.
I really wanted a camping experience for this trip. You know… furry woodland creatures, acorns, campfires, stargazing, etc.
But I wasn't into the idea of buying and lugging equipment to a campsite, sharing bathrooms and bug bites. The hotels and Airbnbs were running over $500/night for places in surrounding areas, not even close by, which meant a long drive to the park.
So when I found the gem that is Autocamp Yosemite, it was a no-brainer and I literally ran into the next room to show Cody. But I had no idea how special it would be!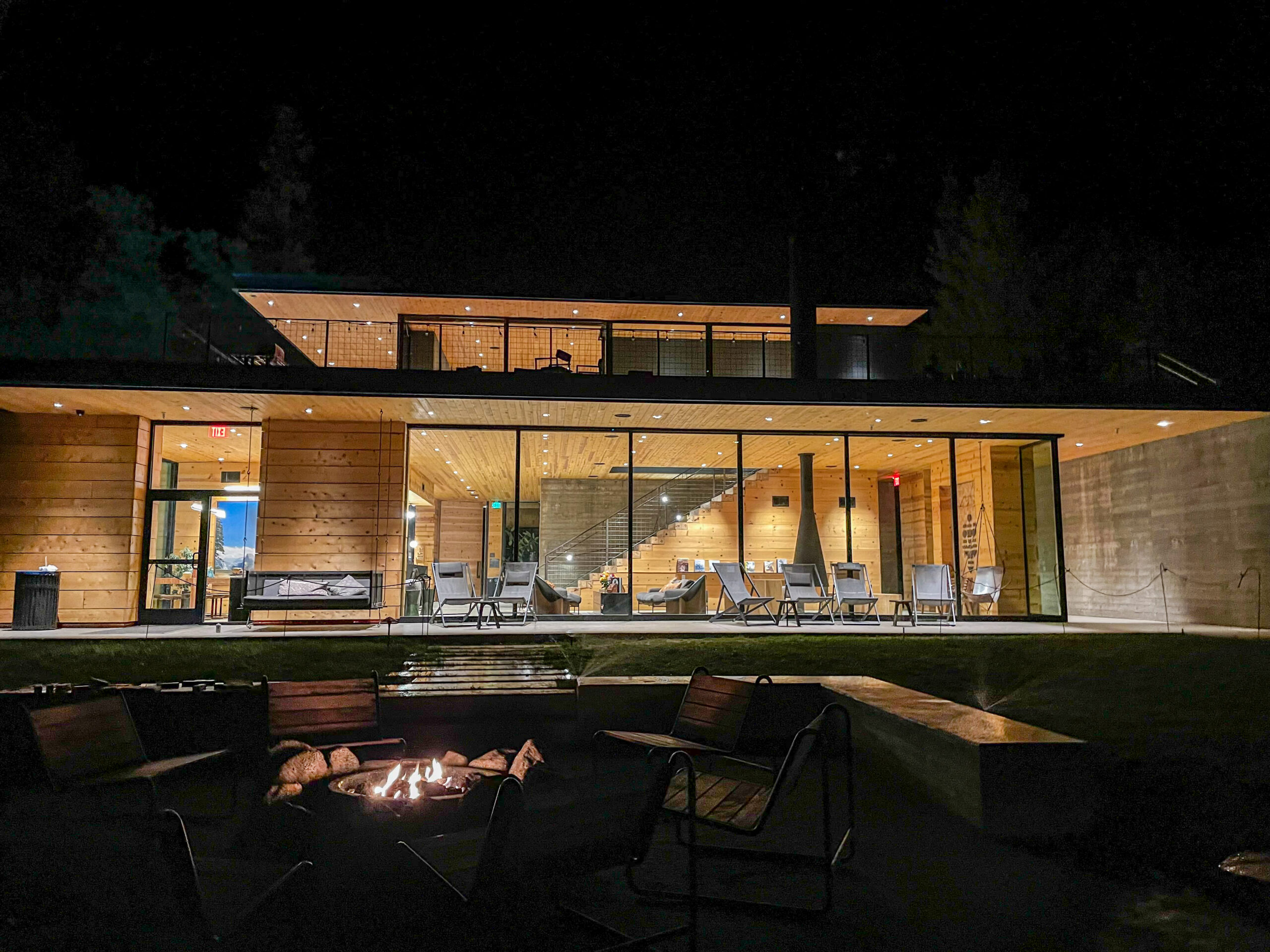 How Far is Autocamp from Yosemite?
Autocamp Yosemite is located in Midpines, CA just 30 minutes away from the entrance to Yosemite National Park. This makes it an ideal base for exploring the park.
The YARTS Highway 140 Shuttle Bus is available that picks you up right at the entrance to Autocamp and takes you into the park. Because we had a car and wanted flexibility in our timing, we opted to drive in.
I would avoid staying much further outside of town if you plan to drive into the park often, but the 30-minute drive was just right for us.
The drive into the park each day was easy. A bridge about half way to the park entrance goes down to one lane at times, so if you hit it at the wrong time you may have to wait 5-10 additional minutes. But otherwise, the drive is smooth and you'll be in the park before you know it.
There is a cute park entrance sign on the way in near El Portal, and a river area with large rocks where we waited until we could enter the park at the correct time. So even, the drive in can be fun and there is plenty to see!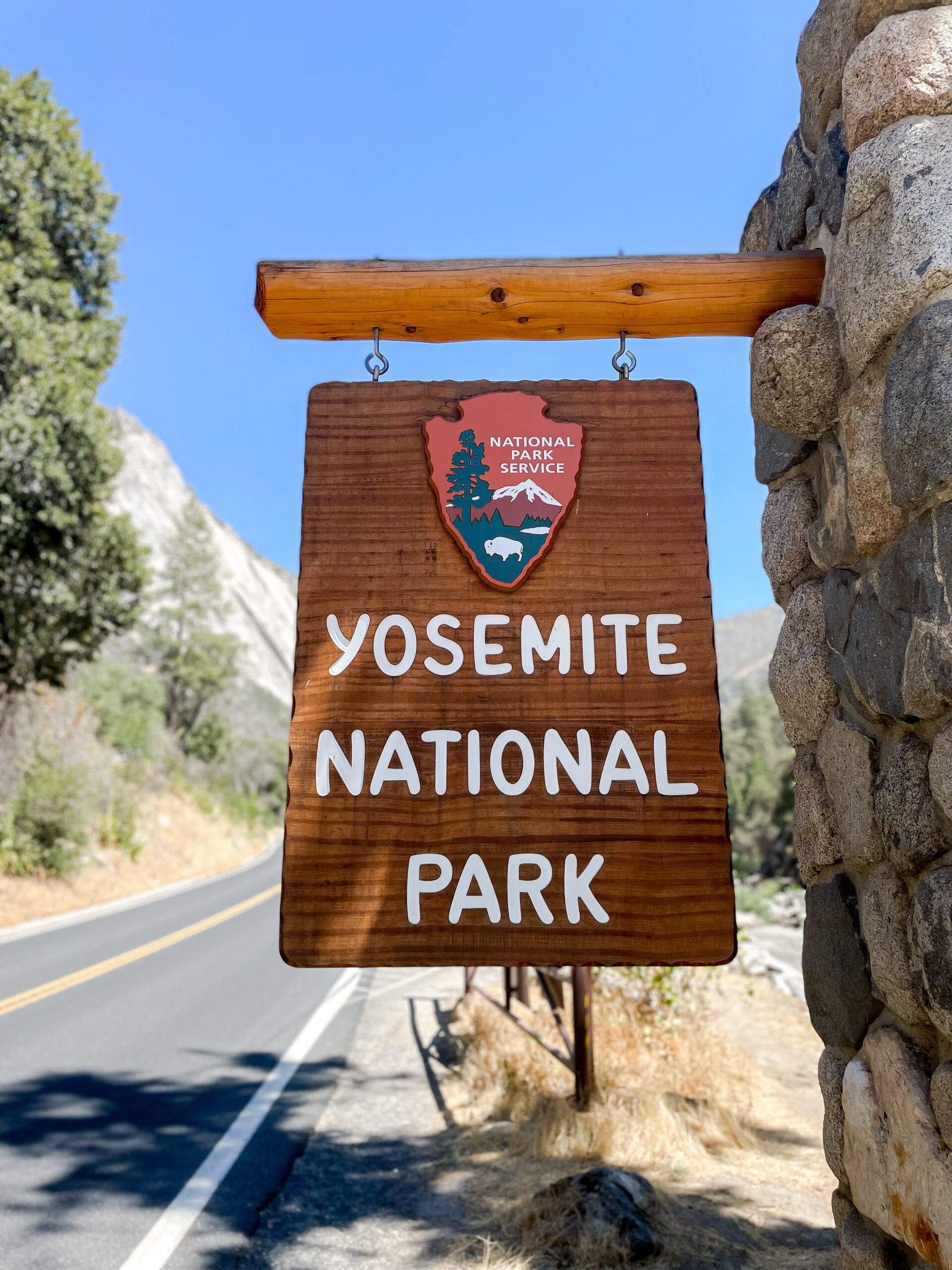 Rates & Reservations
With prices starting around $200/night for the luxury tent, a stay at Autocamp can be more pricey than expected for camping. But after HOURS of searching, I can say that it is an incredible value for anything you'll find around Yosemite and offers the best amenities for the money.
When visiting Yosemite, you won't be dropping hundreds on theme park tickets, fancy meals, or excursions. You'll also likely save on food if you cook or pack groceries. So the bulk of your budget should be dedicated to accommodations, and this is far worth it!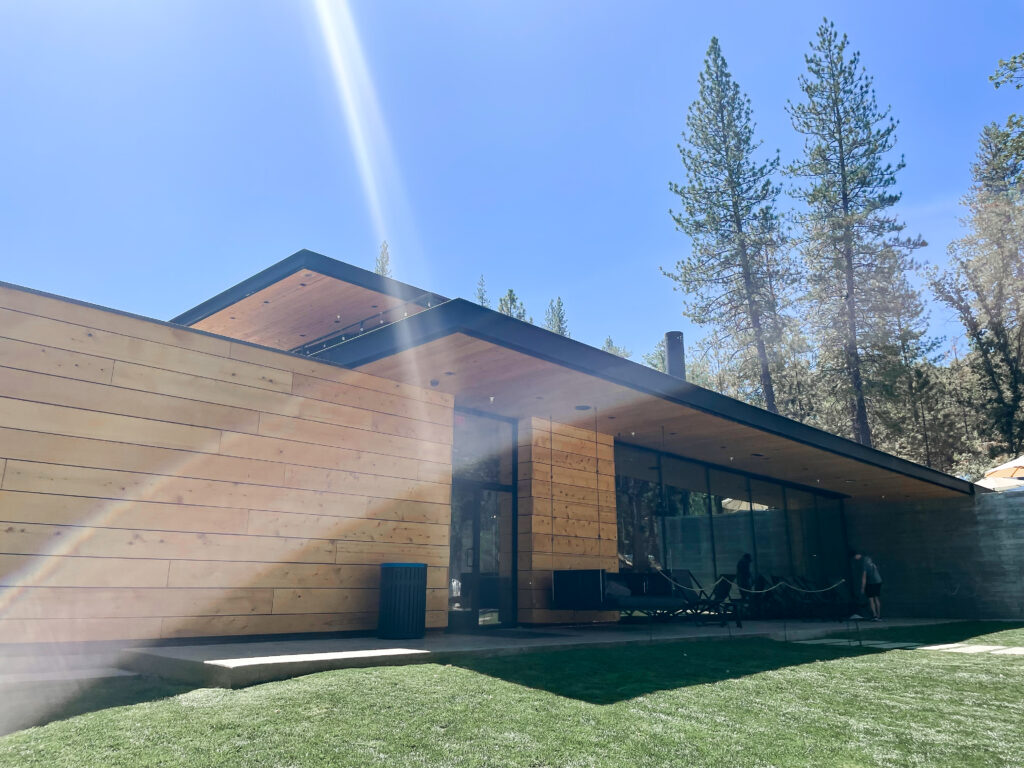 Best Way to Book Your Autocamp Reservation
Even with a 1 night free promotion from Autocamp, I was surprised to find slightly better rates for our 4-night stay at Booking.com and Priceline!
The better rate may also be due to my status on those booking sites because I've been using them regularly for years and sometimes get discounted rates. It really depends on the date and availability, so I can't say this will work every time. But it is worth trying a few sites to find the best rate before booking.
I also like to use Booking.com or Priceline to book hotels because I earn up to 6% cash back with Rakuten. If you haven't signed up for Rakuten and you like free money, go ahead and do that now! Use this link to get $30 back after you sign up. I promise you'll wish you had done it sooner. It's super easy to use and I've gotten hundreds of dollars back from this!
You should also check the Autocamp Offers tab to see if there are any promotions, and sign up for their emails to be alerted of upcoming deals! I've seen some great specials come through that really tempt me to rebook another stay.
Which Accommodations Should You Choose?
This was a tough decision! Autocamp Yosemite offers a few different accommodations to match your preferred style of camping and budget. Although I'd consider all of the options to be "glamping", you can pick your level of luxury.
Airstream
The most popular option is the Airstream trailer, which is what we booked. The 31-foot Airstream gives you a unique glamping experience with all the comforts of a home. Since we would be hiking all day, I figured an air-conditioned space and more comfortable sleeping arrangement would be nice. And they're so cute! We had never stayed in an Airstream before, and what better place than in the woods of the Yosemite forest?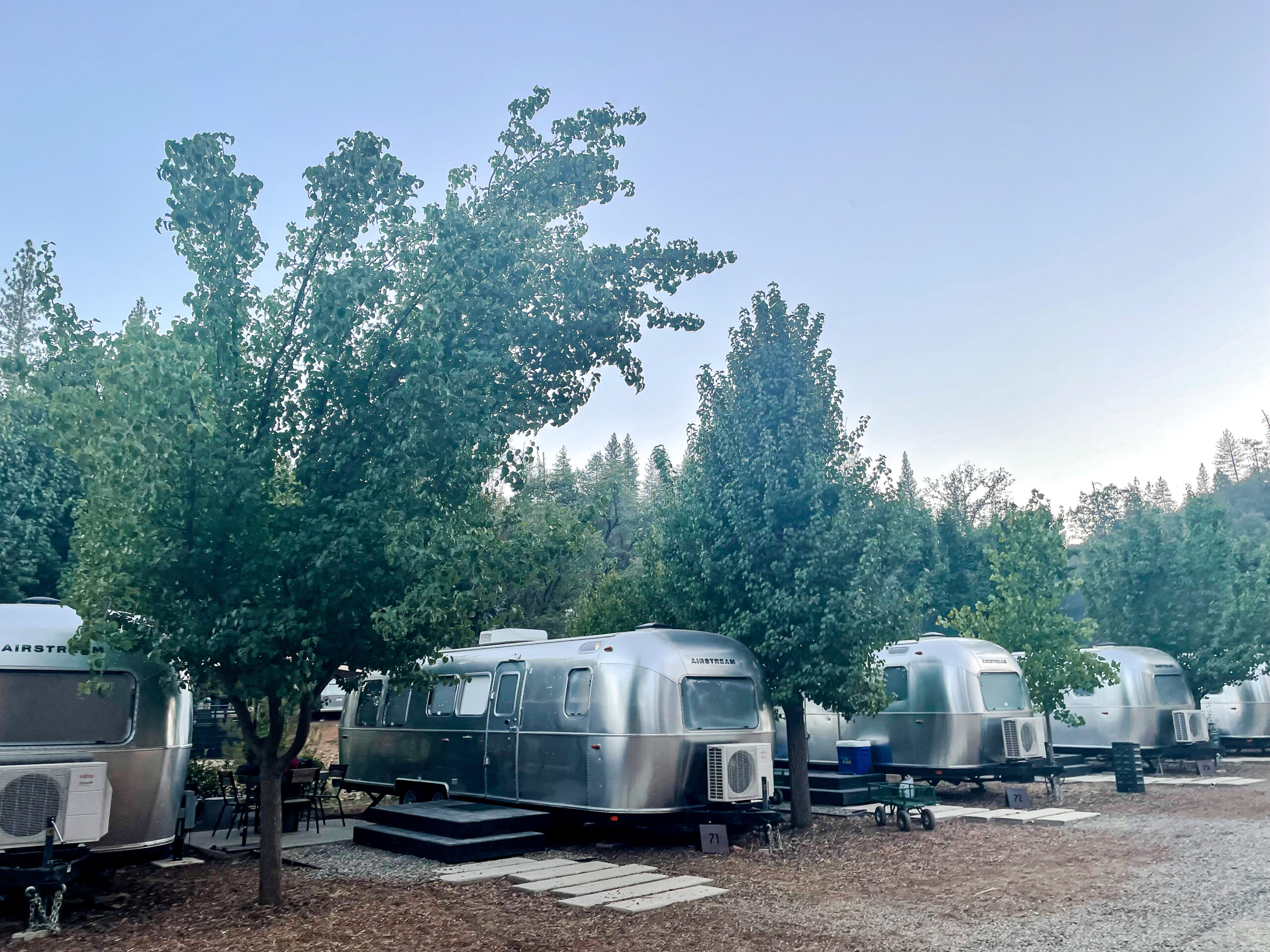 It really had everything we needed and more! Each Airstream comes with a kitchenette, bathroom with shower, and super comfortable bed.
The Airstreams sleeps up to 3 adults or 2 adults + 2 children (queen bed + sofa bed).
They also offer a Premium Basecamp Suite, which includes an Airstream and a Luxury Tent on one site to sleep up to 6. This would be great for a small family or a group, and would make the price even more affordable per person.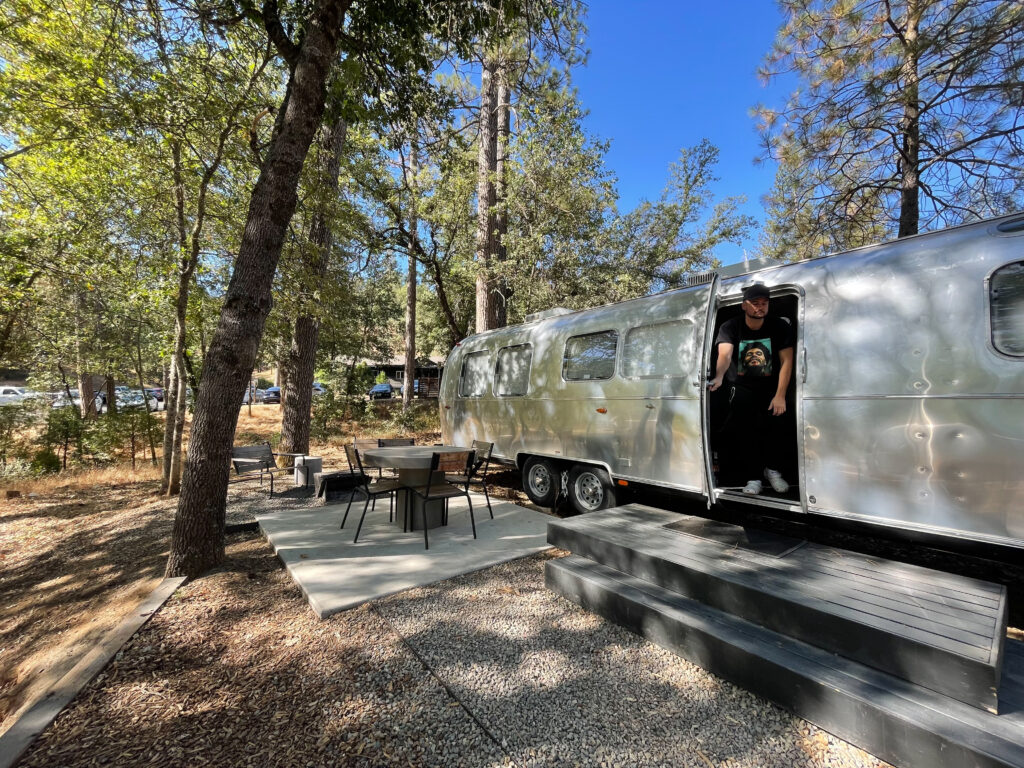 What's included:
Bluetooth audio system built-in
Flat-screen TV
Walk-in rain shower
Spa-like bathroom and vanity
Heating and air conditioning
Kitchenette with mini refrigerator, microwave, dishware, and glassware
Luxe bath amenities by Ursa Major
Luxury linens, robes, and bath towels
Private patio with grill, firepit, and dining area
Queen bed with high-thread-count linens
Soft sofa converts into a comfortable full bed with linens
Luxury Canvas Tent
I would love to try the canvas tent next time! They are beautifully done, and feel a bit more like a traditional glamping experience. They are also the most affordable option on the property.
The tents are 12′ x 20′ with a king bed and sofa bed, but they do not have a private bathroom. There are bathrooms nearby so you won't need to go far, but it is less convenient and less private compared to the Airstream.
They also include a fan, but are obviously not air-conditioned like the other accommodations.
The Airstreams sleeps up to 3 adults or 2 adults + 2 children (king bed + sofa bed).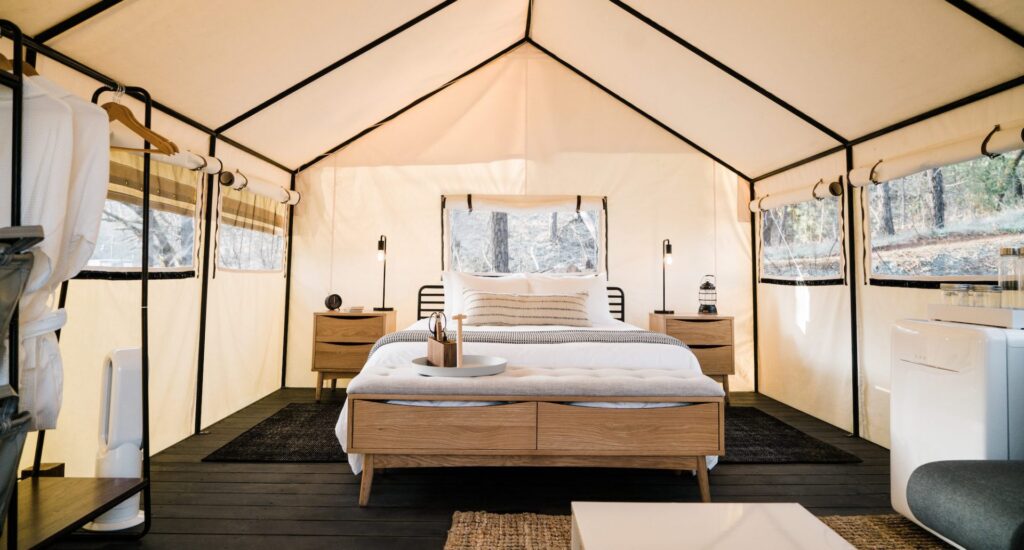 What's included:
Access to mid-century modern, chic Signature Clubhouse bathrooms (Tent does not include adjoining bathroom)
Campfire seating with fire pit and grill
Heater, fan, and heated blanket included
King bed
Lights, electrical outlets, and mini-refrigerator
Luxe bath amenities by Ursa Major
Luxe towels and robes provided
Modern sofa converts into a comfortable second bed with linens
Cabin
If you prefer something even more like home, Autocamp also offers a few adorable luxury rustic cabins. I love the modern look of these units and how beautifully they go with the campground surroundings.
The cabins sleep up to 5 adults including a queen bed, pull-out sofa bed and two twin bunk beds. Great for larger families or groups.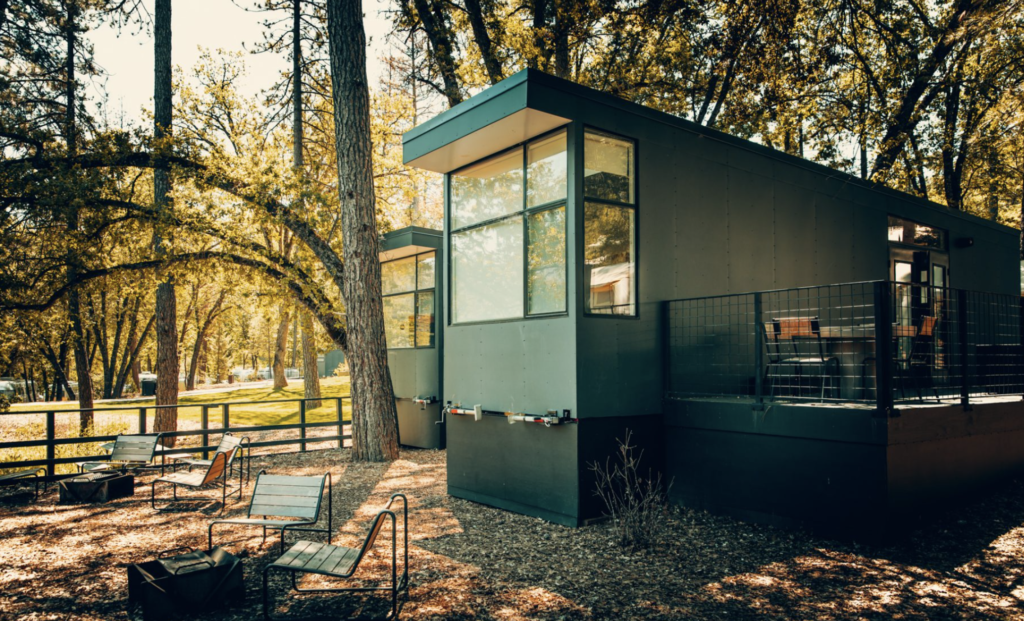 What's included:
Flat-screen television with cable channels, plus built-in audio system with Bluetooth
Kitchen area with mini refrigerator, microwave, dishware, and glassware
Luxe bath amenities by Ursa Major
Luxury linens, robes, and bath towels
Modern spa-inspired bathroom with walk-in shower and vanity sink
Private patio with grill, firepit, and dining area
Queen bed with high-thread-count linens
Soft sofa converts into a comfortable full bed with linens
The Autocamp Yosemite Lodge
This was one of my favorite parts of the property! The lodge at Autocamp Yosemite is beautifully designed, and absolutely charming. It's a great place to hang out and relax. You'll want to snuggle up next to the fire and play a game and sip a glass of wine.
The large bifold doors open up during the day when weather is decent. There is plenty of seating, games to play, and sometimes they have live music.
The second story of the lodge was used for a private event the night we arrived, but we got to see it later. It would be a stunning place for a party or wedding under the stars! It has a large, open deck with an incredible view of the property.
What to Eat
Don't worry, my foodies! This blog is called Plate & Compass for a reason… We talk about travel AND food here, because the best part of traveling is great meals.
When planning our trip, I couldn't decide if I should plan out meals to cook by the fire, or focus more on eating at the lodge or nearby restaurants. The cool thing about Autocamp is that you can do both! And that's what I recommend.
Plan a few meals to cook so that you can save money and experience the full camping vibe (especially smores!). But leave some room in the schedule for ordering from the lodge so that you can relax and avoid cooking every day. You are on vacation after all!
Dining at Autocamp Yosemite
Autocamp offers a quick-service restaurant called 'The Kitchen' serving breakfast, lunch and dinner from 7am – 10pm. Inside the lodge, you'll also find a market where you can buy snacks, drinks, grocery supplies and meal kits.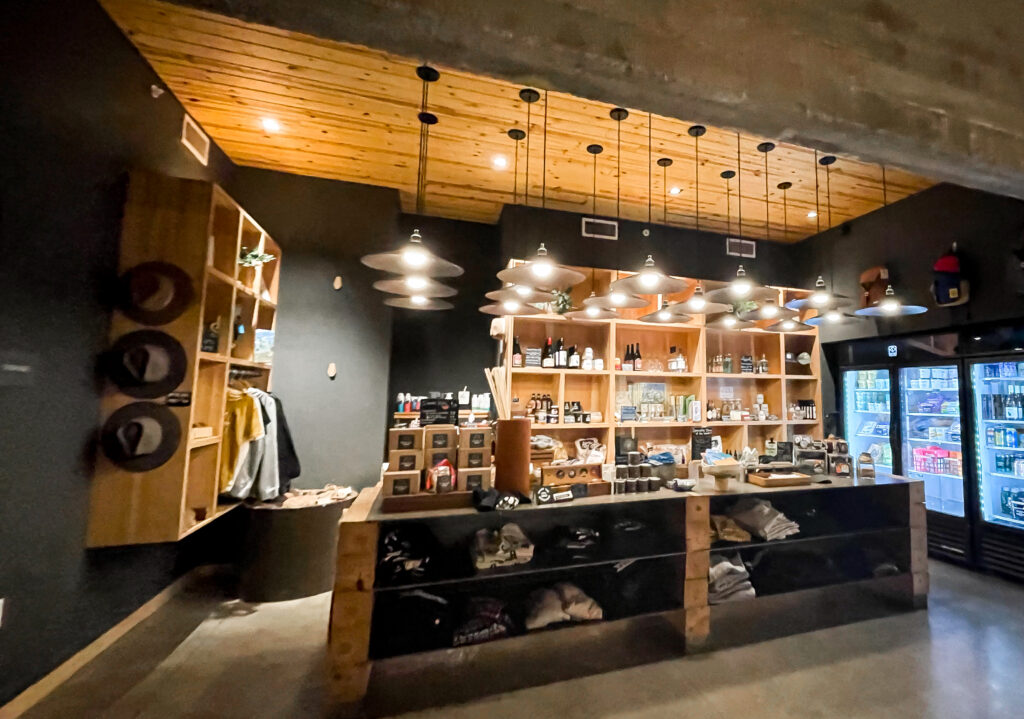 They serve complimentary coffee, tea and a light breakfast in the lodge (it was granola and milk during our stay).
They also offer happy hour from 4-6pm with 50% off tap beer, house cocktails and select wines.
The Kitchen Highlights
We were tired from the drive when we arrived, so we ordered the El Capitan Pizza from The Kitchen and a bottle of a local cider from the market shop. It was the perfect way to kick off the trip.
Another night we ordered the Spicy Sausage & Cheese Lasagna and the Homestyle Mac and Cheese for dinner. This was after our 16-mile hike up Half Dome, so I was in full carb-loading mode and ready for some comfort pasta. The mac and cheese was good, but the lasagna was incredible and plenty of for 2! Even hungry hikers. Highly recommend the lasagna.
Another highlight was the warm Chocolate Chip Cookie. I'm a sucker for a good, classic, gooey chocolate chip cookie. This one did not disappoint! Fortunately for me, Cody isn't big on sweets so I got to eat the whole thing 🙂
We did not try any breakfast items from The Kitchen, but rumor has it that the breakfast burrito is the way to go. You can enjoy all of your meals in your room, at the lodge or picnic on the grounds. They had the cutest dining table with a picture of half dome (the hike we did) and a yellow VW van (I love the color yellow). So this corner of the lodge was calling my name!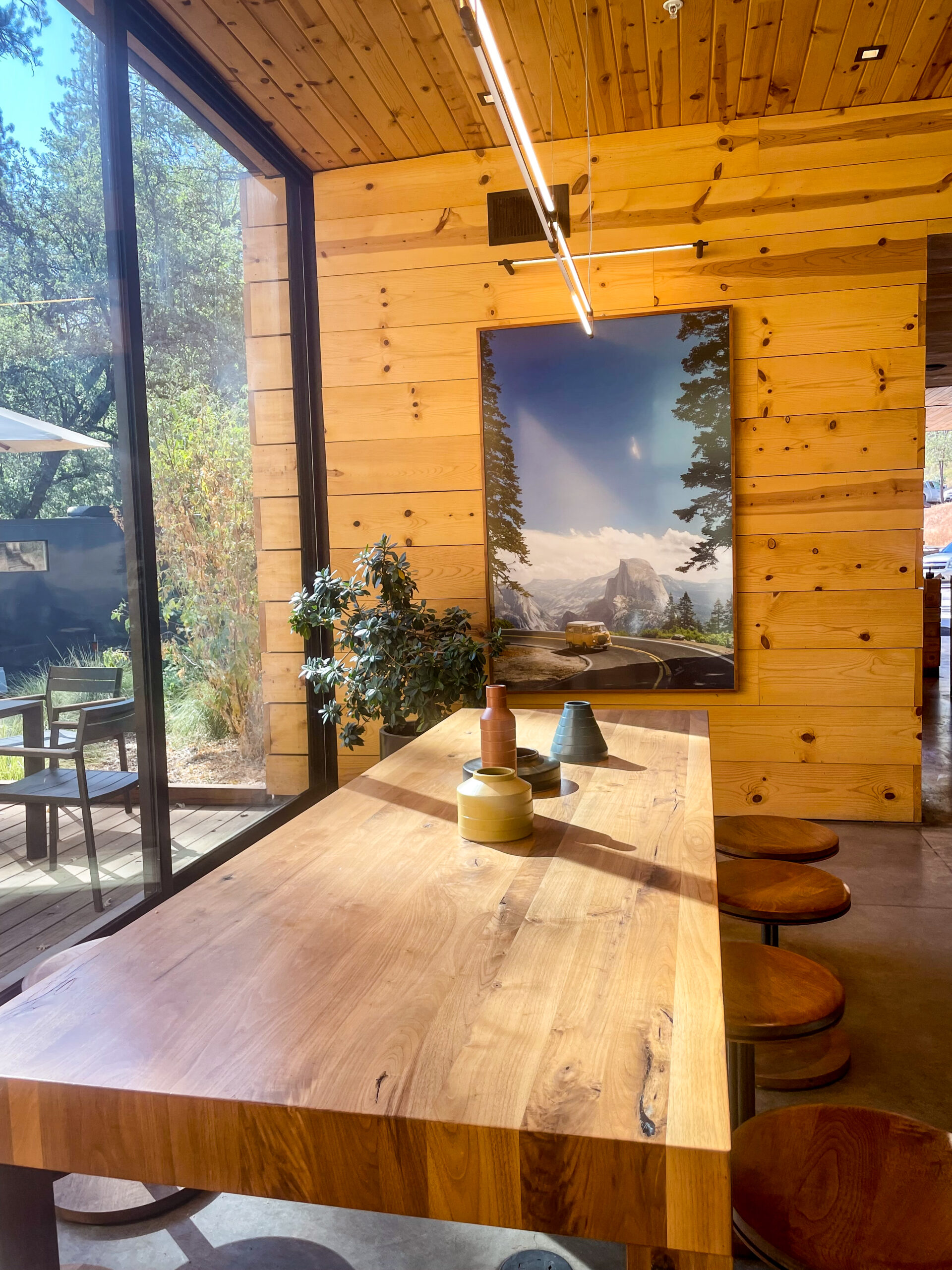 Cooking Meals
We packed groceries to make dinner on the fire one of the nights, and then made s'mores while we still had the logs burning. We had the best time! It brought be back to summers at Fort Stevens camping with my family as a kid. Maybe this won't be special to some, but after living in Los Angeles for 7 years I cherish the quiet moments that remind me of home.
Each camp site has a grill and fire pit available for use. They provide a cast iron skillet, lighters, and cooking utensils. If you're planning to cook an elaborate meal or need several pots and pans, consider bringing your own additional pans. We brought one pot so that e had everything we needed to make Cody's favorite: beans and rice.
Keep in mind that due to the burn restrictions, you MUST use 'Goodwood', compressed logs, or charcoal. Autocamp sells 'Goodwood' and charcoal in the lodge. Burning firewood is prohibited and you cannot bring your own. It was a little tricky to start at first, but once we got it going it burns for a few hours.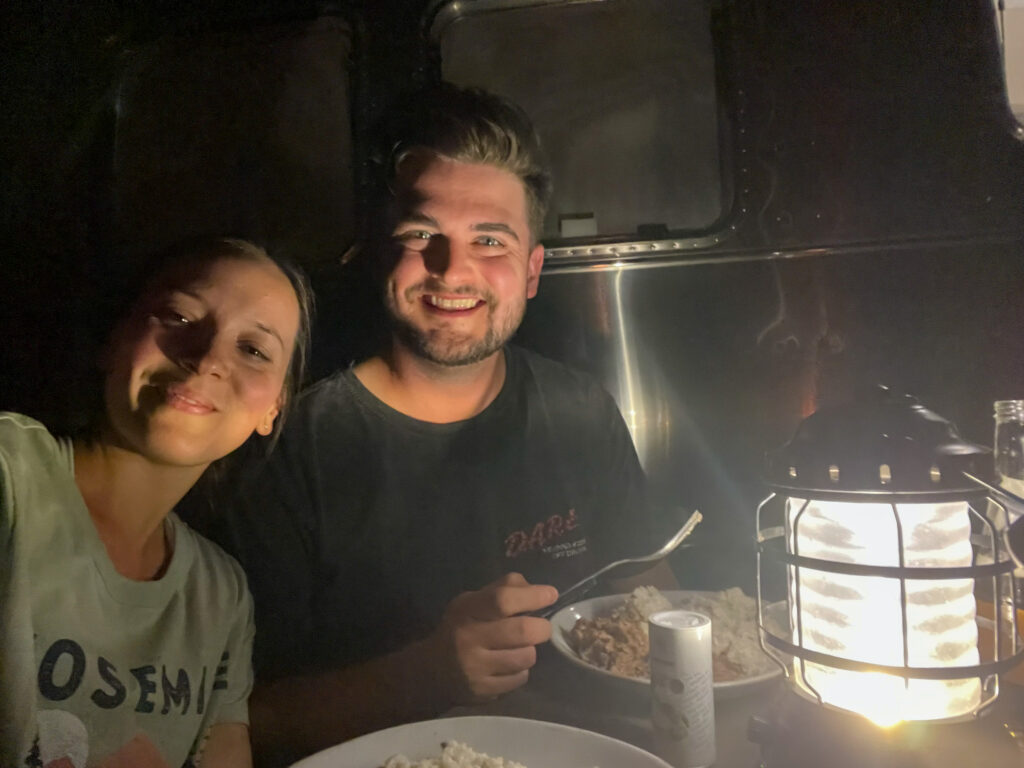 The Airstream also had a microwave if you prefer not to cook on the fire.
The mini fridge was great for storing drinks and some groceries, but definitely would not hold a week's worth of perishable food. I don't recommend it, but if you do plan on bringing a lot of refrigerated items, consider bringing a cooler as well.
Other Dining Options
The Ahwahnee Dining Room
Taking a quick detour from this Autocamp Yosemite review to make sure I tell you about this one…
If you're wanting switch it up and have a meal outside of Autocamp, I highly recommend having brunch at Ahwahnee Dining Room at the Ahwahnee Hotel inside the Yosemite National Park. They offer an elaborate buffet for breakfast and brunch. But we opted to order a la carte from the main menu (just ask your server).
The food was amazing, and you eat inside of the gorgeous dining room with 34-foot high beamed ceilings and chandeliers. It's a pinkies up type of brunch for sure, and would be perfect if you're celebrating an anniversary, birthday or wedding. Reserve this in advance, because the brunch is popular!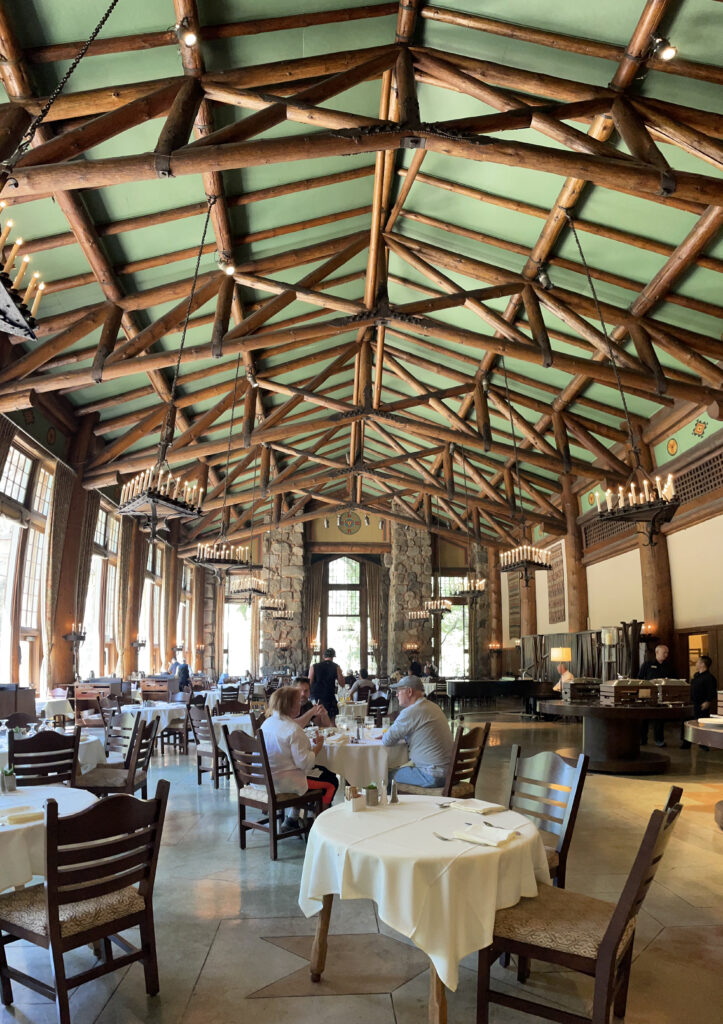 Things to Do
Of course, the Yosemite National Park has a ton to do and see. We made the trip in order to hike Half Dome, which was something my husband had been talking about for years. It was a core memory moment and something we'll never forget! You can read more about the hike in my blog post Hiking Half Dome: Everything You Need to Know.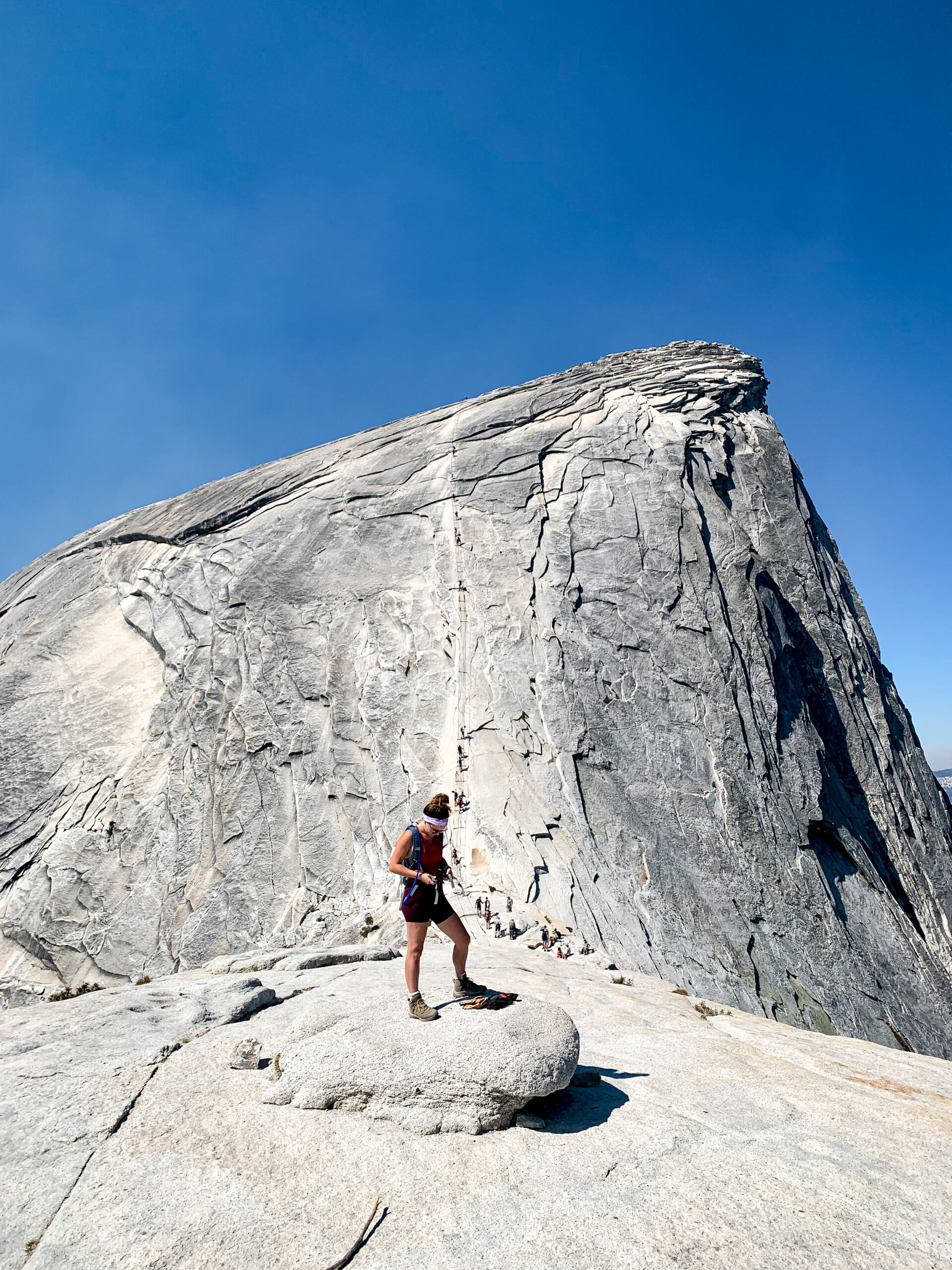 There are plenty of other activities to keep you busy at Autocamp Yosemite on days that you don't go into the park. The resort offers guided hikes, bike rentals, and yoga classes. You can also explore the surrounding area on your own.
If you're looking for something a little more relaxing, you can spend the day lounging in the sun by the pool or take a stroll around the property or the pond.
On clear nights, the stargazing is incredible! We could even see the milky way galaxy. We laid out on a bench near the pond listening to the frogs and watching the stars. So cool! The picture absolutely does not do it justice, but you get the idea.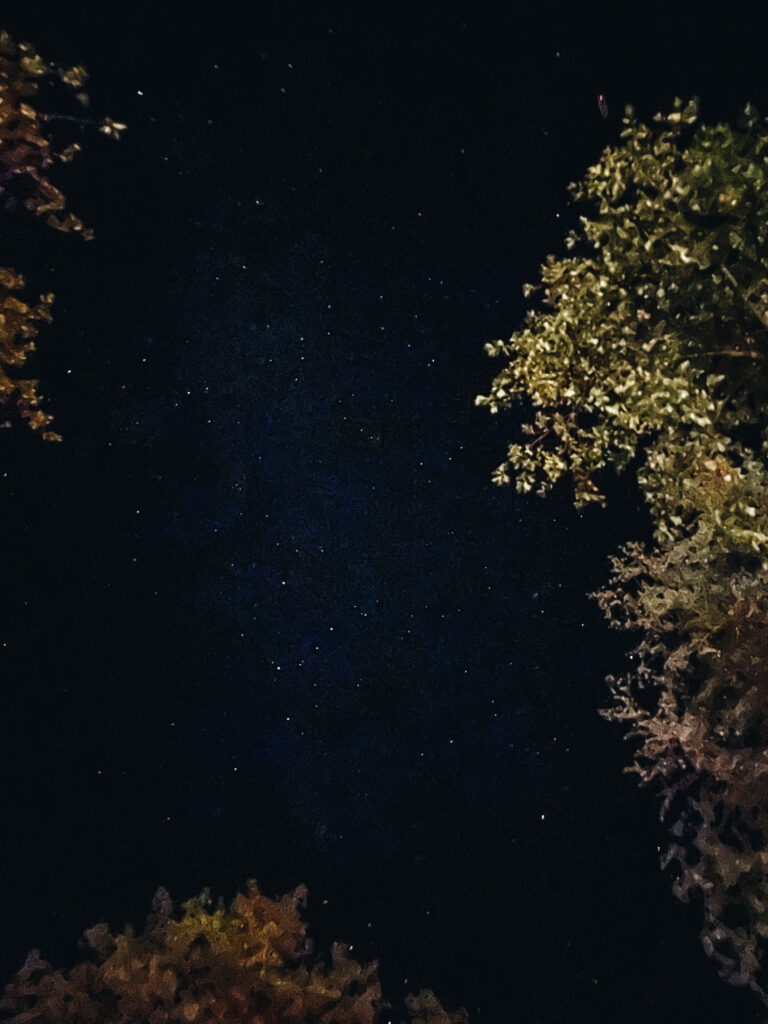 Nearby
Mariposa Grove, home to some of the world's largest sequoia trees, is just a short drive away. You can also visit the nearby towns of Oakhurst and Bass Lake for shopping and dining.
We usually aren't big shoppers, but the antique shops in Marisposa were amazing! I bought a crystal decanter for only $14, which was the perfect piece for my bar at home.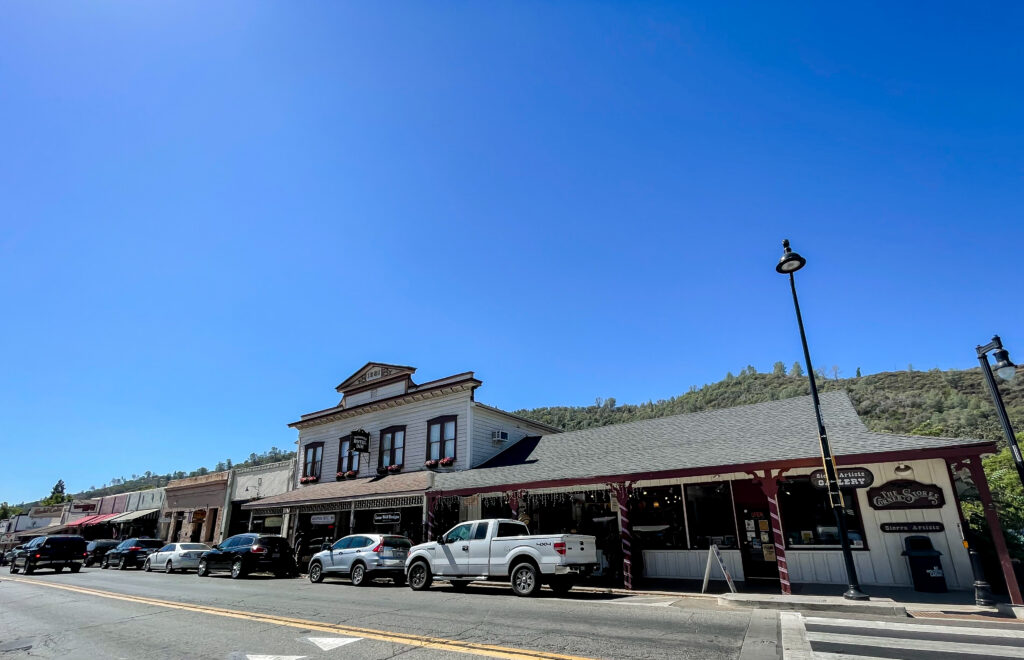 We grabbed coffee from Sticks Coffee and lunch at 1850 Brewing Company in Mariposa. Then we walked and shopped in the downtown area.
I also really enjoyed Mae It Be Home. Such a cute shop and the owner was really sweet!
What to Pack
When packing for your stay at Autocamp Yosemite, be sure to bring appropriate clothing for the season, including warm layers for the evenings.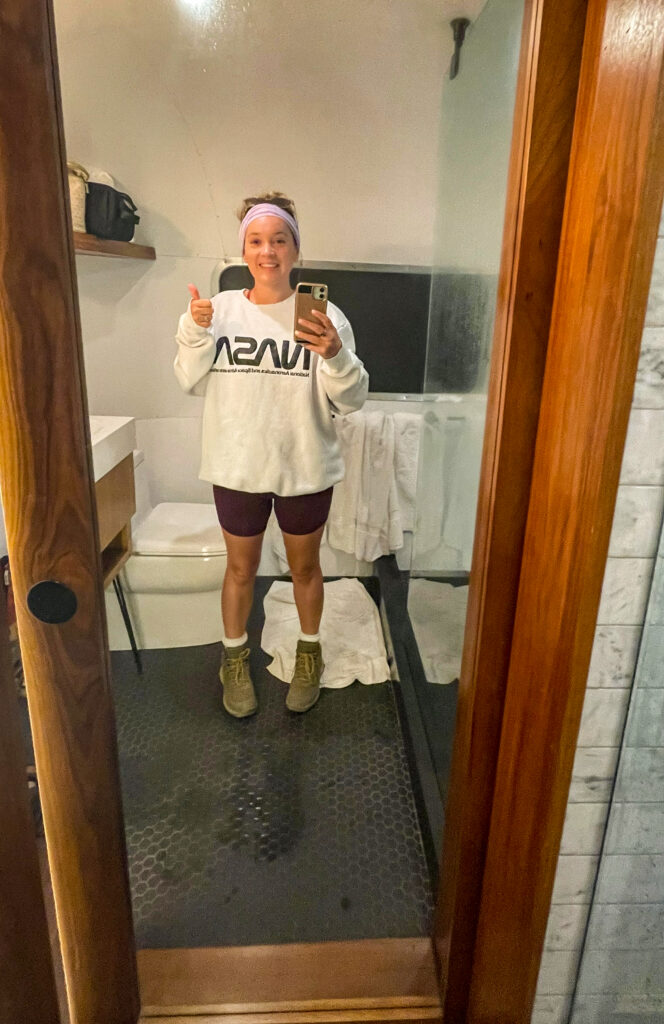 You'll also want to bring any outdoor gear you may need, such as:
We packed drinks and snacks, lots of water bottles, and s'mores stuff. But the reality is that you can get just about anything you need at the market inside the lodge.
Note: As an Amazon Affiliate, I earn commission for qualified purchases you make through these links at no cost to you. I only recommend products I use and love!
FAQ
Q: Is there Wi-Fi available at Autocamp Yosemite?
A: Yes, there is complimentary Wi-Fi available throughout the resort.
Q: Is Autocamp Yosemite pet-friendly?
A: Yes, Autocamp Yosemite allows dogs in certain accommodations for an additional fee.
Q: Is there parking available at Autocamp Yosemite?
A: Yes, there is free parking available
Q: What time is check in and check out at Autocamp Yosemite?
Check-in time at Autocamp Yosemite is 3 PM, while check-out time is 11 AM. The resort has a 24-hour front desk, so you can check in at any time after 3 PM.
Q: Is Autocamp Yosemite is a good place to host a group event or wedding?
Yes! The resort can accommodate up to 200 guests and has plenty of space for outdoor activities and entertainment. With plenty of camp sites, this would be a dreamy camping woodsy sleep-over wedding weekend! For cost and details, you can inquire here.
Q: How much does it cost to have a wedding at Autocamp Yosemite?
A: There are multiple options ranging from a small wedding gathering to a fulll buyout of the property. Check out the Autocamp Meeting & Events page for more info.
Q: Are there other Autocamp locations?
There are currently 9 Autocamp locations.
Asheville (NC)
Cape Cod (MA)
Catskills (NY)
Hill Country (TX) – coming late 2023
Joshua Tree (CA)
Russian River (CA)
Sequoia (CA)
Yosemite (CA)
Zion (UT)
View current Autocamp location details and reviews at AutoCamp Reviews + News!
Conclusion
I hope this Autocamp Yosemite review has given you plenty of tips for your visit, or inspired you to book a trip! Drop a comment below if you've already visited or plan to visit soon. I'd love to hear about your experience.
Happy travels, friends!
-Hannah