Hiking Packing List: Day Hike Essentials
So you're planning a day hike? Whether you're a seasoned hiker or a novice, it's important to bring the right gear with you. In this blog post, we'll discuss the 8 best day hike essentials (and some extras) to take on a day hiking trip so that you are prepared for the adventure!
If you're looking for an epic full-day hike to add to your bucket list, check out my blog post about Hiking Half Dome in Yosemite. I highly recommend it! Zion National Park in Utah is another great option. There are so many amazing hikes out there, and investing in these hiking essentials has made me even more excited to keep adding them to our adventure list.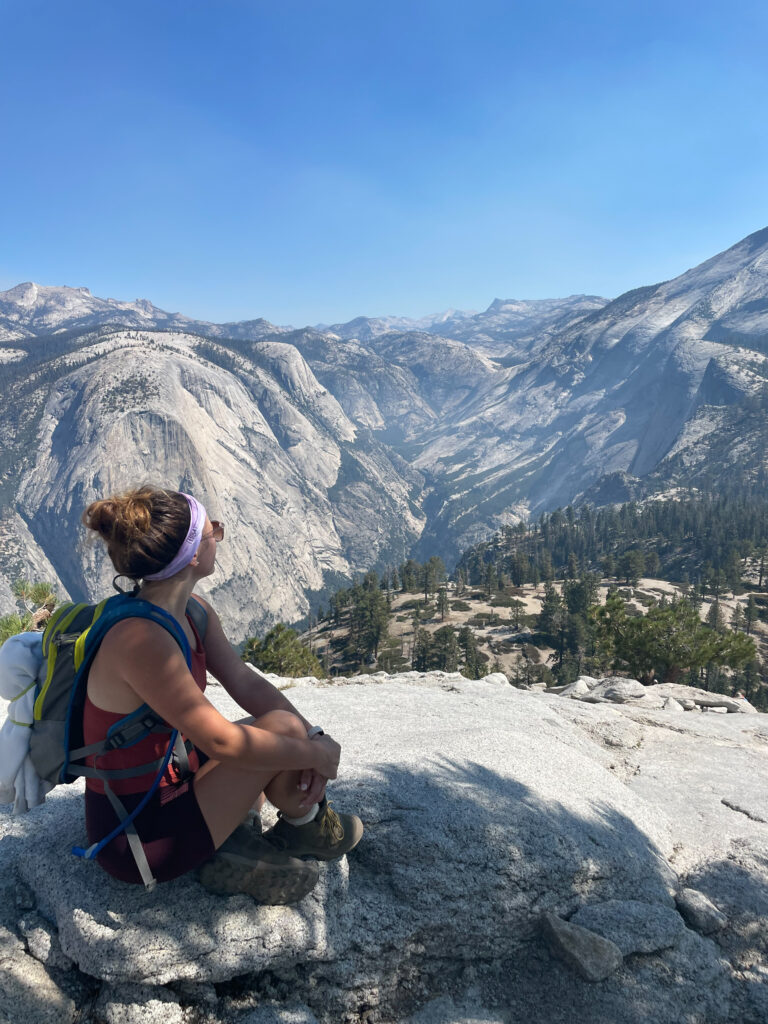 1. Proper Footwear
The first thing you'll want to consider when going on a day hike is your footwear. If you're planning a full day hike, hiking shoes or boots are the way to go, my friends. Trust me, your feet will thank you later! I'm a penny pincher and was hesitant about investing in good hiking boots. But it has been FAR worth the purchase, even if you only use them a few times a year.
You'll want to choose comfortable, sturdy shoes or boots with good traction. Make sure to break in your shoes before your hike to avoid blisters.
Womens: REI Co-op Flash Hiking Boots
I hiked Mt. Baldy in San and Half Dome in Yosemite in these bad boys. I love them! They are sturdy, but really comfortable. The yellow color is now discontinued, but they have Dusty Olive/Gray, Granite Black, Orange Earth, and Smoke/Lilac.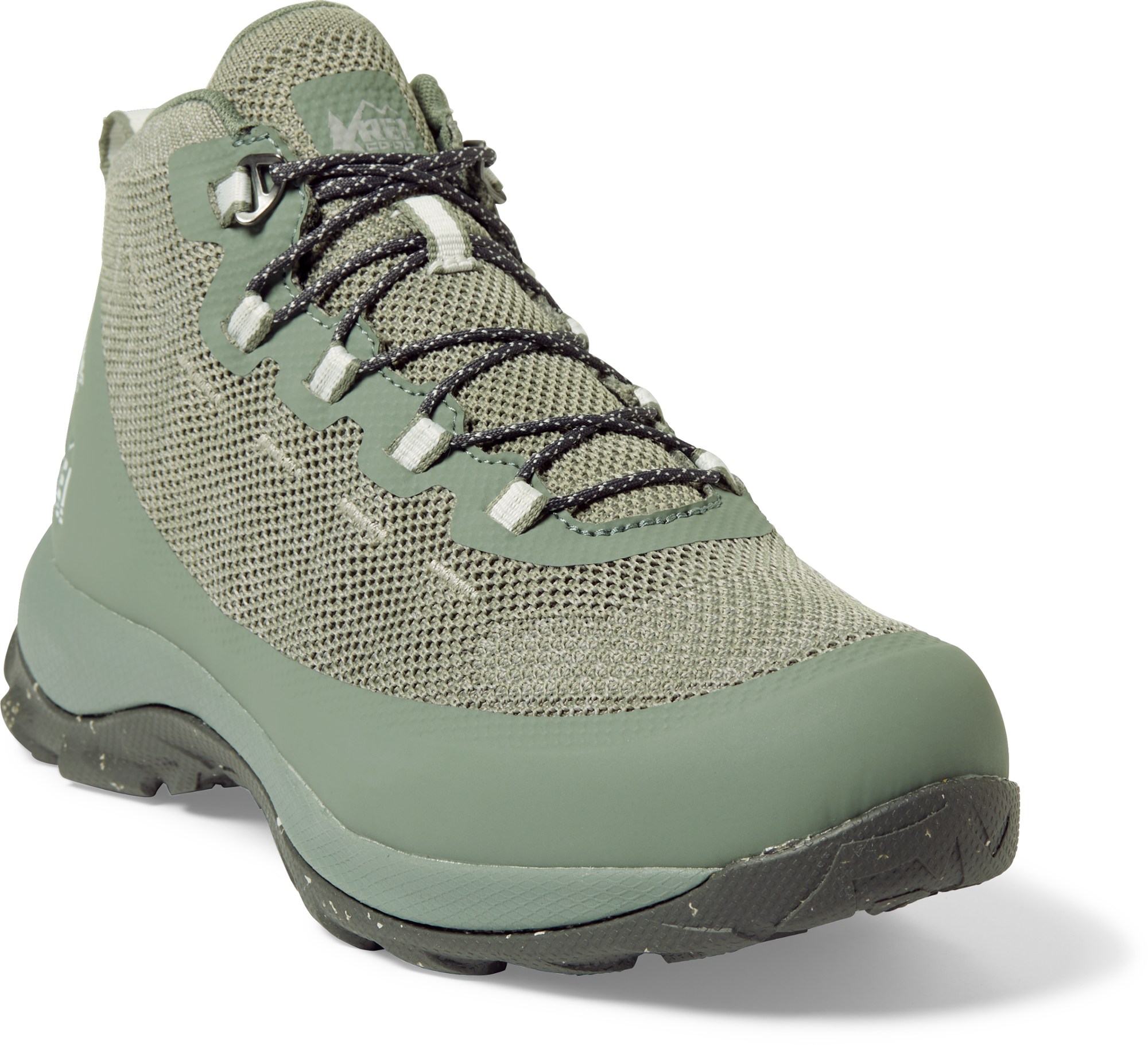 Womens: Columbia Women's Newton Ridge Plus
The Columbia Newton hiking boots come in a variety of colors, but I personally love the Elk, Mountain Red. It has such a classic look and would pair well with just about any hiking outfit. These are also a great price point at under $100!
Mens: Danner 600 Men's Hiking Boots
My husband loves these boots! He not only wears them when we hike, but sometimes he'll throw them on for a day out if it's raining or cold outside. They are comfortable and versatile, and provide plenty of support.
2. Backpack with Water Hydration Packs
Bring LOTS of water! I used to think the hydration packs were overkill, until I did my first full day hike with one and now I'll never turn back. Having the pack makes staying hydrated easy and you'll enjoy not having to lug a huge bottle around. Plus, you're gonna want a backpack anyways so why not include a water bladder to make things easy!
Unigear Hydration Pack Backpack with 70 oz 2L Water Bladder
Depending on the length of your hike and the heat, you could use a 2L or 3L pack. I used a 2L pack and it lasted me most of my full day hike up Half Dome, but if you do a lot of long hikes you may opt for a 3L version.
3. Hiking Socks
Finding comfortable hiking shoes is only half the battle. You'll want to pair those with some thick hiking socks that your feet are well protected.
Thorlos Women's Max Cushion Hiking Ankle Socks
I love the neutral color and quality of these hiking socks. Definitely something you could re-wear with high boots in cold weather!
Men and Womens DEARMY Athletic Hiking Socks
Or for something more affordable, these are a great option for both men and women.
4. Portable Charger
You certainly don't want to be lost without a cell phone when you're on a full day hike! You may need it for a map or (hopefully not) to call for help. Bringing a portable charger will give you a chance to recharge your phone to make sure that you have it if you need it.
Plus, unless you have a separate camera, you're gonna want to take photos of the epic adventure you're taking!
5. Sunscreen
Even on cloudy days, it's important to protect your skin from the sun's harmful rays. Bring sunscreen with an SPF of at least 30, and preferably a sport sunscreen that you won't wear off with sweat as easily.
I like that this one is unscented, and a healthier option.
Thinksport SPF 50+ Mineral Sunscreen
6. Sunglasses
So many great options here! For a full day hiking, comfort is key.
I don't know about you, but I'm always moving my sunglasses on and off my head throughout the day to see something or take a picture. So make sure they are comfortable and easy to wear, either on your eyes or the top of your head.
The SOJOS Classic Round Sunglasses from Amazon are my all-time favorites!
They're easy to clean, and so comfortable that I sometimes forget I'm wearing them. And they're a great price so you won't feel bad if you end up dropping them.
7. Snacks!
What's a hike without some yummy snacks? Grab some trail mix, energy bars, and maybe even some fruit to keep your energy levels up. We don't want anyone getting hangry out there!
That's It fruit bars are one of my favorite go-tos. They are only 2 ingredients and all fruit (hence the name…). They taste really good too! You can order these on Amazon or get them as Costco.
I also love the Sahale
Snacks Glazed Nuts. The mini packs are great for packing lunches and day hikes. If you grab a variety pack from Amazon you can try multiple flavors. Maple Pecan is my favorite!
Trader Joes has a great assortment of trail mix and dried fruit snacks. You can never go wrong with Trader Joes snacks.
Be sure to pack enough calorie-rich food to sustain you through the day. Protein bars and meat sticks are great options. You can also go with a good ol' peanut butter and jelly sandwich!
8. Layers
The weather can be unpredictable, so bring some extra clothing layers just in case. Extra socks are also great in case yours get wet.
You'll want a base layer that is breathable and comfortable like these Amazon Sports Bra Tanks.
I love adding a hoodie or sweatshirt right over my base layer when the sun goes down. But if you're hiking in cold weather, consider a mid-layer that provides warmth, then an outer layer that can protect from rain or wind.
Other Day Hike Essentials
First Aid Kit – Make sure your kit includes items like bandages, antiseptic wipes, and pain relievers.
Gloves – If hiking Half Dome or anywhere with cables or ropes, these are important!
Headlamp or Flashlight if you plan to hike into the evening.
Insect Repellant
Map
Toilet Paper
Hand Sanitizer
Hiking Poles
Menstrual Products
Knife or multi-tool
Whistle
There you have it! If you're wondering what to bring hiking, I hope this day hiking packing list of essential items helps put your mind at ease that you have everything you need.
Happy travels, friends!
-Hannah
Pin it for later!