How to Fly Free on Southwest and Earn Companion Pass
We haven't paid for a flight in over 3 years (except for the $5.60 taxes/fees) thanks to the Southwest Rapid Rewards credit card with Southwest Companion Pass! And we did all of this without paying a penny of interest or spending more than our regular budget!
In this post I'll share all about the steps we took to apply, which card to select, and how we earn Companion Pass every year without spending $135,000.
This post is all about how to fly free on Southwest using the Rapid Rewards Credit Card and Companion Pass.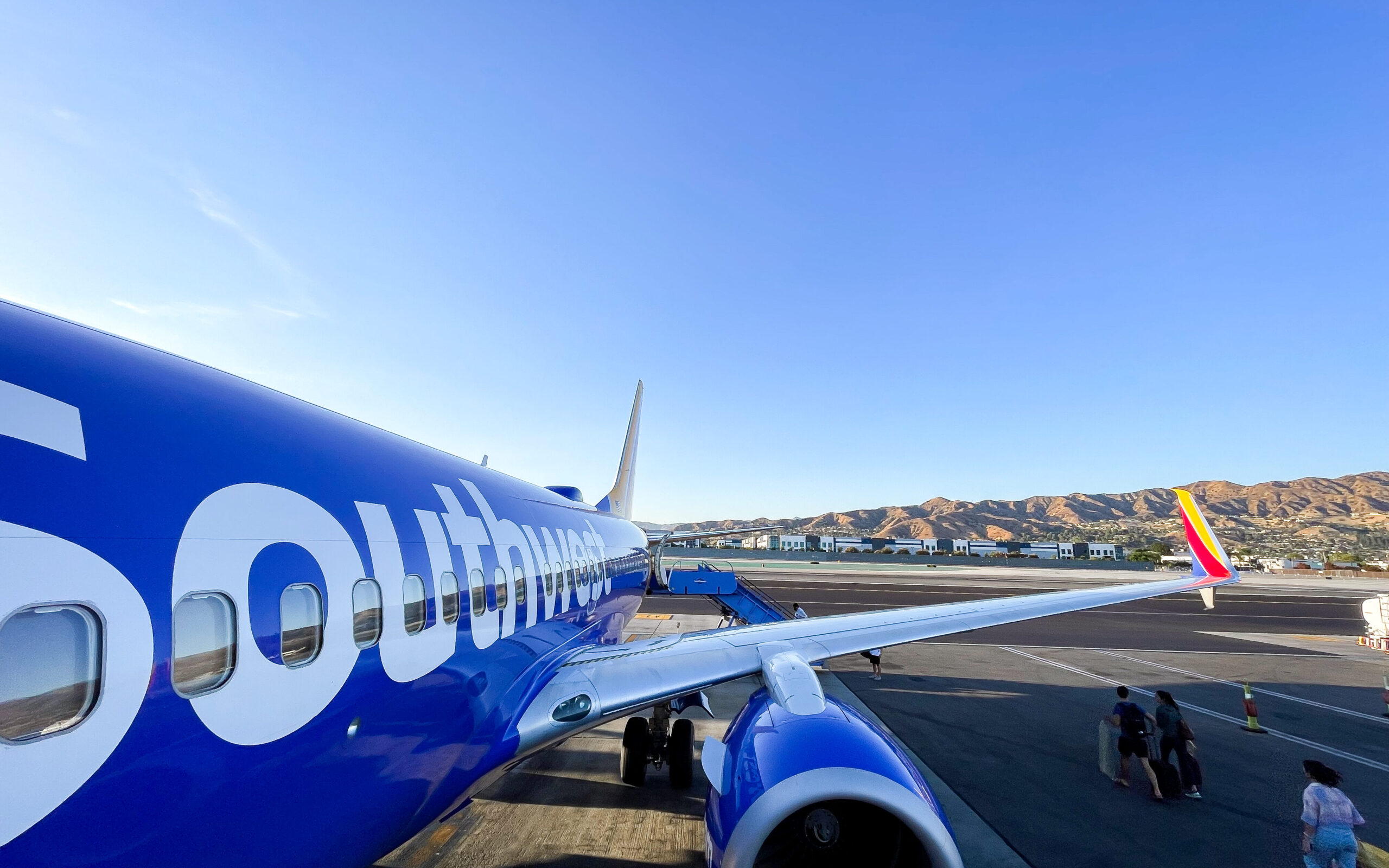 This post may contain affiliate links, which means that I may receive a commission if you make a purchase using these links at no cost to you. As an Amazon Associate I earn from qualifying purchases at no additional cost to you.
In 2022 my husband and I took 21 one-way flights including Nashville, Oakland, Portland, Tampa, Maui, Kona, Vegas, San Antonio, Seattle, Bellingham and Honolulu.
All of these FREE! (Except for the $5.60 fee for taxes per flight of course).
We have friends and family all over the US, and it's hard living in LA without them.
But for the last three years with this card, we've never had to think twice about being there for the big moments and I'm so thankful for that!
Here's how to fly free on Southwest…
STEP 1: Is Southwest Right for You?
Every airline offers a reward program and credit card. But we found that the Southwest Rapid Reward program was the best option for us because:
They cover the routes we fly most
We can cancel or change our flights even up to 10 minutes prior to takeoff if needed.
My husband and I travel together often, so the Companion Pass is a HUGE benefit for us.
No blackout dates for reward travel.
Southwest might NOT be the best card for you if:
You fly a lot internationally.
You often fly solo.
STEP 2: Pick a Credit Card
There are multiple options for credit cards through Southwest, with annual fees ranging from $69-$199/year.
I use the Premier card, which has a $99 annual fee. But we get 6,000 annual anniversary points which is around the equivalent of a $100 flight, so the annual fee pays for itself in flight credit.
Sign Up Bonus
The sign up bonus is the same for each card, so you can always tier up later on! Southwest even offers bonuses for upgraded your card, so it might be advantageous to start with a lower tier card and work up from there.
I recommend the Premier if you have any flights coming up soon because you can earn 3X points per dollar on Southwest flights instead of 2X points on Plus. This helps you get closer to Companion Pass faster, which is where the real savings kick in. I'll explain more below.
Current Personal Southwest Credit Card Options as of 06/2023:
Plus: $69/year, earns 3,000 annual reward points
Premier: $99/year, earns 6,000 annual reward points
Priority: $149/year, earns 7,500 annual reward points + $75 travel credit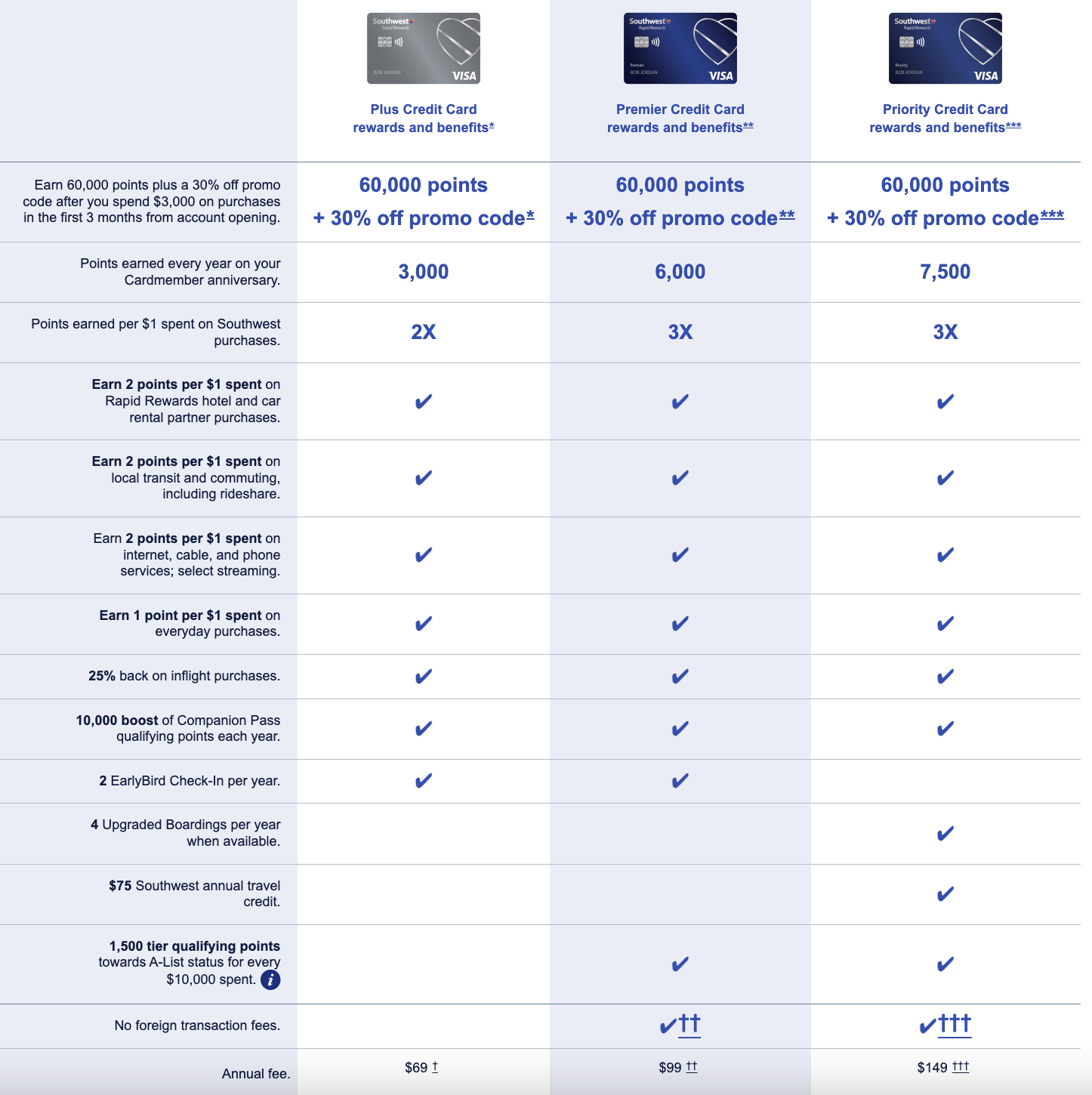 Current Business Southwest Credit Card Options as of 06/23:
Premier Business: $99/year, earns 6,000 annual reward points + other perks
Performance Business: $199/year, earns 9,000 annual reward points + other perks
STEP 3: Get a Sign-Up Bonus
When we signed up, the bonus was 50,000 points on Southwest (roughly $750 in flight credit).
Southwest current sign up bonus: 60,000 points + 30% Coupon Code
Excludes taxes and fees from $5.60 one-way.
You'll need to spend a few thousand dollars on the card in the first few months to get your bonus (this amount varies based on the current sign up promo).
Keep in mind that the bonus points will not appear in your account until you spend the minimum amount, and may take a while to show up. If you plan to use the points for a future trip, make sure you sign up well in advance! Southwest points never expire, so it's never too early to sign up.
STEP 4: What to Do After Approval
Now that you've been approved, you have two important goals to get the most of the Rapid Rewards programs:
BUILD UP YOUR RAPID REWARDS POINT BALANCE
EARN COMPANION PASS
I'll focus on those two steps below.
Earn Rapid Rewards Points
Every purchase you make on your card will earn you Rapid Rewards points, which can go toward booking flights. Some purchases earn you double or triple points (see chart above).
Southwest reward travel does not have blackout dates or expire. They do not cap the number of reward seats available per flight. So it's easy to use and allows you the flexibility to use your rewards on any flight you want!
Ways to earn Rapid Rewards points:
1. Spend Money on Your Credit Card
We end up earning nearly the point value of a one-way flights each month just from putting our regular purchases on this card. It really adds up over time!
I have talked to friends who use other airline cards and feel like they spend a lot, but then drain their reward points just to make one flight. But with Southwest we earn nearly the equivalent of a one-way flight each month, so the rewards really go a long way!
Q: Do I have to pay interest on my purchases?

A: You do not need to hold a balance on the card to earn points! Be sure to pay off your card balance every month before the due date to avoid the high interest rate. I've never paid a penny of interest.
2. Book Partner Hotels
Use Southwest's hotel finder (powered by Booking.com) to earn additional bonus points on select hotels. These can also accrue at a higher rate of 2 points per dollar spent.
We booked a hotel in Austin, TX for a few nights, and not only did we find a good rate through the Southwest hotel partner site, Booking.com, we also earned an additional 3,000 points. These bonuses can go a long way!
3. Look for Promotions
Southwest runs occasional Promotions where you can earn 15-25% more points during certain months simply by opting in. We would not have reached companion pass the last two years with our regular spending if I hadn't opted in to multiple promotions.
All you have to do is click a button to opt in to the promo! Make sure you opt in for Southwest emails and check in on the promotions section regularly so you don't miss out on these offers.
Example of a Southwest bonus promotion:

4. Refer friends and family
You can earn qualifying points by referring friends. For example, we earn points every time someone signs up using the links in this email.
STEP 5: Earn Companion Pass
What is Companion Pass?
This is the best part of using Southwest!
Earning Southwest Companion Pass that the card holder can select a companion to fly free for the remainder of the calendar year, AND all of the following year.
For example, we reached companion pass in December of 2021. We earned the pass for the remainder of that year (only a few weeks) and all of 2022. If you earn it early in the year, your benefits last longer!
Q: Can I take a companion on flights booked using Rapid Reward Points?

A: Yes! Even flights booked using reward points are eligible for taking a companion for free! That's right… you can book a flight using your reward points AND take a companion for free. The pairing of reward points with a companion pass allowed both of us to take 21 one-way flights in 2022 for free!
How do I Earn Southwest Companion pass?
Option 1: Purchase 100 flights in one calendar year
Option 2: Earn 135,000 qualifying points
Option 2: Earn Qualifying Points
Since booking 100 flights is out of the question for most people, you will probably want to focus on Option 2, earning qualifying points unless you quality for a promotional pass.
At first, I thought reaching 135,000 points would be impossible, and you might be thinking the same. Spending $135,000 in a year is way more than our usual spending. But there are bonuses and promotions to help you get there, which is how we reach Companion Pass each year.
Before you reach companion pass, I recommend booking all of your flight travel on your credit card. I know it's tempting to use those points you just earned, but your main objective is to reach Companion Pass asap!
You earn 3X points when you purchase Southwest flights using your Southwest Premier credit card. So a $150 flight would earn you 450 points. It might be tempting to use your reward points, but remember that you're earning at a higher multiplier than if you use points, and the goal is to reach companion pass asap so you can get the most for your money.
Rapid Rewards points do not expire, so just save them for later and buy flights using cash until you reach companion pass.
Move Your Regular Spending to your Credit Card
The goal is to maximize your typical daily spending to work for you, not to spend more. Work smarter, not harder! I use my credit card for all purchases, but never paid a penny of interest.
Our landlord even allowed us to pay our rent on it for a while. Get creative, and look for ways to move your regular spending onto your card to maximize your benefits without paying interest.
Make sure you know all of the fine print and avoid paying high interest rates, which can really sting if you get caught with a large balance on your card. If you're forgetful like me, you can turn on auto-pay to automatically move funds to pay off the card on the payment due date.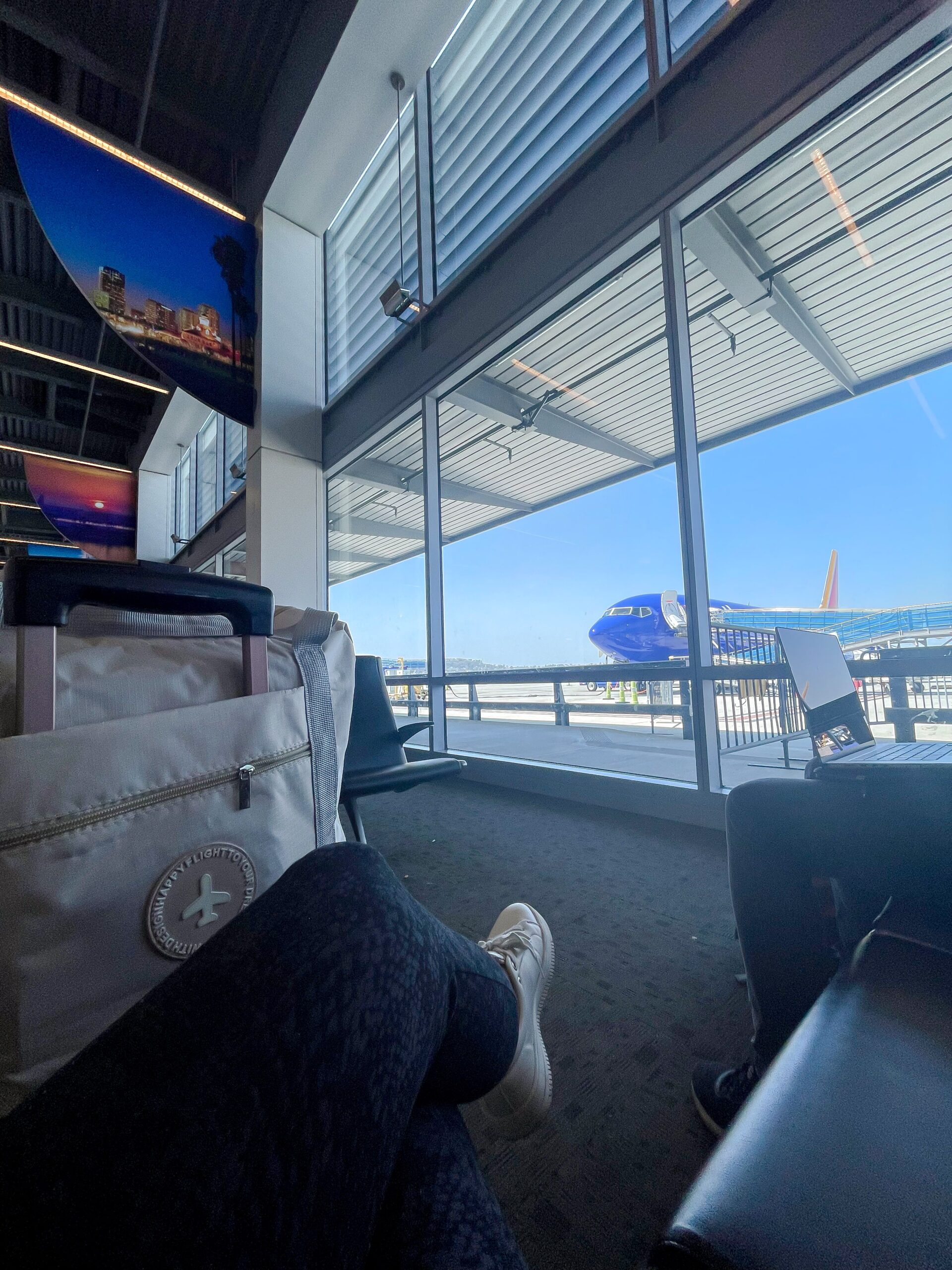 STEP 6: Find Low Fares
Low Fare Calendar
When purchasing flights, use Southwest's Low Fare Calendar. It's amazing how much leaving one day sooner or arriving one day later can change your fare.
Look for alternate nearby airports. For example, Burbank vs Los Angeles, or Dallas Fort Worth vs Dallas Lovefield.
Booking the most cost effective flights help extend the life of your Rapid Reward points. Remember that they don't expire. The slower you spend them, the more times you'll be able to fly free.
Make Your Own Layover
You can also make your own layover to save money.
For example, when returning home from our Disney World trip in March, most flights from Orlando to Los Angeles were over $450 one way per person! Instead I searched Orlando to Vegas which was $120 non-stop, and then Vegas to Los Angeles was $49.
I don't know this as fact… but my theory is that Vegas is a cheaper route because they want you there to gamble! In this case, we ended up with less total travel time, saved $300 per person, and enjoyed a one-night stay in Vegas (only $4 per night at Planet Hollywood thanks to a Hopper sale). Get creative and try alternate routes if you aren't finding the deal you want!
Look for Sales
Southwest runs occasional sales where fares are reduced for certain travel dates from select airports. Check your emails and take advantage of these sales when you see them!
Southwest fares are extremely flexible, so if you see a deal grab it. If you have to cancel or re-book you can always do so.
---
Frequently Asked Questions
What credit score do you need for the Southwest credit card?
You will likely need at least a Good credit score to be approved for a Southwest Airlines credit card. FICO defines this as a score of 670 or above. However, there are several factors involved in the application and you may be approved or rejected regardless of credit score.
Which Southwest credit card is best?
There are multiple options for credit cards through Southwest, with annual fees ranging from $69-$199/year. The best card for you depends on your goals and average spending.
I recommend the Premier card because you earn 3X points per dollar spent on Southwest and avoid foreign transaction fees.
What is the Southwest credit card interest rate?
Southwest Airlines credit cards often hold an interest rate of between 20.99% to 27.99%.
You can setup automatic payments each month to avoid paying the hefty interest rates. You do not need to hold a balance on the card to earn points.
Is the Southwest credit card worth it?
Yes! My husband and I have flown free (minus taxes and fees) for over 3 years thanks to the Southwest credit card. There are a lot of perks and the annual fee pays for itself in travel credit with annual anniversary reward points.
How many Southwest reward points equal a flight?
There is not a set formula for calculating how many points equal a free flight as flight values fluctuate from route to route. However, a general rule of thumb is that every 6,000 points is worth about $100 of flight value.
Do Southwest credit card point expire?
No, Southwest Rapid Rewards credit card points never expire.
Can Southwest companion pass be used with points?
Yes! You can book a flight using Rapid Rewards points and then add your Companion Pass to the booking. You will just need to pay the taxes and fees for each passenger ($5.60 each way). This is one of the main benefits of the Southwest credit card!
How can I earn Southwest Companion Pass in 2023?
The best way to earn Southwest Companion Pass in 2023 is to earn 135,000 qualifying points. These can be earned by spending money on your credit card, opting into occasional bonuses, booking partner hotels or through referral bonuses.
---
Have Any Questions About How to Fly Free on Southwest?
Our Southwest credit card with companion pass has saved us thousands of dollars in flights. The key is to accrue Rapid Reward points while earning toward Companion Pass, and then use those points to book free reward travel and take your companion with you.
I'm always excited to share this with others because it's my all-time favorite travel hack.
If you have any questions, I'm happy to help! Drop me a comment below or send me a message.
Happy travels!
– Hannah
This post is all about how to fly free on Southwest (minus taxes and fees).