7 Best Hotel Hacks to Save You Money
How can I pay less for a hotel? What is the best hotel booking site? Are there any hotel hacks to save me money? These are some of the most common questions I get asked about travel! I've been able to use some of these hotel hacks to stay at 4-star resorts for under $100/night and even get free nights in Vegas.
In this blog post I'll show you the best hotel hacks to save you money, including which booking sites to use, how to earn cash back, and how to know you're getting the best deal.
Let's explore the 7 best hotel hacks in more detail…
Hotel Hack #1: Get Cash Back
We're starting with an easy one!
First things first, if you aren't getting cash back on your hotel stays you are throwing away free money!
I just got a check for $114.75 from Rakuten in the mail, which is mostly cash back from hotel stays. I've earned over $400 from Rakuten so far!
All you have to do is sign up, download the extension (Chrome or Safari), and make sure it is selected before you checkout. Then money magically appears in the mail as a cash back rebate. It really is that easy!
Here's a screenshot of some of the current Rakuten rebate offers for hotels (there are more):
Rakuten also offers cash back for hundreds on shopping retailers like Macys, Sephora, H&M and more.
Sign Up for Rakuten
Use this Rakuten link to sign up and get $30 back after spending $30. Plus you'll start earning cash back on hotel stays.
Sure, 2-4% doesn't seem like a lot, but it adds up over time. If you have a big trip planned it can really pay off. Also I love when I get a check like this last one for over $100, so I can apply it to a new hotel stay and lower my hotel costs overall for the year.
Pros
Who doesn't like free money?
It's also super easy to use the extension. I often forget about it and then get excited when I get a check in the mail.
Rakuten sometimes runs 2X cash back promos or bonuses for select stores, so if you time it right you could get an even nicer payout!
Cons
They only send your 'Big Fat Check' every three months. So it can take a while to get the money back. But I see it as extra funds because I'm earning it on stuff I would have paid full price for anyways!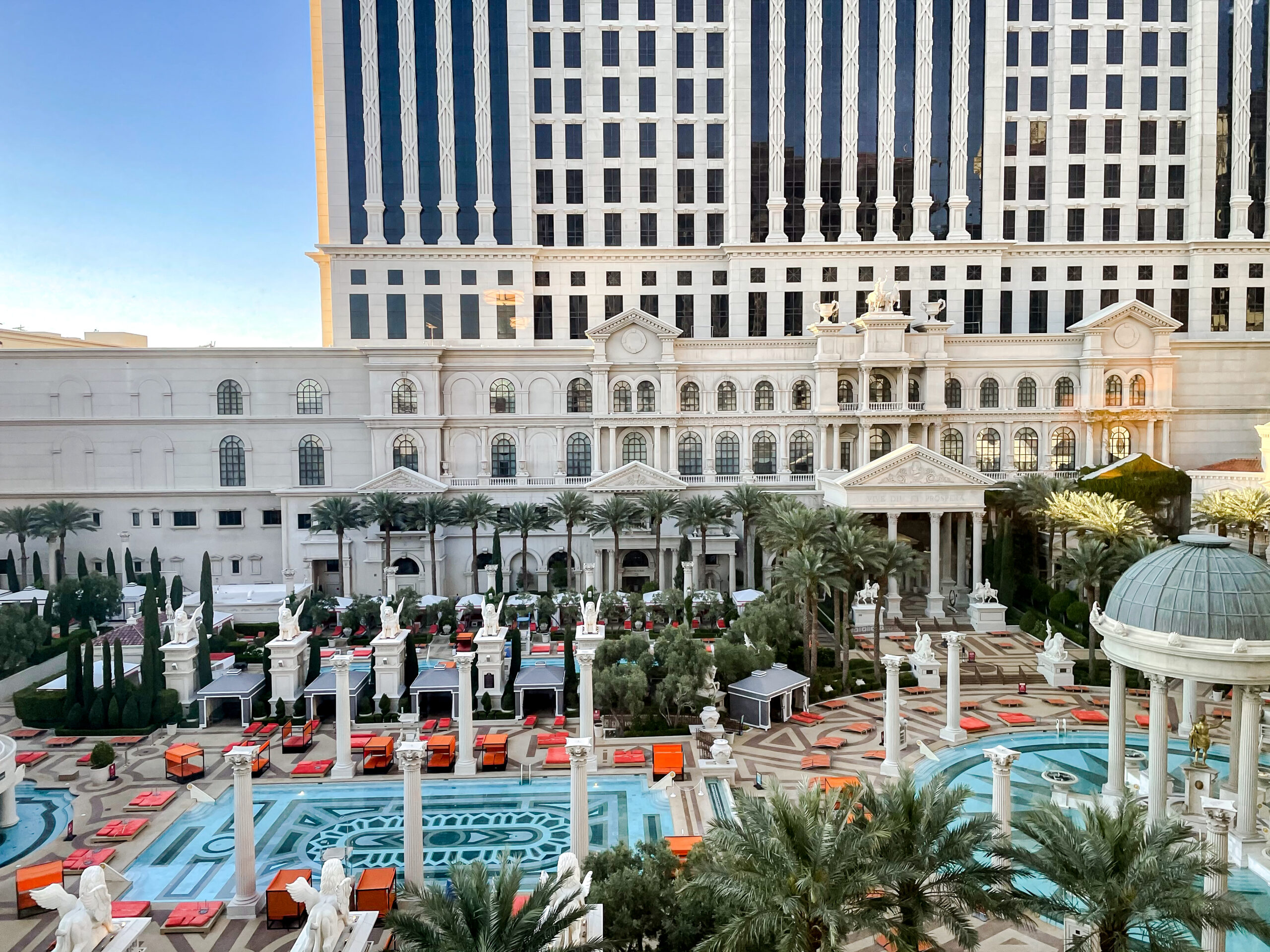 Hotel Hack #2: Secret Hotels
Now we move on to my favorite hotel hack: secret or mystery hotel deals!
What is a secret hotel deal?
A secret hotel deal is when third-party websites sell hotel rooms at discounted rates, but with the catch that the name of the hotel is not revealed until after the booking is confirmed.
By showing you the hotel's location, amenities, and star rating, these deals allow you to make an informed decision without knowing the exact hotel name. If you're comfortable taking a bit of a risk, secret hotel deals can provide significant savings of up to 50% or more.
Be sure to carefully read the terms and conditions before booking to avoid any unwanted surprises. But if you keep reading, I'll show you tips for how to make the secret hotel not so secret, and take away the guessing…
Overall, secret hotel deals are a clever hack for travelers who are willing to take a little bit of a risk in exchange for a great deal on a hotel room. That's me!
Where can I find secret / mystery hotel deals?
You can find secret hotel deals from a few third party sites, including Priceline and Hotwire.
Priceline Express Deals
When searching on Priceline, toggle to the Express Deals section in the app or on a desktop after you search for a city and date.
Hotwire Hot Rates
Use the Hotwire Hot Rates in the app or desktop to find mystery hotel deals.
I like Hotwire Hot Rates because they often reveal the actual photo of the hotel room! This means you can go back to a regular search and easily determine which hotel it is.
Pro Tip: Hotwire rates are always cheaper in the app, although usually only by $1 or $2
Pro Tip: Use promo code HWAPP10 for 10% off your first booking in the app

How to figure out the secret hotel?
You can often figure out the secret hotel by comparing the amenities, location, review counts and star rating of the secret hotel to known hotels in the area.
Hotwire makes it pretty easy by providing (most of the time) a photo of the actual room.
However, another great method is to cross-reference the amenities and reviews. For example in the listing above at $98 for a 4-Star Hotel, we can see that it has a 4.1/5 rating with 865 reviews.
If you do a regular search in Hotwire narrowing down the area, star rating (4-stars), and amenities you can usually find a match and confirm it by matching the number of Expedia reviews like the example below (both have 865 total Expedia reviews).
It may not work every time, but it helps ease the stress a bit knowing what you're likely in for!

Don't forget to use Rakuten in addition to the Hotwire and Priceline secret hotel offers to get cash back and save even more!
Pros
Save a lot by being flexible! Hotels are willing to reduce their rates by keeping the name secret (although it's still pretty easy to investigate).
Cons
These rates are always non-refundable. So if you want a specific hotel, this hack is not the one for you.
There's no guarantee that you'll get a specific hotel and you're pretty much stuck with what you do get. But I've never been disappointed!
Secret hotel rates are usually available in bigger cities like Los Angeles, San Francisco or Chicago. If you're booking somewhere more remote, you may have less competition for hotel space and therefore less luck using this travel hack.
Hotel Hack #3: Hopper
This one is relatively new on my list, but I absolutely love it!
I don't know how Hopper does it, but they run a lot of city-wide promos where they offer $x off as "Carrot Cash" for any hotel or flight in a certain city. These only come around every so often, so keep an eye out and turn on notifications on the app!
Here's an example of a hotel in Las Vegas for $0 (+resort fees and tax of course). All Las Vegas hotels were $40 off during this Hopper sale, which made the 4-star LINQ resort $0 for one night!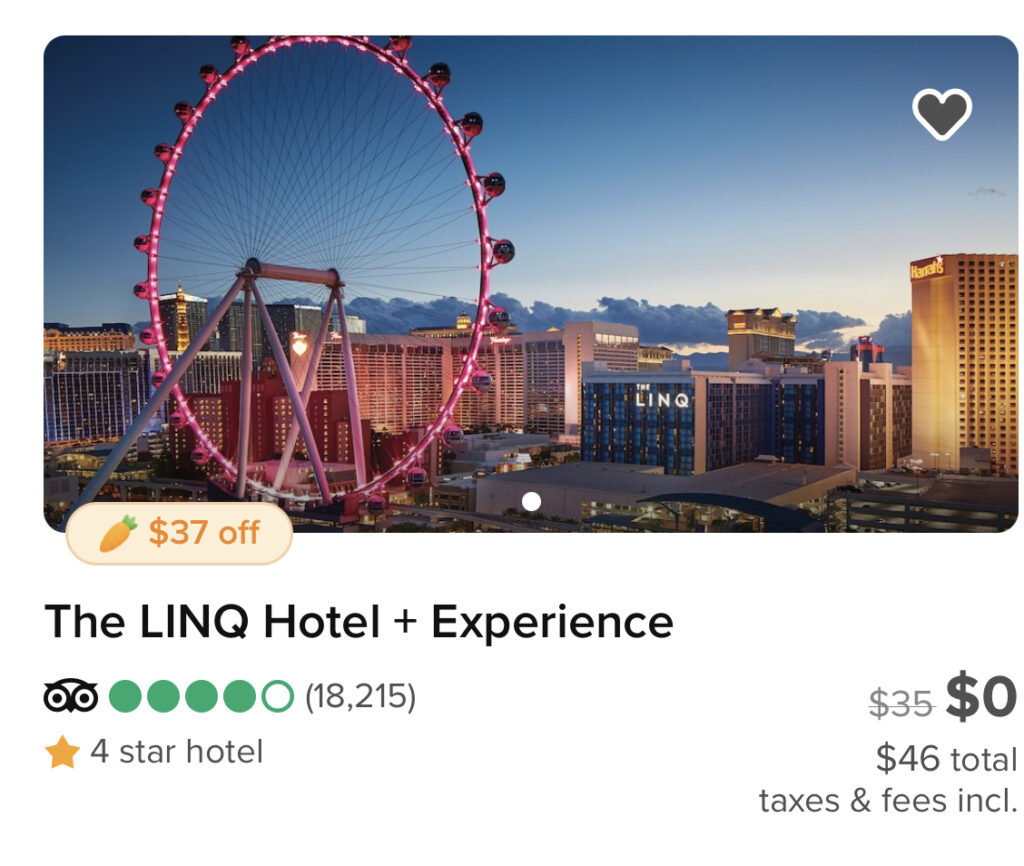 I used this hotel hack to stay at Planet Hollywood for $4 + resort fee and tax once. It actually works! No strings attached.
I also used Hopper to get $0 flights to hop islands from Maui to Oahu a few months ago. They ran a $40 off Oahu flights promo and I found a $38 flight on Hawaiian Airlines. Sure enough… free flight!
Get the Hopper App
Use this link to download Hopper or use code HANNAHF5WD and get $10 off.
Pros
Hopper's booking calendar also makes it easy to search for dates that are the lowest rate (green dates below).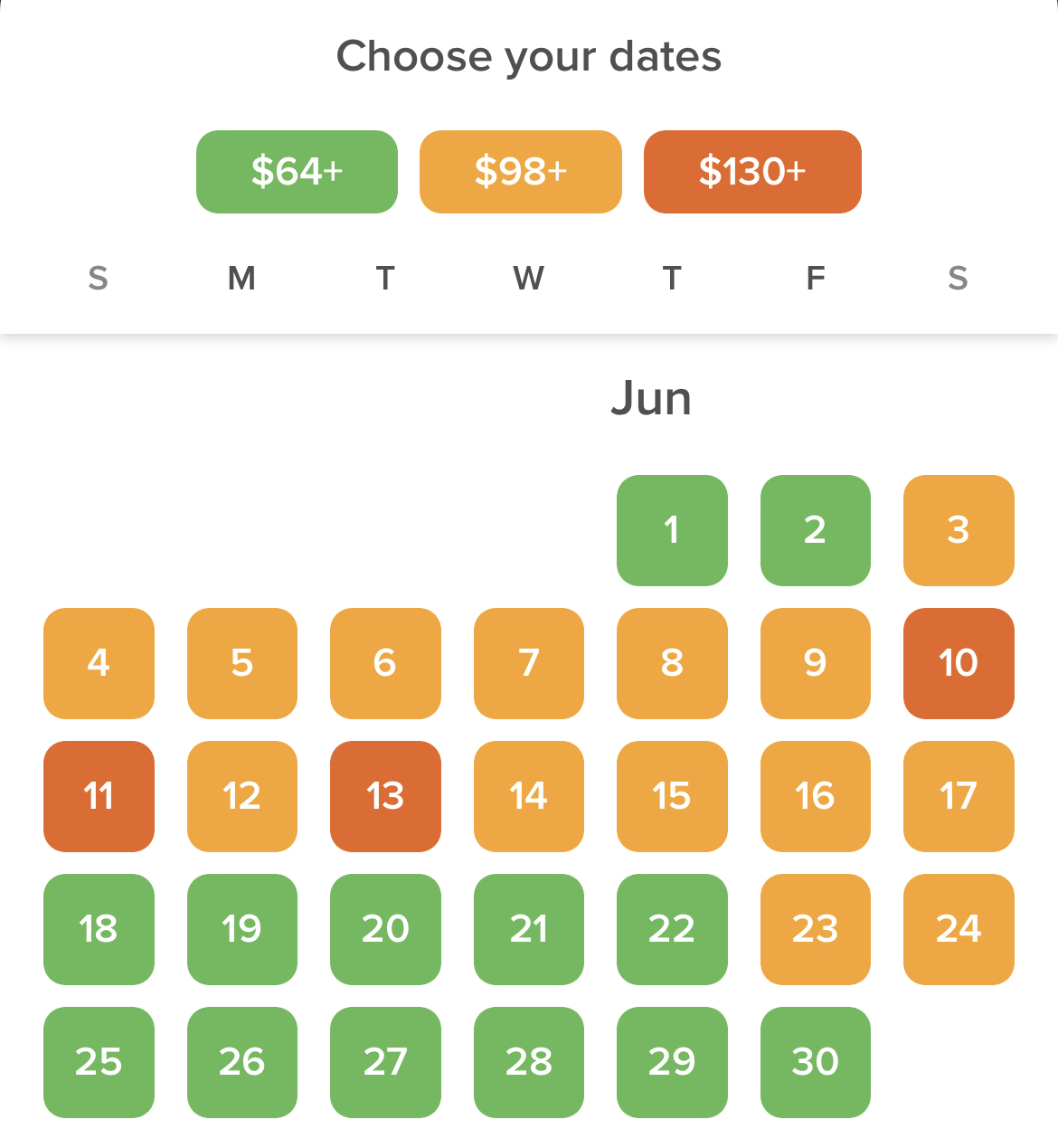 Cons
Hopper is only available as a mobile app. Desktop users, you've gotta go mobile for this deal. But it might be worth it!
The discount is only valid once per person during the promo period, so it works best for one night stays and quick trips. My husband and I hacked our 2-night stay in Vegas by each downloading the app and booking 1 night each at the super-reduced rate. We knew we might have to move rooms or check out and back in, but the hotel let us stay in our initial room and made it really easy.
If there aren't sales running, Hopper rates are usually about the same as other booking sites. In that case, I usually opt to use Priceline or Booking.com to earn loyalty points and get Rakuten cash back.
Hotel Hack #4: Last-Minute Deals
Waiting to the last minute can be risky, but sometimes it pays off!
There are sites like Hotel Tonight that specialize in last-minute hotel deals. You even get one "Today's Daily Drop" where you can swipe to reveal a deeper discount with 15 minutes to book it.
Use code HFALKOSKY for $25 off your first booking.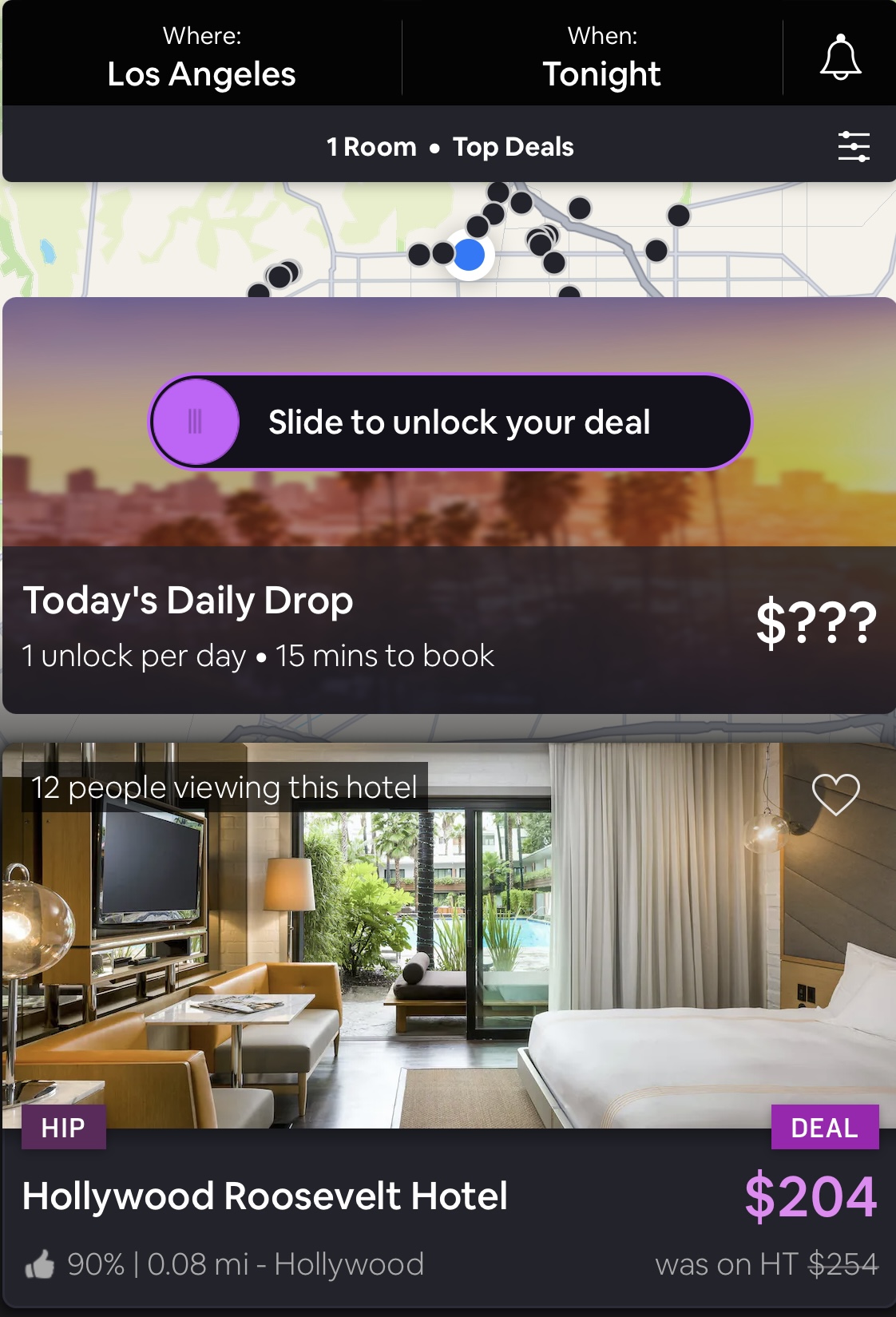 Should I reserve hotels early or wait to book last-minute?
This is a tough question to answer because there are a lot of factors involved.
If you're going to a city with a big conference in town and hotels are booking quickly, your price will likely only increase over time. This is usually pretty obvious and booking sites will even tell you if the city is more booked than usual.
If you're noticing a lot of availability and plenty of secret hotel deals on the apps, you may want to wait to reserve. I like to check every few days and as long as things aren't jumping up, I'll wait until the day before or even day of! I've noticed that even the secret rates often drop within 24 hours of checkin because hotels start to get desperate to fill rooms.
We traveled Europe for 8 weeks using this method and it worked great! I even stumped our timeshare agent who couldn't believe me when I shared how we traveled this way on $50/night average staying in 4-star hotels. I showed her examples and she was blown away! (This was 10 years ago, so prices and the economy are different now).
Pros
If you're willing to stay flexible and notice a lot of availability, last-minute hotel bookings can pay off with big savings.
Cons
The uncertainty of not having something booked in advance is not for everyone. If you're set on a certain hotel or location, this method may not work for you.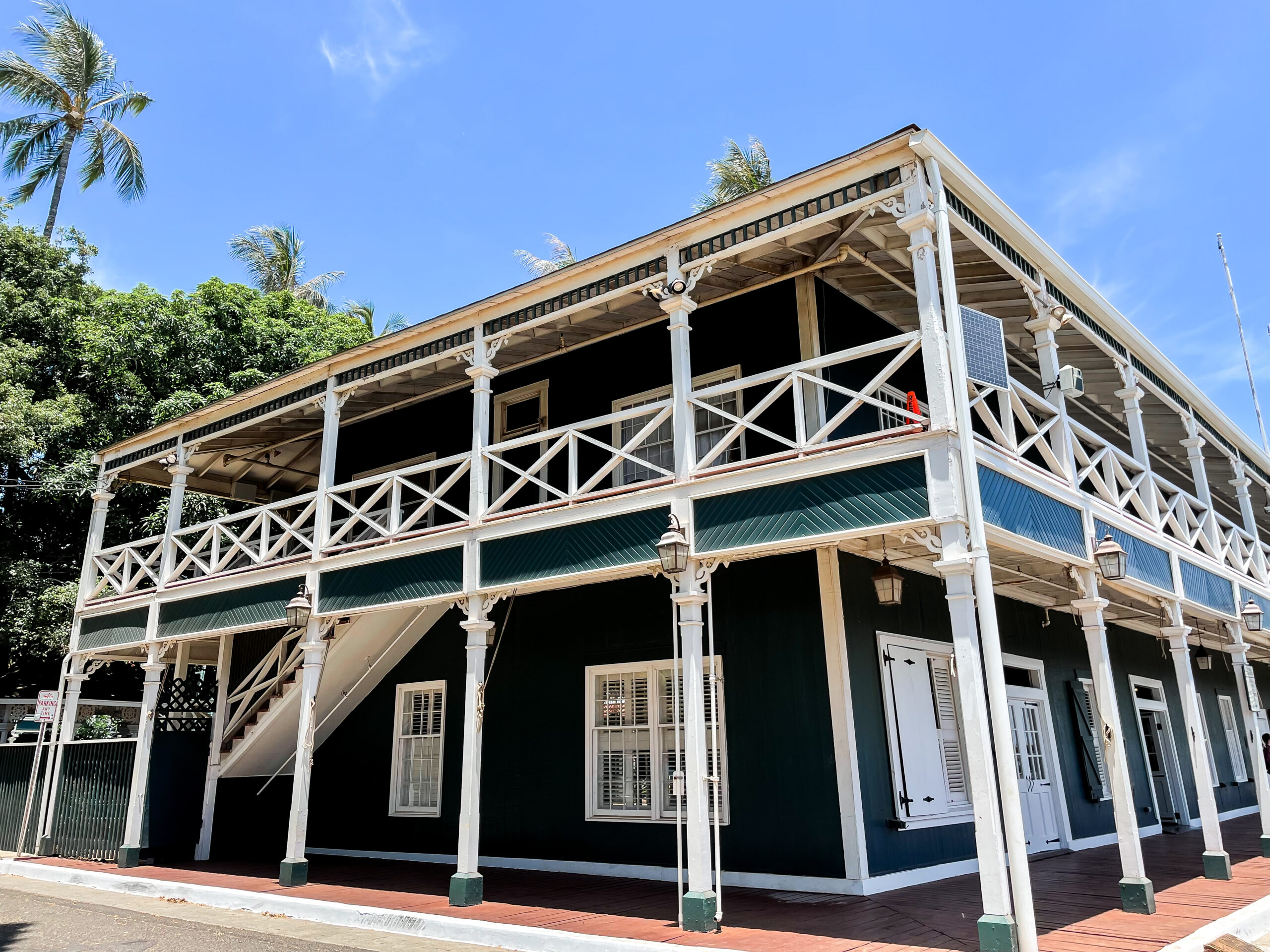 Hotel Hack #5: Get Loyal
There are benefits to searching around for good rates, but sticking with one travel site can lead to big rewards.
Booking.com
For example, Booking.com offers three levels of Genius / loyalty status. The more you book with them, the greater discounts you'll receive. If rates are similar, try to stay loyal to one booking company so that you can start to qualify for greater discounts.

Hotel Hack #6: Book Refundable & Stay Flexible
This hotel track hack works well for those tricky destinations where deals are hard to find, like Hawaii or Napa
Book Refundable Stays
Let's say you find a decent rate at a decent hotel, but you aren't 100% sold. And you aren't sure if prices will increase or drop as you get closer in. If the hotel is refundable, go ahead and book it while you keep looking!
It may work out that you find something much better and you can make an easy switch! Or you may stick with the original booking, and watch as rates climb while being thankful you snagged it when you did. Don't be afraid to hold something and keep shopping.
On a recent trip to Kona, Hawaii, I had searched for months in our budget with poor results, and had a backup plan held. But I did a quick search before we left, and was pleasantly surprised to find a new Airbnb that was just listed. Because it was new with few ratings, the rates were low. Sure, booking a new listing has risks but the photos looked great and the location was right near the beach. It worked great!
My main point… don't give up! Book refundable options, and continue to search if you aren't entirely happy with what you've found.
Hotel Hack #7: Earn Southwest Rapid Rewards Points
If you have a Southwest Rapid Rewards or hold a Southwest credit card, it's worth checking their Southwest Hotel Finder tool. It's powered through Booking.com and they have some incredible reward point bonuses.
Here's an example of a hotel stay where you can earn an extra 15,000 points with a three-night stay at this San Francisco hotel! That's the equivalent of around $230 in flight credits.

The best part is that these bonus Rapid Rewards points count toward earning Companion Pass! This means you can take a companion for free on all flights for at least one calendar year. This is the ultimate prize for Southwest card holders, and my favorite flight travel hack.
Check out my blog post HOW TO FLY FREE WITH THE SOUTHWEST RAPID REWARDS CARD AND COMPANION PASS.
Ready to save money using these amazing hotel hacks?
The truth is that all of these hacks work differently and come in hand in different scenarios. The key to saving money is trying them out and knowing how to search each booking site properly for the best deals.
I hope this blog post helped give you new hotel hacking tools and sites to explore to save you money.
Happy hotel travels!
-Hannah
Like this post? Pin it for later!