75 Fun Los Angeles Date Ideas
Whether you're a foodie, a hiker, or on a budget, I've got you covered with these Fun Los Angeles Date Ideas that you and your hunny will fall in love with.
When it comes to planning dates, Los Angeles has endless possibilities. It might even be overwhelming to some! The city is packed with so many amazing restaurants, beaches, hikes and museums.
I've been married for almost 14 years and am always planning date ideas for me and my husband. You never stop dating, right? So after 8 years of practice planning dates in Los Angeles, I can confidently say these date ideas will not disappoint!
This post is all about fun Los Angeles date ideas.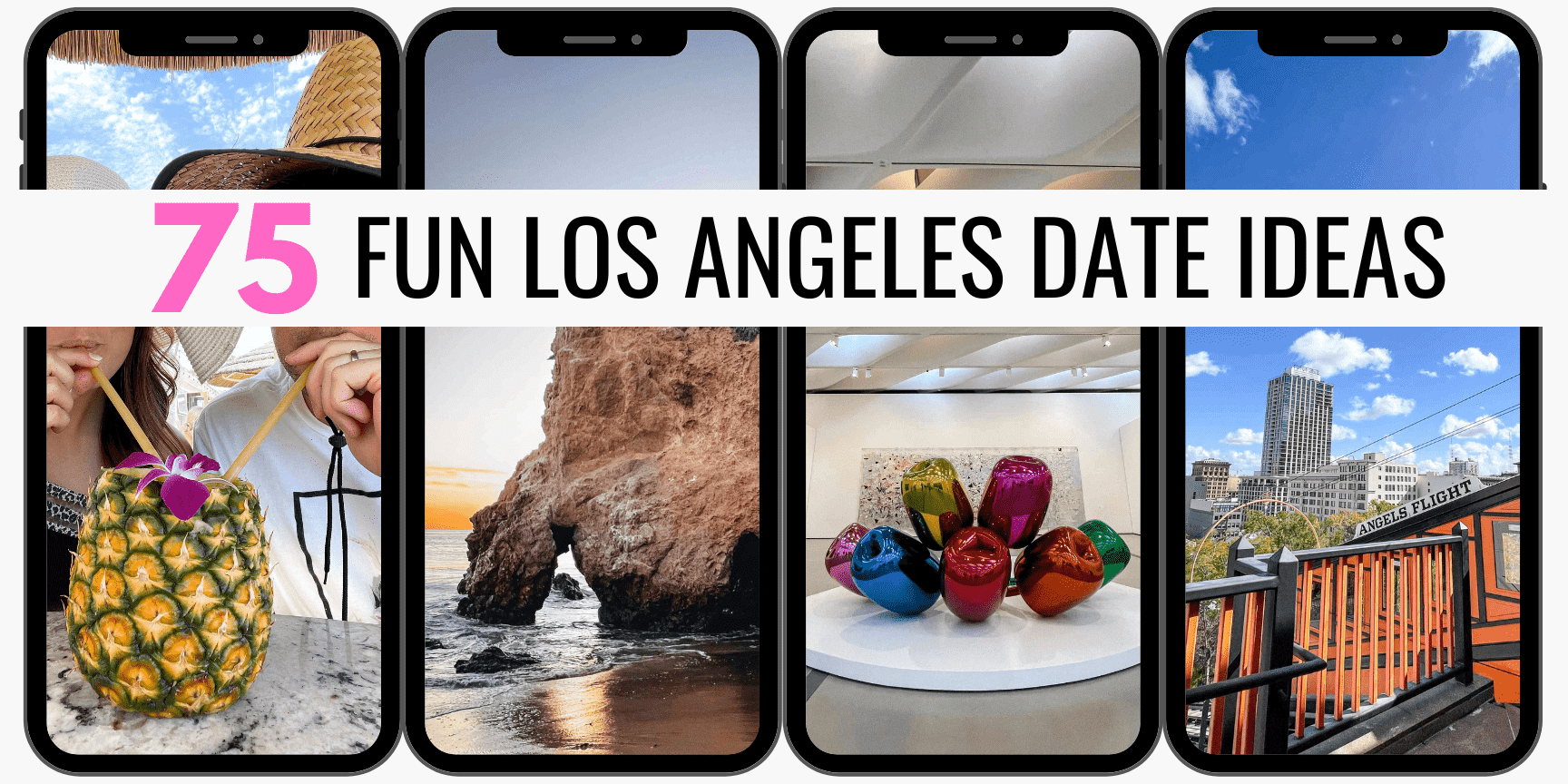 This post may contain affiliate links, which means that I may receive a commission if you make a purchase using these links at no cost to you. As an Amazon Associate I earn from qualifying purchases at no additional cost to you.
75 Fun Los Angeles Date Ideas
In this post, I've compiled a variety of fun Los Angeles date ideas that cater to different preferences, budgets and weather conditions.
Date Ideas for Foodies
Indoor Date Ideas
Outdoor Date Ideas
Date Ideas for Double Dates
Date Ideas on a Budget
Luxurious Date Ideas
---
DATE IDEAS FOR FOODIES
1. Food Crawl
This is probably our favorite way to do date night! Who wants to visit just one restaurant when you can go to three? Our evenings usually start somewhere with food and end somewhere else with food. You can pick any theme if you want a fun challenge. We've done an Italian food crawl, burger crawl, cocktail crawl and so many others.
Schedule your own food crawl around Downtown LA, or book a Food Crawl Tour.
2. Paradise Cove
Have breakfast, lunch or dinner at Paradise Cove in Malibu with your toes in the sand. Sip on cocktails served in a pineapple, coconut or watermelon. Then spend time hanging out by the beach or walking on the pier.
4. Fancy Night Out in Santa Monica
For a fancy night out in Santa Monica, head to Fia for the most gorgeous European outdoor garden dinner vibes you've ever seen. Then grab a drink at Chestnut Club.
5. Take a Cooking Class
Cooking together is as romantic as it gets! You can find great classes from Eataly in Century City or Sur La Table.
6. Take a Cocktail Class.
Learn to make your favorite cocktail at Class Bento! This class is great for beginners and the master mixologist will walk you through every step. If you prefer to stay home, you can order one of their kits to be delivered to your home and participate in the class via lime stream.
3. Takami Sushi & Robata
Takami Sushi & Robata is 21 floors high in downtown LA, and the perfect Los Angeles date idea for incredible views and delicious food and cocktails. If you want to extend the night further, grab a dessert at Bottega Louie and a drink at Library Bar, which are all within walking distance.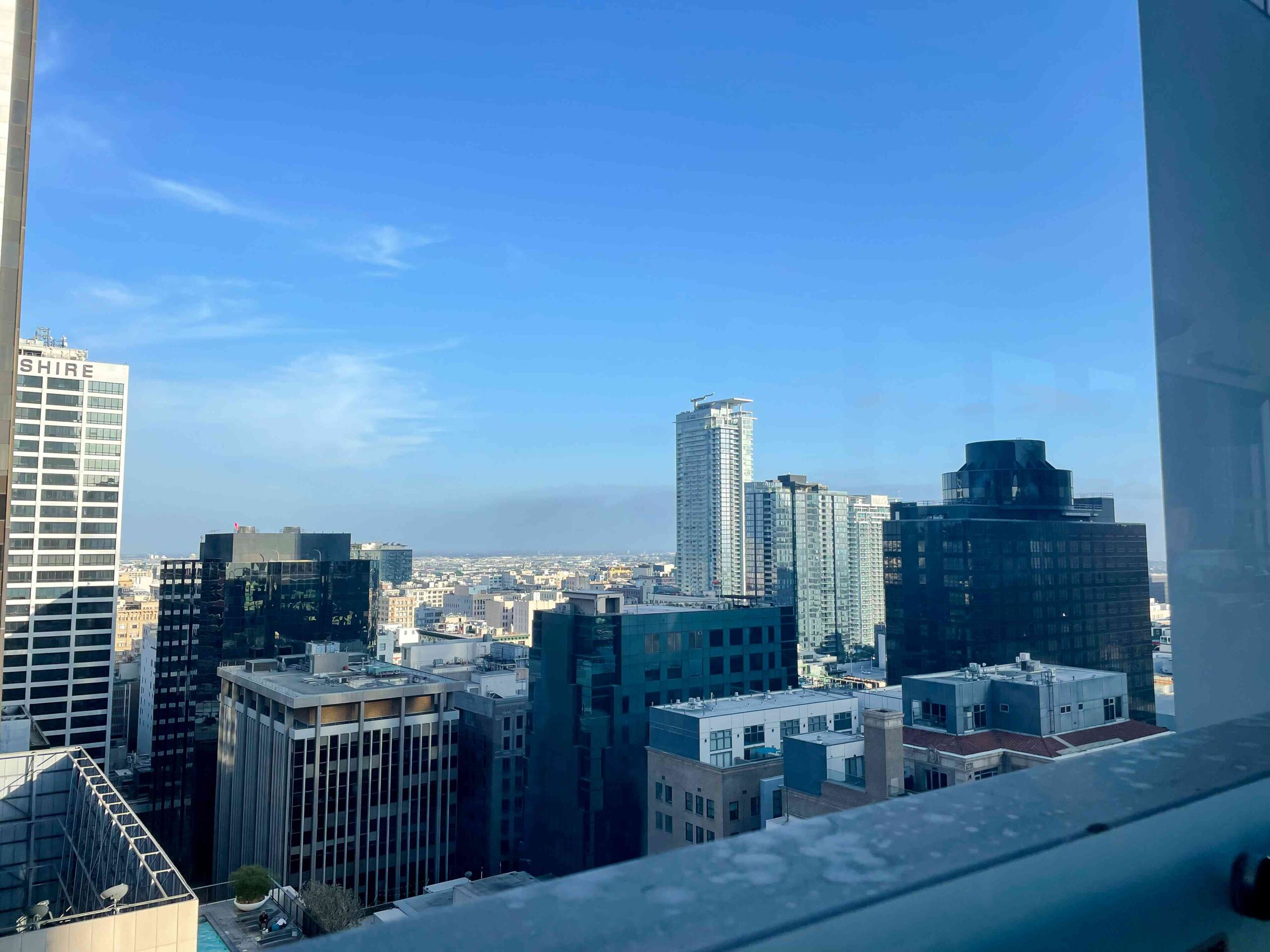 12. Shop Fine Italian Foods at Eataly & Cook at Home
Early has a massive selection of some of the best ingredients in Italy including hand-made pasta, fresh produce, a butcher shop, bakery and plenty of burrata and mozzarella cheese. Shop the market and take ingredients and bottle of wine home for an intimate night of cooking together.
8. Cocktail with a View at 71 Above
As the name suggests, you can find 71 Above in the US Bank building sitting 71 floors above ground. The views here are the best in LA and you can see all the way way to the beach on a clear day. Head up here for a cocktail at sunset for the most romantic scenery. This spot makes a regular appearance in our date night schedule.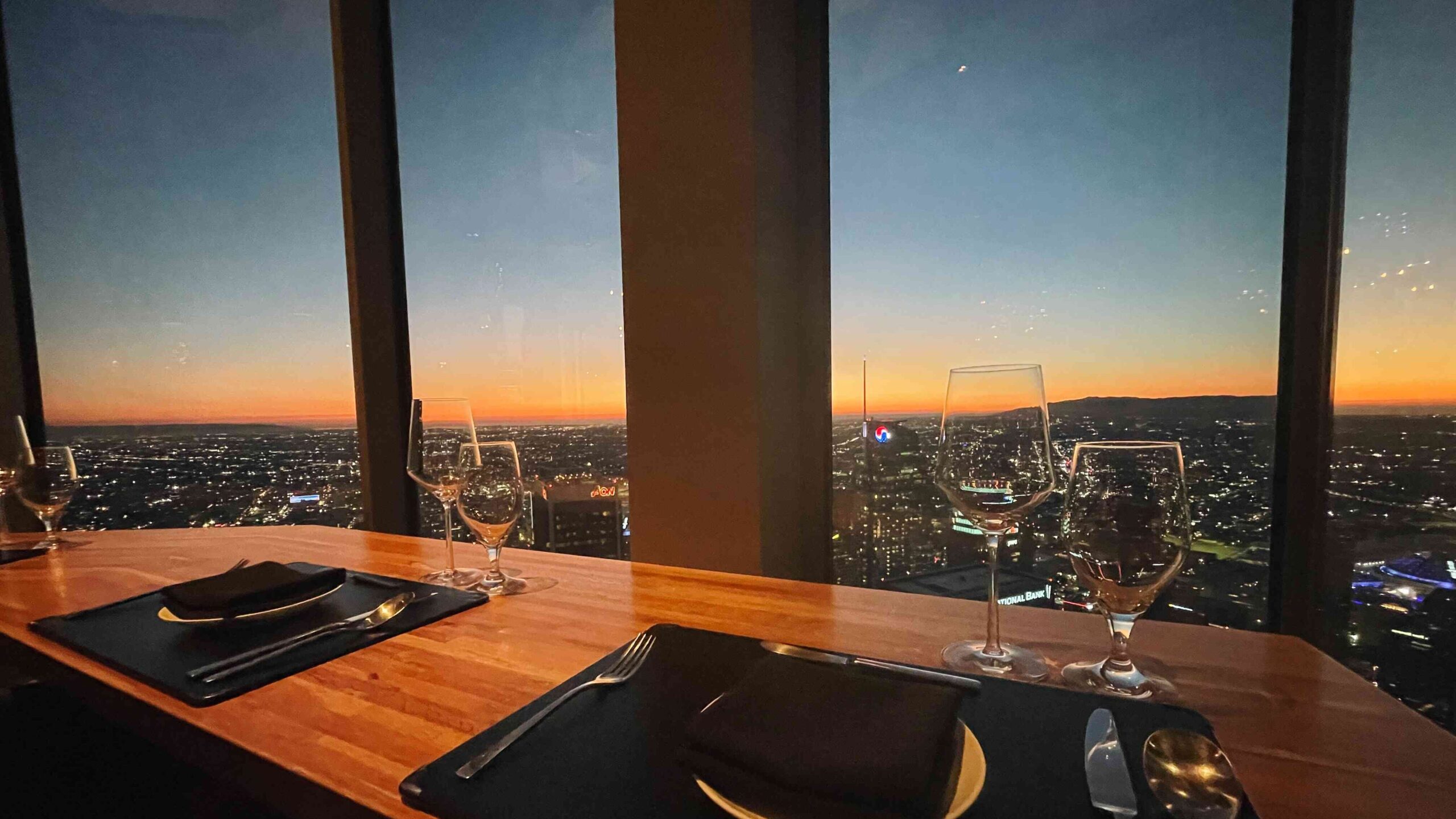 9. Malibu Wine Garden
Strangely enough, Malibu Wine Garden is actually located in West Hills. The beautiful gardens with draping twinkle lights is a perfect place to spend a date night. Check the website to confirm food options for the date of your visit. You can also bring in your own food (there are plenty of great takeout options in Woodland Hills). Order a flight of beer or a glass of wine and enjoy the great vibes!
10. Explore Anaheim Packing District and The Blind Rabbit Speakeasy
Okay, this one is not technically inside Los Angeles, but it's relatively close and definitely worth the drive!
Anaheim Packing District is a collection of food vendors and restaurants located inside an old renovated orange packing house. It also includes a park, two breweries, a new farm to table restaurant called Poppy and Seed. But the best part is the speakeasy bar on the bottom floor called The Blind Rabbit.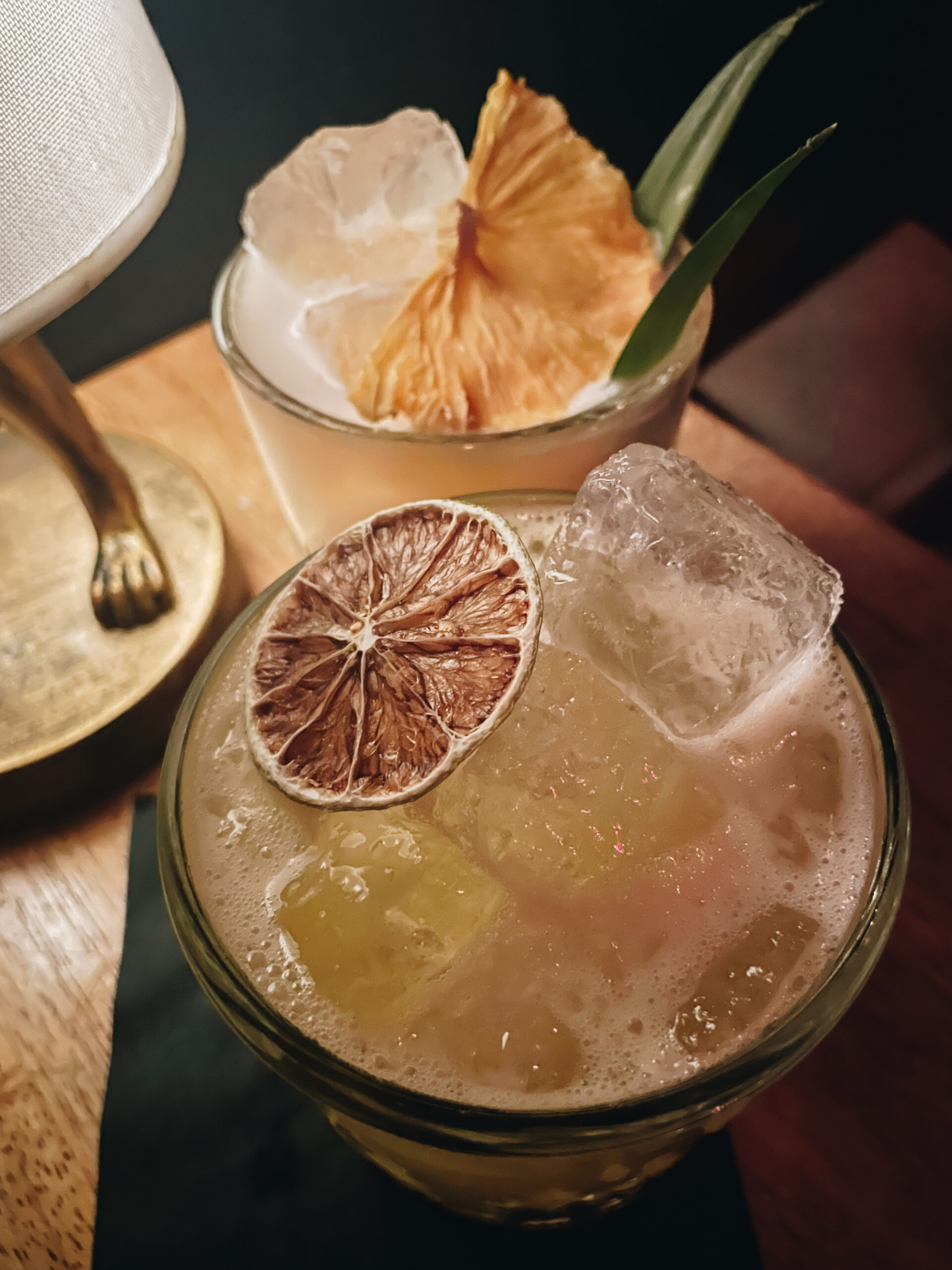 11. Drinks and Games at TRULY Bar and Angel City Brewery
Did you know that there is a TRULY bar in Los Angeles where you can order all kinds of TRULY flavors and cocktails?
It's connected to Angel City Brewery, an Arts District favorite for great beer, laid back atmosphere and games like corn hole, board games or trivia.
14. Oceanside Meal at Malibu Farms
Situated right on the Malibu pier, the views and the vibe of Malibu Farms make the perfect setting for a day date or a sunset dinner.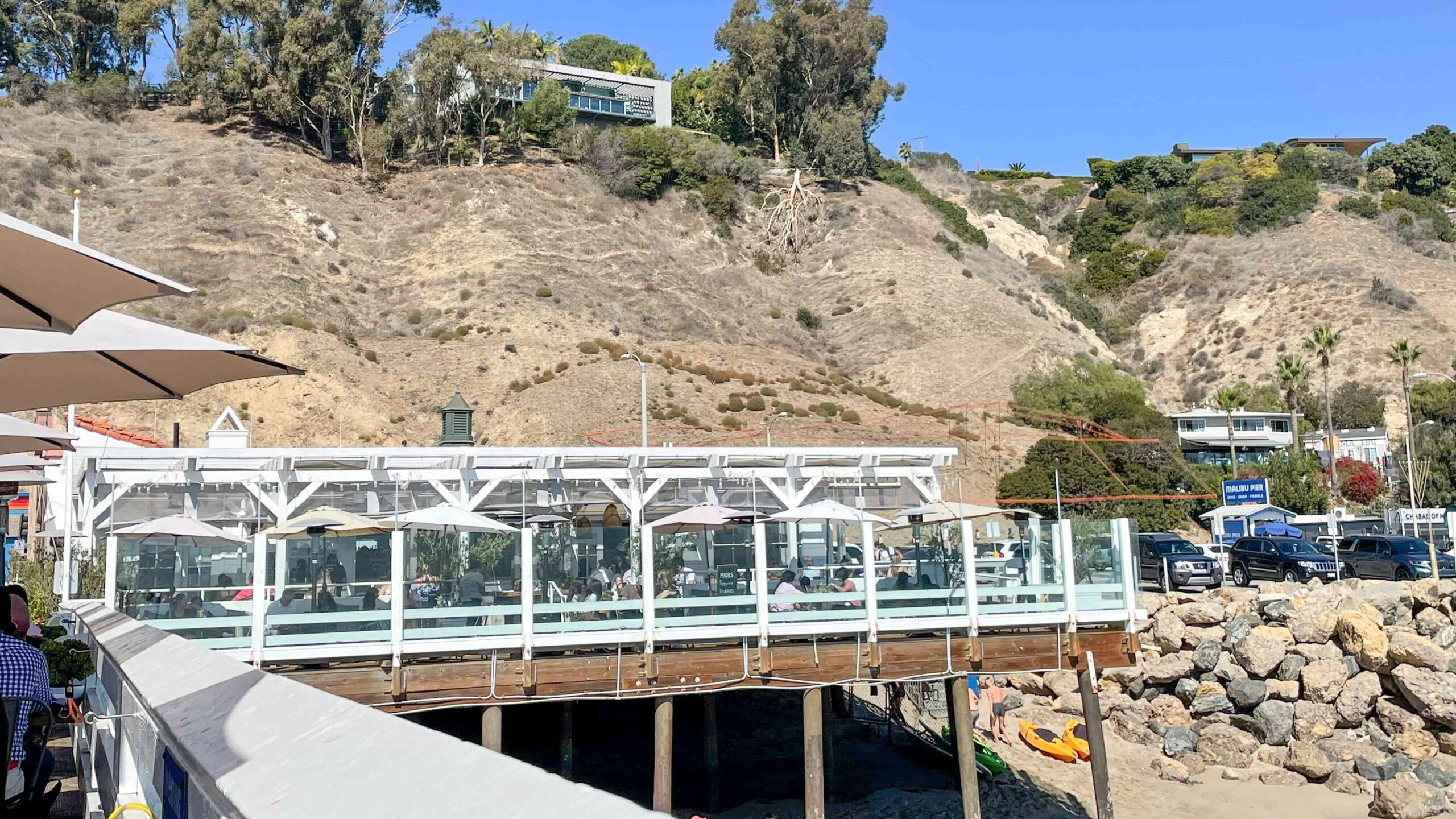 15. The Old Place Cornell
This one is also a short drive outside of LA, into the hills between Agoura and Malibu. The Old Place Cornell is a restaurant that lives up to the name and will transport you back in time. You can dine inside the wood-lined old western theme restaurant or grab your food as takeout and enjoy it on the property where a peacock may stop by to visit you!
16. L' Antica Pizzeria di Michelle
L' Antica is the perfect combination of romantic garden patio vibes with a large outdoor fireplace and really great Italian food.
17. Brewport Taphouse
The fun thing about Brewport is that you get a wristband to track your pours and you can taste as many beers as you wish by the ounce. They also have plenty of games to play at the table. Add this to your list for a laid-back date night.
18. Better Than Sex Desserts
The theme is kept all throughout the experience with "romantic" themed drinks, desserts and an iPad at each table with romantic questions to ask your partner to spark conversation.
19. Manuela DTLA
A beautiful restaurant in Downtown LA with a garden patio that serves incredible cocktails and food. All of the drinks are divine. The arugula salad is the best I've ever had, and the biscuits and ham will blow you away.
13. Cozy Garden Meal at Aroma Cafe
Nestled in Studio City, Aroma Cafe is the perfect spot for a date either day or night. The cafe is a renovated old house where you order at the front (and gawk at the pastry display), then find any seat you'd like in the house or gardens. It's cozy and charming and perfectly romantic!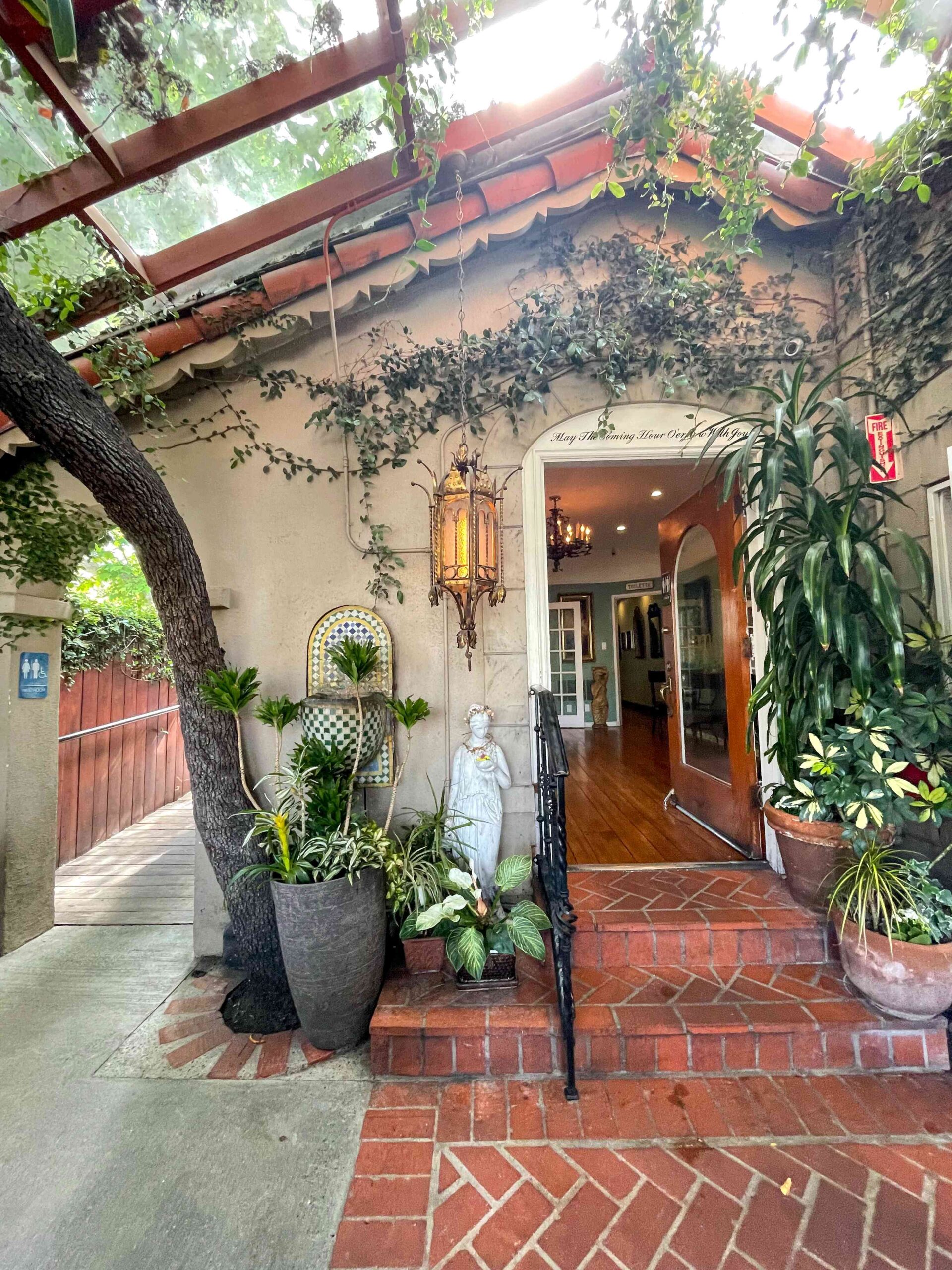 20. The Original Farmer's Market at The Grove
Open since 1934, the Original Farmer's Market is a perfect place to sightsee and eat. There are more than 70 stalls of vendors offering food, snacks, art, and jewelry. Live music happens regularly.
We once visited while Jorge Sanchez, the voice of SpongeBob SquarePants, performed a live set! My husband was so excited he couldn't stop talking about it for days.
21. Firefly Studio City
Come early for a drink in the library lounge area and then move into the dining room for dinner which is beautifully decorated with candlelight and lanterns.
22. Clifton's Republic
I've never seen a bar more deeply themed and decorated than Clifton's Republic. There are actually five bars, each on different levels, all with their own theme and menu. Currently Clifton's is only open on Friday and Saturday nights.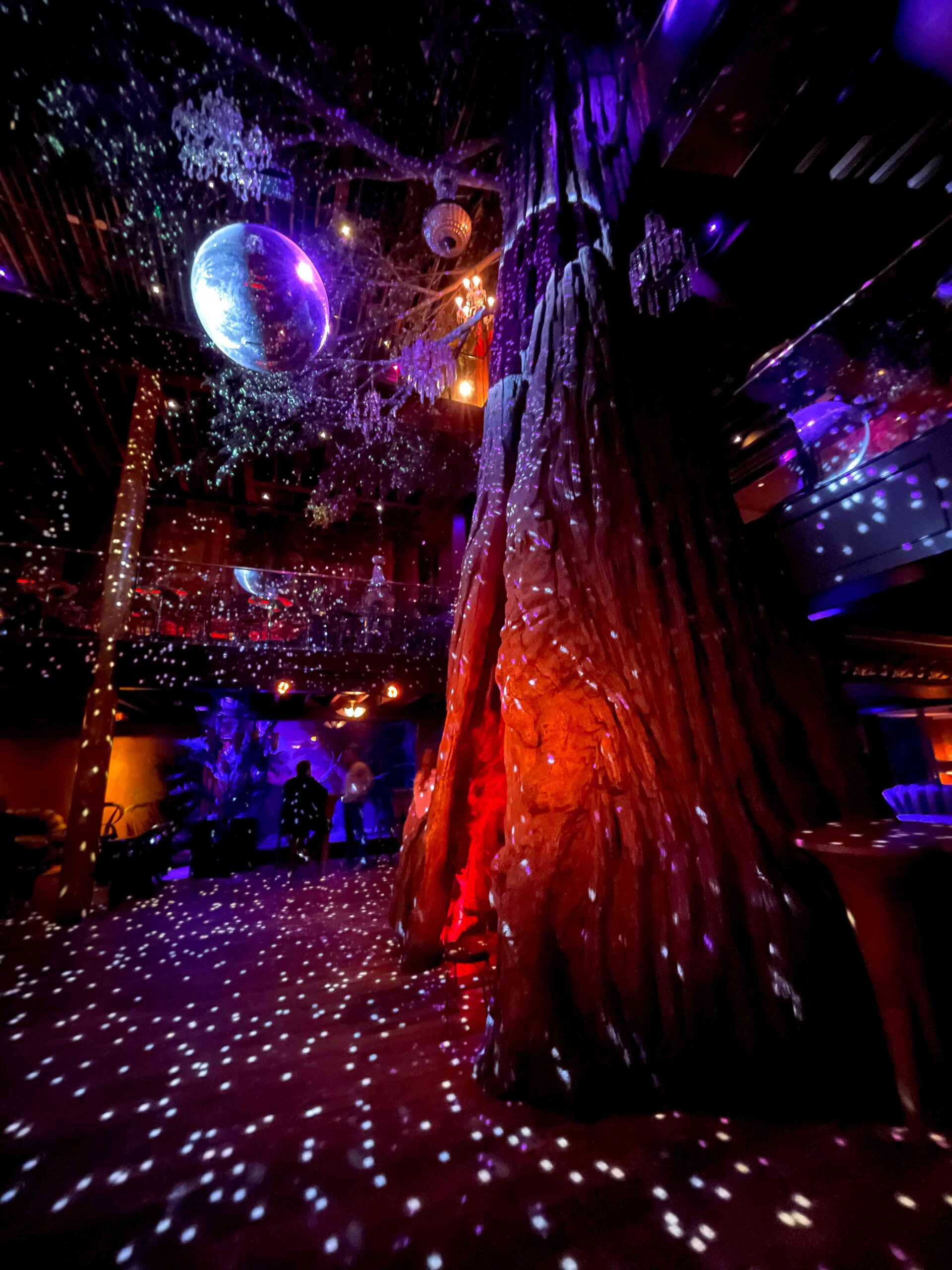 23. Whimsical High Tea at Lilly Rose
Lilly Rose is not your typical tea parlor. It's a reservation-only speakeasy located on the bottom floor of The Wayfarer Hotel in Downtown LA. The decor is funky yet elegant with energetic music. Order in advance for a high tea spread, or just go for desserts and cocktails.
24. Have Dinner in an Old Hunting Lodge at Saddle Peak Lodge
Whether you grab a drink at the bar or reserve a table for dinner, the ambiance at Saddle Peak Lodge is the perfect romantic and unique setting for a date night out. The old hunting lodge was renovated into a 4-star restaurant with in impressive cocktail menu. Check out the Double Barrel Whiskey Room upstairs, open on some evenings, for an intimate whiskey tasting lounge.
3. Smorgasburg LA
Every Sunday, you can visit Smorgasburg in Downtown LA for a huge spread of food trucks and eat to your hearts desire. You never know what great food trucks will make an appearance!
We ended up stumbling upon a food truck that was filming for the Great American Food Truck Race. We ordered the food and were interviewed for the show. Look out for my (potential) appearance in the 2023 season finale! Only in LA can you stumble into this sort of thing on accident…
LOS ANGELES DATE IDEAS ON A BUDGET
15. Griffith Observatory
Whether you're on a budget or not, Griffith Observatory is a great date spot for a picnic, stargazing or walking around the science exhibits inside. Entry is free. There is a small fee for parking or you can take a free shuttle from the bottom of the hill.
16. Make Your Own Sushi
Love sushi but looking to save money? I bought this bamboo mat set from Amazon and it works great for making sushi at home.
17. Angel's Flight
Take a ride on the shortest railway in the world! The cost is only $1.00 or $0.50 with your TAP Card. This excursion won't take long, so pair it with food and drinks from Grant Central Market across the street.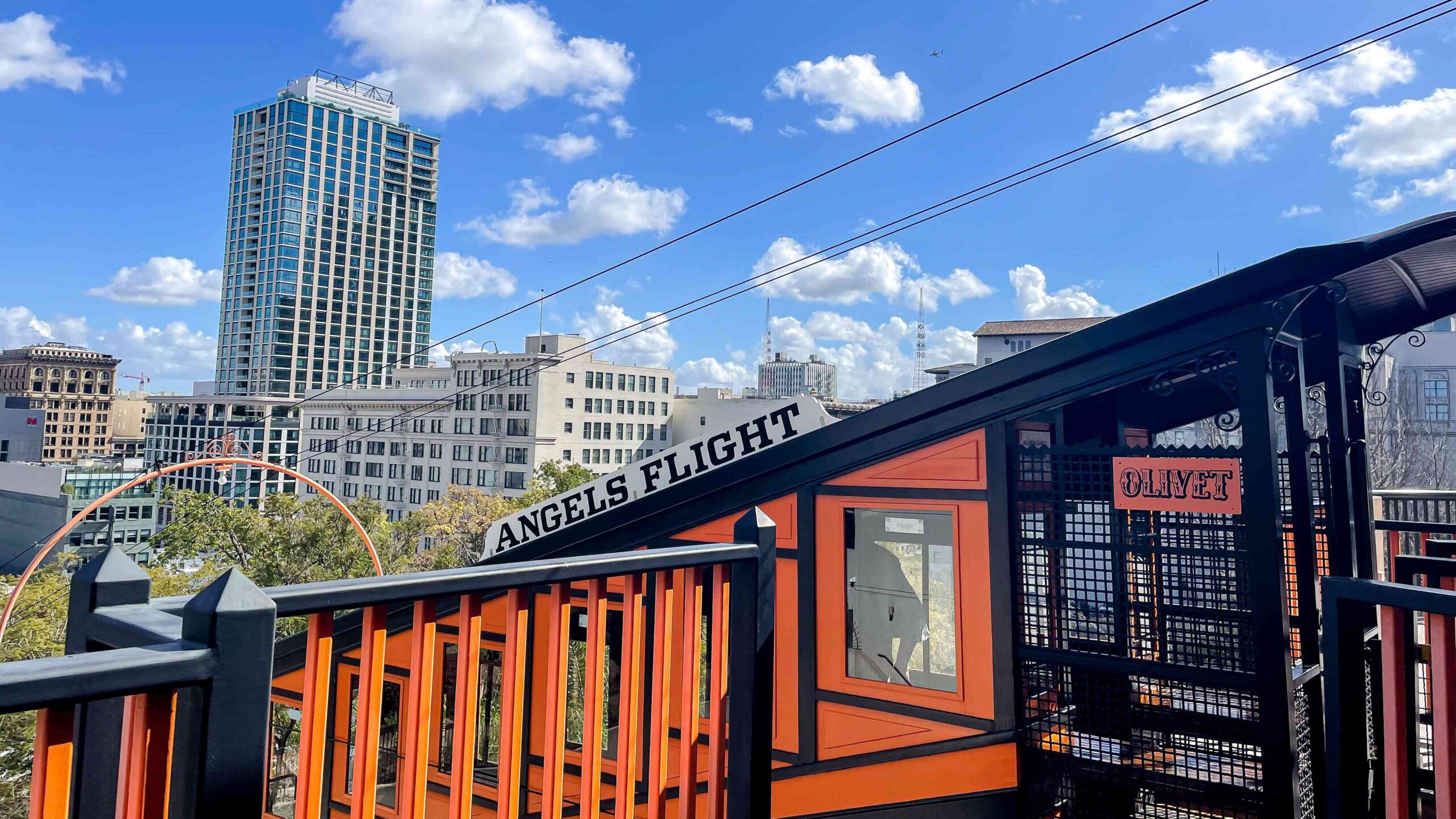 18. Broad Museum
Visiting the Broad Art Museum in Downtown LA is free and there are a lot of fun art exhibits! You can make reservations in advance online.
19. Picnic at the Beach
Whatever you're favorite meal is, pack it from home or order takeout and enjoy it by the beach. I mean, the beach is LA's most beautiful backdrop! Bonus points if you stay for the sunset.
20. Little Tokyo at Night
Walk around Little Tokyo at night and grab delicious soft serve ice cream at Honeymee.
21. Trivia Night at an Irish Pub
Check out Molly Malone's, Cat and Fiddle or Irish Times for free trivia and fun Irish pub vibes.
22. Manhattan Beach
Manhattan Beach is one of my favorite beach towns in LA. The downtown are and pier are super close so walking around from the beach to the town is really easy. Strolling the pier at night is super romantic, especially around Christmas time when it's lit up with lights. If you want to Grab an affordable meal, The Kettle has great food and is open 24 hours.
Pro tip: the muffins at The Kettle are a must!
23. Walk around Mission Inn
This Spanish-style historic hotel is full of romance every turn you take. It is beautiful year-round, but around Christmas it is filled with lights and even more romantic.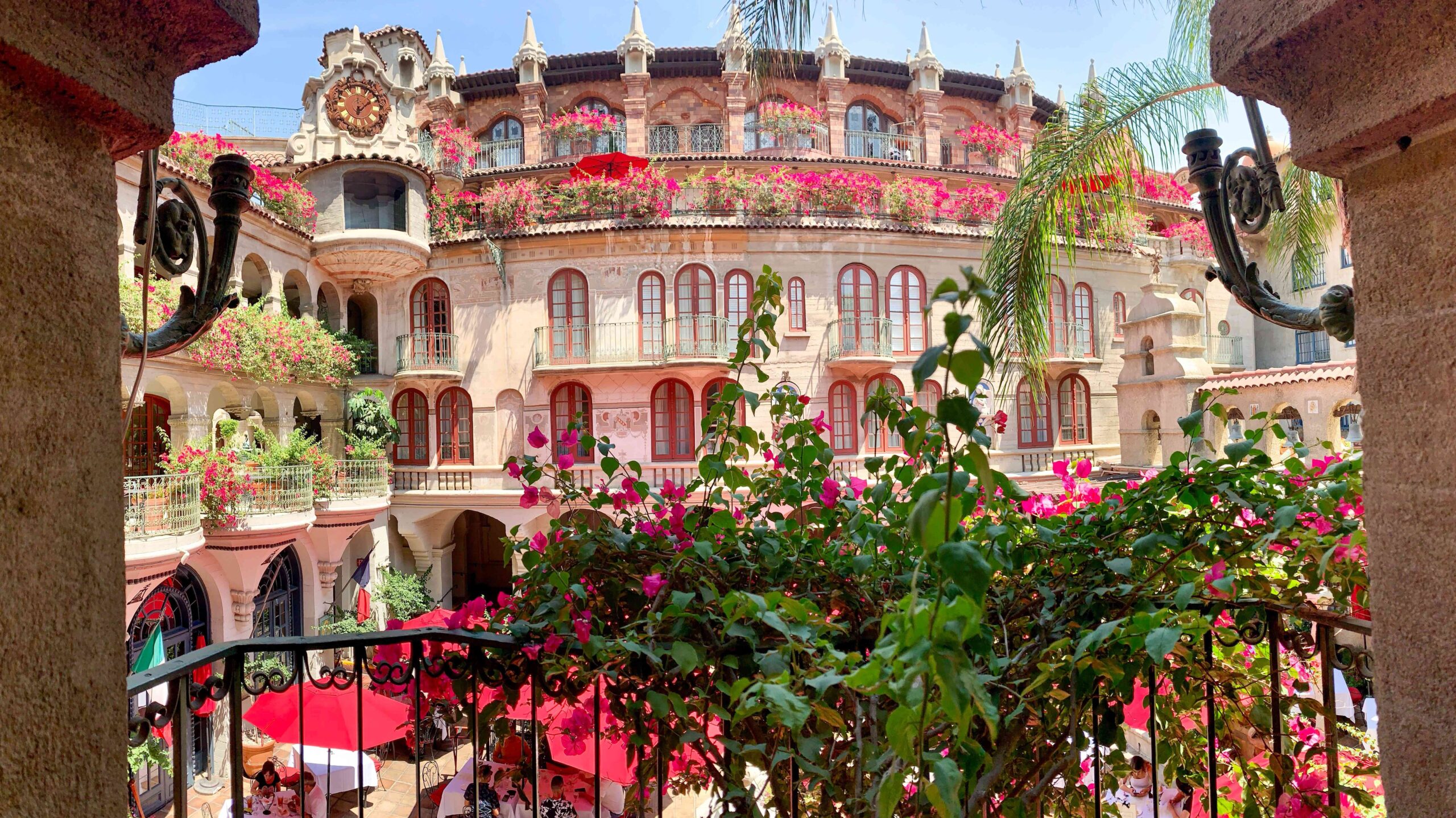 24. In N Out by the Airport
You can't go wrong with a Double Double! Visiting the In N Out near the airport is a fun experience because you can sit outside, or in your car and watch the airplanes land right over you.
25. Venice Beach
Stroll around Venice Beach and watch the skateboarders, bikers and rollerblade dancers.
DOUBLE DATE IDEAS
26. Evening Bonfire at Dockweiler State Beach
Dockweiler State Beach is one of the only beaches in LA where you can have a bonfire. Concrete fire pits are provided and you provide the rest. Get there early on weekends to reserve one because they go fast!
27. MAZE Escape Rooms
Some escape rooms are intended for larger groups, but we've done it several times as a double date with only 4 people. MAZE Escape Rooms in LA has some of the best puzzles!
28. Rent a Duffy Boat in Newport Beach
These usually fit up to 8 or 10 people, so if you're double dating with a large group this would be a great choice!
29. Take a Warner Bros Studio Tour
Sit in Sheldon's spot and visit the set of FRIENDS' Central Perk at the Warner Bros Studio Tour.
30. Visit a Speakeasy Themed as a 70s House Party
Check out Good Time at Davy Waynes in Hollywood for a fun 70s themed cocktail bar experience. I won't ruin the surprise, but the entrance is a fun one!
31. Dance at No Vacancy
From the same makers of Good Times at Davy Waynes, this speakeasy in Hollywood has an even more surprising entrance! Plus, they play dance music all night and have a gorgeous outdoor bar area with large fireplaces.
32. Virtual Reality
Dreamscape Immersive in the Century City Mall has a lot of fun VR experiences. Plus, with the convenient location in the mall you can easily go to any of the attached restaurants before or after.
56. Olvera Street Mexican Marketplace
Take a walk down the historic Olvera Street, originating in 1933, in downtown LA to get a feel for Old Mexico.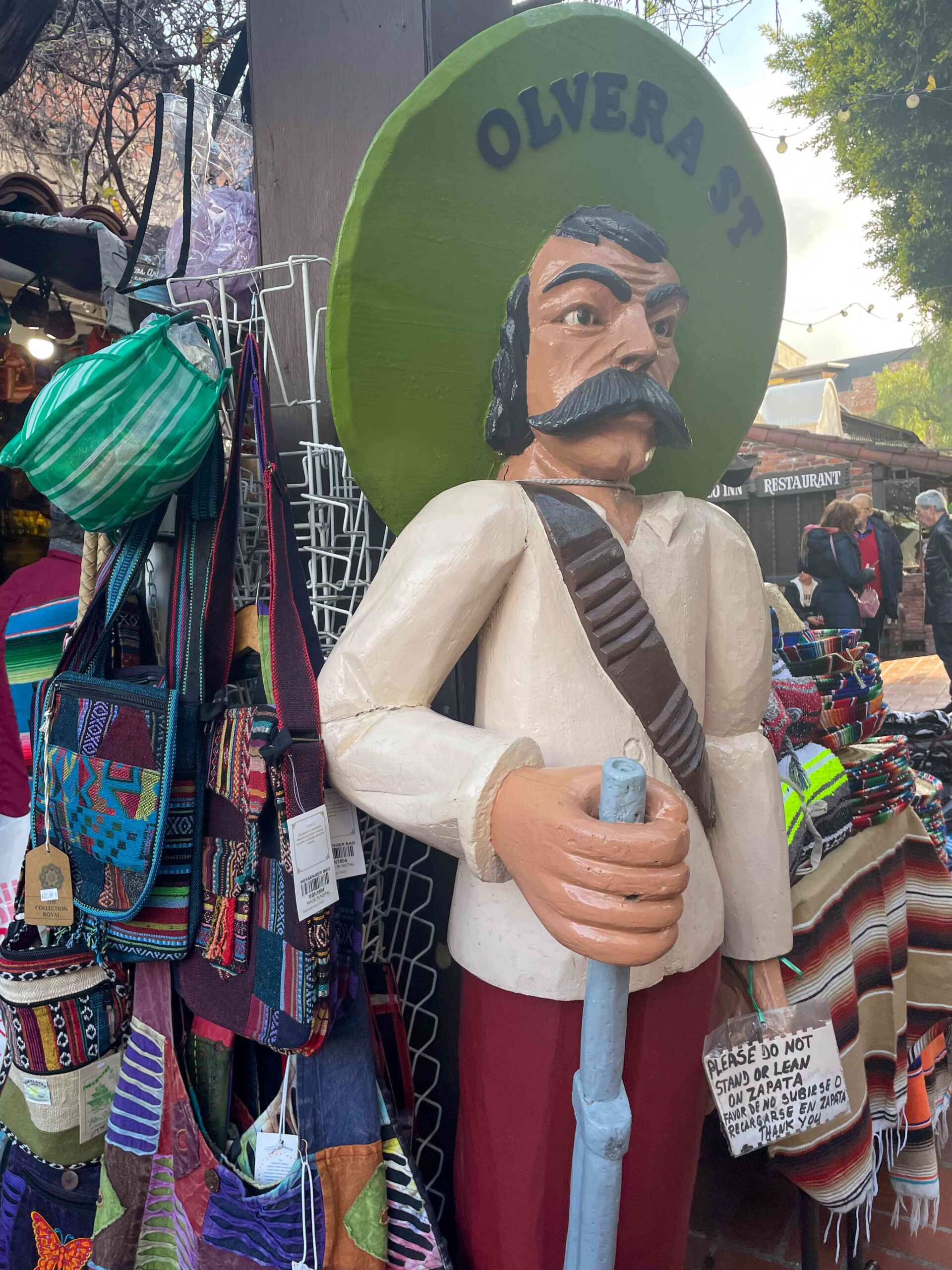 33. Six Flags Magic Mountain
A visit to Six Flags in itself if a fun date activity, but be sure to check out their schedule because they often have festivals or fun things going on like Oktoberfest, July 4th Celebration, Fright Fest or Holiday in the Parks.
34. Play Pickle Ball or Tennis
35. Verve Coffee
Verve not only serves amazing coffee, but their locations have great sitting areas for relaxing and chatting with your date.
36. K1 Go Kart Racing in Burbank
37. Highland Park Bowl
The vibes at Highland Park Bowl are trendy and industrial, while showcasing some of the original beauty from this 1927 building. The food and drinks are also great!
39. See a Show at Hollywood Bowl
During spring and summer, Hollywood Bowl puts on an impressive lineup of concerts in the iconic Hollywood Bowl outdoor amphitheater right in the heart of Hollywood.
INDOOR LOS ANGELES DATE IDEAS
40. Rollerskating at Moonlight Rollway
Roll it all the way back to your childhood birthday parties! The Moonlight Rollway in Glendale looks like it hasn't changed a bit since 1990, but in the best way! They even do a couples skate so you can take a few laps hand in hand with your boo. So much fun!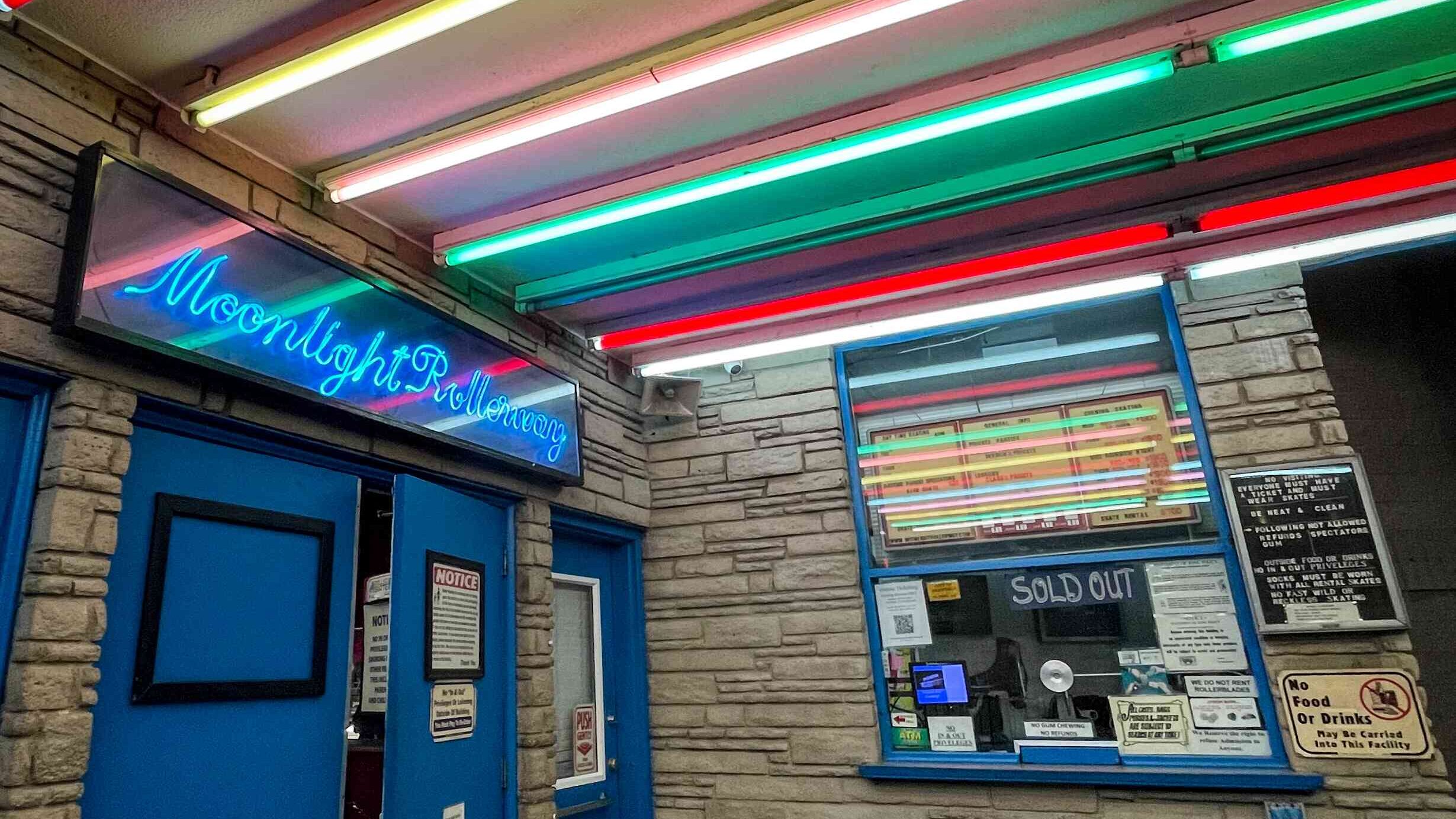 41. Top Golf in El Segundo
All 100+ bays at Top Gold are climate controlled, making it a fun sports activity you can do regardless of the weather.
42. All Season Brewery
All Season is a fun brewery inside an old Firestone Tires building in Central LA, hence the name All Season. If you or your date are not into beer, they also have several cocktails on tap, a taco food truck and ski ball.
43. J. Paul Getty Museum
Visiting the Getty Museum is free, however a reservation may be required for a timed entry slot.
44. Peterson Auto Museu
Even if you're not a car fanatic, the Peterson Auto Museum is impressive and a fun way to spend time on a date gawking at the hundreds of cars on display. The restaurant downstairs is also great for a drink or meal before or after your visit.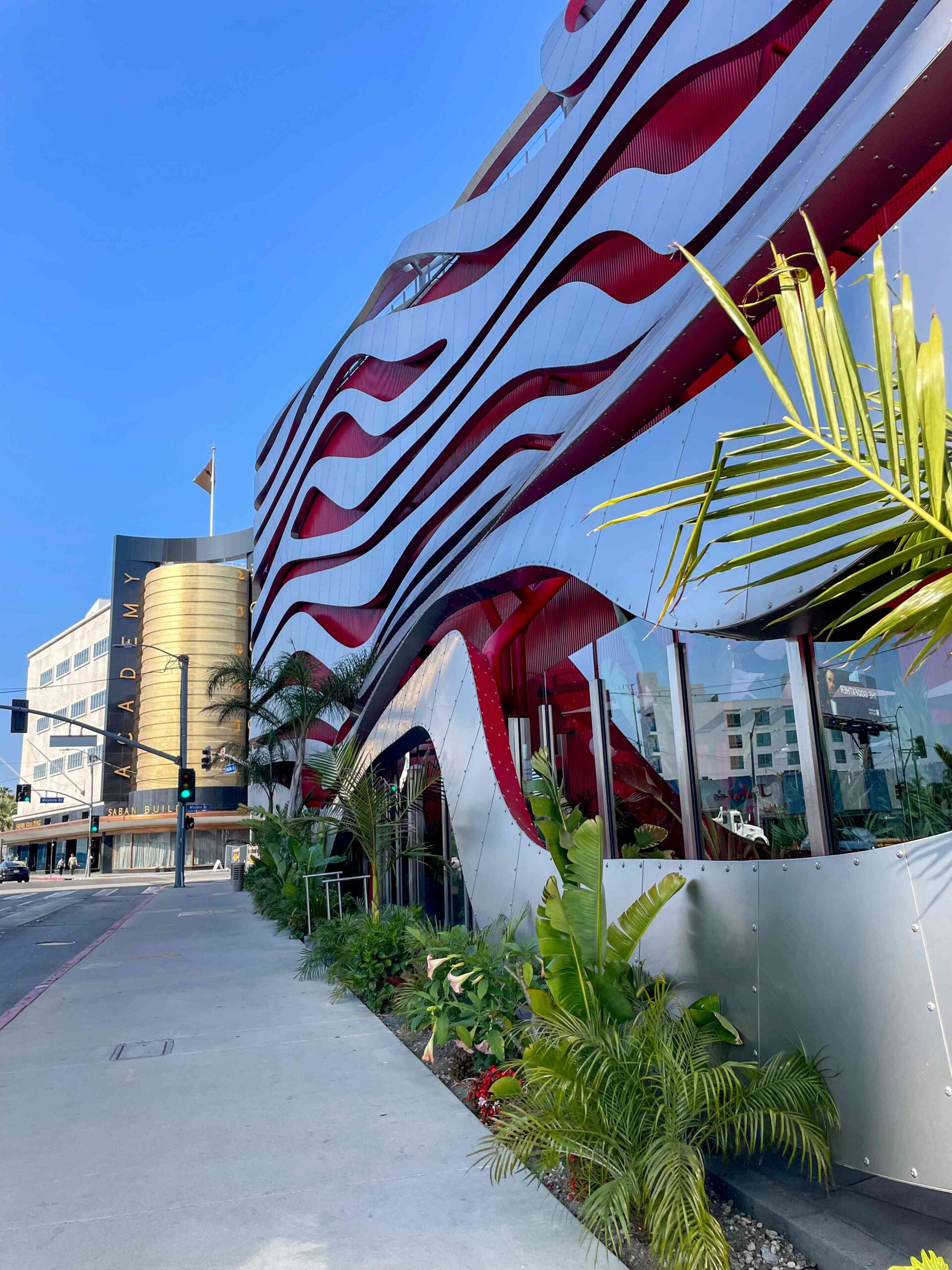 45. See a Movie at El Capitan Theater
46. Catch a Comedy Show at Laugh Factory
47. Catch Improv at Upright Citizens Brigade
UCB is where many of the popular SNL writers and actors started out. The venue is small and easy to access on Franklin Blvd. Visit SushiStop next door for dinner first, then ice cream at Van Leeuwen after!
48. Museum of Natural History
Walk among the dinosaur bones and epic nature scenes. This was also the place where Kaity and Zach had their first one-on-one date in the Bachelor season 27.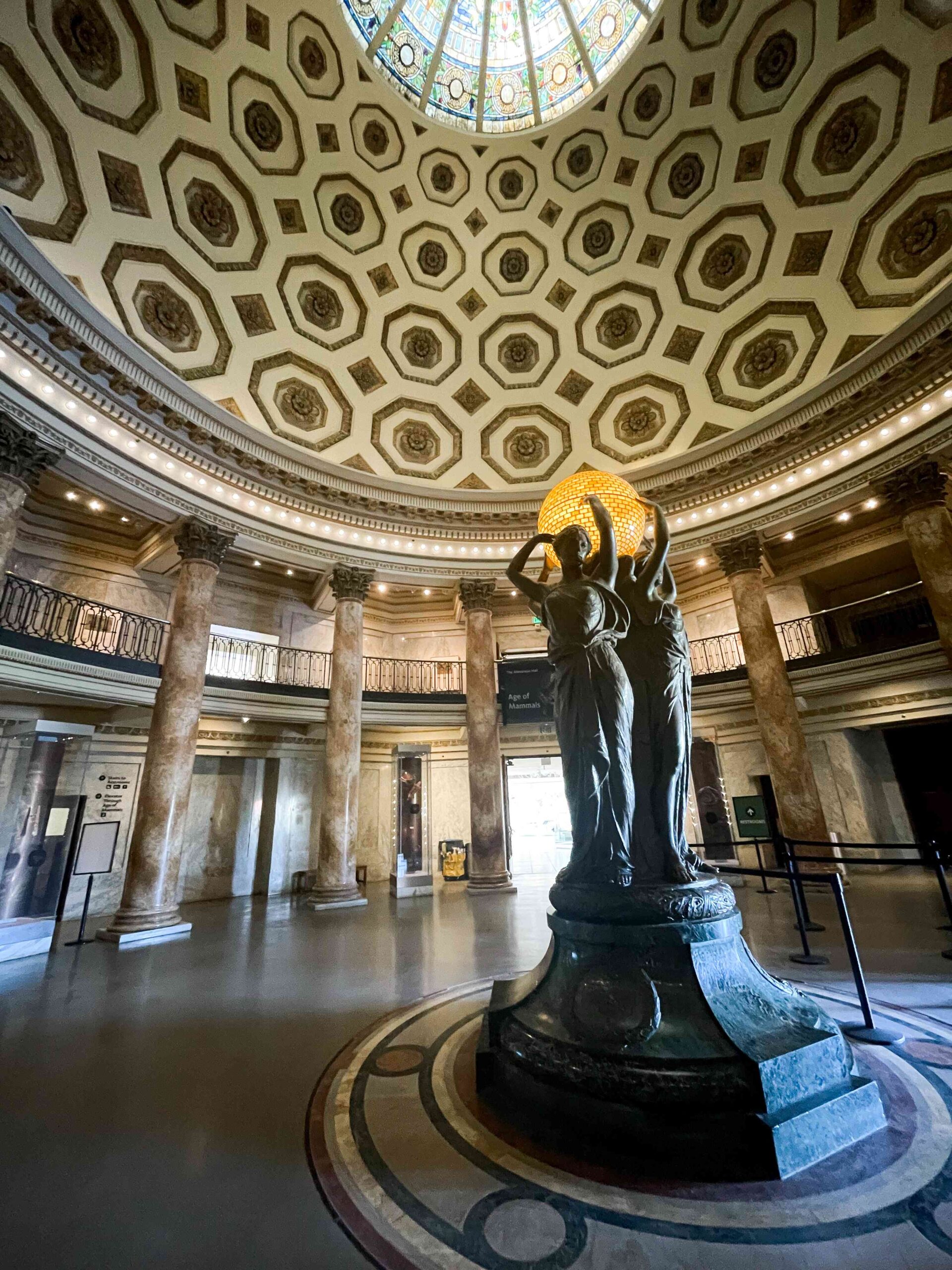 OUTDOOR LOS ANGELES DATE IDEAS
49. Hike Runyon Canyon
There are several options for hiking Runyon depending on your preferred level of difficulty. Each route has incredible views including the Hollywood Sign, Griffith, Downtown LA and Beverly Hills.
For an extra romantic touch, bring a lock with your initials on it and add it to the fence covered in locks.
50. Explore the Rose Garden at Exhibition Park
51. Ice Skating in DTLA
During the winter, head to Pershing Square for ice skating right in the middle of the downtown LA high rises.
52. Bike The Strand
Rent bikes or take your bike to Santa Monica and ride along the coast on The Strand.
53. Walk Around the Venice Canals
Similar to the famous canals in Venice, Italy, there are waterway canals tucked away in the neighborhoods of Venice, California. There are no gondolas or singing Italian men, but it sure is romantic!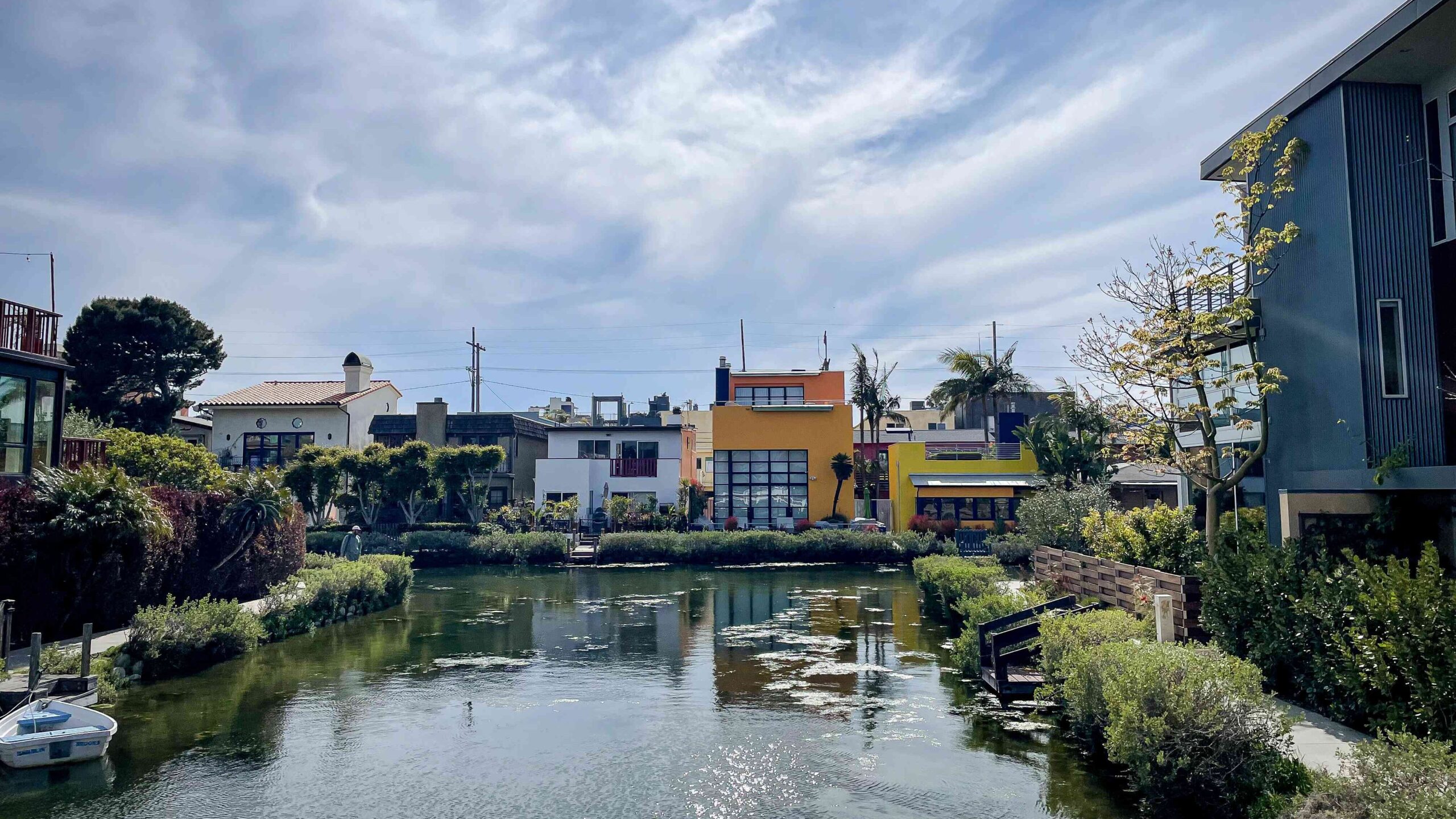 54. Hollywood Reservoir
Take a romantic walk around the Hollywood Reservoir, which is surprisingly peaceful despite being so close geographically to the liveliness of Hollywood Blvd.
55. Go shopping at The Grove or Glendale Galleria
Both of these famous outdoor malls from Caruso are perfect for a date day. They have large fountains, restaurants, and a luxurious environment.
57. Visit a Local Farmer's Market
The Hollywood Farmer's Market is our favorite, but the Santa Monica and Studio City markets are also well-known in the area.
58. Hike Moab Caves
This hike is a bit challenging, but a super fun date activity if you enjoy hiking! If you choose, a portion of it requires climbing up rocks and even going through a large rock cave opening.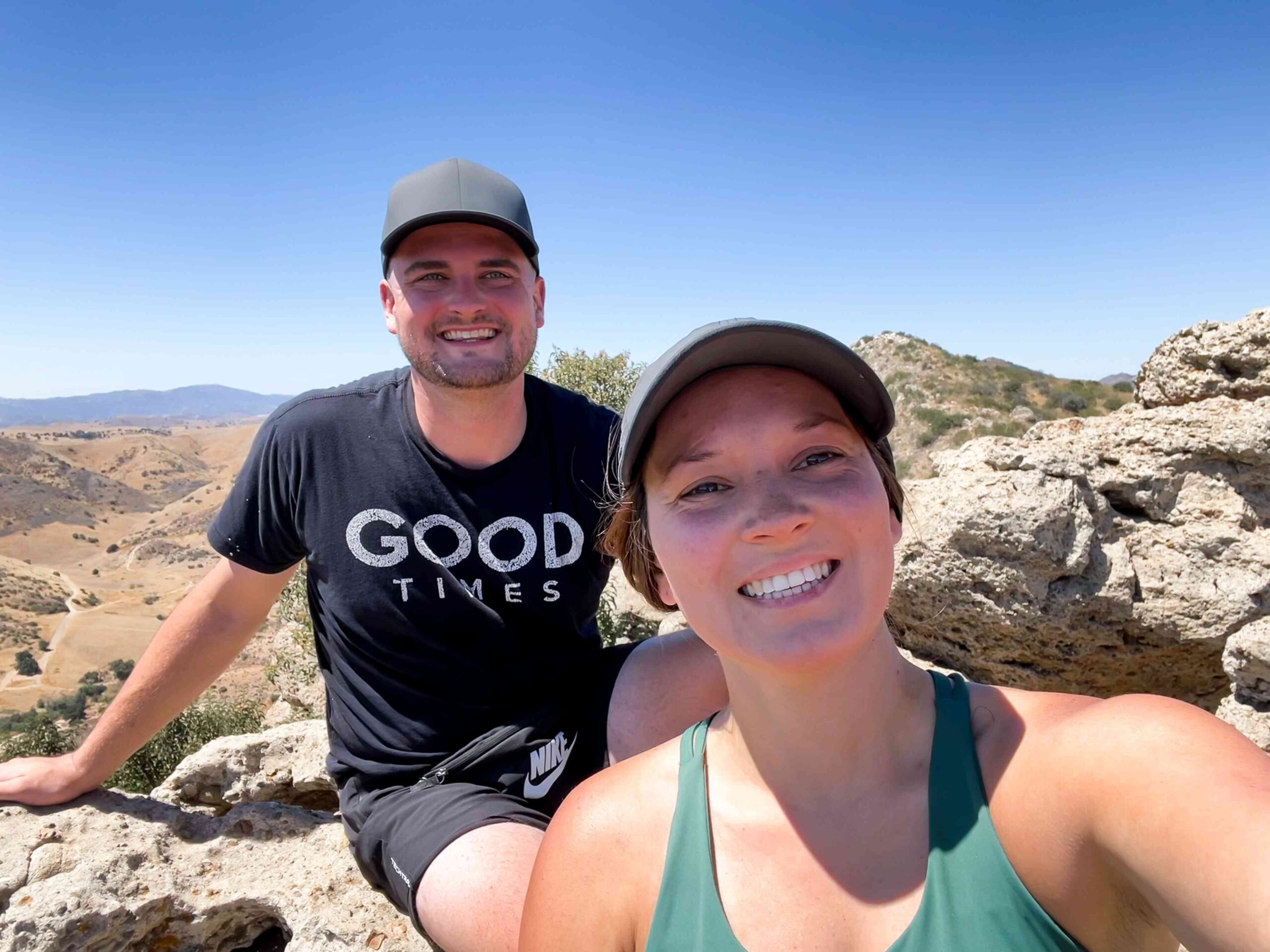 59. Whale Watching in Newport
Davey's Locker offers a whale watching tour seven days a week from Newport Beach. We didn't see any whales that day, but we did see HUNDREDS of dolphins.
60. Echo Park Paddle Boats
Rent swan shaped paddle boats in Echo Park.
61. Watch at Outdoor Movie on a Rooftop
Rooftop Cinema Club in Downtown LA is a fun and easy to plan date night experience. They provide you with a chair, blanket, personal headset and they have food and drinks available.
62. El Matador State Beach
The sunsets at Matador State Beach are breathtaking! You must first climb down a large set of stairs to get to the bottom of a rocky cliff where you can take in amazing views. There are often photoshoots happening here so it's fun to people watch. Who knows, you might even see a proposal!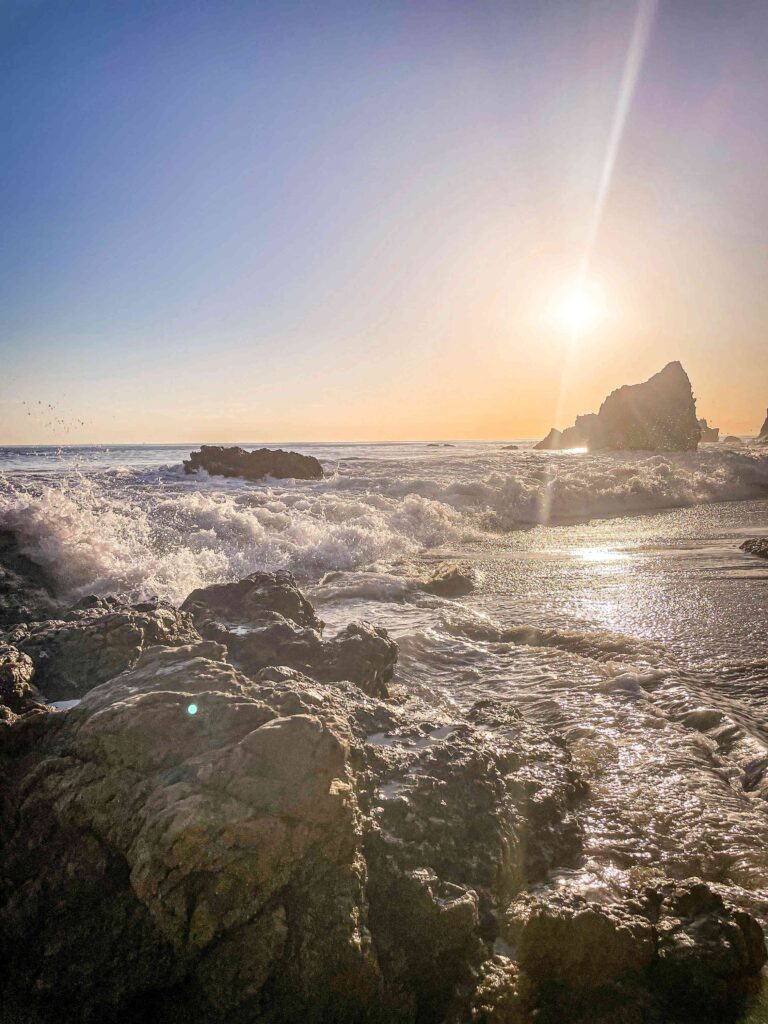 63. Getty Villa in Santa Monica
While the Getty Museum sits inland off the 405, the Getty Villa is located in Santa Monica right off the beach with stunning gardens.
64. Point Dome
Take a hike through Point Dome and then visit the nearby Sunset Restaurant for dinner or a drink around the time of sunset for a romantic day.
65. Go Kayaking at Marina Del Rey
Kayak or paddleboard with sea lions on a 2-hour excursion from Marina Del Rey, CA. I highly recommend Uovo for lunch or dinner right on the marina with some of the best Italian food in Los Angeles!
66. Spend a day at the LA Zoo
FULL DAY ADVENTURES
67. Visit Catalina Island
Take a roundtrip ferry ride to Catalina Island and explore the town of Avalon. Spend the day kayaking or rent a boat from the marina, or check out the Wrigley Memorial Botanical Garden.
69. Go Wine Tasting in Temecula Wine Country
Make sure you balance out the wine with a great meal from one of these incredible Temecula restaurants.
68. Explore Ojai
The charming town of Ojai is just 90 minutes from Los Angeles, but feels like another world away. Visit a local farm, stroll around downtown, visit the worlds largest bookstore and then end with dinner at a magical restaurant, The Dutchess. Learn more about the best things to eat and do in Ojai.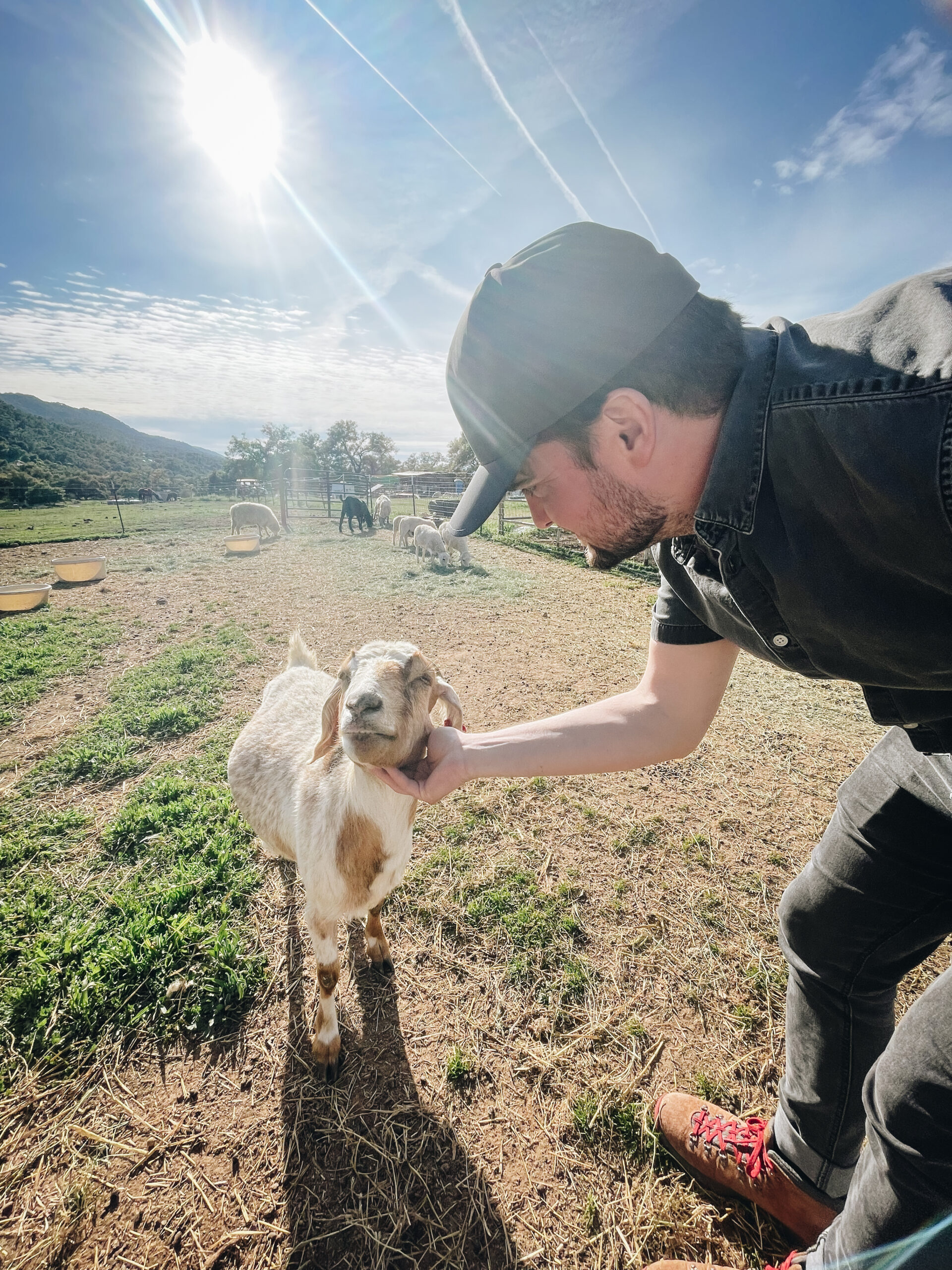 70. Ride a Hot Air Balloon in Temecula
Get a view of Temecula Wine Country from the sky in a shared hot air balloon ride.
71. Visit the Parrish Pioneer Ranch Apple Orchard
Just under 90 minutes east of Los Angeles, past San Bernardino, the apple orchards of Parrish Pioneer Ranch is an incredible way to welcome fall. They serve a variety of apple products like apple cider and apple pie. The line for the apple donuts is long, but they are a must!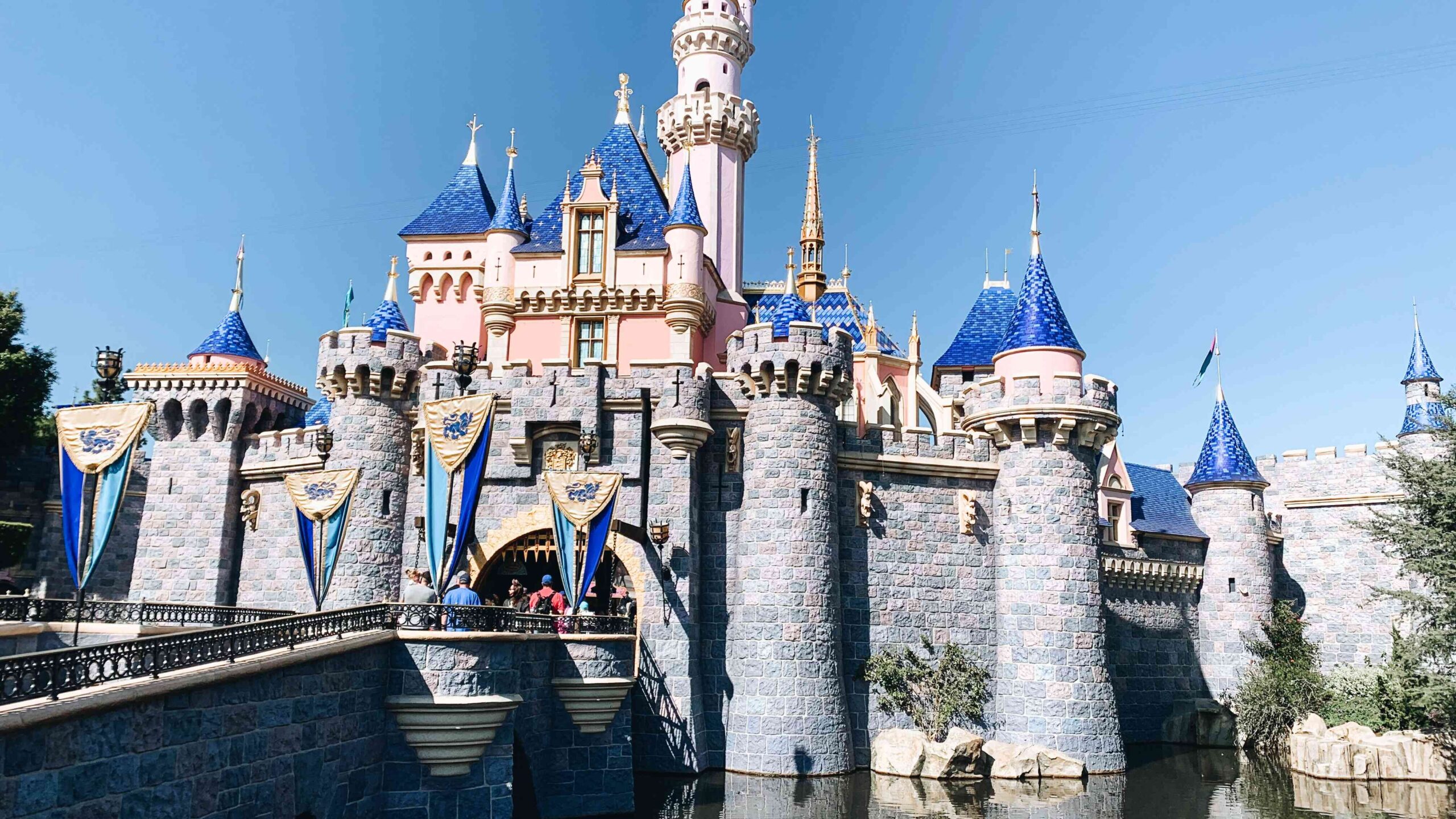 74. Santa Barbara Wine Tour
Indulge in a full day Santa Baraba Wine Tasting Tour from LA with transportation and scenic vineyards.
75. Visit Palm Springs
Spend the day lounging by the pool, sipping cocktails or exploring Joshua Tree National Park.
---
Which of These Los Angeles Date Ideas Will You Use?
Whether you're visiting or a local, these fun Los Angeles date ideas are the perfect way to spend quality time in Los Angeles with your hunny.
Drop me a comment if your favorite date idea isn't on the list. I love hearing your favorites and learning new amazing things to try!
Happy travels!
-Hannah
This post was all about fun Los Angeles date ideas.
Like this post? Pin it for later!