71 Above, The Best Bar with a View in Los Angeles
Located on the 71st floor of the US Bank Tower in downtown Los Angeles, 71 Above is the highest restaurant west of the Mississippi.
71 Above is an award-winning restaurant known by many as the perfect spot to celebrate a special occasion or impress a client. But with stunning views and an impressive cocktail menu, it is also the best bar in Los Angeles with a view. A trip to the 71st floor for a cocktail is an experience in itself.
In this article we'll explore this incredible restaurant and bar, including what to expect from the menu, best cocktails to order, prices, dress code, and more.
This post is all about 71 Above in Downtown Los Angeles.
This post may contain affiliate links, which means that I may receive a commission if you make a purchase using these links at no cost to you. As an Amazon Associate I earn from qualifying purchases at no additional cost to you.
The Unbeatable View
Undeniably, the incredible view is the main attraction at 71 Above. With floor-to-ceiling windows that offer 360-degree views of the city, you'll be able to take in everything from the Hollywood sign to Malibu and Laguna Beach.
The view will enchant you from the moment you arrive. I absolutely love taking visitors to 71 Above and watching them react when we step out of the elevator. It's magical!
The view is particularly breathtaking at sunset or at night when the city lights up below you. I truly haven't found a better view in LA than this!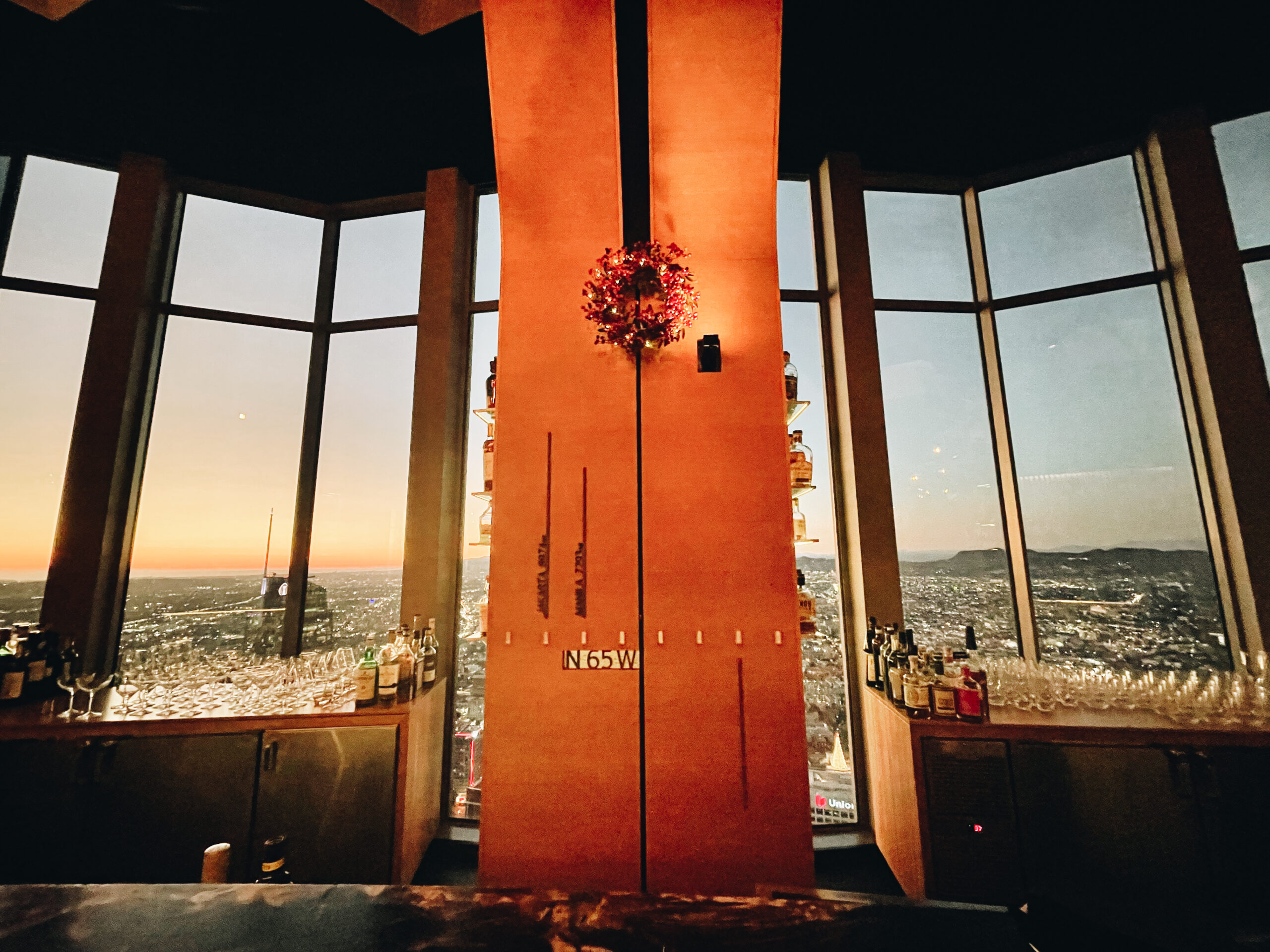 How tall is 71 Above?
The US Bank building is 73 floors total and just over 1,000 ft tall, which is nearly equal to the height of the Eiffel Tower! It is the second-tallest building in Los Angeles and the third-tallest building in California.
Does every table have a view?
The entire restaurant has large windows facing the city so you're pretty much guaranteed to see a view no matter how busy they are or where you sit. However some tables are closer to the windows than others and offer a less-restricted view.
The windows in the bar area face toward the west looking past Hollywood toward the Pacific Ocean. When you're seated at the bar, you sit about 10-15 ft from the windows. There are a few small cocktail tables beside the bar that sit right at the edge, but the view is incredible from most angles.
There are two "Edge Tables" in the dining room for dinner, which have seating directly lining the windows and facing West with an unobstructed view.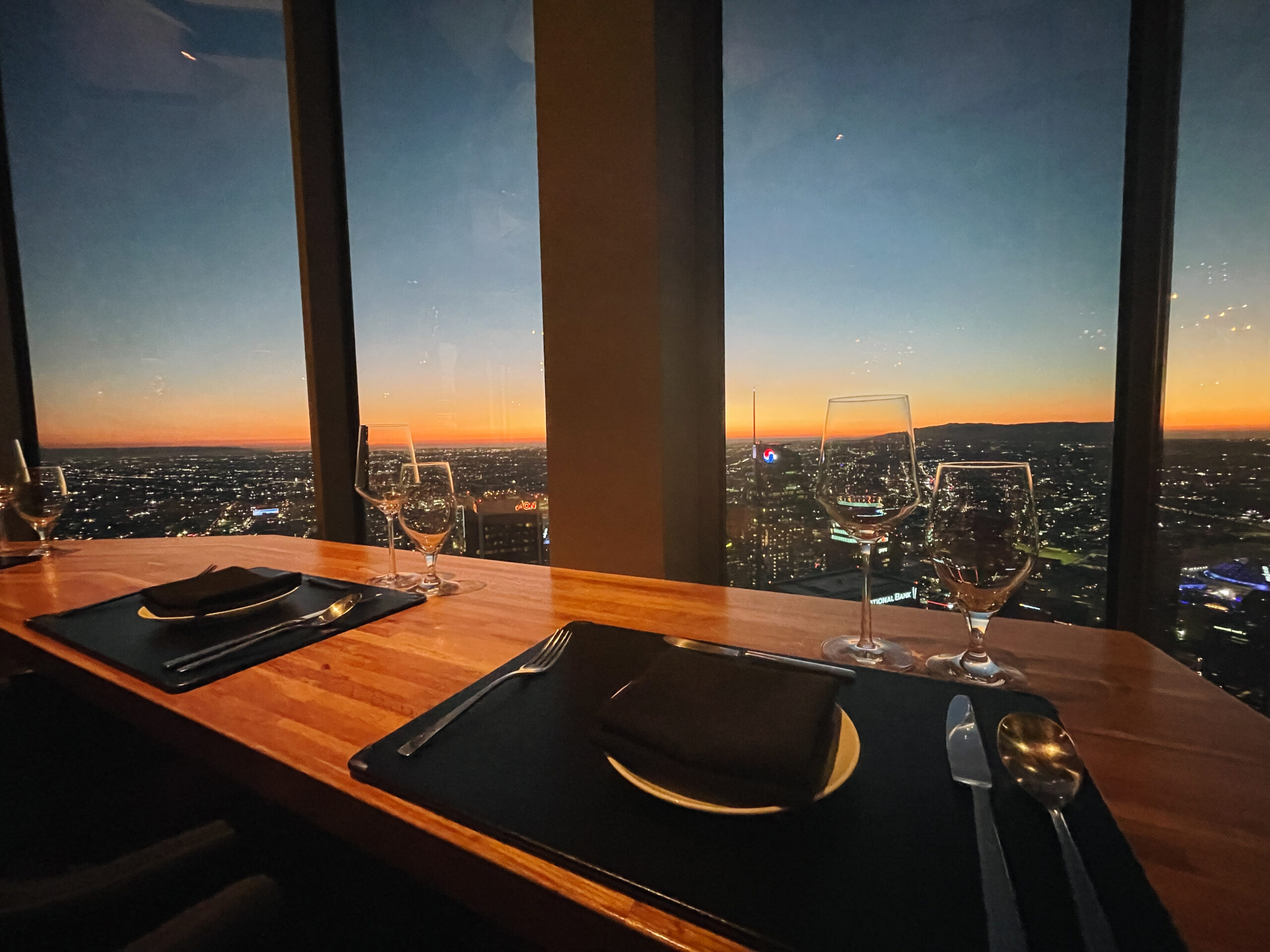 If you make dinner reservations, you cannot reserve or guarantee a window table. But with large floor-to-ceiling windows surrounding the dining room and bar, you won't be disappointed no matter where you're seated.
71 Above also offer a Chef's Table which faces the kitchen and provides an interactive experience. This option does not have an exterior view, but sounds like a lot of fun!
Sky Lounge at 71 Above
The Sky Lounge is available for walk-ins on a first-come basis and also offers an incredible view. This is my favorite way to experience 71 Above, and a great choice if you want to check it out without committing to a full 3-course dinner.
71 Above is popular for private events, and large parties occasionally book the Sky Lounge space. So if you're planning a night out, you may want to call ahead to make sure it will be available for walk-in seating that evening.
The Cocktails
Of course at a fancy restaurant, wine seems like an elegant choice. And you'll have plenty to choose from with their extensive list of wines from around the world. But the cocktails at 71 Above are incredible, and I would definitely recommend trying at least one on your visit.
The mixologists know how to craft balanced and beautifully-presented cocktails, and if you sit at the bar you'll notice their careful attention they put into each drink.
At $18 per drink, the cocktails are actually reasonably priced considering the atmosphere, downtown LA, and quality of cocktail.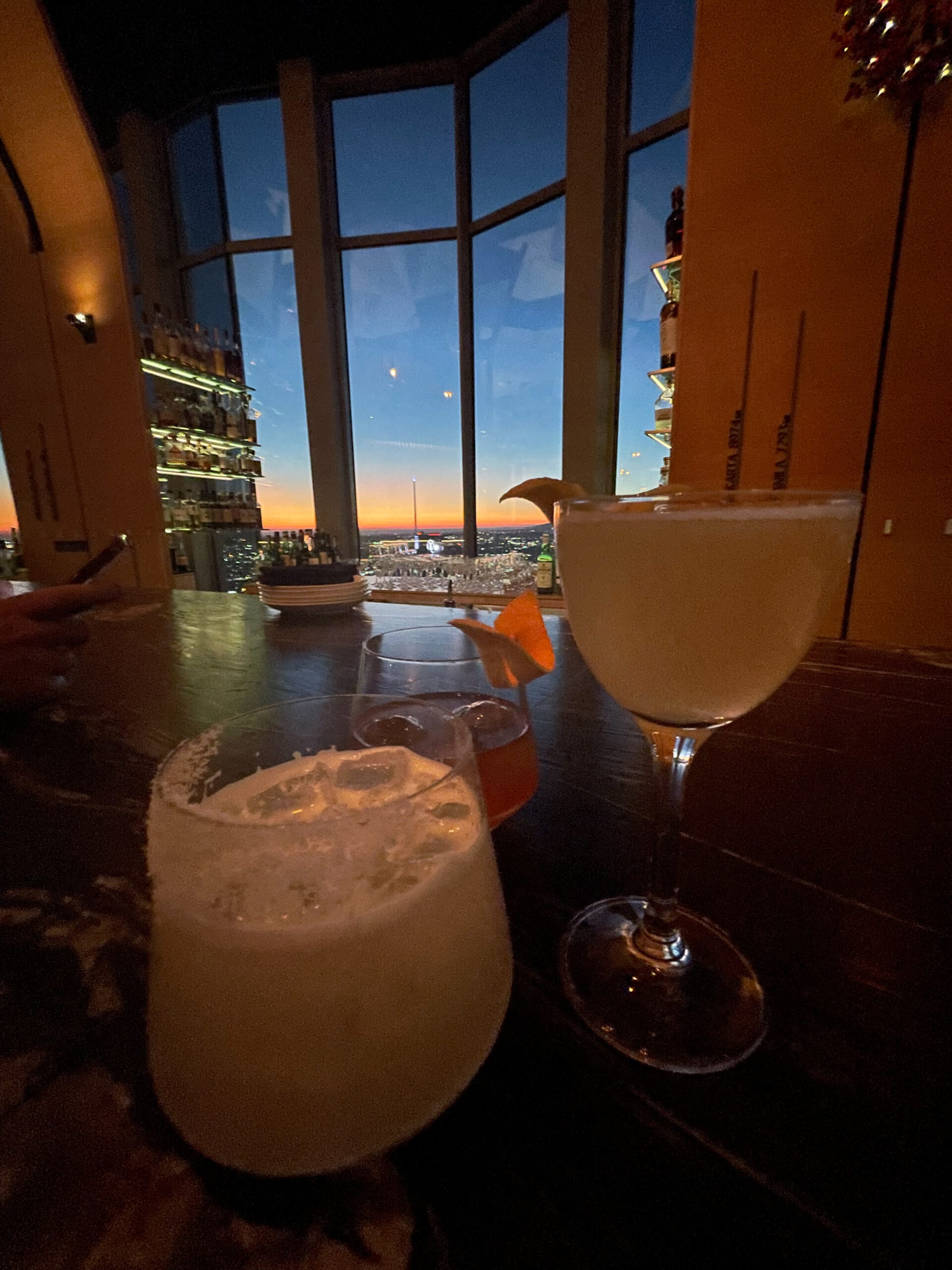 Which cocktail should you order?
There are two sections on the menu for cocktails: Classic Cocktails and Original Cocktails.
Classic Cocktails
The Classics cover the traditional favorites like a Bees Knees, Rye Manhattan, Margarita or Penicillin (my personal favorite). If you like ginger and scotch, the Penicillin is for you.
My husband is a big fan of Sazeracs, and is always thrilled to see a classic Sazerac cocktail offered on the menu. He can tell right away based on the color if it will taste right, and they always nail it at 71 Above.
Original Cocktails
The Original Cocktails are inspired by Los Angeles neighborhoods and named accordingly (Hollywood, Studio City, Point Dome, etc.). I thought this was a very creative way to incorporate the views of the city into the menu. These cocktails are a bit more playful and use more unique flavors.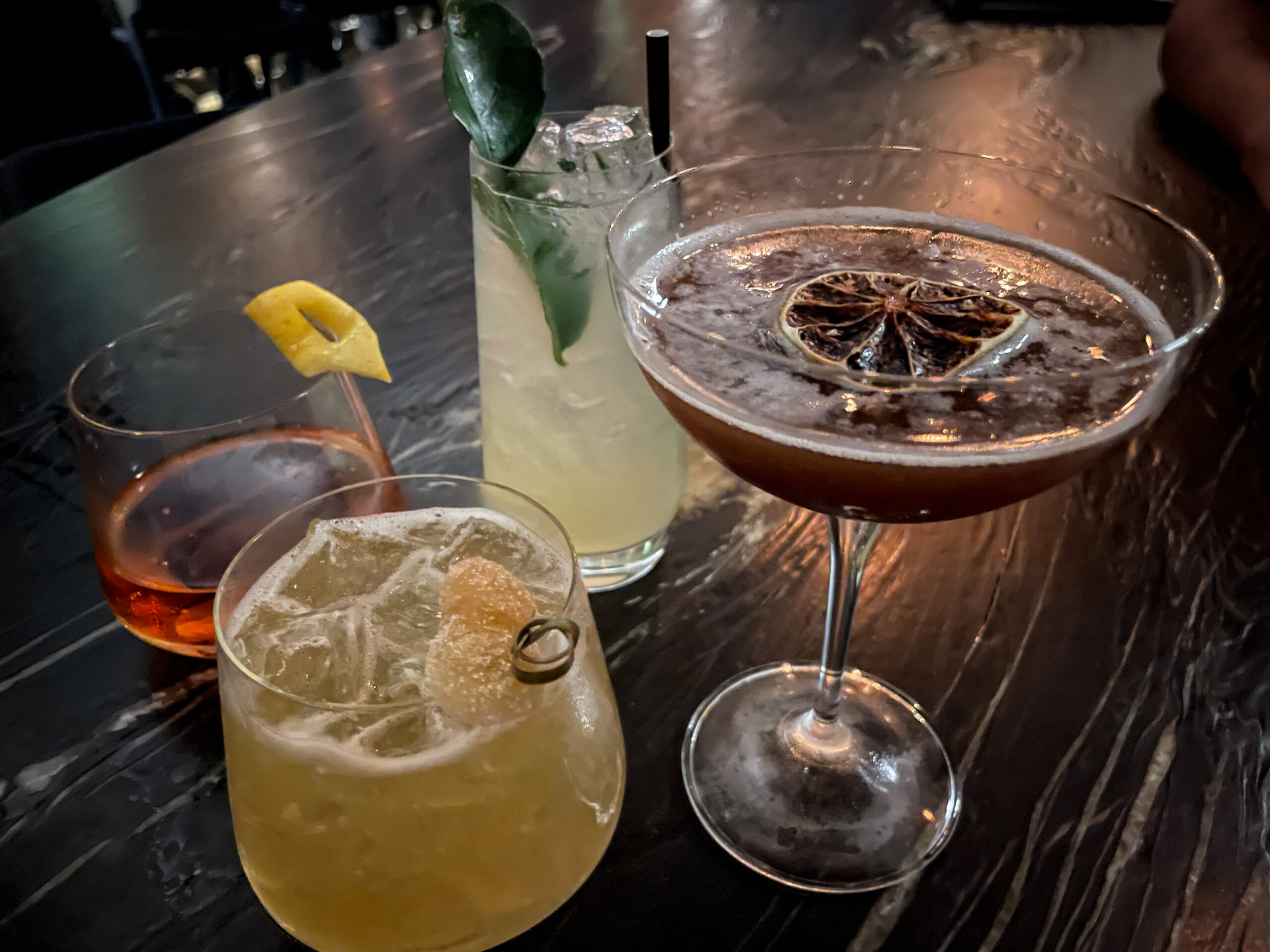 If you like an Old Fashioned, the Downtown cocktail is divine! This drink is made with toasted hazelnut Old Forester Bourbon, Pierre Ferrand Cognac, and Giffard Abricot. The hazelnut and apricot were subtle, but unique and very sippable. Order this with a dessert and thank me later!
The Newport Beach is a great option for fruity drinkers. Zaya rum, Chambord, crème de cocao, pineapple and lemon make up this delightful concoction. And the presentation is gorgeous.
Does 71 Above have a bar menu?
Yes, the Sky Lounge at 71 Above offers a limited a la carte bar menu with shareable appetizers like charcuterie and cheese. You can also order from the coursed menu or dessert menu from the bar.
71 Above Dinner Experience
If you want to experience a full dinner at 71 Above, you won't be disappointed in Executive Chef Javier Lopez. The restaurant was named in Jonathan Gold's list of 101 best restaurants in Los Angeles, and consistently gets rave reviews.
The pre-fix dinner menu gives a variety of dishes to choose from in each course. The 3-course menu is $95 per person + tax and 18% service charge.
The menu changes seasonally and is varied enough to include options for most dietary restrictions like gluten-free or vegan.
I would definitely recommend this to anyone celebrating a special occasion or wanting a romantic night out!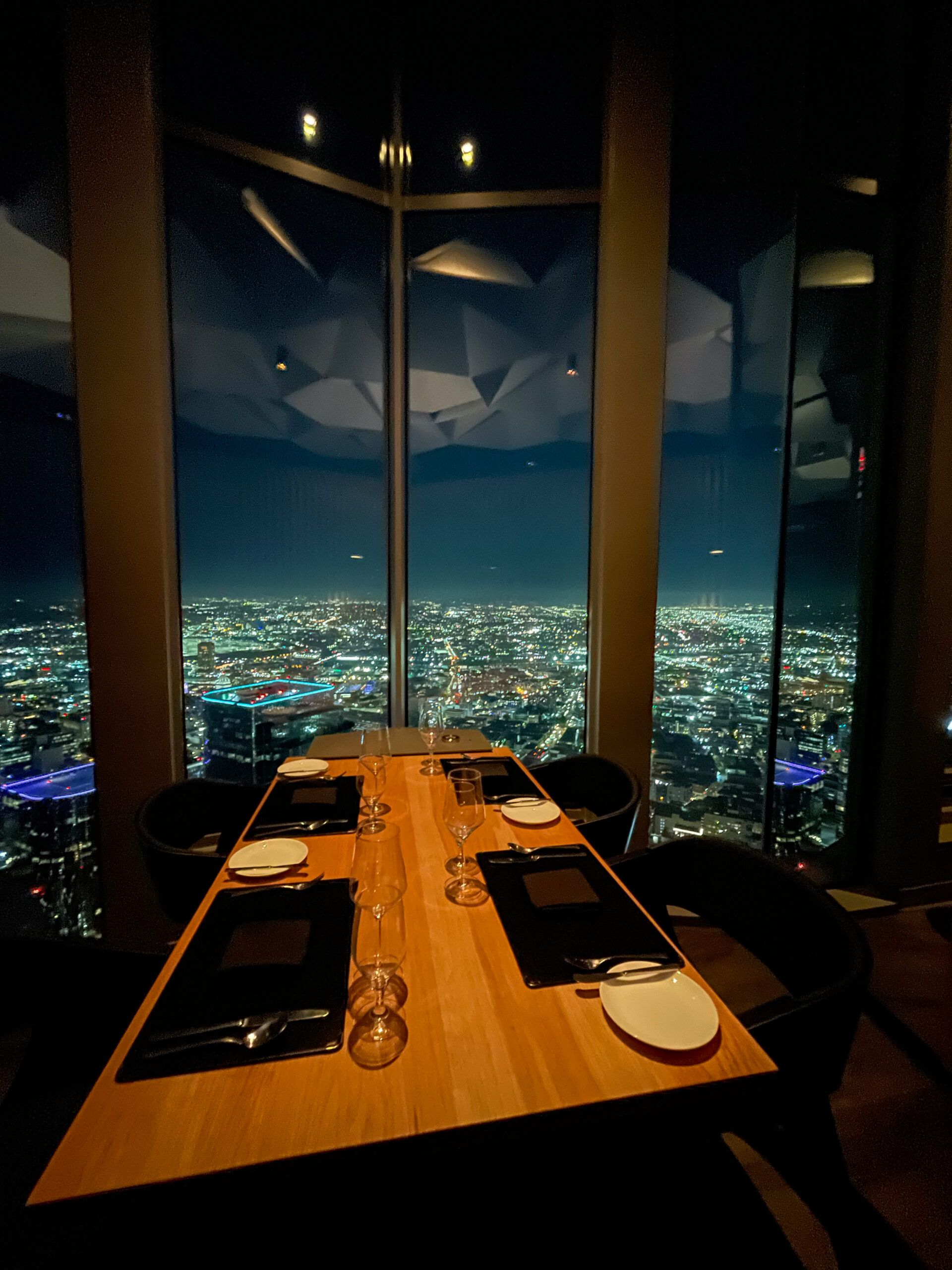 Good to Know Before You Go
How to enter 71 Above
When you enter the US Bank building lobby, you'll see a host stand where you can check in for the restaurant. If you do not have dinner reservations, just let them know you're here for a drink at the bar. They will provide you access to the elevators.
You'll actually need to take two elevators. The first goes up about 50 floors, where you'll exit and see a second set of elevators to take you to floor 71. There are signs to guide you.
The approach to the top makes it extra special when you finally arrive for a grand entrance and see the view for the first time.
Where should you park?
While the location is certainly convenient for those in the downtown area, anyone driving in should plan a little extra time and money for parking.
71 Above offers valet for $15 daily beginning at 5pm in front of the US Bank Tower at 633 West 5th Street. They accept cash or credit card for valet service.
You can also self-park your car in the US Bank tower garage located at 633 Hope Place. With validation, the self-parking rate is $10 for the first two hours.
There are a few other lots within several blocks, but keep in mind that the US Bank tower is on a hill. It is best to valet or self-park at the US Bank building to avoid a difficult walk, especially if you're in heels!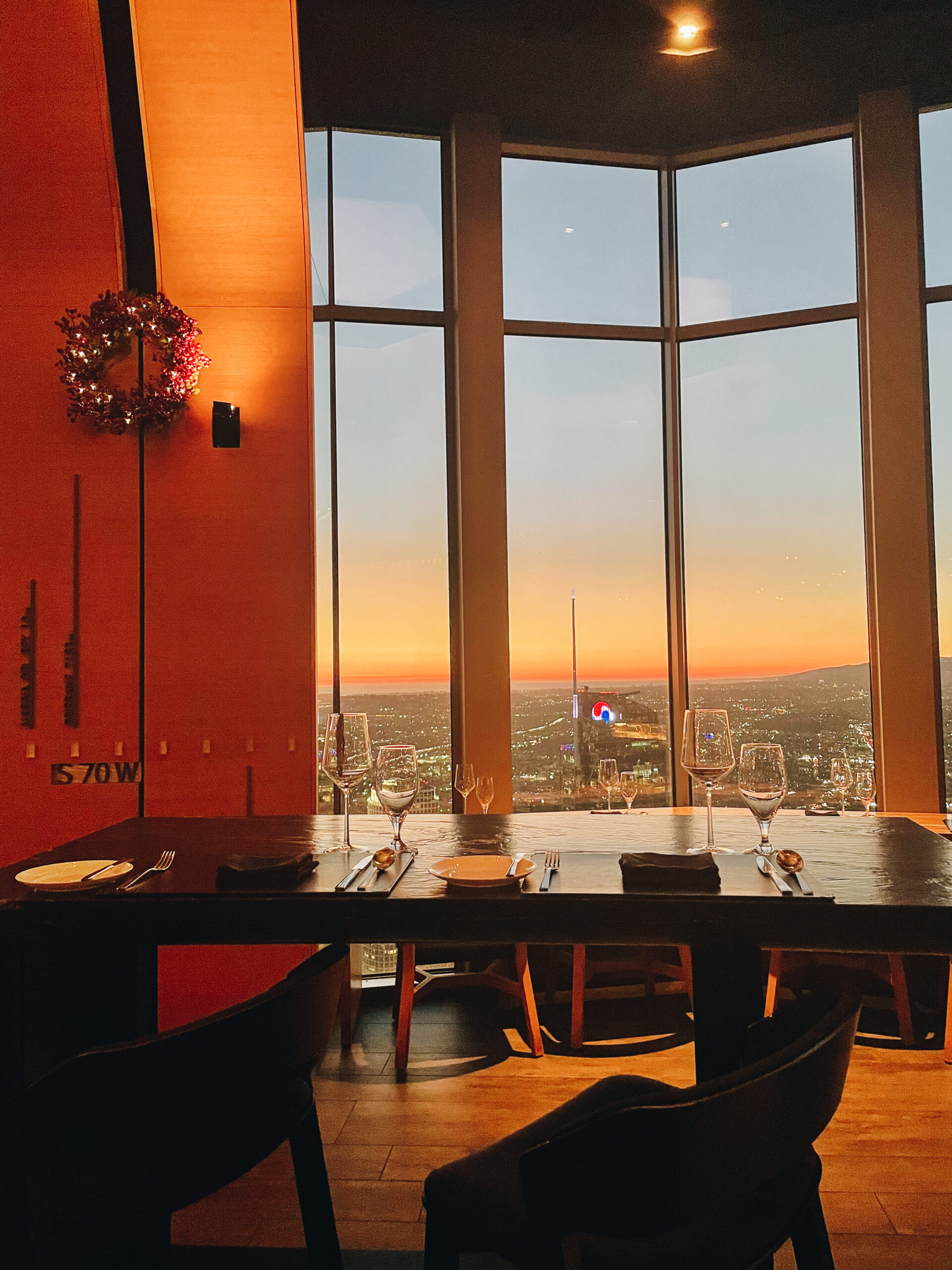 FAQS
What is the dress code at 71 Above?
As a fine dining restaurant, 71 Above enforces a smart casual dress code.
Jackets are suggested, but are not required.
Not allowed: Sports wear, beach attire, flip flops, excessively ripped jeans, shorts and baseball hats
A coat check is available on the 71st floor.
While the dress code might seem a bit intimidating, it's worth it to get the full 71 Above experience. Plus, it's always fun to dress up for a night out!
When did 71 Above open?
July 15, 2016
Is there an age limit?
No, all ages are welcome at 71 Above.
What the are hours?
Sunday – Thursday 5pm – 9:30pm
Friday – Saturday 5pm – 11pm
---

11 Best Day Trips from Los Angeles
The Old Place, Unique Los Angeles Restaurant
Foodie's Guide to Paradise Cove in Malibu
---
Will You be Heading to 71 Above?
There are a lot of amazing cocktail bars in Los Angeles. But none are as special as special as soaking in the city views of 71 Above and pairing it with a gorgeous cocktail and great company.
If you're spending time in LA, be sure to add this to your list and pack appropriately to meet the dress code. It will be worth it!
If you're traveling in to Los Angeles, be sure to check out the 7 Best Hotel Hacks to Save You Money when booking hotels.
Happy travels, friends!
-Hannah
This post was all about 71 Above in Downtown Los Angeles.