A Foodie's Guide to Paradise Cove Malibu Restaurant From a Local
Dream with me for a moment… You're seated under a straw umbrella with your sunnies on, toes in the soft, white sand, sipping a guava margarita from a pineapple and enjoying a delicious ahi poke as you listen to the ocean waves hitting the shore. This dream is the reality of Paradise Cove Malibu restaurant and beach.
The Paradise Cove Malibu restaurant is truly a blissful must-visit beachfront gem. This hidden oasis promises an escape from the real world, inviting you to kick back and relax and leave every care behind.
As a Los Angeles local, I've visited Paradise Cove many times. It's my favorite beach to escape to on a sunny weekend, especially when I want a delicious cocktail in hand. Paradise Cove offers all the luxury of a resort vacation, but with a lower price tag and a more relaxed atmosphere.
It took me a while to figure out the best and cheapest way to experience Paradise Cove, so follow along as I break down the details and explain how to best experience the beach, pier, and the Paradise Cove Malibu restaurant.
This post is all about experiencing Paradise Cove Malibu Restaurant.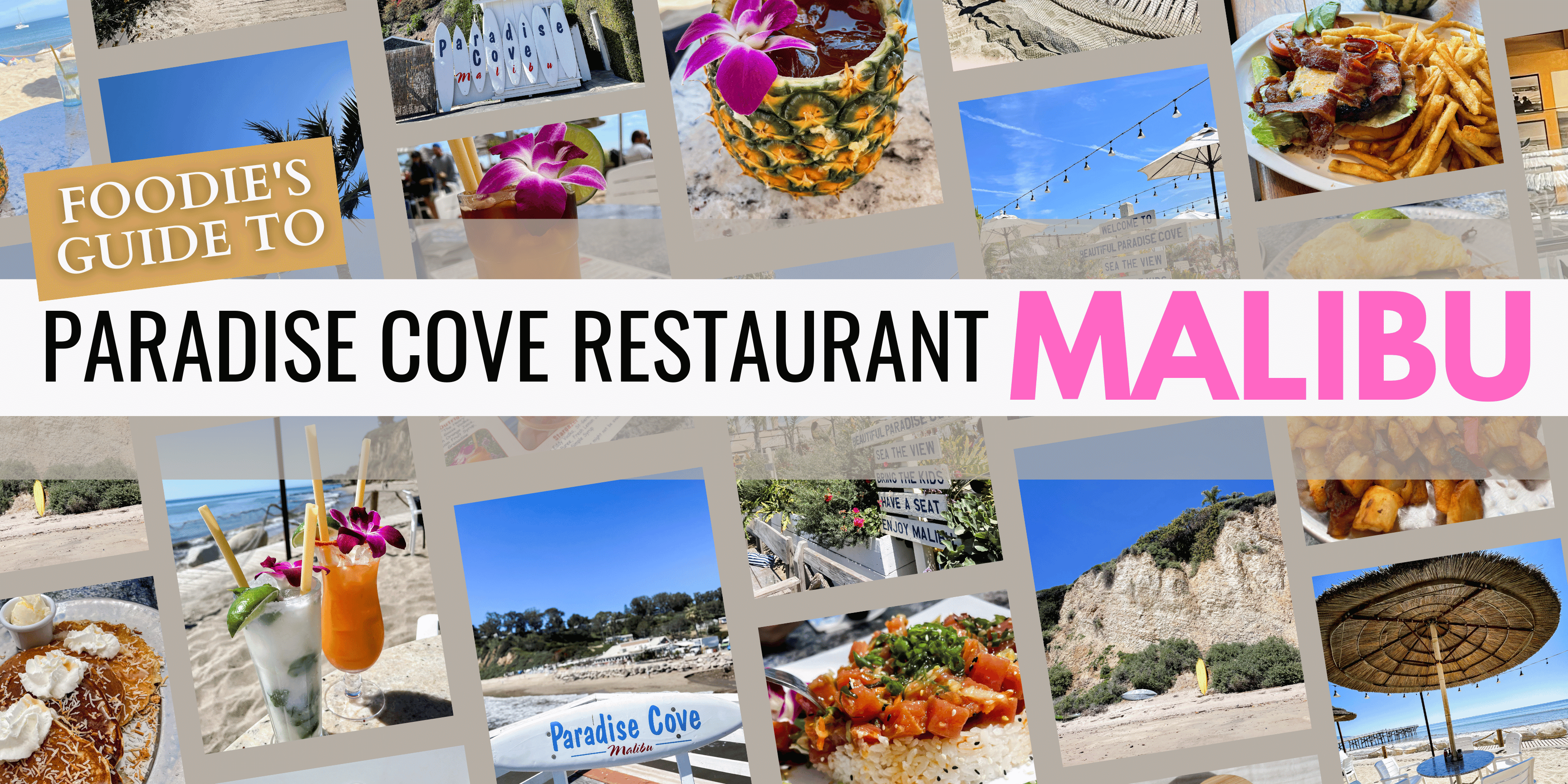 This post may contain affiliate links, which means that I may receive a commission if you make a purchase using these links at no cost to you. As an Amazon Associate I earn from qualifying purchases at no additional cost to you.
All About Paradise Cove
What is Paradise Cove?
More than just a restaurant, Paradise Cove is a private beach destination in Malibu where you can spend an hour or a full afternoon. Although it's not a hotel, Paradise Cove feels like a beach resort in the middle of paradise.
The restaurant, Paradise Cove Beach Cafe, has plenty of indoor and outdoor seating all set right in front of the gorgeous Malibu beach. If you prefer a picnic, just order takeout or a cocktail to enjoy at the beach. If you're planning a full day in the sun, consider a cabana rental with a lounge chair.
You can also spot stunning million-dollar trailers at the Paradise Cove Malibu Trailer Park or stroll along the Paradise Cove Malibu Pier and watch the fishermen.
What Makes Paradise Cove Special?
Paradise Cove holds a special place in the hearts of both locals and tourists, and for good reason.
This isn't one of those flashy LA places designed only for the rich and famous. It's comfortable and cozy, while being colorful and vibrant. You can feel the history and the charm in every element of the property. Everyone is welcome, and the audience is diverse. You'll see families with kids, couples, and all ages enjoying the beauty of the beach and incredible Malibu Beach Cafe menu.
History
I could probably dedicate an entire post to the rich history of Paradise Cove. But I'm too excited to talk about the food and drinks, so we'll keep it brief.
Once a private beach owned by a Hollywood production studio, this enchanting property has now evolved into a well-known destination for food enthusiasts and those wanting to soak in the beach. The nostalgic vibes, preserved cottages, and charming pier nod to the vibrant past. The walls of the main dining room are covered in photos from the past, so you can take a trip back in time and see where it all started.
Look out for this photo of Norma Jean (aka Marilyn Monroe) in 1945 and the spot where the Beach Boys shot their album cover in 1962!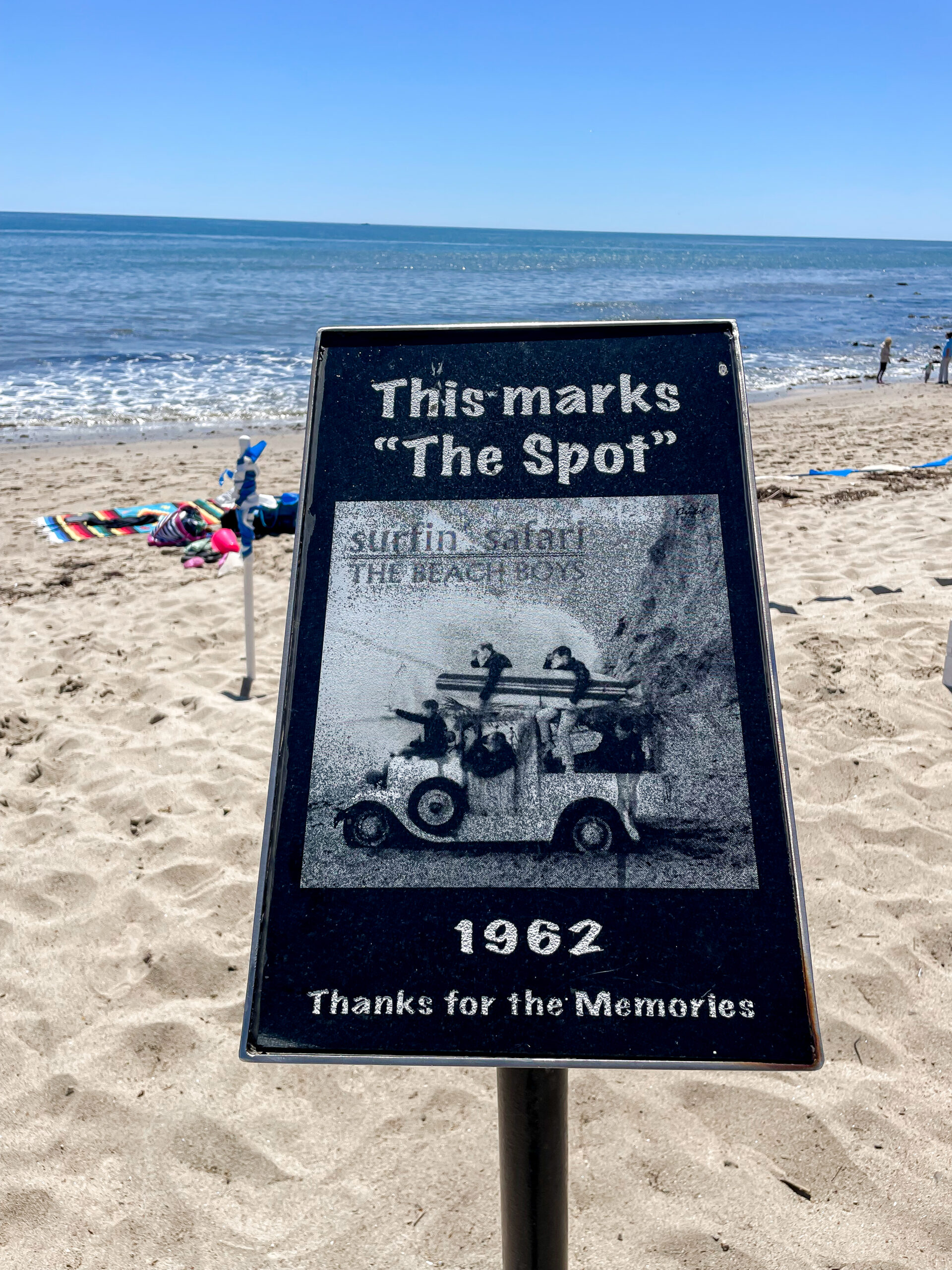 Paradise Cove Malibu Restaurant
The Paradise Cove Beach Cafe menu features a wide mix of fresh seafood, California-inspired dishes, and classic favorites, with a focus on coastal foods. My favorite part is that they serve breakfast, lunch and dinner every day!
Spoiler alert: the portions are GENEROUS! Every single dish I've seen come out of the kitchen is served on a large platter and enough for at least two. I personally think the best way to enjoy your experience is getting a few items to share.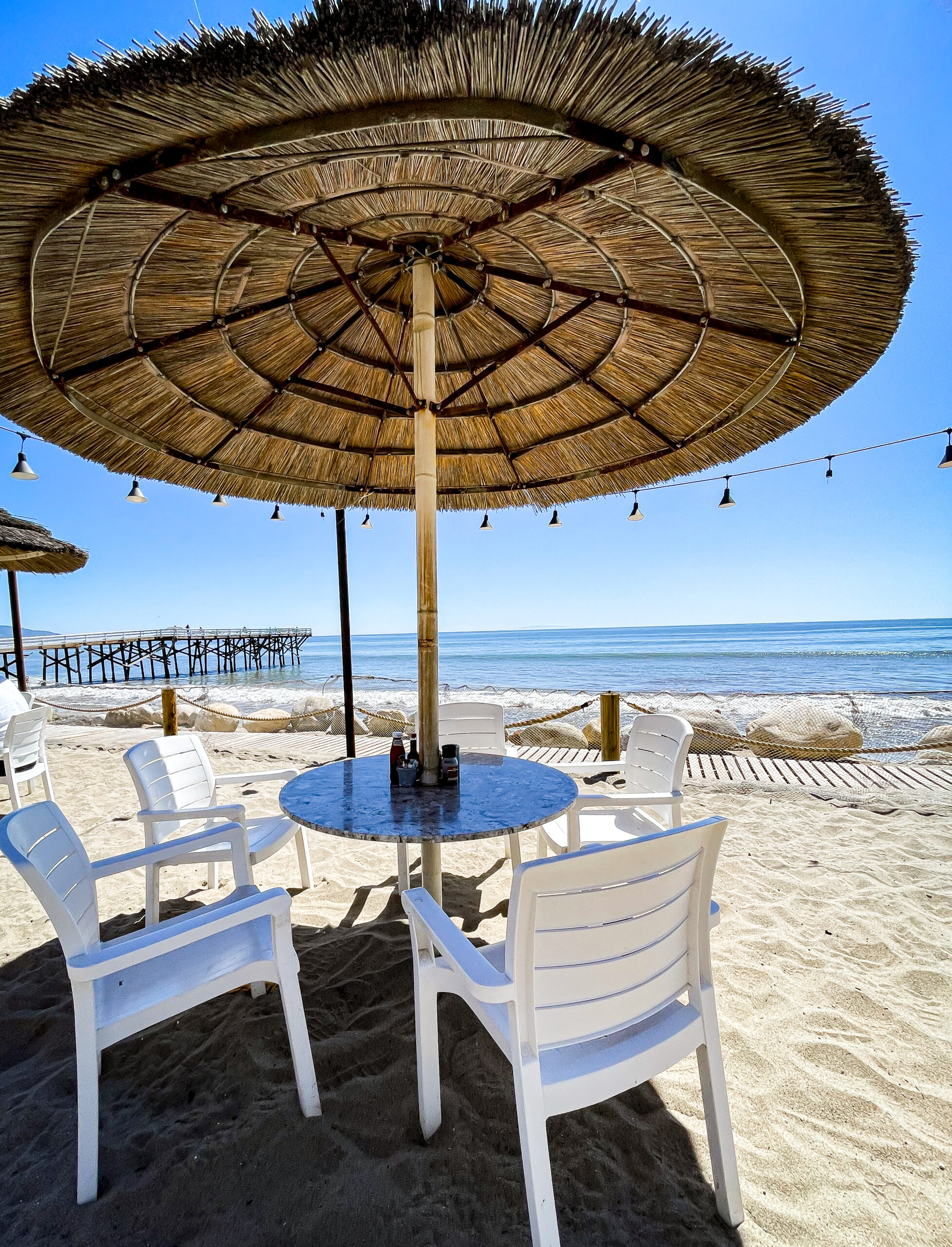 Breakfast
Breakfast Menu Hours: 8am to 11am every day
I love a good breakfast, and let me tell you, starting your day with pancakes and a drink by the beach is the best way to wake up.
My favorite breakfast dish is the Macadamia Coconut Pancakes, which is served with maple syrup, whipped cream and a delicious macadamia but butter to tie it all together. Surprisingly it was not overly sweet or nutty. The coconut was subtle and the crispy coconut flakes on top added a little crunch to each bite. The regular pancakes are also delicious, but these were DIVINE!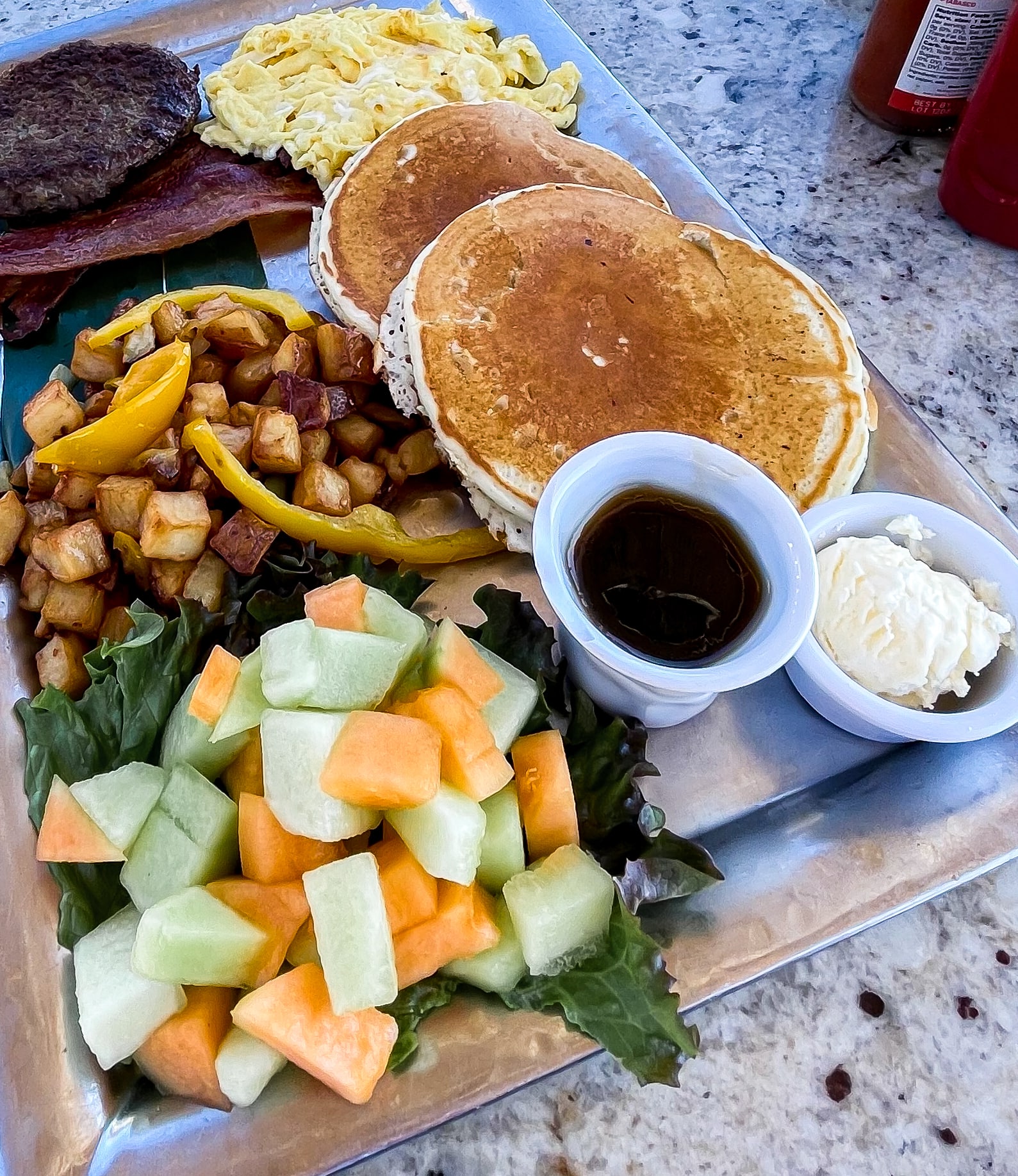 If you're looking to share a meal or if you're a heavy eater, go for the Paradise Paddlers All American Breakfast platter. This dish comes with two buttermilk pancakes, three eggs, sausage, bacon, breakfast potatoes and fresh fruit. It comes with a warning label to "order this after surfing or you may sink." Four of us shared this platter for a light breakfast and it was just right.
Lunch and Dinner
Lunch/Dinner Menu Hours: 11am – Close
Okay, I'll be honest… I'm allergic to shellfish, and I think this is where the Paradise Cove restaurant really shines! The rave reviews of the paella and stunning displays of seafood are probably what make a lunch or dinner experience at the beach. I snagged a photo of a seafood display nearby, which was a work of art! So, I can't comment on those items but you can trust the reviews that all say the seafood is amazing.
But, I have tried a few things from the lunch and dinner menu including the Bacon Avocado Burger and the Ahi Poke. My husband tried the Award-Winning Clam Chowder and said it was his favorite thing so far.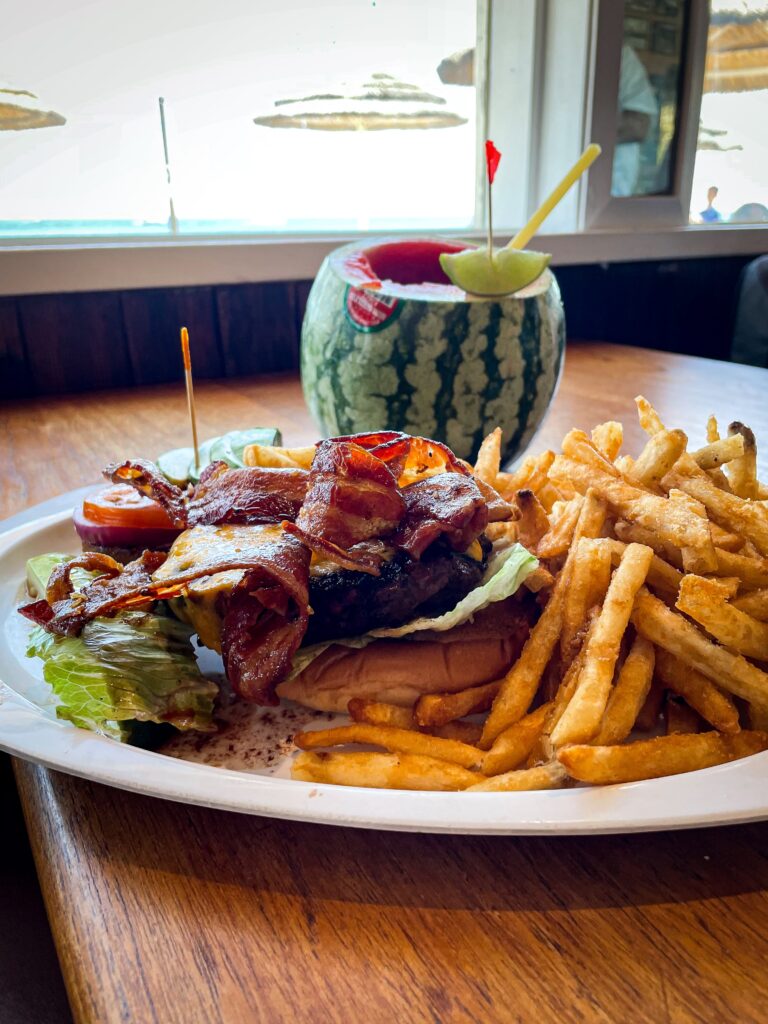 The Paradise Cove restaurant is known for it's sharable meals which they advertise as serving 3-4 people (I think it could be more…). Here are just a few of these impressive shareable options.
Paella Paradise – includes saffron rice, shrimp, crab, mussels, chicken, ribs, sausage, onions, peppers, tomatoes and vegetables with an option to add lobster.
Barcelona Seafood Grill – includes ahi, swordfish, salmon, shrimp, scallops, calamari, clams and mussels. The owners went to Spain and had this amazing spread of fresh grilled seafood from Master Grill Chef Suleman, so they decided to give it a permanent place on the menu.
Smokehouse BBQ Feast – includes beef and pork BBQ ribs, BBQ chicken, sausages, corn on the cob, coleslaw and fries.
Malibu Lobster Clam Bake
Gigantic Iced Seafood Tower
If you're a fan of chocolate, they serve an ENORMOUS slice of chocolate cake to share that looks delicious. It's a show stopper and caught all eyes as they bring it out of the kitchen.
Cocktails and Drinks
If I had to rank the reasons I visit Paradise Cove, the drinks would be number two, just behind the incredible experience of dining beside the beach with your toes in the sand.
You'll find a large variety of tropical, fruity and beach-focused drinks to choose from. I wouldn't want it any other way!
The Guava Mai Tai is my favorite cocktail, but the Paloma, Pineapple-Mango Margarita, Coconut Mojito and Hawaiian Margarita are also fabulous.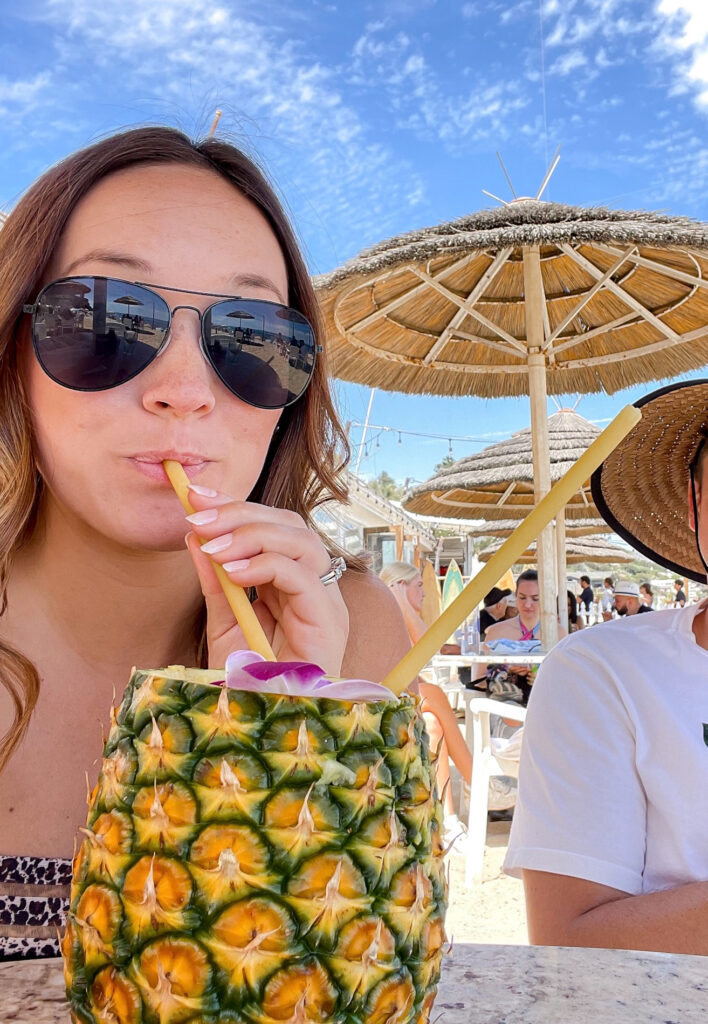 For the ultimate Paradise Cove experience, go with one of the drinks that they serve in a carved pineapple, watermelon shell or a coconut!
In an effort to be more eco-friendly, the straws are made of pasta!
The drinks are a bit pricey, around $20-$24 each and they don't list the prices on the menu. So before you down three margaritas and tell the staff to "keep em coming" just keep that in mind. It's not an everyday outing for me, but it's definitely worth experiencing now and then. Life is short, order the fun drink by the beach now and then!
Paradise Cove Menu Prices
While Paradise Cove Malibu Restaurant is not the most budget-friendly option, it offers an experience that is worth every penny. If you're looking to save on cost, visit for breakfast where the menu prices are more approachable and consider sharing since their portions are large.
The combination of exquisite tropical cocktails and stunning beachfront ambiance creates an unforgettable dining adventure. Keep in mind that the price range aligns with the experience of a beachside getaway, making it a perfect choice for special occasions or when you simply want to treat yourself to a day out.
In my opinion, you get a lot for your money when you consider what it would cost to go to a resort and lounge by the beach with full menu service and all the other amenities.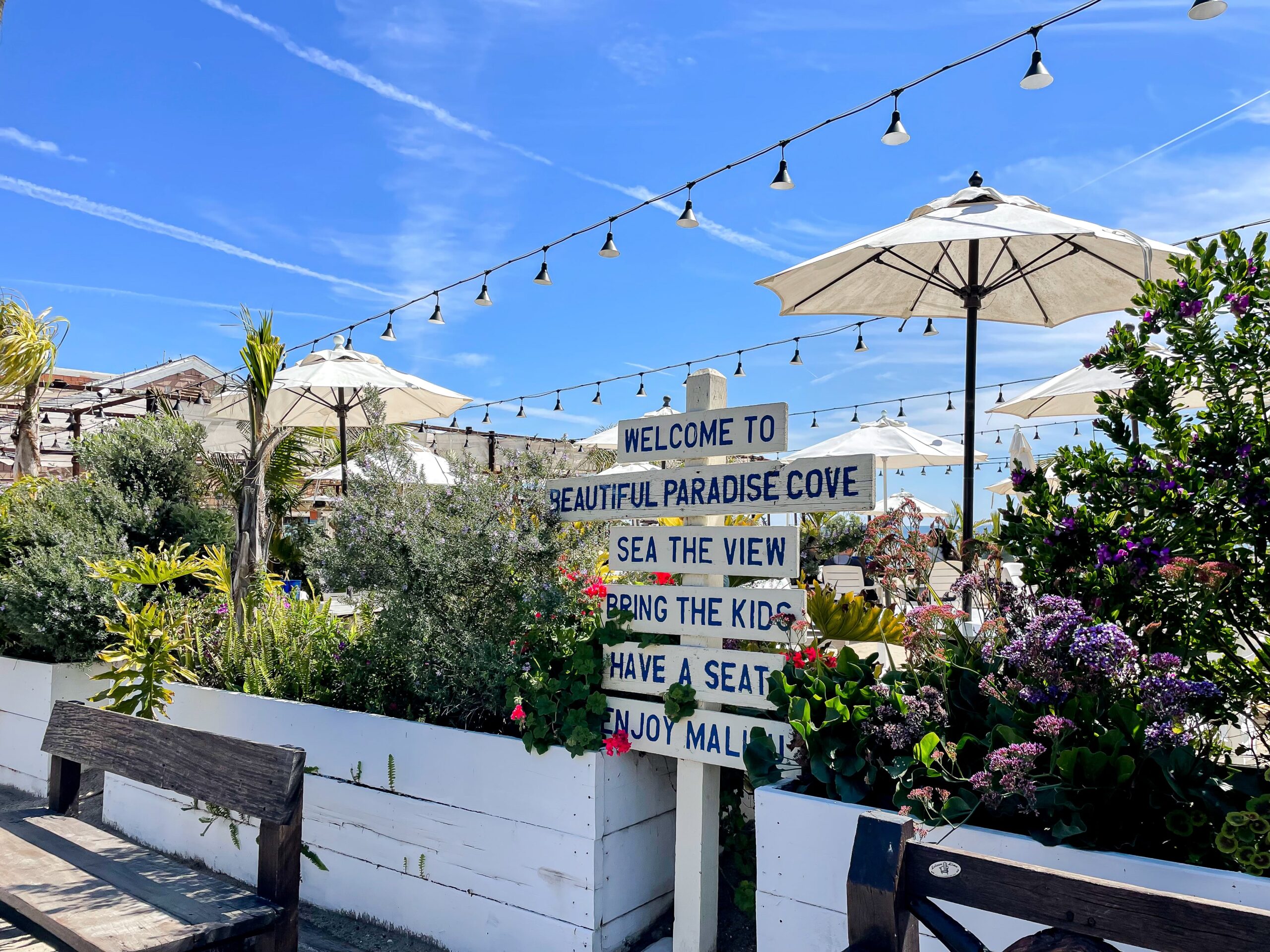 Paradise Cove Beach Cafe Parking
One of the perks of dining at Paradise Cove Malibu Restaurant is the convenient parking.
If you visit earlier in the day, ample parking spaces are available, allowing you to easily access the restaurant and beach without any hassle. The parking lot can get full on weekends in the afternoon, which is another reason I recommend arriving earlier if you can.
Parking Rates
You will definitely want to order food (minimum $30) at the Paradise Cove restaurant so that you can get your parking validated. With validation, parking is reduced to $10 for weekdays and $15 for weekends or holidays for up to 4 hours.
Without validation, parking rates are a steep $45 for weekdays or $65 for weekends! Be sure to limit your time to 4 hours and keep a hold of your ticket to avoid paying the full day rate.
Pro Tip: to avoid paying for parking or being on a strict 4-hour schedule, I like to park on the PCH and walk down to Paradise Cove. You can usually find parking on the street and it's about a 10-minute walk down the hill. The only down side is walking back up the hill at the end of your day, but I usually don't mind. Just be sure to use the designated cross walk and look for the Paradise Cove restaurant sign for the entrance down to the property.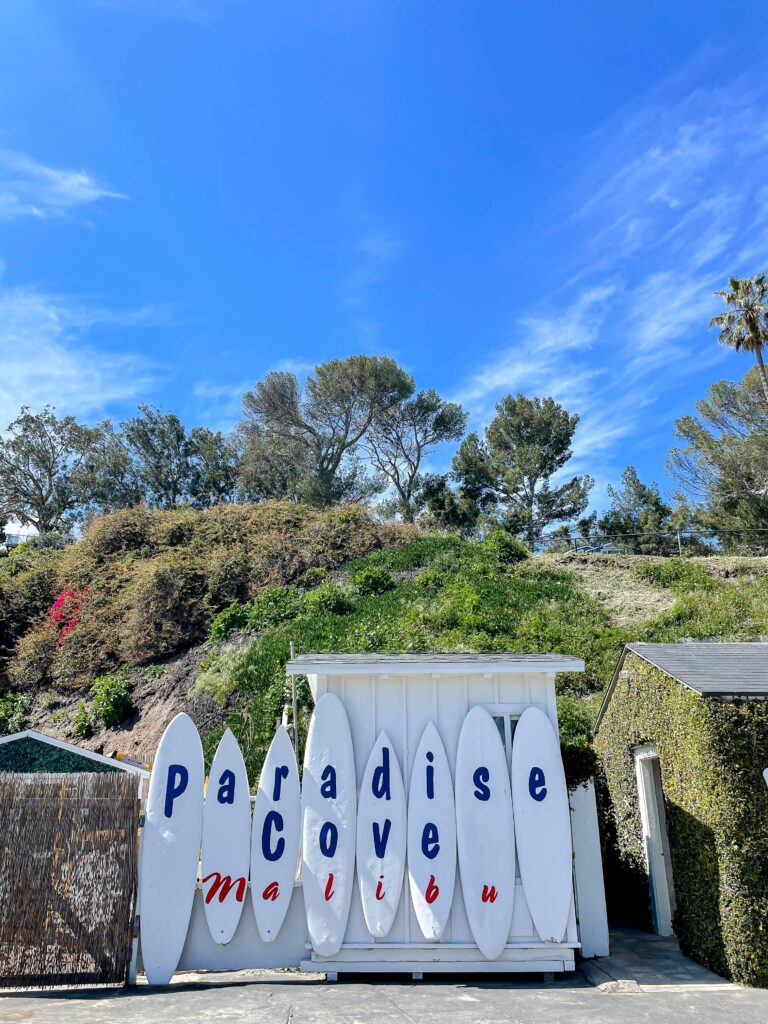 Paradise Cove Malibu Restaurant Reservations
Although reservations aren't required, I do recommend them. You can make reservations online at OpenTable or call 310-457-2503.
They do not offer guaranteed outdoor seating, but when you arrive check in at the OUTDOOR host stand to request to sit outside. They do their best to accommodate you and I've always been able to get a table outside, but it might mean a slightly longer wait.
Cabana Rentals
If you're planning a visit during the peak summer months or weekends, consider a Paradise Cove Malibu Cabana Rental to ensure that you have plenty of space to relax.
Their cabana and palapa options range from 2-18 guests, so it's perfect for a date day, birthday, family outing, or just a weekend out with friends. Pricing starts at $250 per day.
---
Other Posts You Might Enjoy
11 Best Day Trips from Los Angeles
71 Above, The Best Bar with a View in Los Angeles
The Old Place Restaurant, A Cozy and Unique Escape from Los Angeles
Best Romantic DineLA Restaurants
---
Ready to Visit Paradise Cove Malibu?
Paradise Cove Malibu Restaurant is more than just a place to enjoy a delicious meal—it's an escape from the ordinary and a testament to the magic of Malibu. So, my dear foodies and beach lovers, add Paradise Cove to your Los Angeles bucket list and enjoy this beautiful property on your next visit to Los Angeles!
Happy travels!
-Hannah
This post was all about experiencing Paradise Cove Malibu Restaurant.
Like this post? Pin it for later!