Screen Door Portland Restaurant: A Southern Gem
Did you know that Portland has an award-winning restaurant, named by the Cooking Channel as the Best Southern Breakfast on the West Coast? Screen Door in Portland is serving INCREDIBLE Southern food right in the heart of the Pacific Northwest.
After a few years of hearing about Screen Door, we FINALLY visited with friends on a recent trip to Portland. The ambiance and the menu reminded me so much of my years living in Nashville!
Sadly, we moved away from Portland before I knew it existed, which is probably for the best because I would have been there every weekend.
I love the nostalgic feeling of a restaurant experience that transports you to another place and a theme that is well-executed. Screen Door nailed it and I loved every butter-packed Southern-fried bite!
This post is all about Screen Door Restaurant in Portland, Oregon.
This post may contain affiliate links, which means that I may receive a commission if you make a purchase using these links at no cost to you. As an Amazon Associate I earn from qualifying purchases at no additional cost to you.
About Screen Door Restaurant
The owners moved to Portland from South Louisiana and wanted to re-create the welcoming and flavorful kitchens of the south in the Pacific Northwest. Their incredible recipes and dedication to remaining authentically Southern has won Screen Door many awards since it opened.
There are now two locations in Portland. Both usually have long lines wrapping around the building, especially on weekends.
The long lines might be a turnoff to some. But hey, good things come to those who wait, right?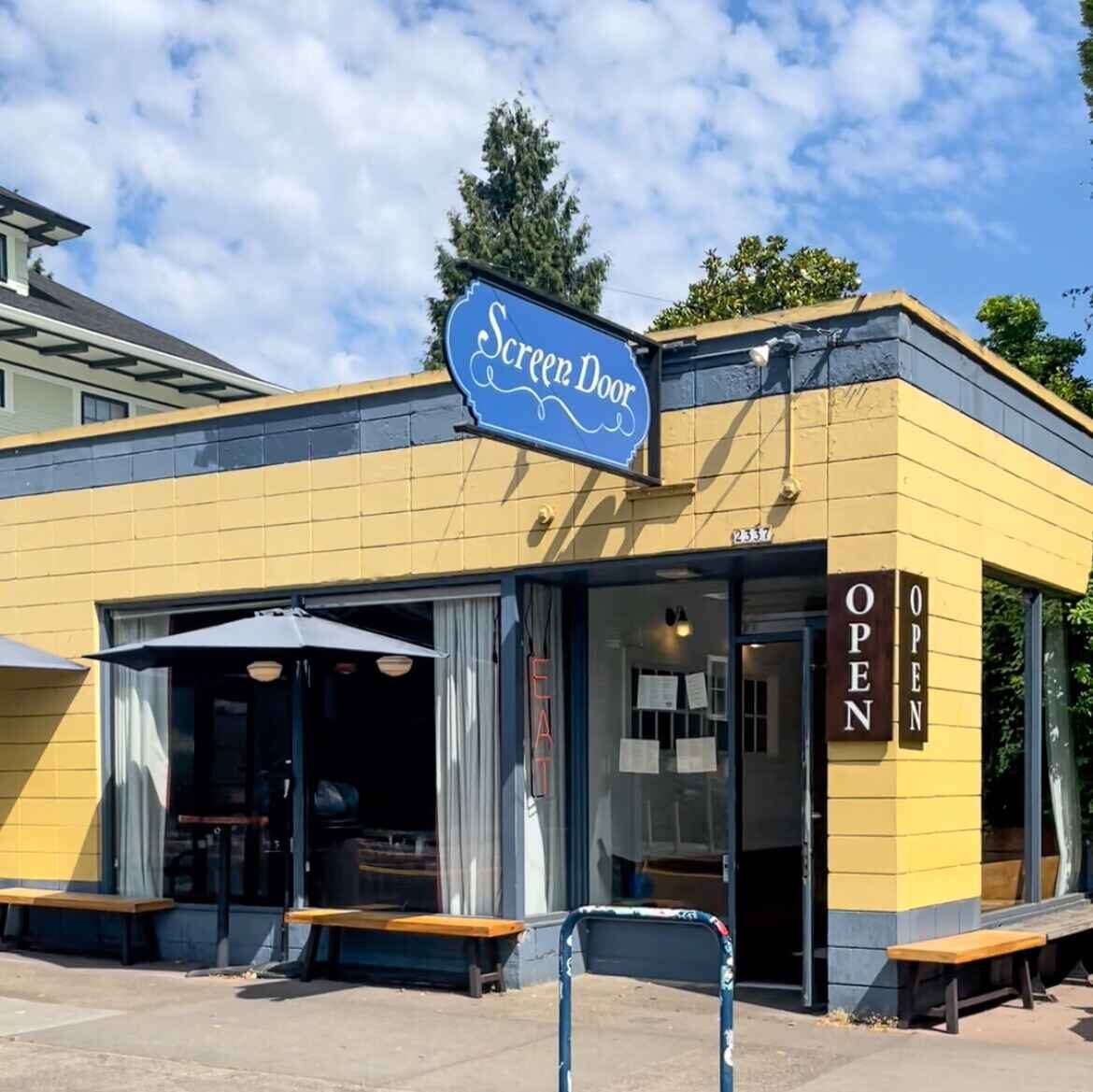 Pearl Location
1131 NW Couch, Portland, OR 97209
Hours
Brunch: Everyday 9am-2:30pm
Dinner: Wed-Sun 5pm-9pm
Mon & Tue: Closed for Dinner
Eastside Location
2337 E Burnside, Portland, OR 97214
Hours
Brunch: Everyday 9am – 2:30pm
Dinner: Everyday 5pm – 9pm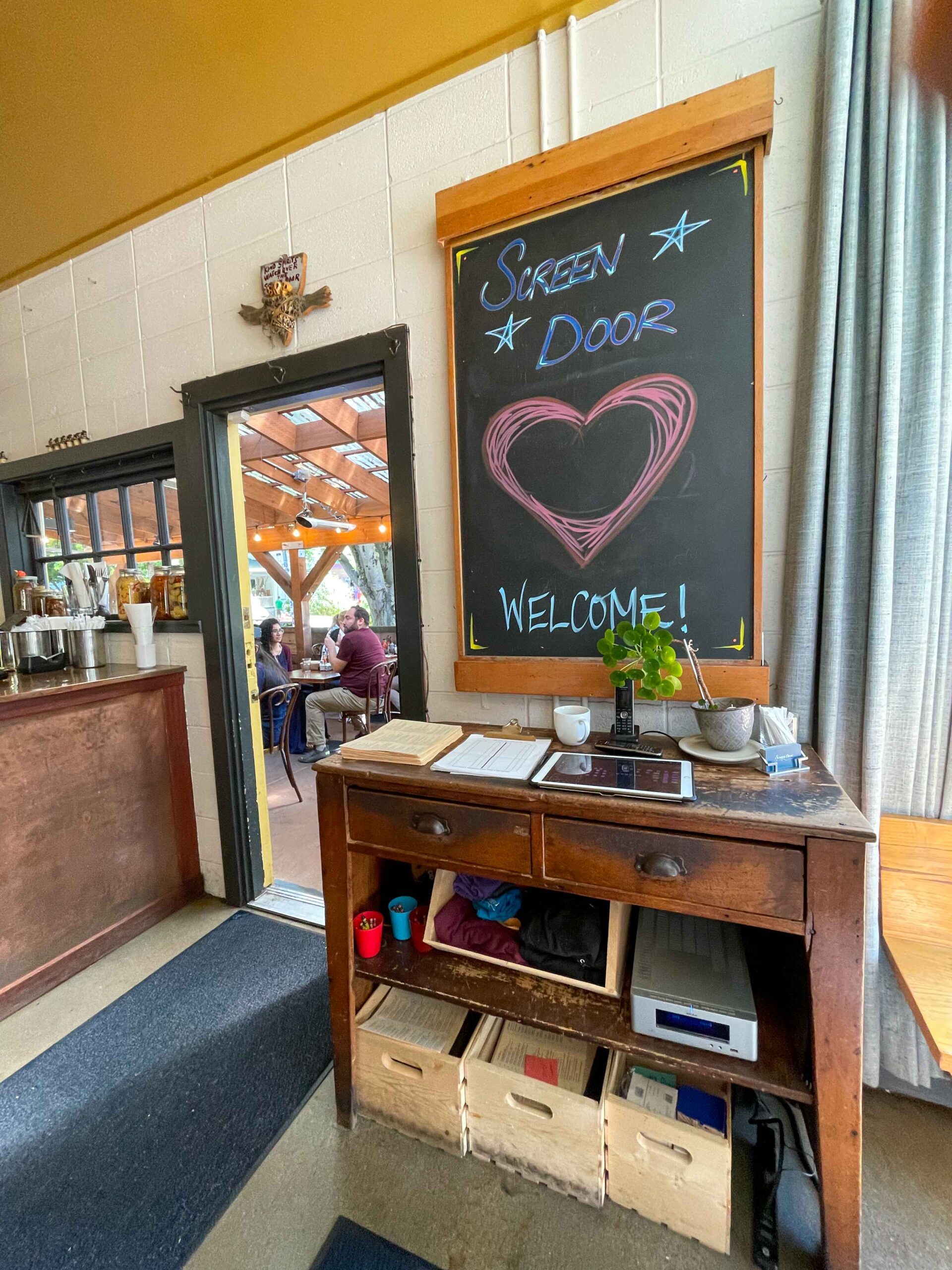 Brunch Menu
We started with Praline Bacon which was the perfect combo of sweet and salty. The bacon is smoked and coated in cayenne, brown sugar and candied pecans. It was definitely more on the sweet side than savory, which I didn't mind one bit.
Of course we had to try the Chicken and Waffles because Screen Door is known for their buttermilk-battered Southern fried chicken. They asked if we wanted to upgrade to the pure Vermont maple syrup, which was an obvious yes.
The chicken was juicy and tender, but the outside was crispy and packed full of flavor!
We noticed an orange color to the waffle, which is when I realized the the menu called it a sweet potato waffle. The sweet potato flavor is subtle, but I appreciated the added Southern twist.
It didn't take long for all of us at the table to agree to an order of the Bananas Foster French Toast to share. It is made with thick and fluffy brioche bread and topped with bruleed bananas, whipped cream and a delicious caramel sauce.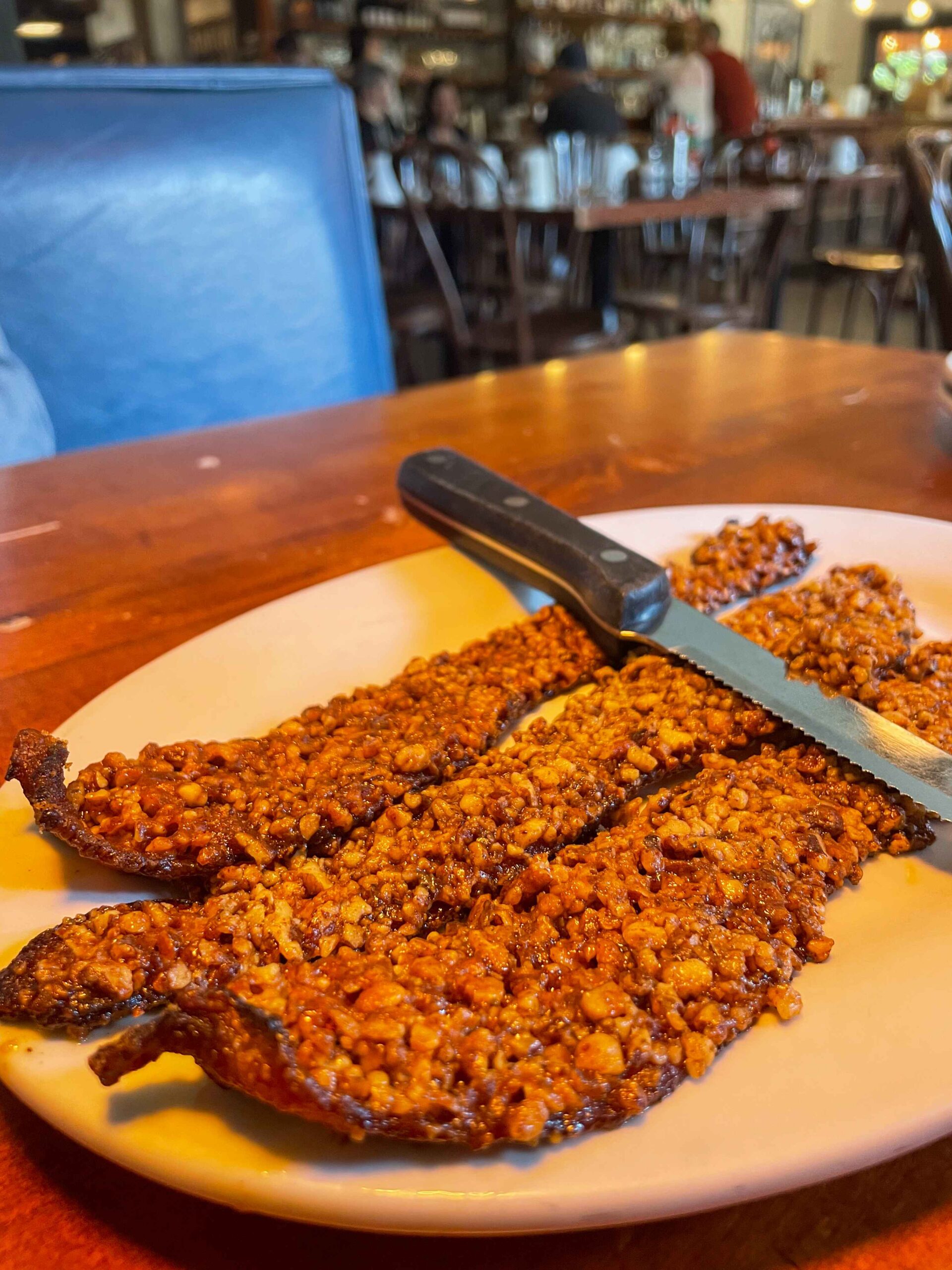 I'm a big fan of family style ordering, especially with a sweet dish like this! I couldn't imagine stomaching an entire order of the French Toast on my own, so sharing it for the table was the perfect way to go.
We also ordered a side of the Cheddar Grits. Honestly, the corn grits are just a vessel for cheese and cream and more cheese. They were creamy and rich, and exactly what I hoped they would be!
Dinner Menu
The Screen Door is also known for their Hushpuppy recipe, which are cornmeal fritters served with pepper jelly.
Besides the Fried Chicken, a good way to go for dinner if you want variety is to order the Screen Door Plate. Not only is this the classic Southern style dinner, but it allows you to try a variety of three sides.
I could feast on Southern sides as my meal and definitely leave happy!
The tough part is deciding which three sides to order…
You could carb load with the Screen Door's Mac and Cheese, Southern Style Cornbread, and Buttery Mashed Potatoes.
Or make it veggie-focused with Honey Glazed Carrots, Beet Salad and Stewed Collard Greens.
The "Sides" also include an option to upgrade to the Cornmeal-Crusted Catfish or Fried Chicken Tenders if you want a protein.
Dessert and Bakery
If you can somehow manage to save room for dessert after feasting on all that amazing Southern buttery deliciousness, the Screen Door Bakery has some incredible dessert options.
I was way too full for dessert, but I'm eyeing a few things for next time!
Rhubarb Cornmeal Upside Down Cake
caramelized rhubarb on golden cornmeal cake, served warm w/ vanilla ice cream & roasted strawberry compote
Creole Pecan Pie
toasted pecans & steen's cane syrup custard, baked in an all butter crust w/ bourbon whipped cream
Gingersnap Lime Cheesecake
rich NY cheesecake on a gingersnap cookie crust topped w/ tart lime curd (GF)
You can also order a whole pie from the bakery with 72 hours notice. This would be great for a party or as a gift!
Reservations
Screen Door does accept limited reservations if you're lucky enough to grab one online. However, they are mostly a walk-in restaurant.
If you plan to visit on a weekend, try to get there early as the lines are often very long!
We visited at around 10am on a Monday and we were able to get seated right away. But the restaurant was pretty full the entire time.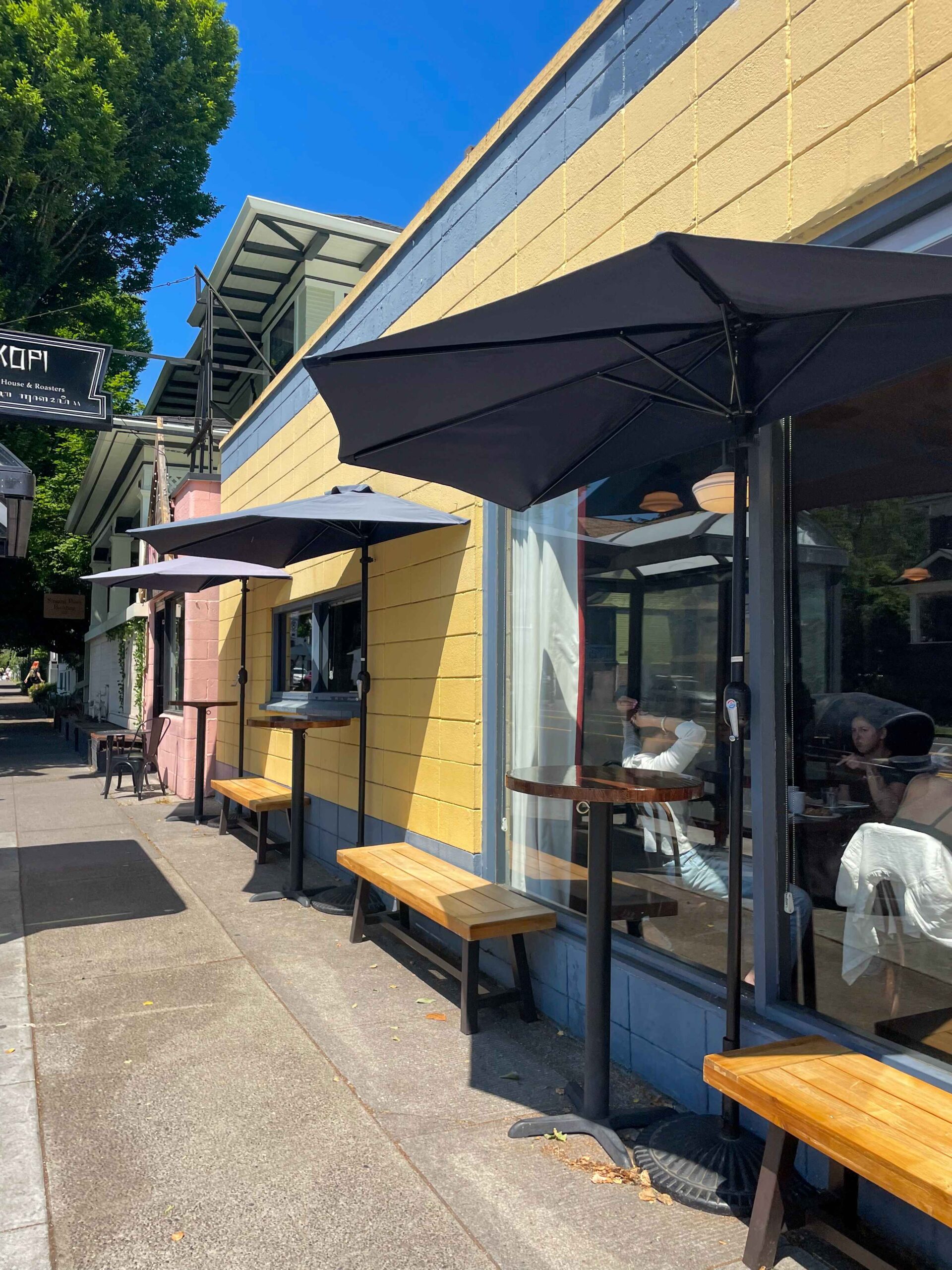 ---

7 Best Cheap Places to Visit in August
Hiking Packing List: What to Bring on a Day Hike
---
FAQs
What is the best thing to order for dinner at Screen Door in Portland?
Screen Door is known for their buttermilk-battered Southern Fried Chicken and their Hushpuppies. Another popular item is the Screen Door Plate which allows you to order a variety of 3 side items or upgrade to proteins like the Catfish or Fried Chicken Tenders.
What is the best thing to order for brunch at Screen Door in Portland?
The Chicken and Waffle, Praline Bacon and Bananas Foster French Toast are popular dishes.
What is the restaurant Screen Door in Portland famous for?
Screen Door Restaurant in Portland, Oregon is famous for its authentic Southern cuisine. It has gained recognition particularly for its award-winning Southern breakfast and buttermilk-battered Southern fried chicken, which is a favorite among visitors.
Does the Screen Door in Portland have delivery?
Yes. Screen Door offers takeout and delivery. Orders can be place online via their website.
Is Screen Door in Portland kid friendly?
Yes, Screen Door is family friendly for all ages.
Does Screen Door in Portland offer gluten-free options?
Yes, there are a variety of gluten-free options on the menu.
---
Don't Miss Screen Door in Portland!
If you're planning a visit to Portland, be sure to check out one of the Screen Door locations for brunch or dinner and you'll see why it has won the hearts of so many.
Bring friends and come hungry because you'll want to taste as many of the incredible Southern dishes as you can!
Happy travels!
-Hannah
This post was all about Screen Door Restaurant in Portland, Oregon.