Insanely Good Yountville Restaurants in 2023 and What to Order
If I had unlimited funds and no responsibilities, you would probably find me often eating my way through Yountville restaurants on the regular.
Yountville is home to some of the worlds most impressive restaurants in a charming town tucked in the middle of the Napa Valley. Despite its small size, Yountville packs a big punch in the culinary world with Michelin rated restaurants of course paired with the region's finest wines.
And although Yountville restaurants have attracted many celebrities over the years, you won't find pretentious energy here. You can't help but soak in the caling presence of the tree-lined streets and the peaceful surroundings.
From intimate cafes to world-renowned dining rooms, Yountville has something to satisfy and impress every taste. It's a place where chefs focus on locally sourced ingredients and the art of food and beverage pairings. Pure magic!
This post is all about insanely good Yountville Restaurants you don't want to miss.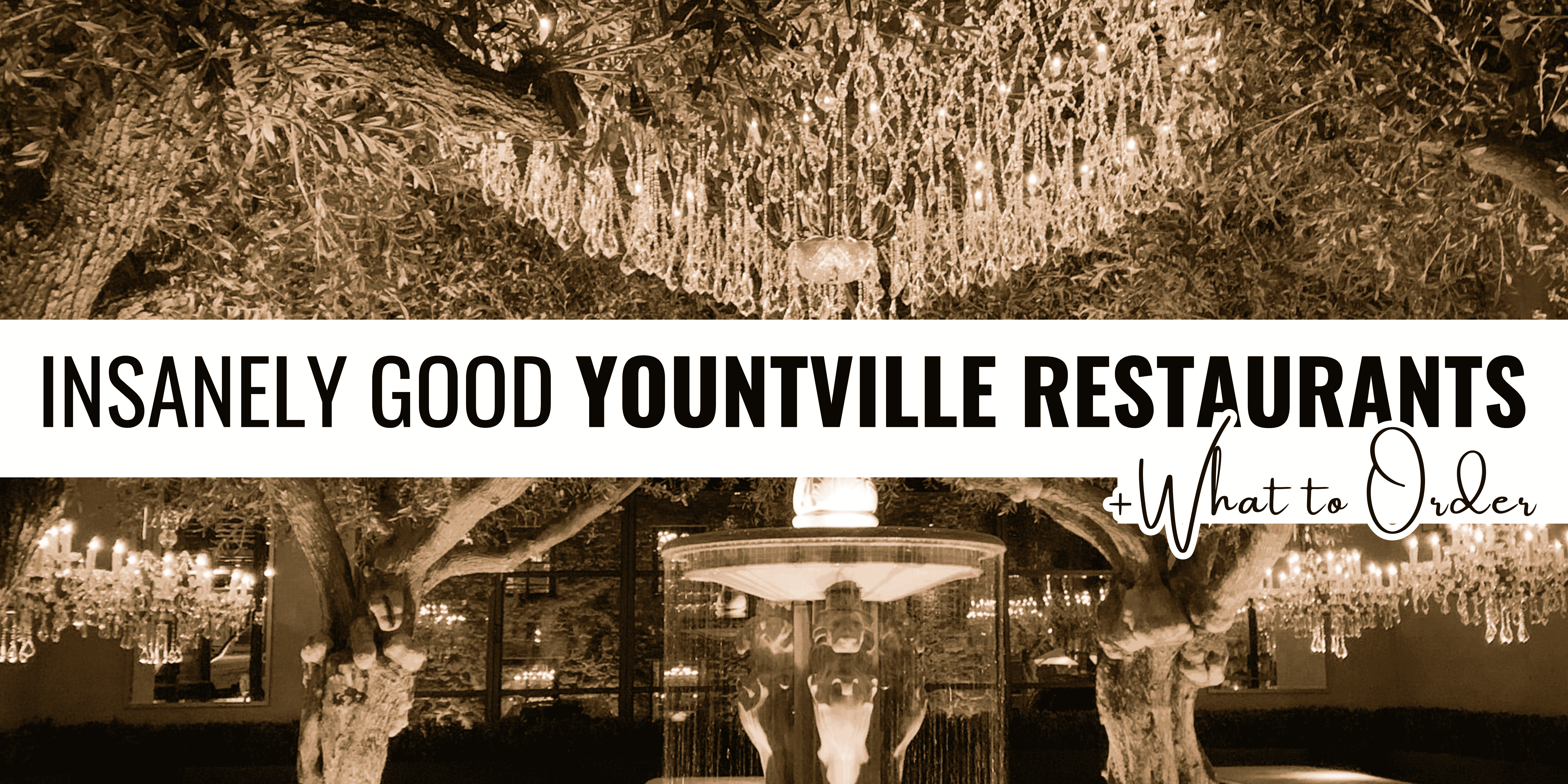 This post may contain affiliate links, which means that I may receive a commission if you make a purchase using these links at no cost to you. As an Amazon Associate I earn from qualifying purchases at no additional cost to you.
Insanely Good Yountville Restaurants
Join me as I take you on a gastronomic tour, in no particular order, to the best Yountville restaurants that you will not want to miss on your next visit.
1. AD HOC THOMAS KELLER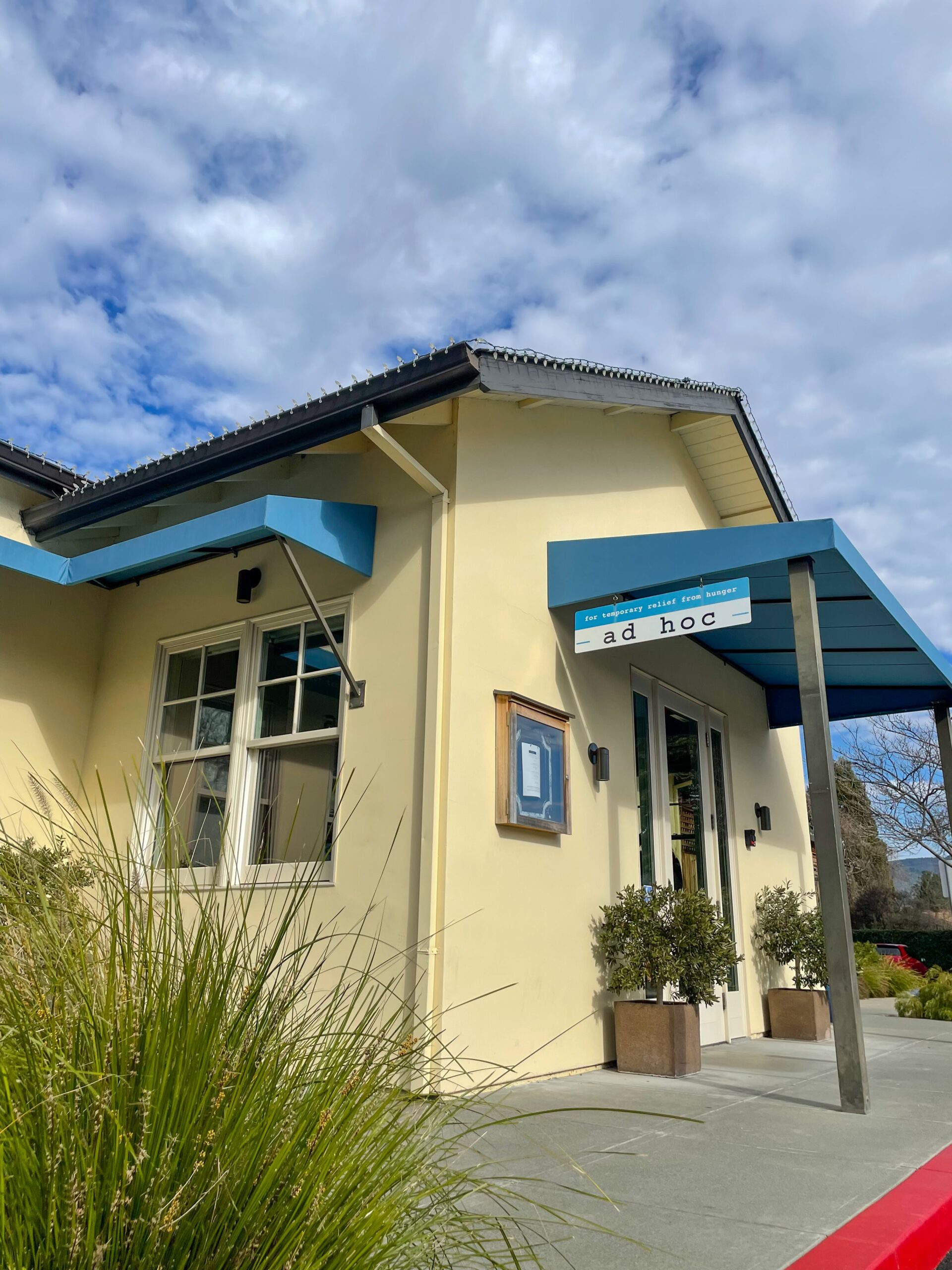 You may think you've had the best fried chicken, but when you taste Thomas Keller's fried chicken and waffles you'll start to question your past. It's crispy, juicy, and simply divine.
Ad Hoc was featured in Food and Wine magazine on the list of "25 Places to Try." The nameThe ambiance is full of southern charm, making you feel right at home. The food is served family-style adding to the culinary adventure, and simplifying the difficult task of deciding what to order.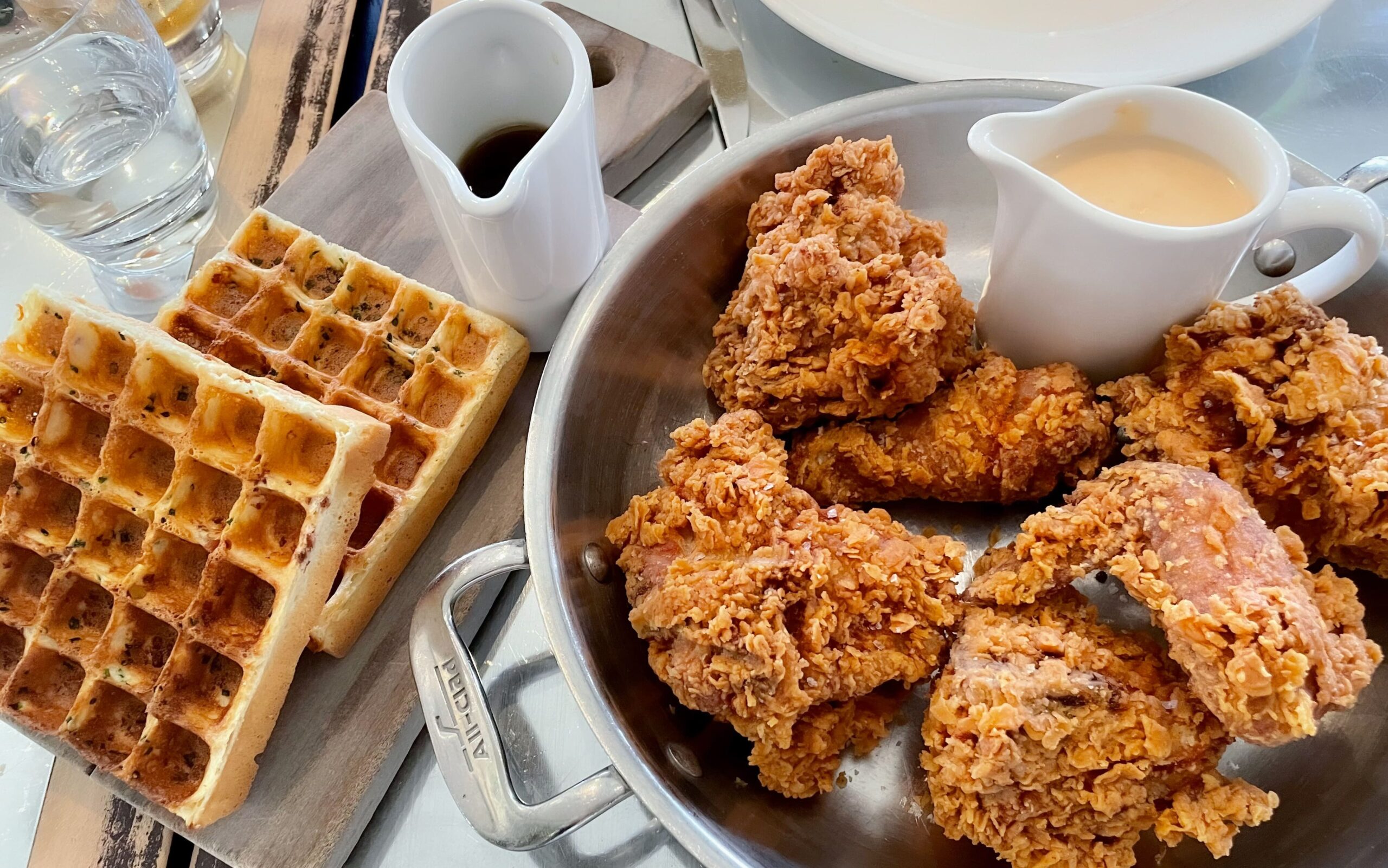 This casual yet elegant spot offers a prix fixe menu that changes daily, ensuring every visit is a delightful surprise. Considering the exceptional quality of the dishes, the prices are moderate. The brunch menu starts at $48 per person and dinner starts at $64 per person.
We have visited a few times for brunch and while the fried chicken remains the star of the show, we were fortunate to try a few different starters and desserts. The ambrosia fruit salad with coconut creme was not only beautiful, but the fruit was bight and fragrant. The carrot cake was my favorite dessert with a rich cream cheese icing that paired perfectly.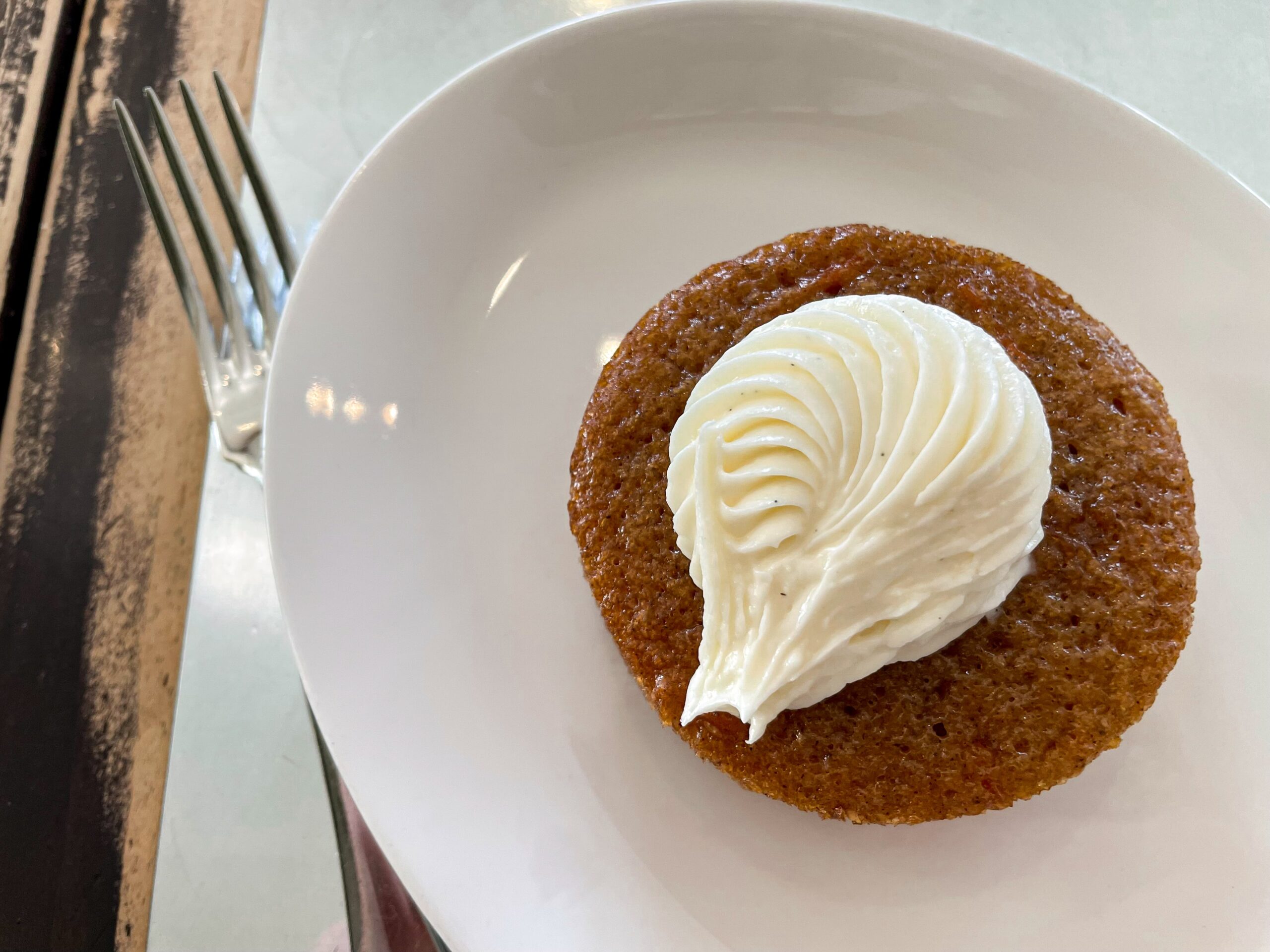 Ad Hoc is the dine in restaurant, while Addendum is the takeout version located behind the restaurant.
Fun fact: Thomas Keller named this restaurant 'Ad Hoc' and experimented with the concept which was intended as a temporary solution to fill the space. But Ad Hoc quickly won the hearts of many and it became a permanent addition to his restaurant collection.
Cuisine: Classic American
What to Order: Fried Chicken if Available
2. COQUETA
Coqueta is a vibrant tapas bar and a variety of colorful Spanish dishes from Michael Chiarello. This restaurant originated in San Francisco on Pier 5, but made a second home in Yountville in 2019.
The indoor dining space is small and intimate inside a beautiful brick building, and the expansive patio offers a garden-style dining area perfect for a warm day.
The price is moderate, and the small plates are perfect for sharing and exploring a variety of flavors.
3. RESTORATION HARDWARE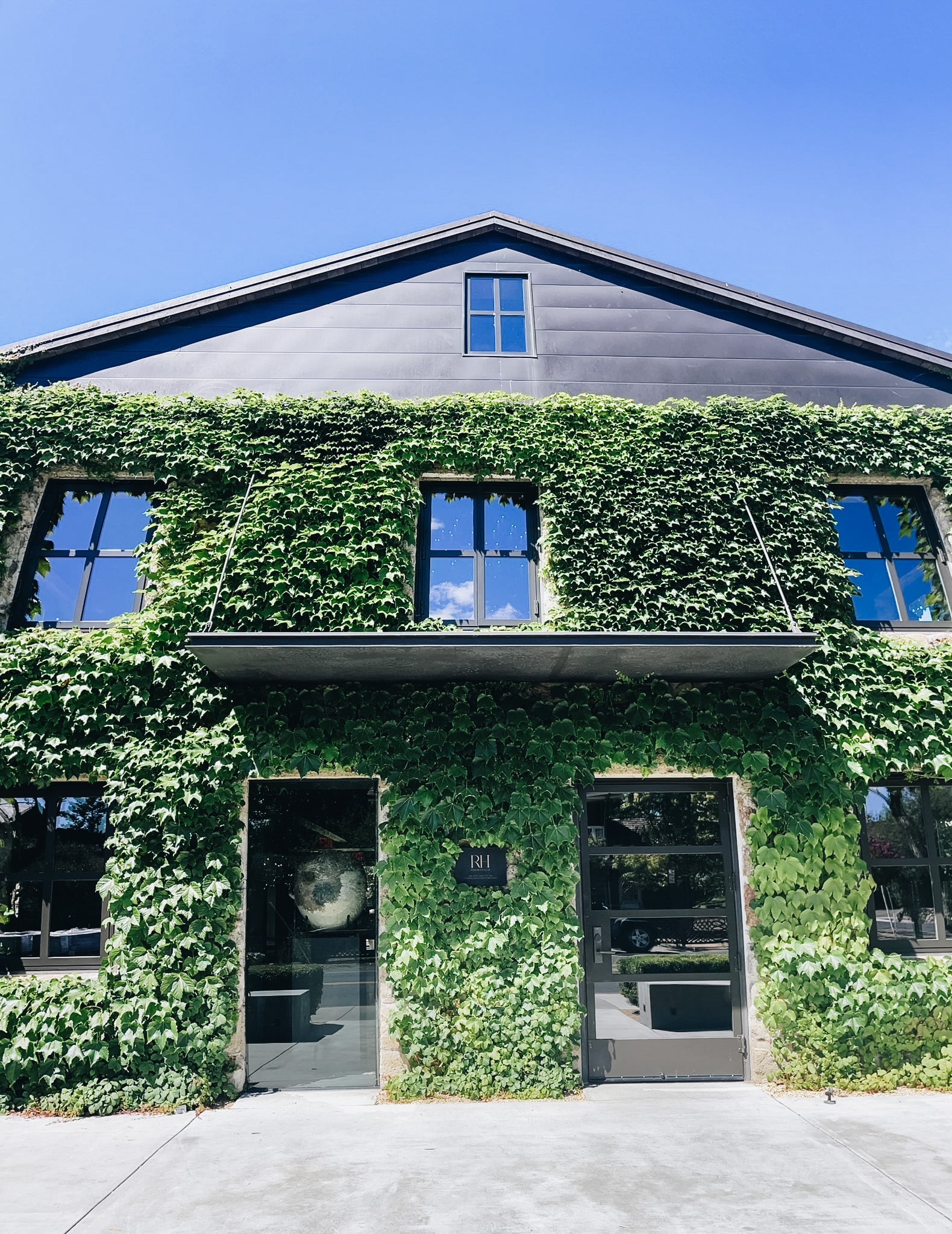 The entire five-building Restoration Hardware compound is stunning, but the main dining room is what makes it memorable. The ambiance is chic and sophisticated, with indoor fountains and chandeliers speckled everywhere possible.
The spaces wind between indoor and outdoor seating areas as you move from the show room to the outdoor dining area, indoor dining room, tasting room, and garden. The decor is modern and elegant all at once. The RH Restaurant main indoor dining area has large olive trees, covered in twinkling lights. It's absolutely dreamy, and you'll be wondering if a more beautiful restaurant could ever exist.
If you have enough time, grab a drink in the garden before or after dinner beside their large fireplaces.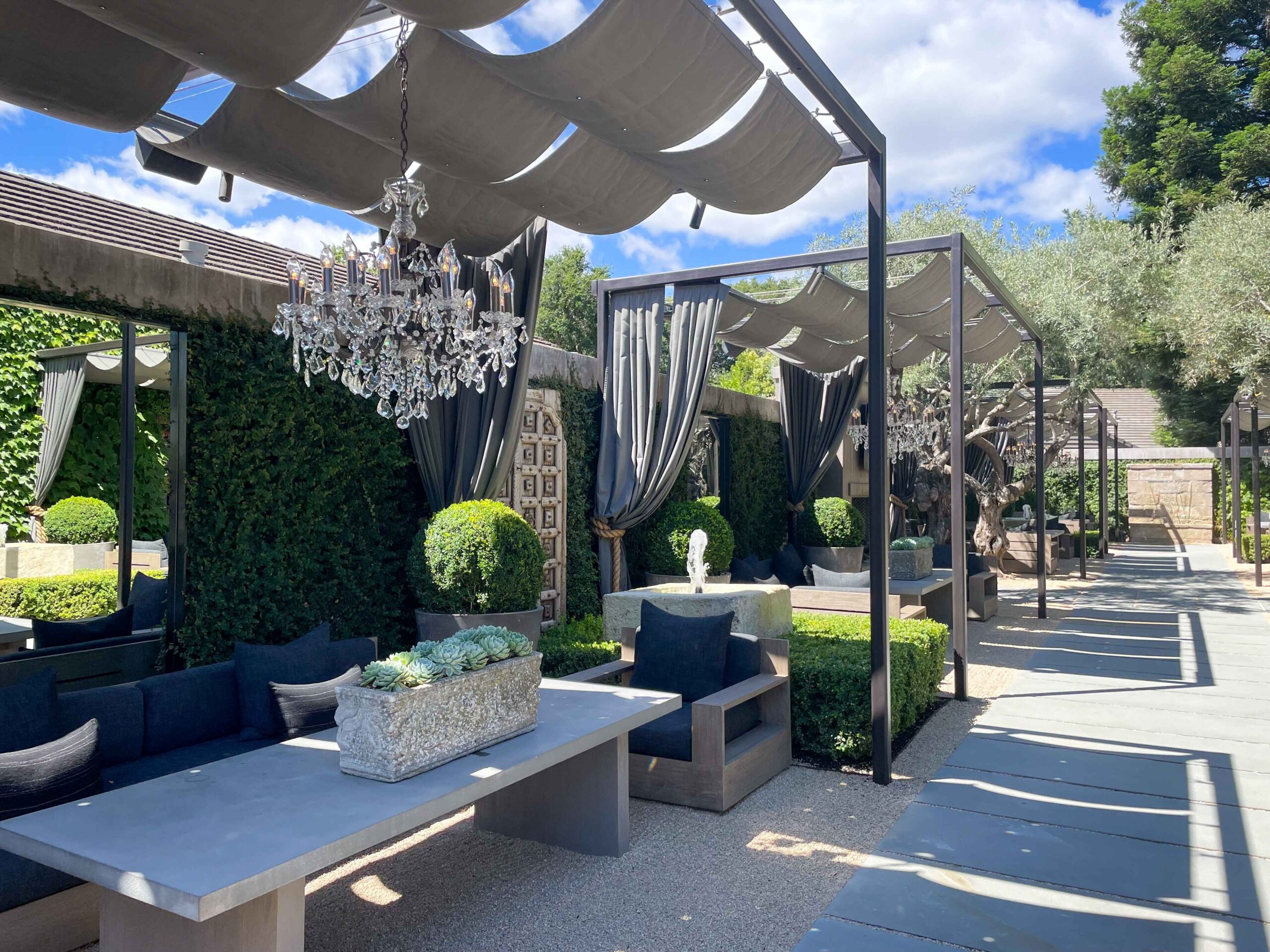 The Peach Bellini was a delightful way to start the evening. The ribeye was charred perfectly and well-seasoned. But the Roasted Half Chicken with potato purée and garlic confit was the most impressive. The chicken was rich in flavor and the potato puree was incredibly creamy. The dishes are simple, but beautifully executed and make for the perfect upscale evening.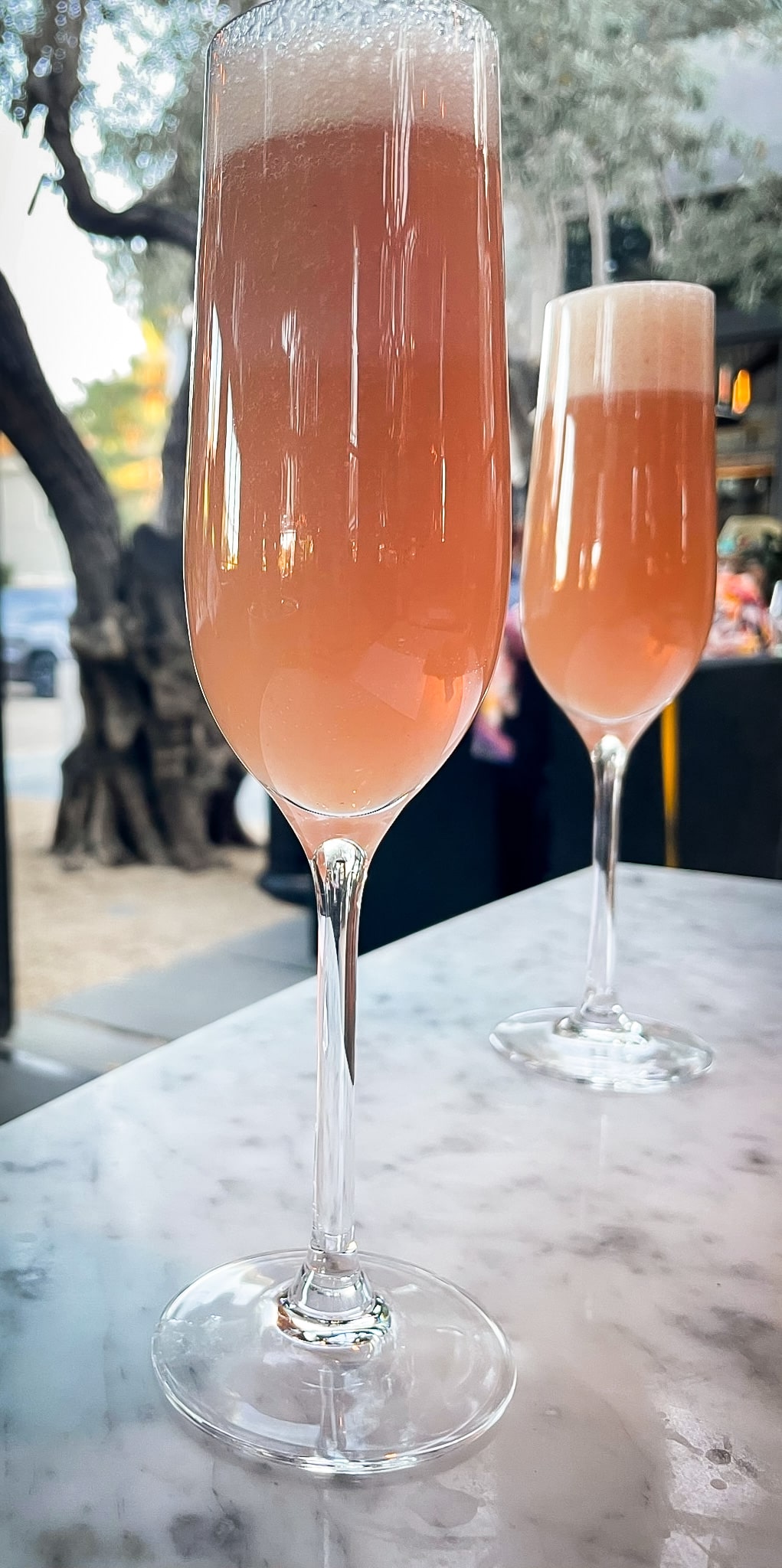 What to Order: Peach Bellini, Roasted Chicken, Potato Puree, Ribeye Steak
4. FRENCH LAUNDRY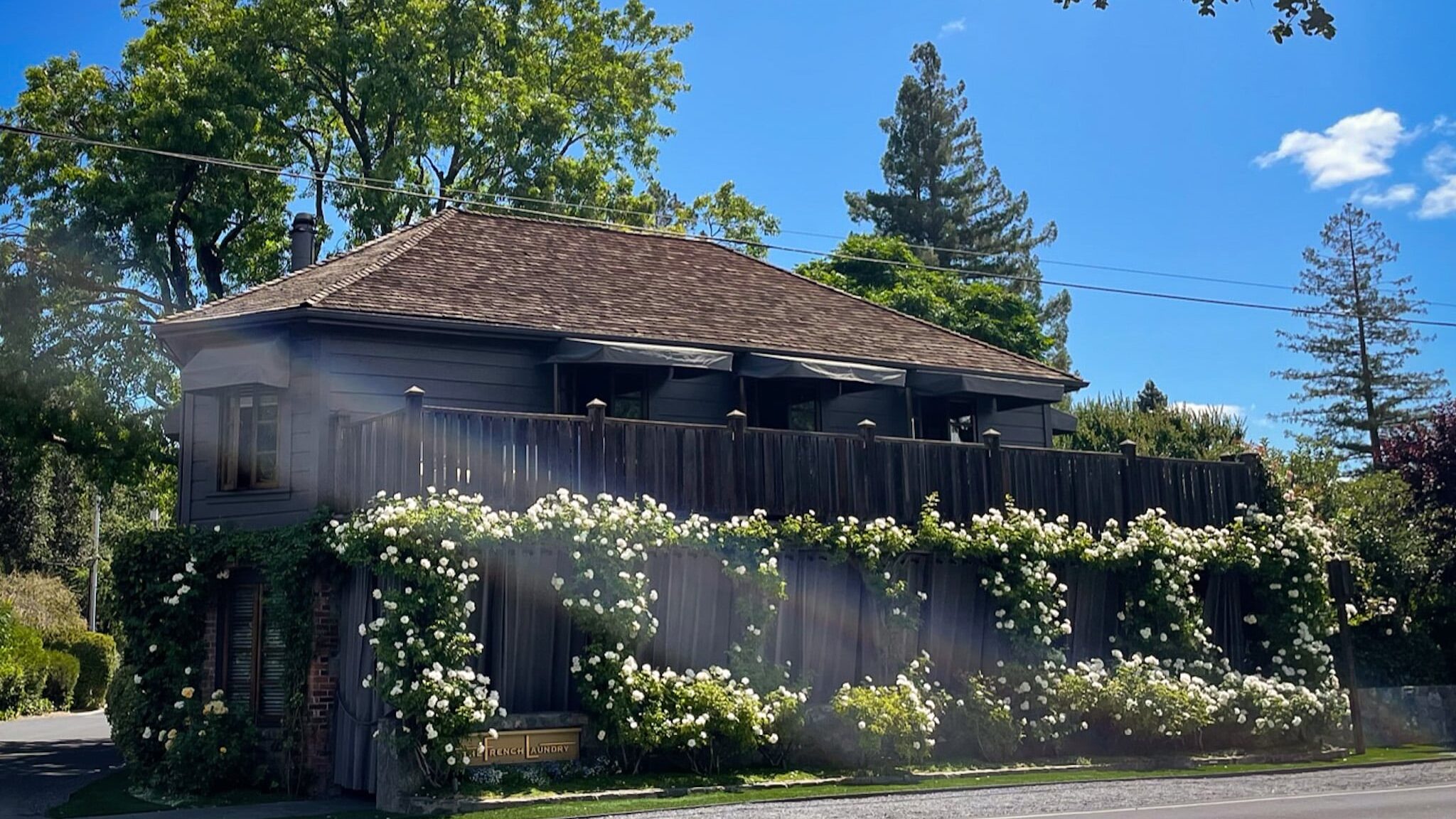 Earning continuous awards and press attention, the French Laundry takes fine dining to a whole new level. Did you know Thomas Keller is the only American-born chef to have two restaurants earning three Michelin stars?
We watched his Masterclass and I was so impressed with his love and respect for food and the earth. The way he talks about food is enchanting and he shows a sincere passion for his cooking. It's beautiful to watch, and you'll learn some great kitchen tips!
The 14-course French Laundry tasting menu experience start at $390 per person and increase based on the table and experience booked. Reservations book up quickly, so this is a bucket list restaurant that you'll need to plan in advance.
I have not had the pleasure yet of dining at French Laundry, but hope to visit soon! We did go past it in Yountville and admire the two story stone cottage that was once a saloon in the 1900s. French Laundry is a culinary legend and likely the best spot in Yountville for foodies wanting to experience a remarkable meal.
What to Order: Tasting Menu
5. BOUCHON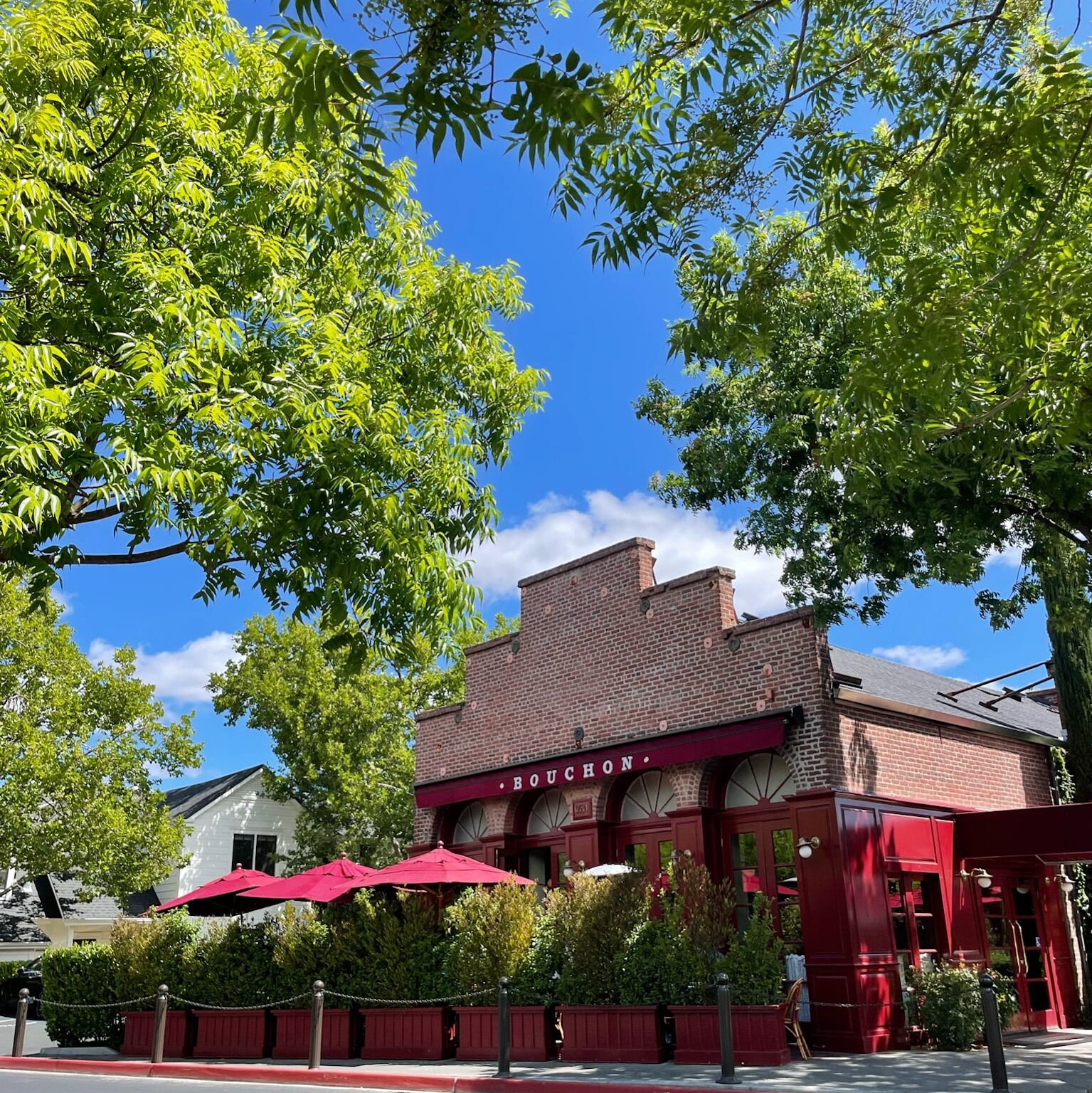 Thomas Keller brings us another fabulous dining experience in the heart of Yountville. Bouchon is an authentic upscale French bistro that is reminiscent of a cozy Parisian café.
Known for their raw bar, you'll find a large selection of oysters, shrimp, mussels, lobster, clams and caviar along with traditional French entrees and side items.
After a day of wine tasting and exploring the Valley, a warm French-inspired dinner at Bouchon is the perfect treat.
What to Order: For a truly authentic taste of France, order their Escargots de Bourgogne, Pommes Frites and finish off with a heavenly Crème Brûlée.
6. BOUCHON BAKERY
Just next door to Bouchon Bistro is the famous Bouchon Bakery, where you can indulge in incredible French pastries and desserts.
The line for Bouchon Bakery is often seen wrapping down the streets, but it's worth the wait. You know it's good when people will wait rain or shine outdoors to place their order!
What to Order: Macarons, Chocolate Croissant
7. SOUTHSIDE YOUNTVILLE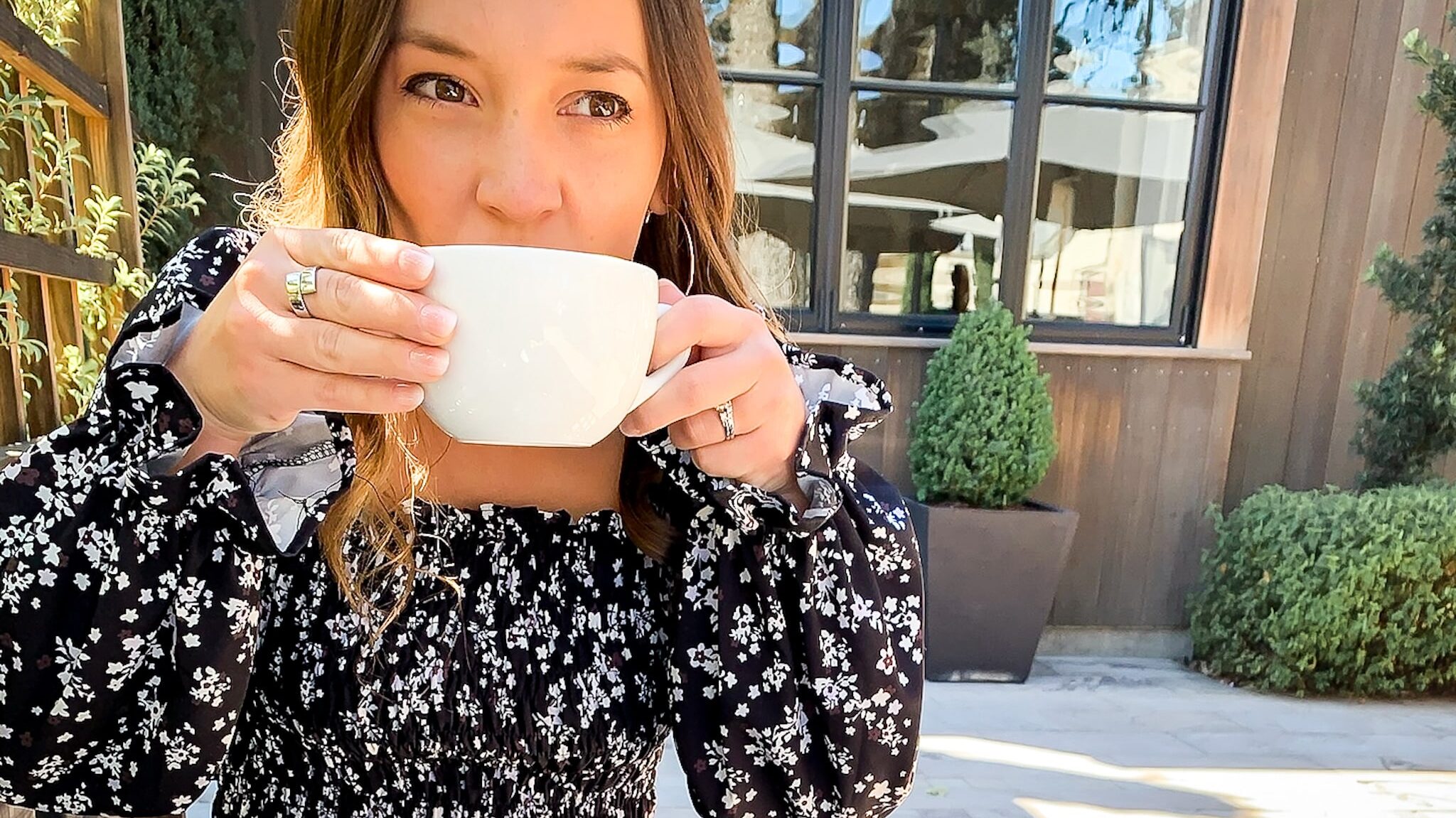 Southside is one of my favorite Napa Valley restaurants for breakfast. The Yountville location has a cute outdoor seating area. We listened to the birds chirping while sipping our morning lattes.
Speaking of lattes… you must order the Salted Honey Lavender Latte.
The New School Avocado Toast was equally delicious on perfectly toasted seeded wheat bread with feta cheese, cucumber, radish, mint, toasted pepitas and ground ancho chile. I ordered scrambled eggs on mine because I'm not a fan of poached.
Best part… breakfast is served all day! This spot will not disappoint.
Cuisine: Fresh California American
What to Order: Salted Honey Lavender Latte, New School Avocado Toast
8. R+D KITCHEN
For a casual yet delicious meal, head to R+D Kitchen. This comes from the highly respected Hillstone Restaurant Group, known for their impeccable service and reliably delicious menu.
The laid-back atmosphere both indoor and outdoor makes you feel right at home.
Cuisine: American + Sushi
What to Order: Prime Rib Sandwich, Sushi, Hand Cut Fries
---
Frequently Asked Questions
How many restaurants does Thomas Keller own in Yountville?
Thomas Keller owns six restaurants in Yountville, California in the Napa Valley region. These include The French Laundry, Bouchon Bistro, Bouchon Bakery, Ad Hoc + Addendum, Regiis Ova Caviar & Champagne and La Calenda.
What is Yountville, California known for?
Yountville is known for its luxurious accommodations and impressive culinary scene all tucked into a small town in the heart of Napa Valley. It is home to some highly-rated restaurants like Thomas' Keller's French Laundry and Ad Hoc + Addendum.
---

Best of Napa Valley – The Perfect Weekend Itinerary
How to Fly Free with Credit Card Rewards
---
Which Yountville Restaurants Will You Be Visiting?
I know, I know. You're probably already extending your Napa trip so that you can stay longer and try all these amazing Yountville restaurants. I don't blame you!
Yountville truly is a culinary goldmine. It's one of my favorite places to escape and treat myself to a full day of incredible food.
Be sure to check out my Best of Napa Weekend Itinerary for more dining tips and winery recommendations.
Happy travels!
-Hannah
This post was all about insanely good Yountville Restaurants you don't want to miss.