12 Best Old Town Temecula Restaurants & Cocktail Bars
Hey, fellow foodies! I'm super excited to take you on a culinary journey through the charming streets of Old Town Temecula, one of my favorite day trips from Los Angeles.
Let's explore the best Old Town Temecula restaurants and cocktail bars so you know exactly what to add to your Temecula itinerary.
This quaint wine country town is surrounded by the beautiful Temecula Valley Wine Country, so it's a popular destination for locals and tourists. Old Town Temecula is the hub of the area with a charming old small Western town vibe, but plenty of incredible places to eat and things to do.
This post is all about the best Old Town Temecula restaurants and cocktail bars.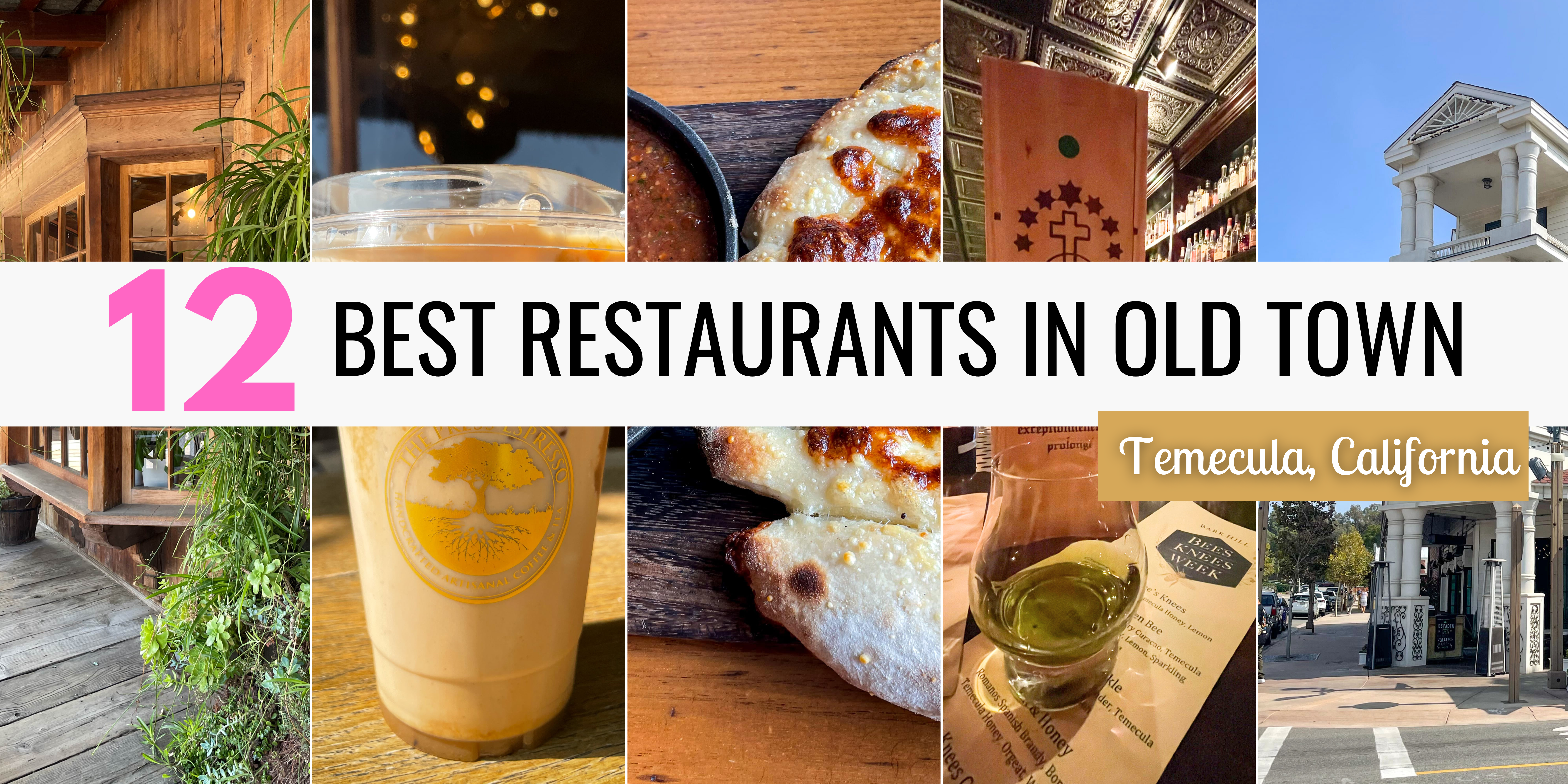 This post may contain affiliate links, which means that I may receive a commission if you make a purchase using these links at no cost to you. As an Amazon Associate I earn from qualifying purchases at no additional cost to you.
12 Best Old Town Temecula Restaurants and Cocktail Bars
I'm not going to lie, I was surprised to find as many great Old Town restaurants spots as we did! The town is small and relatively remote compared to much larger surrounding cities in Southern California, so I assumed the food options would be minimal. But I was impressed with the choices and could tell that the food scene is growing in Temecula.
I could spend the entire day doing a food crawl through Old Town Temecula around the breakfast spots, cocktail bars, restaurants and coffee shops. This foodie girl was not disappointed, and you won't be either.
Here are some of my favorite restaurants and cocktail bars in Old Town Temecula, and what not to miss on the menu.
1. THE GOAT AND VINE
Without question, The Goat and Vine is my number one pick for best restaurants in Old Town! They have rightfully earned a 4.5 star rating on Yelp with over 3,500 reviews. So if you don't take my word for it, trust the 3,500 other people who agree.
The decor is trendy, but not overdone.
The menu is pretty extensive and approachable, so there's something for everyone here. The pizza is what really shines. The culinary team starts their day at 3am to prepare fresh pizza dough, sauces, and dressings for the day. The dedication pays off!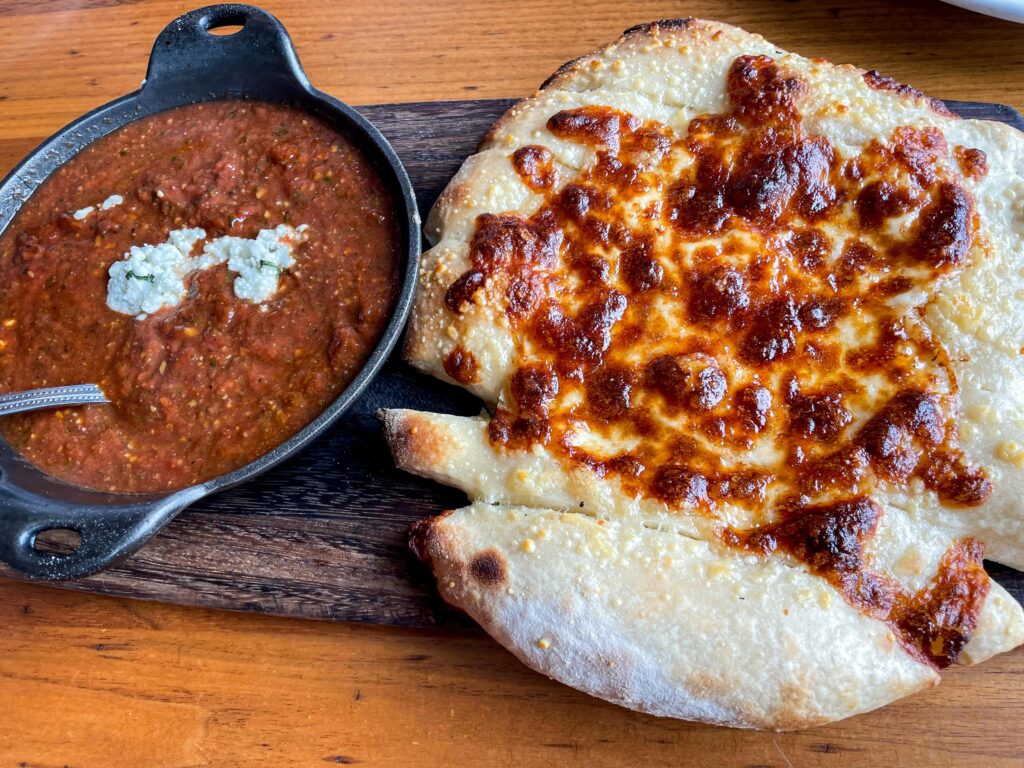 For an appetizer, the Breadsticks and House Sauce is a great place to start. The marinara sauce is perfectly rich and acidic, and that soft, fluffy pizza dough… heaven.
I saw a lot of reviews online about the Jalapeño Lime Carnitas Pizza, so I had to order one for myself. It was everything the internet said it would be. Absolutely delicious! Soft and fluffy crust, gooey cheese and a super flavorful sauce that paired perfectly with the carnitas. It's not a combination I've seen before, so it was fun to try something new. They also have gluten-free pizza dough available.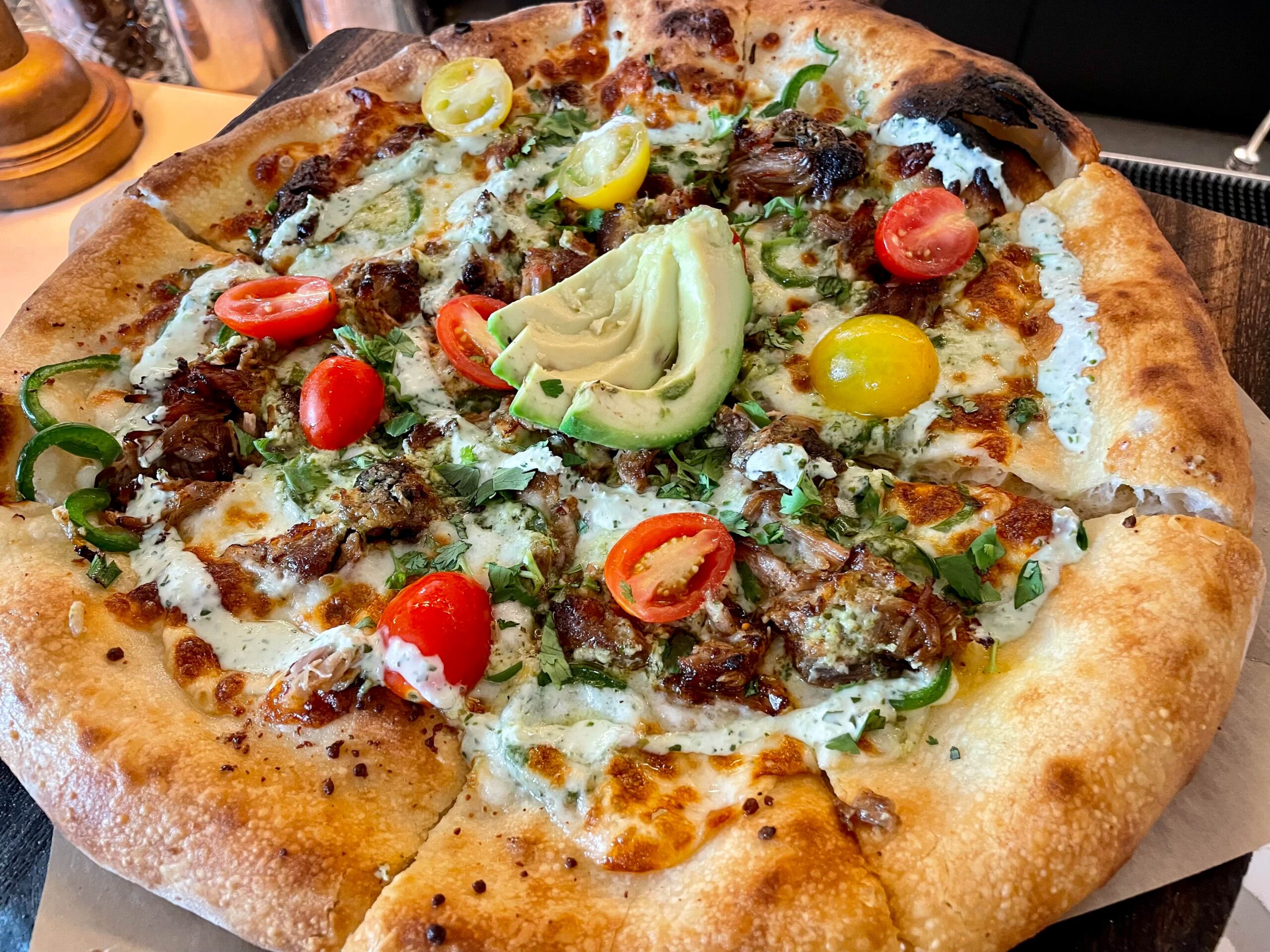 On a recent visit, I wanted something lighter and went with the Popeye and OIive Oil Salad, which was crisp and flavorful. I'm confident that whatever you order will be amazing!
The Goat and Vine does not accept reservations, but you can join the Yelp waitlist online.
Cuisine: American Italian
What to Order: Jalapeño Lime Carnitas Pizza, Breadsticks and House Sauce, Popeye and Olive Oil Salad, Razzerac Cocktail, Jacked Cappuccino Ice Cream Cake
2. SMALL BARN
Small Barn restaurant is a new and warmly welcomed addition to the culinary scene of Old Town Temecula, opening during the pandemic in 2020.
As soon as you step foot into this rustic yet charming restaurant, you feel right at home. The outside dining area has a great view for people watching on the main road, Old Town Front Street. Plush lounge seating and sprawling umbrellas give it a laid-back atmosphere.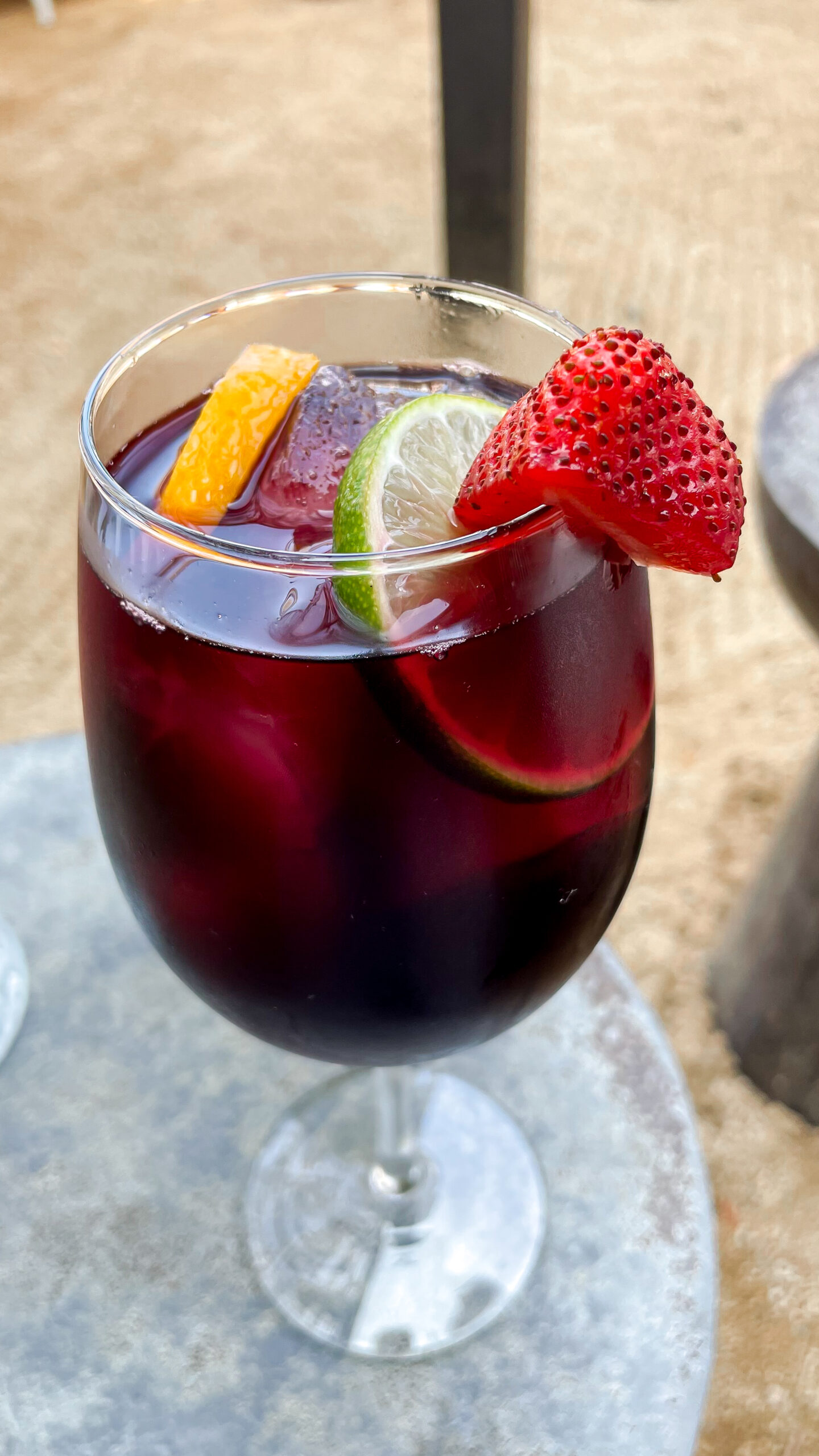 The outdoor seating area drew me in so we grabbed a table for brunch. I had the most incredible avocado toast and a refreshing glass of sangria.
Small Barn takes pride in their farm-to-table approach and sourcing fresh ingredients from local farms. Each dish is beautifully plated as a piece of art.
Vegan, vegetarian and gluten-free options are listed within the menu. With their commitment to sustainability and supporting local producers, dining at Small Barn not only promises an incredible meal but also supports the community.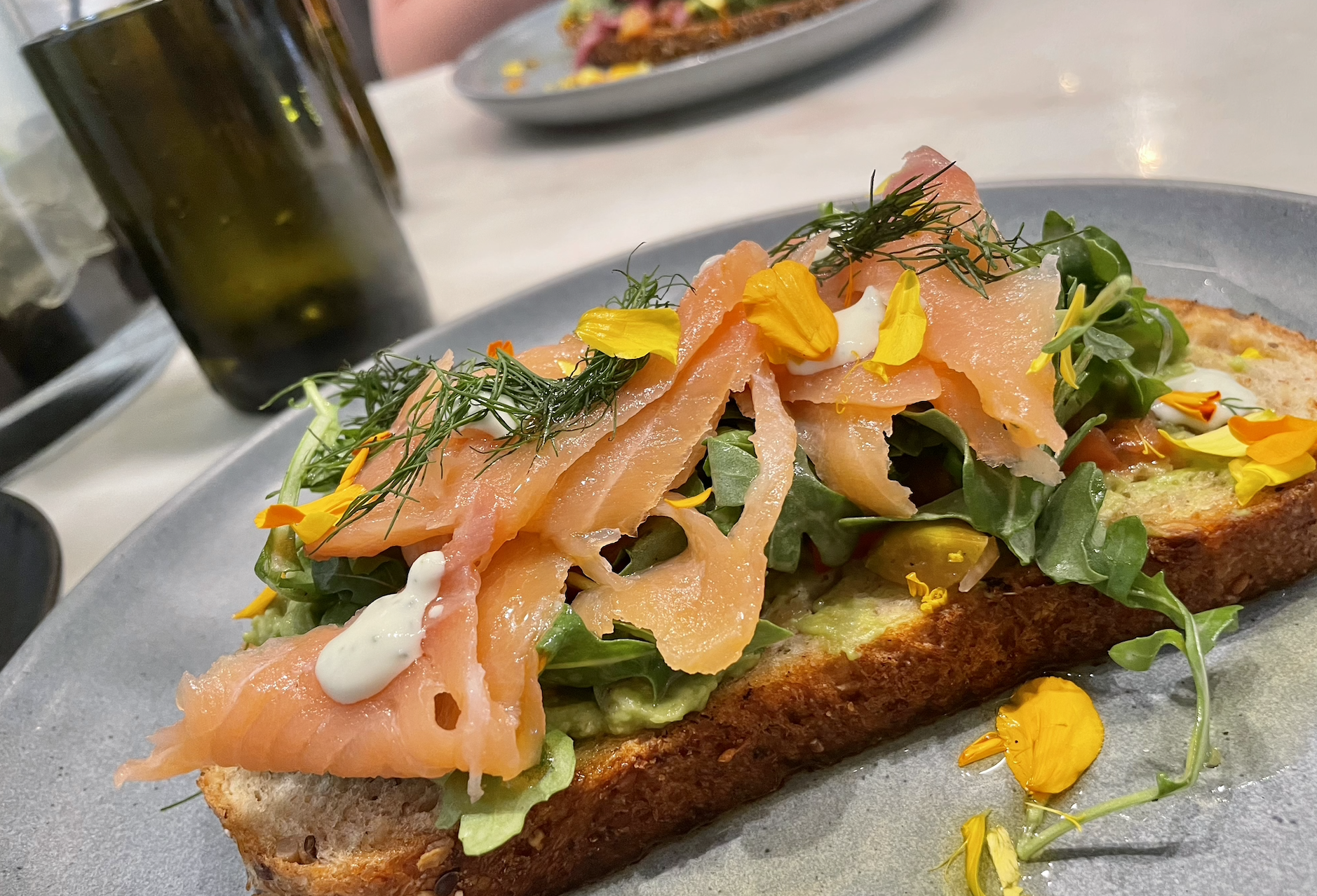 Cuisine: New American, Farm-to-Table, Brunch and Dinner
What to Order: Avocado & Smoked Salmon Toast, Breakfast Burger, Roasted Beet Salad, Sangria
3. 1909 RESTAURANT
1909 Restaurant has a prime location in the heart of Old Town with a bustling patio that seems to always be full of energy.
The building once burned down in 1908, and was then rebuilt in 1909, hence the name.
The menu is full of unique items with unexpected flavors like the Tikka Masala Poutine or the Crab & Shrimp Empanadas. Good news for breakfast fans, brunch is served every day including their bottomless mimosas!
TLDR: Dog-friendly Patio with "Four Paws" Menu
What to Order: Bottomless Mimosas, Bison Burger, French Toast
4. THE PRESS ESPRESSO
As a coffee lover, I can't help but gush about this charming little cafe right in the middle of Old Town.
Their list of specialty lattes is has me coming back every time I visit Temecula. There are so many great flavors at The Press Espresso; I want to try them all! I'm only about half way there…
Beyond the exceptional coffee, Press is a cute and comfortable space to relax and enjoy a moment of tranquility. This is a great spot to start your day in Temecula off right with a delicious latte and croissant.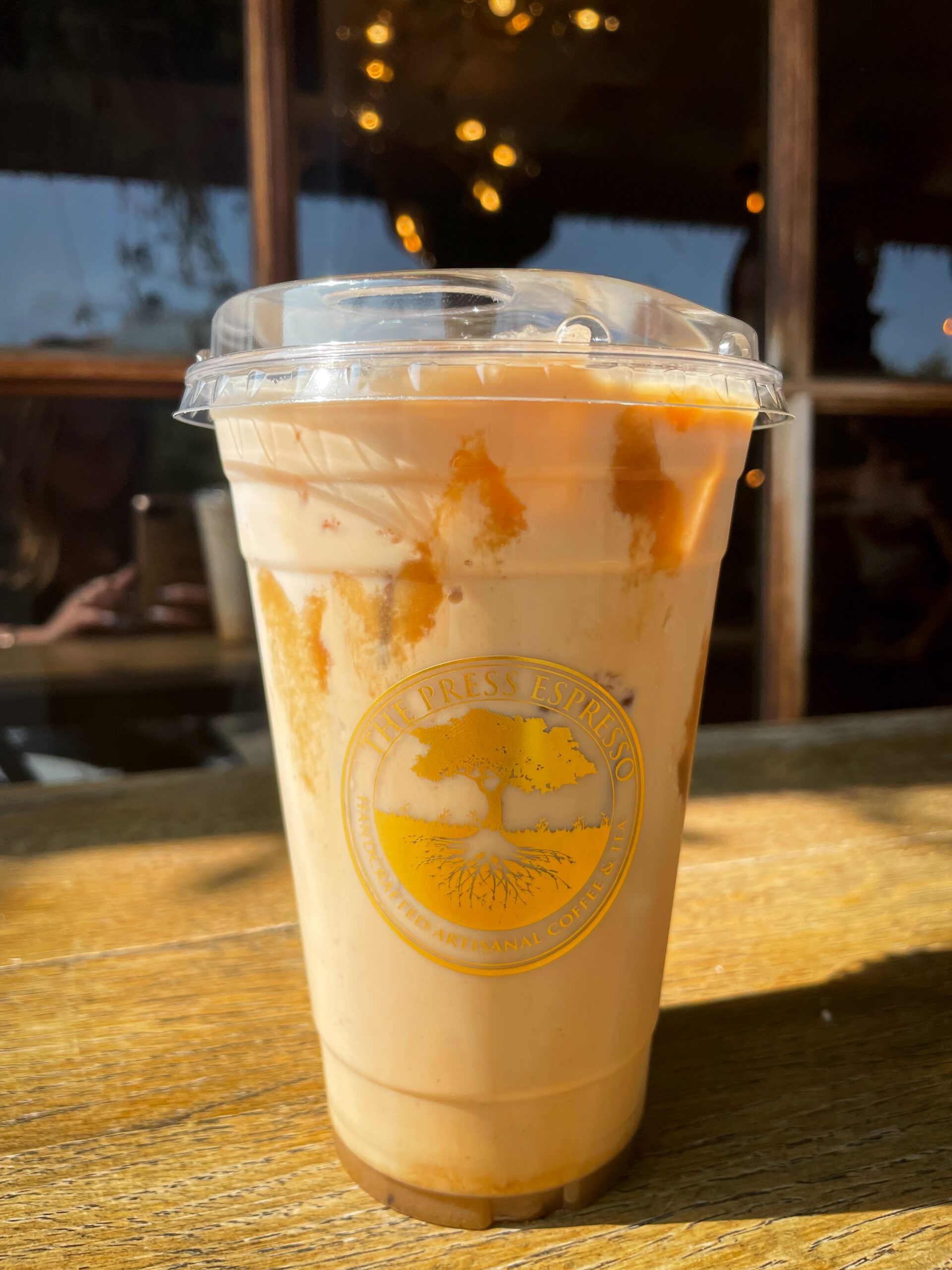 TLDR: Cozy Coffee Shop with Specialty Lattes
What to Order: BSC (Brown Sugar Caramel) Latte, Tiramisu Latte, Rose Vanilla Latte
5. EAT MARKETPLACE
EAT Marketplace describes themselves as "food for everyone," and that couldn't be more true. Their farm-to-table menu is perfect for those with dietary restrictions like vegan or gluten-free, but also caters to meat-lovers and anyone with a sweet tooth.
Breakfast is available everyday along with a a variety of salads, sandwiches, pastries and desserts. They are only open until 3pm or 4pm every day, so be sure to get there for breakfast or lunch. Everything is delicious and you can taste the quality and freshness!
TLDR: Fresh, Healthy Options including Gluten-Free, Vegan, Vegetarian and Paleo
What to Order: Avocado Toast, House-made Donuts, Brown Sugar Cardamom Espresso Martini
6. APPARITION ROOM
Apparition Room is a super cool speakeasy-style bar that's tucked away in a secret hiding spot on the main Old Town road. You won't find a sign pointing you directly to it, but that just adds to the adventure!
Head to Devilicious Eatery and keep your eyes peeled for a discreet door with a subtle red light. Trust me, the hunt is totally worth it.
Once you step inside, you'll be greeted with Prohibition-era charm. Whether you're a whiskey-fan (like me!) or prefer something fruity and refreshing, Apparition Room has a variety of drinks to choose from.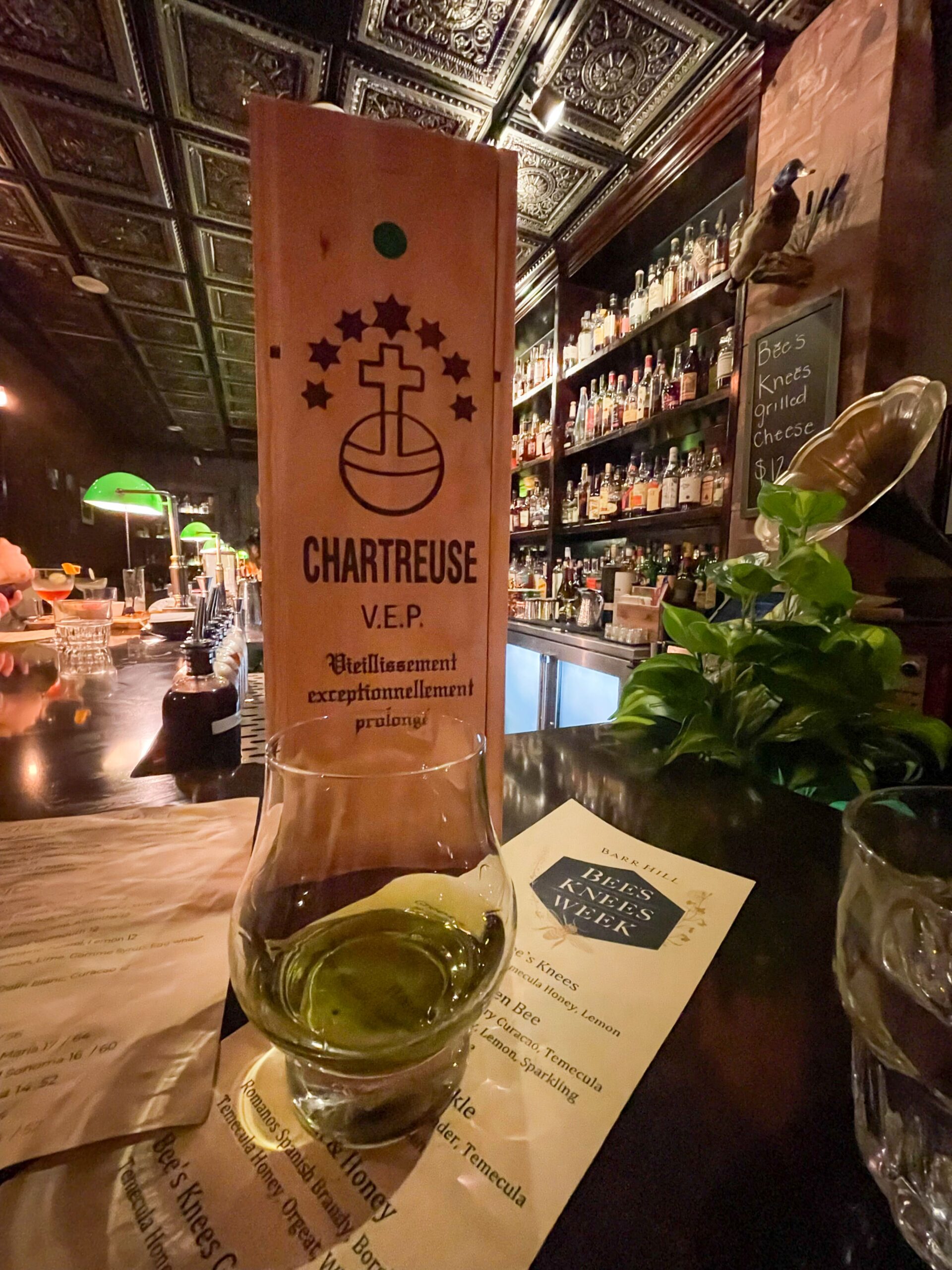 The surprises only continued when my husband spotted a rare bottle of Chartreuse VEP behind the bar. We ordered a small pour and the bartender handed us the decorative box to look over. Very fun!
They offer a small food menu of about 10 items. The apps were great to share. We ordered a brie and berry compote grilled cheese. I believe that item was a special and not something on their regular menu, but look out for it because it was delicious.
The real reason to visit Apparition Room is the experience. The vibe is an activity in itself. The bar is small with just a few tables and a long bar top. So be sure to grab a reservation. This is a great spot to end your night in Temecula or visit for a date!
What to Order: Truffle Chips, Deviled Eggs, Look for Specials
7. OAK GROVE CENTER CULINARY CREATIONS
If you're looking for an afternoon treat or a fabulous dessert, head to Oak Grove Center Culinary Creations.
We spotted this cute dessert shop because it was right next door to Goat & Vine. We stopped in and had a snack and a coffee and hung out for a while. Everything looked amazing!
It's one of those places where it's tough to pick just one item from the artful pastry display. I won't judge you if you go for two, or bring one home for later!
Oak Grove is closed on Mondays and Tuesdays.
TLDR: Bakery and Desserts
What to Order: Fruit Tart, Signature Lemon Lavender Bar
8. BOTTEGA ITALIA
Bottega Italia is a cozy Italian eatery with a modern flare. It's a great place to indulge in authentic Italian food while surrounded by the energy of Old Town.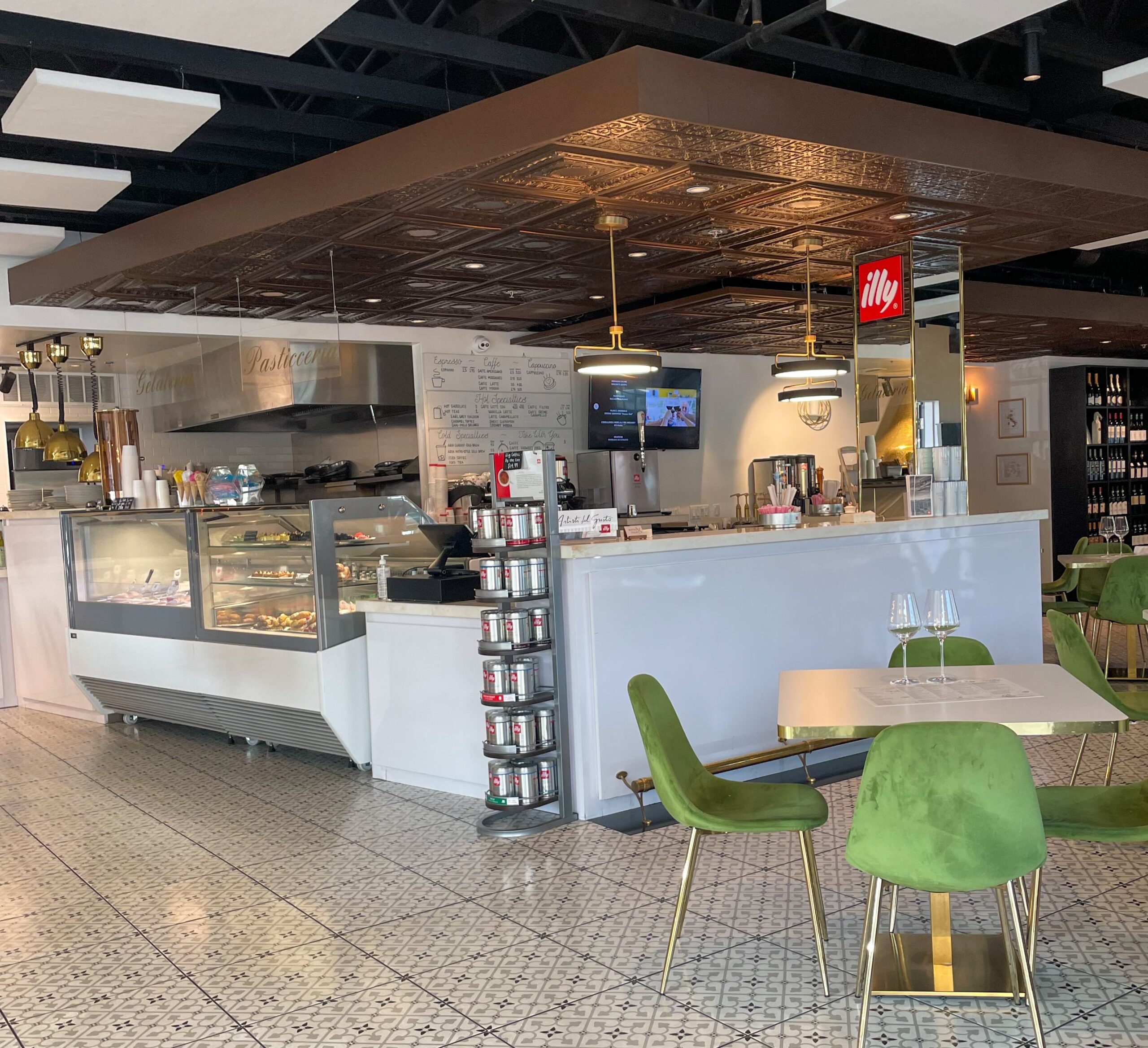 Bottega Italia sources their ingredients from Italy where possible and their dedication to authentic Italian flavors is apparent.
The extensive menu covers everything you'd want from an Italian restaurant and more. They offer breakfast, calzones, salads, fresh pasta, and over 25 varieties of wood-fired pizza.
What to Order: Espresso Martini, Affogato, Rigatoni Alla Norma, Any Pizza
9. THOMSPON AND TWAIN PROSPECTING CO
If walking around Old Town Temecula doesn't feel enough like an old Western film, just book yourself a reservation at Thompson and Twain and you'll be transported right into an old saloon!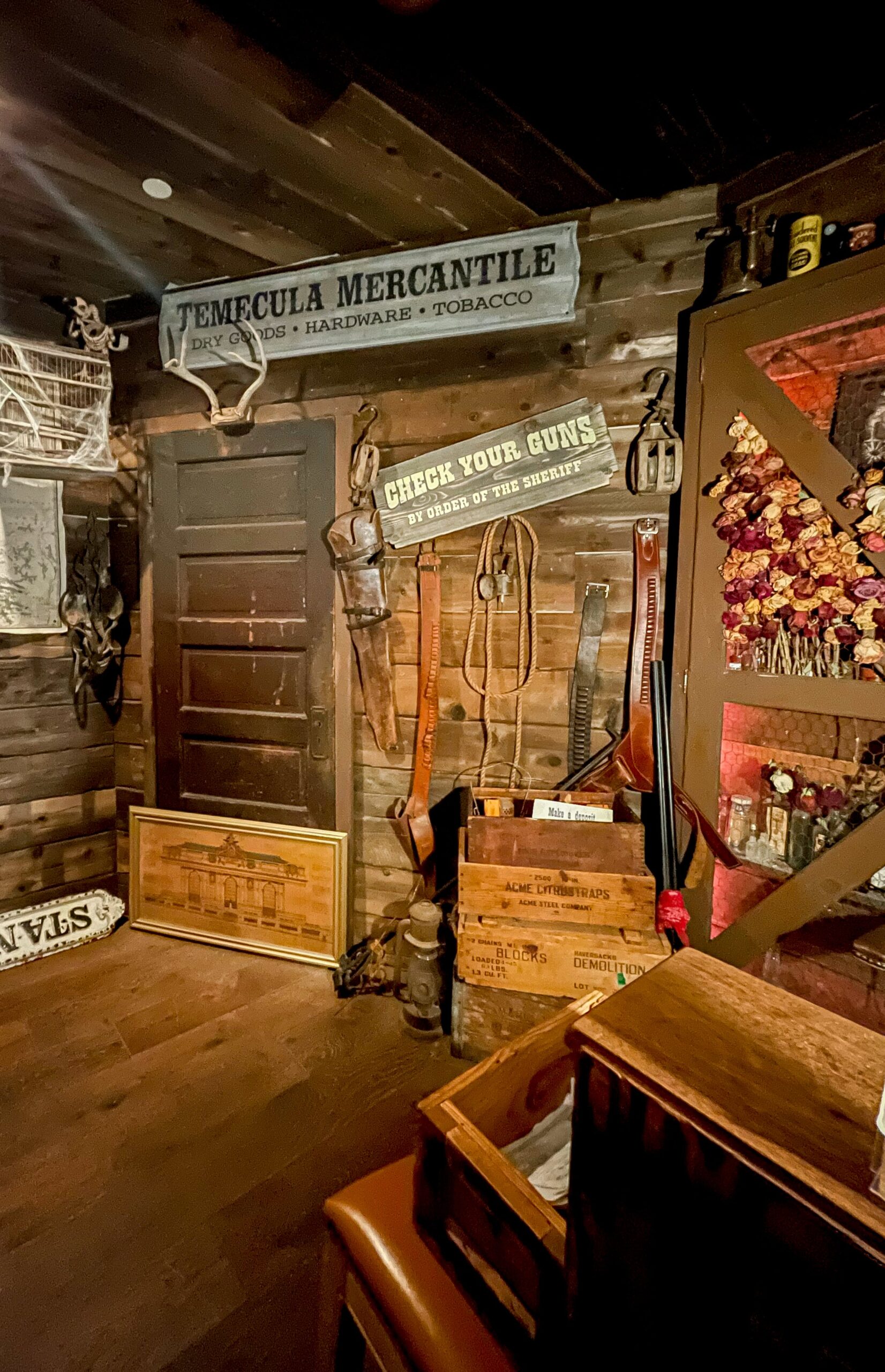 It is a speakeasy, so the entrance is hidden but you can access it through Crush & Brew restaurant. The entrance into this bar was a really fun experience. You're taken behind velvet curtains through a decorated hallway which is on theme the entire way through. Then the bar reveals itself as a large room with high ceilings and no windows fully redone as a Western saloon. What an experience!
The drinks at Thompson & Twain were amazing. We planned on having just one, but after tasting the Gold Strike cocktail, our entire group decided to stay a bit longer and order another round. The drink menu highlights whiskey drinks, which I certain don't complain about, but there are other options as well.
You can also order the "Roll the Dice" and have the bartender make you something special!
Thompson & Twain is 21+ and reservations are highly recommended. So plan in advance, and be sure to add this stop into your Temecula itinerary.
TLDR: Western Saloon Speakeasy
What to Order: Gold Strike
10. COIN OP GAME ROOM
Whether you're visiting with kids or adults, the Coin Op Game Room is a fun spot to let loose and play around for a bit. They have ski ball, pinball, DDR, vintage arcade games and sports games. Plenty of options to keep you and/or your kiddos entertained.
As we walked by, I spotted an old game I used to play as a kid on our Intelevision console (yikes, I feel old). So of course, we had to stop and play a few rounds of Burger Time!
Coin Op also serves a full menu and a full bar including boozy slushies and their own signature booze pouch served in a Capri Sun style pouch container. Talk about a blast from the past!
They serve happy hour Monday through Friday from 4-6pm with discounted drink specials. The prices are affordable and they do open free play every Saturday and Sunday after 5pm.
TLDR: Arcade for Kids and Adults with a Full Bar
Cuisine: American Bar Food
What to Order: Booze Pouch
11. LANDEROS MEXICAN GRILL AND CANTINA
When you walk in to Landeros Mexican Grill you'll immediately notice the large decorated wood tree that makes a colorful statement piece. The restaurant has a trendy vibe to it, but is very cozy and inviting.
The margaritas were my favorite part of the experience; perfectly refreshing and they had several unique flavors. The Mariposa Margarita with guava and rose was my favorite.
We ordered a combination plate to share with rice, beans, a chicken enchilada and a beef taco. And of course they serve you plenty of chips and salsa. Delicious!
Landeros is closed on Mondays.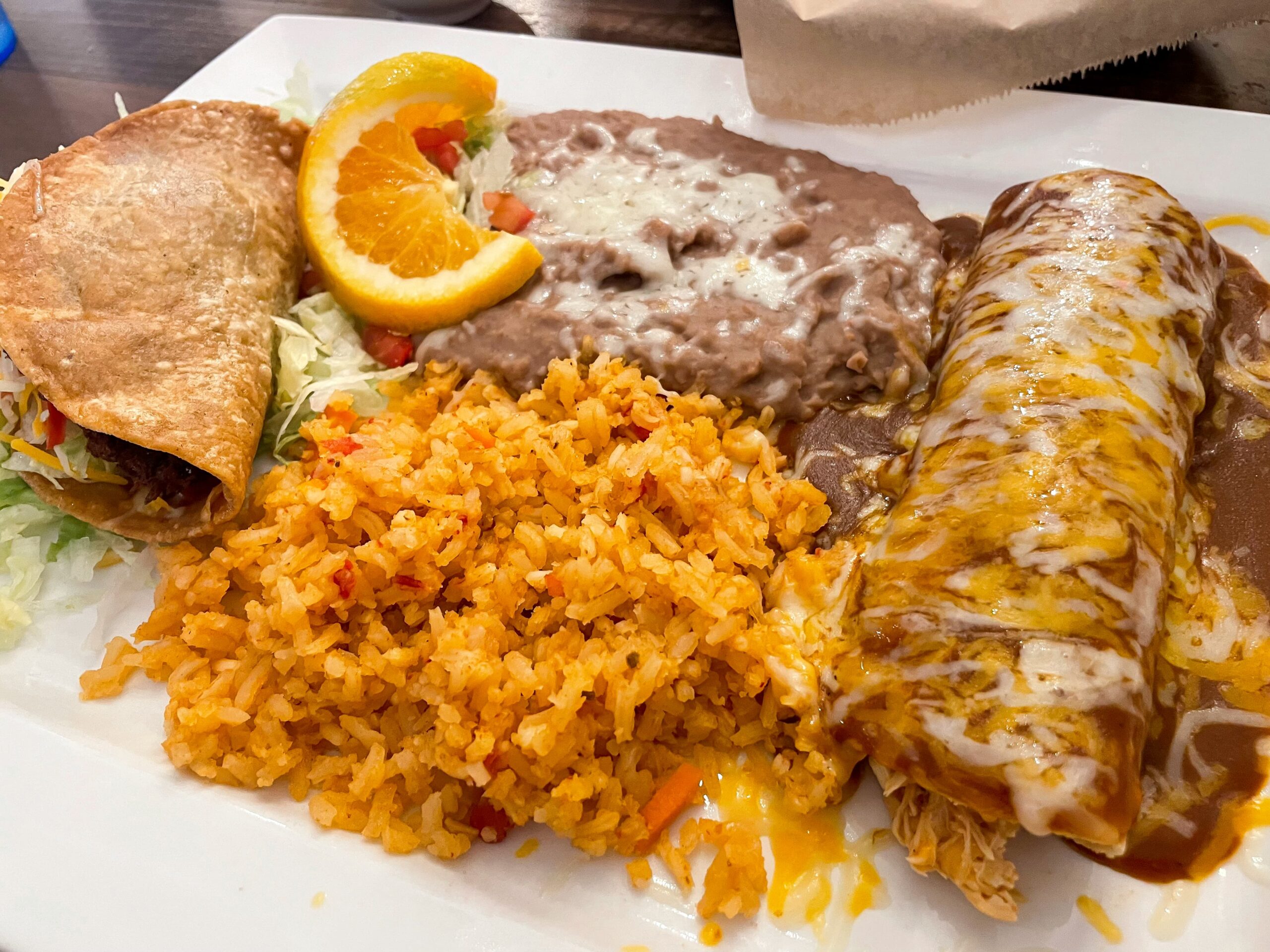 TLDR: Trendy Fresh Mexican Restaurant
What to Order: Mariposa Margarita, Enchiladas
12. PUBLIC HOUSE
PUBlic House is the kind of place where you can kick back with friends, sip on craft beers, and order way too much pub food.
The restaurant is partially made up of a renovated old buildings, with a garden patio, and a porch with industrial decor. It's fun, it's energetic, it's laid back. And they have live music Friday through Sunday.
The drinks are all great and they have a good selection of specialty cocktails.
Order their creamy mac and cheese and then make it your own by adding bacon, hot Cheetos, truffle and/or tomatoes. I'm obsessed with goat cheese, so the Goat Toast with herbed goat cheese, sourdough, roasted tomatoes, balsamic reduction and citrus green is obviously my number one choice.
PUBlic House is closed on Mondays and Tuesdays. Go for brunch, served every day that they're open, stop by for happy hour or make it your landing spot for dinner and live music.
TLDR: Fun Indoor/Outdoor Gastropub with Live Music
What to Order: Mac and Cheese, Goat Toast, Smokin Peaches, Dragon Bubbles
---

Unforgettable Day Trips from Los Angeles
Best of Napa, A Weekend Itinerary
Foodie's Guide to the Anaheim Packing District
---
Don't Miss Out on The Best Old Town Temecula Restaurants
If you're planning a visit to Temecula, save this list of the best Old Town Temecula Restaurants and Cocktail Bars to save yourself valuable research time.
Let me know in the comments if you've visited any of these great spots yet, or have plans to visit soon!
Happy travels!
-Hannah
This post was all about the best Old Town Temecula restaurants.