Hey Love Portland, an Instagramable Restaurant with a Bold Menu
Are you looking for a fun Portland Restaurant for a night out?
We recently visited Hey Love in Portland with some friends, and it's now one of my favorite Portland spots!
If an online quiz exists that tells you what your "spirit restaurant" is, I already know that mine would be Hey Love.
The place was covered in plants, which is always a vibe, and the menu was intriguing with unique flavors for both the cocktails and food.
In this post, I'll share all about what we ordered and how to plan your visit to Hey Love Portland!
This post is all about visiting Hey Love Portland.
This post may contain affiliate links, which means that I may receive a commission if you make a purchase using these links at no cost to you. As an Amazon Associate I earn from qualifying purchases at no additional cost to you.
About Hey Love in Portland
Hey Love is a trendy cocktail bar and restaurant in the heart of Portland, Oregon on East Burnside. It opened in 2018 led by several well-known Portland bartenders with a lot of buzz from the Portland food scene.
Location
Hey Love Portland is located inside the Jupiter NEXT hotel adjacent to the Lobby in Portland, Oregon.
920 E Burnside St, Portland, OR 97214
Hours
Monday 3pm – 12am
Tuesday 3pm – 12am
Wednesday 3pm – 12am
Thursday 3pm – 12am
Friday 3pm – 1am
Saturday 10am – 1am
Sunday 10am – 12am
Hey Love Happy Hour
Monday through Friday from 3-5pm
Vibe
After being greeted by a neon sign outside that reads "Have a Relax" (don't mind if I do), you'll enter through the Jupiter NEXT Hotel Lobby, which is also a trendy sitting area with a bar and fireplace.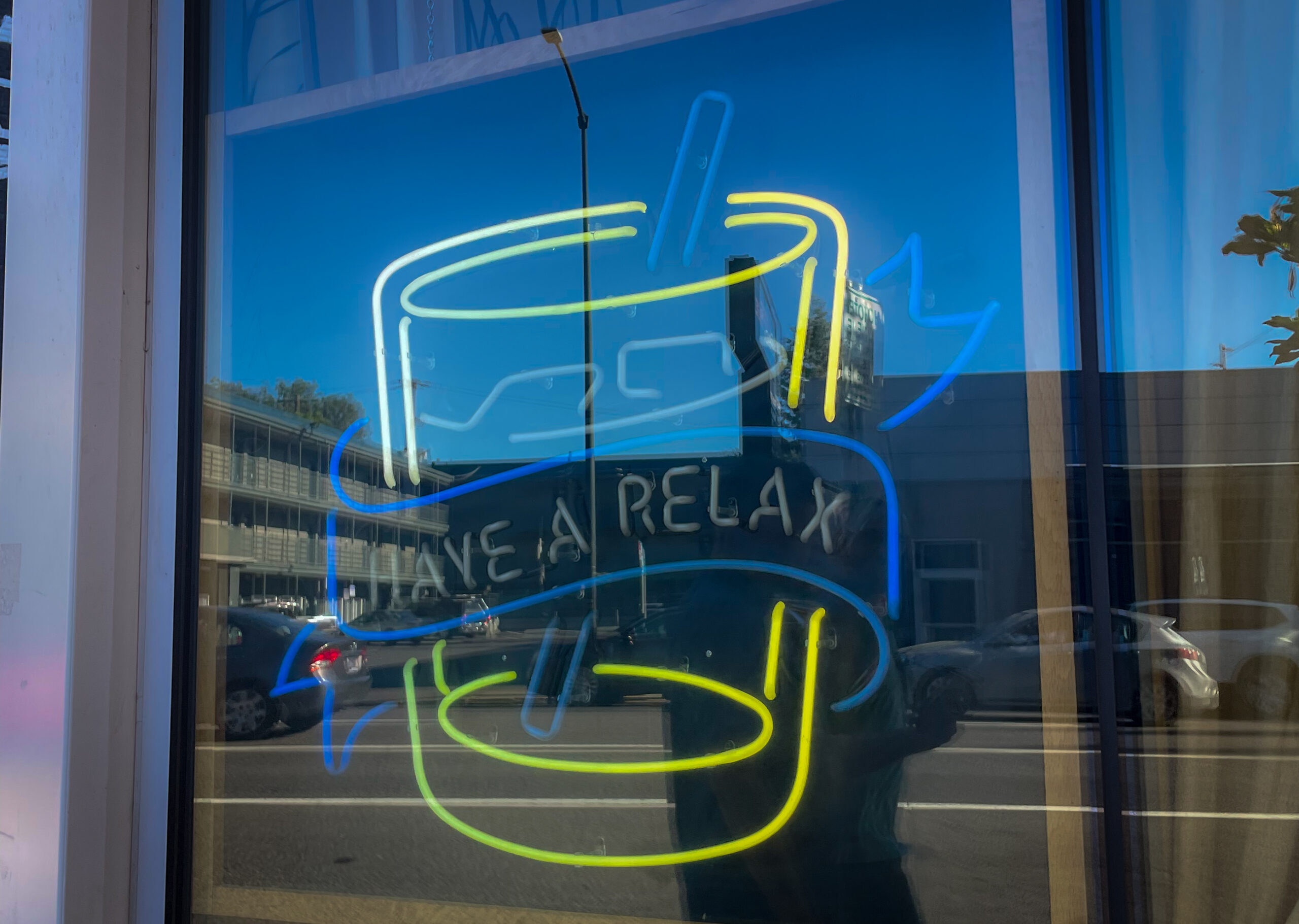 Hey Love is a summery plant paradise that is a much needed escape in a place like Portland with 9 months of rain and clouds. If you need a daily dose of sunshine, this should do the trick!
The place is filled with local art, vintage photos and plants at every corner, including the ceiling.
I'd love to know how long it takes them to water all those plants.
It's comfortable, but energetic and I could hang out there ALL night if you let me.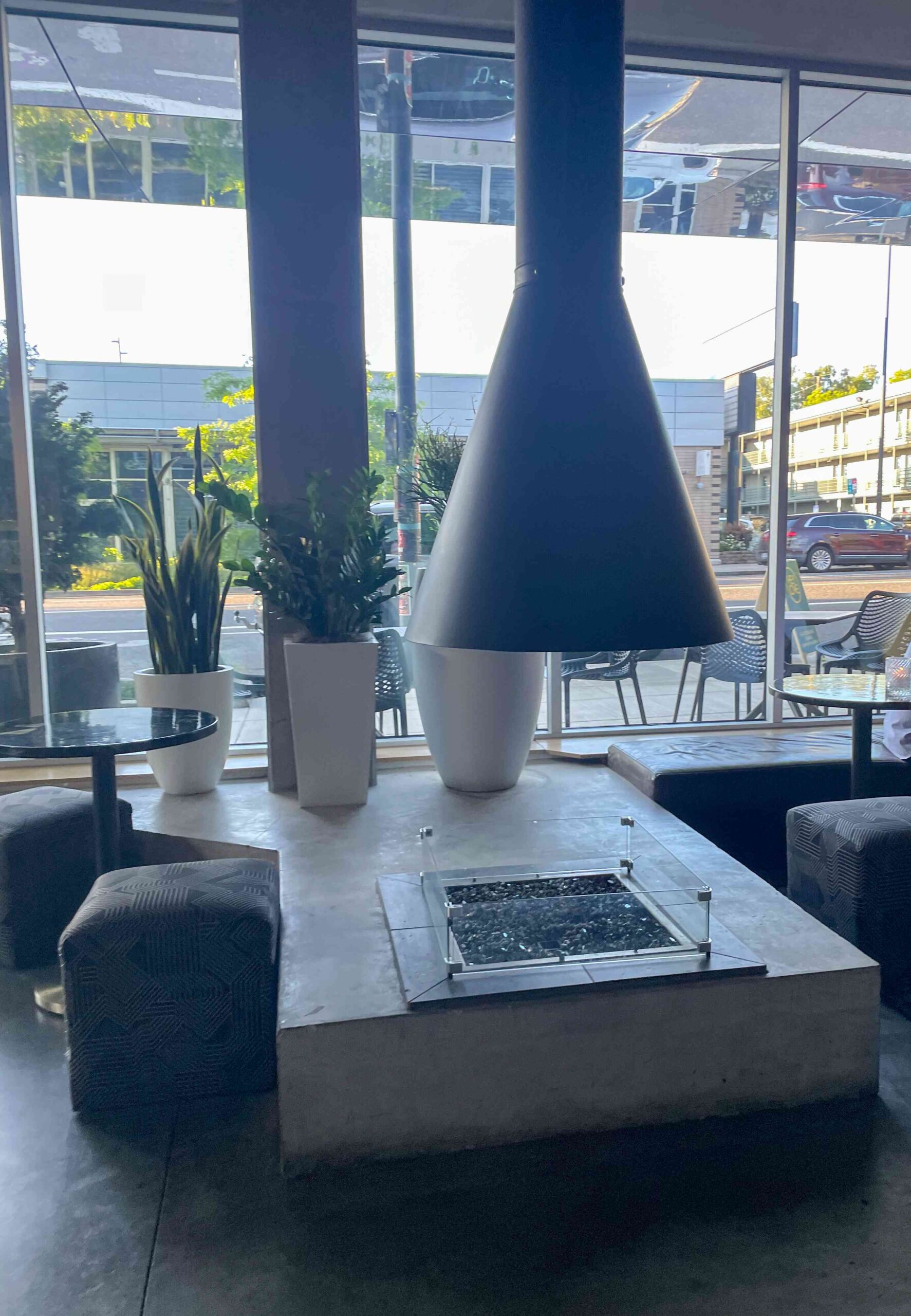 Hey Love Portland Menu
If you're even moderately food adventurous, you'll have a great time with the Hey Love Portland menu.
The flavors are creative and unique, taking somewhat simple menu items and putting a modern flare to it.
The menu changes frequently, so don't get too attached to specific things you see and hear about. I already see several new items on the menu since our visit just a few weeks ago.
But this adds to the adventure of it all because you never know what new and amazing dishes you'll find on your next visit. It also gives the team a chance to dream up new stuff and be creative. So just embrace it!
Drink Menu
The drink are where Hey Love Portland really shines!
The cocktails are playful, with creative cocktail names like "Sharon is Karen" and "Papa Don't Peach."
Cody got the "MASTER OF KARATE & FRIENDSHIP" cocktail which is a fancy strawberry slushee daiquiri topped with sprinkles.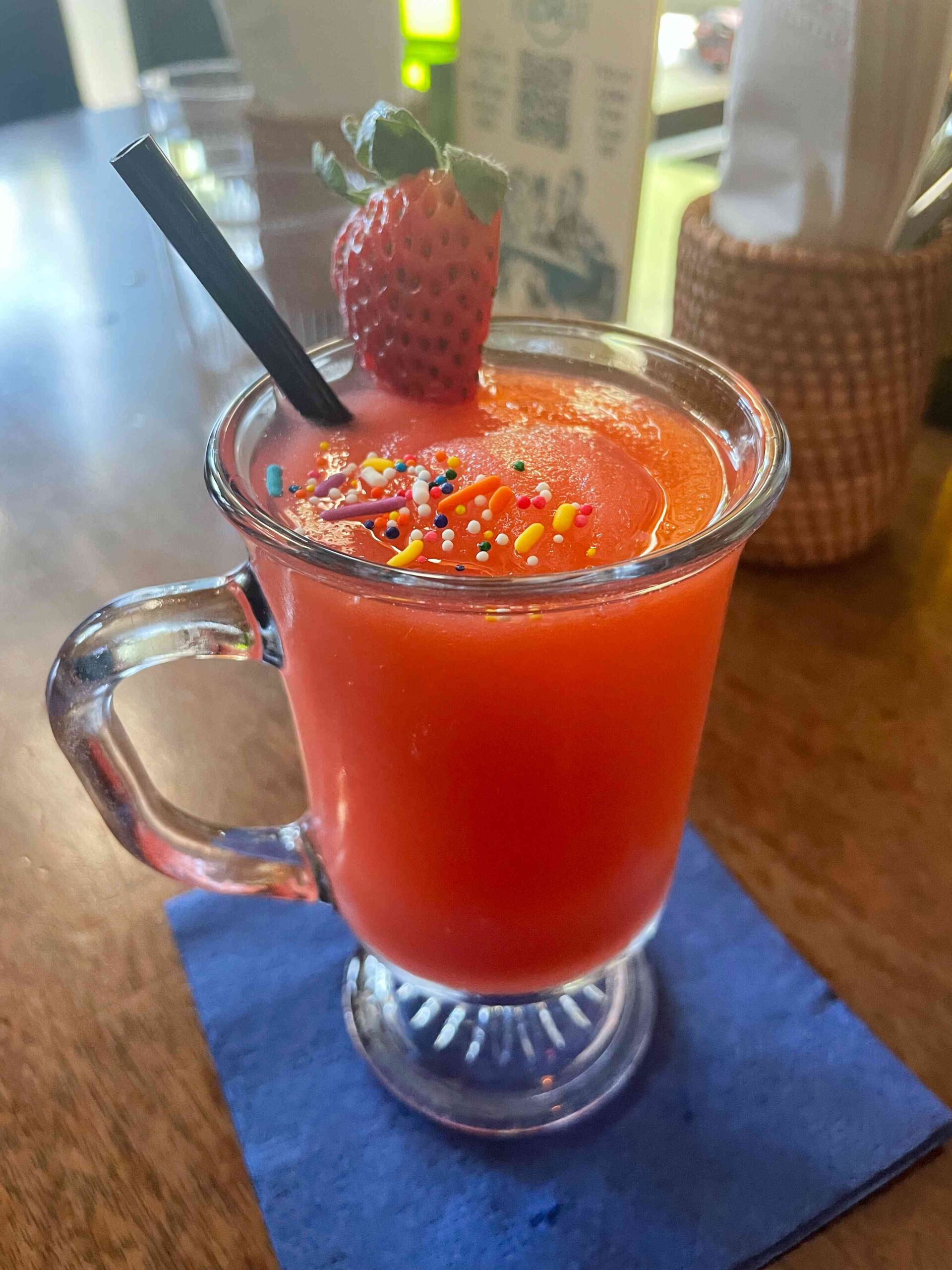 I ordered the "OAXACAN SUNRISE", a mezcal passion fruit margarita with a strawberry slushy float, served in a cactus glass with a hibiscus sea salt rim ($16).
Honestly they already had me sold at passion fruit margarita, but then you tell me it's served in a cactus glass and it has a slushee float on top?! I'm 100% in.
The flavor was great. It was fruity and tropical, but not too sweet. The smokey mezcal was a great balance to the sweetness and it was the perfect sipper cocktail!
If you're looking for mocktails or zero-proof cocktails, you can still participate in all the fun because they put a lot of through into a creative list of playful drinks without alcohol.
Dinner Menu
The dinner menu is great for either snacking or ordering a full meal. You can really pick your own adventure here.
We ordered the puffs, which were served with a delicious green salsa, lime, and tajin. Great for sharing and only $3!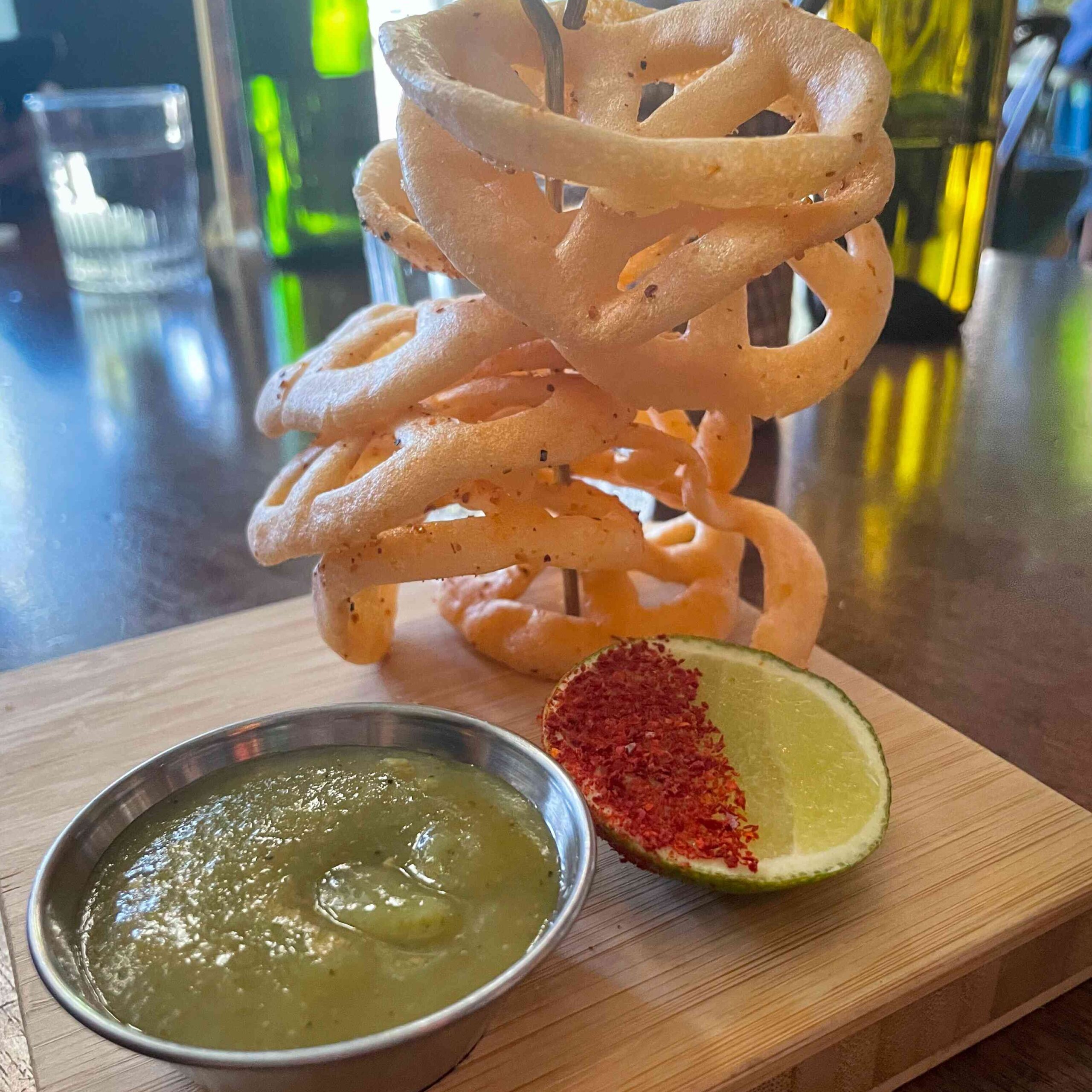 The "Summer Noods" was our collective favorite of the night. It was spicy and tangy and packed full of flavor.
I was intrigued by the Spicy Sausage and Pineapple Skewer they had listed on the menu, so we went for it. It was so unique and flavorful!
The sausage was juicy and moderately spicy. It was served with purple ube rice and a vibrant watermelon, jicama and pepper slaw that paired perfectly with the spicy sausage. We ate every last shred of food on this plate!
Plus, look at that beautiful piece of china it was served on! Fun surprises at every corner.
They have vegan options including a Vegan Ceviche and plenty of options listed on the menu that accommodate gluten-free, dairy-free or vegan eaters.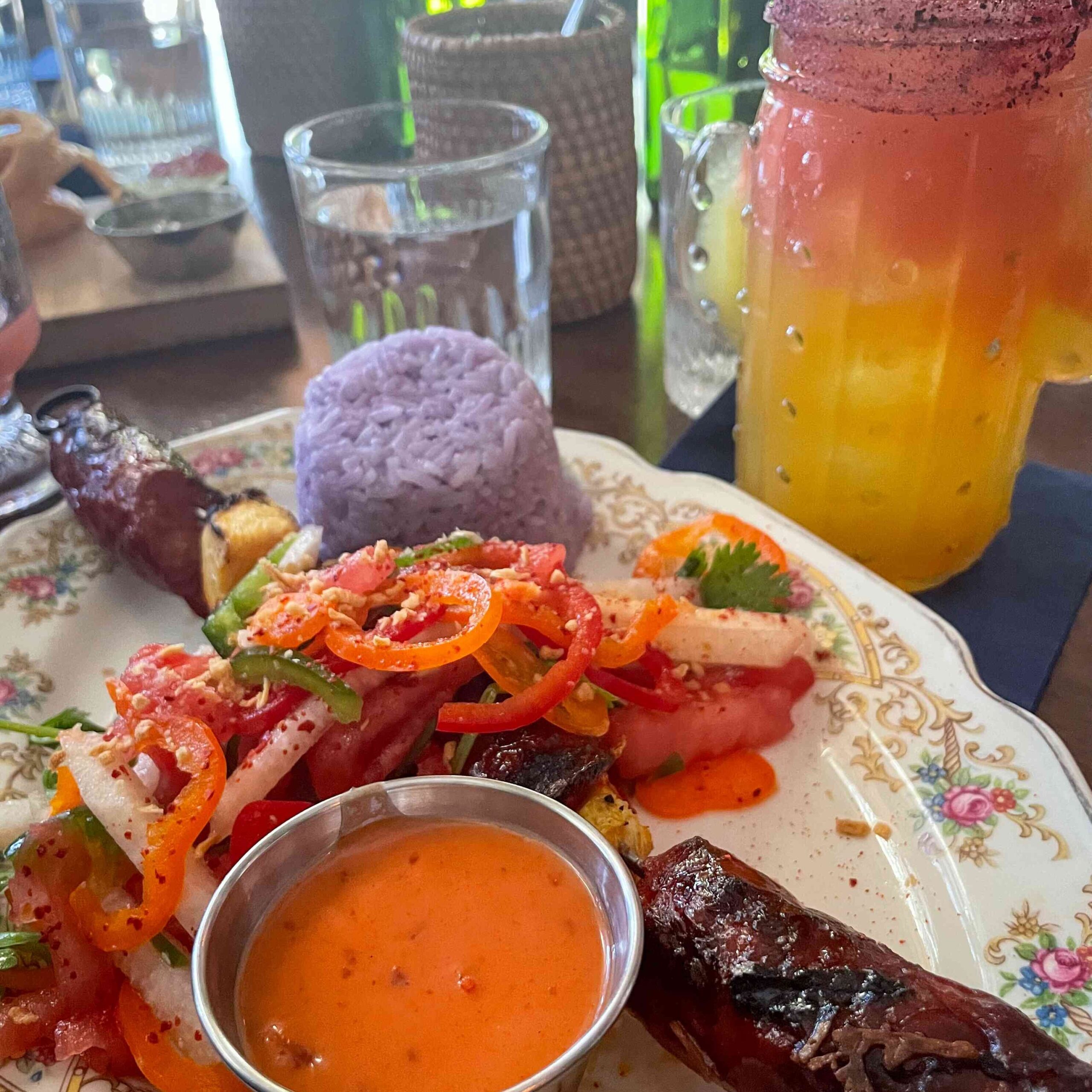 Brunch Menu
Brunch is available on Saturdays and Sundays from 10am – 3pm.
The brunch menu highlights look incredible!
You can go sweet with the "WAFFLE ALMONDINE" which has an almond cream, gingersnap coconut almond crumble and rum maple syrup.
Or combine breakfast and dinner with their "CROQUE MADAME BURGER", a half-pound burger with Canadian bacon, mornay sauce, melty Swiss cheese, sunny side up egg, conichon aioli and mustard on a brioche bun.
Prices
I was pleasantly surprised by the approachable prices at Hey Love. Sometimes you pay for the vibe at a trendy spot like this (also I bet it costs them a lot just to water those plants).
But with drinks averaging $11 – $14 each, and food items averaging $10 – $16, this menu is well-priced even outside of Happy Hour.
Happy Hour
If you want an even better deal, check out the Happy Hour at Hey Love in Portland from 3 – 5pm on weekdays for discounted cocktails, apps, wine and draft beer.
I love when restaurants put their regular menu items and cocktails on happy hour instead of well drinks, bottled beer and mediocre snacks. Hey Love gives you the chance to try what they're known for at a discounted price, so it's a definitely win (assuming you can get off the clock early enough).
Does Hey Love Take Reservations?
Hey Love in Portland does not accept reservations, and operates on a walk-in basis only.
---

Screen Door Portland, A Southern Gem Restaurant
---
FAQs
Are dogs allowed at Hey Love Portland?
No, the restaurant is indoors.
What time is Happy Hour at Hey Love Portland?
Happy Hour at Hey Love is from 3pm to 5pm Monday through Friday.
Is Hey Love good for a large group?
There are several larger tables in the bar area which are good for groups. I would recommend calling the restaurant in advance to discuss your large party before you arrive.
What is the phone number for Hey Love Portland?
503-206-6223
---
Check Out Hey Love in Portland!
If you're a local or planning to visit Portland, make sure you check out Hey Love in Portland for a delicious, instagramable night out.
It gets a thumbs up from me in every category for vibe, menu, prices and tasty cocktails.
Drop in for a visit, "have a relax", and then let me know in the comments what your favorite item was.
Happy eating!
-Hannah
This post was all about visiting Hey Love in Portland.