Virgin Hotels Las Vegas Review, My New Favorite Foodie Escape
I'm usually a fan of staying on the strip, but after staying at The Virgin Hotels Las Vegas Resort, I may have been converted.
I have now stayed in nearly every single hotel on the strip while commuting to Las Vegas for work. This one ranks super high on my list, and thus the reason we've returned several times since discovering it. We even worked remotely from The Virgin Hotel so often we started calling it our "second home."
The pools, the decor, the food, and the whole vibe are right up my alley. It felt like they designed it based on my Pinterest boards. The restaurants are are all top-notch so you can go days without leaving the resort if you want. Plus, it's not far from the strip so you can still jump right into the Las Vegas nightlife.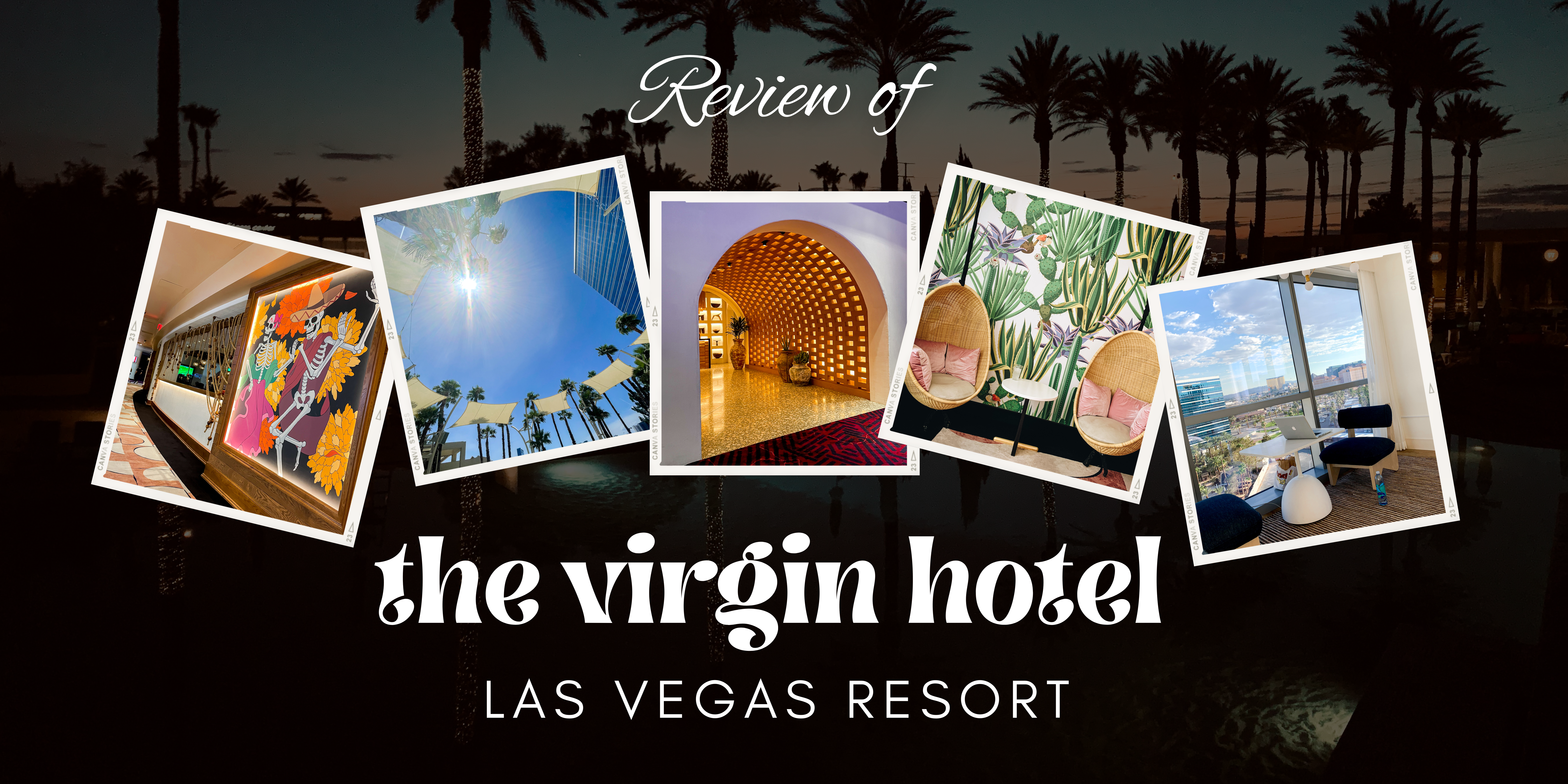 This post is all about the Virgin Hotels Las Vegas resort.
This post may contain affiliate links, which means that I may receive a commission if you make a purchase using these links at no cost to you. As an Amazon Associate I earn from qualifying purchases at no additional cost to you.
In this post I'll break down everything you need to know about staying at The Virgin Hotels Las Vegas resort and how to book the room with the absolute best view!
Virgin Hotels Las Vegas Review
About the Virgin Hotels Las Vegas Resort
The Virgin Hotel in Las Vegas opened in March 2021. Originally the property was the home of the Hard Rock Hotel and Casino. However, in 2018, the property was acquired by the Virgin Group and underwent a massive renovation.
In my opinion, The Virgin Group did a beautiful job fusing the retro Las Vegas vibe with modern and airy decor. The gold entry way, gold accents and artistic nods to the desert pair nicely with the bold red colors and flashy Vegas attitude.
Location
I was hesitant to book a room off the strip because I love being where the action is. But The Virgin Hotel is still quite close to the strip and I actually think it's better for it.
It wasn't overcrowded and it had a more relaxed vibe compared to the other big casinos, but still plenty of buzz to keep you interested. It feels more like a beach resort with gambling tables, rather than hotel rooms stacked on top of a massive casino. You can still gamble and live the Vegas experience, but they aren't relying on pulling in foot traffic from the strip. So it has a much different atmosphere, which I loved.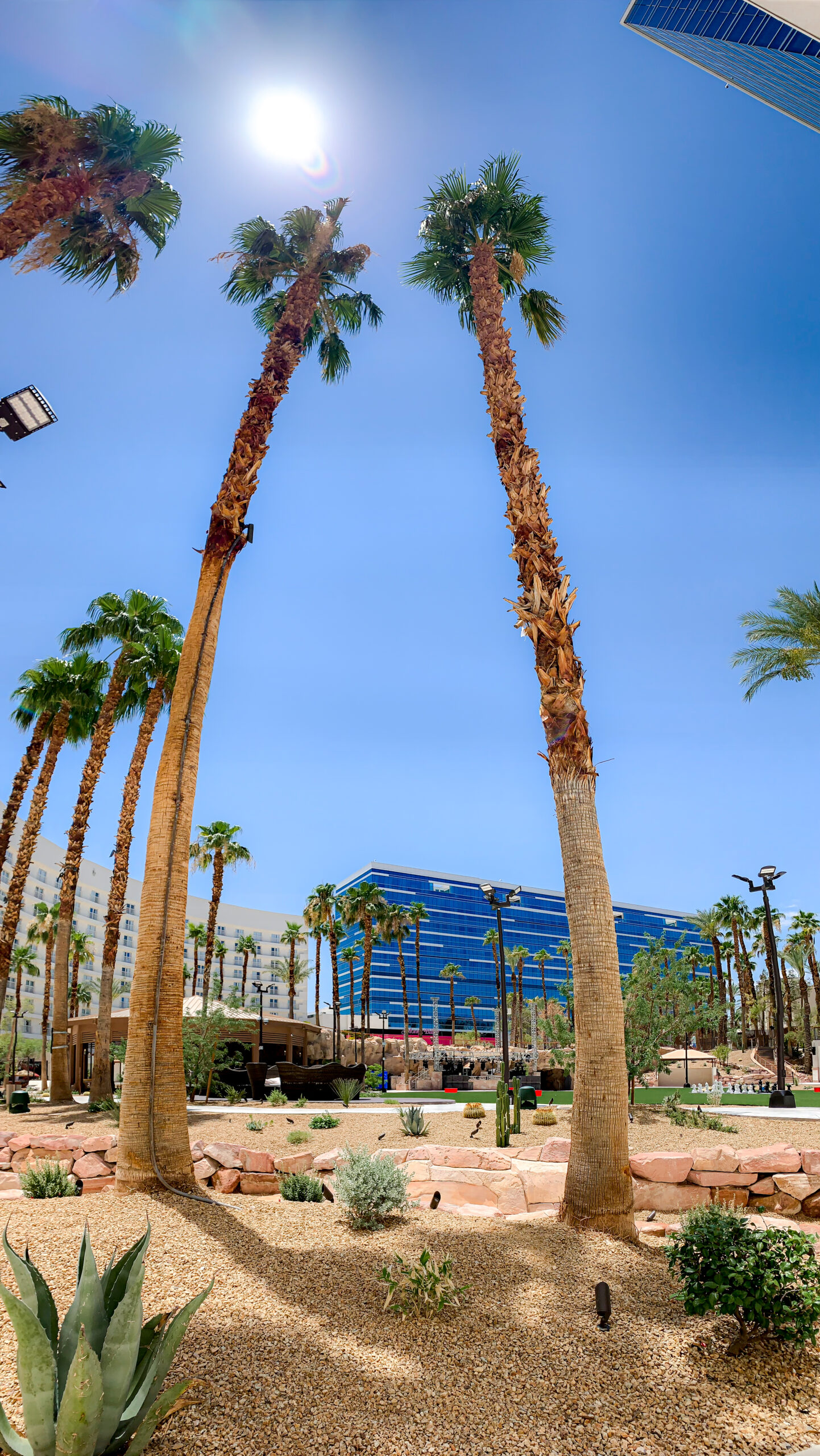 How far is the Virgin Hotel from the strip?
The Virgin Hotel is just over 1 mile east of the Las Vegas strip. It sits parallel to Planet Hollywood on E Harmon Ave. You can expect a quick 5-minute Uber ride or drive to reach the strip.
Is it walkable from The Virgin Hotel to the strip?
Maybe. It takes about 20-25 minutes to walk from Planet Hollywood to the Virgin. If you are further north or south on the strip it would take longer.
It also depends on the weather. You don't want to walk it in the scorching heat. I've done the walk before at night when it was cool, but it's definitely a trek and not a comfortable walk to do over and over.
The good news is that there is so much to see and experience at The Virgin that you won't want to leave often! If you really want to experience the strip, consider booking a few nights at The Virgin and a few nights on the strip to get the best of both worlds.
How far is the Virgin Hotel from the airport?
The Las Vegas International Airport is just 2 miles from The Virgin Hotel, both located on the east side of the strip. This makes it a quick and easy Uber to the airport without much traffic.
Rooms
I've had the pleasure of staying in several rooms and towers at The Virgin Hotels Las Vegas, and let me tell you, they're all top-notch. Unlike other outdated resorts on the strip where a basic room might look like the 1980s and probably smell funny, all of the rooms here are clean and comfortable. So you won't be disappointed if you book the standard Chamber rooms.
All of the rooms are well-decorated and spacious. They all have a hallway with a large closet and vanity which opens into a sitting/living area and a super luxurious bed. The standard Chambers Rooms are available in a King Bed or Double Queens.
The BEST Room at The Virgin Hotel Las Vegas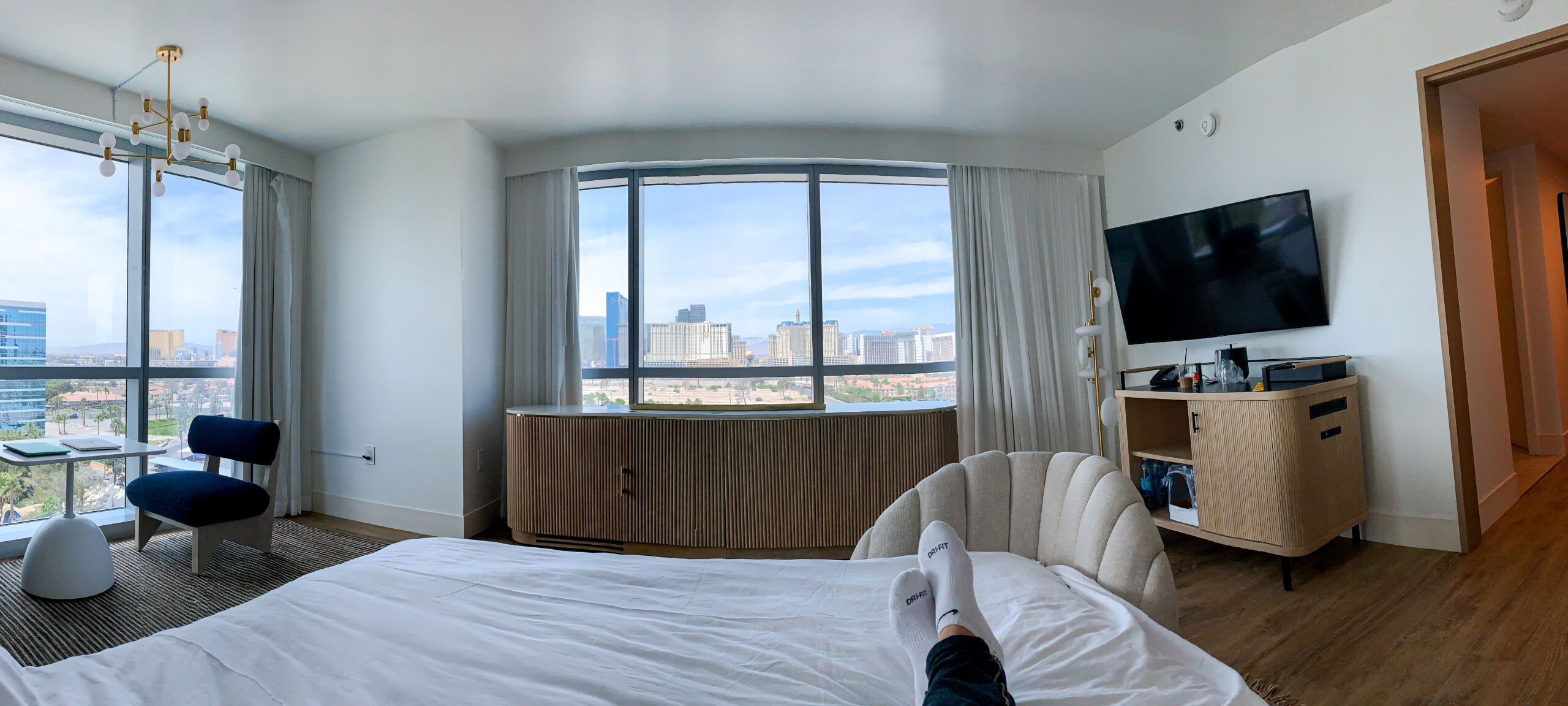 But here's the real gem: I upgraded to the King Grand Corner Chamber suite twice, and omg was it worth it! Sure, the 604 sq ft of luxury was nice to have, but the views of the strip were absolutely stunning! Trust me, upgrading to this room makes all the difference!
The corner room is what really makes the experience because your room will be at the end of the tower. We woke up every morning to the most beautiful view of the strip from a distance.
You not only get a view of the strip, but you get an incredible view of the pool from the other side. We spent time working at the table, counting down the minutes until we could clock out and hit the pool. I should mention that some of the Corner Chamber Suites do not face the pool, but you'll still have an incredible view of the strip.
Although I haven't tried out the Ruby Tower yet (the black windows in the photo below), it's definitely on my list for future visits as it's known as the more luxurious tower at The Virgin.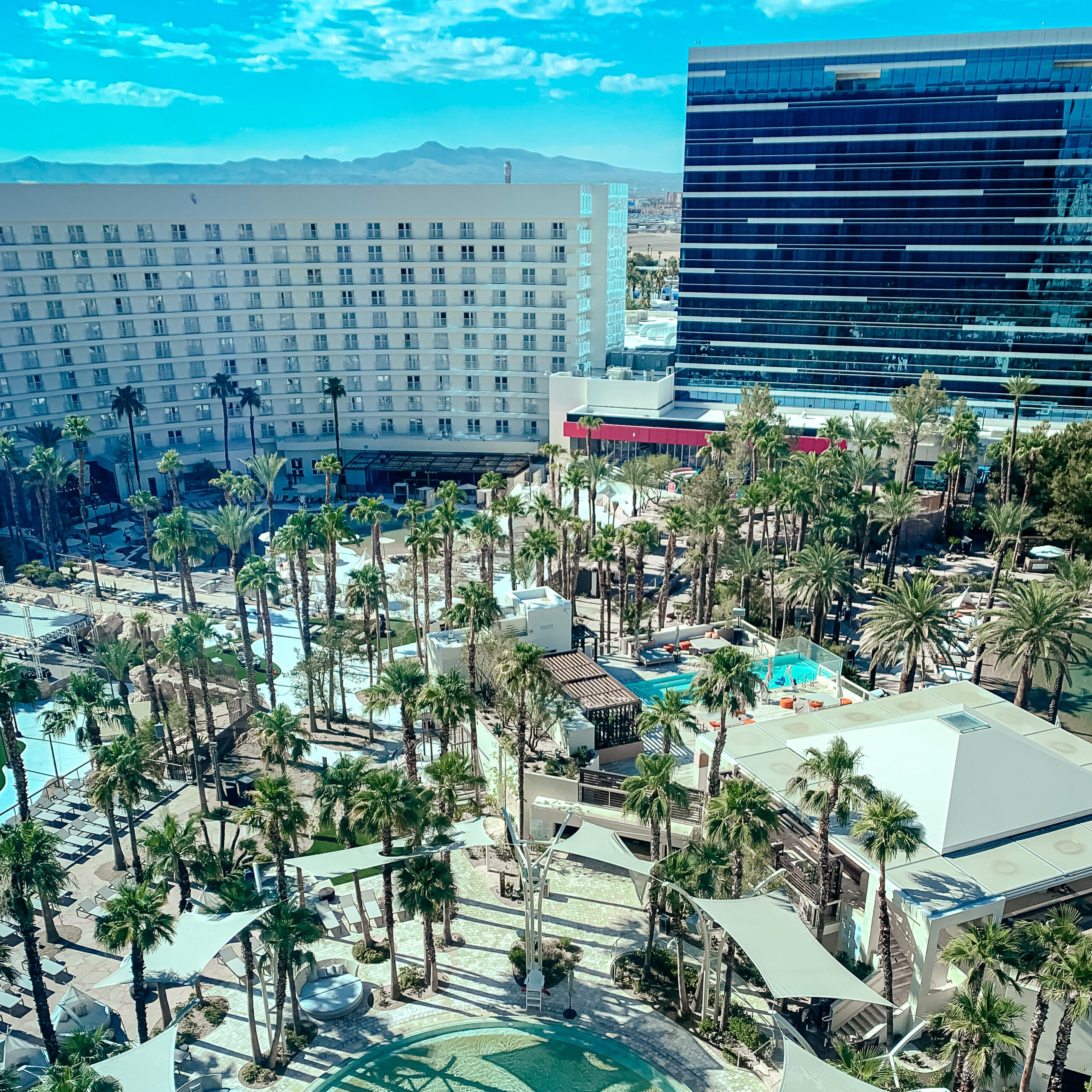 How to Reserve a King Grand Corner Chamber Suite
When making your reservation, you can select the King Grand Corner Chamber Suite if you want to guarantee it. This might be the way to go if you're traveling on a weekend when it's less likely to be available at checkin.
Or in my case, I booked a standard room and then asked for pricing on an upgrade when I checked in. I was able to get it at a super low rate (I think around $15-$20 more per night)!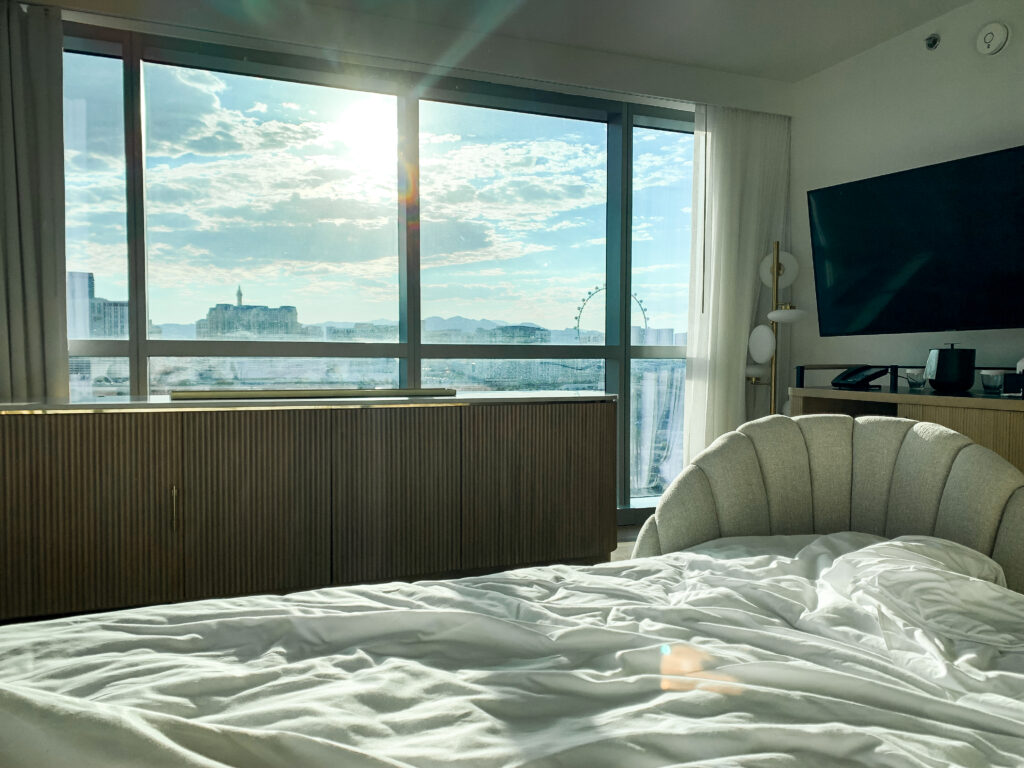 Keep in mind that this was not too long after The Virgin opened and pricing and demand have increased since then. But asking at the desk is still worth a try! If they haven't sold the room yet, they're more likely to give you a good rate for the upgrade.
I also traveled mostly on weekdays, which are much more affordable. If you can travel during the weekdays, you will find much bigger savings (especially in Las Vegas).

Restaurants
Now, let's dive into the important stuff – the food!
The dining options at the Virgin Hotel are seriously impressive. Virgin is known for taking pride in their dining choices, and you won't be disappointed in anything you order. The only thing that could have made this experience better is if it were all inclusive, which is why a Virgin Cruise is on my bucket list!
Here are some of my favorite restaurants on property at The Virgin Hotels Las Vegas.
1. Kassi Beach House
Not only is Kassi Beach House one of my favorite restaurants at The Virgin Hotel, but it's a spot I frequent on any trip to Vegas regardless of where I'm staying.
The vibe is darn near perfect, and the food is incredible! The menu is Italian coastal cuisine, which you can enjoy on their patio overlooking the beach pool. Doesn't get much better.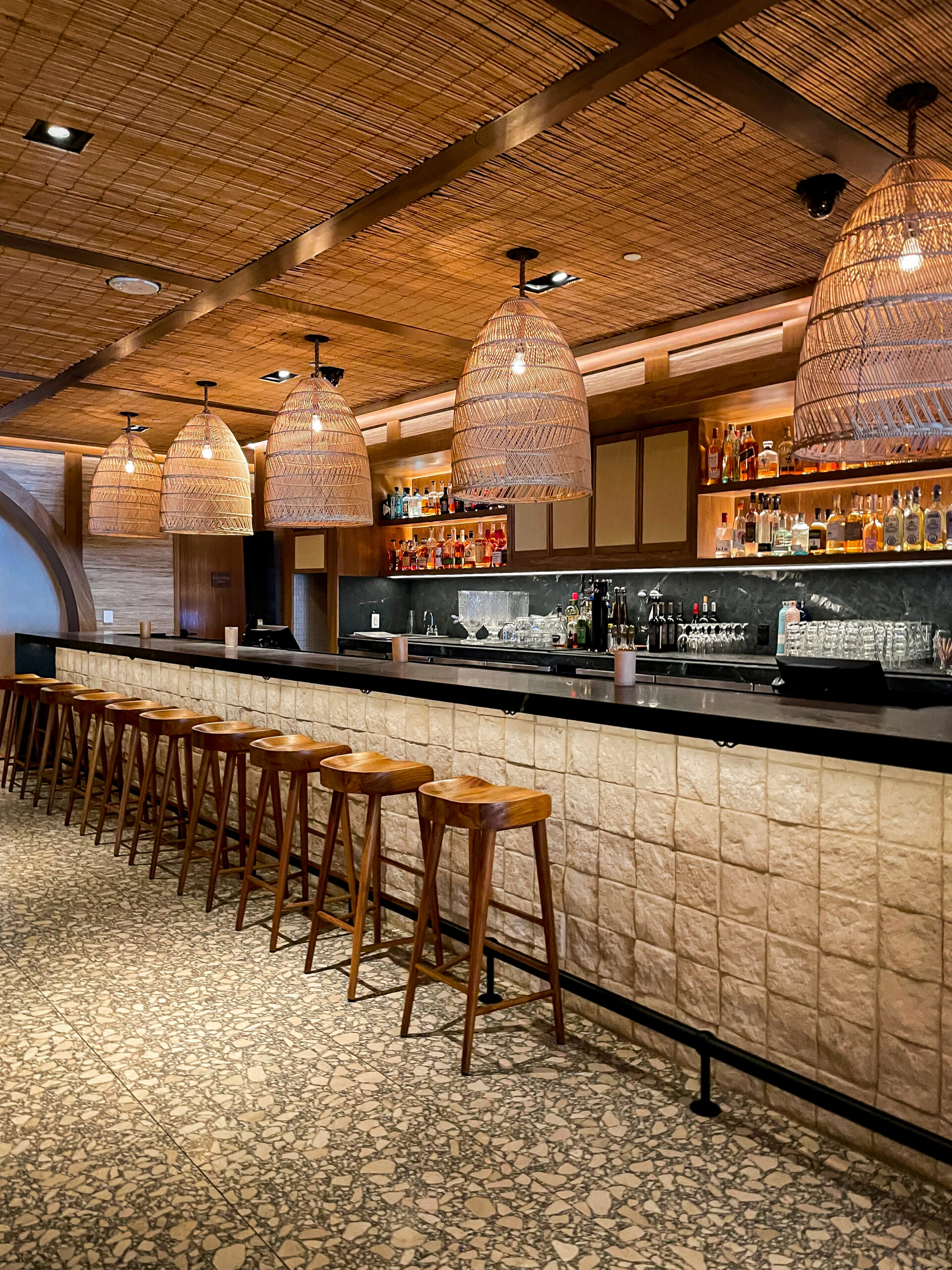 My favorites were the Whipped Ricotta and Honey Mezze and the Amalfi Slushie.
If you visit during the week, they offer several specials including a Wednesday Night House Party with a DJ and evening happy hour specials like 50% off pasta and select drinks starting at 9pm. There's too much to say about this incredible restaurant in this post, so follow the link below for details.
Learn all about what to order, my favorite dishes, weekly specials, and more in my Kassi Beach House Restaurant Review.
2. Casa Calavera
Who doesn't love good Mexican food?
Brought to The Virgin Hotel by the Tao Hospitality Group, Casa Calavera has a fun, colorful vibe and killer margaritas.
They even have a live mariachi band that performs every Sunday!
Of course, if you're there early in the week you'll want to visit for Taco Tuesday. The happy hour at Casa Calavera is also great deal, and offered Sunday through Thursday from 3-5pm.
3. Funny Library Coffee Bar
There are coffee makers in each room, but if you're like me, drip coffee just won't do.
Every morning we stumbled our way down to Funny Library Coffee Bar, which had a lot of coffee options and delicious pastries as well. In true Virgin fashion, there were plenty of adorable sitting areas to sit and enjoy your coffee and wake up among good vibes.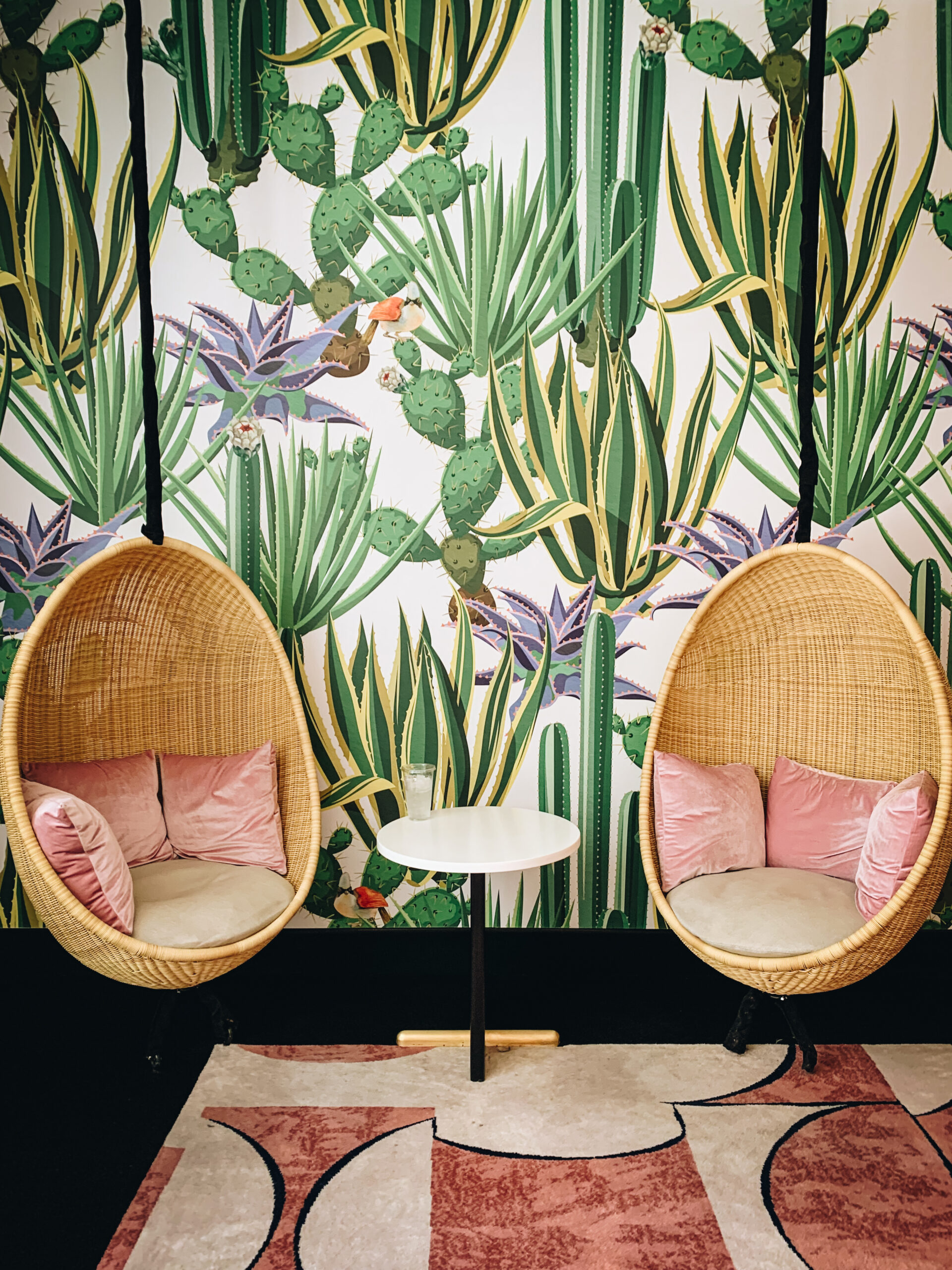 4. Afters Ice Cream
Afters is perfect for a treat by the pool on a warm day, or a fun place to take the kids. They have unique flavors like salty Oreo, milk and cereal, Thai tea, or the Instagram-worthy bright blue Cookie Monster ice cream. But Afters is most known for their signature "Milky Bun ™" which is two warm glazed donuts stuffed with their housemade ice cream. Yes, please.
5. Night + Market
This LA-based Thai restaurant is some of the best Thai food I've ever had. The dishes are meant to be shared, so it's a great time to order a bunch of things for the table and try it all.
There are three items that you MUST order from Night + Market: Party Wings, Crispy Rice Salad and the Coconut Rice. Thank me later…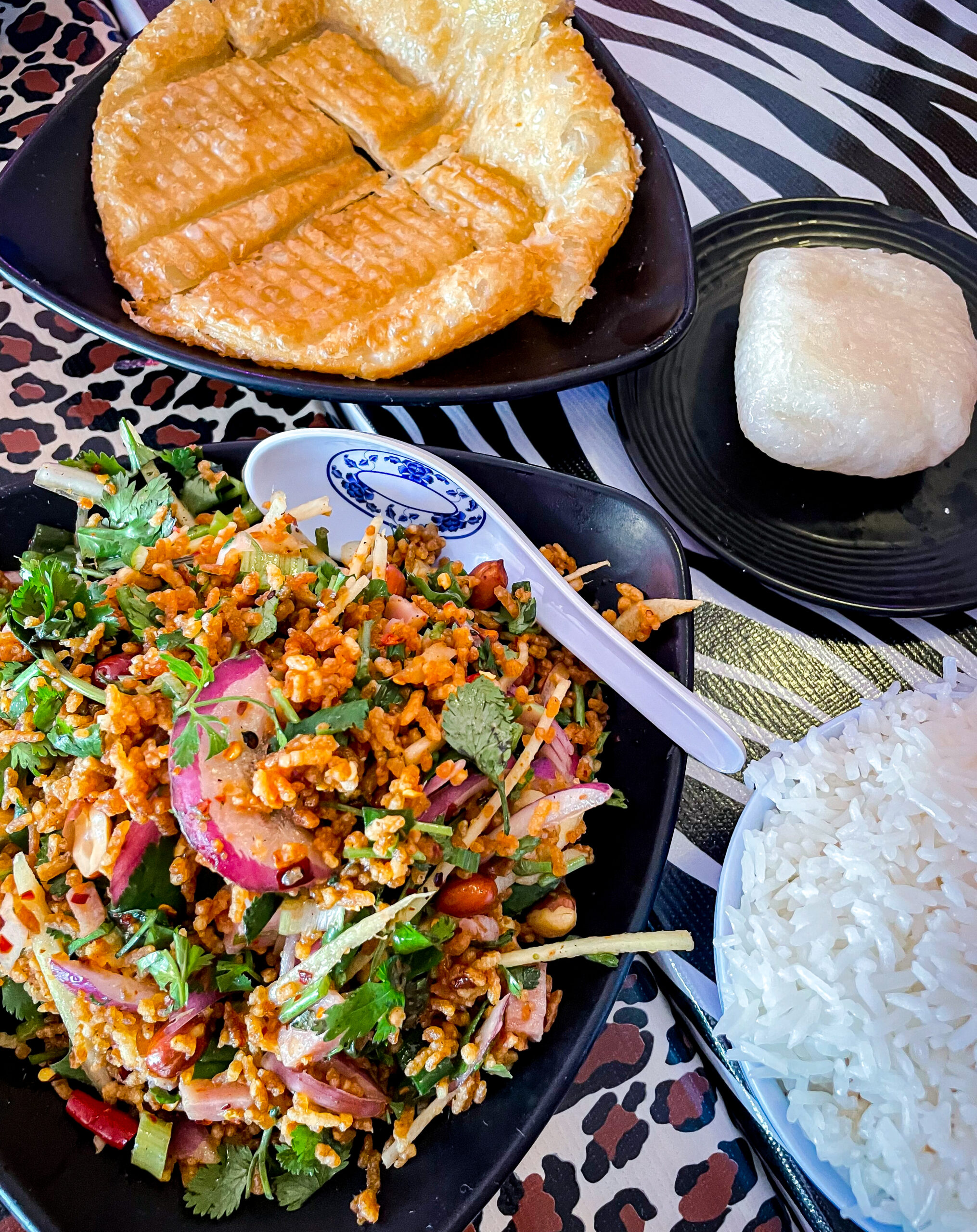 Pool
Ah, the pool at the Virgin Hotel is magic. It's like a beach oasis in the desert heat.
The pool area is the perfect spot to unwind and cool off after exploring the city, or enduring the grueling hard work of deciding what to order at Kassi Beach House for brunch. You can lounge in a chair poolside right in the sand, of course with a bar nearby so you can snag a pina colada or margarita.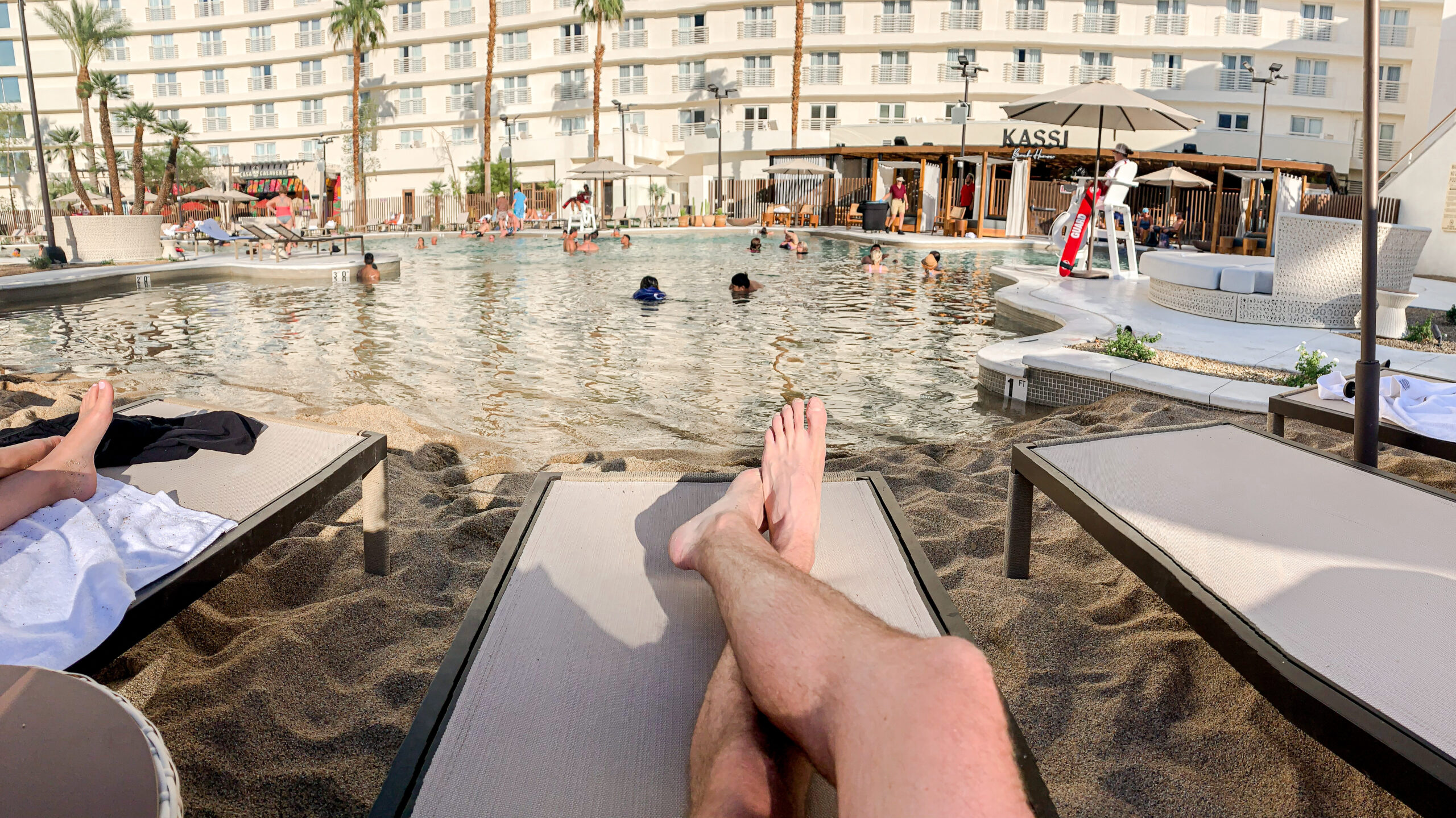 They also have a second pool in the upper terrace which is smaller. This pool is chilled, so it feels amazing during the summer months when the sun is blasting. The upper pool is more quiet and serene, and it also has a nice little view of the strip. We really enjoyed sneaking away up here with a cocktail in hand to relax.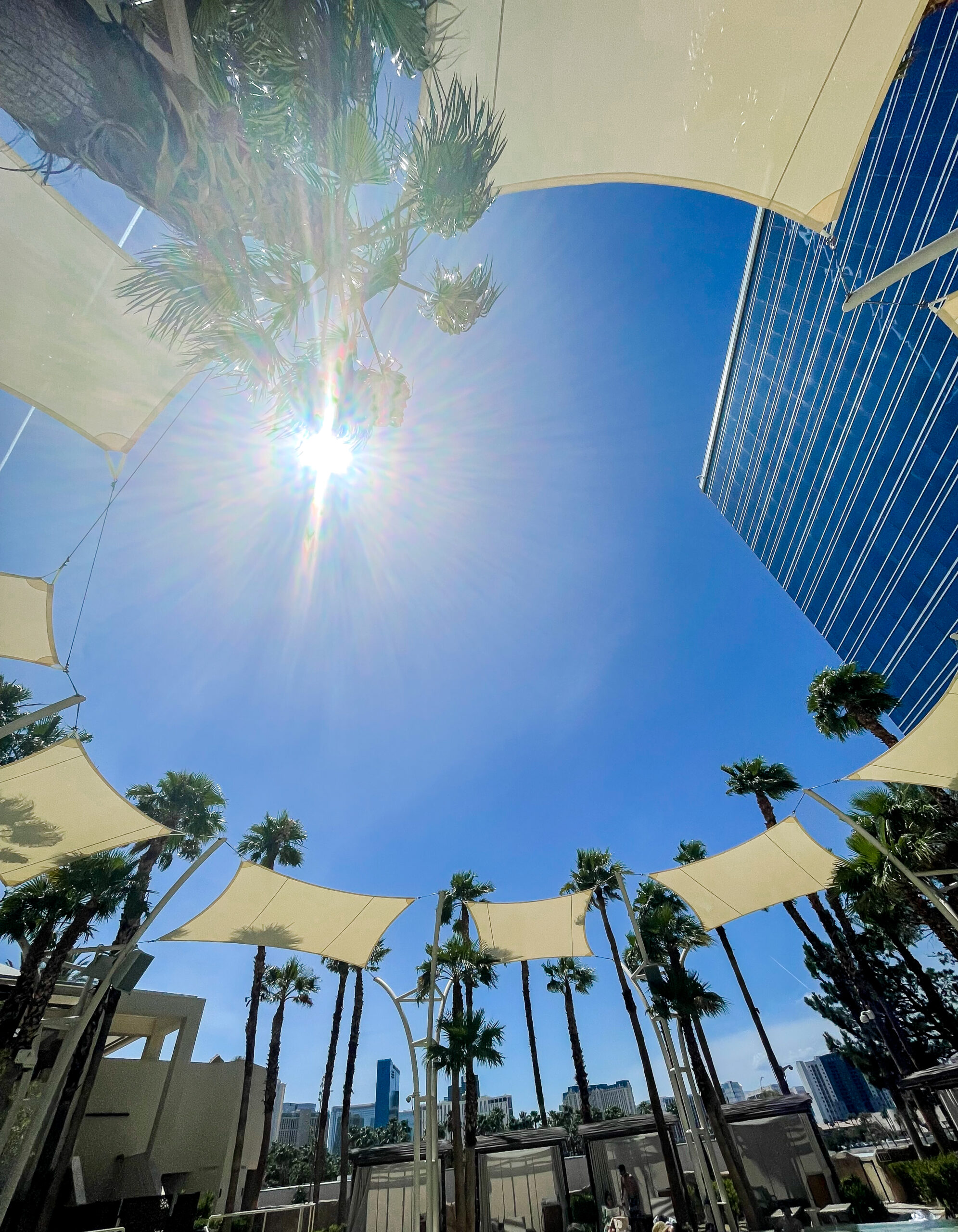 Élia Beach Club
One of the most fun ways to experience Las Vegas, especially with friends, is at a pool party!
Élia Beach Club at The Virgin Hotel offers an adults-only Mykonos-inspired pool experience with trending DJs and no cover charge. With its beach-like setting, poolside cabanas, incredible food and live entertainment, it's a popular spot for daytime pool parties.
Spa
I didn't have a chance to try the Spa at The Virgin Hotel Las Vegas, but it looks fabulous and it's definitely on my list for next time!
They offer massages, facials, and body treatments for guests 18+. Plus, the resort fee now includes a 20% discount on spa services and 15% discount on spa retail products.
Parking
The parking was easy and there were always plenty of spaces available for us. They offer both self-parking and valet services, but we opted for self parking.
Parking is free and there are two parking structure towers, the Ruby or Opal tower. So depending on which tower you're staying in, you can access parking relatively closely.
Price & Resort Fees
I was fortunate to stay here several times before they started charging a resort fee in 2022. Nearly all Las Vegas hotels do charge resort fees, so it's not going away and just something to factor into your budget. Plus, their $45/night + tax resort fee is pretty standard compared to other hotels in the area.
Keep reading for tips below on how to save money on your booking and get cash back.
What does the Virgin Hotel Las Vegas resort fee include?
High Speed Internet Access
20% discount on spa services
15% discount on spa retail
1 complimentary appetizer with purchase of 2 dinner meals at the Kitchen at Commons Club
2 for 1 drink vouchers to use at the Bar at Commons Club
Two bottles of water in your room
Live streaming in your room like Hulu and Netflix
Unlimited local, domestic long distance and toll-free calls
How to Save on Your Booking
I have had REALLY good success booking The Virgin Hotels Las Vegas using the Hopper app. Hopper runs occasional city-wide sales where all rooms in the city are either a flat dollar amount (ie. $40 off) or a percentage discounted! I always check Hopper first for Las Vegas hotels, and you should too.
Use the link above or promo code HANNAHF5WD for $10 off.
If there aren't any Hopper sales available, I look to third-party websites like Booking.com, Priceline or Hotwire so that I can earn cash back through Rakuten.
I have a few other strategies for finding great online rates which you can learn all about here: 7 Best Hotel Hacks to Save You Money.
FAQs
Is the Virgin Hotel dog friendly?
Yes, the Virgin Hotels Las Vegas resort offers dog-friendly accommodations when you reserve in advance and select one of their Dog Friendly rooms. Visit the Virgin Hotel website for more information about their pet policies.
Is the Virgin Hotel part of Hilton?
Yes, The Virgin Hotels Las Vegas is part of the Curio Collection by Hilton.
Who owns the Virgin Hotel in Las Vegas?
The Virgin Hotel Las Vegas is owned by the Virgin Group, an international company founded by Sir Richard Branson.
Which tower is the best in the Virgin Hotel?
There are three towers in the Virgin Hotels Las Vegas Resort each with their own unique style: The Opal Tower, The Chambers Tower and the Ruby Tower. The Ruby Tower is known as the most luxurious being that all of the rooms are suites.
However, the King Grand Corner Chamber Suite is my favorite room in the hotel!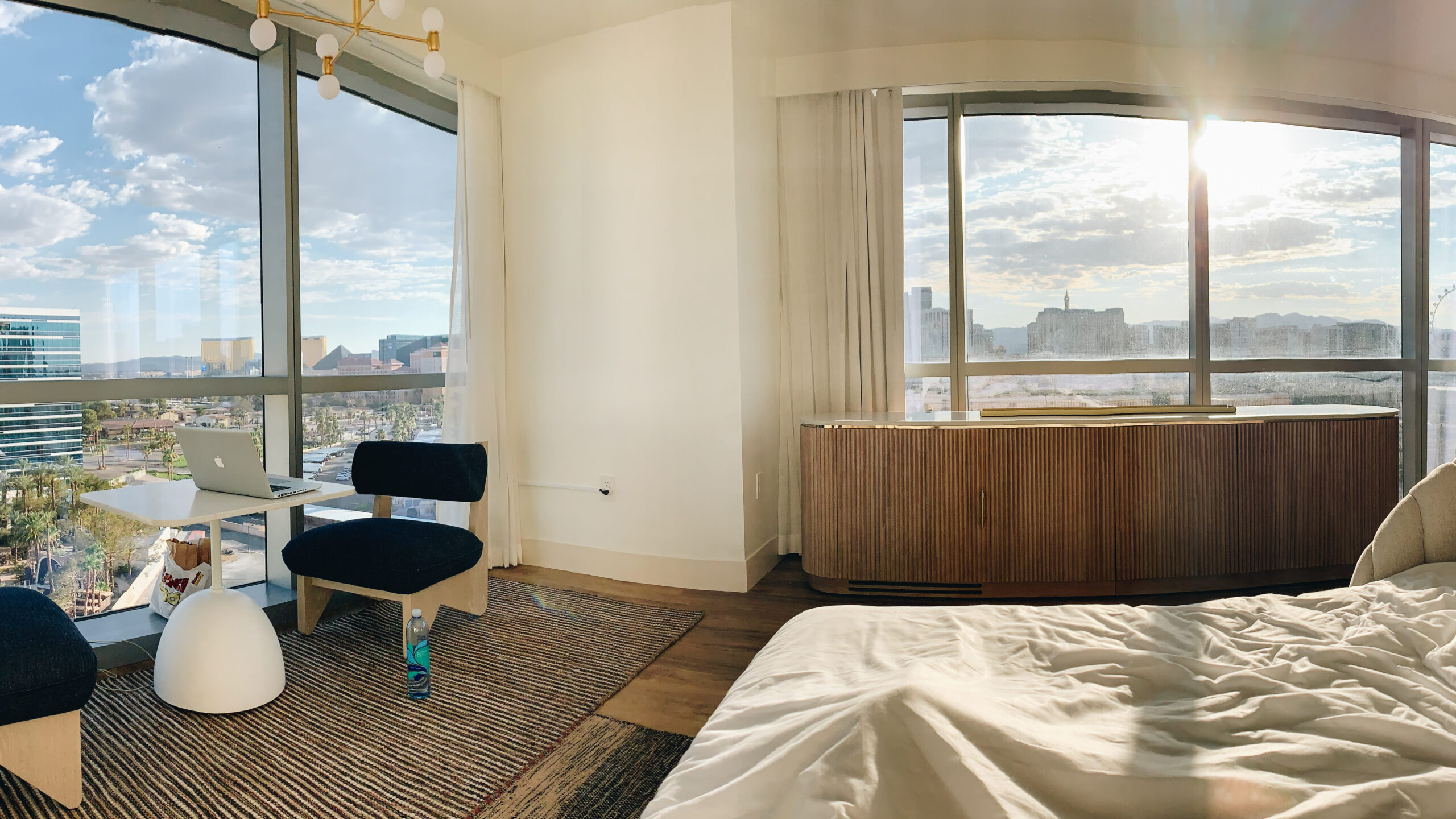 Is the Virgin Hotels Las Vegas family friendly?
Yes, the Virgin Hotel is family friendly.
Does the Virgin Hotels Las Vegas have microwaves or mini fridge?
No, the rooms do not have microwaves or mini fridges. However, a fridge may be available on request for medical reasons. All rooms do have a mini bar.
What time is check in at The Virgin Hotels Las Vegas resort?
Check in time is 3pm.
What time is check out at The Virgin Hotels Las Vegas resort?
Check out time is 11am.
---
Wrapping Up The Virgin Hotels Las Vegas Resort Review
Writing this Virgin Hotels Las Vegas Resort Review made me really want to go back!
There are so many reasons to stay at The Virgin Hotel, and for me the variety of amazing food makes it even more enticing. If you can make it there during the weekday, you'll be able to save on rooms and enjoy happy hour at many of the fabulous restaurants like Kassi Beach House. Don't forget to upgrade to the Chamber King Corner Suite and check out the upper cold pool for even better relaxation in the summer heat.
Happy travels!
-Hannah
This post is all about the Virgin Hotels Las Vegas resort.
Like this post? Pin it for later?