Cozy Getaways: 7 Incredible Yosemite Bed and Breakfasts
A trip to a unique destination like Yosemite National Park calls for an equally special accommodation, like one of these charming Yosemite bed and breakfasts. If you're looking for a cozy place to stay, consider staying at one of these stunning bed and breakfasts near or inside the park.
Imagine yourself after a long day of biking the Yosemite trails, hiking to Yosemite Falls, and soaking in the fresh mountain air. You're fully immersed in the magic of Yosemite and grinning ear to ear. You decide to head back to your hotel at sundown to rest. Would you rather return to a boring, basic room with no character and plain white walls? Or a charming mountain retreat that embodies the magic of an escape to Yosemite?
I think the answer is obvious…
In this post, we'll explore 11 incredible Yosemite bed and breakfasts to consider for your perfect national park getaway.
What is a bed and breakfast?
A bed and breakfast, or B&B, is a lodging option that typically offers a more intimate and personalized experience than a hotel. B&Bs are often small, family-owned establishments with just a few rooms, and they typically include breakfast in the price of the room.
Is a bed and breakfast cheaper than a hotel?
The cost of a bed and breakfast varies depending on the location, amenities, and season. In some cases, a B&B may be more expensive than a hotel, but other times it may be more affordable.
One advantage of a bed and breakfast is that the price often includes breakfast, which can save you money on meals.
A bed and breakfast typically offers more of a unique stay and a local experience. So it's worth comparing these options against other stays, especially when visiting a remote location like Yosemite.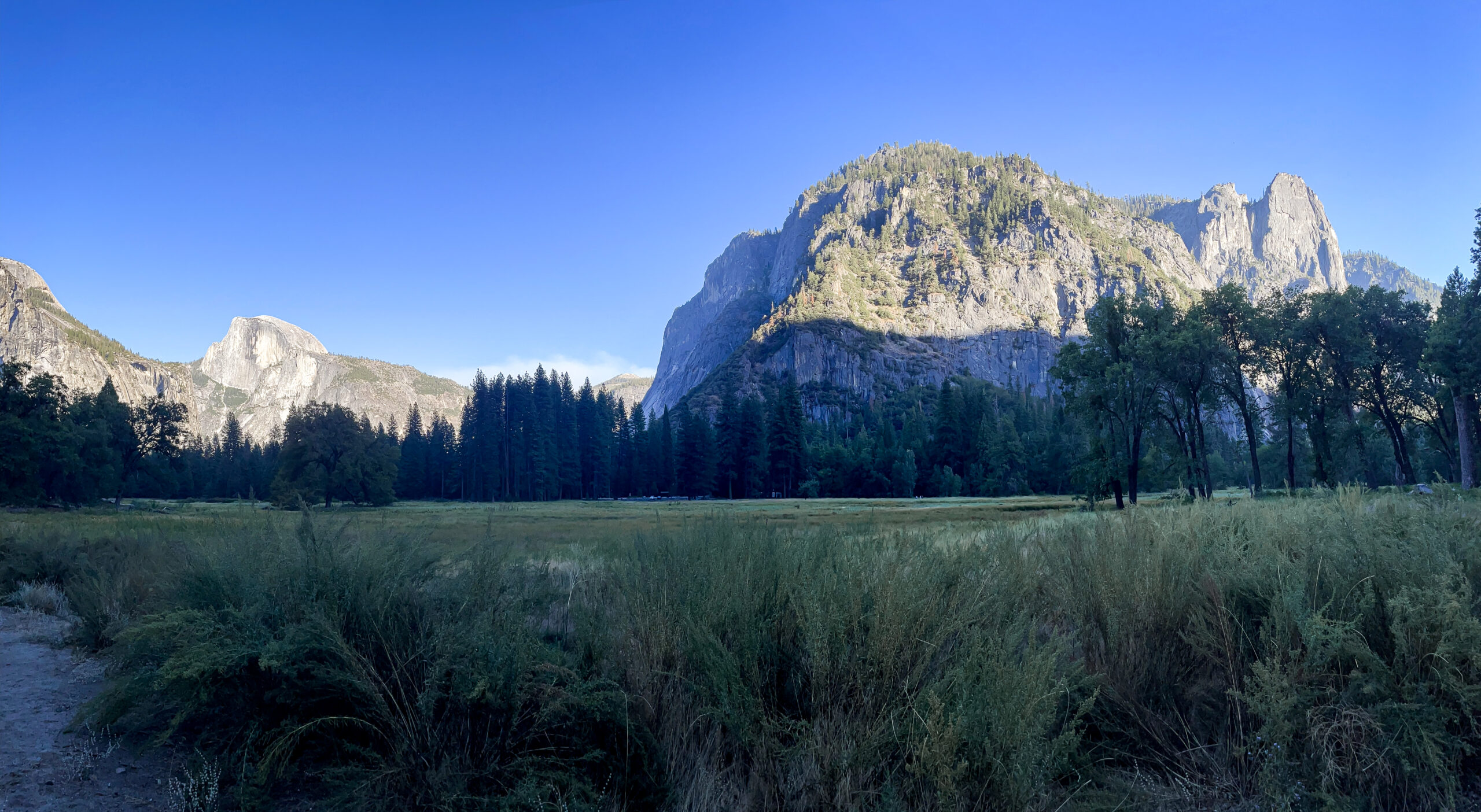 Yosemite Bed and Breakfasts
Most Affordable
1. Yosemite Rose Bed & Breakfast
Yosemite Rose Bed and Breakfast offers a romantic stay perfect for couples near Groveland, just a short drive Northwest from the edge of Yosemite National Park.
Location: 27 miles to Yosemite Hetch Hetchy Entrance (20-25 min drive)
Average Price: $$
Highlights:
Victorian-style manor
Guest room options with a garden view and/or spa bath
Complimentary hot country breakfast
Afternoon tea and cookies
Evening desserts and port
Dietary restrictions can be accommodated with 48 hours notice
High speed wifi (free)
Please note that these amenities are offered when booking the Manor, and may not be available to guests who book the cabin.
This charming B&B has been passed down through generations of family members. The manor which holds 9 baths and 7 bedrooms resembles an 'Italianate Victorian' style, complete with a parlor room, library and billiards room.
The property overlooks gorgeous oak and pine trees as well as fresh-water ponds. The Yosemite Rose Bed and Breakfast is the epitome of Victorian charm nestled into the High Sierra Mountains, which makes it an obvious choice for a B&B stay near Yosemite.
---
Most Unique & Memorable
2. Autocamp Yosemite
Staying at Autocamp Yosemite was one of my favorite trips of all time!
You'll find several options for glamping from luxury tents to Airstreams or cabins. It is the perfect place to stay near Yosemite for an extension of nature's beauty without the hassle.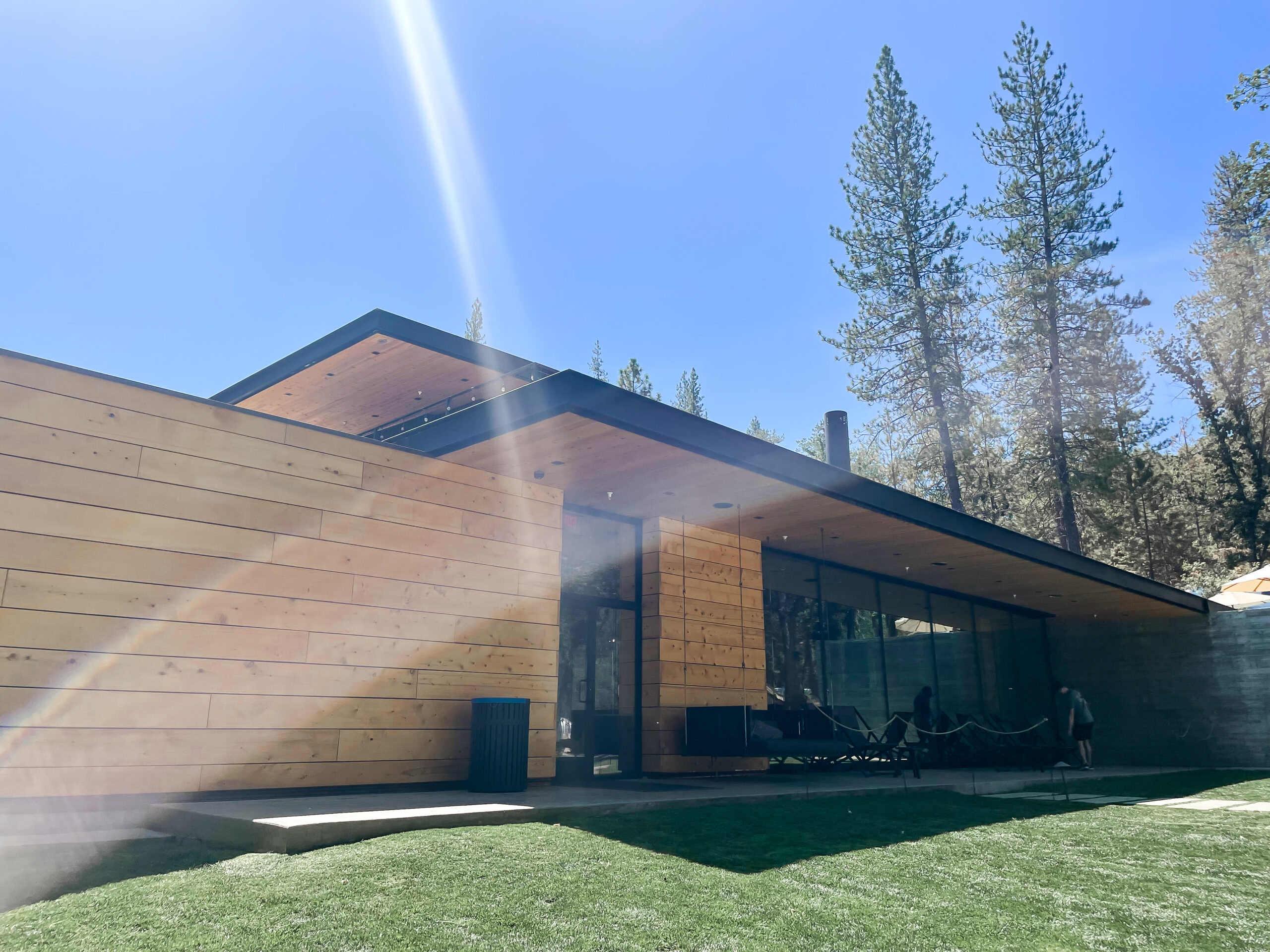 Location: 25 miles to Arch Rock Entrance (30-40 min drive)
Average Price: $$$
Highlights
Modern rustic 24-hour lodge with fire pits and communal areas
Light breakfast included (granola, yogurt and coffee was offered during our stay)
Quick-service restaurant and bar on site
Complimentary bikes available for use
Pool
Daily shuttle to Yosemite National Park by YARTS
Custom airstreams with spa-inspired bathrooms
Luxury tents with shared bathroom nearby
Fresh-water pond
Free high speed wifi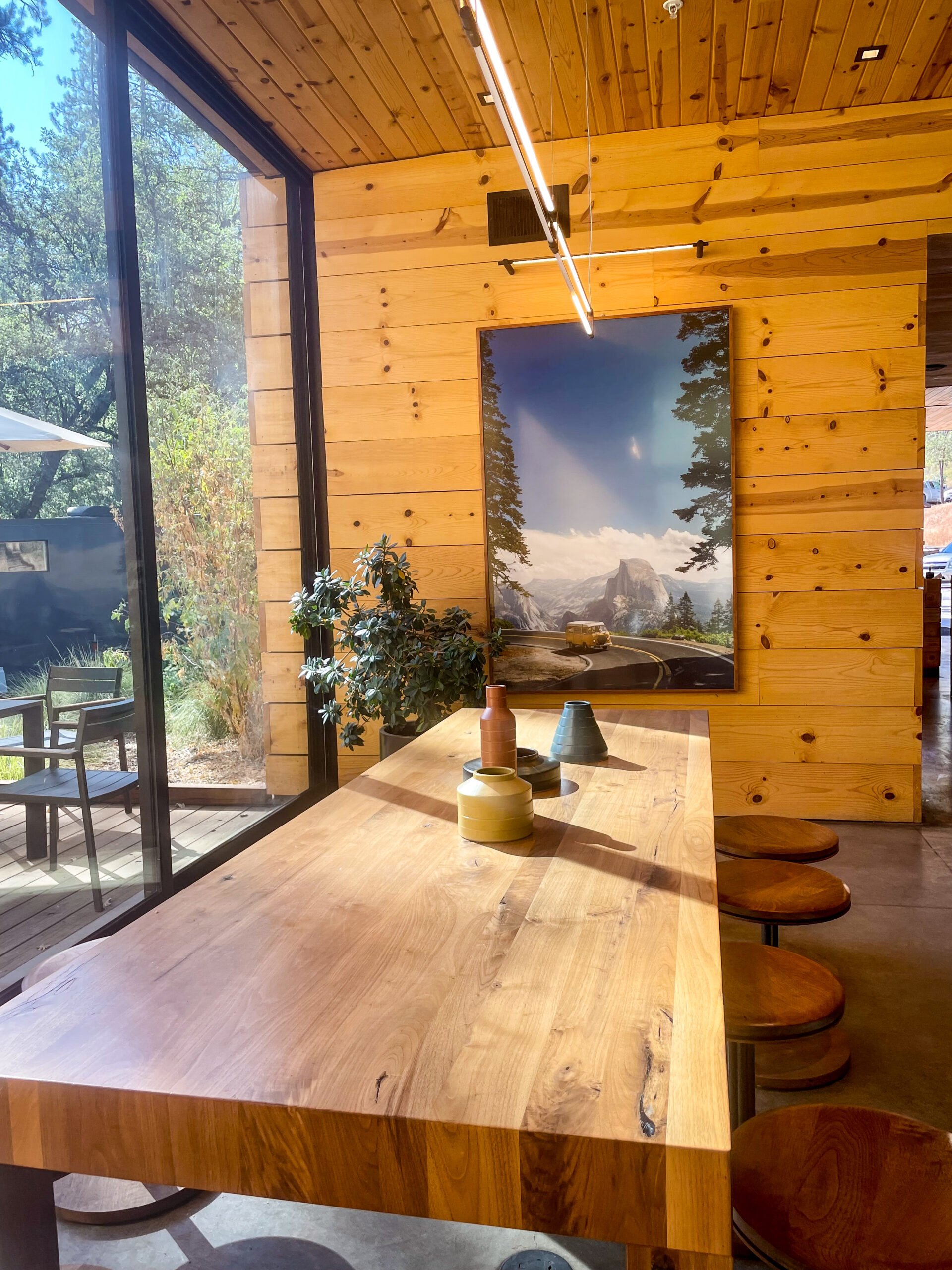 The best part about Autocamp Yosemite is the stunning 24-hour lodge and the beautiful grounds. You have privacy to enjoy your own tent, Airstream or cabin, but then you can also explore the property on bike or on foot for hours.
We also really enjoyed the shop and the restaurant on site for meals or a cider by the fire. But of course, we had to cook a dinner and s'mores by our private fire pit, which was a lot of fun.
Read all about our stay in an Airstream at Autocamp Yosemite to see what it's really like.
This spot is unique, fun, in a great location, and packed full of amenities which makes it the best overall choice for Yosemite bed and breakfast.
---
Best Overall Experience
3. Blackberry Inn
Location: 13.8 miles to Big Oak Flat Park Entrance (20 minutes)
Average Price: $$$
Highlights
600+ thread count sheets
Adults only (ages 13+)
Coffee and hot breakfast served on antique china
Ensuite bath and shower in each room
Electric fireplace in each room
Some suite options include free breakfast delivered to your room to enjoy on your porch
Hummingbird sightings
Fresh-baked chocolate chip cookies daily
Free wifi
There are two structures on the property which are both equally charming, the Blackberry Building and the Ahwahnee Suites.
The owners of The Blackberry Inn have truly thought of everything and take pride in making your stay as comfortable and relaxing as possible. From plush linens and a warm fireplace in each room to fresh-baked cookies and breakfast served on china, you will feel like royalty from the moment you check in.
But one of the most enchanting moments of your stay might be the hummingbird sightings! There are hundreds of adorable hummingbirds that visit the property regularly.
---
Most Luxurious
4. Hounds Tooth Inn Oakhurst
The Hounds Tooth Inn is a gorgeous Victorian-style boutique bed and breakfast with modern touches located in Oakhurst, California. Every room is a suite, and everything about this fabulous inn spells luxury.
After a long day of hiking, relaxing in these suites feels even more special.
Location: 13.6 miles to the South Entrance (25-30 minutes)
Average Price: $$$
Highlights
Mountain view from most suites
Tesla EV charging station
Free high speed wifi
Complimentary hot breakfast
Complimentary evening reception with wine, cheese and tapas
Jetted tub in select rooms
---
Best Location
5. Yosemite West High Sierra Bed and Breakfast
Located inside Yosemite National Park, the Yosemite West High Sierra Bed and Breakfast is a great spot for those wanting to stay inside the park.
You can find this property just off of Wawona Road a few miles south from Tunnel View. When you approach from the south, you exit the underground tunnel overlooking Half Dome and Little Yosemite Valley. I highly recommend taking Tunnel View to enter the park for the first time because the view is breathtaking!
Distance to park entrance: 0 miles
Average Price: $$$
Highlights
No park entry reservation required (see below)
Located inside Yosemite National Park
Access to sunset view decks
Complimentary continental breakfast
Access to a refrigerator, coffee maker and tea
Apartment available for 2-5 guests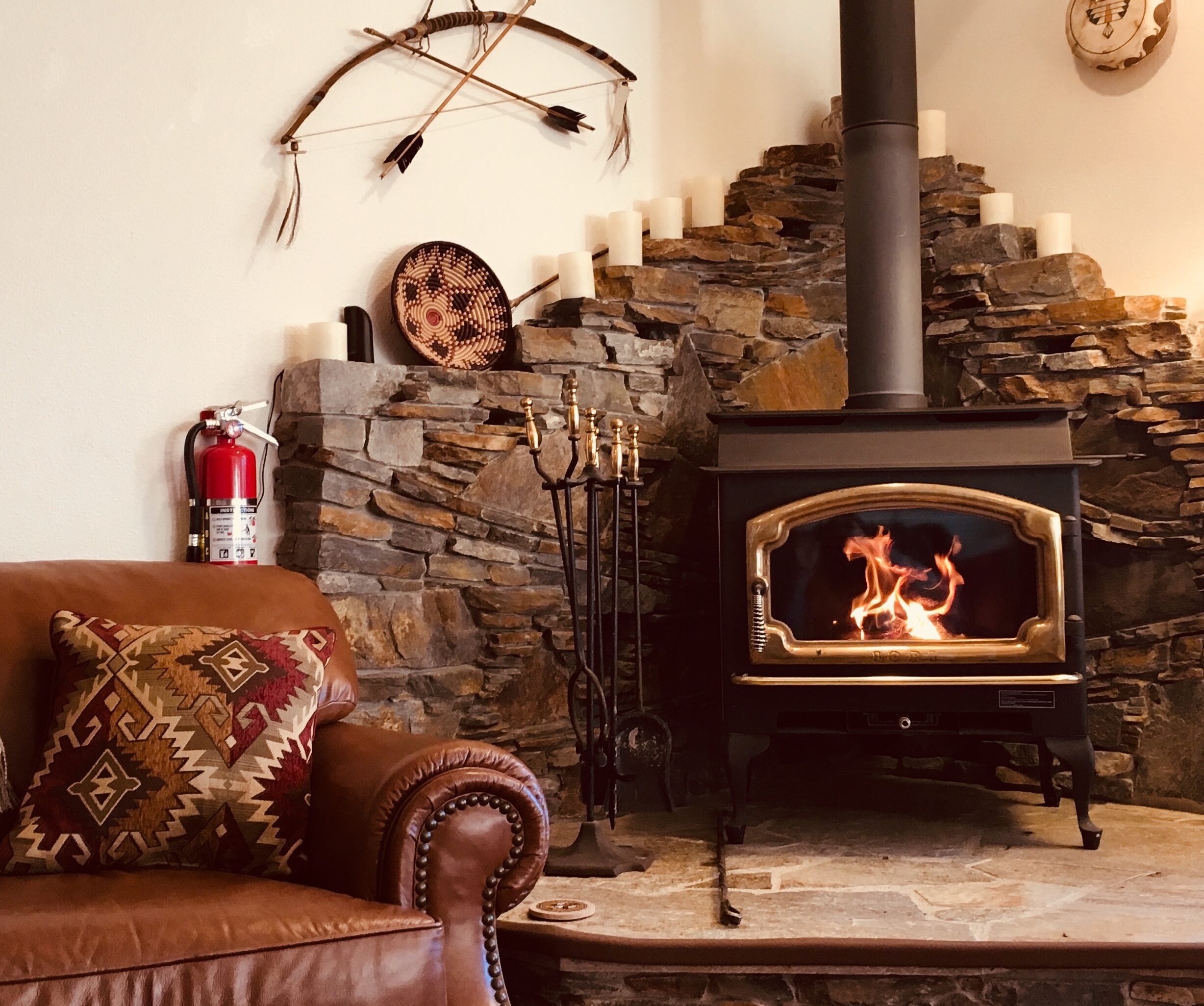 Image via knowleshill.com
The main benefits of staying at Yosemite West High Sierra is the incredible location and the log cabin atmosphere, which will perfectly match your Yosemite adventure. The rooms are a bit outdated, but still comfortable and cozy. The apartment suite is a great option for a family with kids!
---
Most Romantic Stay for Couples
6. Inn on Knowles Hill Bed and Breakfast
The Inn on Knowles Hill is located in Sonora, about an hour from the nearest park entrance. But you won't be disappointed in its 5-star amenities and insanely romantic atmosphere.
The property was built immaculately in 1927, and you can feel the history in the details everywhere you go.
If you're a pet lover, you'll enjoy the many outdoor animals that stay on the property including a Collie named Finn, several cats and ducks in the pond.
Location: 48 miles from Big Oak Flat Entrance
Average Price: $$$
Highlights
5-Star Hotel
Complimentary two-course English/Irish, American or vegetarian breakfast
Visited by many famous politicians, actors, athletes and authors
Sun terrace
In-house snack bar
At least one king bed in each room
Free wifi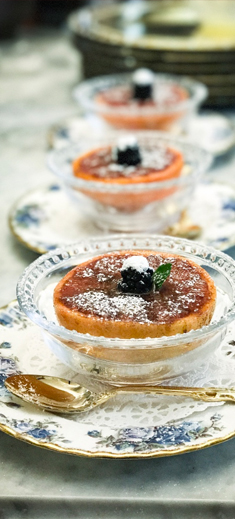 Images via knowleshill.com
---
Most Rustic
7. Courtwood Inn
The Yosemite Courtwood Inn is a charming bed and breakfast nestled in the mountains in Murphy, California.
The Inn features cozy rooms with comfortable beds, warm blankets, and rustic decor that decorate the cedar log lodge. The outdoor patio area provides the perfect spot to relax and soak in the stunning views of the Sierra Nevada Mountains.
The innkeepers are known for their warm hospitality and insider knowledge of the best local hikes and attractions.
Distance to park entrance: 68 miles from Big Oak Flat Entrance
Average Price: $$$
Highlights
ADA accessible rooms available
Massage offered on property
Jason MicroSilk Hydrotherapy Tubs in every bathroom
EV car charging station
Dog-friendly suite available
Complimentary breakfast with healthy options available
All-day beverage bar
High speed wifi
Private deck or balcony area for each room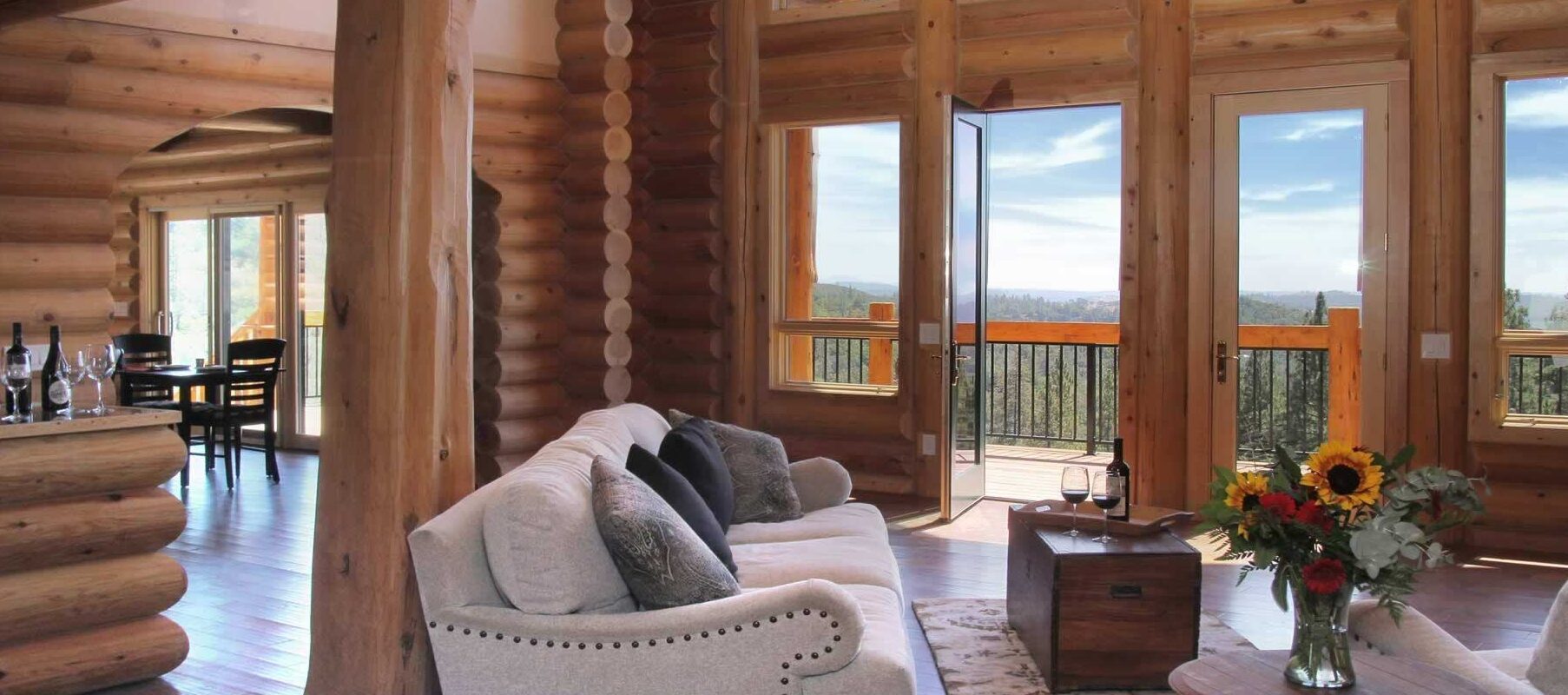 Image via knowleshill.com
---
Other Yosemite Posts You Might Like
Hiking Half Dome in Yosemite: Everything You Need to Know
Autocamp Yosemite Glamping Review
Hiking Packing List: Day Hiking Essentials
37 Hiking Quotes & Captions That You'll Actually Want to Use
---
Which Yosemite Bed and Breakfast Best Suits You?
Whether you're looking for a romantic getaway or a family vacation, a bed and breakfast in Yosemite can offer a cozy and memorable experience. From rustic mountain lodges to elegant suites, there's something for everyone near this beautiful national park.
Don't you dare book a boring plain Jane motel!
Let me know which of these Yosemite bed and breakfasts you'd like to visit in the comments below.
Happy travels!
-Hannah
This post was all about Yosemite bed and breakfasts.
Like this post? Pin it for later!