11 Best Day Trips from Los Angeles You'll Never Forget
As a LA local, I'm constantly on the lookout for fun day trips from Los Angeles. For me that means within a 3-hour drive, so we can avoid spending money on hotels. While there's no shortage of things to do in Los Angeles, sometimes it's nice to escape and explore the surrounding areas.
Planning a date? Visiting Los Angeles? Local looking for new adventures? Avid hiker? Traveling with kids? Seeking peace and quiet? These LA day trips are made for you. I'll help you discover how to plan an unforgettable day.
This post is all about the 11 best day trips from Los Angeles.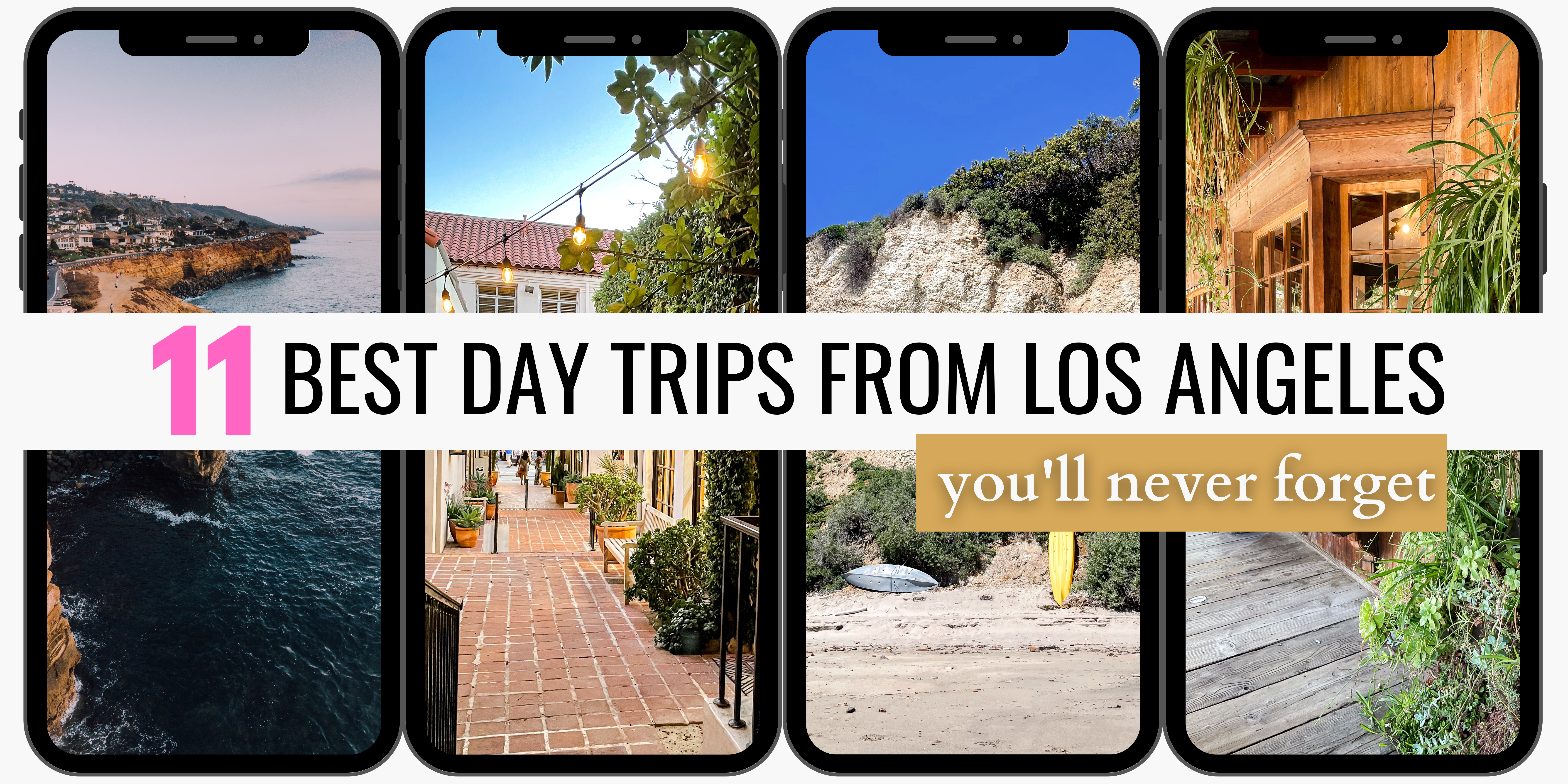 This post may contain affiliate links, which means that I may receive a commission if you make a purchase using these links at no cost to you. As an Amazon Associate I earn from qualifying purchases at no additional cost to you.
11 Best Day Trips from Los Angeles
I feel so blessed to live in a place that is surrounded by beaches, mountains, lakes, national parks and the best part…AMAZING food all around it. Honestly, I probably could have made this a list of 50 best day trips from Los Angeles because there is SO much to explore in Southern California.
But let's stick to the top 11 and dive into why these are the absolute best.
1. Ojai, California
Drive Time: 1.5 hours
If you're looking for a peaceful retreat from the city, head straight to Ojai, a charming town nestled in the mountains of Ventura County.
Ojai is all about keeping it local and you can really feel the quaint community vibe with a huge emphasis on supporting local business. I felt like I had walked straight into a Hallmark movie town.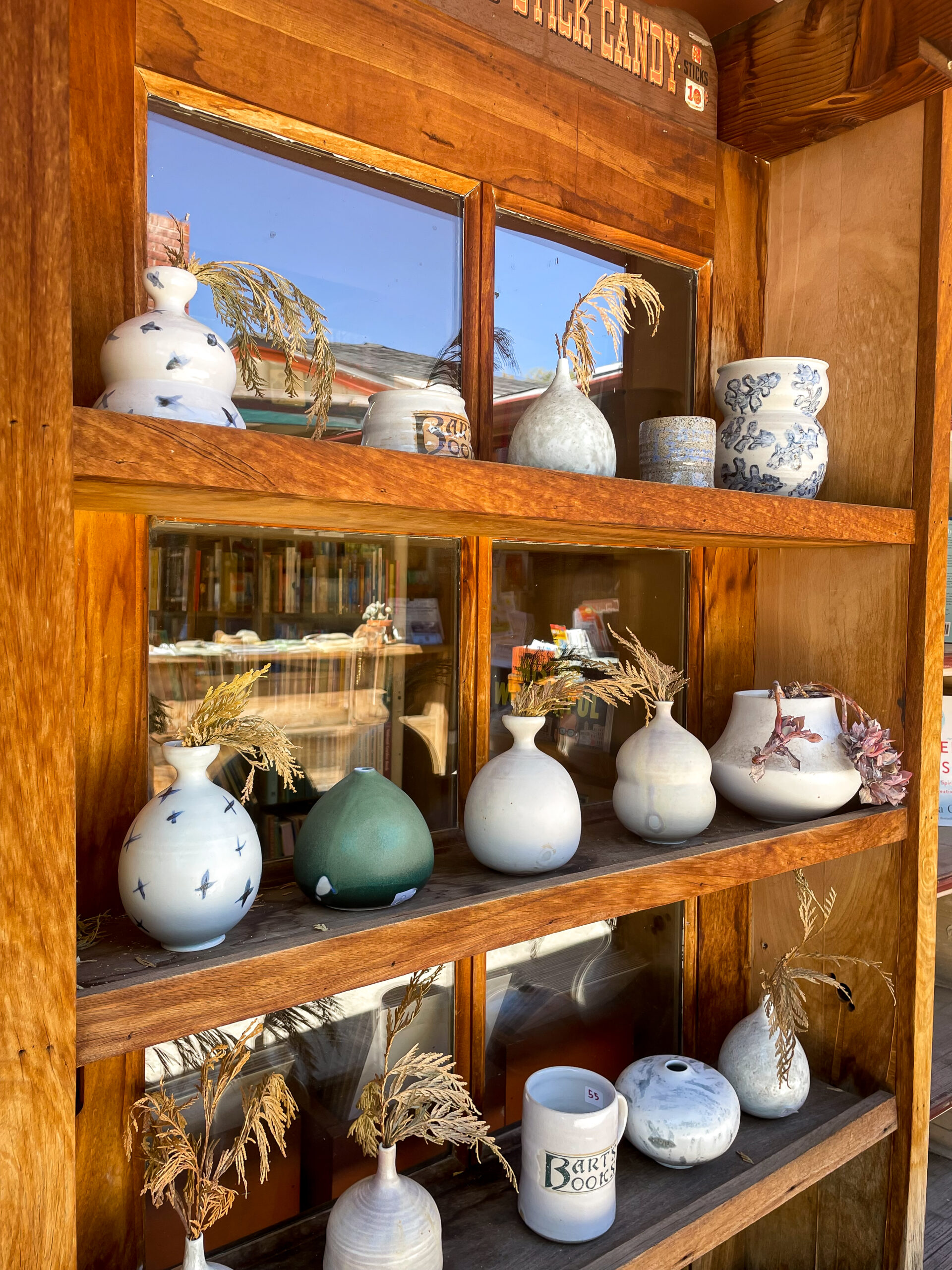 Best Time to Visit Ojai
The best time to visit Ojai is Wednesday – Sunday because many of the shops and businesses close on Monday and Tuesday. You can visit year-round as the weather is moderate, making it perfect for agriculture which Ojai is known for.
Things to Do in Ojai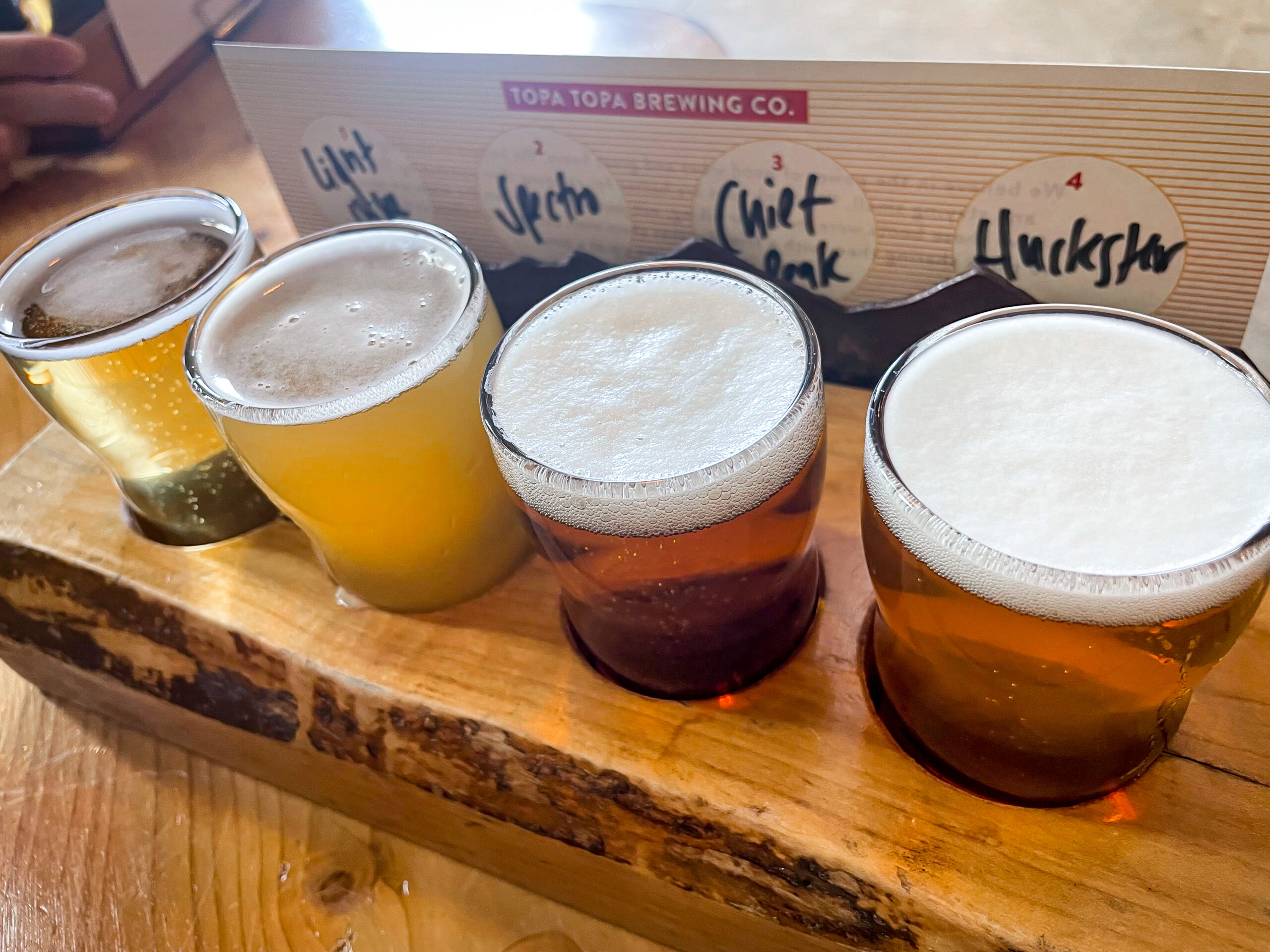 Places to Eat in Ojai
The Dutchess – I LOVED this place. It's a 2022 Michelin Guide restaurant with an incredible menu and fabulous cocktails. Read all about my experience at The Dutchess for tips on what to order.
Grab a beer flight at Topa Topa Brewing
Ojai Roti – French-Lebanese style rotisserie chicken
The Nest – trendy farm-to-table breakfast and brunch spot
Check out my post The Best of Ojai to learn more about how to visit this charming town!
2. Palm Springs, California
Drive Time: 2 hours
Looking for some desert vibes? Plan your trip to Palm Springs, known for its mid-century architecture, old Hollywood throwbacks, hot springs, and stunning natural beauty.
Best Time to Visit Palm Springs
The best time to visit Palm Springs is between October – January. The temperature will be less extreme and you'll find less tourists. The summer months often see uncomfortably warm temperatures of 100+ degrees.
Things to Do in Palm Springs
Find a pool to lounge by for the day
Browse the boutiques and galleries in downtown Palm Springs
Explore the nearby Joshua Tree National Park
Ride the Palm Springs Aerial Tramway for an incredible view
Visit the International Banana Museum
Visit the Living Desert Zoo & Garden where you can feed a giraffe or have a rhino encounter
Places to Eat in Palm Springs
Eat where legends like Elvis Presley and Frank Sinatra dined at the Purple Room Supper Club
El Jefe at Saguaro Hotel
Boozehounds – a new trendy dog-friendly restaurant with major Palm Springs vibes
3. Malibu, California
Drive Time: 1 hour
Okay, I know this one isn't far outside the city, but it's truly a highlight among the day trips from Los Angeles you need to plan!
Malibu is known for its stunning beaches and celebrity homes. Sure, there are some epic hikes you could do, and if that's your vibe check out the two options below! But I'm also a fan of spending my Malibu visit soaking up the sun and waves or relaxing with a drink in hand.
And trust me… you can spend the whole day here and won't be able to soak in enough of it.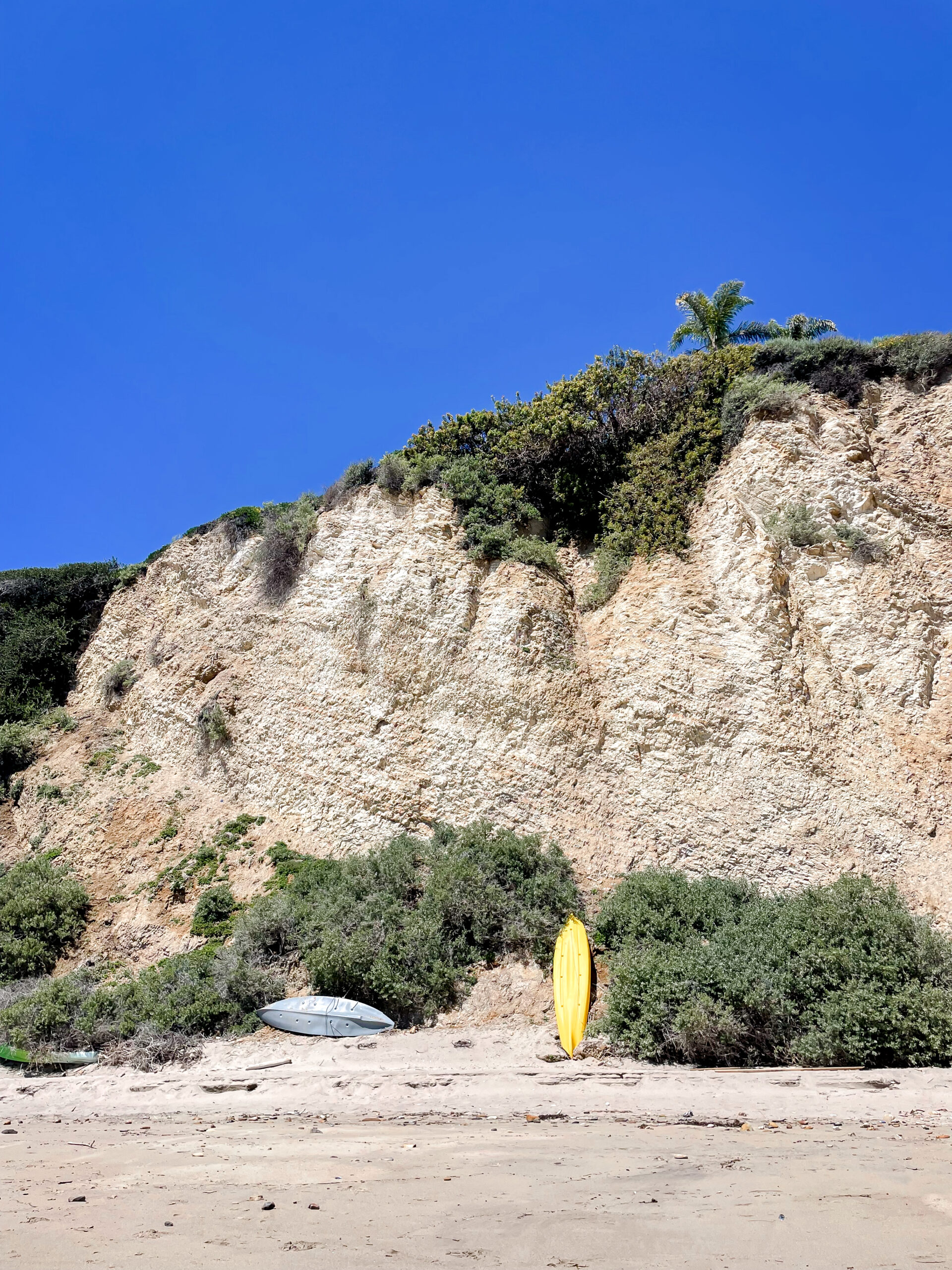 Best Time to Visit Malibu
The best time to visit Malibu is during the summer months (June to August) when the weather is warm and the water is perfect for swimming and surfing. The winter months can be cool and rainy, but they are still a great time to visit for those looking for a more relaxed and cozy vibe.
Things to Do in Malibu
Take a scenic drive along the Pacific Coast Highway
Hike Point Dume and catch amazing ocean views – 1.4 miles, easy difficulty
Hike the Temescal Canyon Trail – 2.6 miles, medium difficulty
Visit the Malibu pier
Watch the sunset at Matador Beach (great spot for photos!)
For a truly unique Malibu experience, groups of up to 4 can book a private Malibu Beach Surf Tour in a Vintage VW Van! The experience includes a surf lesson from a local and a visit to Point Dome.
Park at Paradise Cove Beach, grab a cocktail in a pineapple or coconut, and stroll the private beach. (You'll want to get parking validated from the restaurant for a reduced cost).
Shop at the Malibu Country Mart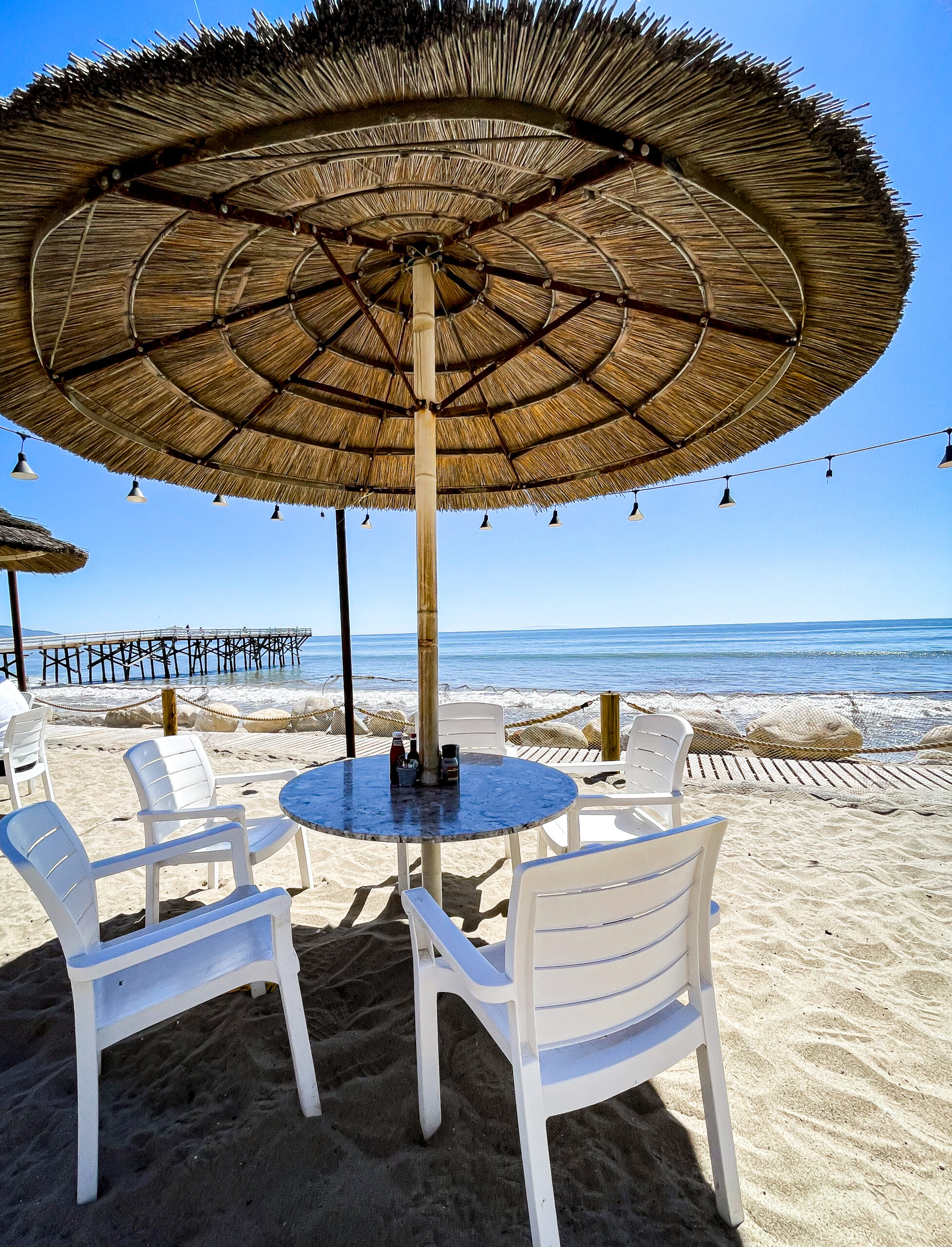 Places to Eat in Malibu
Paradise Cove Restaurant
Geoffrey's
Sunset Restaurant
Dukes Malibu
4. Solvang
Drive Time: 2 hours
Solvang is a charming Danish-style town located northwest of Los Angeles in the Santa Ynez Valley. It is small and cozy, offering lots of Danish charm which makes it perfect for a one-day trip!
Best Time to Visit Solvang
The best time to visit Solvang is during the spring and fall when the weather is mild and perfect for exploring the town's outdoor activities. During summer, Solvang can get quite crowded with tourists, so if you're looking for a quieter experience, it's best to visit during the off-season.
Personally, I think the cozy Solvang vibes hit just right in the fall. My travel friend Hannah calls it the "Denmark dupe of America" and I couldn't agree more.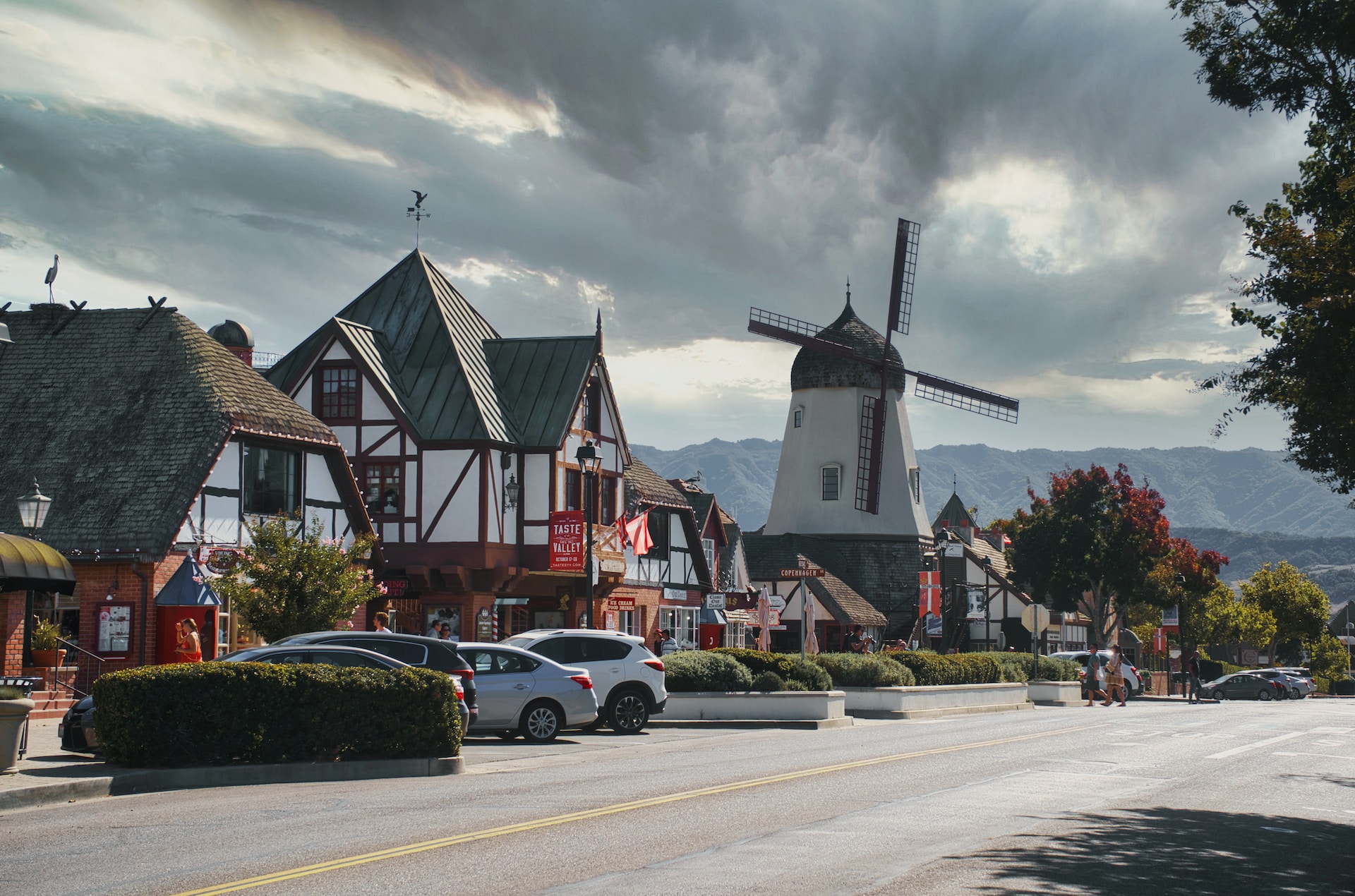 Things to Do in Solvang
Places to Eat in Solvang
Mortensons Bakery
Olsen's Bakery
Solvang Restaurant – try the Danish aebleskiver pastry desserts
Copenhagen Sausage Garden
Mad & Vin
Good Seed Coffee Boutique
5. Ventura, California
Drive Time: 1 hour
Ventura is a laid-back beach town that's perfect for a day trip from Los Angeles. During the pandemic, they closed the Main Street to cars and allowed businesses to expand past their front doors. It makes Ventura much more indoor/outdoor friendly and gives it a European beach-town vibe that I absolutely love!
But Ventura has more than just good beach vibes. There are several hidden gem food spots that you won't want to miss, so keep reading on. Basically, Ventura is a beach town for foodies and I'm all about it.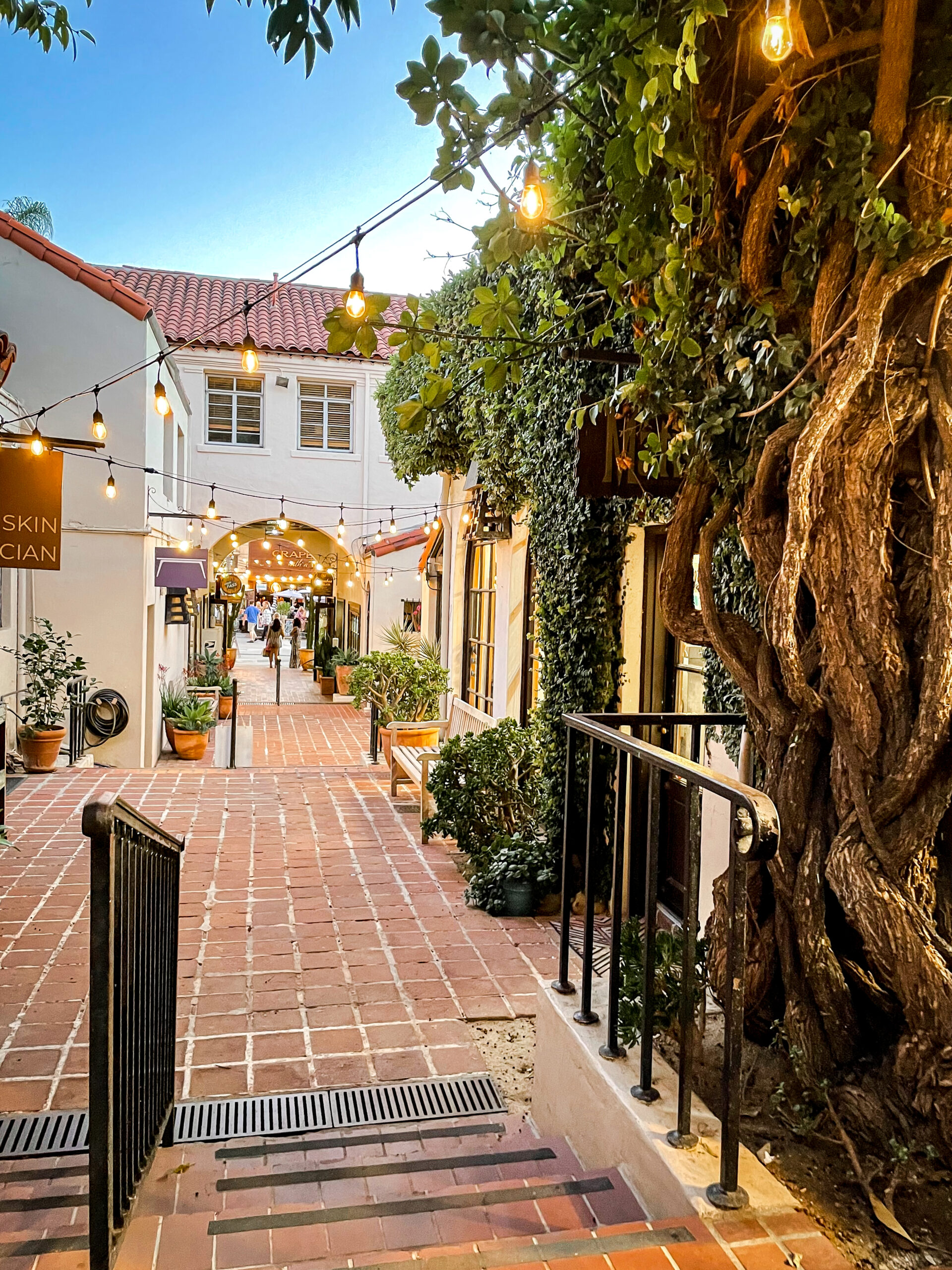 Best Time to Visit Ventura
Like most of Southern California, the weather in Ventura is moderate to warm most of the year. But you'll enjoy the beaches and outdoor dining the most in the warmer spring and summer months when the weather is nice.
Things to Do in Ventura
Spend your day lounging on the beach
Stroll along the pier
Explore the town's eclectic mix of shops including Vom Fass where you can taste and buy boutique flavored olive oils, vinegars, and liquors. We always get a bottle of their absinthe to make sazeracs at home.
Catch a live show at the historic Majestic Ventura Theater
Do a bar crawl including some of the options below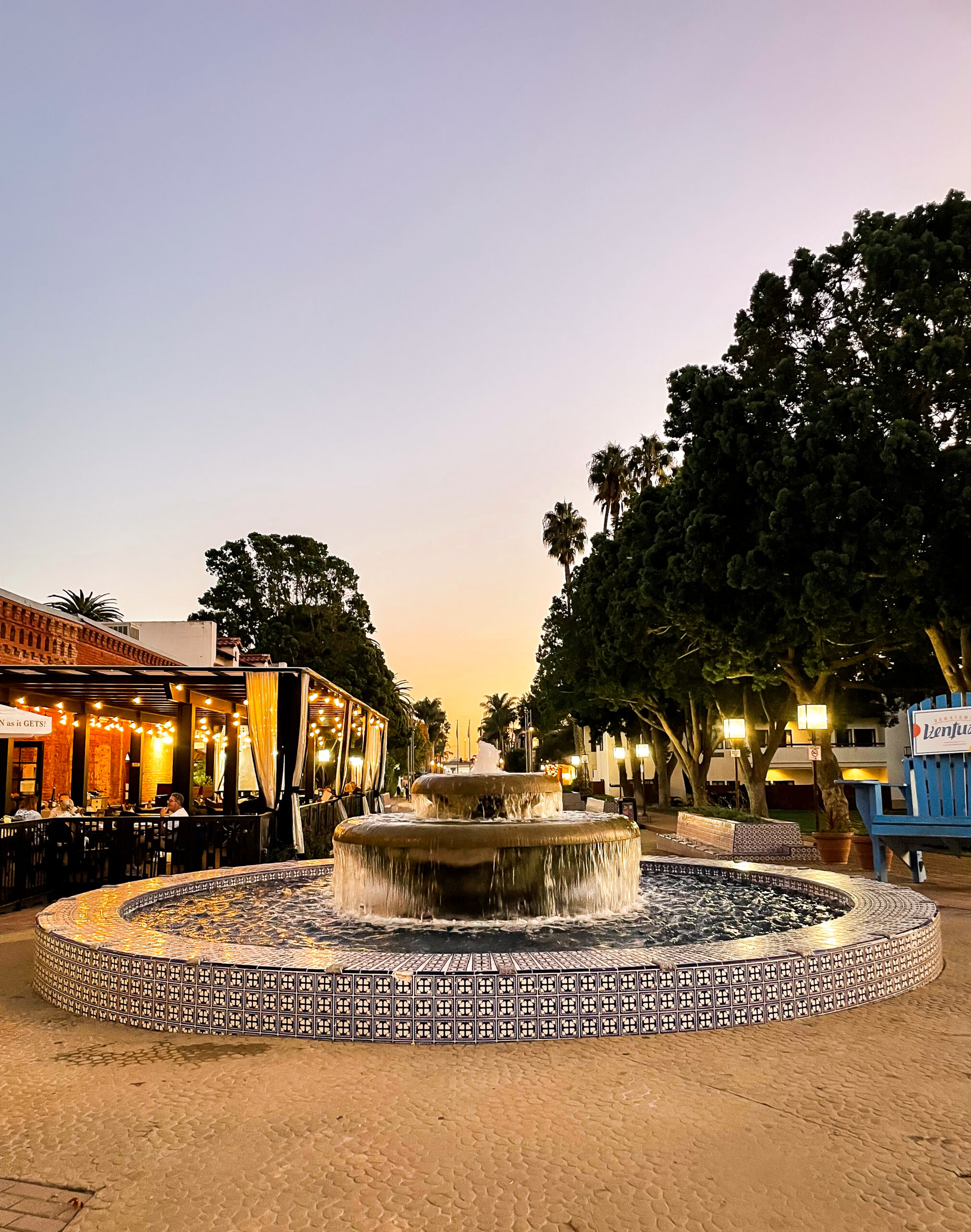 Places to Eat in Ventura
Finney's Crafthouse – gourmet pub food, drinks, and amazing carnitas nachos!
Bank of Italy Cocktail Trust (photos below) – craft cocktails and apps
Casa de Soria – best chimichanga ever
The Saloon Ventura – cocktails
Rocks & Drams – fun cocktail bar
Ven Tiki Lounge & Lanai – tiki vibes
Cafe Fiore – delicious Italian food in a cozy atmosphere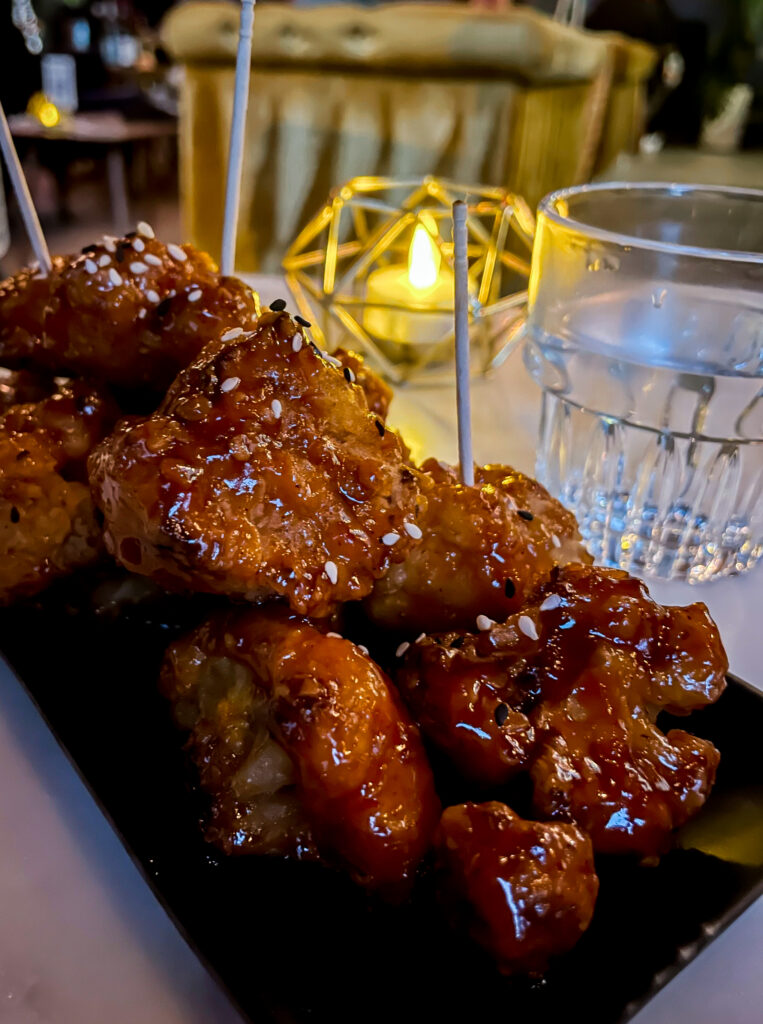 6. Big Bear, California
Drive Time: 2 hours
Nature-lovers, this one is for you!
Every now and then every LA local should escape to the mountains and spend a day at Big Bear Lake. The area offers a wide range of outdoor activities, including hiking, mountain biking, fishing, and boating. In the winter months, you can hit the slopes and enjoy some of Southern California's best skiing and snowboarding.
The close proximity of Big Bear mountain makes it easy to escape and return in one day. We even did a California double a few years back for a friend's birthday!
What is a California Double?

A California double is skiing or snowboarding + swimming or surfing in the ocean in the same day.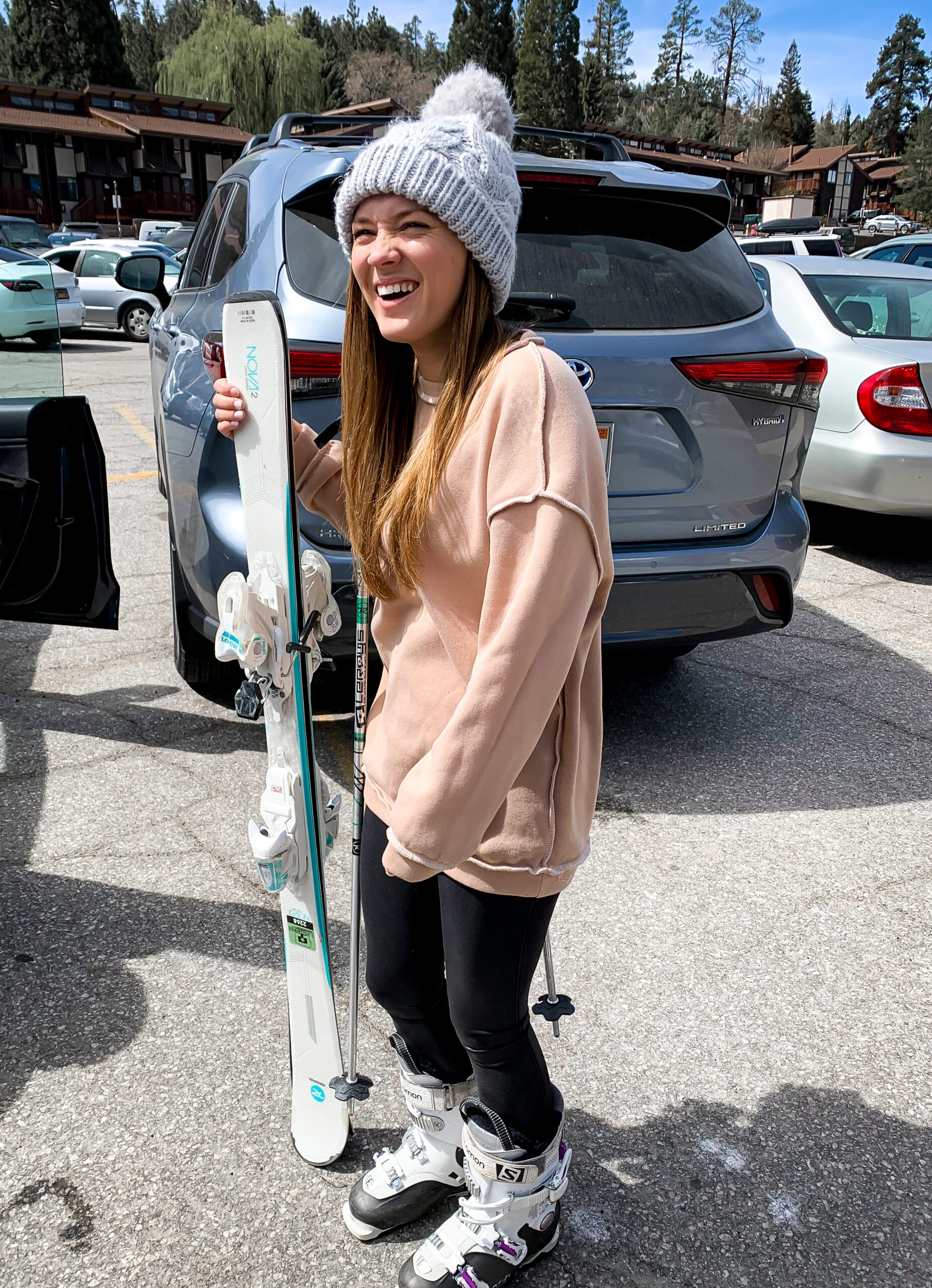 Best Time to Visit Big Bear
The Big Bear area offers a big range of outdoor activities for all seasons. In the spring and summer you can hike, mountain bik, fish and go boating. In the winter months, hit the slopes and enjoy some of Southern California's best skiing and snowboarding. Fall at Big Bear is a great time to soak in beautiful hiking and nature as well.
Just choose your own adventure on this one.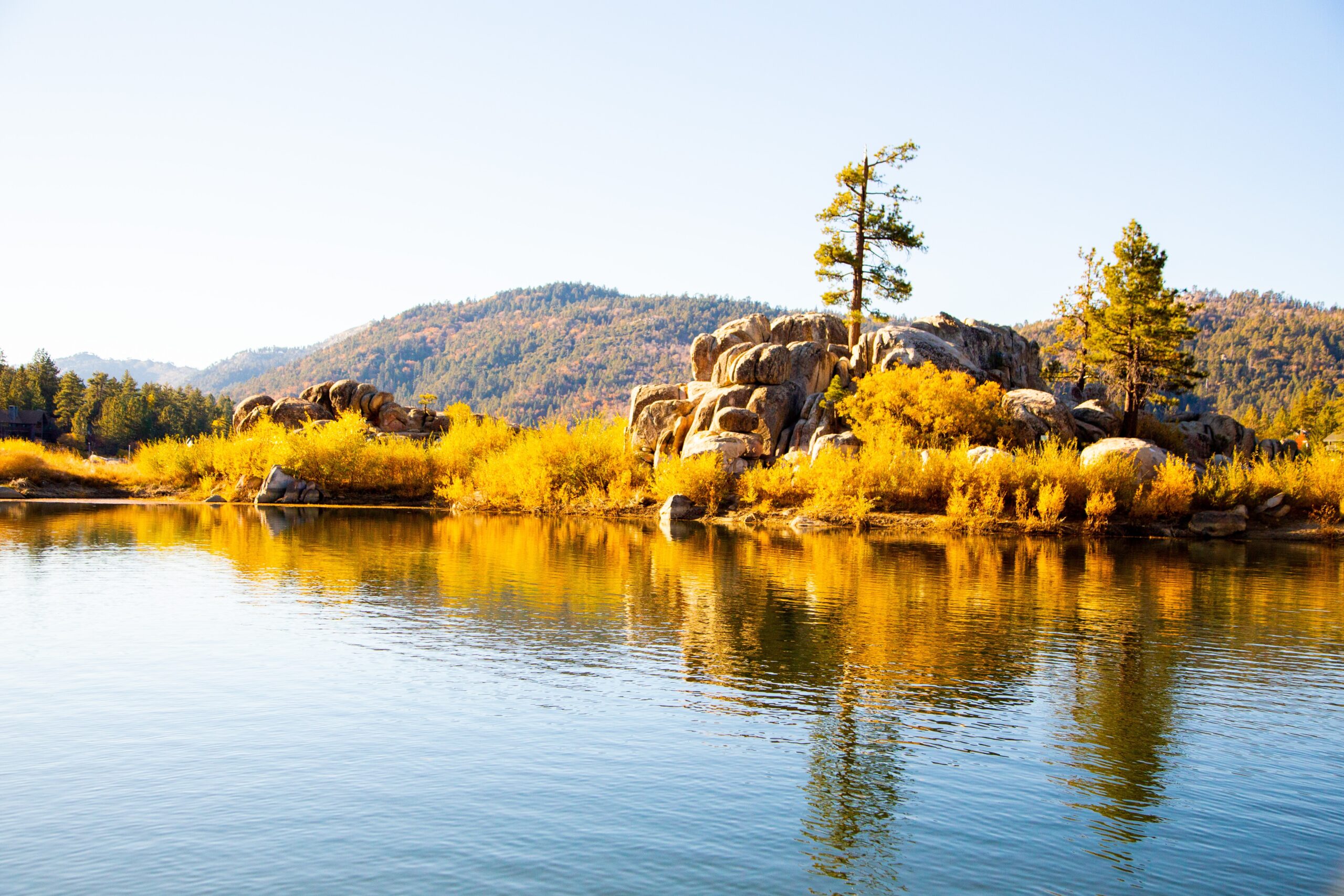 Things to Do at Big Bear
Ski or snowboard at Big Bear Mountain Resort
Go ziplining in the forest
Walk around and shop in Big Bear Village
Hike Castle Rock Trail – 2.8 miles
Hike the Woodland interpretive Trail – 1.5 miles easy
Walk or bike the Alpine Pedal Path – 3.2 miles
Picnic at Boulder Bay Park
Places to Eat at Big Bear
Tropicali – Hawaiian food and poke bowls
572 Social Kitchen & Lounge
Teddy Bear Restaurant – order the cinnamon roll pancakes
The Pines Tavern on the Lake – great views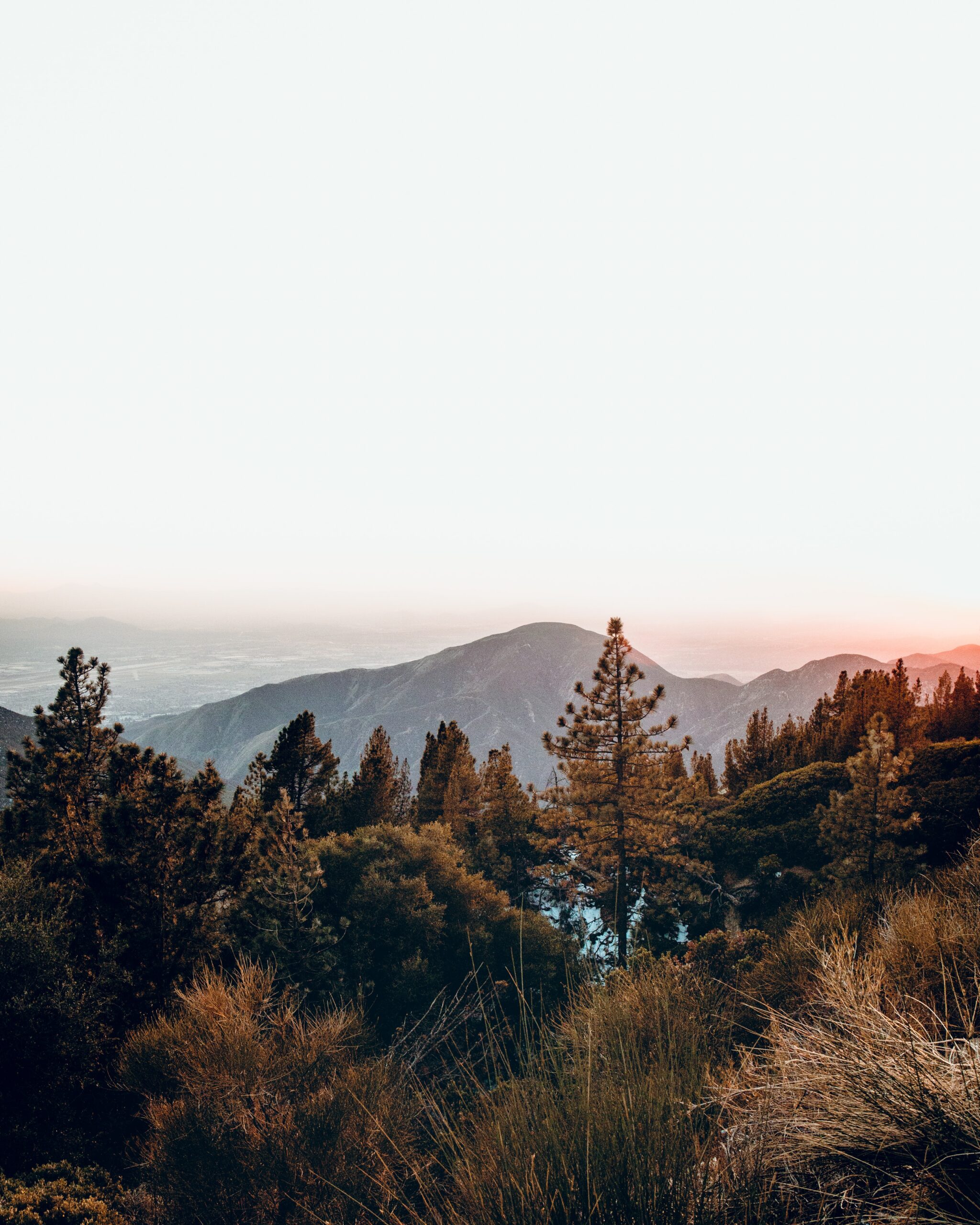 7. Temecula, California
Drive Time: 1.5 hours
Temecula is a popular wine region in Riverside County with a charming old town downtown area and plenty of wineries to visit. Although it's only a few hours away, you'll feel a million miles from Los Angeles.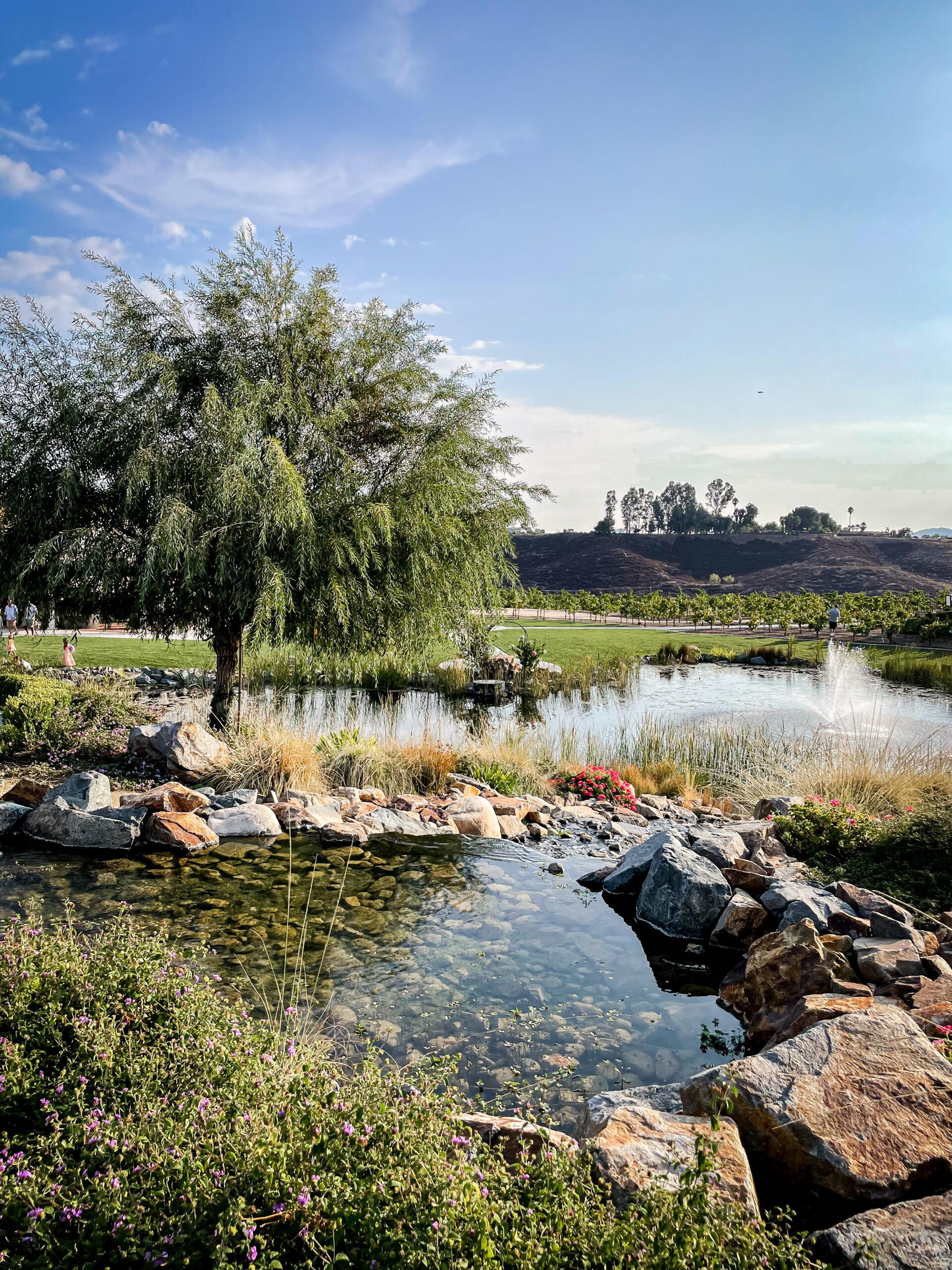 Of course, if you plan to visit multiple wineries you'll probably want to stay overnight or for the weekend. But you can definitely explore the town in one day and enjoy a lot of what Temecula has to offer. This makes it perfect for a day trip with kids, a date, or a girl's day out.
Best Time to Visit Temecula
For ideal weather, plan your visit for April – November, especially to enjoy a winery. However, you could enjoy Temecula at any time of the year and the winter months will have less crowds.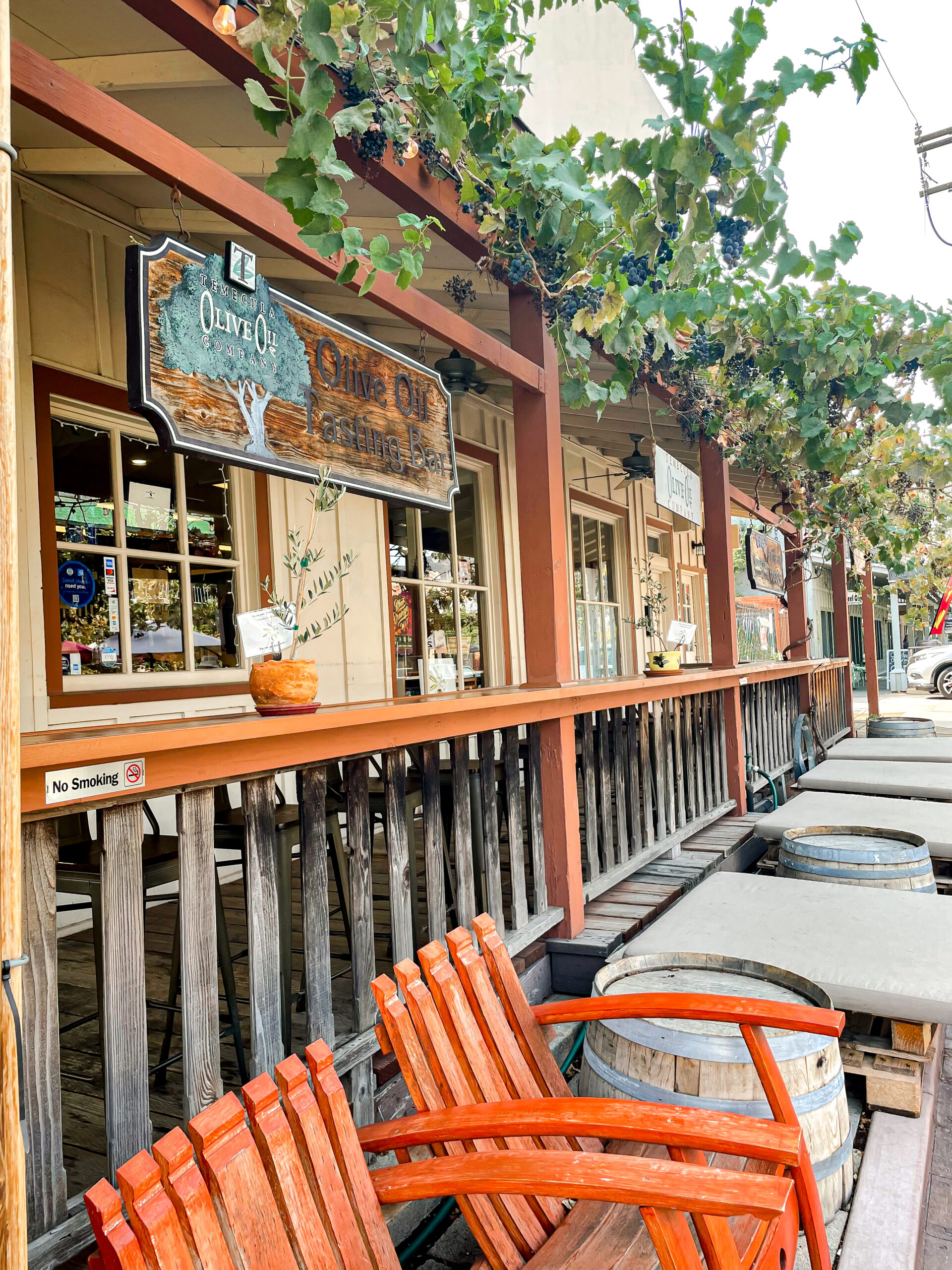 Things to Do in Temecula
Olive oil tasting at Temecula Olive Oil Company – this is a surprising must do!
Visit a Winery – I recommend Miramonte, Europa Village, and South Coast
Stroll along the downtown shops
Book a winery tour and tasting
Take line dancing lessons at Stampede
Pick berries at Temecula Berry Company in May and June (check for seasonal date and hours)
Play arcade games at Coin Op Game Room
Book a hot air balloon ride – if you are one of those people who can wake up super early!
Places to Eat in Temecula
Goat and Vine (photo below)- omg the Carnitas Pizza is delicious
Small Barn Old Town – my favorite is the avocado toast with lox
E.A.T. Marketplace
Thompson & Twain Prospecting co – super fun saloon-style speakeasy bar
1909 Temecula
Landeros Mexican Grill and Cantina
Press coffee Shop (photo below)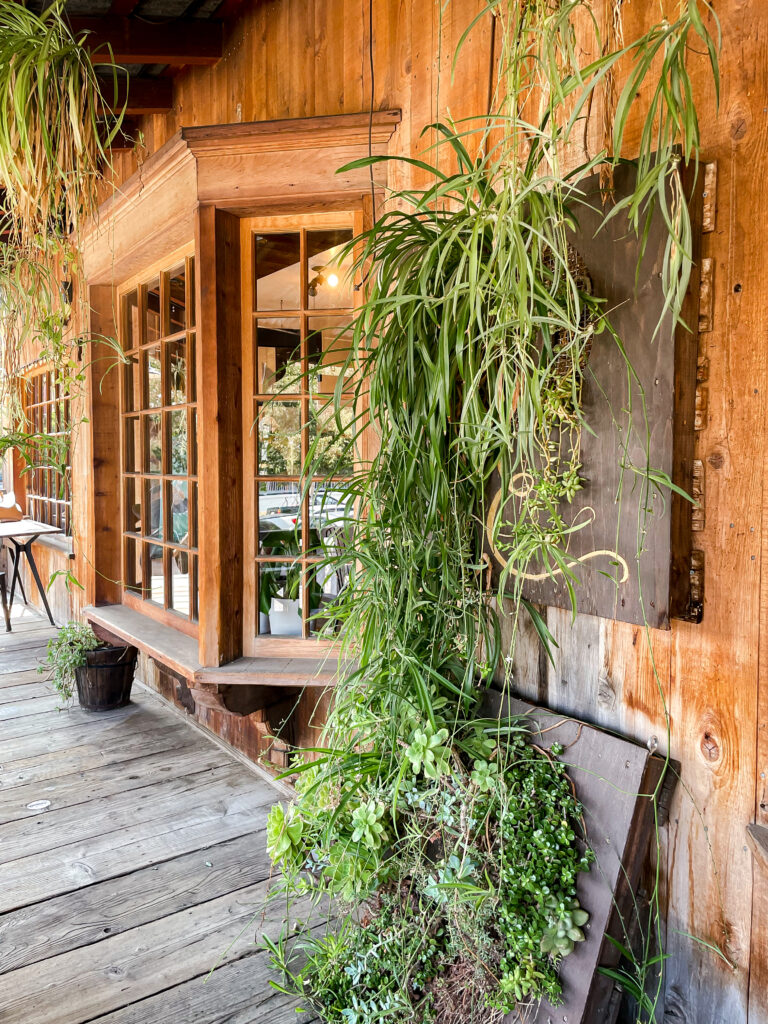 8. San Diego, California
Drive Time: 2 hours
San Diego is understandably a popular destination for day trippers from Los Angeles. The city is known for its stunning beaches, beautiful parks, and world-class zoo and incredible food scene. Whether you want to spend your day lounging on the beach or exploring some of San Diego's top museums and galleries, there's something for everyone here.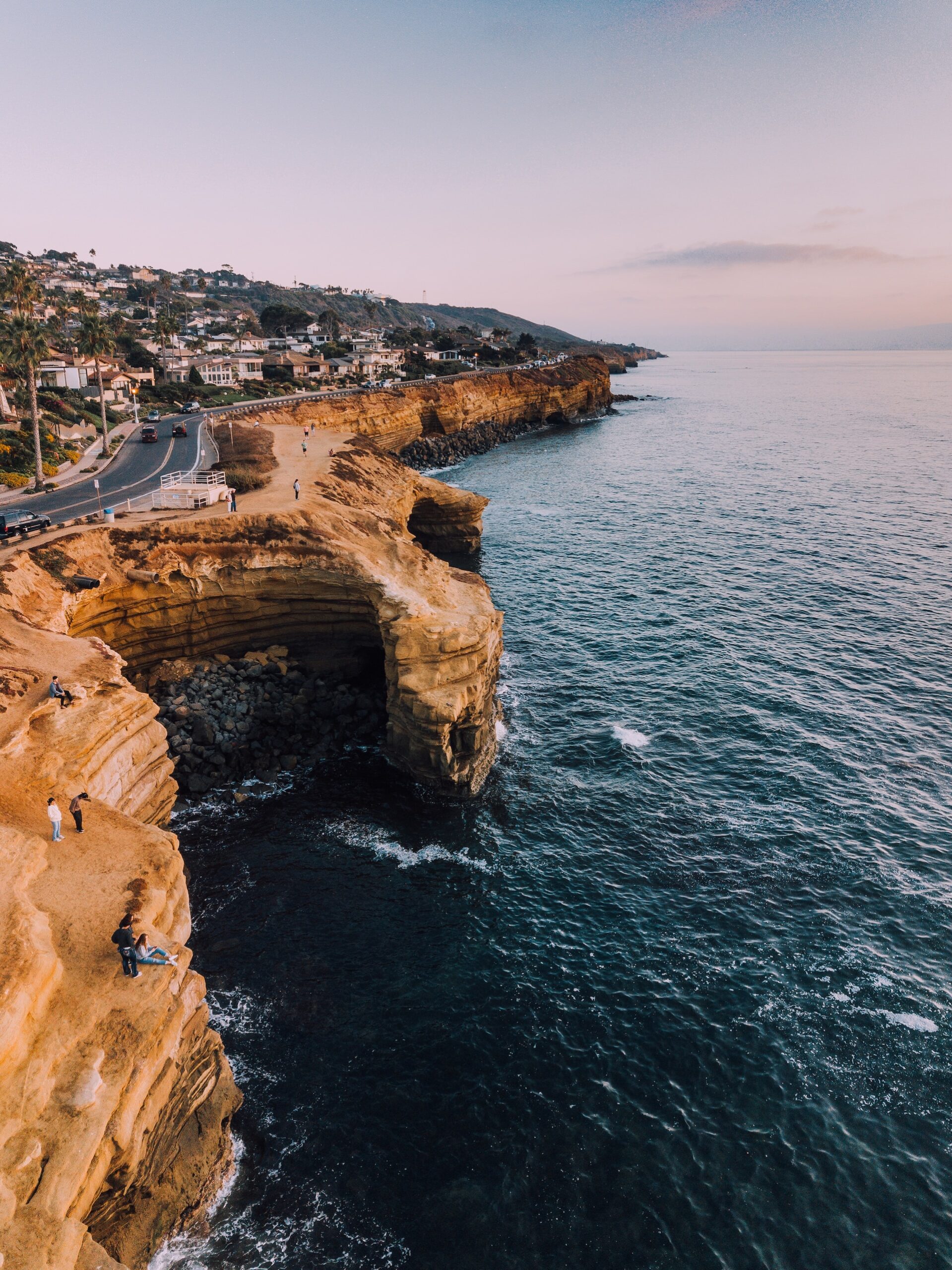 Best Time to Visit San Diego
The best time to visit San Diego is March through May, or September through November when the weather is mild and you'll avoid the peak summer crowds. During these months, the average temperature is in the mid-60s to mid-70s Fahrenheit (18-24°C) or warmer, which is perfect for all of the amazing outdoor San Diego activities.
Things to Do in San Diego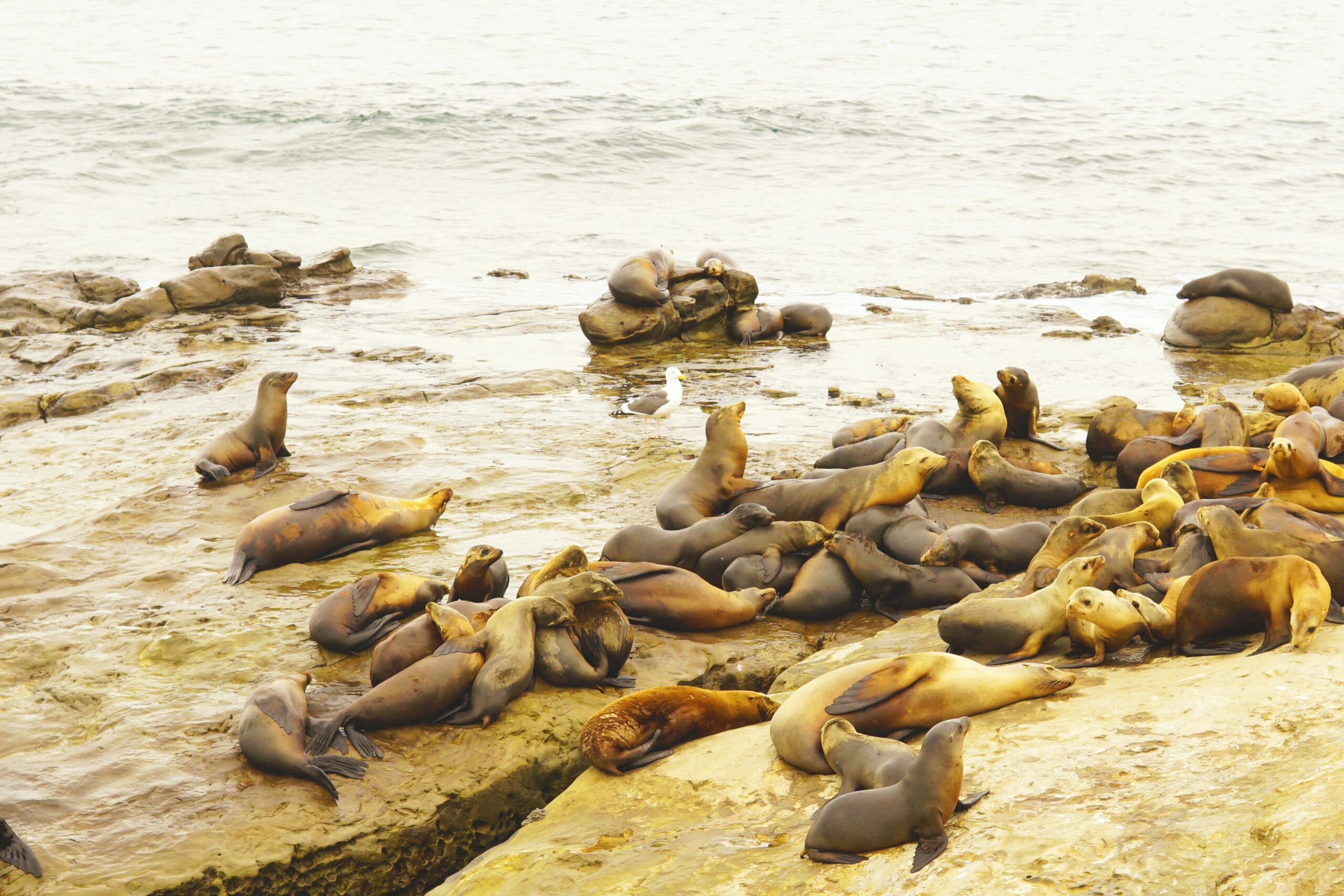 Places to Eat in San Diego
Tocaya – casual organic California-style Mexican food
Seneca
Raised by Wolves – cocktail bar
C-Level Lounge – beautiful ocean views
9. Mt Baldy, California
Drive Time: 1 hour
I was not expecting how epic Mt. Baldy would be and how insanely close it is to the city. Hiking to the top is one of my favorite memories and this definitely makes the list for best day trips from Los Angeles, especially if you enjoy hiking.

Best Time to Visit Mt. Baldy
The best time to visit Mt Baldy for hiking is during the warmer months, typically from late May to early October, when the weather is generally warmer and the snow has melted. Keep in mind that it is a mountain and weather changes quickly. I hiked once in shorts because it was warm out when we started, but I saw snowflakes at the summit and was super cold!
However, if you're looking for a winter adventure, visiting Mt Baldy during the snowy season can also be a magical experience. They have snow tubing hills setup in the winter too. Just make sure to pack appropriate gear and check weather conditions before heading out.
Things to Do at Mt. Baldy
Hike the Devil's Backbone trail to the summit – the ultimate Mt. Baldy adventure! You can take the lift to Top of the Notch to skip the first 2.5 miles of switch backs if you want, or start from the bottom for a full-day adventure.
Not much of a hiker? Ride the lift to the Top of the Notch Restaurant for snacks and great views
Zipline in the summer months
Snow tube in the winter months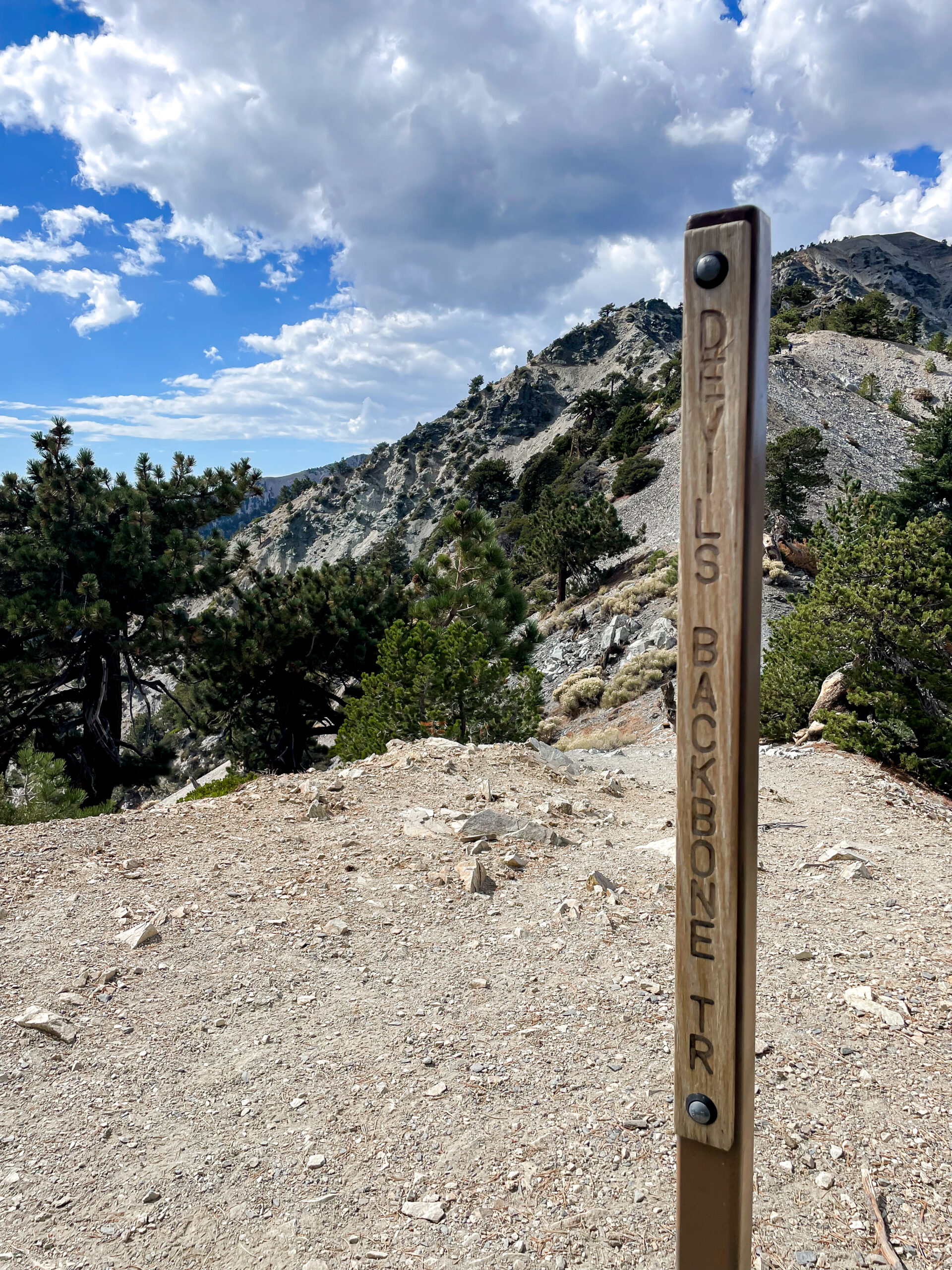 Places to Eat near Mt. Baldy
The only food option on Mt. Baldy itself is the Top of the notch Restaurant at the top of the lift, which is great for lunch, a snack or drink on your journey. If you plan to hike for the day, you should safely pack food for a picnic (be bear aware) or plan to eat at the Top of the Notch.
If you have time at the end of the day, I'd recommend heading down the mountain and heading into Claremont which has lots of amazing food options like:
Eureka
Dr Grubbs
Union on Yale
The Whisper House
10. Anaheim, California
Drive Time: 30-60 minutes
Anaheim may be best known for its theme parks, which can be an amazing way to spend one day outside of LA. But there's also much more to explore. As one of the closest in location to Los Angeles with plenty to do, Anaheim is an obvious win for best day trips from Los Angeles.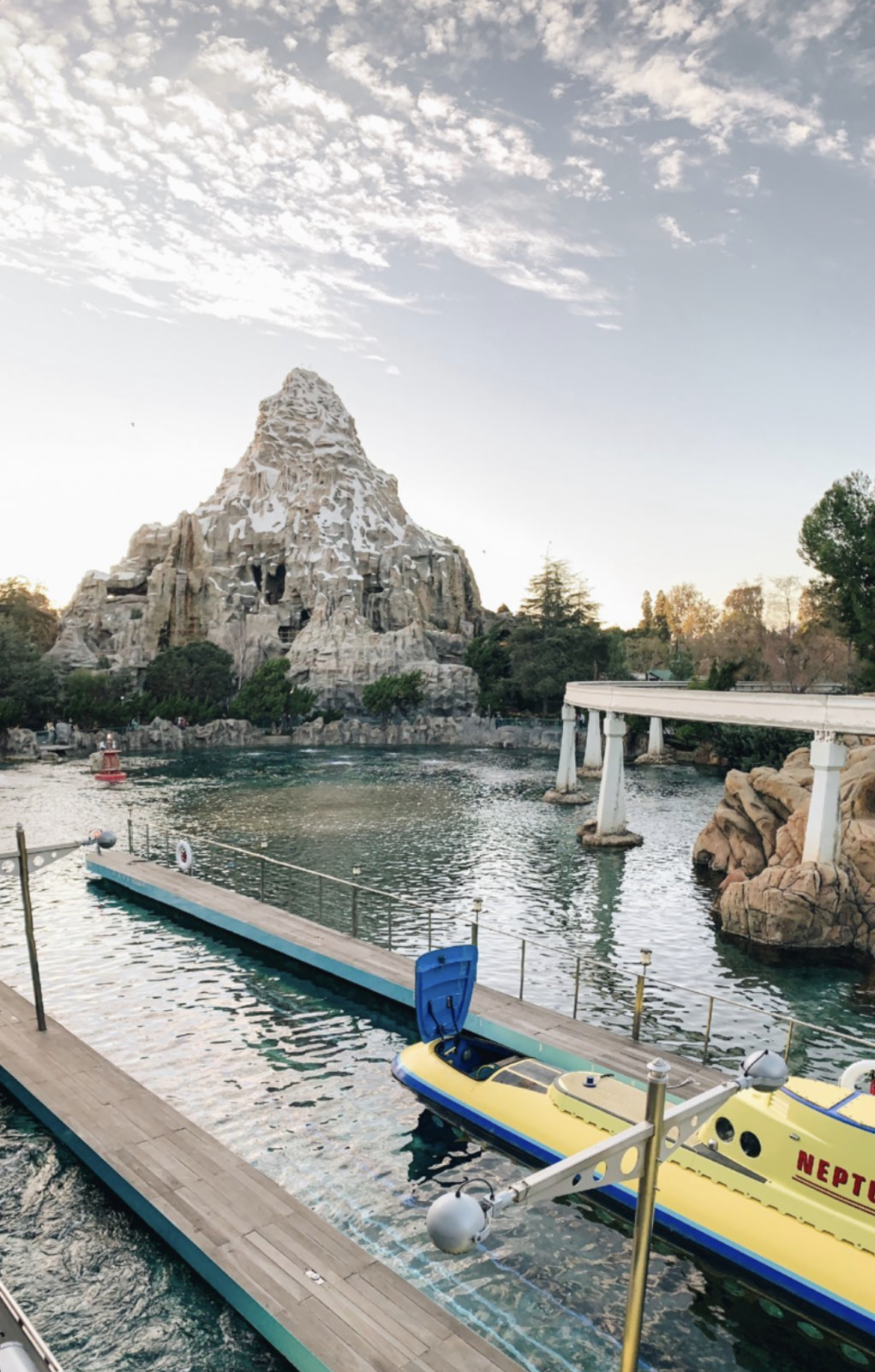 Things to Do in Anaheim
Visit Disneyland or Knott's Berry Farm
Get delicious treats like beignets or crazy shakes and listen to live music in Downtown Disney without paying for park admission
Visit a top-rated speakeasy, Blind Rabbit
Catch an MLB game at Angels Stadium
Medieval Times interactive dinner show – great for kids!
Shop at Anaheim Garden Walk or the Outlets at Orange
The Anaheim Packing District is my favorite Anaheim destination, and a popular destination for foodies. There are over 50 food vendors offering everything from Korean BBQ to artisanal gelato.
Check out A FOODIE'S GUIDE TO THE ULTIMATE ANAHEIM PACKING DISTRICT EXPERIENCE to help you plan your visit to the Anaheim Packing District!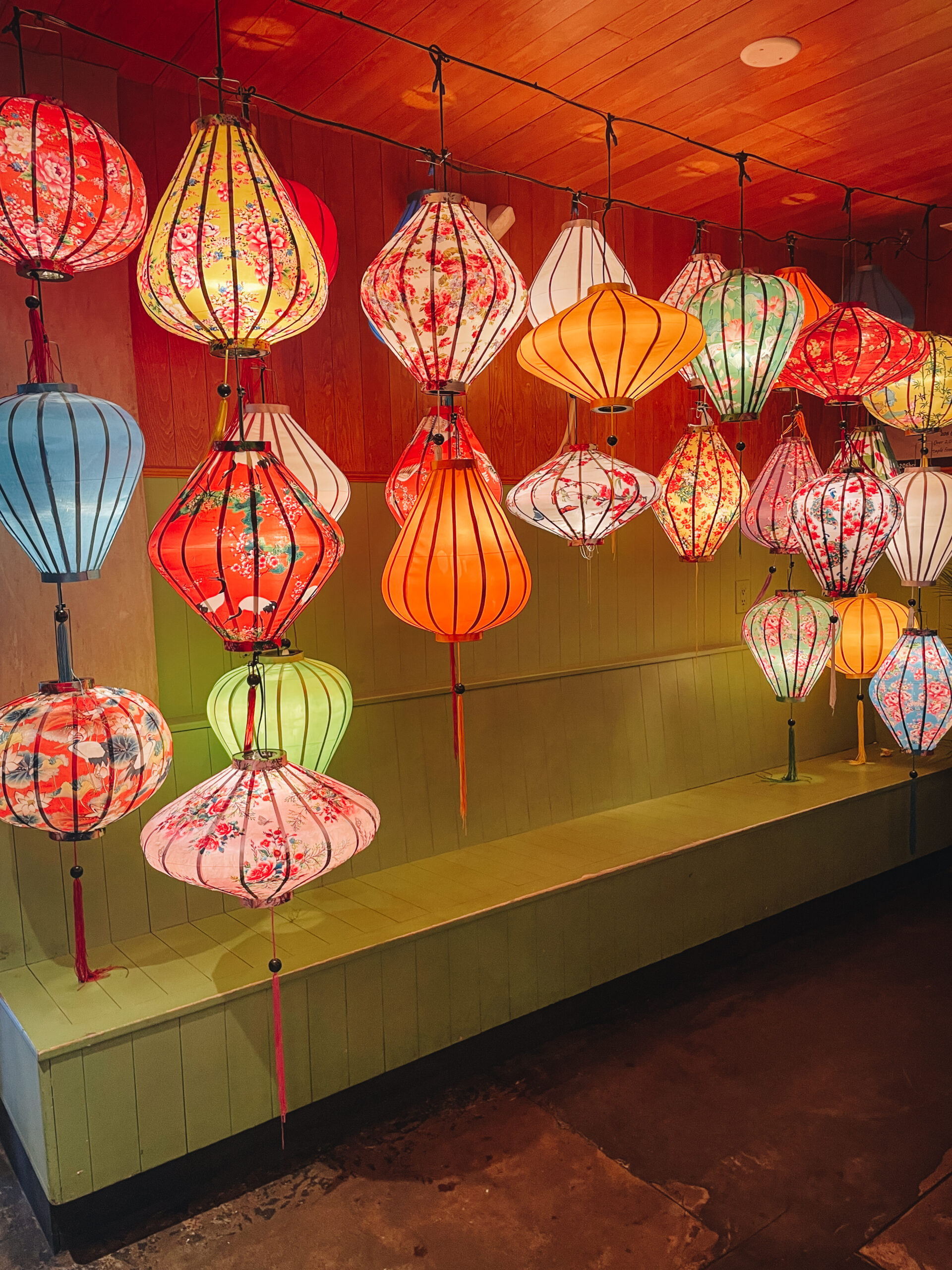 Places to Eat in Anaheim
The Blind Rabbit – my favorite hidden speakeasy
Anaheim Packing District – check out the link above for info on my favorite food vendors
Puesto – Mexican Cocktail Bar
Black Tap – Downtown Disney
Cabana – trendy Cuban restaurant and cocktail bar
11. Agoura Hills / Calabassas, California
Drive Time: 30-60 minutes
Agoura Hills is a hidden gem of a day trip destination from Los Angeles. Located just 30 miles from downtown, this charming town paired with favorites from Calabasas makes the perfect day trip getaway.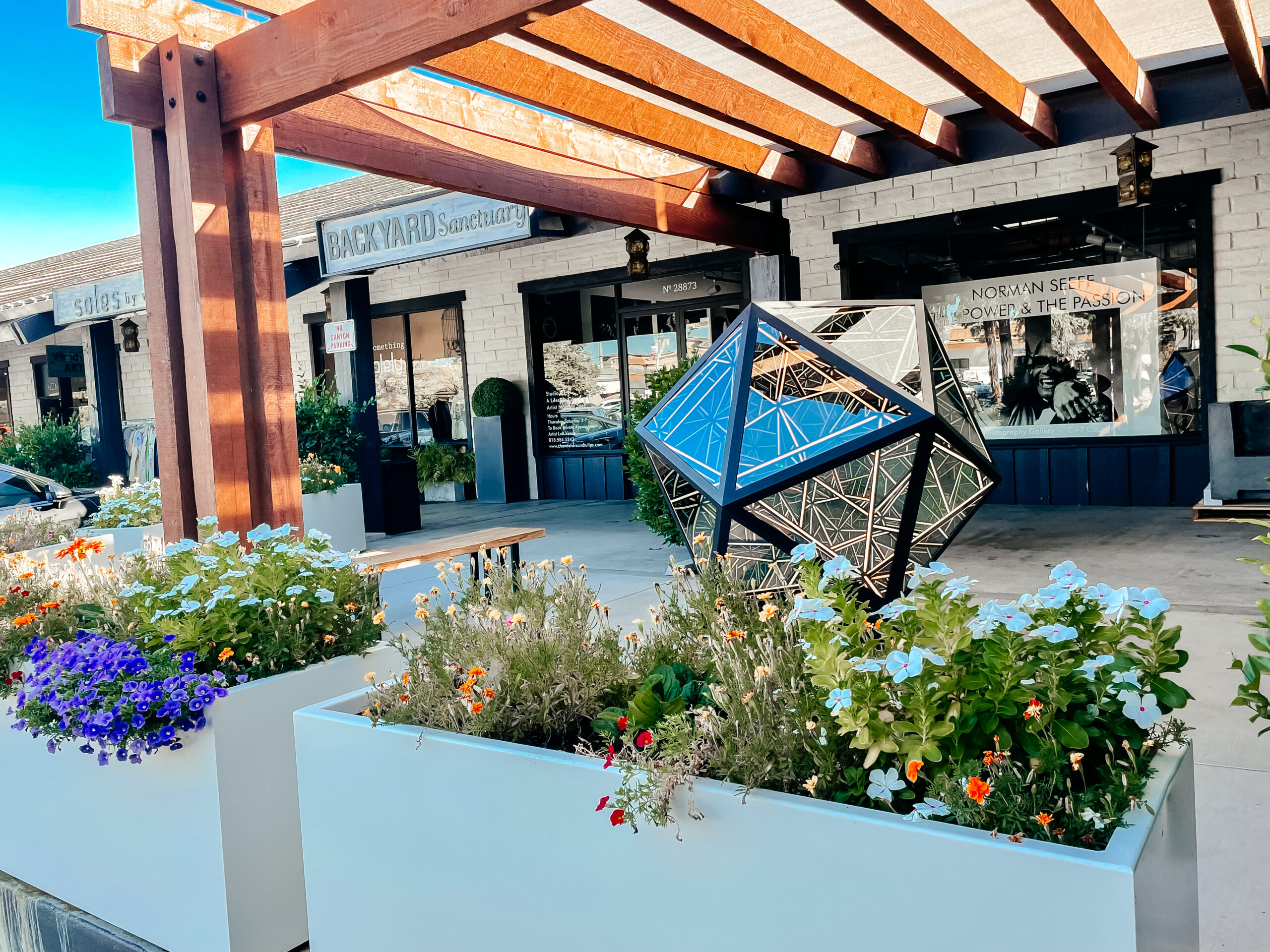 Things to Do in Agoura Hills
The area is known for its scenic hiking trails, including the Santa Monica Mountains National Recreation Area and Malibu Creek State Park.
If you're not up for a hike, check out the Paramount Ranch, which was used as a set for many Hollywood Western movies
Antique shopping at Whizin's Center and Whizin Market Square
Drive around in the Santa Monica Mountains
Spot the resident peacock at The Old Place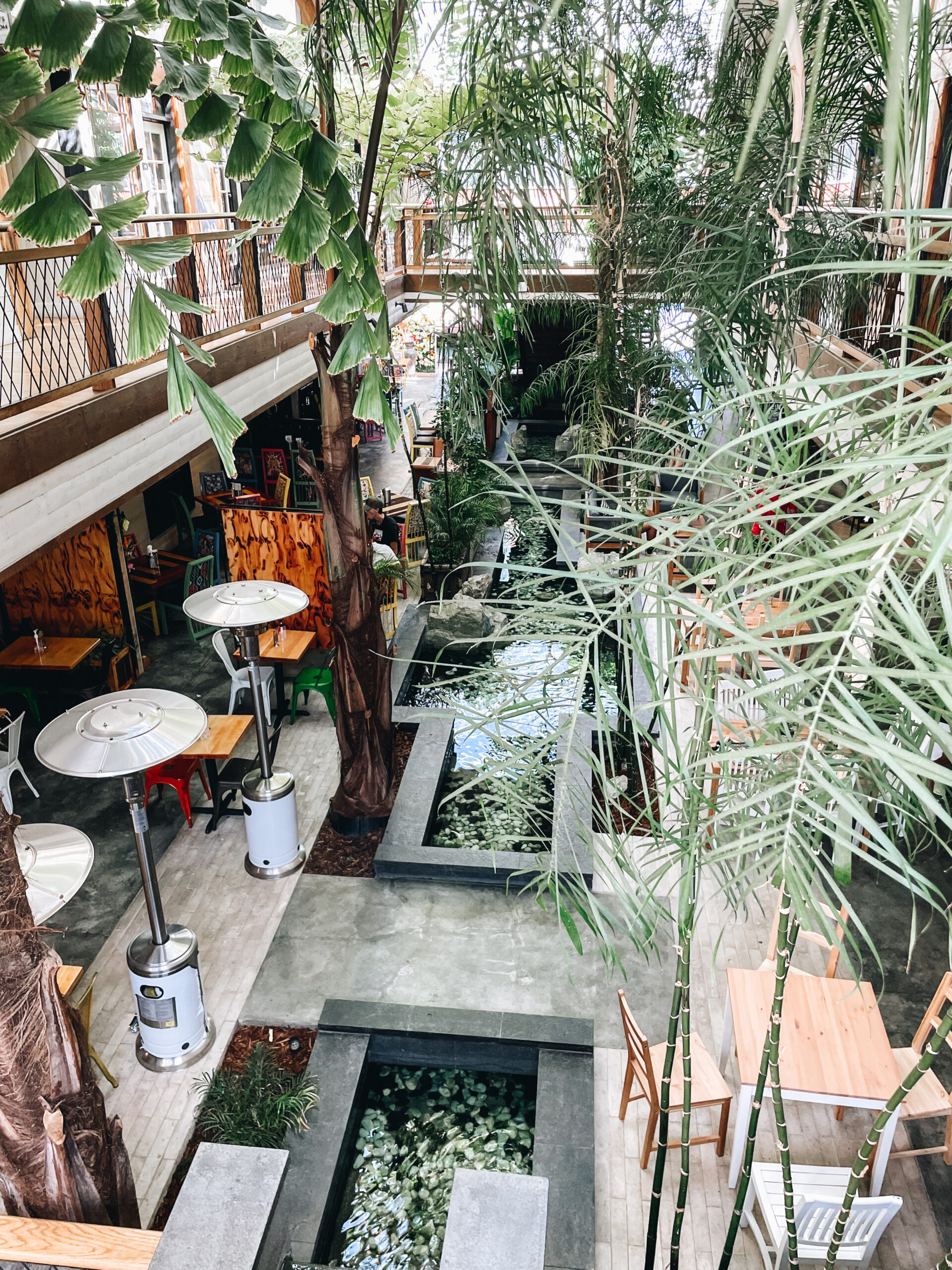 Places to Eat in Agoura Hills
The Old Place – hands down my favorite spot in the Agoura area! Unique spot that's perfect for hanging out and taking it slow.
Sage Bistro – delicious vegetarian food that you won't realize is vegetarian. The buffalo cauliflower pizza is amazing!
Sugarfish – Calabasas
Pedaler's Fork Restaurant and 10 speed Coffee Shop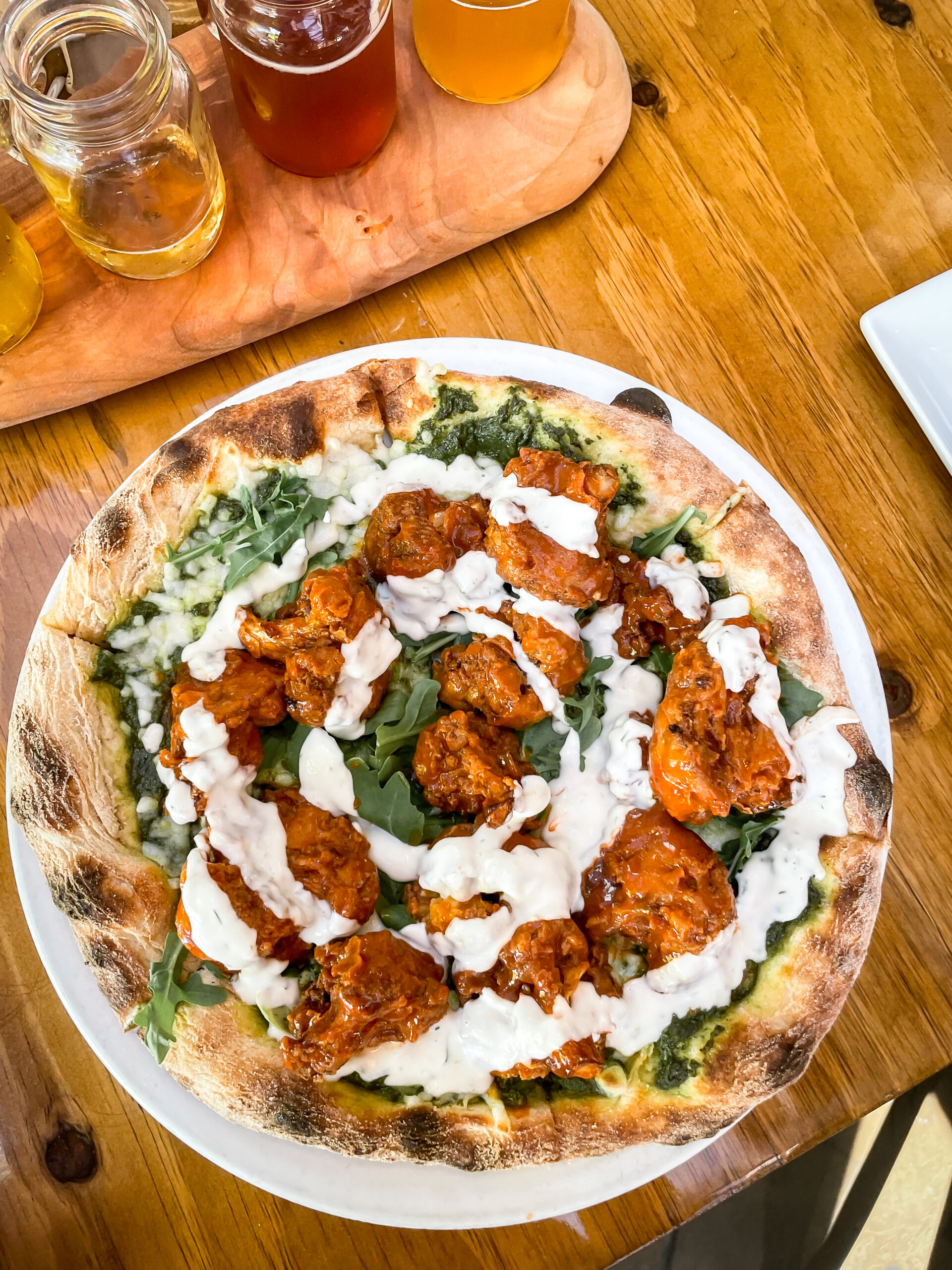 Check out my post The Old Place Cornell, A Cozy Escape from LA to learn more about how to visit this charming old restaurant and coffee shop!
Which Day Trips from Los Angeles Will You Be Planning?
Whether you're a nature lover, foodie, or just looking for a change of scenery, these day trips from Los Angeles are sure to fill your adventure-meter or help you unwind. I hope they inspired you to plan an incredible day trip!
Don't forget to save this post, share it, and let me know your favorite below in the comments.
Happy travels!
-Hannah
This post is all about the best day trips from Los Angeles.