10 Fabulous and Affordable Places to Stay in Temecula, California That Aren't Chains
Looking for "boujee on a budget" places to stay in Temecula, California?
As we all know, finding the right place to stay can be the most fun and overwhelming part of planning a trip, especially when you're trying to stay on a budget. And while Temecula is a much more affordable option compared to its classy California sister, Napa Valley; it can still be tricky to find affordable places to stay in Temecula under $250/night that aren't chain hotels like La Quinta Inn or Best Western.
I feel your struggle! Which is why after visiting Temecula many times and spending hours searching online for cheap options, I decided to make the task easier for you by giving you ten fabulous and affordable places to stay in Temecula.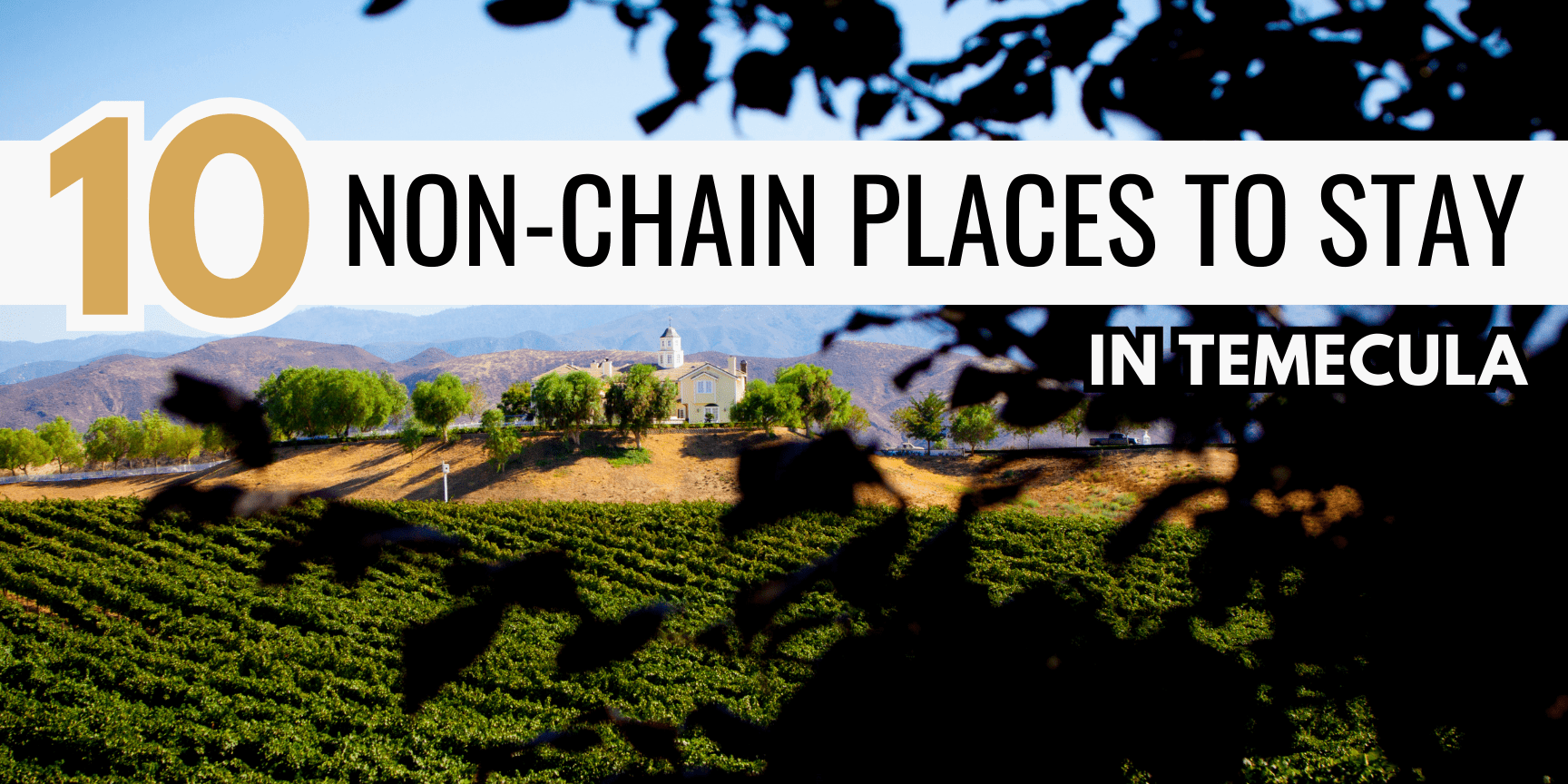 This post is all about fabulous and affordable places to stay in Temecula, California.
This post may contain affiliate links, which means that I may receive a commission if you make a purchase using these links at no cost to you. As an Amazon Associate I earn from qualifying purchases at no additional cost to you.
Places to Stay in Temecula, CA
Whether you're a solo traveler, visiting with your girlfriends or going for a romantic getaway, I've got you covered with these fabulous and unique places to stay that won't leave you broke.
1. VILLA INN & SPA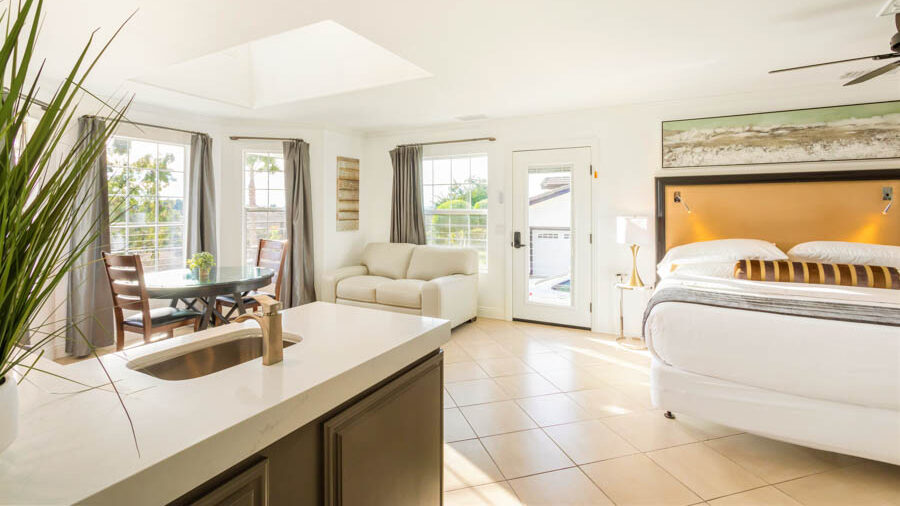 The Villa Inn & Spa is the perfect blend of condo resort living with a local, boutique bed and breakfast style.
The interior is a "condo hotel" with six different guest suites, which are all spacious and luxurious with king beds, high ceilings and walk-in showers.
From the exterior you'll see a beautiful estate with views of the mountains and a relaxing outdoor pool with cabanas. Although the location is secluded, it is just 10 miles from Old Town Temecula and a short 5 minute drive to several wineries.
Average Price: $224 / Night
Highlights: Short Distance to Wineries, Outdoor Pool, Mountain Views

2. RUSTIC FARM MEADOW STAY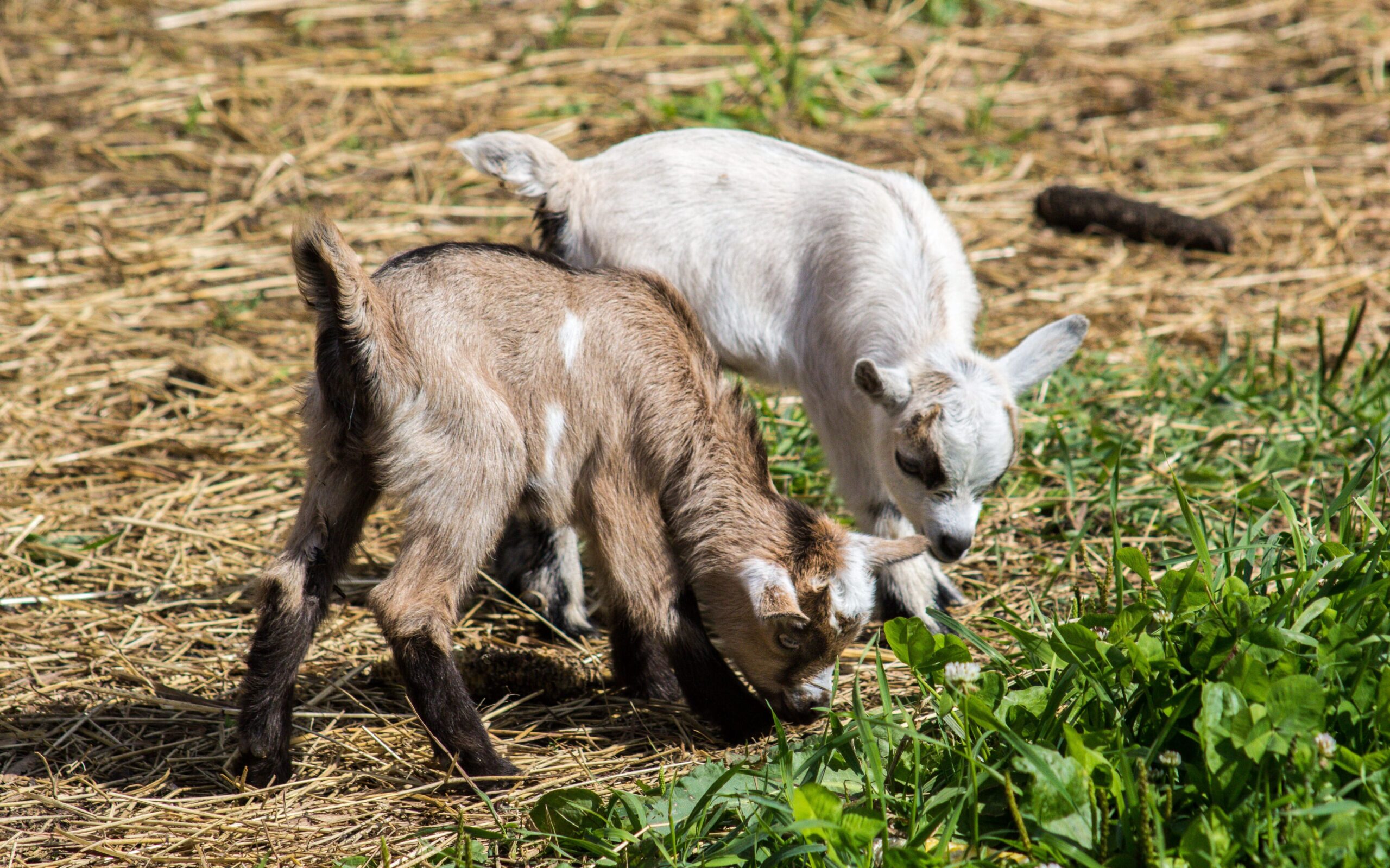 A rustic stay with cute baby farm animals?! Sign me up.
The Rustic Farm Meadow Stay is found just 30 minutes east of Temecula with beautiful gardens and mountain views. You'll stay overnight in the fully-stocked 1-bedroom RV with a private outdoor lounge area and picnic table.
Chances are the owner will invite you to meet and pet the many farm animals including pigs, goats and sheep.
This is a unique and affordable place to stay that is perfect for kids or animal lovers who enjoy a nature escape!
Average Price: $197 / Night
Highlights: Farm Animals, Rustic Vibe, Private Outdoor Patio

3. AIRBNB: OAK COUNTRY CRUISER WITH A VIEW
We stayed in Nic and Rachel's Oak Country Cruiser RV via Airbnb for one night on a recent trip to Temecula. Even though it felt very serene and remote, it was only 20 minutes south of Old Town Temecula.
The RV is perched up at the top of the property, and it feels very private. The best part was waking up in the morning and sipping coffee outside with a beautiful view!
It was the perfect, quiet and comfortable place to stay in Temecula at a reasonable price.
Average Price: $126 / Night
Highlights: Private RV with a View

4. SOUTH COAST WINERY RESORT & SPA
South Coast is a beautiful boutique resort on a 38-acre winery, just 15 minutes' drive from Old Town Temecula. And the prices are among the more affordable stays in Temecula!
I loved wandering around the property with their pergolas and beautiful grounds. It is also adjacent to Ponte Winery if you want to try another winery without driving.
They've got an on-site bar and restaurant, outdoor pool, and even a spa and wellness center. You can even get a free glass of wine in the spa while you overlook Mount Palomar from the veranda.
Oh, and did I mention the restaurant? The Vineyard Rose is a great Mediterranean spot focusing on locally grown ingredients, paired perfectly with the vineyard's delicious wines.
South Coast is a great choice for experiencing wineries, tastings, great food and a fabulous spa all on foot without driving.
Average Price: $239 / Night
Highlights: Spa, Winery, Outdoor Pool

5. AIRBNB: "THE COZY TANNIN"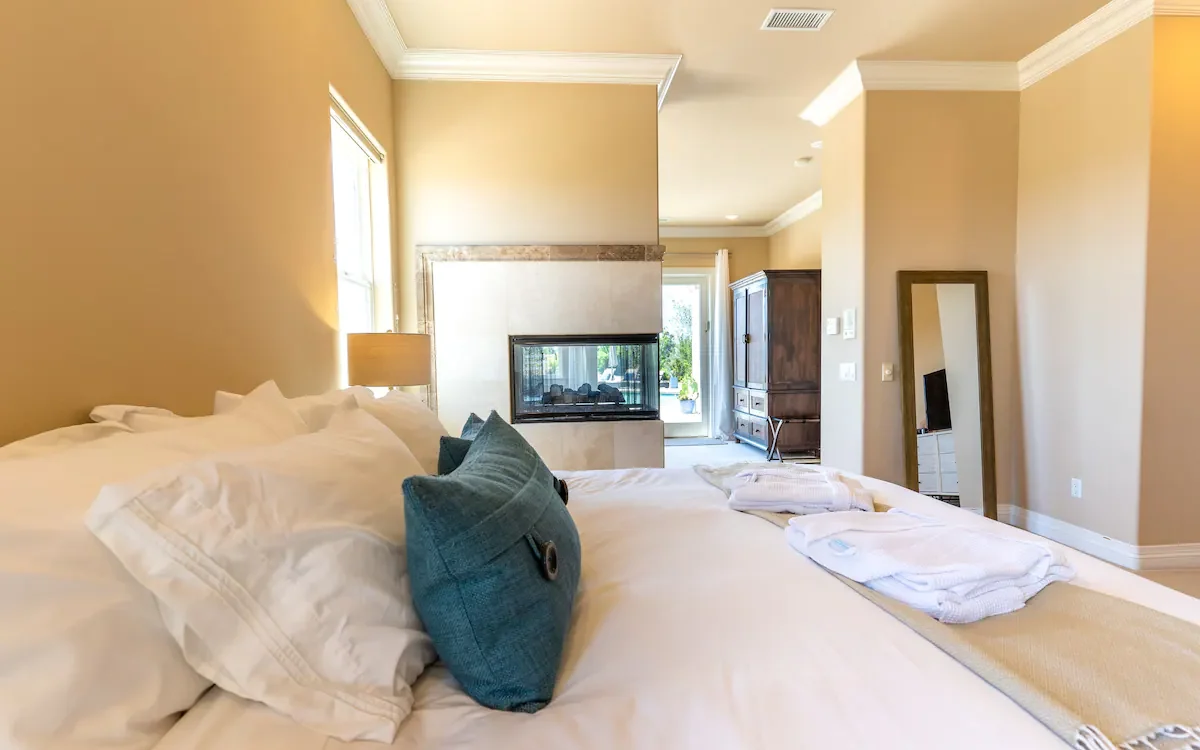 We booked The Cozy Tannin on Airbnb for a weekend getaway, and it was beyond my expectations!
Jennifer was incredibly sweet and helpful, offering suggestions and checking with us to make sure we had what we needed.
The suite was much larger than I expected. It's essentially an apartment located on the side of the house with it's own separate entrance. But it felt entirely like a home and there were no privacy issues.
The bathroom was insanely cool! It had a massive shower with double shower heads, a spa bath and robes.
A kitchenette and coffee maker are available wh/ich can help you cut down on costs by making coffee and bringing snacks. We enjoyed sipping our cups of coffee out on the porch in the morning overlooking the hills. So peaceful and serene.
Average Price: $175 / Night
Highlights: Spacious Private Guest Suite, View, Large Spa Bathroom

6. GAIA INN & SPA
Gaia Inn and Spa in Temecula is only 7.3 miles away from Old Town Temecula. They have a hot tub and a luxurious seasonal outdoor swimming pool that's perfect for warmer summer months.
The inn also has a shared lounge and terrace where you can meet other guests and make new friends. Plus, they have barbecue facilities, so you can have a fun and delicious cookout.
Gaia Inn and Spa also offers a continental breakfast to all of their guests.
Average Price: $204 / Night
Highlights: Cozy Suites, Outdoor Pool and Hot Tub

7. TEMECULA CREEK INN
The beautiful property of Temecula Creek Inn sits on a 27-hole golf course surrounded by beautiful views of the mountains.
My favorite part is that each room has its own fireplace. The overall vibe is clean and comfortable, but in my opinion the guest room decor is a bit underwhelming.
There are a few restaurants on site and lots of amenities. If you're looking for an affordable place to stay in Temecula for golfing, this is a great one to check out.
Average Price: $175 / Night
Highlights: Golf Course, Fireplace in Guest Rooms, Dining Options

8. YURT ESCAPE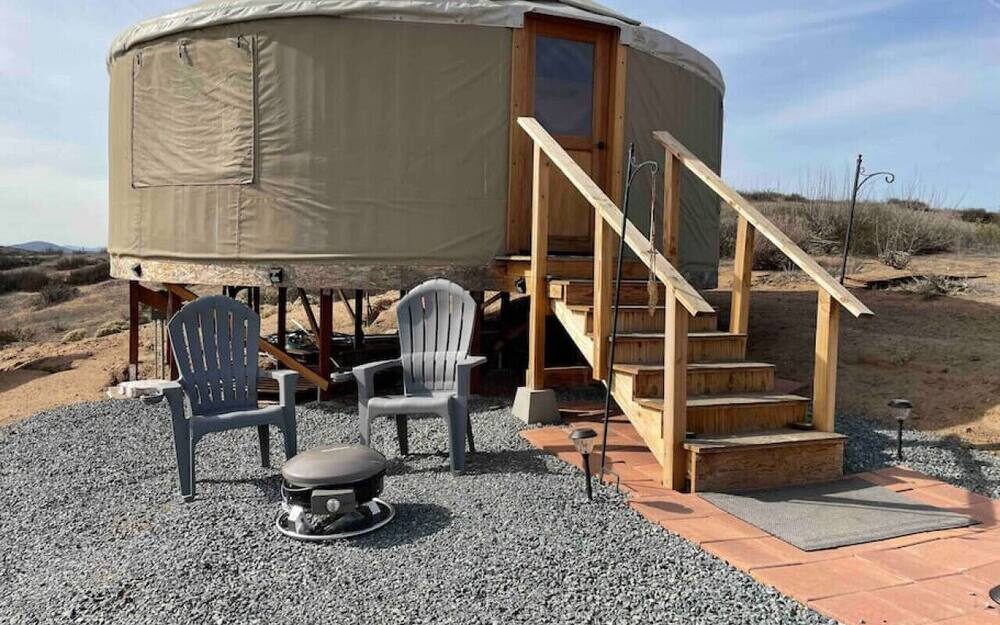 30 minutes west of Old Town Temecula, you can stay overnight in a yurt with incredible views!
Sure, this is technically camping, but the yurt has so many amenities that it will feel more like an apartment. It has a bathroom, kitchenette, dining area, bedroom and a flat screen TV. The host even provides a complimentary bottle of champagne or wine, and you can enjoy it outside on the Adirondack chairs while you soak in the views.
The average price I found for the next sixth months was just $124 per night, which makes this a great deal in Temecula wine country!
Average Price: $124 / Night
Highlights: Luxury Yurt with a View

9. PEPPERTREE LANE RANCH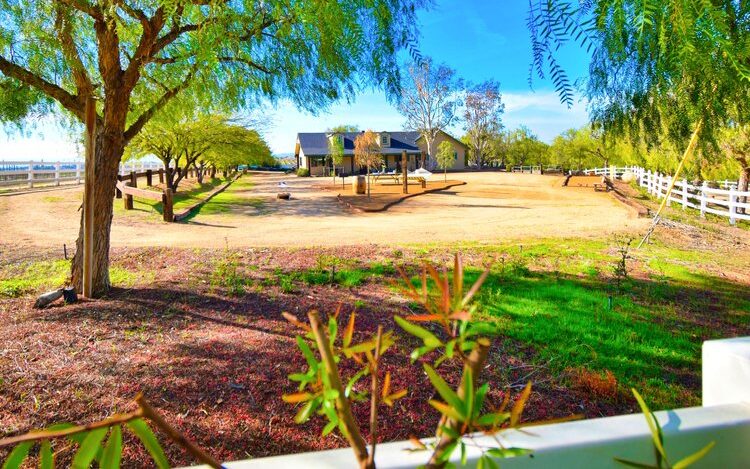 The Peppertree Lane Ranch is the epitome of upscale rustic Temecula living.
There are multiple buildings on the property including the main residence, an entire 3,600 square foot 4-bedroom home with a heated pool and spa and a gorgeous outdoor grilling area.
The Cottage, pictured above, is a 2-bedroom 2-bath guest home with plenty of privacy and lots of rustic charm.
The third structure is a collection of four private villas with a shared lobby space. Each villa offers a king bed, electric fireplace, smart TV, mini-refrigerator, ceiling fan, coffee and espresso machines. The bathrooms all have large stone showers and double sinks.
If you're looking for a romantic or serene place to stay in Temecula without a luxury price tag, the Peppertree Lane Ranch is a great one to consider!
Average Price: $254 / Night
Highlights: Great Location, Highly Rated, Upscale Ranch

10. CHURON INN WINERY
I love the Tuscan-inspired traditional decor and vibe of Churon Inn Winery!
This property is jut 5 miles outside of Old Town, so it's a quick journey back to your cozy room after an evening of exploring the delicious restaurants and bars, but remote enough to give you a quiet and peaceful stay.
They offer a full English/Irish breakfast to guests every morning that you can enjoy in your guest room or in the main dining room.
If you're up for a wine tasting, just follow the long curved marble staircase to the bar and tasting room.
Prices are relatively affordable for Temecula standards, especially considering all of the amenities, fabulous views, and elegant touches that will make it worth every penny.
Average Price: $187 / Night
Highlights: Bed & Breakfast, Great Views, Great Location

---

12 Best Old Town Temecula Restaurants
Ways to Save Money on Hotel Bookings
---
Remember to Save These Places to Stay in Temecula
Now that you've seen my top ten places to stay in Temecula, I hope I made your Temecula itinerary planning a little bit easier! If you found this post helpful, remember to pin the images below for later!
Don't forget to use my favorite hotel hacks for earning cash back and finding cheap rates. You can literally get FREE MONEY back in the mail after your trip. It still blows my mind why some people don't use this…
Plus, if you can save on accommodations, it just means more room in the budget to enjoy the incredible restaurants and cocktail bars of Old Town Temecula.
If you need more tips to enjoy your stay in beautiful Temecula, please drop me a comment and I'm always happy to chat.
Happy travels!
-Hannah
This post was all about fabulous and affordable places to stay in Temecula, California.