Travel Tip Tuesday
Every Tuesday I add a new travel tip to this list! Check back for more, and follow me on Instagram for weekly tips and lots of yummy food.
As a travel junkie who has explored over 15 countries, I can confidently say that traveling on a budget doesn't mean you have to compromise on experiences. In fact, some of my most memorable trips have been the ones where I spent less and discovered hidden gems that are not in the guidebooks.
Unlike full-time travel bloggers, I've been able to do a huge majority of my travel while working full time, using PTO, or working remotely. So I understand the struggle to make the best of short trips, maximize your budget, and fit things in around your work schedule.
Here are some of my favorite travel tips to help you save money, find great places, and be more comfortable on your next adventure.
This post is all about Travel Tips, with new tips added every Tuesday.
Travel Tips
1. Get Cash Back
Did you know you can earn up to 7% cash back on hotel stays, airfare, car rentals, cruises, and vacation homes? It's so easy to use and checks show up in the mail every 3 months, just like magic. I've earned over $400 so far!
It's my favorite hack because it's literally free money! Just sign up for Rakuten and add the extension and/or download the app. Watch the money roll back in, and then use it for your next trip!
2. Use Packing Cubes
Packing cubes make packing so much easier! Not only can you fit a lot more in with less space, but it helps you stay organized during your trip.
These are my favorite compression packaging cubes on Amazon from Tripped Travel Gear (Tim and Fin are awesome travelers!). I definitely recommend grabbing these so you can use them on your next trip. I promise you want go back to rolling and stuffing and unorganized suitcase chaos.
3. Find Secret Hotel Deals
You can find secret hotel deals from a few third party sites like Priceline and Hotwire.
I personally prefer Hotwire Hot Rates because they often reveal the actual photo of the hotel room! This helps you perform a regular search, compare photos, and easily determine which hotel it is.
Pro Tip: Hotwire rates are always cheaper in the app, although usually only by $1 or $2
Pro Tip: Use promo code HWAPP10 for 10% off your first booking in the app
Learn more about this hack and other hotel deal hacks in the Best Hotel Hacks blog post below.
4. Find Restaurant Week Deals
When traveling, Google search "restaurant week + city". If the timing aligns, you can find great deals on local favorite restaurants!
We visited Portland during a city-wide burger week and planned a burger crawl, which was fun and cheap!
5. Avoid Friday and Sunday Flights
Fridays and Sundays are the most popular for air travel.
Look for Tuesday – Thursday flights for the best deals and smaller airport crowds!
6. Carry On Luggage with USB Charger
Buying carry on luggage with a charger has been a game changer for airport travel! I can charge in the Uber, at the airport or on the plane without searching for outlets.
This carry on suitcase from Amazon is the perfect size and comes with a built in USB charging port.

7. Pack Your Own Snorkel Gear
Renting snorkel gear can be expensive and can limit your time in the water.
These full face snorkel masks from Amazon are SO much better to use than rentals! Plus, they come with a travel bag making it easy to pack in your suitcase or tie onto a backpack.

8. Find Happy Hours
When traveling, research the happy hour times at popular restaurants.
Happy hour deals aren't limited to drinks. Some establishments offer discounted food, which allows you to enjoy a popular spot at a reduced price.
9. Filtered Water Bottle
Instead of buying bottled water, carry a reusable water bottle with a filter to purify tap water.
This will save you money and reduce plastic waste!
This rose gold filtered Brita water bottle is super cute and great for travel!

10. Use Skyscanner to Search for Flights
Skyscanner allows you to search many airlines at once to ensure you're getting the best price.
You can also search by month or country, helping you find the best deals when your dates and destination are flexible. Their low fare calendar helps you quickly find the best rates!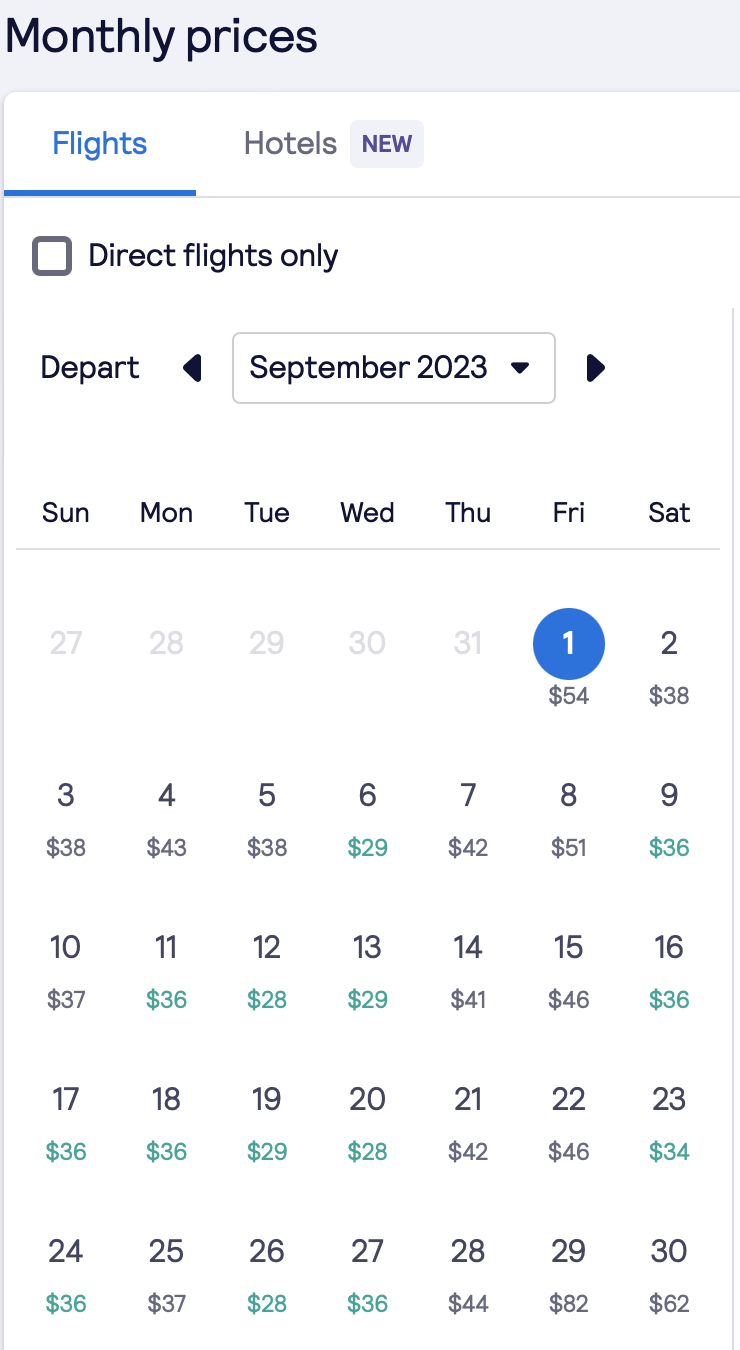 11. Be Open to Alternate Airports
This might be my favorite travel tip! Check flights to and from nearby airports, which may offer cheaper options. Sometimes a short commute can save you a lot of money.
I saved over $500 by booking a flight from Tampa to Las Vegas instead of Los Angeles. We spent the night in Vegas (for $4 plus taxes using the Hopper app) then grabbed a $49 flight back to LA the next morning (which we paid only $11.20 for in taxes and fees using out Southwest Rewards Points and Companion Pass).
Not only did we save money, but we got a fun night in Vegas! Be open to searching alternate airports and creating your own route.
---
Want more travel tips?
Follow me on Instagram for weekly tips and lots of yummy food! I'll add a new travel tip to this list every Tuesday, and post it on Instagram as well.
Happy travels, friends!
-Hannah
This post is all about Travel Tips, with new tips added every Tuesday.