Where to Stay in Napa Valley on a Budget
Looking for "boujee on a budget" places to stay in Napa Valley California?
So you finally decide to book a trip a Napa! You booked your flights, planned the dates and started looking up the best wineries to visit and planning the ultimate Napa itinerary! And then you started your hotel search, and your jaw hit the floor with sticker shock… whomp whomp.
I feel your struggle! The prices are literally the ONLY thing about Napa that I dislike. Which is why after visiting many times and spending hours searching online for the cheapest options, I decided to make things easier for you by giving you ten fabulous places to stay in Napa Valley if you're traveling on a budget.
This post is all about where to stay in Napa Valley on a budget.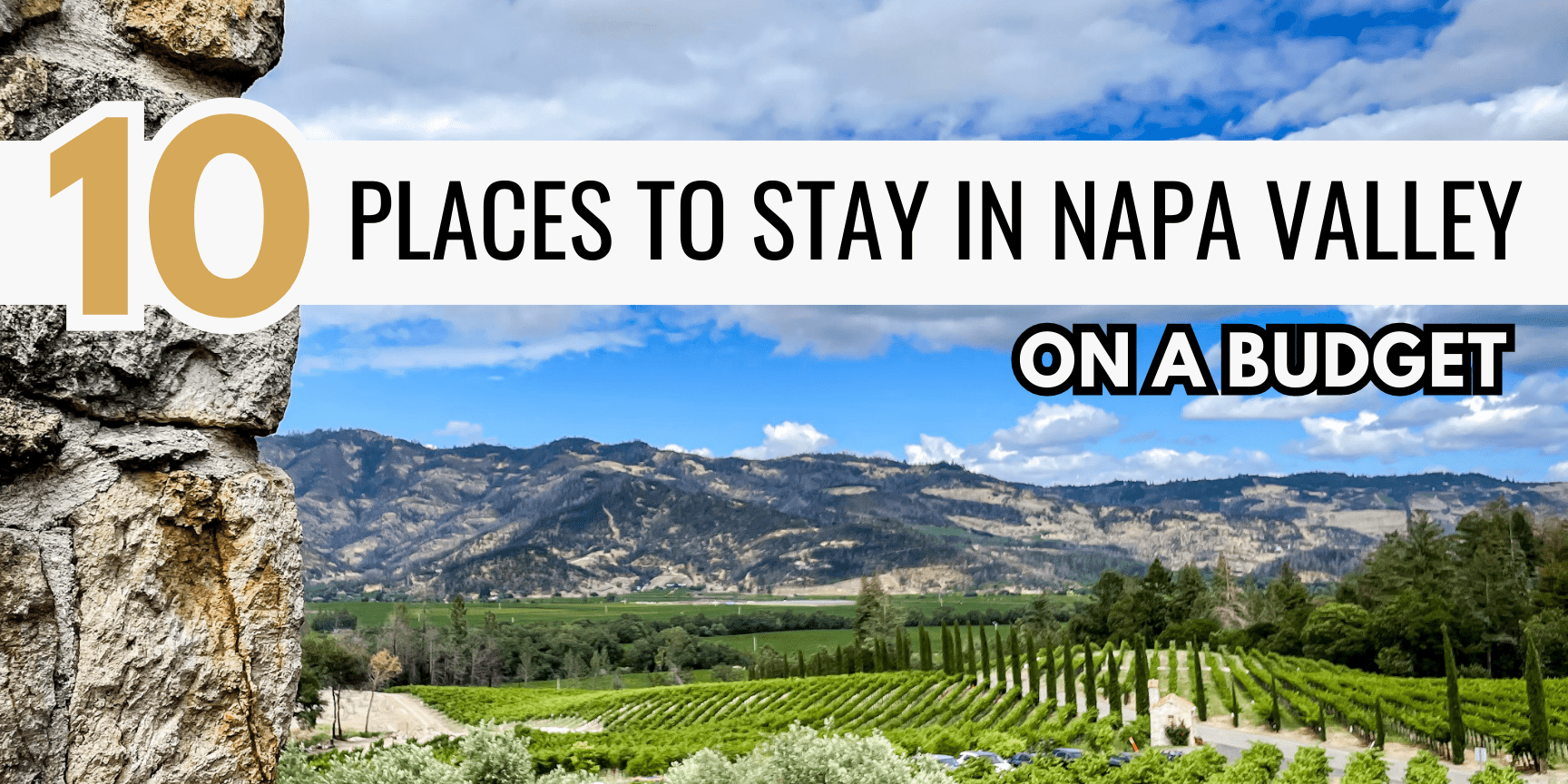 This post may contain affiliate links, which means that I may receive a commission if you make a purchase using these links at no cost to you. As an Amazon Associate I earn from qualifying purchases at no additional cost to you.
Where to Stay in Napa Valley on a Budget
The more you save on hotels the more money you have left in the budget for wine and amazing dinners in Yountville!
Whether you're a solo traveler, visiting with your girlfriends or planning a romantic getaway, I've got you covered with these fabulous places to stay that won't leave you totally broke.
What Are the Cheapest Times to Visit Napa?
The summer and fall are the most popular seasons for Napa Valley travel, which means hotels will be the most expensive during these dates. If you're looking for the most affordable dates, consider the winter and spring months, November through May.
Weekends also tend to be the most expensive, and simply booking your stay on weeknights can save you hundreds of dollars in Napa Valley! Use that PTO and book a weeknight, it will be worth it I promise…
1. CAMBRIA HOTEL (NAPA)
I usually like to stay near the downtown areas when I travel, maybe because my fomo is strong. Something about being close to the 'action' makes me feel like I'm experiencing the most of what a city can offer.
While I wouldn't describe Napa as a buzzing nightlife town, the Downtown Napa area is where you'll find the most to do and see outside of wine tasting and spas. So the Cambria Hotel is a great choice for a convenient location and a comfortable stay at a good price!
It's just 5 minutes from Downtown Napa and a short walk to Oxbow Market which is a great place for coffee and an affordable but delicious meal.
Average Off-Season Price: $152 / Night
Average Peak Season Price: $233 / Night
Highlights: Near Downtown Napa, City View

2. SILVERADO RESORT & SPA (VICHY SPRINGS)
Okay, this might be my new favorite place to stay in Napa if you're looking for something a little more unique than a typical chain hotel. The prices aren't bad and the location is great!
Sometimes I feel like if you see the word "Spa" in a hotel's name, you can just go ahead and add a few extra dollar signs. But Silverado Resort was surprisingly affordable for its location, especially considering the beautiful property and all the amenities!
The grand entrance is quite an experience! Pulling onto the 1,200 acre resort with a long driveway and view of the colonial style clubhouse feels very regal and picturesque. Sort of like a scene from The Good Place. The property is HUGE so we were a little bit turned around and went to the wrong area, but a sweet man pulled up in a golf court and drove us over to our unit and even carried our bags in for us. Top notch service!
We didn't spend much time at the resort since our weekend itinerary was totally packed. But there is plenty to do with their 10 pools, tennis courts, 2 golf courses, 3 restaurants and 16,000-square foot spa that includes 17 private treatment rooms.
The rooms were clean and cozy, nothing too extravagant or over the top, which was just what we needed. And for paying less than $200 a night, this spot is a steal of a deal!
Average Off-Season Price: $174 / Night
Average Peak Season Price: $303 / Night
Highlights: Golf Resort, Spa, Near Wineries

3. EMBASSY SUITES BY HILTON (NAPA)
Embassy Suites was the first place I ever stayed in Napa. We booked a super cheap room here (around $90/night) during a road trip from Washington back home to Los Angeles using one of my favorite hotel hacks for last minute bookings. And I'm so glad we decided to stop here because we ended up coming back 3 times within the next year!
The exterior is beautiful and the courtyard with a pond is probably the best part. It was winter when we visited so we didn't enjoy it much, but it was still a beautiful serene way to wander to and from your room.
The rooms are suites, so they are quite spacious, which was convenient because I was working remotely during our trip. There was plenty of space to work and rest and even a little kitchenette.
We also appreciated the location being close to Downtown Napa. Of course, I'd prefer to stay within walking distance of Oxbow Market or closer to the wineries, but for an affordable option that is still close to the action, Embassy Suites is a great option!
Average Off-Season Price: $195 / Night
Average Peak Season Price: $299 / Night
Highlights: Suites with Kitchenette, Great for Remote Working, Near Downtown Napa

Don't Forget!
Book your stay on VRBO, Booking.com, Priceline, or Expedia to claim your cash back from Rakuten.
This is one of my 7 Favorite Hotel Booking Hacks that I use on every trip!
4. DOUBLETREE BY HILTON HOTEL & SPA (AMERICAN CANYON)
American Canyon is a city about 25 minutes south of Napa along Highway 29. Our group decided on one of our Napa trips during peak season so stay somewhere further out to save money so that we could spend more on all the amazing things we had packed into our Napa itinerary.
We didn't mind spending the 30-45 minutes to drive into the Valley for our activities, but I can see how it might be inconvenient for some.
Also, we were also flying out of Oakland so this was convenient for an easy departure and cut off at least 30 minutes that day vs staying in the Napa Valley.
The DoubleTree by Hilton in American Canyon was FAR cheaper than other hotels in the area, but still cozy and clean. Plus, I'll take any chance to stay at a DoubleTree so I can eat all the delicious oatmeal chocolate chip cookies!
Fun fact: those cookies are made by Christie Cookie Co in Nashville. You can pay them a visit for a DoubleTree cookie any time, or get them shipped to your house!
Average Off-Season Price: $138 / Night
Average Peak Season Price: $198/ Night
Highlights: Delicious Cookies, Affordable Prices, Convenient to Oakland Airport

5. CANDLELIGHT INN (NAPA – ADULTS ONLY)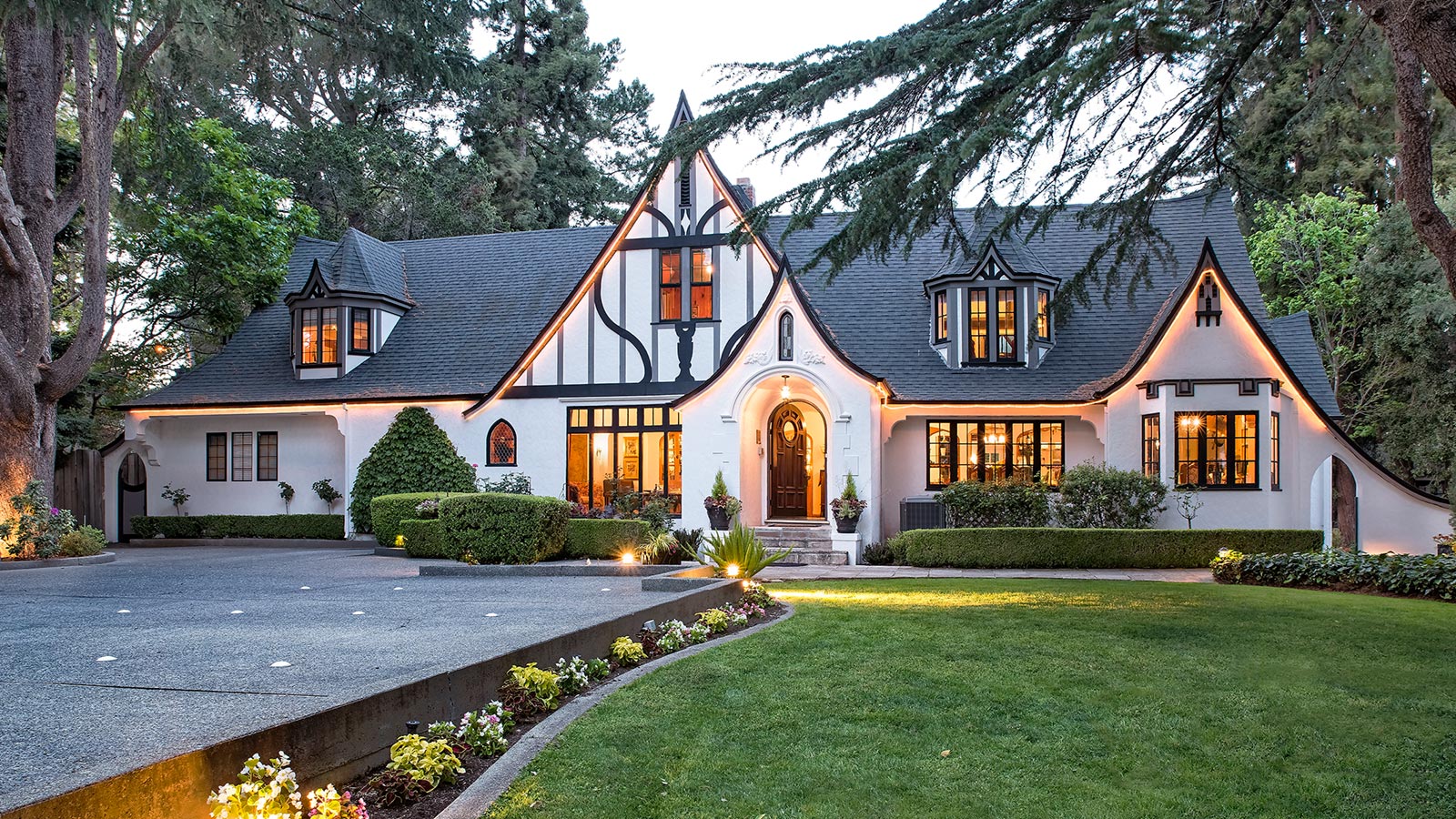 If you're like me, you jump at the chance to stay in a bed and breakfast any chance you can if the price is right. It just feels more authentic and unique, and especially in Napa, just the right move.
If you're fortunate enough to find an available room, The Candlelight Inn is a great place to stay in Napa Valley for that same experience without the scary price tags.
The English Tudor inn was built in 1929 and has an outdoor pool and patio. The innkeepers are happy to help you with wine country recommendations for things like restaurants, wineries to visit and how to plan an epic itinerary.
The best part? You're treated to a three-course breakfast each morning with fresh fruit, something sweet like pancakes or French toast and then a delicious egg dish.
With average prices under $300 per night, even during peak season, this should be on your list of accommodations to consider!
Average Off-Season Price: $219 / Night
Average Peak Season Price: $299 / Night
Highlights: English Tudor Bed and Breakfast with a Pool

6. THE BERGSON (CALISTOGA)
When I think of a romantic getaway in Napa Valley, I picture a charming B&B like The Bergson with a fireplace in the suite, jacuzzi tub and a balcony for sipping coffee in the morning. There are 22 guest rooms and each one is cozy and decorated with Victorian accents and furniture.
The best part is that The Bergson is within a 10 minute walk of historic Downtown Calistoga, or a short ride on the free Calistoga shuttle. This gives you access to great restaurants, tasting rooms and coffee shops.
Because there are only 22 rooms, this hotel books quickly so make sure you grab a room well in advance!
Average Off-Season Price: $139 / Night
Average Peak Season Price: $193/ Night
Highlights: Walkable to Downtown Calistoga, Charming Bed & Breakfast with Victorian Charm

7. SPRINGHILL SUITES (NAPA)
Another affordable and comfortable place to stay near Napa Valley is Springhill Suites, just south of downtown Napa.
The hotel has a heated outdoor pool and hot tub. Each suite has a separate living area with a sofa and a microwave and refrigerator are included.
Average Off-Season Price: $170 / Night
Average Peak Season Price: $208/ Night
Highlights: Walkable to Downtown Calistoga, Charming Bed & Breakfast with Victorian Charm

8. VINO BELLO RESORT (NAPA)
Traveling with a family or larger group? There are several options at Vino Bello luxury resort including one or two bedroom units that sleep up to 8 people.
It's located just north of downtown Napa, with a free shuttle so you can enjoy as much amazing Napa wine at dinner as you want.
There are 2 outdoor pools, a water playground for kids, a cave spa, fitness center and outdoor grills. Each room has a full kitchen and a furnished balcony.
Vino Bello is a great place to relax and unwind in Napa Valley, especially as a group, without breaking your budget.
Average Off-Season Price: $174 / Night
Average Peak Season Price: $289/ Night
Highlights: Luxury Condos, Great for Groups, Resort Amenities, Pool

9. RIVERPOINTE NAPA VALLEY RESORT (NAPA)
The RiverPointe Napa Valley Resort is an adorable village of cozy tiny home cottages located on the banks of the Napa River.
The units are painted in fun, bright colors on the exterior, but the interior is warm and welcoming. Each unit is surprisingly spacious with ceiling fans, full kitchens and patios. Some cottages even have a sofa bed for a third or fourth guest.
The resort has an outdoor heated pool, a laundry center, BBQ area and on-site gym.
Average Off-Season Price: $224 / Night
Average Peak Season Price: $289 / Night
Highlights: Private Cottages, Kitchen, Outdoor Pool, Laundry Facilities

10. UPVALLEY INN & HOT SPRINGS (CALISTOGA)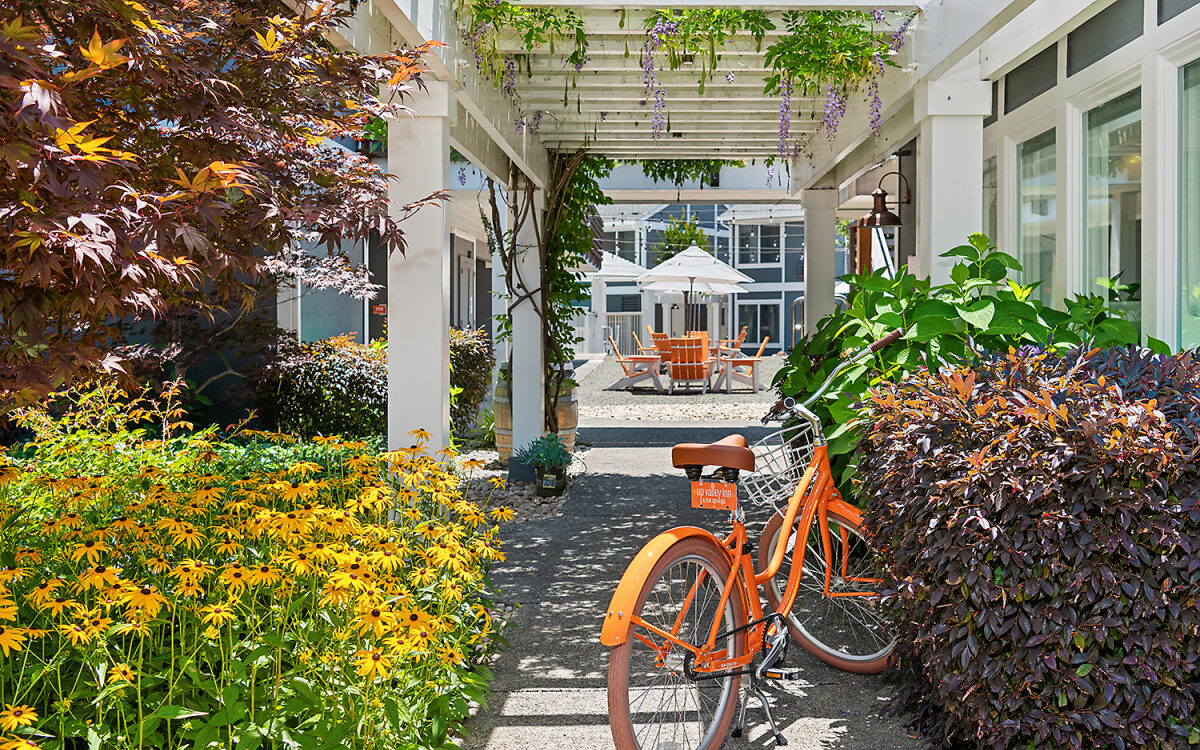 Yes, it's true! There's an affordable hotel in Calistoga that has a naturally heated outdoor pool and hot tub! I repeat… NOT ALL HOT SPRING HOTELS = BIG $$$$
After a day of wine tasting, exploring Old Faithful Geyser or the Petrified Forst, you can head back to your room at UpValley Inn and relax in the geothermal-heated mineral water. What a cool experience!
The vibe of the hotel is a bit modern, with clean bright orange accents like the Adirondack chairs in the center courtyard or the adorable bright orange bikes that are available for guest use.
Calistoga is a perfect location to stay if you're planning to visit any of the beautiful wineries on the north end of Napa Valley like Chateau Montelena or Castello di Amoroso (and you should).
For the money, this hotel might just be the best value with the best location in the whole Napa Valley!
Average Off-Season Price: $ 168 / Night
Average Peak Season Price: $ 212 / Night
Highlights: Hot Springs, Sauna, Location

---

Insanely Good Yountville Restaurants
Ways to Save Money on Hotel Bookings
Ultimate Napa Valley Itinerary You Need to Copy
---
Now You Know Where to Stay in Napa Valley on a Budget!
Now that you know where to stay in Napa Valley on a budget, you can get back to the fun part of planning your itinerary… the food and wineries!
Don't forget to use my favorite hotel hacks for earning cash back and finding cheap rates. You can literally get FREE MONEY back in the mail after your trip. It still blows my mind why some people don't use this…
But if you need more tips to enjoy your stay in beautiful Napa Valley, please drop me a comment and I'm always happy to chat.
If you found this post helpful, remember to pin the images below for later!
Happy travels!
-Hannah
This post was all about where to stay in Napa Valley on a budget.