Best of Napa Valley – The Perfect Itinerary
Heading to Napa Valley? This guide is full of the best places to stay, where to eat, and wineries to visit. So it's the perfect place to start planning your perfect Napa Valley itinerary!
Napa ranks high on my list of places you should visit for a weekend! I mean… the views, the history, amazing food, laid-back vibe, and of course incredible wines. What more can a girl ask for?
I've made several trips to Napa, and each time found that a long weekend (2-3 nights) was just right for me. There are over 400 wineries in Napa Valley alone, so you won't make a dent in one visit! Don't try to pack it all in.
Here are some of the best highlights here so you can plan the perfect Napa Valley itinerary at just the right pace.
This post is all about planning the perfect Napa Valley itinerary.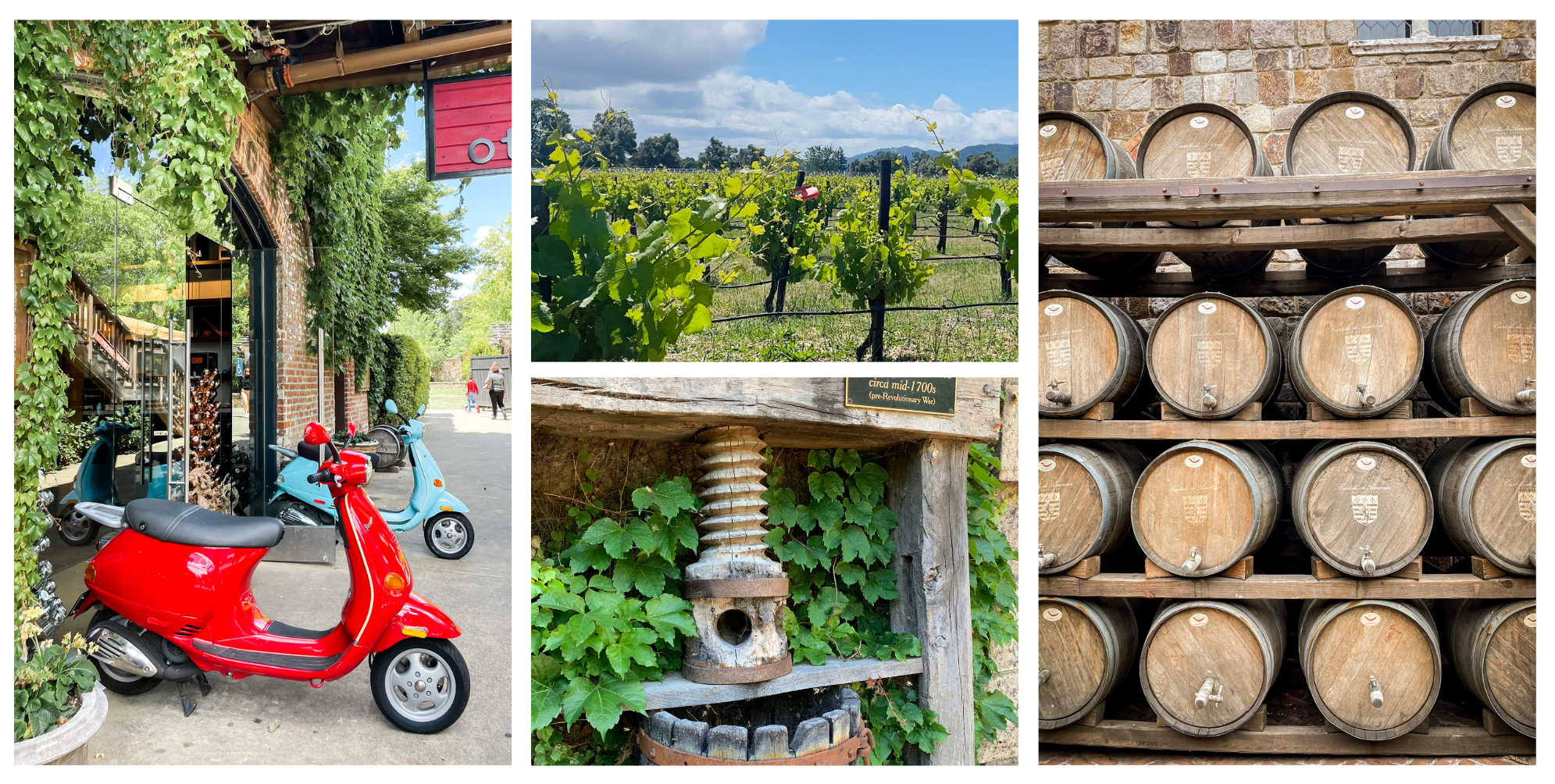 This post may contain affiliate links, which means that I may receive a commission if you make a purchase using these links at no cost to you. As an Amazon Associate I earn from qualifying purchases at no additional cost to you.
Napa vs Napa Valley
What is Napa? There is often confusion about this because the City of Napa is on the south end and is only part of the Napa Valley. To get the full Napa Valley experience, you'll want to venture out to several areas in the Valley, not just the city of Napa. Similarly, the nearby Sonoma Valley also has a city on the south end called Sonoma.
Highway 29 runs throughout the Valley (known as the Vine). Plan your hotel stay accordingly because the stretch from Calistoga (north end) to Napa (south end) is about a 40-minute drive.
Getting to Napa
There are small airports nearby in Santa Rosa, Sonoma and Napa. But the larger airports are usually more cost effective, so I like to fly into Oakland, San Francisco, or San Jose. My flight was free (except for the $5.20 taxes and fees) thanks to Rapid Reward points on Southwest!
To learn more about how I fly nearly free, check out my blog post How to Fly Free.
Getting Around
You'll likely want to rent a car, which tends to be easier from a major airport. Plus, the drive into Napa is one of my favorite parts. Driving away from the city into the beautiful landscape of Napa is a great way to start the weekend.
If everyone in your group is participating in tastings, here are a few options for transportation within the Valley.
Uber and Lyft are allowed, but cell service can be spotty and availability of cars unreliable
Calistoga has a free bus to get around within the city
Hire a private driver
Where to Stay
Like I said, Napa Valley is big and encompasses several cities. So there are plenty of options for places to stay depending on which part of the Valley you plan to visit most.
Hotel stays are not cheap in the cities in heart of Napa Valley like Calistoga, St. Helena, or Yountville. But they do offer the most luxury and a great location for wine tastings.
The city of Napa usually has the more affordable options. Or there other good options in surrounding cities like Santa Rosa or American Canyon if you're willing to drive a bit each day.
Here are some of my top recommendations.
Luxury
Pet-Friendly
Unique
Affordable
Planning Your Napa Valley Itinerary
Here's my formula for planning the perfect day in Napa:
Food, then tasting, then food, another tasting, more food. (You're welcome).
Tastings and restaurants book up quickly, and you can't go on-site at most vineyards without reservations. Plan ahead, and book reservations.
Leave time in between because you don't want to rush. The Napa experience is all about enjoying the beauty of the wine and the scenery. This isn't a bar crawl, people! The wine is too good to be gulped down quickly as you rush off to the next. Take it slow and soak it in.
DAY 1
I like to travel in the late afternoon/evenings, which means arrival day is usually check in and dinner. Downtown Napa is a great place to start. There are lots of restaurants, some shopping, and you can take a walk by the river.
Dinner Option: Tarla Mediterranean Grill
Tarla is one of those places where you can't go wrong no matter what you order! The chicken kabob with chimichurri and vegetables were delicious. I'm not usually a fan of veggies (I know, I know), but these were so good I couldn't stop eating them!
The dip trio was a great start, and the tzatziki sauce was so good I found myself lathering it on everything else we ordered.
Menu Highlights: chicken kabob, short rib, dip trio, blood orange margarita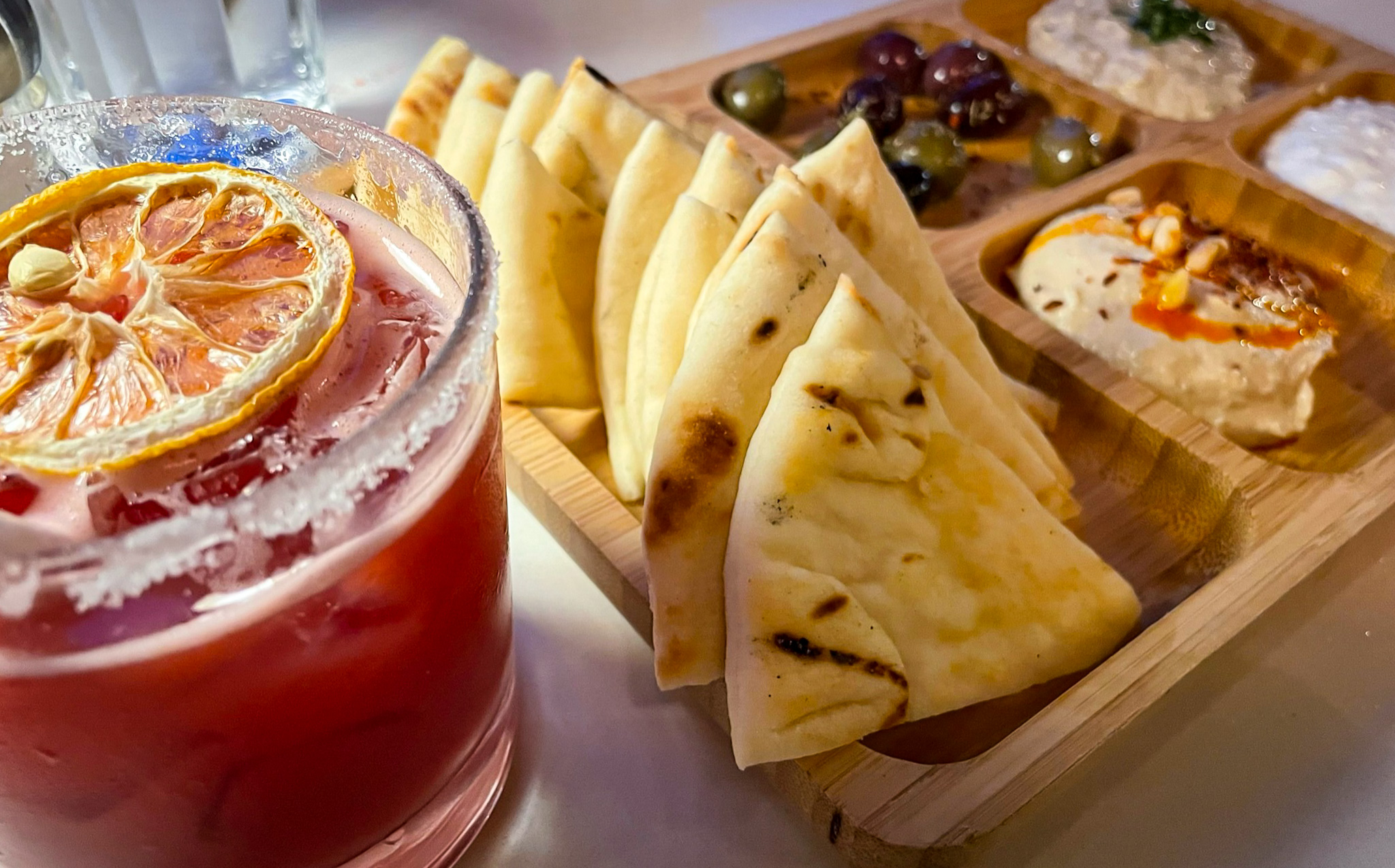 Dinner Option: Torc
The energy is great, and it feels European. If you're looking for a culinary experience without the fuss, this is your spot. Torc is a farm-to-table restaurant led by chef Sean O'Toole in downtown Napa. The menu changes frequently and it's a great spot for shared plates so you can taste several things. They have a great cocktail and wine menu!
Hollywood Room
If you can fit it in, do yourself a favor and grab a drink at the Hollywood Room at Napa Valley Distillery. This spot is slightly outside of Downtown Napa, but has some of the best cocktails in Napa Valley. The vibe is a mixture of tropical and old-school Hollywood. You can take a peek at the distillery or even book a tour if you want.
Be sure to check out their hours and make a reservation as they tend to close early-ish.
DAY 2
I love starting my day with a sit-down breakfast and coffee while traveling, especially in Napa.
Breakfast at Southside Yountville
We visited the Southside Yountville location (there are three), and it was a highlight of the trip! If it's warm weather, the courtyard and outdoor seating are beautiful. We listened to the birds chirping while sipping our morning lattes.
Speaking of lattes… please order the Salted Honey Lavender Latte. The avocado toast was equally delicious (I ordered scrambled eggs on mine because I'm not a fan of poached). This spot will not disappoint!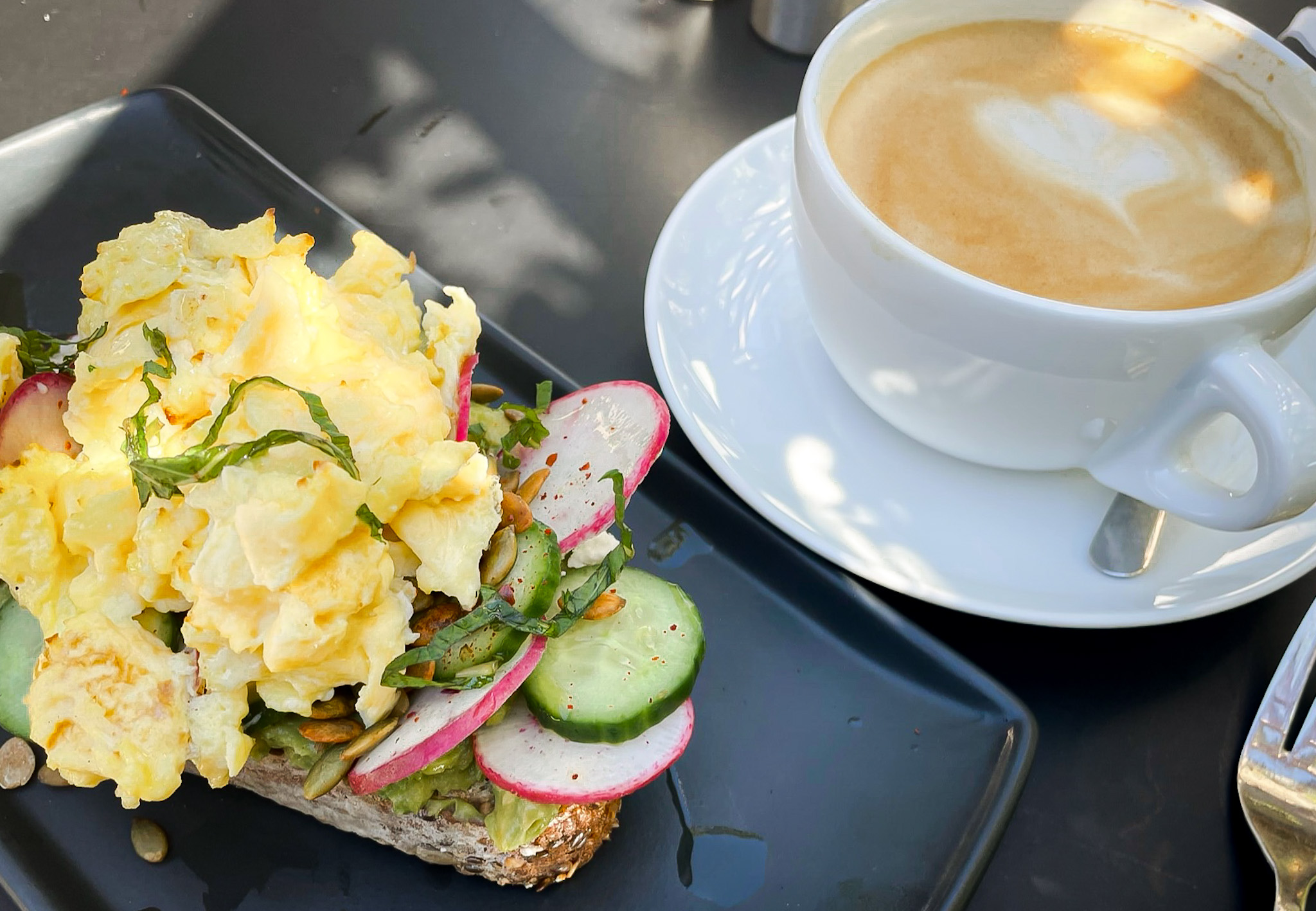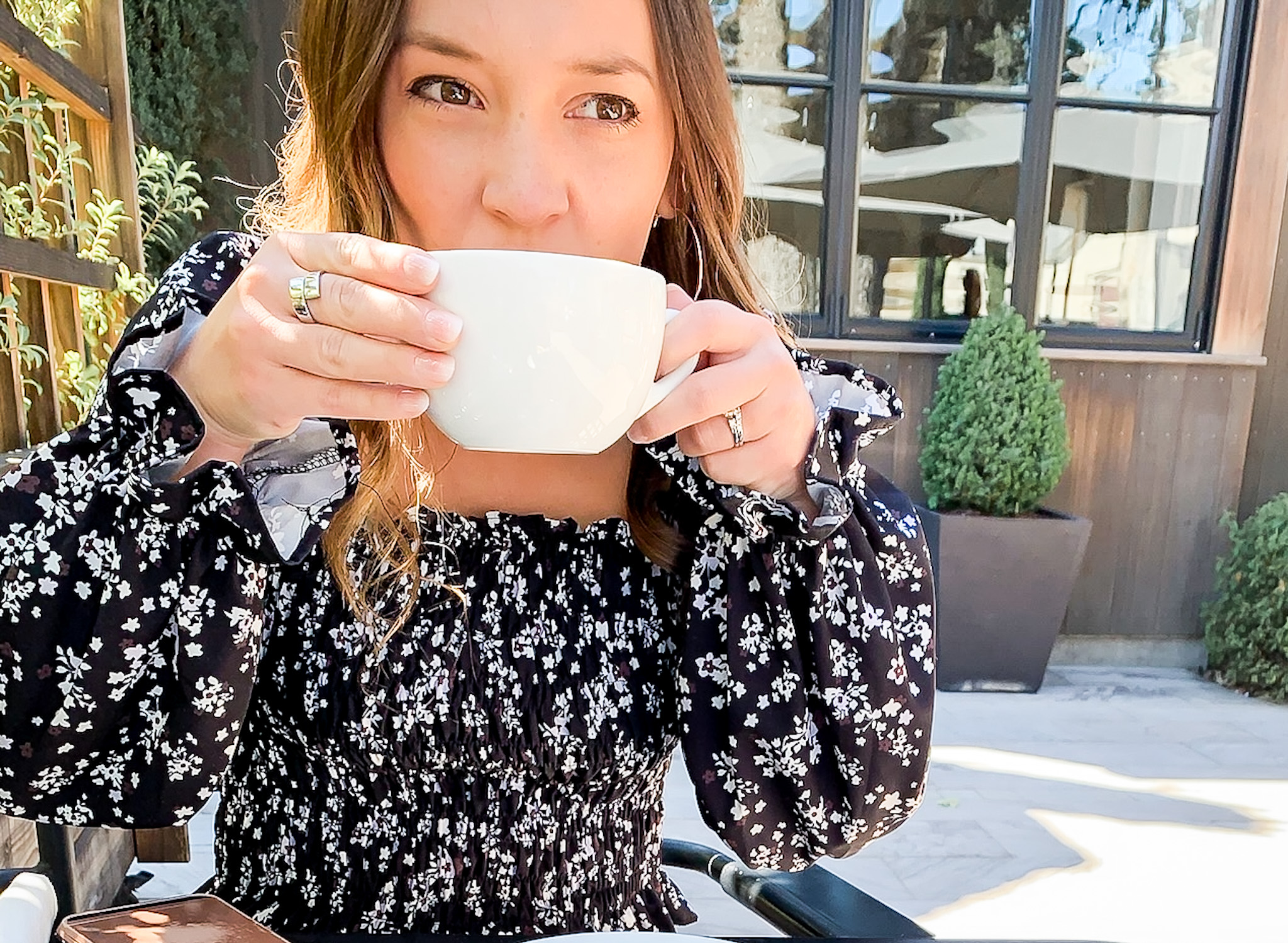 Tasting: Chateau Montelena
There are a few options at this property, but we chose the stand-up Taste of Montelena tasting inside the chateau. Our host, David, was incredibly informative and a delightful host.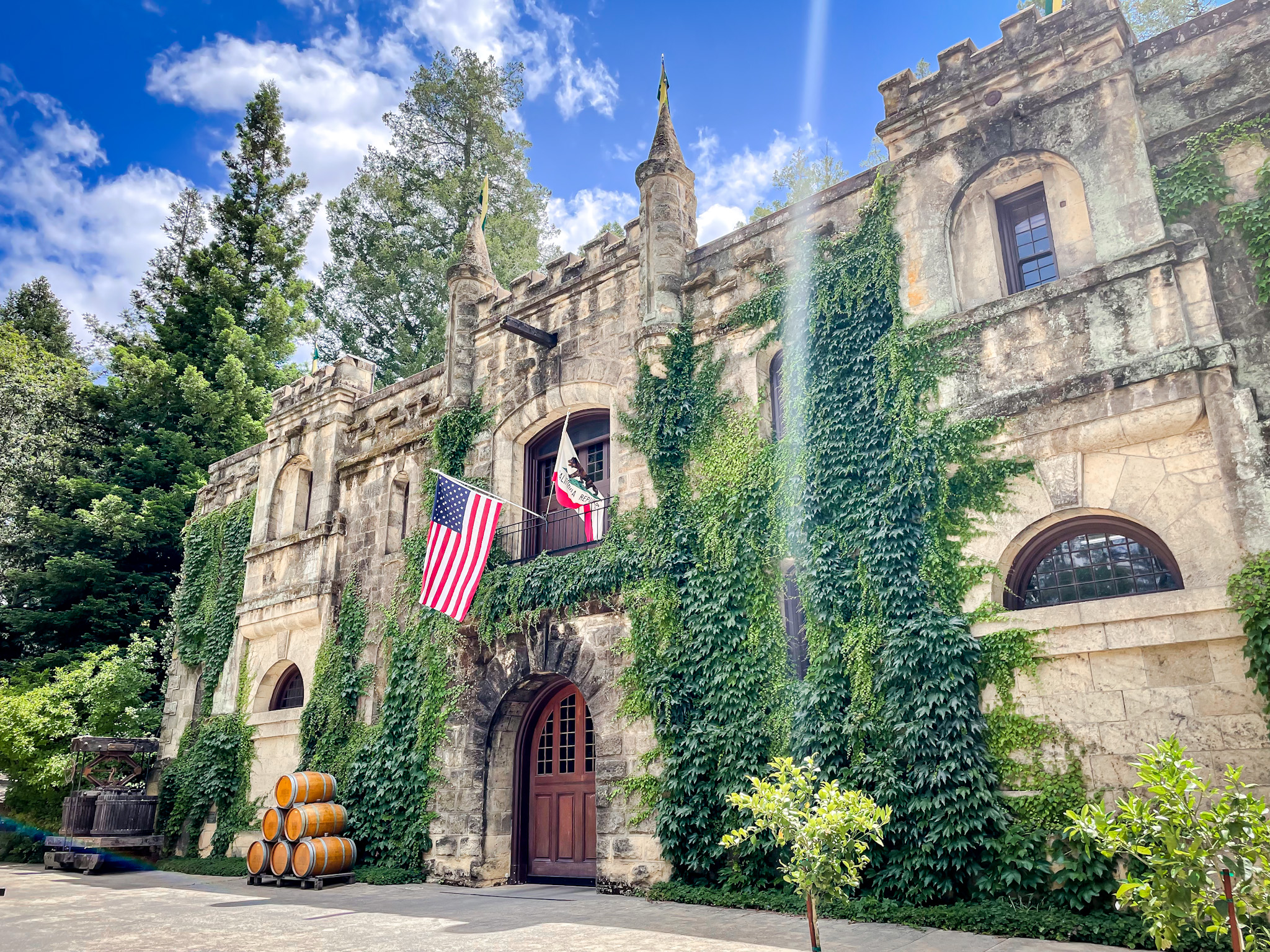 We ended up staying a while past our reserved time because he was so much fun, and got all of us at the counter chatting together. The wines were great and the overall experience was a great value.
After the tasting, wander down to take photos in front of the chateau and walk around the Japanese-style gardens and lake. Only members can reserve one of the pergolas for dining, but you can still wander around the lake and take in the beauty!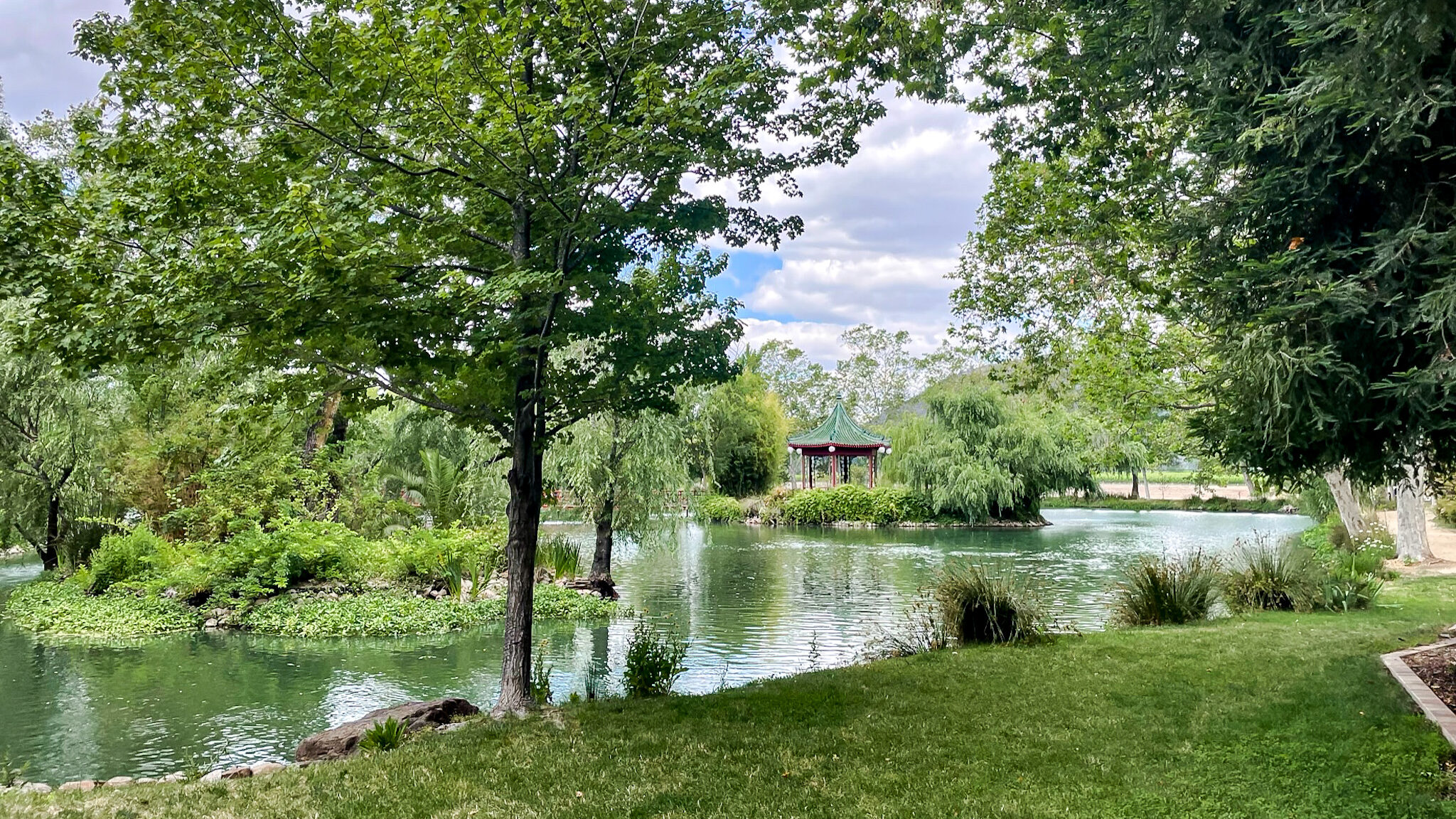 Lunch: Solbar at Solage
The next best thing to staying at 5-star resorts, is dining at them! We picked Solbar for an afternoon snack and honestly to check out the resort. The restaurant is located beside the pool, and has a beautiful ambiance. We got the truffle fries and ceviche to share, which was just the right amount.
We gawked over the lavender soap and lotion in the ladies room. Heavenly! We also noticed a cute bar near the pool, Picobar, which looks like a fun place for a drink and bite.
Tasting and Tour: Castello di Amorosa
If you have time for one guided tour, make it this one! The castle is only 15 years old, so it doesn't have a lot of history, but it was a really fun and unique experience that you won't find elsewhere. The tour was focused on how they made both the wines and the castle. You'll end in a tasting room inside the castle where you can select 5 wines to taste.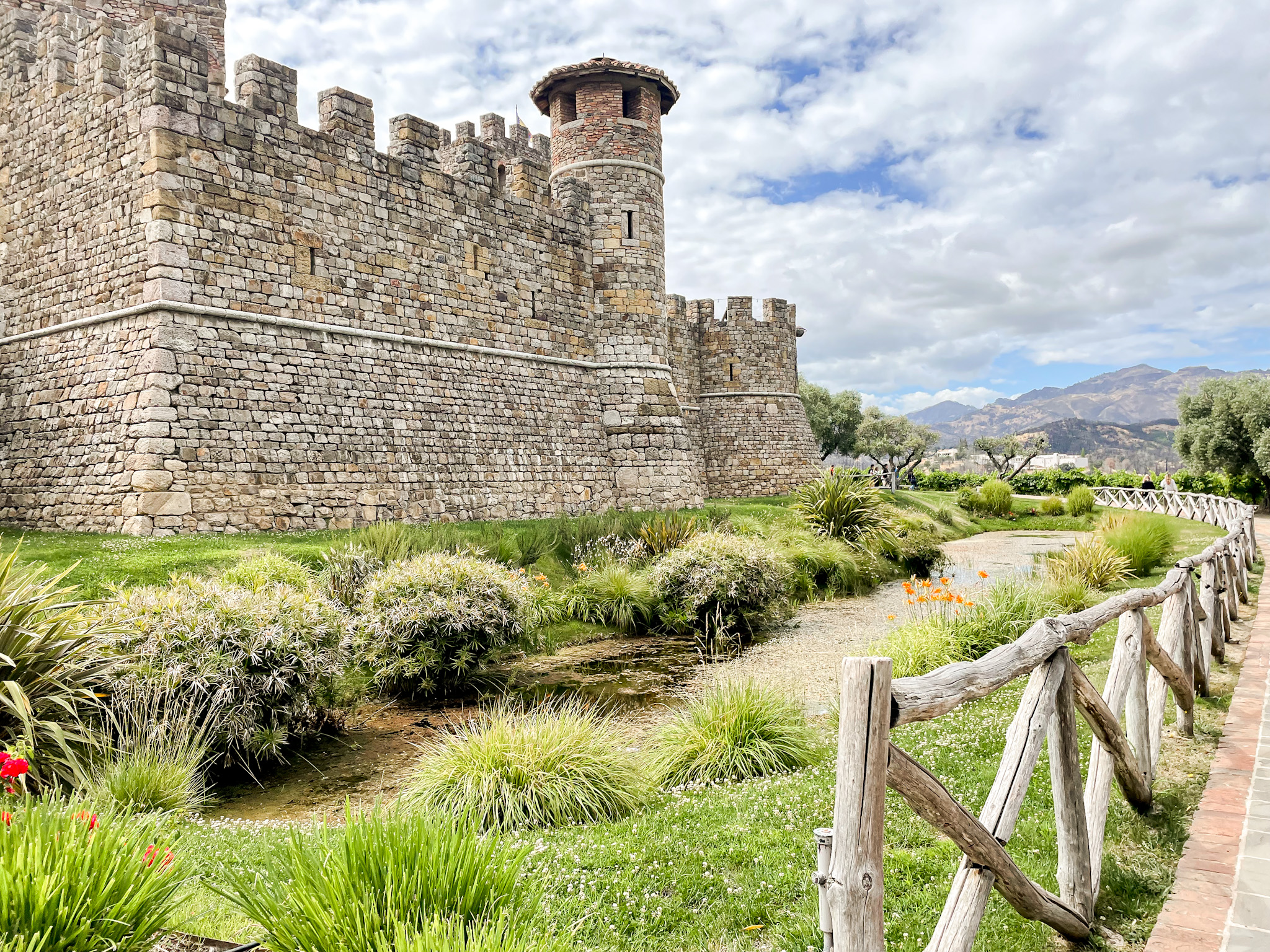 This was great because you can pick wines you like instead of being forced to try their picks. I went for a mix of sparkling, whites, red, and a sweet wine. The Spumante sparkling rosé was a standout! The castle houses a majority of the wines for its sister property, V. Sattui. Castello does not distribute their wine outside of the property, so you can only find their wines online or on-property.
They were setting up for a member-only dinner event in the Great Hall. Club members get access to events like their annual ball and masquerade inside the castle. Goals!
Take a photo at the Napa Valley sign.
There are two of them in Napa Valley, and they are identical. One of them is on the north side of the valley and is just minutes down the road from Castello di Amorosa. The other is toward the middle of the valley sitting between Yountville and Oakville.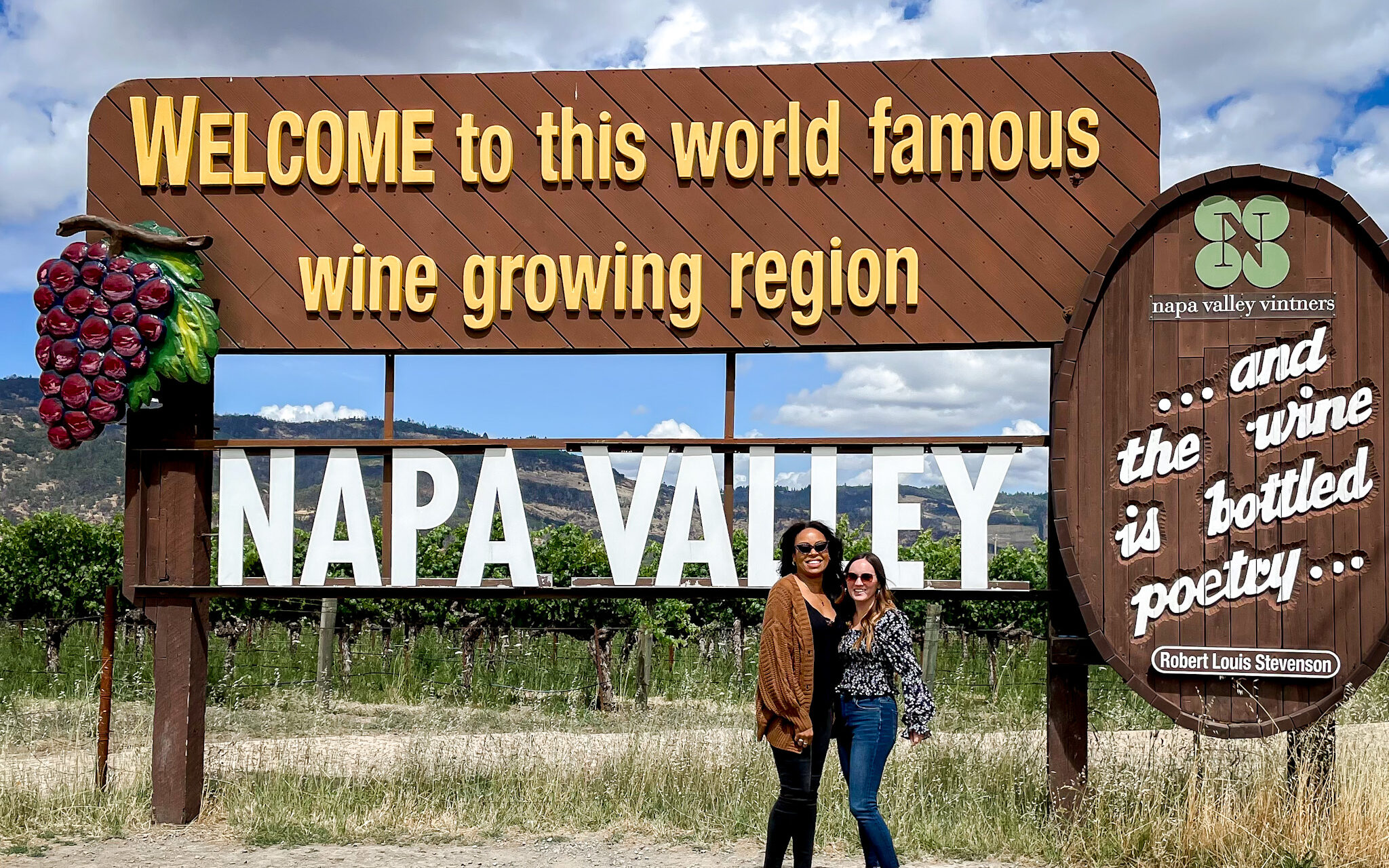 Dinner: Brasswood Bar & Kitchen
This spot quickly won our hearts with their cocktails and famous stretched mozzarella. The bread was perfectly grilled and they cut and stretch the mozzarella table-side and drizzle it will olive oil. Absolutely decadent! The duck bolognese is divine and the butterscotch dessert came with house-made hazelnut and rosemary biscuits. The perfect way to end the meal. The decor is rustic but modern and the seating is cozy.
Menu highlights: Stretched Mozzarella, Pesto Arincini, Aromatizzato Pizza, Butterscotch Panna Cotta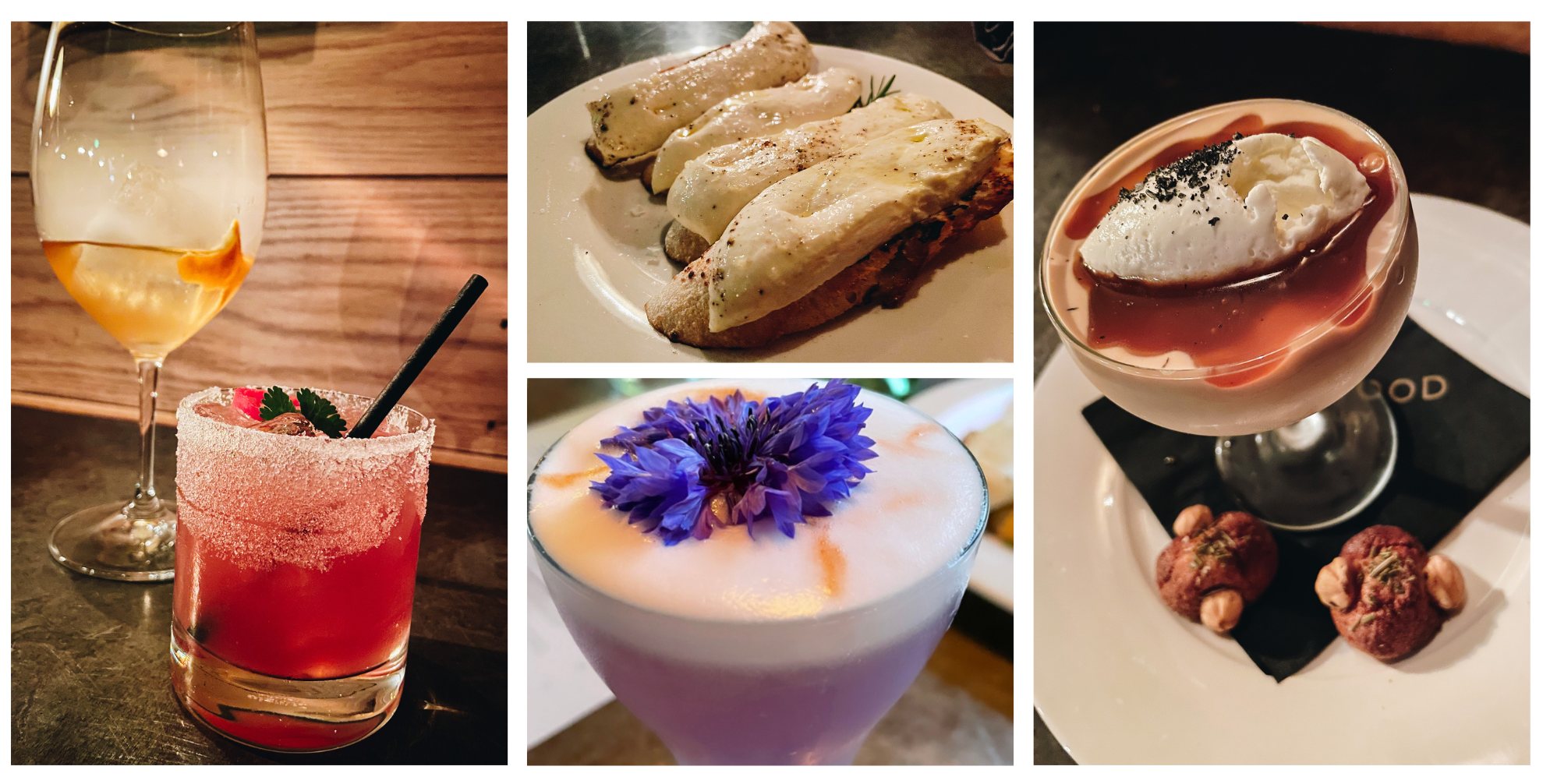 Drink: Goose and Gander (St Helena)
This is a popular spot, but we've always had success in the later evenings grabbing a seat at the downstairs bar.
Personally, I think the vibe downstairs is the best and the bartenders are always great. It has a large fireplace and lower ceilings with wood rafters. Their cocktail list is impressive, especially if you like bourbon and whiskey. A perfect night cap.
Menu highlights: Old Fashion, Burger, Duck Fat Fries, Churros
DAY 3
Breakfast/Brunch at Farmstead:
Farmstead at Long Meadow Ranch is a cute farm focused restaurant, cafe, and store in St Helena. You can grab a quick coffee or breakfast from the cafe and enjoy it in the garden, or sit down in the restaurant for a full brunch.
Menu Highlights: Stumptown Espresso Martini, Beignets, and Deviled Eggs.
One of their seasonal cocktails I ordered had beet juice in it, and was beautiful and perfectly balanced! Be sure to walk through their garden where they grow herbs and veggies.
Brunch Option: Ad Hoc
If you're looking to indulge, book yourself a brunch at Thomas Keller's Ad Hoc + Addendum for THE. BEST. FRIED. CHICKEN.
It was featured in Food and Wine magazine on the list of "25 Places to Try." The food is served family-style and you get three-courses (starter, entree, dessert).
The menu changes daily but if you're within a week of the reservation you can see the daily menu online. Both times we visited for brunch, fried chicken and waffles were the main course and we were thrilled.
For the experience, it's a pretty good value and you'll be full for hours. The staff are great and the atmosphere is laid-back but upscale with a southern charm.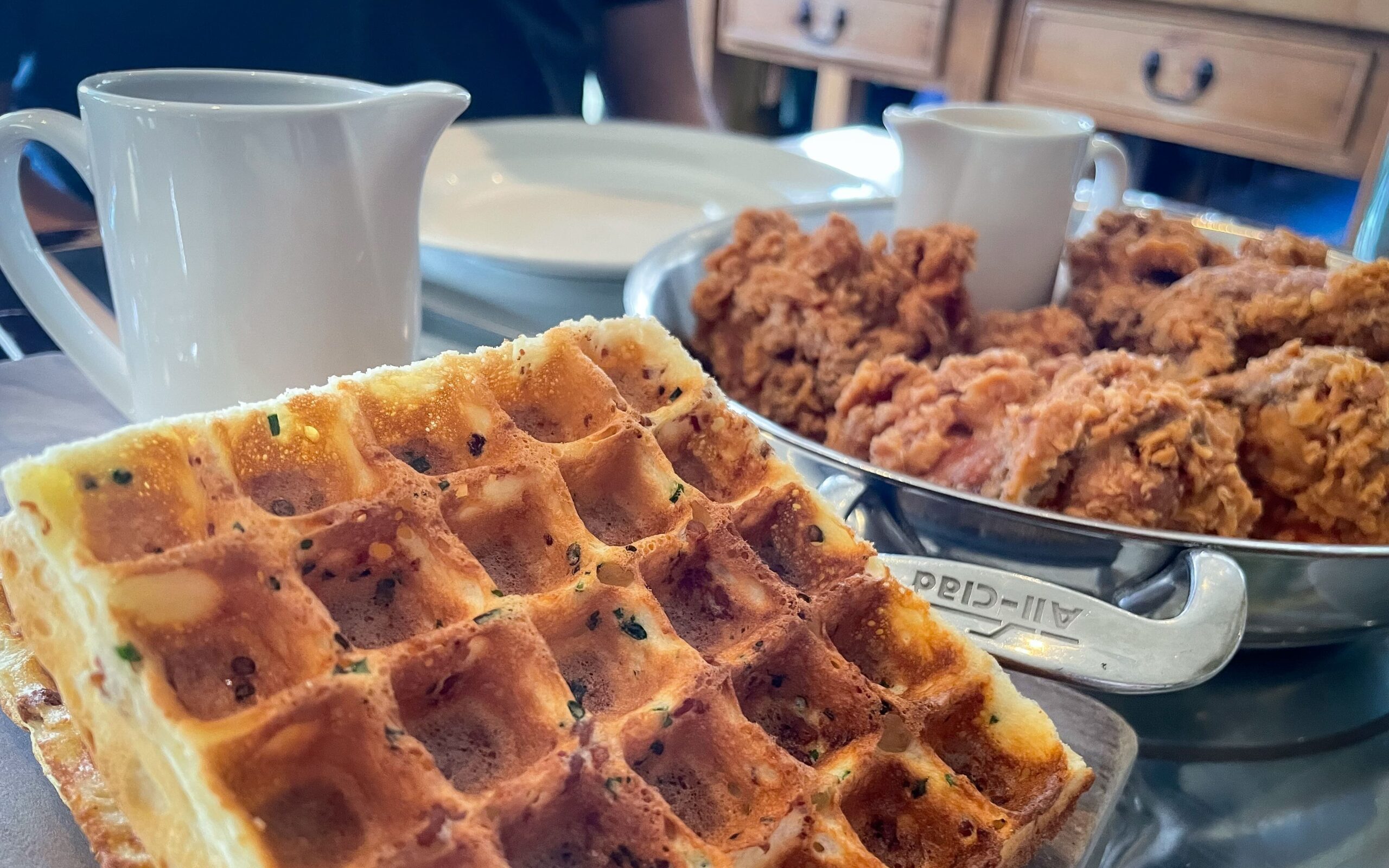 Tasting: Duckhorn Vineyards
I've been a fan of Duckhorn wines for a while, so this was a must. The wines did not disappoint, and the ambiance of sitting on the porch looking out over the vineyards was absolutely divine. We opted for the Duckhorn Classics tasting, and were surprised that in the land of cabs, we were drawn to the merlots and suav blanc.
The highlight here was our host, Miguel. He went right at our pace and shared just enough info without being overbearing. One of the wines was even named after the town in Mexico where his family is from. How cool! He was so proud and so authentic, and not all pretentious as some guides can be. Five stars for Miguel and the awesome experience we had at Duckhorn!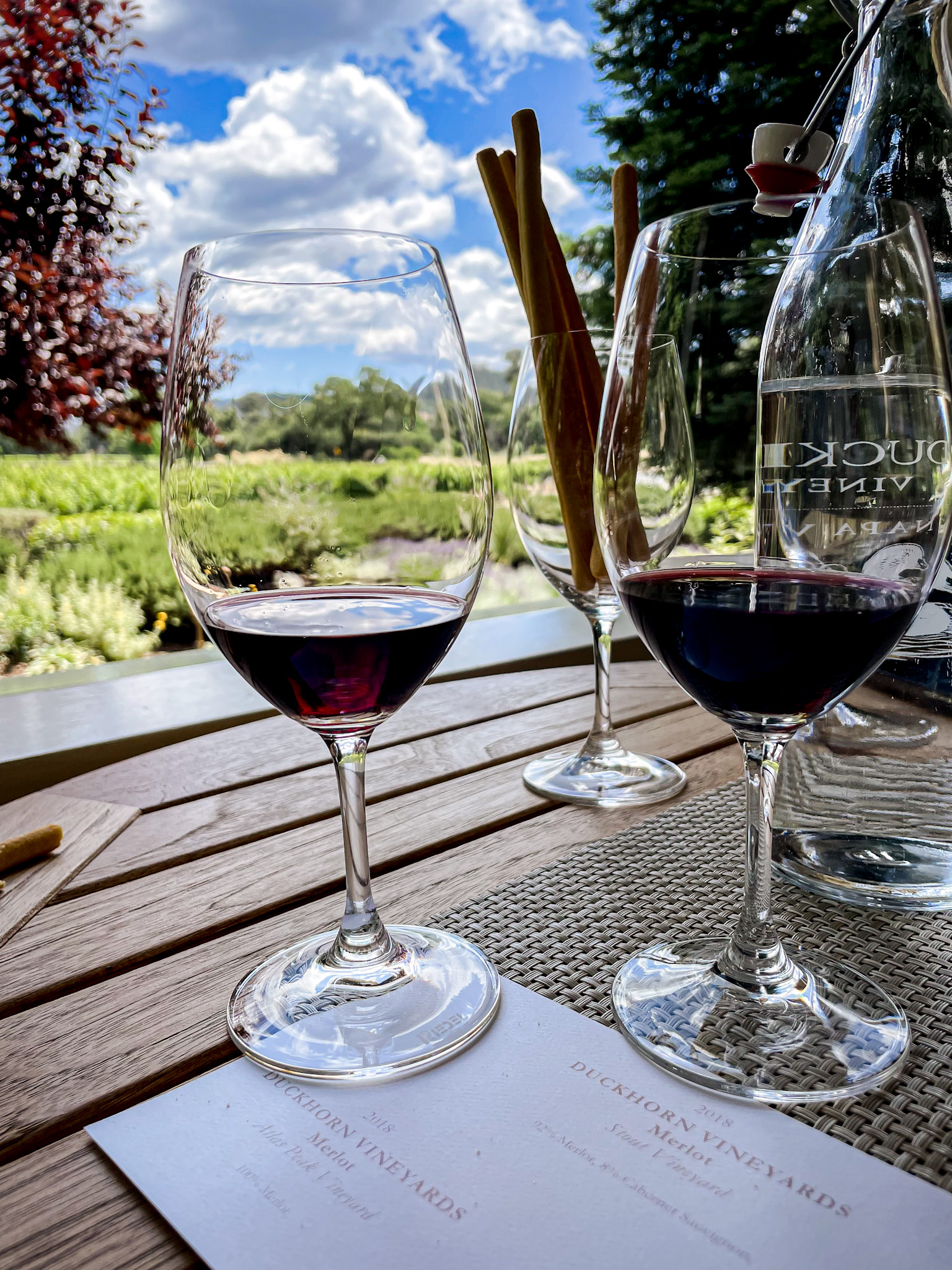 V. Sattui
Can you guess what's next?… Food!
Actually I'm breaking my formula on this one because V. Sattui is a great spot for both food and wine. Sister to Castello di Amorosa, the Spanish-style of this vineyard is also gorgeous and you can take lots of photos here. We even saw a wedding that was getting started. But the highlight of V. Sattui is the picnic grounds. They have an artisanal market with a deli and wine bar so you can create your own cheese and charctuerie board picking out items from the market. They provide you with disposable plates, utensils and cups. Grab a snack and/or a bottle.
On weekends they have a food truck with hot food options or BBQ. It was a nice break from the formal tastings and a more casual spot for lunch. It brought me back to the large parks in Europe where we saw groups gathered and picnicking for hours. Very fun!
Menu Highlights: Coconut Gouda, Rosemary Manchego, and Merlot Brie.
Explore Yountville
Yountville is a foodies' dream, home to 5 Thomas Keller restaurants and gorgeous eateries like Restoration Hardware. Perhaps that's why it's my favorite city in Napa Valley. It's quaint, but has a lot to offer, so I definitely recommend taking a stroll around Yountville if you have time.
Check out the VM marketplace which has an art gallery and award-winning Kollar chocolate shop from Chris Kollar. He was a winner of the Food Network's show CHOPPED in 2020, and is named Dessert Professional Magazine's Top Ten Chocolatiers of North America. They have unique chocolates like Earl Grey, Passionfruit, and Merlot, and the chocolates are gorgeous!
There are shops to explore, however we noticed a lot of them were currently vacant. Sadly it might be a result of the pandemic, although I'm not sure. Hopefully more small shops come back into this beautiful space!
Dinner: Restoration Hardware
Hands down THE most beautiful restaurant in Napa. A trip to Napa is not complete without a visit to this gorgeous spot. The space has an indoor/outdoor feel with large olive trees inside, covered in lights. There are chandeliers everywhere, even in the lanterns and above most indoor tables. It's absolutely dreamy, and you'll be wondering if a more beautiful restaurant could ever exist. If you have extra time, grab a drink in the garden before or after dinner beside their large fireplaces.
Menu highlights: peach bellini, roasted chicken, potato puree, ribeye steak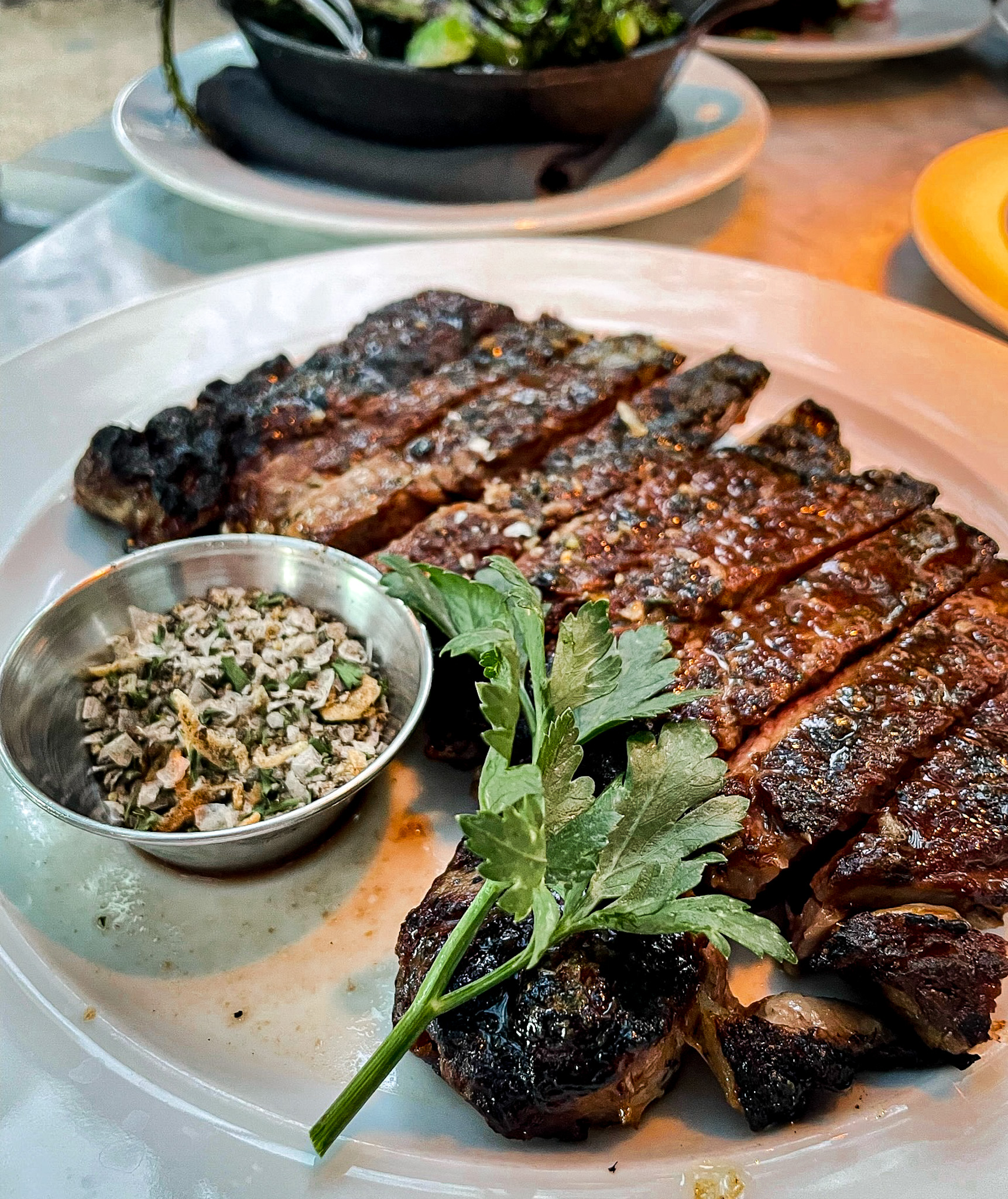 DAY 4
Breakfast: Model Bakery
Best known for their English muffins, which was listed as Oprah's favorite thing in 2021. There are a few locations, but the original store is on Main Street in St. Helena. The coffee was also good, and I definitely recommend it as a morning stop before wine tasting.
Tasting: Domaine Carneros
This tasting experience will transport you to France in a heartbeat. When you arrive, you'll ascend a terraced staircase with fountains to reach the gorgeous chateau. The chateau is a larger replica of the original home of Château de la Marquetterie in Champagne, France – home of Champagne Taittinger. Can you imagine living here? Sigh…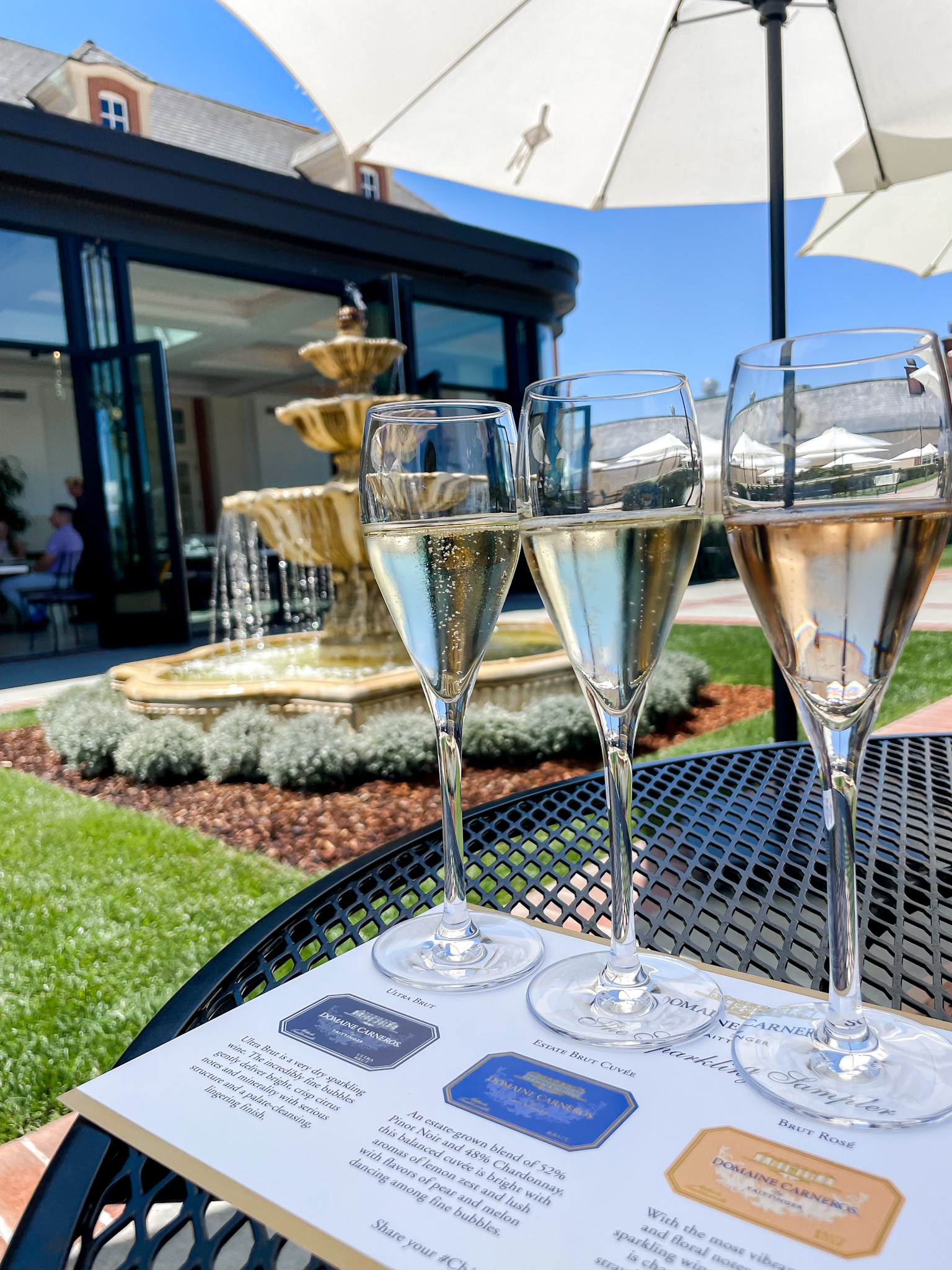 There are a few tasting flight options that you can choose from when you arrive, ranging from $45-$65. All packages are amazing (I've tried them all on different trips). If you're a fan of sparkling, splurge for the Sparkling Grande package which includes the Le Rêve Blanc de Blancs "The Dream", the best of them all.
The staff opened bottles with sabers for some guests (wine club members I think), which was fun to watch.
Lunch: Gott's Roadside
There are a few locations throughout the Napa Valley, one of them inside the Oxbow Market. This was a busy spot, but worth the wait. Every item we ordered was good, and we were very impressed. For a hearty lunch or casual dinner, hit this up.
Menu Highlights: Fish Tacos, Milkshakes, Fries, Onion Rings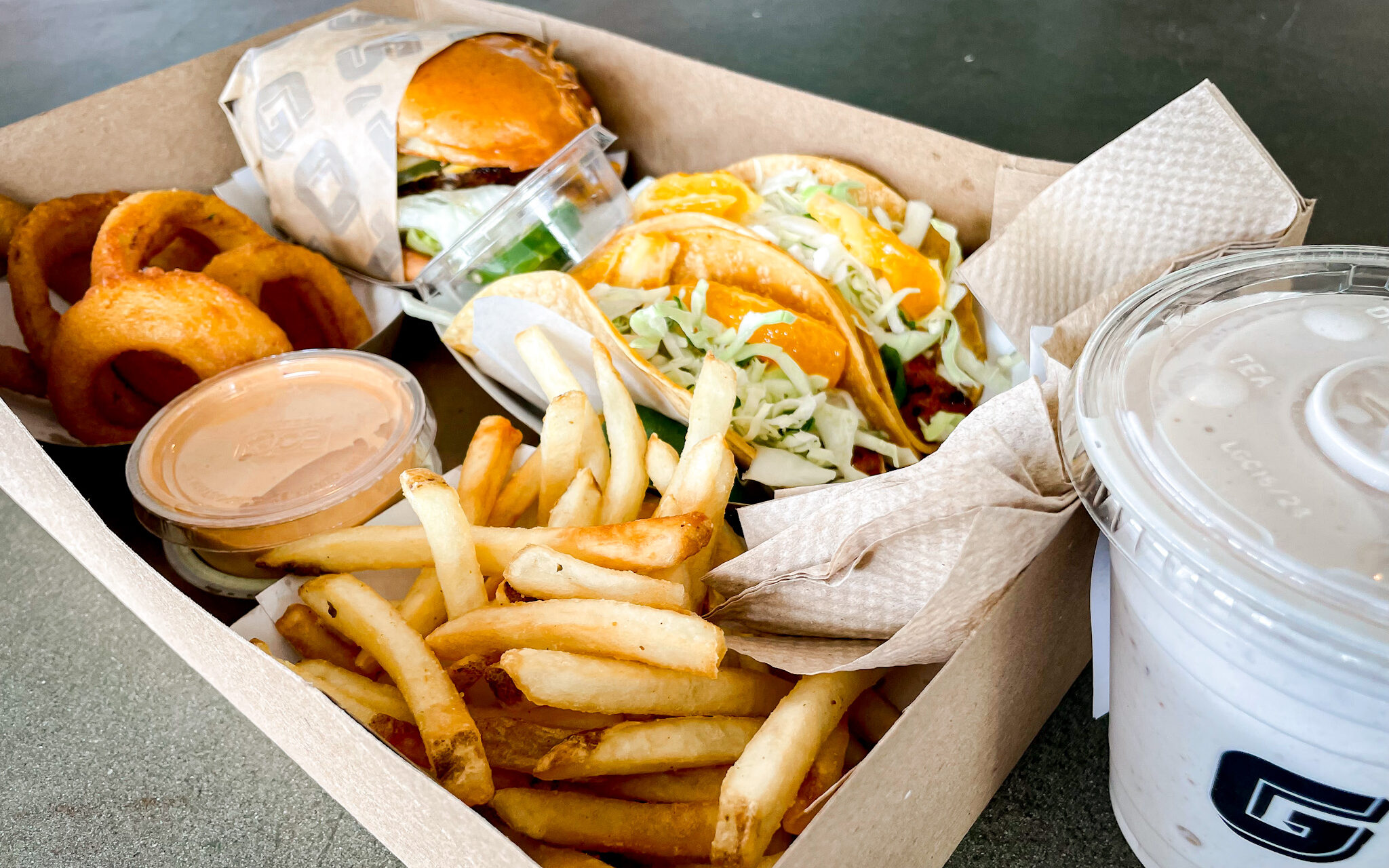 If you're flying out of San Francisco, consider driving through Sonoma, stop in Sausalito, and drive over the Golden Gate Bridge. The views are incredible and it's a great way to wind down the trip and head back to reality.
---

11 Unforgettable Day Trips from Los Angeles
---
Frequently Asked Questions
How many days do you need in Napa Valley?
Napa is best experienced in a weekend, or at least 2-3 nights. There are over 400 wineries in Napa Valley alone, so you won't make a dent in one visit! But a few nights will give you an opportunity to experience several wineries and best activities in the area.
What month is best for Napa Valley?
The best time to visit Napa Valley is early spring through summer (May – August). This provides the best weather for visiting wineries and strolling around downtown Napa. However, peak season is August – October and visits during the winter months will have the best prices.
Is Napa Valley dog friendly?
In general, most of Napa Valley is not dog-friendly. However, there are select hotels, restaurants and wineries that do allow pets. Wineries that allow pets include V. Sattui, Clos du Val, Whitehall Lane, Jessup Cellars, and Alpha Omega. Please confirm with the wineries directly before visiting to confirm their policies.
Is it better to go to Sonoma or Napa?
Both Sonoma and Napa are both wonderful wine country destinations to visit. Sonoma offers a more laid-back atmosphere, while Napa is more upscale. Sonoma is generally more affordable for accommodations.
What's the difference between Napa and Napa Valley?
Napa Valley is the entire region between the Vaca Range and the Myacamas Mountain, spreading from Napa to Calistoga. The city of Napa is located on the southern edge of the Napa Valley.
How far apart are Sonoma and Napa?
Napa and Sonoma run parallel to each other and are separated by the Myacamas Mountain range. From one southern most edge to the other, the distance is only about 13 miles or 20 minutes drive.
How far is Napa Valley from San Francisco?
The southern edge of Napa Valley is about 50 miles or 1 hour drive from San Francisco.
Does Napa Valley have Uber?
Yes, there are Ubers in Napa Valley. However, relying on the availability and timing of ride share cars in the Valley is not recommended if you have multiple tastings or a tight schedule. Instead, consider hiring a driver or booking a winery tour.
Which airport is closest to Napa Valley?
Napa County Airport is the closest airport by location to Napa Valley, however it is small and has limited flight availability. The closest major airport is Oakland International Airport.
Where is the Napa Valley sign?
There are two identical 'Welcome to Napa Valley' signs, which are perfect for photos. One of them is on the north side of the valley, just minutes down the road from Castello di Amorosa. The other is toward the middle of the valley between Yountville and Oakville.
Why is Napa Valley really good for wine?
Napa Valley is situated between two mountain ranges, creating a valley that has an ideal combination of climate, soil, and topography. This creates optimal conditions for producing high-quality wines.
---
Ready to Plan Your Napa Valley Itinerary?
This list rounds up my favorite spots and best recommendations for a Napa Valley itinerary, but there are so many more amazing places I could have added!
Do you have other Napa favorites that I missed? I'd love to know what your personal favorites are.
Happy travels!
-Hannah
This post was all about planning the perfect Napa Valley itinerary.