Kassi Beach House at the Virgin Hotel Las Vegas, Restaurant Review
Okay, fellow foodies, get ready for an amazing Las Vegas restaurant that will transport you straight to the sunny shores of the Italy.
From the moment I stepped foot into this gorgeous dining room and patio, I knew I was in for a treat. You can tell a lot about a restaurant by the atmosphere, and you can see the intention they put into the decor and Mediterranean coastal vibe. Pair these vibes amazing food specials on Wednesdays at their weekly House Party for an extra special experience.
So, let me share what to expect and why Kassi Beach House has firmly secured its spot on my list of all-time favorite dining spots in Las Vegas.
This post is all about Kassi Beach House Restaurant at The Virgin Hotel in Las Vegas.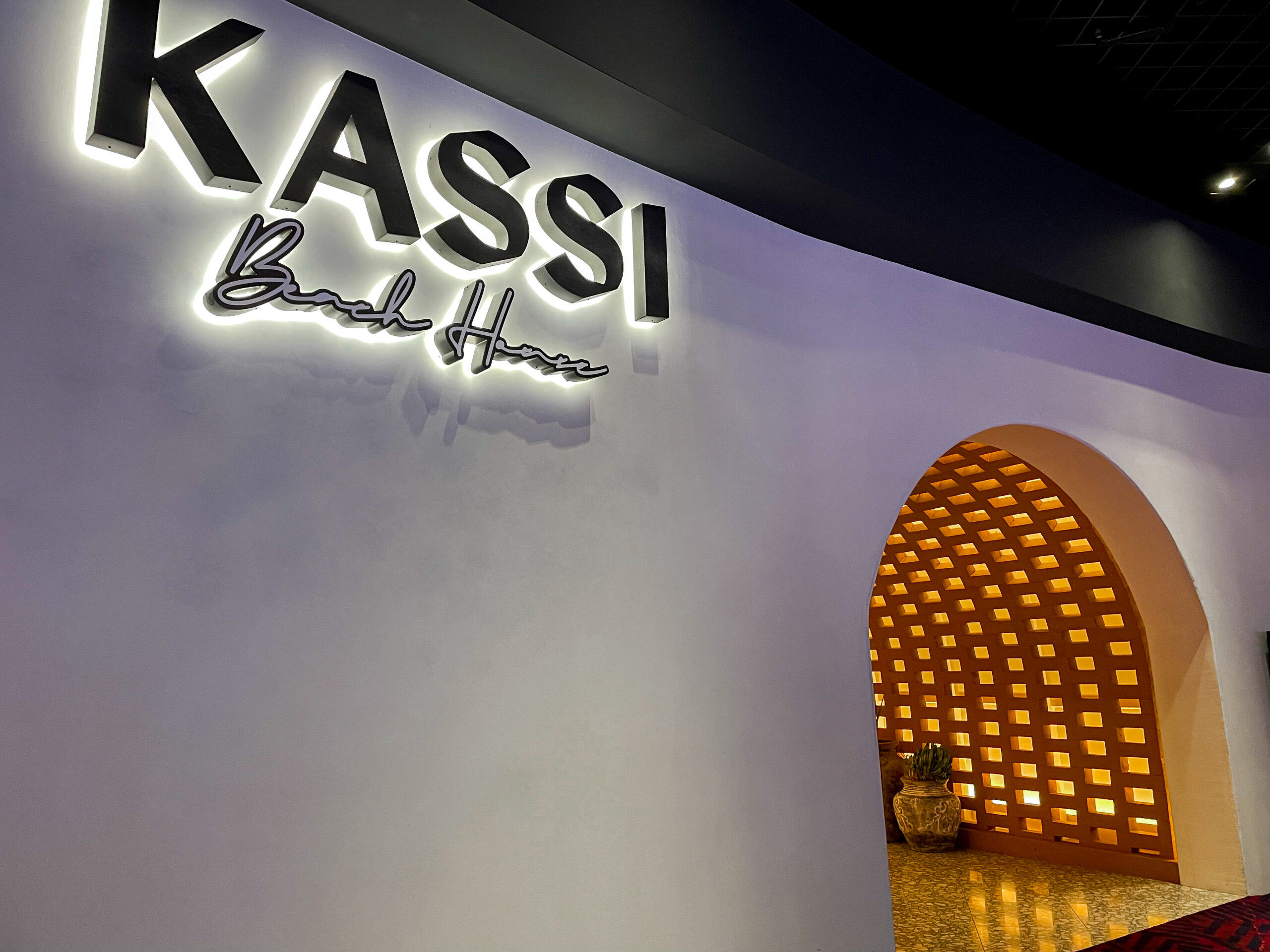 This post may contain affiliate links, which means that I may receive a commission if you make a purchase using these links at no cost to you. As an Amazon Associate I earn from qualifying purchases at no additional cost to you.
Kassi Beach House Review
Where is Kassi Beach House Located?
Kassi Beach House is located inside The Virgin Hotel in Las Vegas, about 1 mile east of the strip.
What Makes Kassi Beach House So Special?
Since opening in 2021, Kassi Beach House has received rave reviews and plenty of press attention, all for good reason.
Not only is the food incredible, but Restauranteur Nick Mathers and the Wish You Were Here Group succeeded in creating an experience that whisks you away to being young, worry-free and vacationing in Italy.
Picture this: you enter Kassi Beach House, and you're instantly greeted by a lively ambiance that sweeps you away to a beachside paradise. The restaurant sits beside the beach pool at The Virgin Hotel, and you can even sit on the patio overlooking the pool.
I promise you'll forget that you're actually in the middle of a desert and surrounded by thousands of tourists. I would argue that it's practically impossible to not relax and let loose here.
Vibe Check
The decor is a perfect blend of subtle, but vibrant. There are rattan lampshades, boho elements, and plenty of warm, welcoming neutral colors. Yet, the energy is buzzing.
As I settled into my seat, I couldn't help but admire the decor and start re-decorating my house in my mind.
The entry from The Virgin Hotel is dramatic as you pass through a gold tunnel toward the host stand. The restaurant is large, but the transitions between the spaces flow nicely. Every corner you turn has even more to offer to the eye.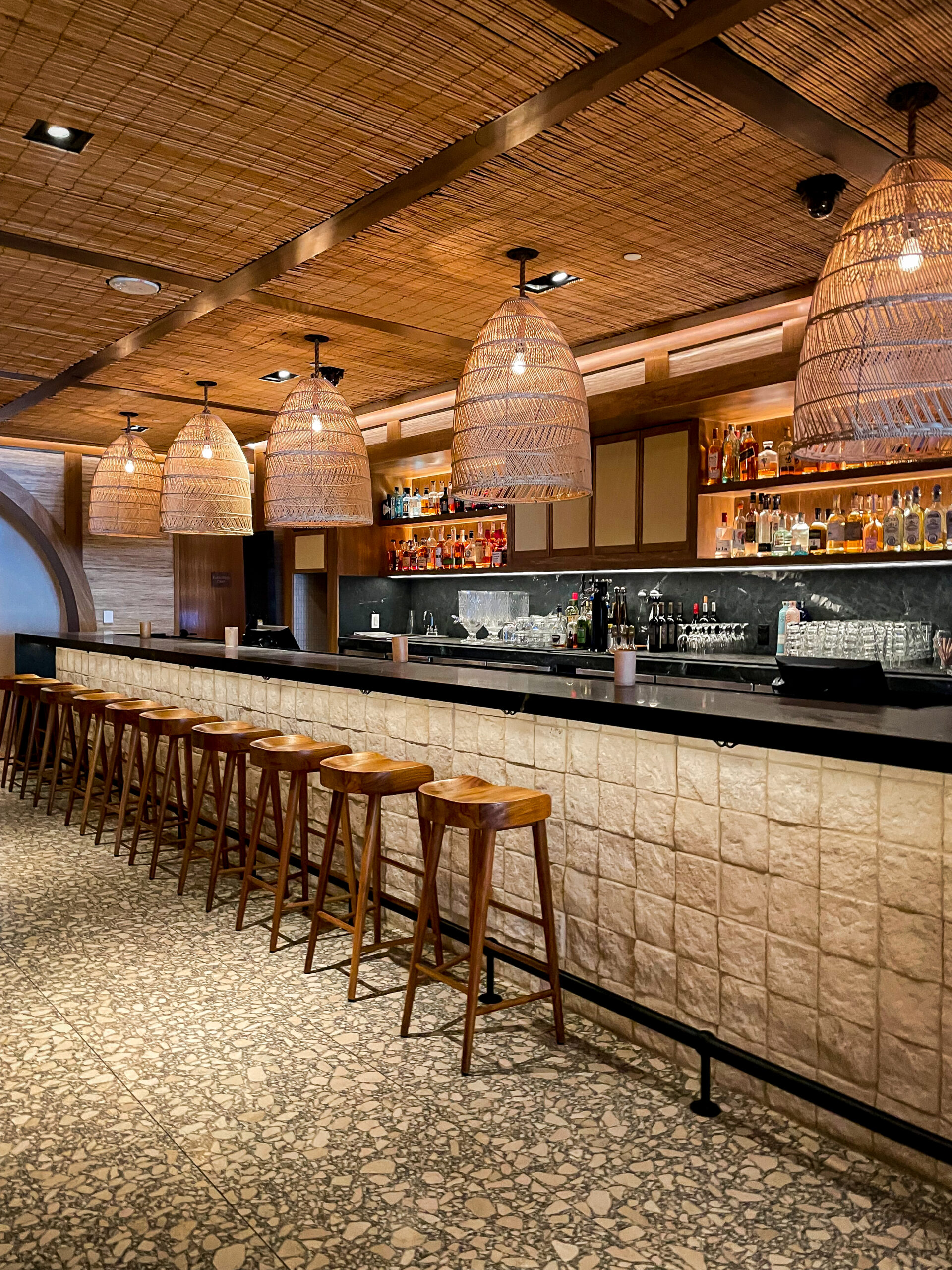 Indoor or Outdoor
There are indoor and outdoor seating options, with several bar areas.
You know when a restaurant has a good vibe in a certain spot, but if you can't sit there it's a totally different experience? Not here! You could sit anywhere in the restaurant and be perfectly happy. I've dined at Kassi many times in many different areas.
But my favorite spot to sit is at the outdoor patio bar near the pool! I enjoy watching the bartenders make incredible drinks.
Kassi Beach House Menu
The biggest problem you'll have at Kassi Beach House is deciding what to order. Don't make me choose between pizza or pasta; that's just cruel! One of everything, please.
Kassi Beach House offers a brunch menu daily from 11am to 3pm. Dinner is served starting at 4pm.
The Drinks
Cocktails
Of course, you'll want to start out with the perfect cocktail or mocktail to kickstart your temporary vacation to the Italian coast. At Kassi Beach House, they take their drink game seriously including an impressive list of Californian and international wines.
The crafted cocktails were well balanced, each sip perfectly complementing the food. And they have amazing BOOZY SLUSHIES! If you ever want to treat me to my favorite lunch, just take me to Kassi Beach House on a sunny day and put a slushy in my hand.
I've tried a few things now from the bar, but my favorites are the Subtropic slushy or the Japenese penicillin.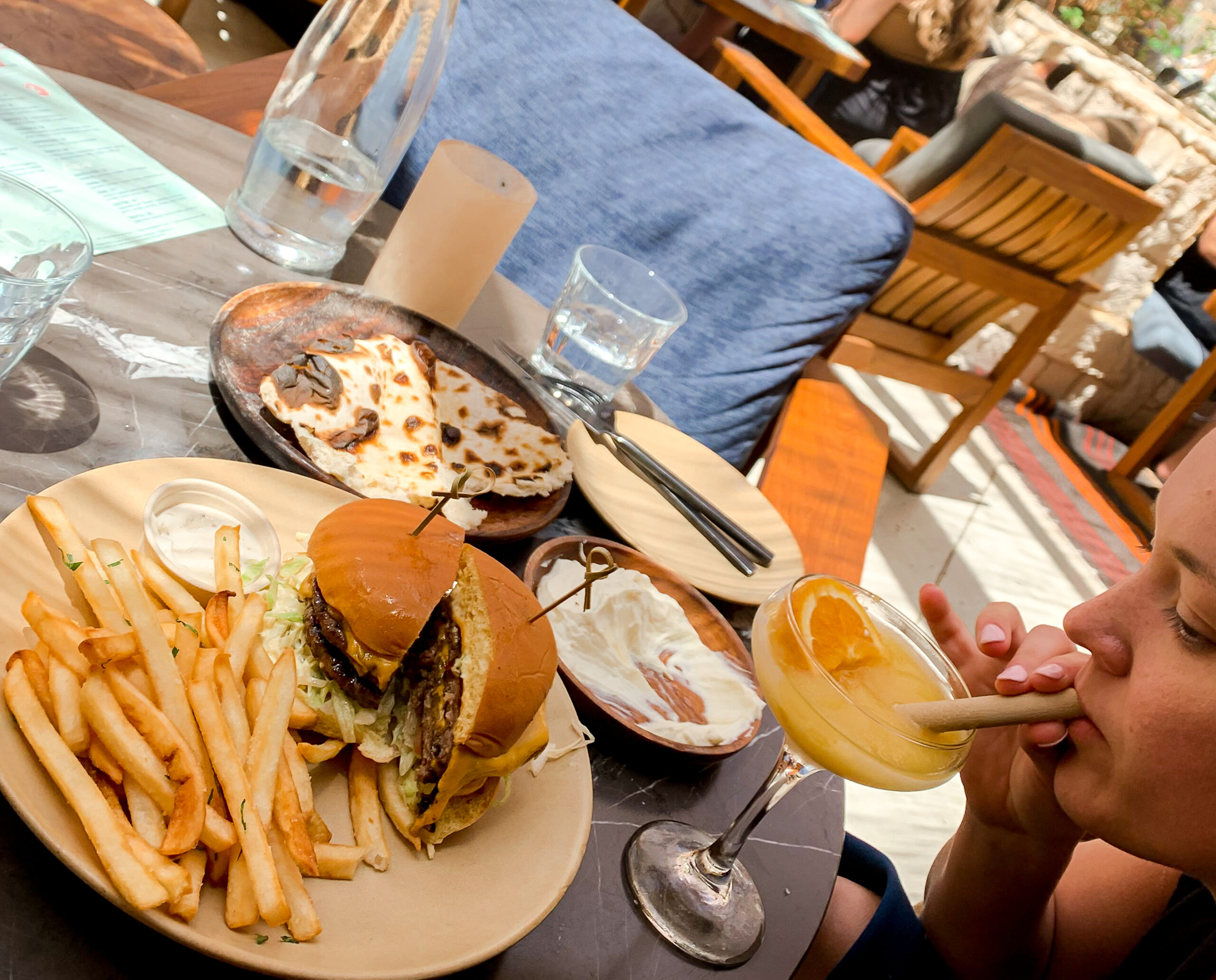 Subtropic Slushy – Mount Gay Rum, Passion Fruit, Lime, Orange
Japanese Penicillin – Toki Japanese Whiskey, Ginger, Lemon, Honey
Mocktails
If you're looking for non-alcoholic options, Kassi Beach House has plenty of options to choose from. I ordered their fresh house-made ginger beer, and it was delicious! Perfectly fizzy and spicy with just the right amount of sweetness.
They also offer unique cocktails like the passion fruit limeade, iced matcha latte, watermelon mint spritz, pineapple lime spritz or lemon ginger spritz.
Filtered Water
There is a charge for filtered water of $0.50 per person. But they donate the proceeds to The Thirst Project, which brings clean drinking water to communities all over the world. Very cool!
The Food
The brunch and dinner menu both feature ingredients true to Italian coastal cuisine. Everything I've tried from Kassi has been delicious, and I still have several items on my wishlist for next time (dessert menu, I'm coming for you).
Here are some of my favorite dishes.
Whipped Ricotta with Honey (ALL DAY)
I'm still reeling over how fluffy and delicious that mezzo bread was! It comes out warm, and lightly salted. The whipped ricotta had a smooth texture and created a nice soft background for the honey to shine. I ordered this dish the first time I visited Kassi, and now I order it EVERY time. The combination is heavenly.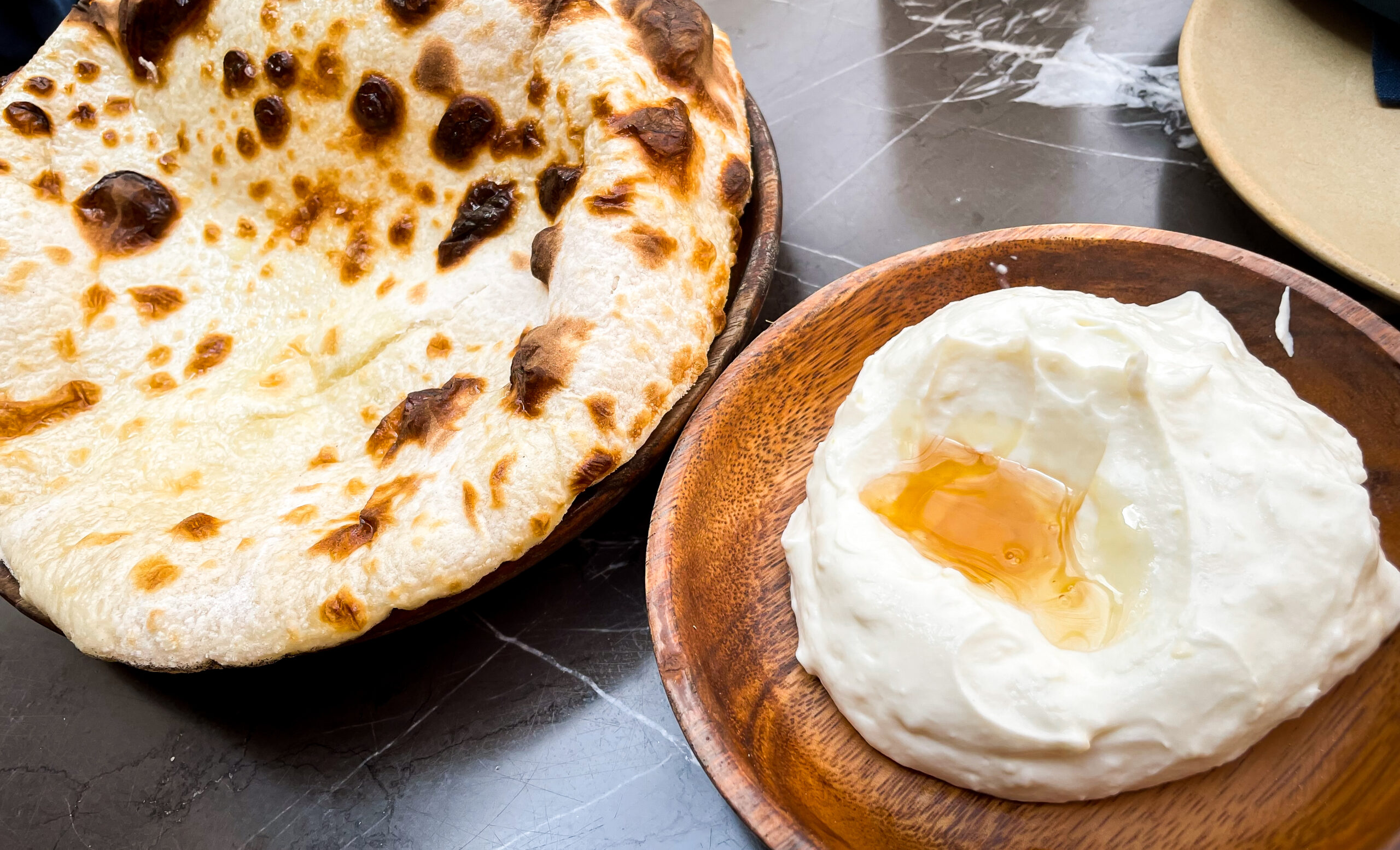 Kassi Burger (BRUNCH) – double beef patty, American cheese, tomato, lettuce, onion, bacon jam, special sauce, house-made pickles
Soppressata Pizza (ALL DAY) – cured pork, chili, honey, mozzarella
Vodka Pasta (ALL DAY) – canestri, tomato, cream, onion, Calabrian chili
The pizza and pasta were both fabulous. I mean it when I said don't make me choose! Kassi knows how to do Italian food right. The pizza dough was amazing and the fresh hand-made pasta was perfectly al dente.
Breakfast Sandwich (BRUNCH) – scrambled eggs, prosciutto cotto, hash brown, provolone, arugula, truffle aioli, potato bun
As soon as I read the description, I knew this was something I had to try. I love all of those ingredients, so how could I go wrong? This breakfast sandwich was perfect to share with my husband, along with a starter for just the right portion.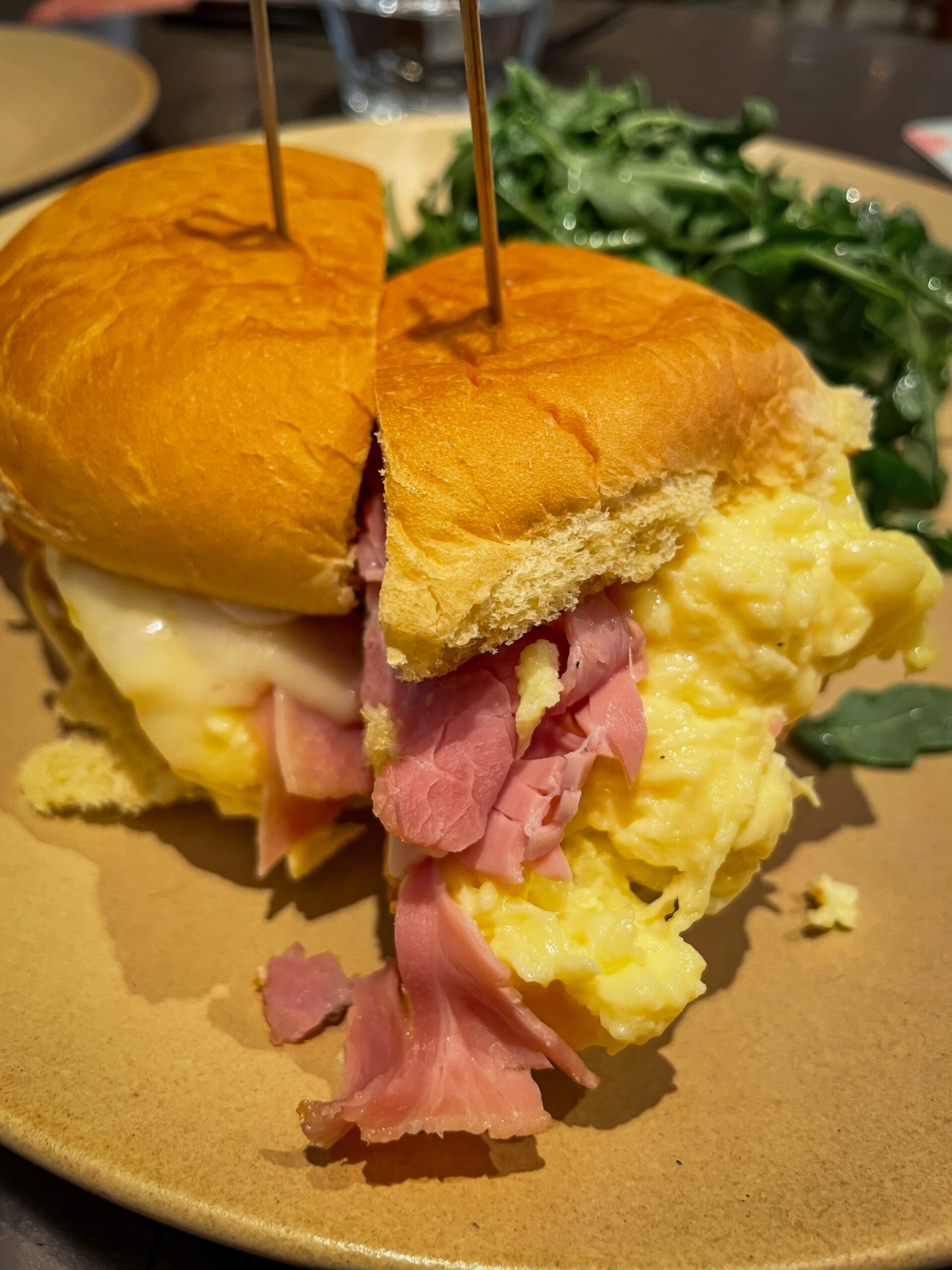 Italian Family Style
Kassi Beach House has a perfect solution to the "what to order" debacle. Just go family style!
If there are 4 or more people in your party, you can order their 3-course Italian Family Style menu and let them send dishes to your table. This menu starts at $60 per person.
Wednesday House Party at Kassi Beach House
Wednesday nights are the best nights at Kassi! I used to travel to Las Vegas for work during the week and made a point to get to Kassi for their Wednesday House Party on a few occasions.
Starting at 7pm, they bring in a DJ on the patio. You can dance or just vibe at your table. The energy with the staff and other guests is really fun, and it feels like a house party!
What Are the Wednesday House Party Specials?
The specials start at 9pm on Wednesdays, which include 50% off pastas and 50% off select liquor and cocktails.
These specials are the closest thing you'll find to happy hour. Plus, you get them at 9pm instead of the middle of the day. Even better for night owls like me!
You won't get a printed specials menu, but your server can tell you which drinks are being featured.
Bottomless Rosé
Every day is rosé day at Kassi Beach House. They serve bottomless Fleur de Mer's Côtes de Provence Rosé every day of the week from 11am to 4pm. (3-hours time limit per table).
My 4'11" light-weight self would never drink enough rosé to make it worth going bottomless, but if this is your vibe have a blast!
Vivia Vino
If you're a Las Vegas local, Kassi Beach Club will give you 50% off all bottles of wine on Mondays after 4pm.
Reservations
Reservations are not required, but strongly suggested since this is a popular spot!
Make your reservations online or call Kassi Beach House at 702-693-4000.
Daybed Reservations
Birthday party? Girls day out? Hanging with a group of friends?
You can reserve a daybed at The Virgin Hotel Resort Pool and enjoy food and drinks from Kassi Beach House. They serve the full menu plus bottle service and punch bowls. Each daybed holds 2-6 people and has a food and beverage minimum spend.
This would be a fun way to enjoy the amazon food and drinks from Kassi by the pool and make it a full day outing!
---
The Virgin Hotel
Kassi Beach House is one of the many reasons I love staying at The Virgin Hotel Las Vegas!
The hotel opened in 2021 and was previously the Hard Rock Hotel. Since the re-opening I've stayed here several times, and keep wanting to come back.
You can read all about what to expect at The Virgin Hotel and which room is my absolute favorite, with an INCREDIBLE view of the strip and the pool.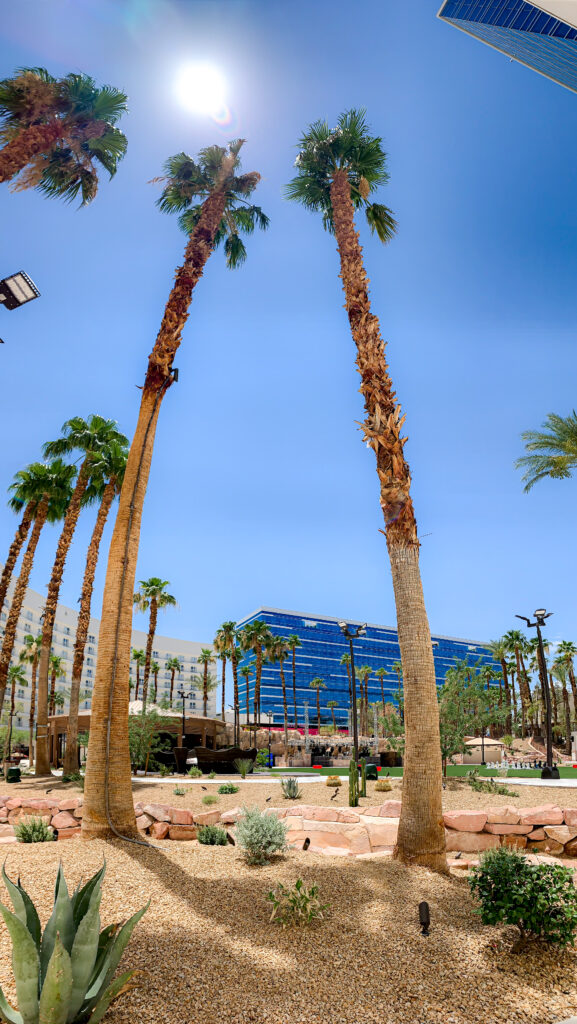 ---
Kassi Beach House FAQs
What is the dress code at Kassi Beach House Las Vegas?
There is no advertised dress code, but casual dress is recommended.
Is Kassi Beach Club dog-friendly?
Yes, diners have successfully brought their dogs for seating on the patio.
Is there a happy hour at Kassi Beach House?
No, however there are Wednesday Night Specials after 9pm and Monday night wine discounts for locals.
Are there vegan and vegetarian options at Kassi Beach House?
Yes.
Is Kassi Beach Club a good spot for groups?
Absolutely! Kassi Beach House is friendly toward groups. They have options to seat parties in the restaurant, on the patio or in their semi-private dining area. You could also reserve a day bed or several to enjoy Kassi with a group by the Virgin Hotel pool.
What is the phone number for Kassi Beach House?
702-693-4000
---
Will You Be Visiting Kassi Beach House?
If you couldn't tell by now, I'm a big fan!
The grand gold entrance and the helpful staff made me feel like a VIP from the moment I stepped through the door. The overall experience was a perfect blend of lively atmosphere and Italian culinary bliss. Whether you're a seasoned foodie or simply seeking a unique dining experience, Kassi Beach House is the place to be.
So, my fellow food-loving friends, if you find yourself in Las Vegas, do yourself a favor and make reservations at Kassi Beach House. Especially on a Wednesday night for the house party!
Don't forget to read all about my review of The Virgin Hotels Las Vegas, which includes other great restaurants on-site you'll want to check out during your stay.
Happy travels!
-Hannah
This post was all about Kassi Beach House Restaurant at The Virgin Hotel in Las Vegas.
Like this post? Pin it for later!