10 Must-Try Craft Cocktail Bars in Portland, Oregon
Are you looking for the best cocktail bars in Portland?
Then this blog post has you covered! I've rounded up 10 of my favorite vibey and delicious craft cocktail bars in Portland that you must try.
But first, let's clear the crisp and fresh Pacific Northwest air. Portland is famous for its craft beer and Stumptown coffee. But let's not limit this vibrant city to just hops and caffeine. Portland's cocktail scene is as robust and flavorful as its coffee and brews.
So, when you're finished hiking, biking or strolling around Powell's Bookstore, step into the lesser-known but equally exciting world of Portland's craft cocktails.
Here's your comprehensive guide to some of the best cocktail bars the city has to offer.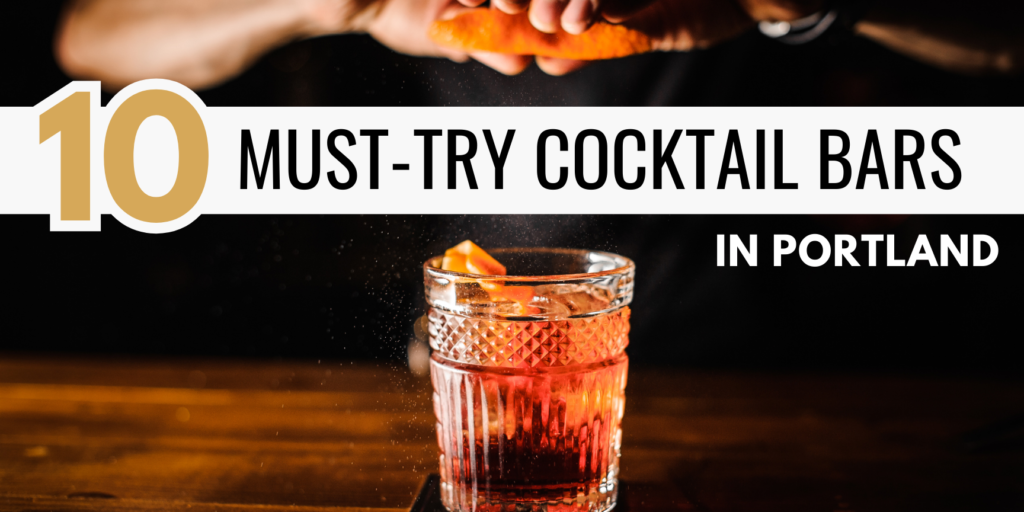 This post is all about must-try cocktail bars in Portland, Oregon.
This post may contain affiliate links, which means that I may receive a commission if you make a purchase using these links at no cost to you. As an Amazon Associate I earn from qualifying purchases at no additional cost to you.
Who Am I?
I'm glad you asked!
As a former Portland local, former bartender, and a craft cocktail nerd, I could talk all day about Portland cocktail bars.
My husband and I moved out of Portland after we got married, and have made it our hobby to explore as many speakeasies as possible. We visit our hometown of Portland a few times every year, so I've since discovered the hidden gems and local foodie spots that often get overlooked by tourists.
So, who am I? Consider me your "local-ish" cocktail girl and Portland tour guide.
11 Must-Try Cocktail Bars in Portland
Whether you're looking for an intimate speakeasy experience or something more laid-back, this guide will help you find your new favorite cocktail spot in Portland.
1. BIBLE CLUB
Pay a visit to Bible Club cocktail bar in Sellwood for a unique cocktail experience.
This cozy speakeasy is tucked away in a renovated 1920's yellow house. In true speakeasy fashion, the exterior is unassuming and you'll question if you're in the right place until you step inside the front door.
The menu focuses on pre-prohibition drinks with a modern twist highlighted on the menu as the "Ten Commandments." One of their unique signature cocktails we particularly enjoyed was the Coco Loredo with pandan-infused El Jimador tequila, ginger, Koloa coconut rum, coconut milk, lime and chili oil.
If the dark and quiet speakeasy vibe doesn't quite match your mood, they also offer a patio in the back with firepits, slushy drinks and a more casual atmosphere.
Known For: Unique Speakeasy
Average Drink Price: $14 – $17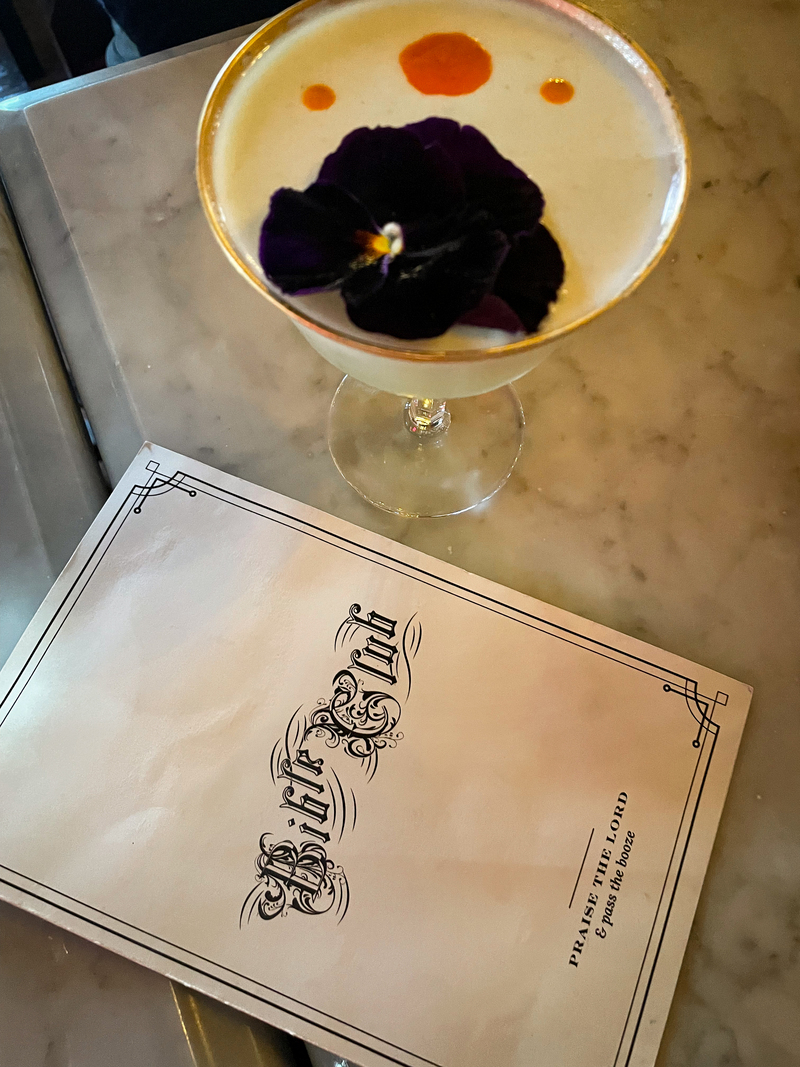 2. MULTNOMAH WHISKEY LIBRARY
I'm not a big reader, but I can spend some time in a WHISKEY library!
With over 1,000 bottles of whiskey lining the walls, Multnomah Whiskey Library is a must-visit for any cocktail or whiskey enthusiast.
Their extensive menu features classic drinks as well as new, innovative recipes, and they even offer flights of whiskey if you want to sample different flavors. While this spot can be tough to get into as a non-member without a reservation, it's certainly worth the effort or the wait.
TIP: There are two rooms, the Green Room and the Library. Ask to be seated in the Library for the full library experience.
Known For: Extensive Whiskey Collection
Average Drink Price: $18 – $20+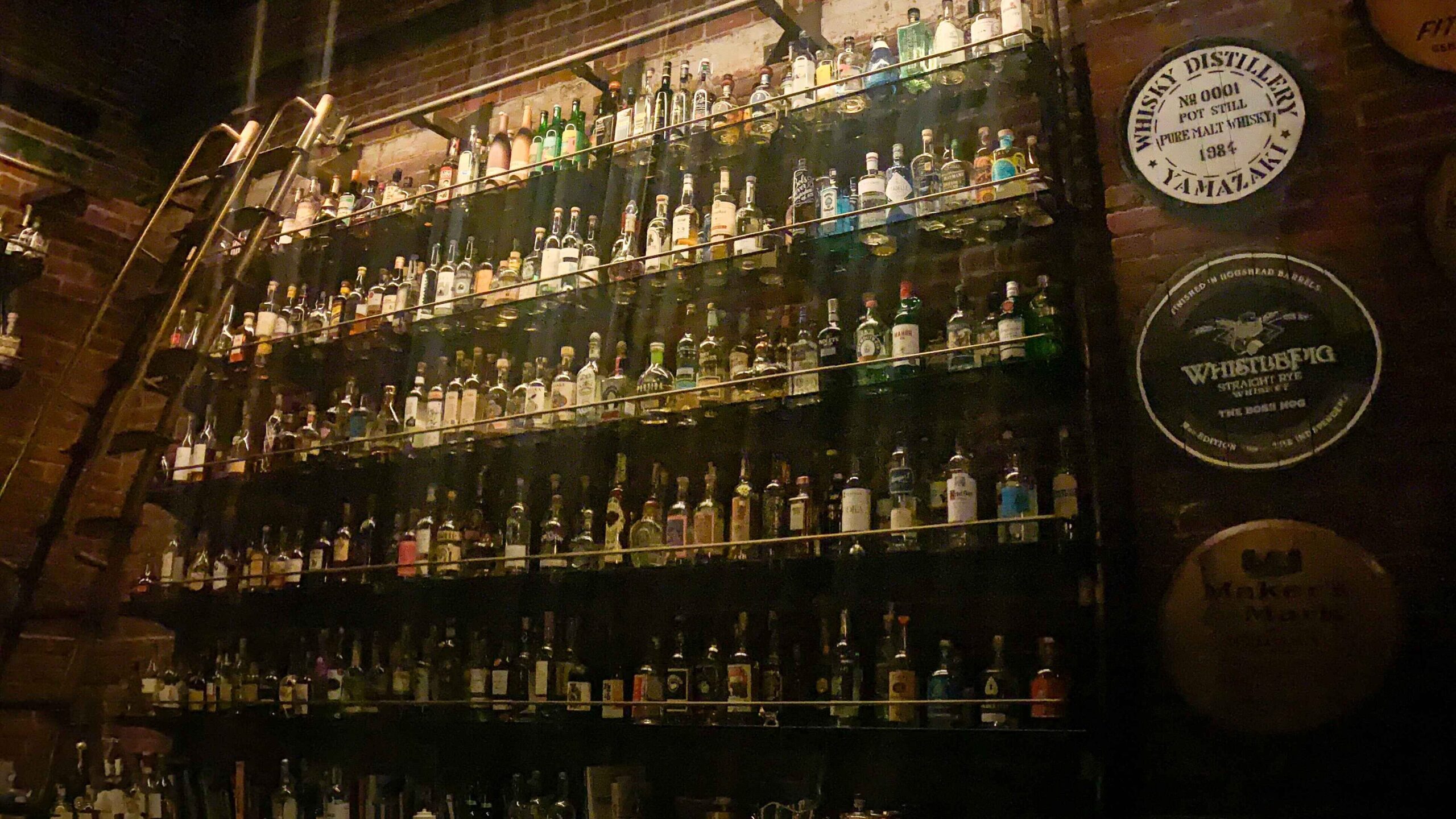 3. TEARDROP LOUNGE
This downtown Portland cocktail bar is known for its unique "culinary cocktails". The prices are also very approachable, especially considering the quality.
Being a mixologist at Teardrop Lounge is no joke. They have an impressive list of 30 specialty cocktails, each one unique and interesting with house-made syrups and infused spirits. You can taste the fresh, seasonal ingredients and high-quality spirits that they take pride in.
If this sounds overwhelming, don't worry, there is a glossary in the back of the menu to help you understand the flavor profiles of the various liquors. And the staff are great at helping guide you to something you'll enjoy.
I have visited several times and never had a drink I wasn't wowed with! This is definitely one of my favorite cocktail bars in Portland to show off!
Known For: Creative and Unique Cocktails
Average Drink Price: $12 – $14
4. PALOMAR
Do you love a tropical vibe? Then Palomar is the perfect spot for you.
This happy, vibrant cocktail bar specializes in Latin-inspired cocktails and a festive atmosphere with lots of bold, but welcoming colors.
The Palomar concept was inspired by bartenders in the 1920s in Cuba, who made drinks for US visitors fleeing from prohibition. So they focus on more than just rum, and use a variety of spirits while keeping the emphasis on balanced, tropical cocktails.
The menu features creative takes on classic drinks such as the "Mango Lassi" made with tequila, coconut, mango, toasted rice, lime orange and cardamon. The food menu is equally as delicious!
Known For: Cuban-Inspired Tropical Cocktails
Average Drink Price: $14 – $17
Neighborhood: Southeast Portland
5. SCOTCH LODGE
For the whiskey lovers who want a vintage bar vibe, look no further than Scotch Lodge. The atmosphere at is a beautiful blend of old and modern. I love the classic decor with dark wood, Art Deco accents and bright white marble bar top.
This popular Portland cocktail bar offers a wide selection of Scotch, whiskey, and other spirits. As a bourbon-lover myself, Scotch Lodge has everything I need and more! But if you're not into whiskey, they have a good variety of fruit-forward and refreshing cocktails that are very impressive.
Known For: Vintage Vibes + Small Plates
Average Drink Price: $15 – $16
Neighborhood: East Portland
6. HEY LOVE PDX
If an online quiz exists that tells you what your "spirit restaurant" is, I already know that mine would be Hey Love.
The place was covered in plants, which is always a vibe.
The drinks are instagramable and unique with playful names like "Sharon is Karen" and "Papa Don't Peach."
I ordered the "Oaxacan Sunrise", a mezcal passion fruit margarita with a strawberry slushy float, served in a cactus glass with a hibiscus sea salt rim ($16).
Average Drink Price: $11 – $16
Neighborhood: East Portland
7. THE OBSERVATORY
The Observatory is a local favorite with a laid-back atmosphere and really bomb drinks that won't break the bank.
The Tom Kah cocktail (yup, just like the soup!) is phenomenal and only $10!
This spicy martini has thai bird chili infused vodka, lemongrass-cilantro simple syrup, coconut cream and fresh lime juice. It was one of the best cocktails I've ever had, and one of the most affordable cocktail bars in Portland!
Known For: Signature Cocktails
Average Drink Price: $10 – $12
Neighborhood: Portland's Alphabet District
8. PINK RABBIT
Located in downtown Portland, Pink Rabbit is a modern cocktail bar that specializes in craft cocktails. Just look for the bright pink neon rabbit sign and you won't miss it.
The atmosphere here is sleek and stylish, with brightly colored decor and dim lighting. They have an ever-changing menu of drinks made with fresh ingredients and unique flavors.
There are indoor and outdoor seating options, and bumping music for a fun night out.
Known For: Fun Nightlife and Sophisticated Cocktails
Average Drink Price: $11 – $14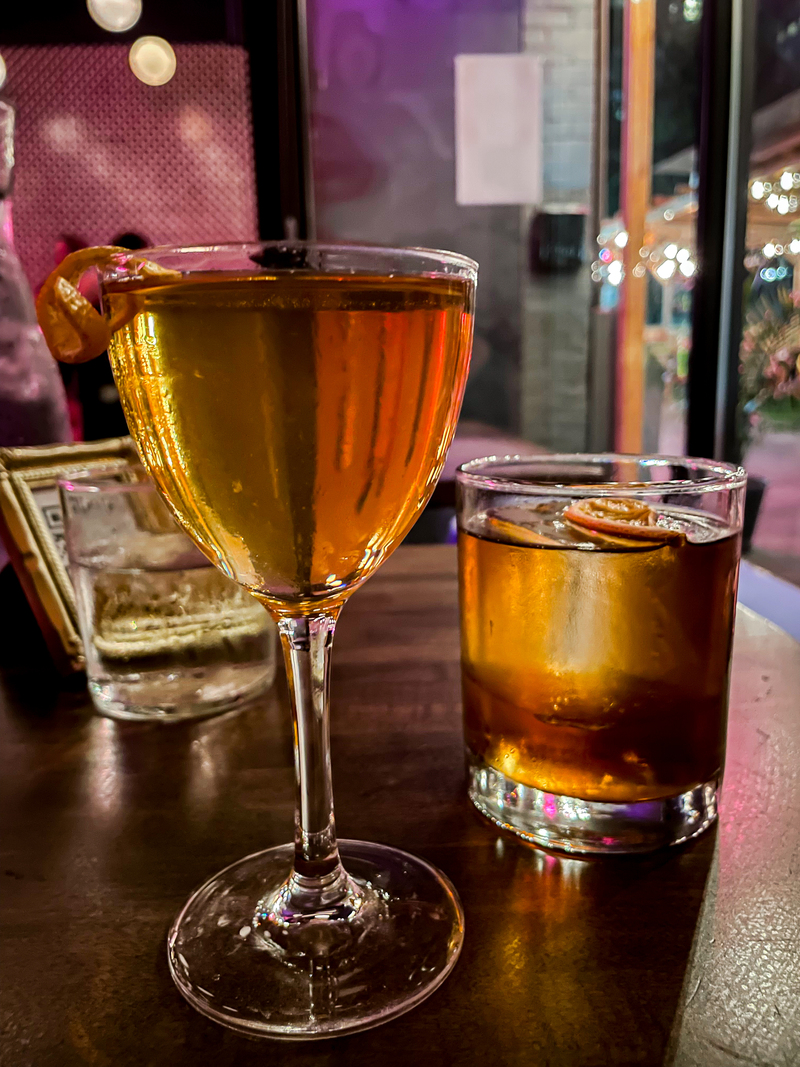 9. LULU
This well-known neighborhood cocktail bar is welcoming and relaxed, and serving incredible cocktails with late hours every night.
The creativity of their Japanese and Peruvian fusion cuisine spills over into the amazing cocktail recipes they stir up like the Chapter 4 made with tequila, Ancho Reyes, lime, strawberry rhubarb and salt.
Average Drink Price: $14 – $17
Neighborhood: Central Eastside
10. SOMEDAY
On a warm summer evening, head over to Someday and grab a table on the outdoor patio to enjoy a fabulous cocktail and a bite from the food truck. The interior was also very cute with a modern and chic bar top, but the garden patio really sold me!
The Brother's Keeper cocktail was strong, but well-balanced. It's made with bourbon, dark rum, Averna, sweet vermouth, chocolate bitters and Angostura bitters.
Known For: Intimate Neighborhood Bar with a Patio
Average Drink Price: $11 – $13
Neighborhood: East Portland
---

---
Which Cocktail Bars in Portland Will You Be Visiting?
If you're planning your Portland itinerary, don't sleep on these incredible cocktail bars in Portland!
If you're a local, turn this into a Portland cocktail bucket list challenge and make sure you visit them all.
Let me know in the comments which are your favorite spots and if there are other cocktail bars in Portland you think should be added to this list.
Happy travels!
-Hannah
This post was all about must-try cocktail bars in Portland, Oregon.