The Glamorous Legacy Club, Las Vegas' Best Rooftop Cocktail Bar
Put your pinkies up and find your most glamorous self while you sip delicious cocktails at Legacy Club Las Vegas, nestled within the iconic Circa Las Vegas.
As a frequent Las Vegas visitor, I was thrilled to discover this hidden gem cocktail bar. You'll find breathtaking views of the Strip and the valley. The exquisite drink menu makes it the perfect date night or girls night spot for locals or vacationers.
In this blog post, I'll take you on a journey through my visit to Legacy Club and everything you need to know to plan your night out.
This post is all about Legacy Club Las Vegas.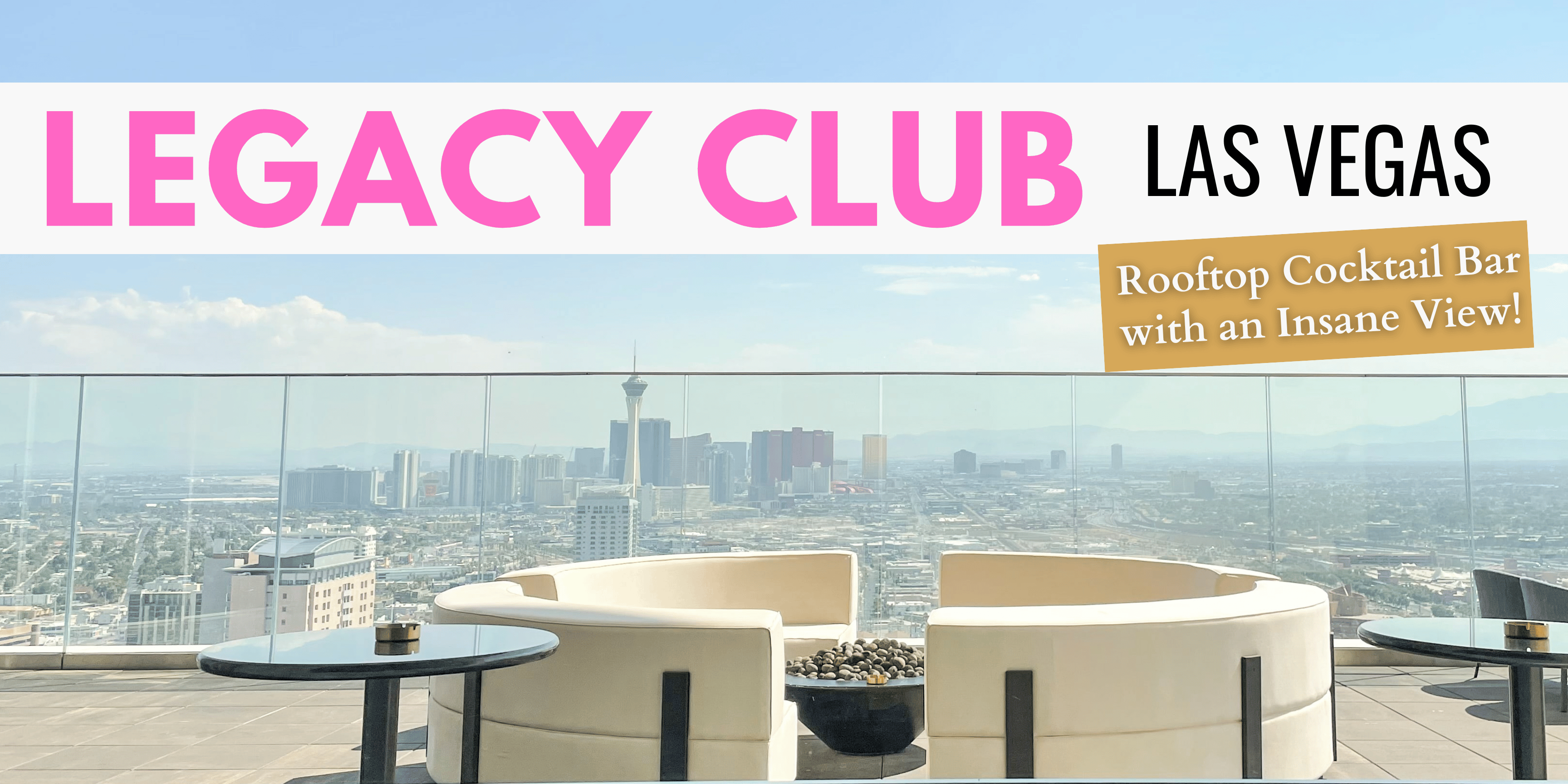 This post may contain affiliate links, which means that I may receive a commission if you make a purchase using these links at no cost to you. As an Amazon Associate I earn from qualifying purchases at no additional cost to you.
Location
Located on the rooftop of Circa Hotel in Downtown Las Vegas, Legacy Club offers a mesmerizing and serene panoramic view of the vibrant city below. After a long day of relaxing by the Stadium Swim pool at Circa or exploring Fremont Street, you can head upstairs to this gorgeous cocktail bar for a sunset drink.
To access Legacy Club, look for the host stand on the first floor of the Circa Hotel just around the corner from the front desk. From there, you'll check in and take an elevator up 60 floors to the Legacy Club lounge.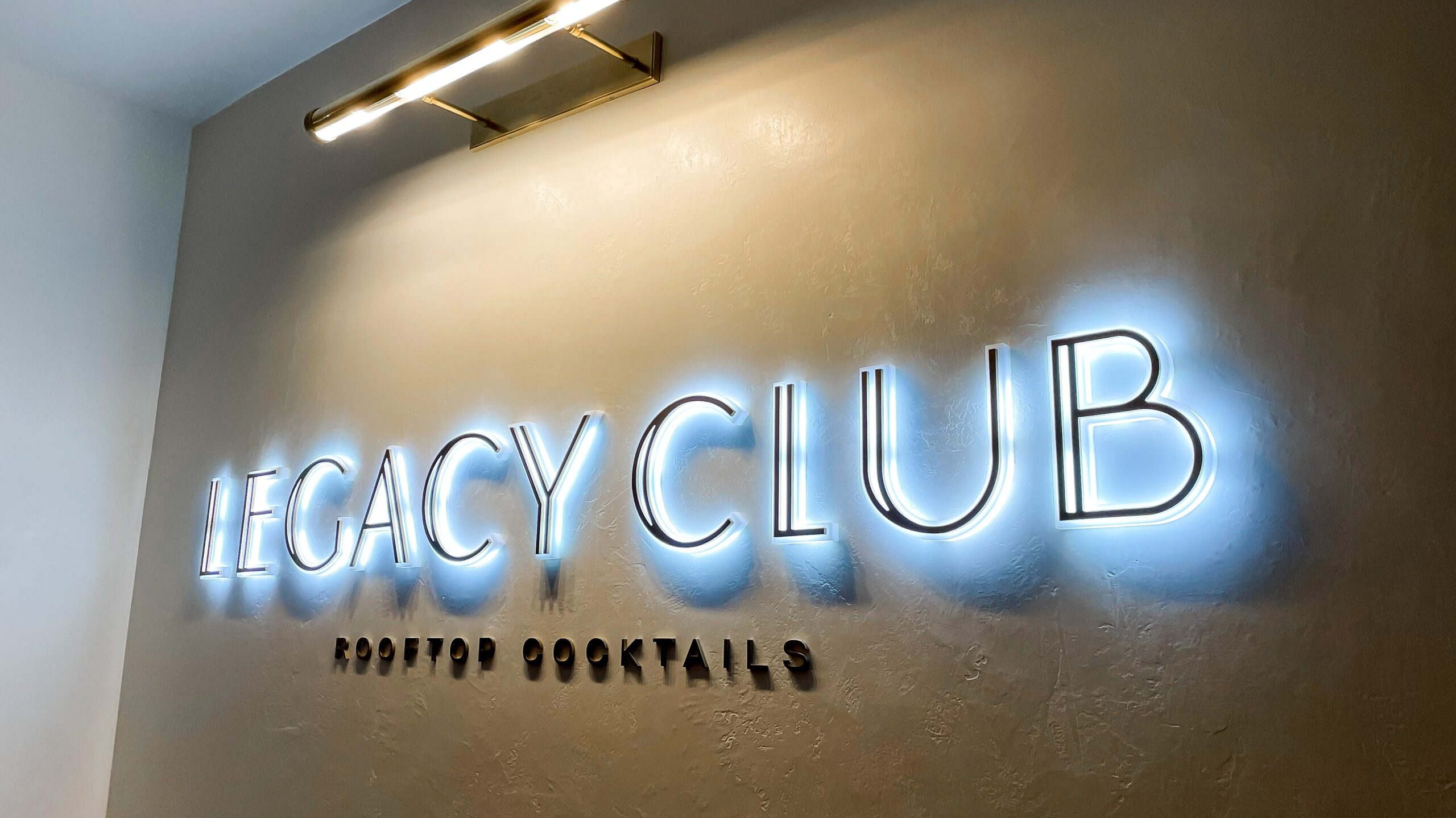 Legacy Club Las Vegas Review
Vibe Check
From the moment I entered, I knew I was in for a treat! The vibe gives a Great Gatsby impression.
I worked in fine dining restaurants for years. There's just something magical about walking into sophisticated restaurant where you can feel the attention to detail and everything working together artistically. Don't get me wrong, the eating and drinking part is my favorite. But I will always enjoy the moment when I enter a place like Legacy Club for the first time and say to self "that's my vibe."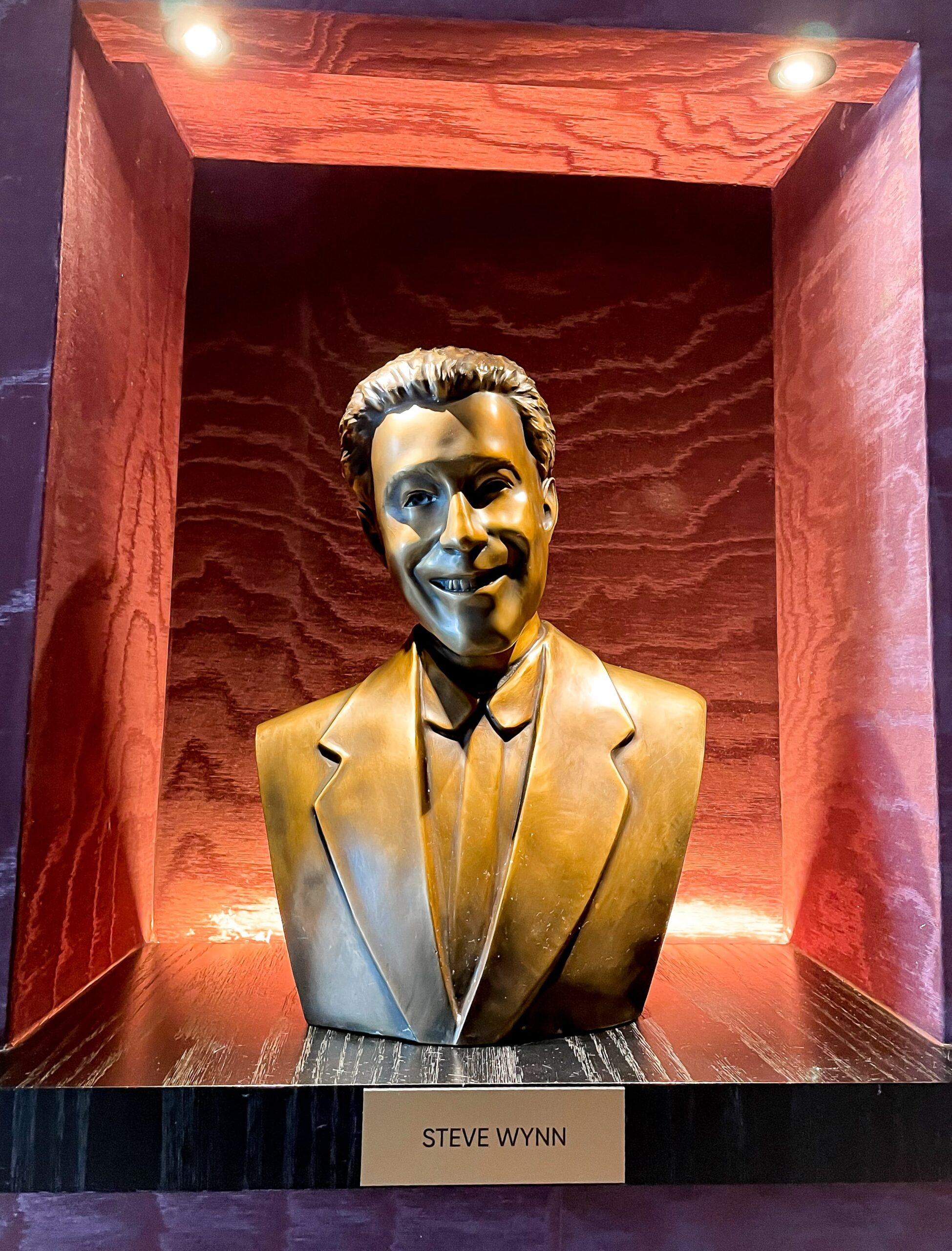 The club's glamorous ambiance is set with sleek and modern decor perfectly sets the tone for a romantic date night or a glamorous girl's night. The highlight of course, are the floor-to-ceiling windows with a view to the south of the iconic Las Vegas Strip and the surrounding valley.
The impressive back bar is covered in gold and definitely a stand-out feature. Booths are covered in purple velvet and gold accent lighting adds to the glamorous Las Vegas vibe.
Ggold-covered metal busts of iconic Las Vegas pioneers are on display in the entry including Jackie Gaughan, Benny Binion, Jay Sarno, Kirk Kerkorian, Sam Boyd, Steve Wynn, William Bennett, Bob Stupak, Frank Fertitta, Barrn Hilton and Howard Hughes.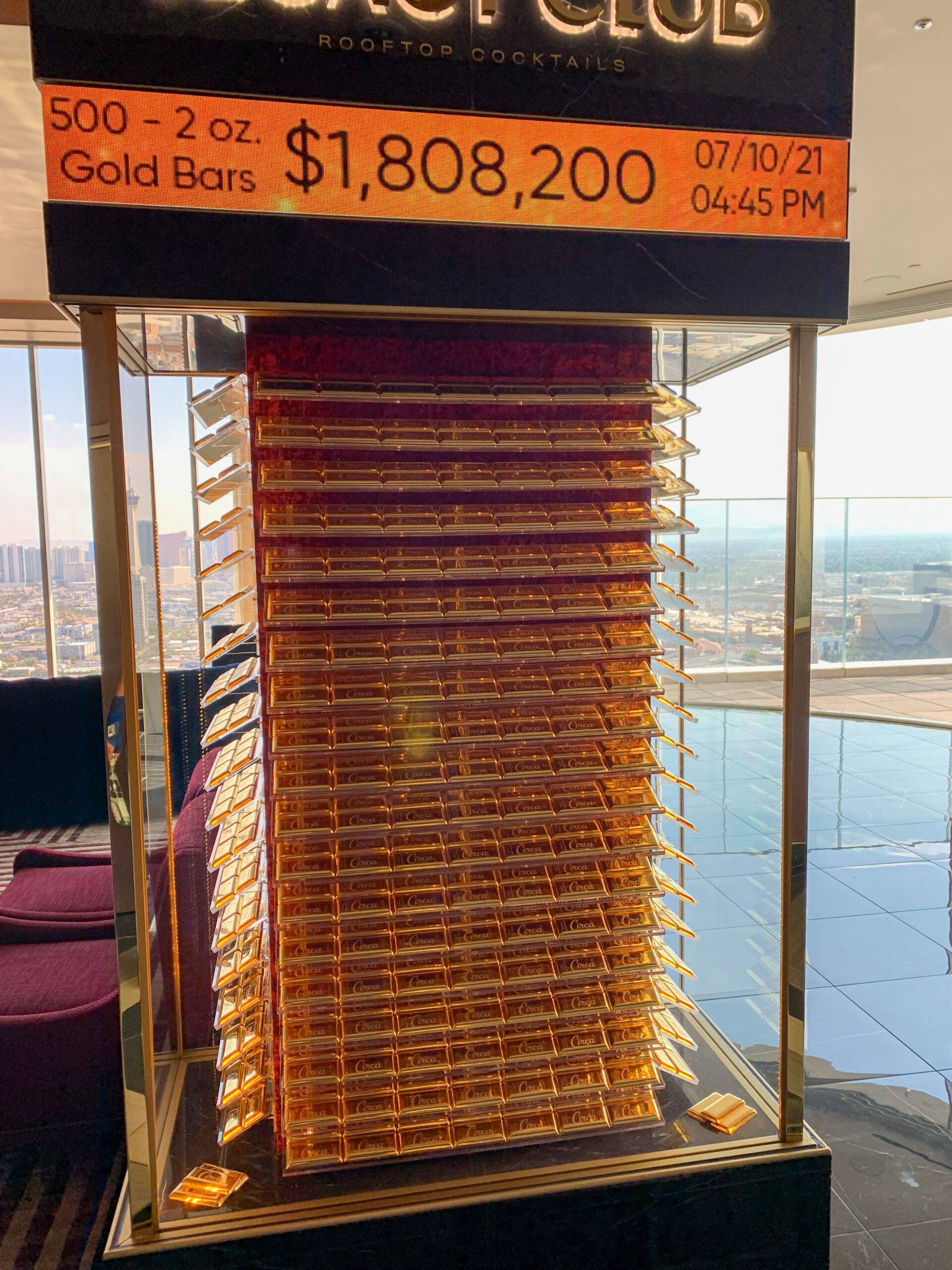 Legacy Club Gold Display
If you aren't impressed yet, just look for the display of 1,000 ounces of pure gold divided into 500 bars. Each bar proudly shows the Circa Hotel logo and a current estimate of the value as it changes.
Quite the mic drop…
Outdoor Patio
The majority of the restaurant and bar are located inside, which is nice for those times when the weather is rough or high winds. But the patio at Legacy Club Las Vegas is definitely a vibe on a warm day and a great place to sip your drink while soaking in the sunset.
You'll need to reserve an outdoor spot in advance if you want seating on the patio. But we visited on a weekday and early evening just after they opened, so they didn't mind that we wandered outside for a few moments.
You can even reserve the fire pit on the patio, which would be a great way to celebrate with friends! I'll share more about minimums and reservations later on.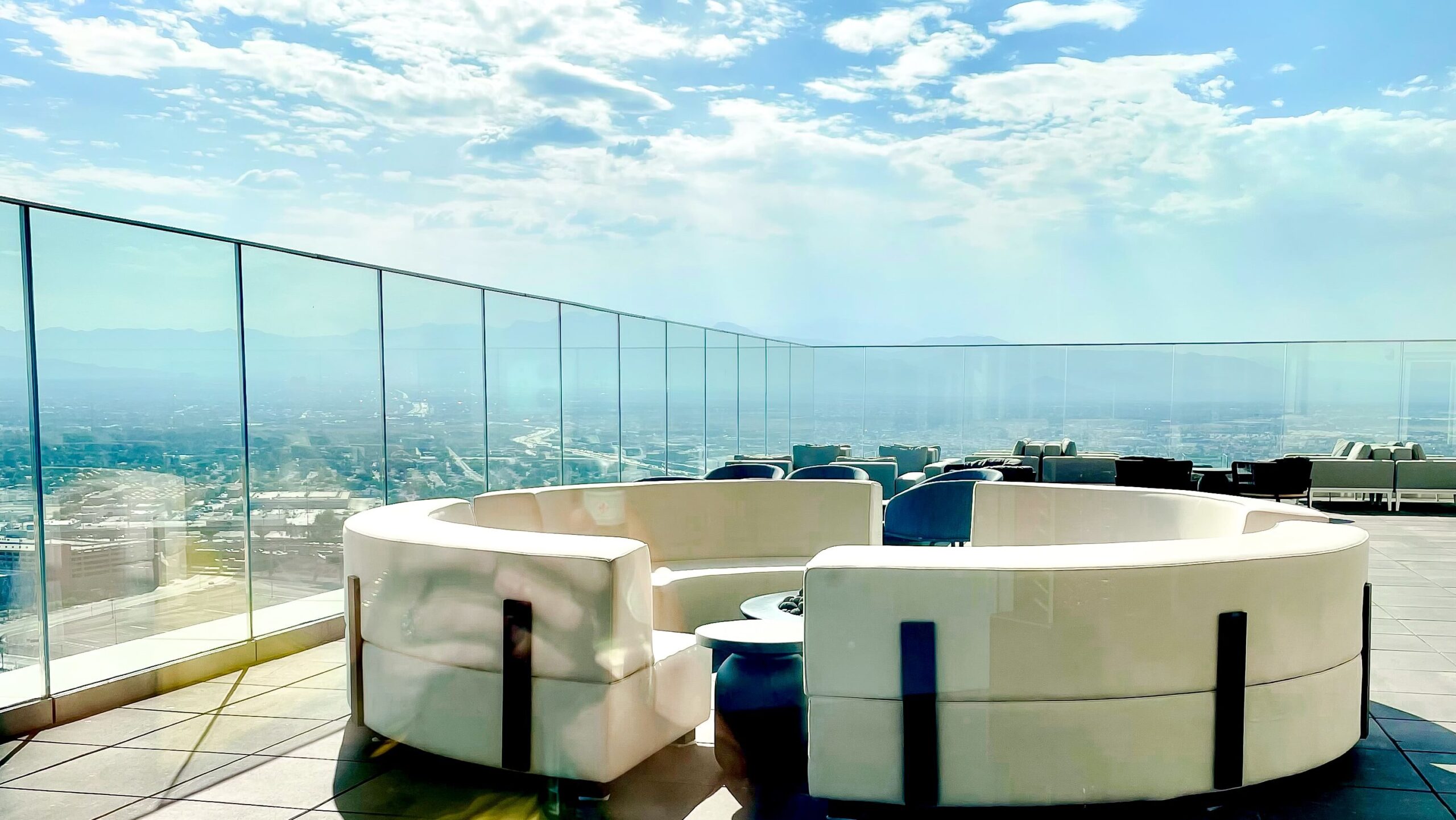 Legacy Club Las Vegas Menu
Alright, let's get to my favorite part. The drinks!
Cocktails
Legacy Club Las Vegas is known for it's signature bright-blue show stopper cocktail, the DRC. This cocktail features Absolut Elyx (which gives it the blue color), Hendricks Lunar gin, Strega (an Italian liquor), vanilla, lavender and orange.
Please be warned, this drink is strong! It's slightly sweet with the lavender and vanilla but the gin and vodka make the drink pretty spirit-forward. I like those types of drinks, plus anything with lavender is my go-to option, so I went for the DRC.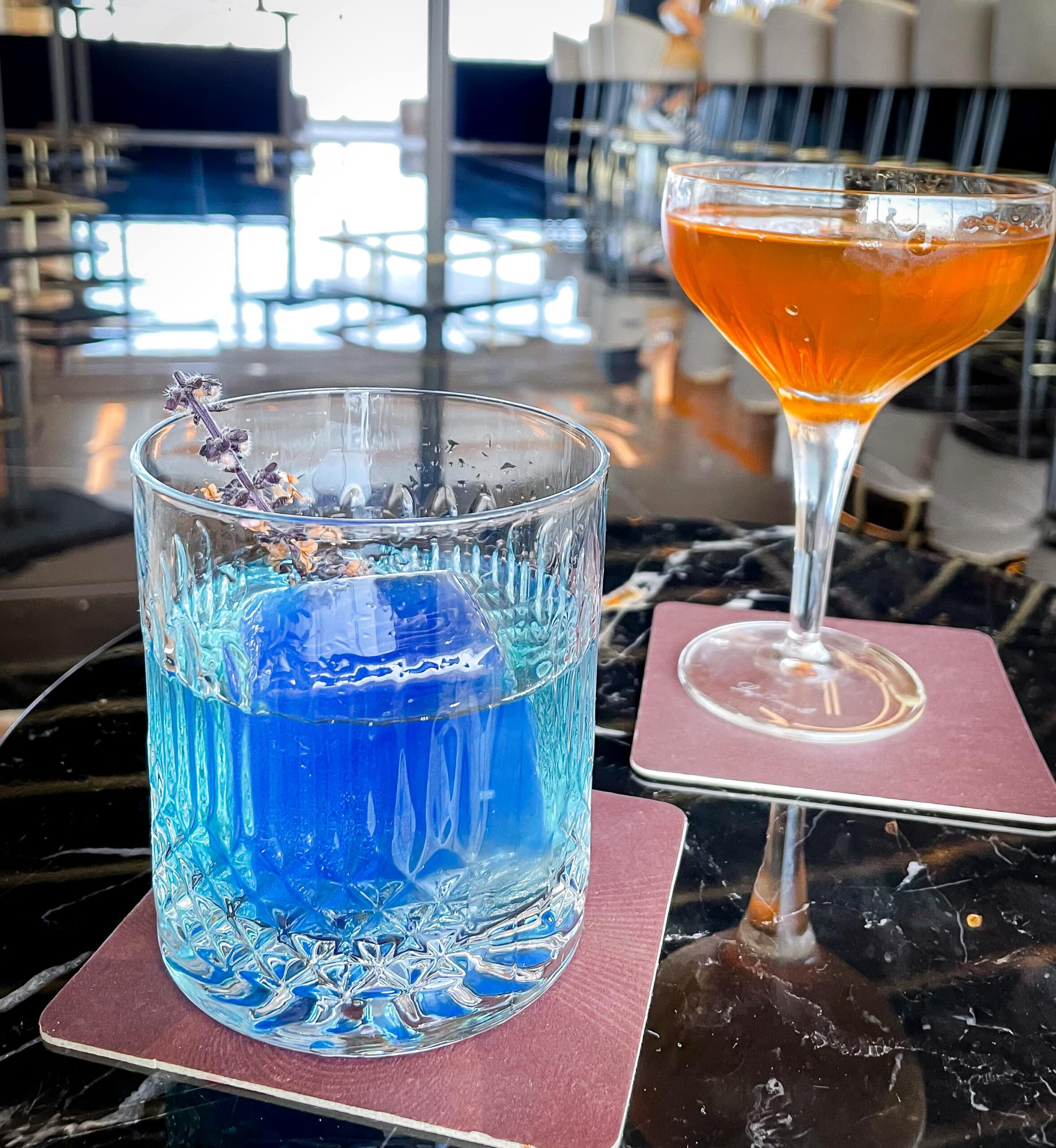 My husband ordered a Sazerac, an old-school classic bourbon and absinthe cocktail. It's not something every bartender can nail, but we had a feeling they would know how to make it right. It was divine!
The drink menu is pretty accommodating to all preferences. You can find fruity cocktails like the Felt Jungle to the What's Your Number tequila cocktail where you can pick your spice level from 1-5. Legacy Club also has a variety of beer and wine options, non-alcoholic cocktails, and large format shareable cocktails that serve 4-8 people.
If you aren't sure what to order, just ask the staff! They were incredibly helpful in deciding what drinks to order and giving suggestions.
Food is not offered at Legacy Club Las Vegas, so don't come hungry! This is a spot to enjoy craft drinks and an amazing view. Perfect for a sunset drink before dinner or an after-dinner night cap overlooking the twinkling lights of Vegas.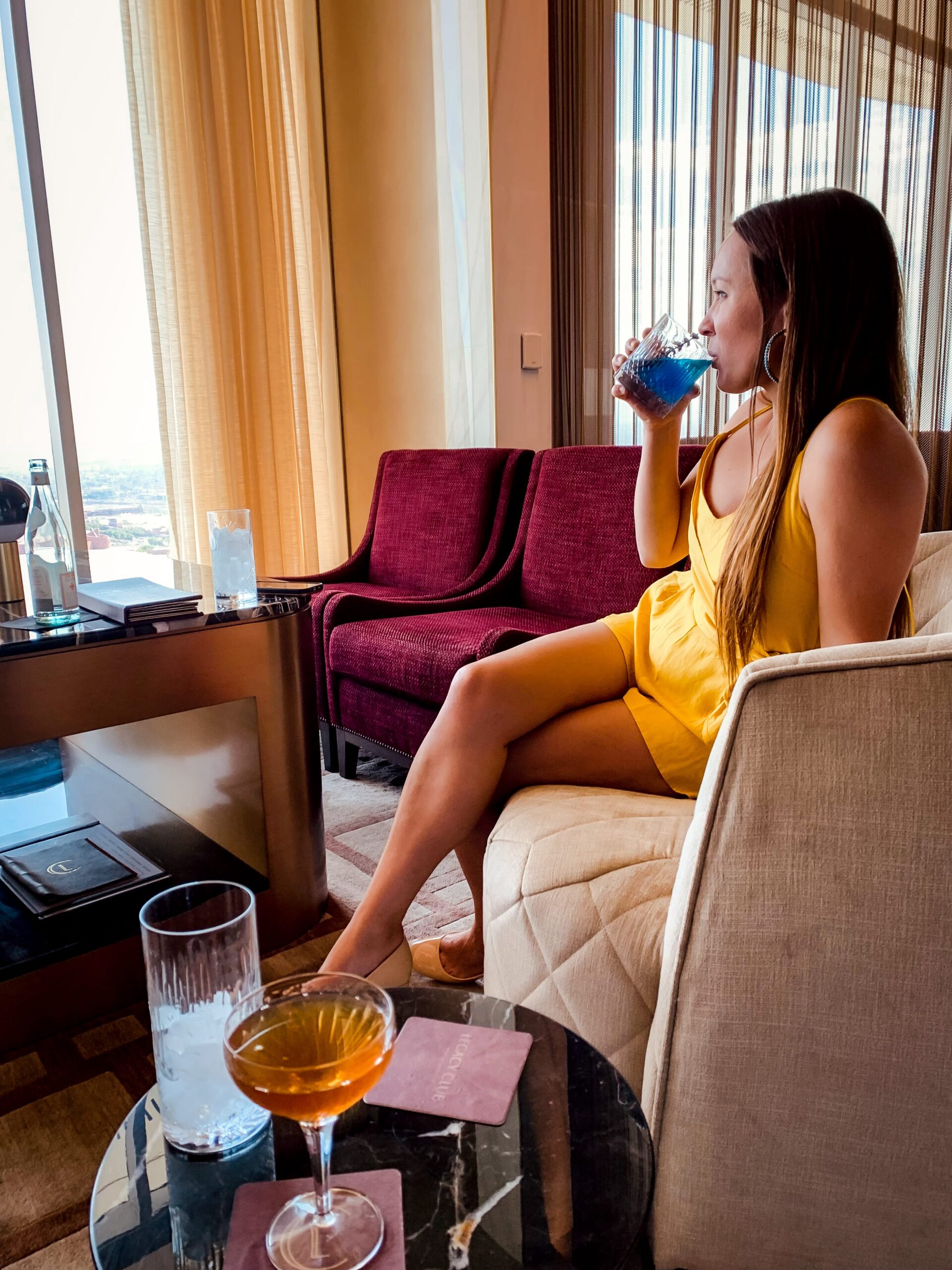 Elevated Sprits Craft Cocktail Course
Available Fridays & Saturdays from 2pm to 4pm.
If you're looking for a unique experience, book the Elevated Spirits Craft Cocktail Course at Legacy Club Las Vegas.
For $125 per person, you'll get to spend time with the fabulous mixologists at Legacy Club and learn the techniques of crafting incredible cocktails. You will make and enjoy three cocktails and also create your own cocktail recipe. How fun!
Reservations
Reservations are required to enjoy Legacy Club Las Vegas. You can make reservations online for up to 20 people.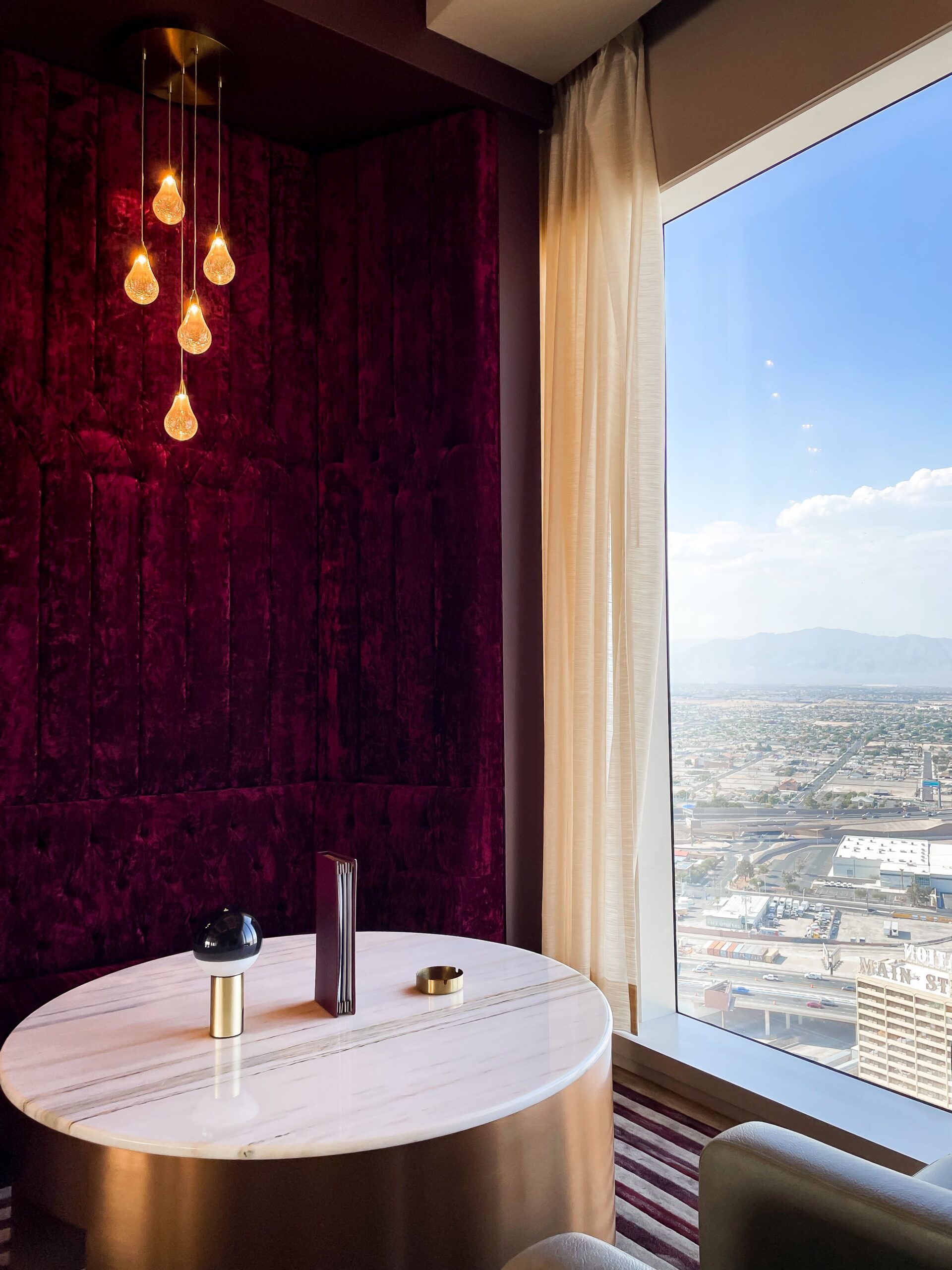 When making your reservation, there are a few options to choose from depending on your group size and budget.
Indoor Seating, $25 minimum spend per person
Outdoor Seating, $50 minimum spend per person
Sunset Package, $100 per person including two specialty cocktails and a champagne toast at sunset
Fire Pit, up to 6 people with a $500 minimum spend for the group
Large Fire Pit, up to 20 people with a $1,500 minimum spend for the group
Prices
The specialty cocktails start at $19 each, wine glasses start at $16 each, beers start at $11 each and non-alcoholic mocktails are $12 each.
We reached the $25 minimum per person with one cocktail each and then a bottle of still water to share. Remember that you're paying for the view, the experience, and the quality of drinks. For Las Vegas standards, I actually felt that it was pretty reasonable, especially since you can make a full activity out of it.
---

Virgin Hotel Las Vegas, My Favorite Foodie Paradise
5 Best Las Vegas Hotels for Bachelorette Parties
Kassi Beach House Las Vegas Restaurant Review
7 Hotel Hacks to Save You Money
---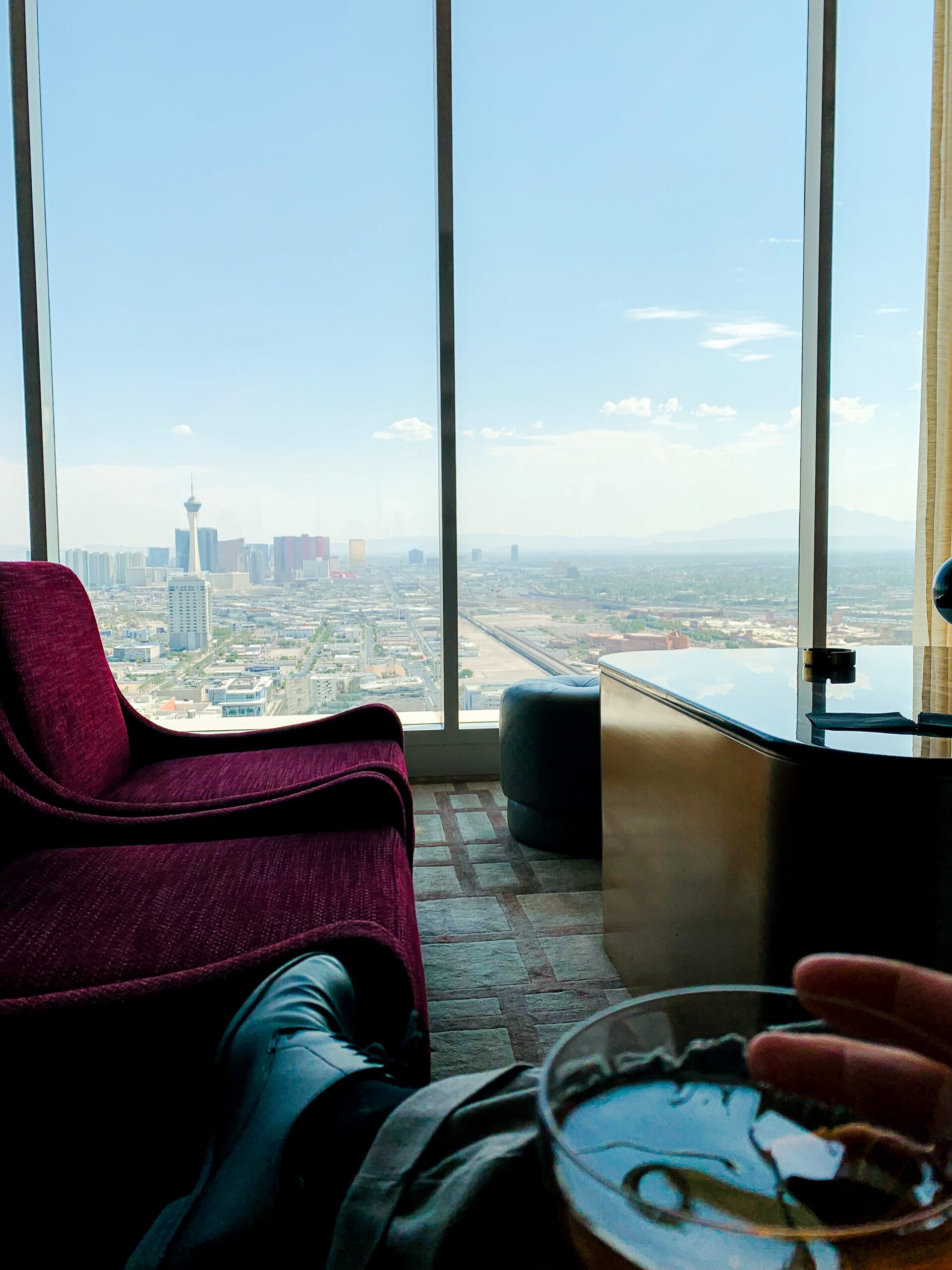 Frequently Asked Questions
What are the hours of Legacy Club Las Vegas?
Legacy Club Las Vegas is open from 4pm to 2am Sunday through Thursday, and 2pm to 4am Friday and Saturday.
Do you need reservations for Legacy Club?
Yes, Legacy Club Las Vegas requires reservations in advance.
How high is the Legacy Club at Circa?
Legacy Club cocktail bar is located on the 60th floor of the Circa Hotel in Downtown Las Vegas.
What is the dress code for the Legacy Club Las Vegas?
The dress code for Legacy Club in Las Vegas is elegant casual. You should plan to dress nicely for the sophisticated environment. They request that men wear clean closed-toed shoes. Swimwear, sandals, athletic and cargo shorts, ball caps & knit hats, graphic/worn tees, sports apparel, hooded sweatshirts, exceedingly torn clothing, and athletic shoes are not allowed. Learn more about the dress code policy at the Legacy Club website.
Is food served at Legacy Club Las Vegas?
No, Legacy Club rooftop cocktail bar in Las Vegas does not serve food. The menu features signature cocktails, beer, wine and non-alcoholic beverages.
Ready To Visit Legacy Club Las Vegas?
Whether you're celebrating a special occasion or simply indulging in a night of luxury, Legacy Club Las Vegas will captivate you from the moment you step in. We had the best date night and enjoyed dressing up a little more than usual for the experience.
Don't miss out on this Great Gatsby style cocktail experience next time you're in Vegas!
Happy travels!
-Hannah
This post was all about Legacy Club Las Vegas.