Fabulous Las Vegas Restaurants with a View
There are so many great choices of restaurants in Las Vegas. But if you're looking for the best Las Vegas restaurants with a view, this one's for you!
Everyone knows that Las Vegas is a foodie's dreamland. But you want more than just good meal in Vegas, you want to enjoy it with a breathtaking view. Whether it's the strip, the Bellagio Fountains, overlooking a beach pool or gazing over Downtown Los Angeles, there are many great ways to enjoy a stunning view while you dine in Las Vegas.
This post is all about the fabulous Las Vegas restaurants with a view.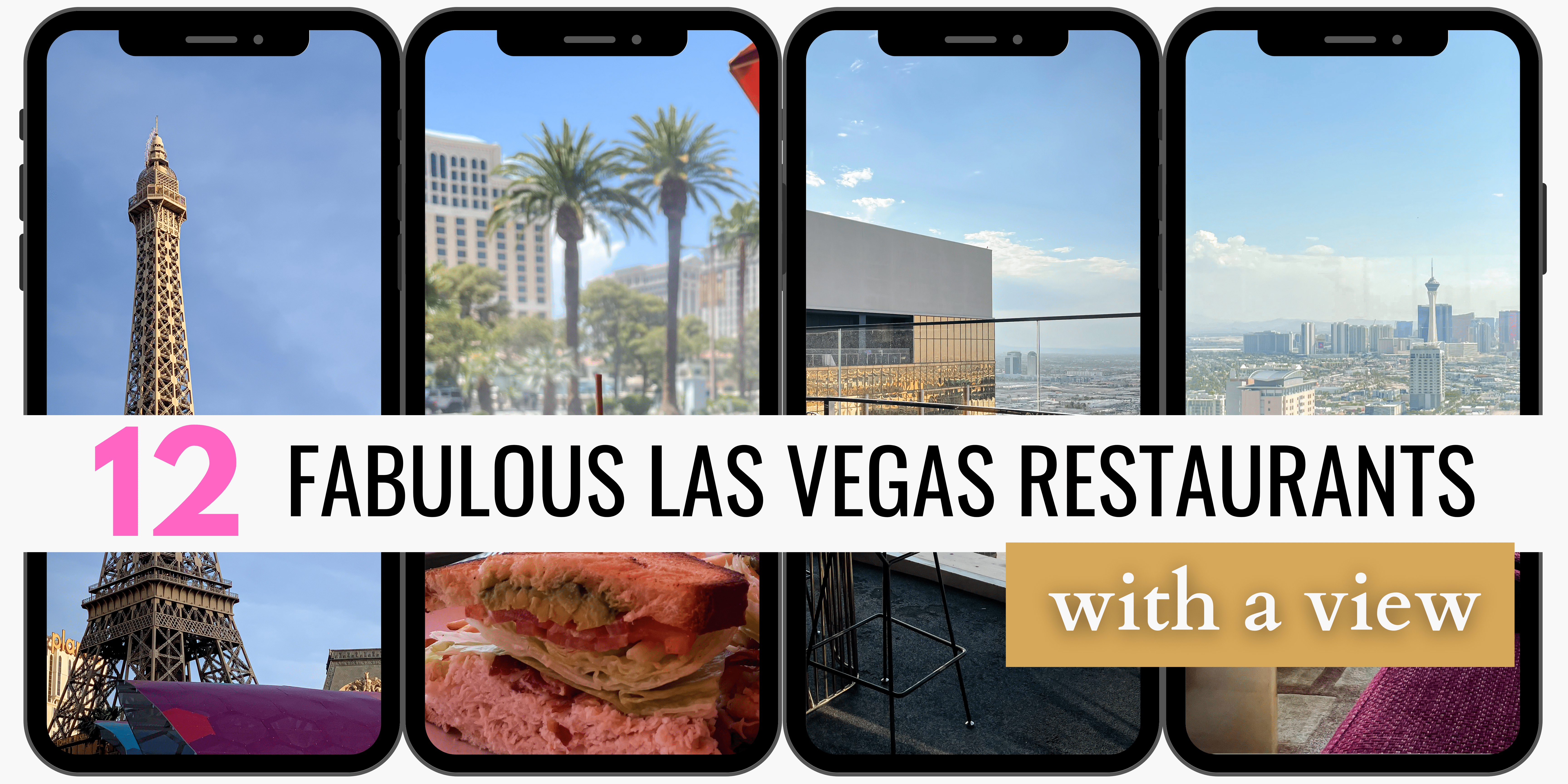 This post may contain affiliate links, which means that I may receive a commission if you make a purchase using these links at no cost to you. As an Amazon Associate I earn from qualifying purchases at no additional cost to you.
Las Vegas Restaurants with a View
I lived part-time in Vegas hotels for 9 months and have stayed in nearly every hotel on the strip. So believe me when I say I've searched far and wide for the best places to eat with a view.
This list covers my top choices for 2023 for restaurants with a view in Las Vegas, plus tips on what to order, average price, location and style of cuisine.
1. LEGACY CLUB COCKTAIL BAR AT CIRCA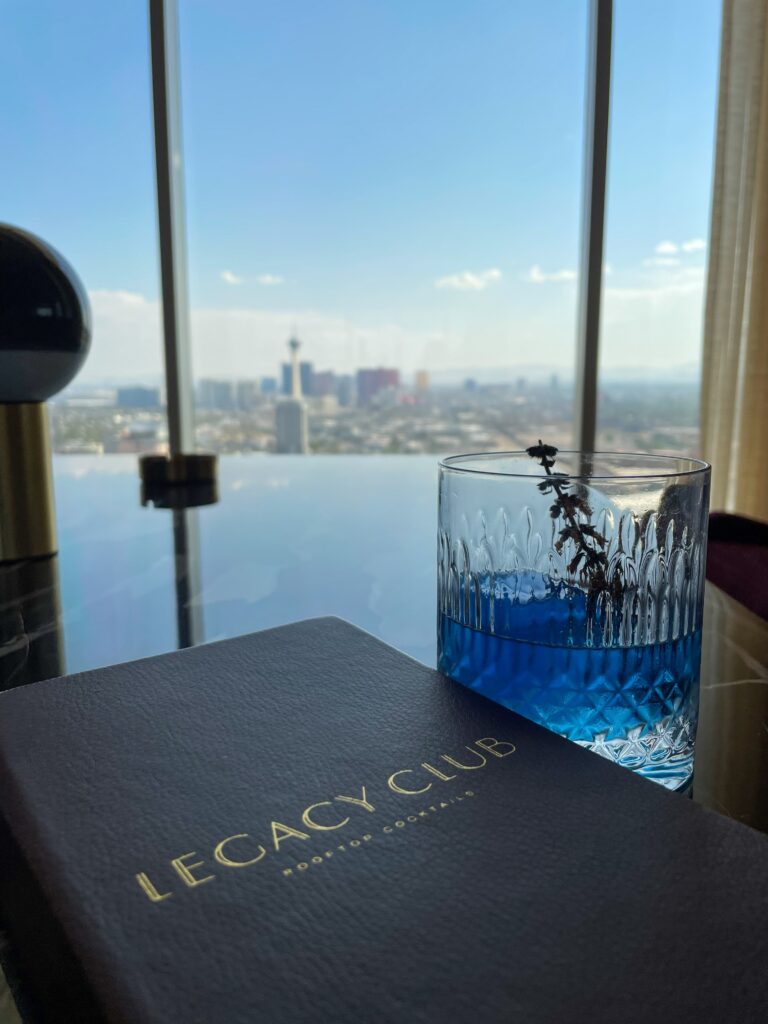 Located in the Circa Hotel on the 60th floor, Legacy Club is a destination in itself for a night out. They have an indoor space and an outdoor rooftop with fire pits. The ambience is classy and it gives a Great Gatsby vibe with purple velvet booths and gold accent lighting.
Plus, the floor-to-ceiling windows show off the beauty of Las Vegas with views to the south facing the strip and to the north overlooking Downtown Las Vegas.
Read my full review of Legacy Club Cocktail Bar to learn more!
It is important to note that Legacy Club is a cocktail bar and does not serve a food menu. However, the view is stunning, possibly one of the best in Las Vegas, so I had to include it on this list!
Menu Prices: Minimums start at $25 per person.
Cuisine: Craft cocktails, beer, wine and non-alcoholic drinks
View: There are windows on each side of the restaurant offering views of both the Las Vegas Strip and Downtown Las Vegas.
What to Order: The DRC (blue cocktail)
2. MON AMI GABI AT THE PARIS
Mon Ami Gabi is my absolute favorite spot to enjoy breakfast in Las Vegas!
You can sip a latte in a bowl (yes, a bowl!) while you gaze out on to the strip. It has a serene, but vibrant energy and it's the perfect way to wake yourself up after a long night in Vegas. The white tablecloths and French decor transport you to Paris.
To best enjoy the view, request to be seated outside or on the covered patio.
Plus, the food is fantastic! Every item I've ever ordered from Mon Ami Gabi is fantastic. You won't be disappointed.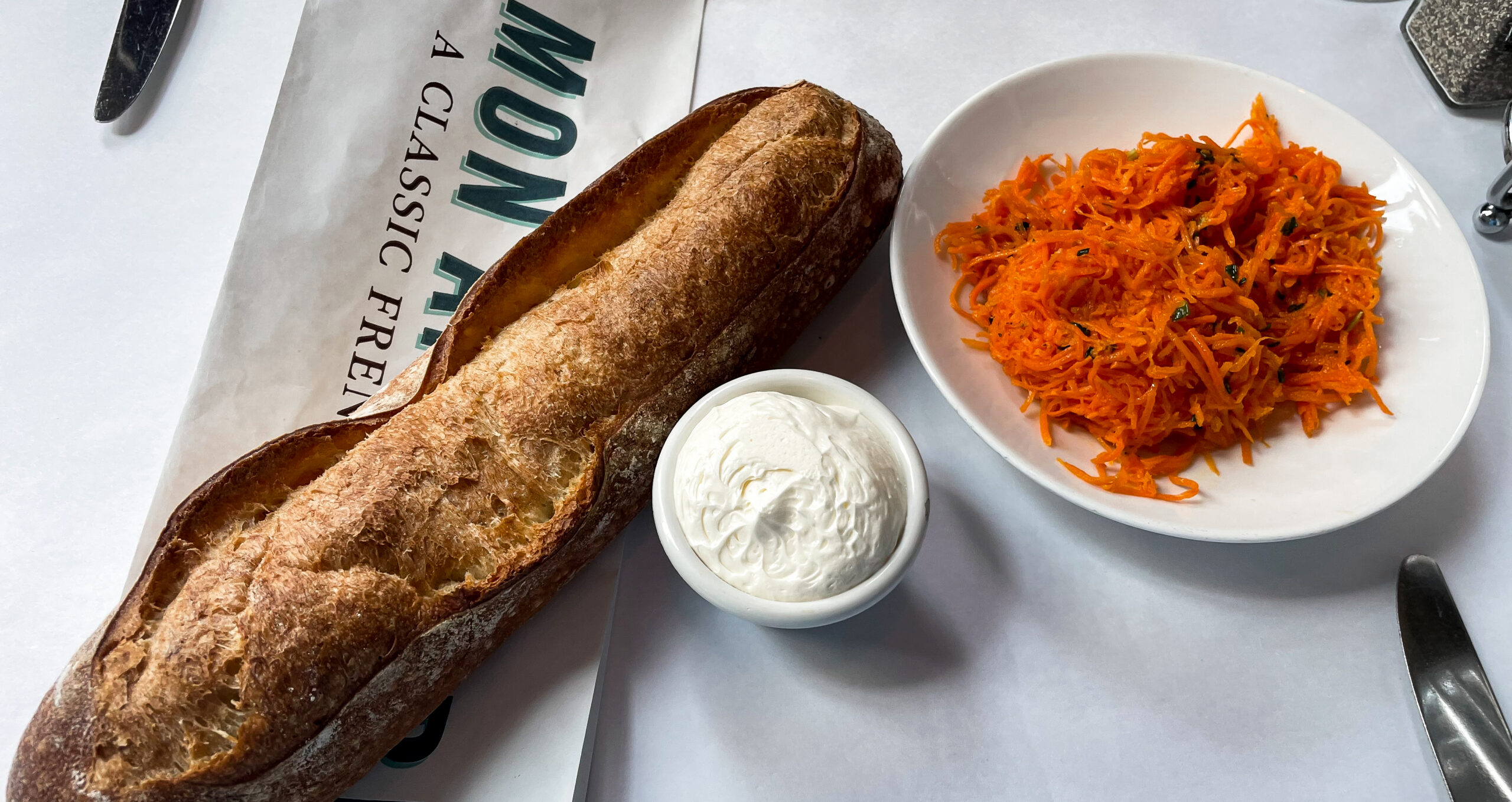 Menu Prices: Breakfast and lunch entrees start at $17.95, dinner entrees start at $22.95
View: Las Vegas Strip and Bellagio Fountains
What to Order: My favorites are the Bananas Foster Crepes, French Toast, Steak Frites, Baguette and the Goat Cheese Appetizer
3. BLACK TAP AT VENETIAN
Craving burgers? Black Tap Las Vegas is known for their gourmet burgers and show-stopping Instagram worthy CrazyShake® milkshakes.
The patio at Black Tap sits on the waterfront and overlooks the famous Venetian Canals. You can watch the gondolas and people watch on the strip while you enjoy your meal.
This is a great option for a fabulous view if you're on a budget. It's also a more low-key option as you don't need reservations and you simply join the waitlist when you arrive. Be sure to ask for patio seating for the best view and get there early as the queue fills up quickly!
Price: Entrees start at $16
View: Las Vegas Strip and the Venetian Canals
What to Order: My favorites are the Crispy Brussels sprouts, Fried Mozzarella, Black Truffle Burger and the Brooklyn Blackout Shake.
4. SKYFALL LOUNGE AT DELANO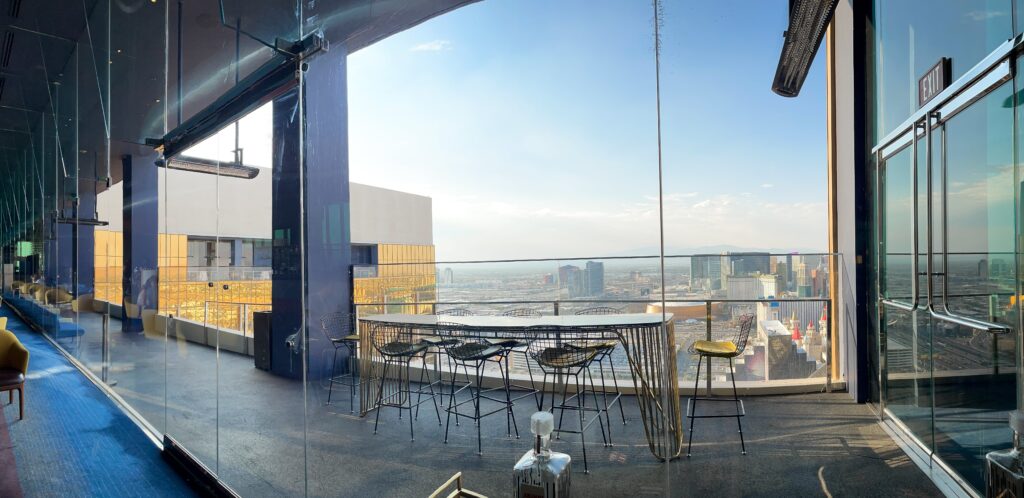 Known for its incredible view from the 64th floor of the Delano Hotel, Skyfall Lounge is the perfect choice for a night out with a view. For the best view, ask for a table near the windows.
Your view gets increasingly more impressive as you climb up to the 64th floor while you peer out the windows of the elevator over the strip. If you visit on a Friday or Saturday night, a live DJ will be playing a laid-back but energetic soundtrack. This spot is more of a classy vibe rather than party mode. Sip a cocktail and soak in the views!
The food menu focuses on shareable and light bites, but they also have a few entrees if you want a full meal.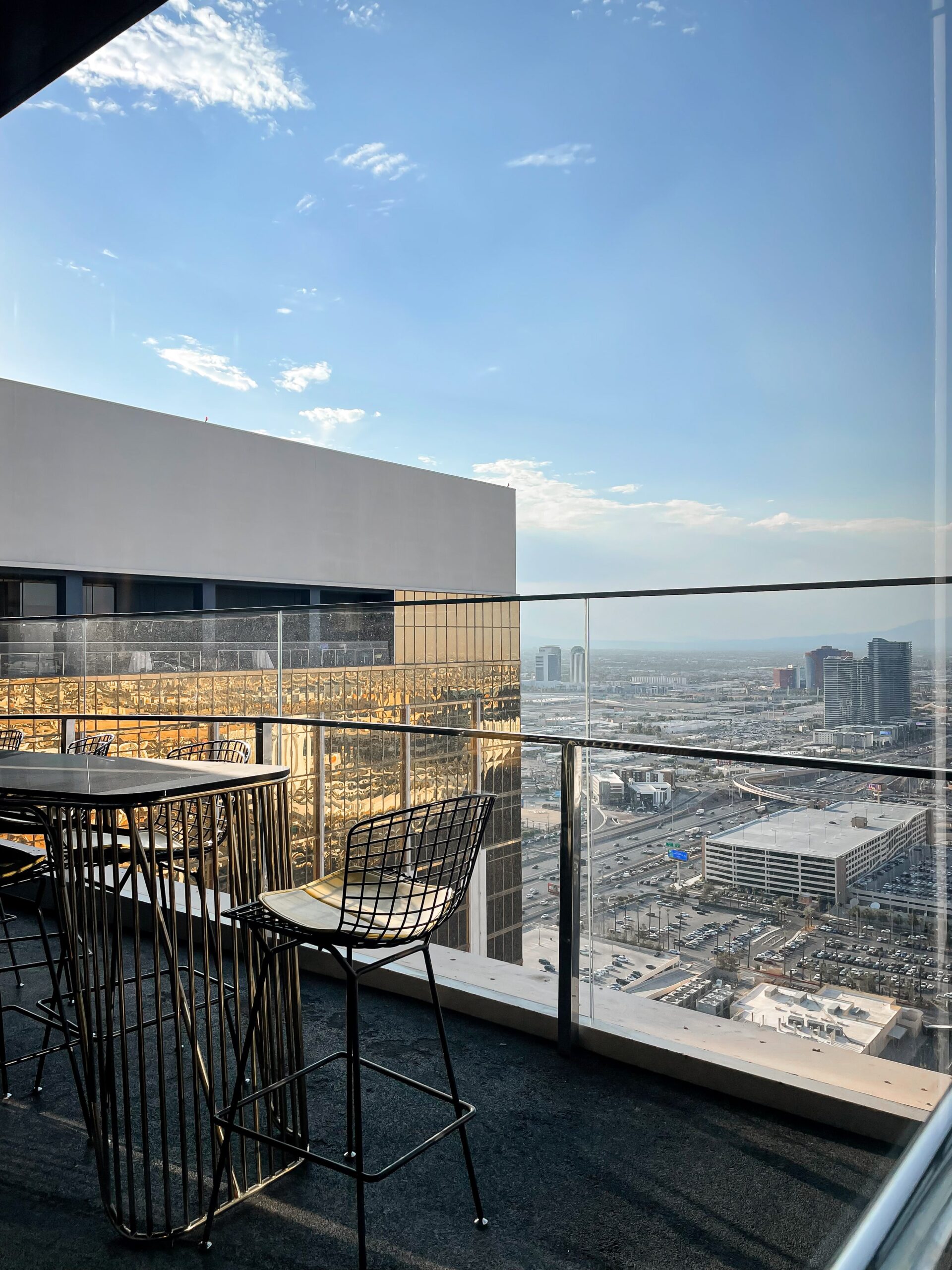 Price: Cocktails start at $20, food menu varies in price
Cuisine: American and French
View: The view of the strip faces toward the north from 64 floors high.
What to Order: Parmesan Truffle Fries, Charcuterie and Cheese, Desserts, Old Fashion
5. ALEXXA'S ON THE STRIP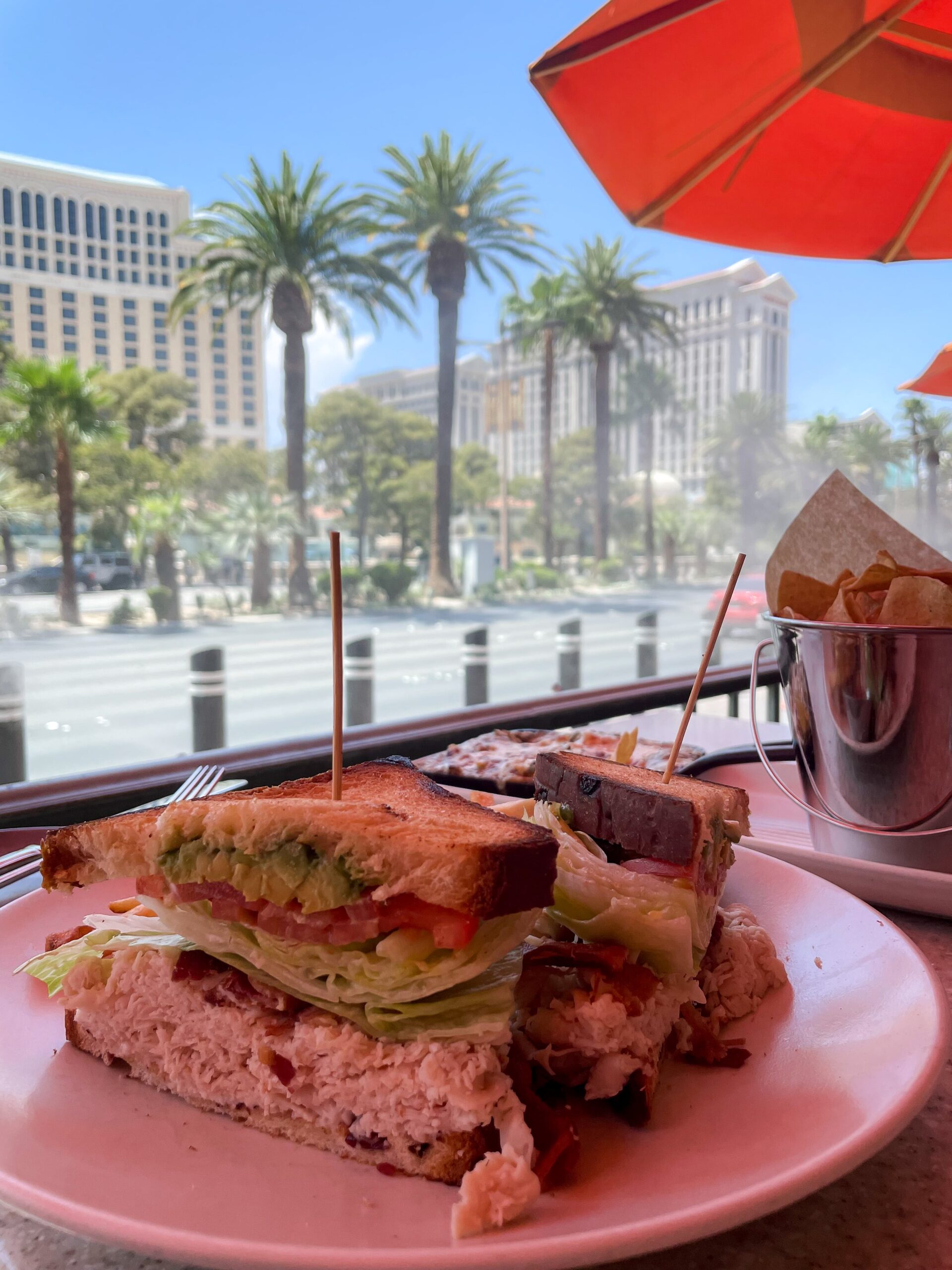 If you walk the strip, you can't miss the yellow awnings lining the street in front of the Paris. Alexxa has prime real estate patio space at The Paris with plenty of tables overlooking the strip and Bellagio Fountains.
This is a great choice for those wanting a wide variety on the menu, and especially popular for brunch which is served every day.
People watching is prime at Hexx because you literally sit just above the foot traffic below. Trust me, there will be plenty to see!
Price: Brunch entrees start at $15.99, dinner entrees start at $23.99
View: Las Vegas Strip and Bellagio Fountains
What to Order: White Sangria or a Sangria Flight, Club Sandwich, Spinach and Artichoke Dip
6. GIADA RESTAURANT AT THE CROMWELL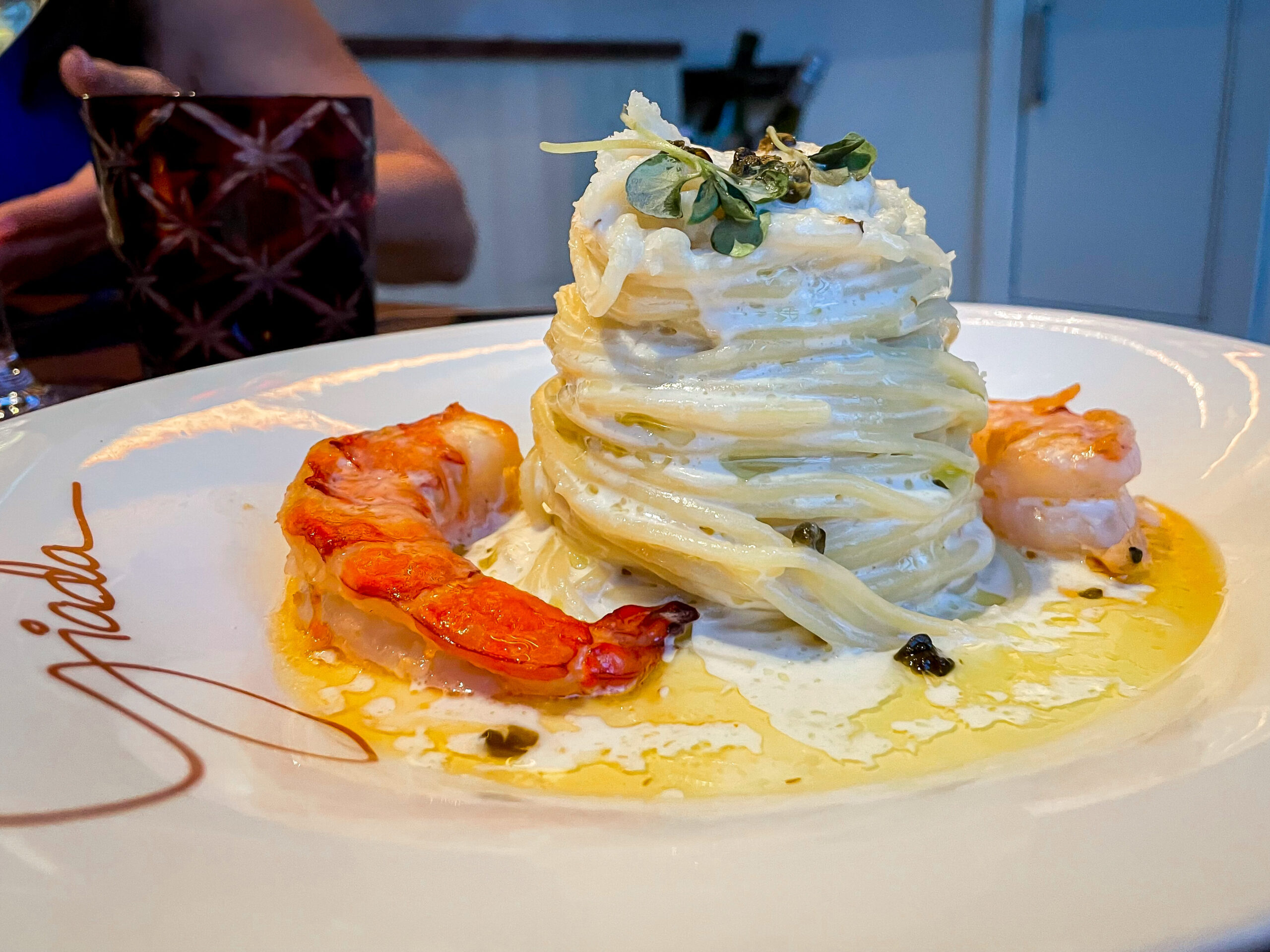 If you're a pasta lover like me, the Giada Restaurant at the Cromwell is a must-do.
Not only are you in for a treat with incredible Italian dishes curated by the iconic Giada herself, but you can also take in a stunning view of Caesar's Palace and the strip while you eat.
The large, round open-air dining room boasts plenty of windows to enhance the view and makes you feel a bit like you're floating in the sky.
I visited with my mom and sisters to celebrate my mom's birthday and it was nothing short of fabulous! I personally think a twilight view is best, but Giada also serves brunch Friday through Sunday.
Price: Brunch entrees start at $20, dinner entrees starting around $30
View: Giada Restaurant has large windows that overlook Caesar's Palace to the north and the Bellagio Fountain and the strip to the south.
What to Order: Giada's Signature Lemon Spaghetti – divine!
7. EIFFEL TOWER RESTAURANT AT THE PARIS
Perched high above the bustling Las Vegas Strip, the Eiffel Tower Restaurant at the Paris Las Vegas offers a true Parisian dining experience from James Beard Award-Winning Chef J. John. The charming decor is reminiscent of a chic French brasserie.
But its the breathtaking view that truly steals the show. From your table, you can gaze out through the floor-to-ceiling windows, treated to a stunning panorama of the iconic Las Vegas skyline. The view from the Eiffel Tower Restaurant is a truly spectacular, allowing you to savor your French cuisine above the dazzling lights and energy of the city below.
The best part about dining at Eiffel Tower Restaurant is that ALL seats in the dining room get a view of the Bellagio lake. The restaurant is 110 feet above ground, inside the 1/2 scale rendition of the Eiffel Tower at the Paris Hotel.
Price: The brunch menu is $69 per person for a pre-fix three-course menu. Dinner is a la carte starting at $39 per plate.
View: All seats have a view of the Strip and Bellagio Lake.
What to Order: Try the Caviar Bar, Eiffel Tower Beef Wellington, or French Toast À La Crème Brulée
8. BRERA OSTERIA AT VENETIAN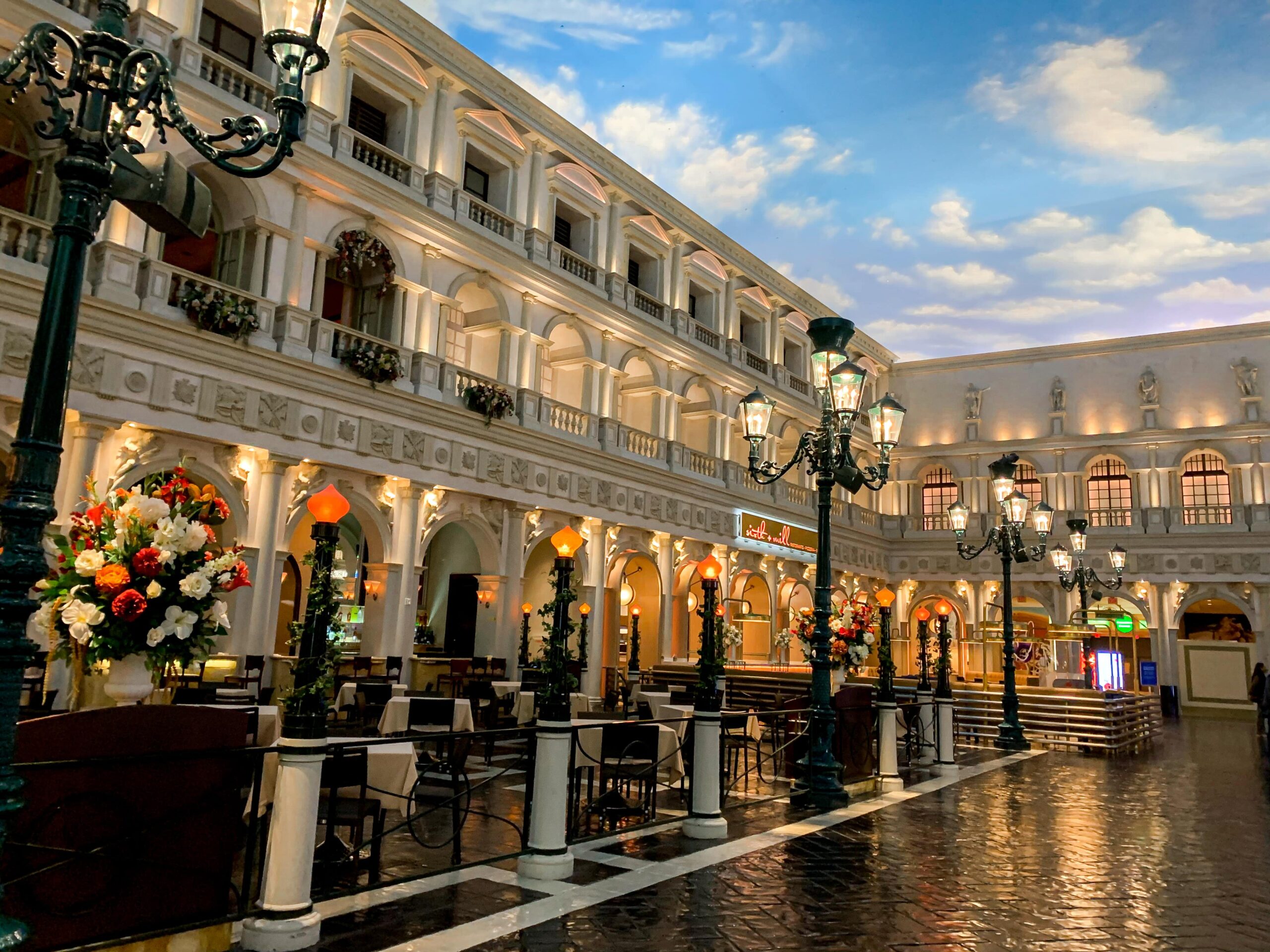 This choice may be a surprise to some because it's an indoor restaurant, but it's an obvious one to me!
Dining at Brera Osteria at the Venetian, it feels like you've been transported to Saint Mark's Square in Venice. I visited Saint Mark's Square a few years back, and while there is truly nothing like the real thing, this definitely gives you the care-free European Venetian dining experience.
Since your view remains the same regardless of the time, check out Brera Osteria for Aperitivo Hour to save on food menu prices.
Price: Aperitivo Hour appetizers start at $6, dinner entrees start at $25
View: Breara Osteria is located inside the Venetian Grand Canals with tables offering a view of the Saint Mark Square dining area and canals.
What to Order: Meatball, Bruschetta, Papardelle, Fettuccelle Bolognese
9. KASSI BEACH HOUSE AT THE VIRGIN HOTEL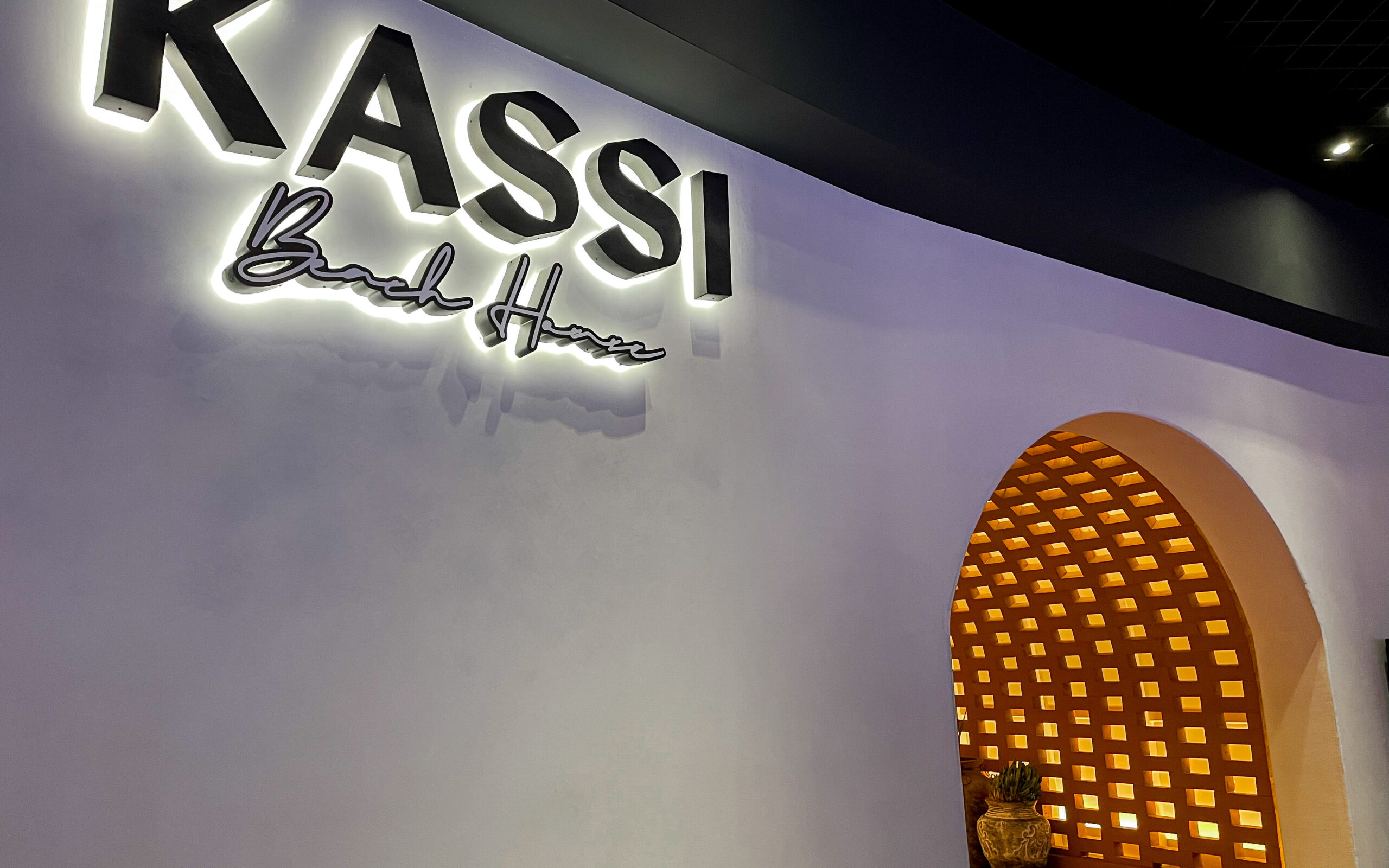 Who doesn't love a pool-side dining experience?
When you've seen enough of the strip and the Bellagio fountains, this fabulous restaurant escape just one mile east of the strip gives major coastal Italian vibes. Kassi Beach House at the Virgin Hotel has a beautiful patio that looks over the sandy beach pool.
The boho decor mixed with modern accents perfectly ties in the Virgin Hotel glam vibe with the beach.
The best part of this great Las Vegas restaurant with a view is that the food is INCREDIBLE! Brunch is served everyday and the cocktails are on point.
Read my full review of Kassi Beach House to learn more!
Price: Brunch entrees start at $ , dinner entrees start at $
View: The patio overlooks the sandy beach pool.
What to Order: My favorite item is the whipped Ricotta and Honey Mezze, but the pastas and drinks are all amazing as well.
10. BEER PARK ON THE STRIP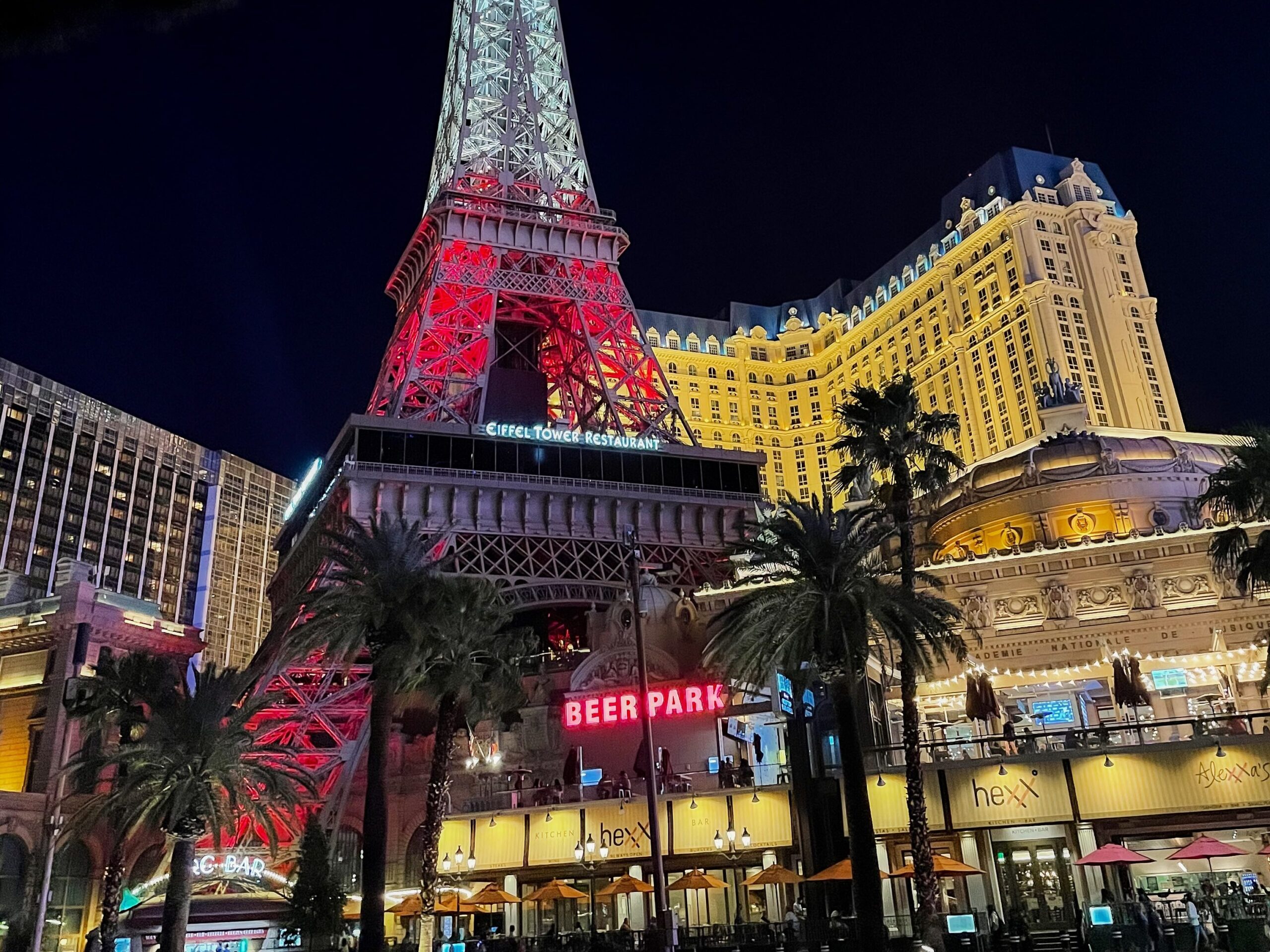 Beer Park is a lively rooftop bar and restaurant that offers a laid back sports bar vibe. The sprawling outdoor space holds picnic tables, games, and a fun energetic environment.
But what keeps me coming back is the unbeatable stunning panoramic view of the Las Vegas skyline while you're seated outdoors on the rooftop deck. From my vantage point, I could see the lights of the city stretching out in every direction. Not a bad way to enjoy some delicious wings and an impressive selection of beers.
Price: Plenty of starters and entrees starting around $13
View: Beer Park offers an outdoor, open-air view in the heart of the Las Vegas strip.
What to Order: Beer Flights, Chicken Wings, Truffle Fries
11. TOP OF THE WORLD AT THE STRAT
Top of the World restaurant is a dining experience that takes indulgence to new heights. The floor-to-ceiling windows showcase a mesmerizing 360-degree view of the Las Vegas Strip, the surrounding city lights, and the vast expanse of the desert beyond. The entire restaurant makes a full rotation every 80 minutes, which allows you to soak in the view from every angle.
The culinary elements of Top of the World are equally impressive. Top of the World lives up to its name, offering not only a dining experience but also a memorable trip to the 106th floor of the Stratosphere Hotel.
Price: Entrees start at $43
View: The view from The Top of the World Restaurant is a full 360-degree panorama of the Strip and the surrounding desert area of Las Vegas.
What to Order: Popular dishes include the Ribeye, Sea Bass and Warm Butter Cake
12. LAKESIDE AT WYNN
Just as it sounds in the name, Lakeside Restaurant at the Wynn offers a stunning view of the Lake of Dreams. You will be enjoying your view from a chic dining room paired with some of the best fresh seafood and fish caught all over the world.
With my shellfish allergy, I haven't made a point to visit this restaurant yet. But I have visited the space and I love the view and the light show that they put on every night.
For seafood lovers seeking a restaurant with an amazing view, this place sounds like a dream!
Price: Entrees start at $42
Cuisine: Seafood with a Hawaiian Flare
View: Lakeside Restaurant overlooks the Lake of Dreams at the Wynn.
What to Order: The Shellfish Plateau gives you a variety of seafood to share.
---

Legacy Club, Vegas' Best Cocktail Bar with a View
The Virgin Hotel Las Vegas, a Foodie's Paradise
Kassi Beach House Restaurant Las Vegas
7 Hotel Hacks You Need to Know to Save Money
---
How Many of These Las Vegas Restaurants with a View Have You Tried?
As you can see, there are so many incredible choices for dining with a view in Las Vegas!
You can go casual with burgers at Black Tap or bar food at Beer Park. Glam it up with fine dining at Mizumi or Giada Restaurant. Or take it up a few levels (literally) to the sky rise views from Legacy Club or Skyfall Lounge. There are no wrong choices.
How many of these restaurants have you tried? Drop me a comment below, and pin this post for later so you can try them all.
Happy travels!
-Hannah
This post was all about fabulous Las Vegas Restaurants with a View.